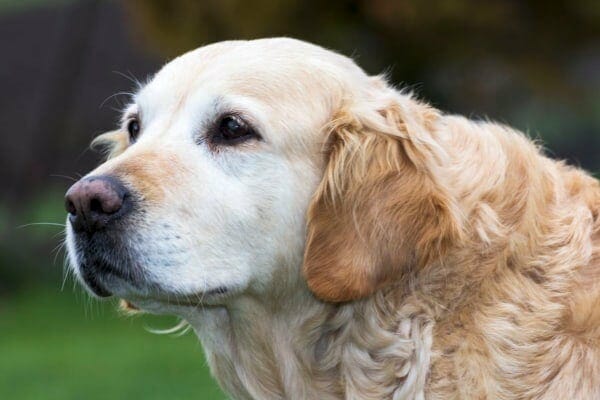 Is your senior dog slowing down? Many dog owners attribute this to "aging" and don't think twice about it. But what if I told you that this change in behavior is one of the signs of arthritis in dogs? Better yet, what if your beloved dog could feel young again?
The first step begins with understanding what arthritis is, learning how to identify the signs of arthritis in dogs, and getting an accurate diagnosis from your veterinarian.

What is arthritis in dogs?
The term "arthritis" is tossed around in TV commercials, doctors' visits, and AARP members' conversations. But what does the word really mean? The suffix "itis" refers to inflammation. The root "arthro" refers to joints. The term encompasses pain, inflammation, and stiffness of the joints. This definition is true for humans and equally true for arthritis in dogs.
According to the Veterinary Information Network, up to 25% of dogs will be diagnosed with arthritis in their lifetime, and as many as 60% have evidence of arthritis on X-rays. Arthritis can be primary (related to old age and wear and tear on joints) or secondary (related to a previous injury to a joint, birth deformity, or prior orthopedic surgery).

What are the signs of arthritis in dogs?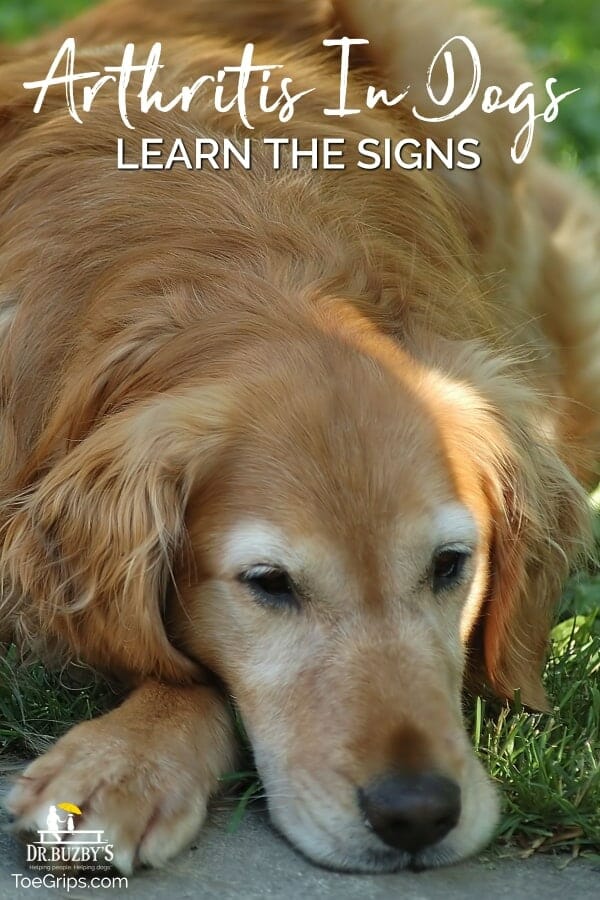 Signs of arthritis in dogs are often subtle and can start fairly young. Initially, you may only notice that your dog is reluctant to get out of bed in the morning or go for long walks. An arthritic dog may have difficulty navigating stairs and jumping onto furniture. As arthritis progresses, your dog may be very stiff throughout the day, take short, choppy steps, and struggle to get up and down. Stairs may become difficult to impossible. End-stage arthritis can lead to the inability to stand at all.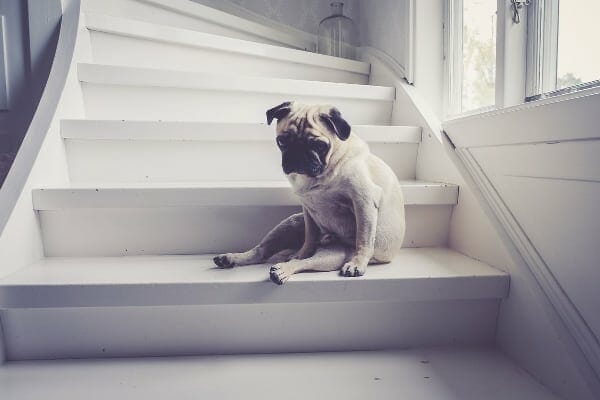 7 signs of arthritis in dogs
Reluctance to get out of bed
Stiffness after resting
Difficulty going up and down stairs
Change in stride
Difficulty rising from a sleeping position
Reluctant to go for longer walks; more likely to want to return home
Muscle atrophy in hips and back legs (seen in dogs with arthritis in hind end)
Why over-the-counter medications aren't the solution for arthritis in dogs
The good news is that there are many approaches to arthritis management to make your beloved canine more comfortable and mobile! However, medicating your dog with over-the-counter pain medications is not a viable plan for these three reasons:

1. If pain is masked by medications, it will be harder for your veterinarian to get to the bottom of your dog's diagnosis. An accurate diagnosis is 2/3 of the battle!
2. Many medications cannot be given together due to the likelihood of dangerous side effects. If you give your dog an over-the-counter medication, there may be an extended "washout period" where your dog's system must clear that medication before the veterinary-prescribed medication can be administered.
3. It is easy to Google "what can I give my dog for pain?" but this can be disastrous! If administered incorrectly, ibuprofen, naproxen, aspirin, and Tylenol can be lethal.
How is arthritis in dogs diagnosed?
As with any change in your dog's health, if you notice signs of arthritis in your dog, a trip to your veterinarian is in order. Arthritis is a common affliction of dogs, especially senior dogs, and veterinarians are adept at identifying and managing the symptoms.
Can arthritis in dogs be cured?
Arthritis cannot be cured, so keep in mind that treatment will focus on comfort management and improving mobility. Your veterinarian will offer solutions that best fit your dog's needs. In preparation for your visit, set yourself and your dog up for success by preparing questions in advance of your appointment. (For more tips on making the vet visit as successful as possible, please read my article: 6 Secrets for Happier Vet Visits.)

What to expect at the vet: diagnosing arthritis in dogs
First and foremost will be "taking a history"—a valuable part of every medical appointment, but especially critical when the patient can't speak for himself. Your veterinarian will ask you a litany of questions such as:
How long has the problem been going on?
What symptoms have you observed in your dog?
Have you tried any treatments? If so, what was the outcome?
When are your dog's symptoms at their best? Worst?
Has your dog experienced any injuries—current or past?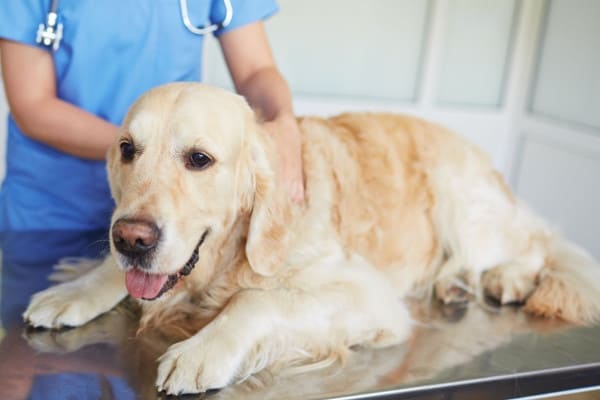 Next, your veterinarian will perform a thorough physical examination (PE). This will include a "nose-to-tail" hands-on evaluation. Typically, this will include taking your dog's weight and vital signs. The veterinarian will check your dog's eyes, ears, mouth, lymph nodes, listen to the heart and lungs, palpate the abdomen, and observe your dog walk.
They will then focus specifically on your dog's limbs and joints. Although any joint in the body can become arthritic, the most common location for arthritis in dogs is in the hips and hind legs.
Your vet will look for a change in gait
Often, dogs with arthritis in the hind end will have some degree of muscle wasting around the hips and back legs. This can be subtle in the early stages of canine arthritis, so it takes a trained eye to see it. Your veterinarian may also try to elicit signs of pain by extending and flexing the rear legs, as well as pushing gently over the hips and lower back.
A gaiting exam should be next. I often take my client and patient out to the parking lot for this and tell them to pretend they are at Westminster as I observe the dog walk and trot. In this way, I can localize the dog's discomfort and hone in on the diagnosis.
The physical exam and history are step one. Diagnostics generally come next, although it is not uncommon to treat an arthritic dog without further testing. Often, the history and physical exam are enough to make a presumptive diagnosis, and your veterinarian may simply offer some therapies to try at home.
Arthritis in dogs: X-rays and more testing
If those therapies do not work, your veterinarian may then proceed with further testing, such as X-rays. (In some cases, X-rays are recommended at the initial visit.) They are an important piece of the puzzle because it will help rule out any other causes for pain or lameness. Your veterinarian may also take a blood sample to check for tick-borne disease, which can also manifest in painful joints and limping.
X-rays can help determine if arthritis is present. But it's worth pointing out something that every veterinarian has learned from personal experience—the severity or lack of severity of joint disease on the images does not always correlate with the severity of lameness. In other words, some dogs may have minimal radiographic changes yet significant pain, while others have major bony changes with very little lameness. As with all diagnostic tests, X-rays are just one piece of the puzzle.

Arthritis often manifests in the dog's hips
One of the most common places for dogs to develop arthritis is in the hips, often as a result of hip dysplasia. In the X-ray below, you can see a dog's hip joints. It is the ball and socket where the femur (a long bone with a round head) sits in a "cup" in the dog's pelvic bone.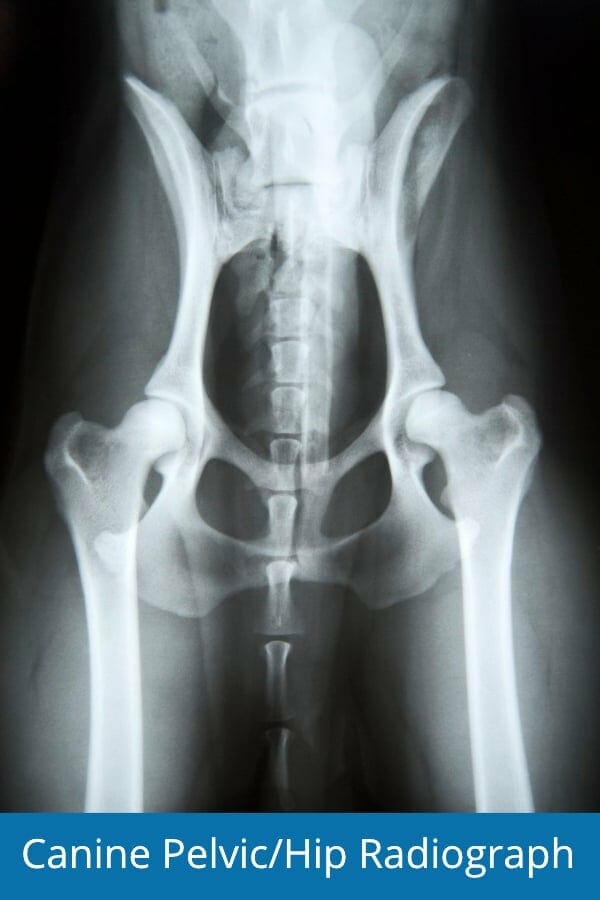 Some of the common changes include osteophytes and enthesophytes ("bone spurs"), flattening of the femoral head, and in severe cases, subluxation (partial dislocation) of the femoral head (the ball in the "ball and socket" joint).
Managing arthritis in dogs
In summary, understanding arthritis in dogs begins with learning the signs and working with your veterinarian for an accurate diagnosis. While arthritis is not curable, there is help and hope. In next week's blog post, I'll delve into the full gamut of treatment options for arthritis in dogs including traditional medications, joint supplements, weight management, and complementary medicine such as acupuncture.

What questions do you have about arthritis in dogs?
Please comment below. We can all learn from each other.