SUMMARY: Your beloved old dog is shaking. Is this normal? Veterinarians Dr. Erica Irish and Dr. Julie Buzby have answers and actionable tips. Through a case study of Dr. Irish's elderly dog, you'll learn 11 common reasons why senior dogs shake, shiver, and tremble.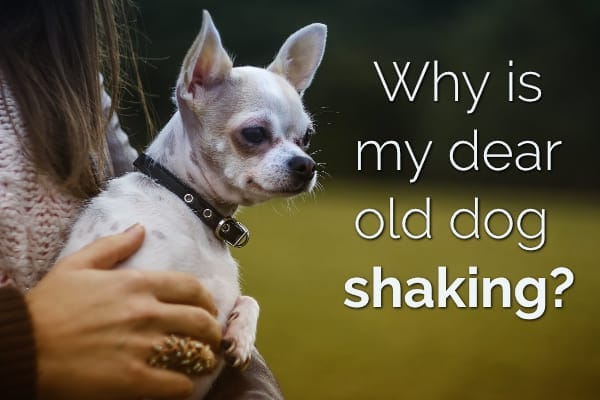 Why is my old dog shaking?
Lately, my 13-year-old Dachshund, Bailey, has been jumping onto my lap and shaking more often than usual. Since developing arthritis a few years ago, he'd adopted this routine as his way of saying, "Please let me go out to potty, or I'm going to burst!" However, now he was routinely hopping onto my lap and shaking, even if he'd just gone to the bathroom a few minutes prior.
I looked into my beloved companion's eyes and wondered, "What is he telling me? Why is my little old dog shaking?" As a veterinarian, I knew that diagnosing the cause of shaking in an older dog can be tricky. I'd need to give Bailey a thorough exam and rule out many conditions so that I could help him. I'd start with the most common reasons senior dogs shake.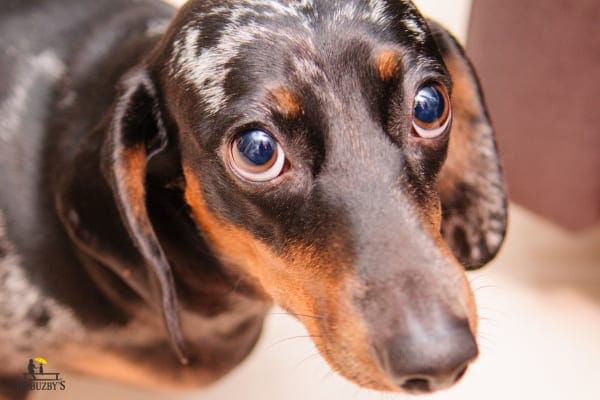 11 reasons why old dogs shake
Shaking or trembling in senior dogs can be caused by a very long list of conditions, but a handful of diagnoses rise to the top of the list. Here are 11 reasons for old dog shaking (in no particular order):
1. Excitement
Even an older dog can still get excited when his family comes home! Sometimes this excitement seems to exude right out of the dog's pores and shaking or trembling ensues. Along the same lines, it is also possible for senior dogs to experience trembling and shivering when they are about to enjoy their favorite treat or play with their favorite toy.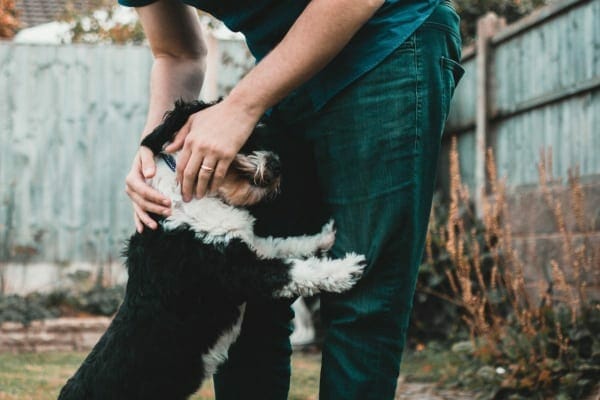 2. Medications/toxins
Several medications can cause tremoring as a side effect by altering the balance of neurotransmitters in the nervous system. Though the mechanism for causing shaking is different, toxins can do the same. Common offenders include chocolate, xylitol, and pesticides.

PRO TIP: If you ever suspect that your dog has gotten into a known toxin in your home, grab the box/container and take it with you to the vet to facilitate diagnosis and treatment.
3. Addison's disease
Even though Addison's is most commonly diagnosed in 4 to 5-year-old dogs, dogs of any age can be affected. Addison's disease makes our list because if left untreated, it is a life-threatening condition.
Dogs with Addison's can appear very sluggish and experience vomiting, diarrhea, weight loss, loss of appetite, shaking, and hair loss. The symptoms are often vague, nonspecific, and come and go. Dogs with Addison's do not produce enough cortisol—a hormone made by the adrenal glands that helps dogs respond to stress and regulate blood sugar levels.
If your dog has clinical signs mentioned above, contact your veterinarian. She will likely recommend blood and urine testing to screen for Addison's disease and other illnesses.
4. Cold (hypothermia)
If your dog suddenly starts to shiver while out in the yard and the mercury has dropped, then he may simply need a sweater! Dogs can shiver and shake due to the cold just like humans. To prevent this, make sure your dog has warm bedding and protective clothing during the cold months of the year.
5. Nausea
Nausea can be caused by numerous health conditions—infection, poisoning, liver disease, and kidney disease, to name a few. A nauseous dog is not necessarily a vomiting dog. More subtle signs of nausea include:
lip smacking
shaking
panting
excessive swallowing
drooling
If you're concerned about your dog showing signs of tummy upset, contact your veterinarian. Depending on the history and exam findings, your vet may recommend blood and urine testing to identify a cause. Routine lab work is especially important in senior dogs in order to detect disorders as early as possible, such as chronic kidney disease. (To learn more about collecting lab samples at home, please read 7 Tips for Improving Your Dog's Lab Tests.)
6. Neurologic disease
Dogs with certain brain diseases can develop tremors and sometimes even seizures. Infection and/or inflammation of the central nervous system may be difficult to diagnose on routine testing. For this reason, your veterinarian may recommend referral to a veterinary neurologist for evaluation and more specialized testing. Neurologic disease always has to be on the rule-out list when a senior dog suddenly starts trembling or shaking, but it's important to remember that it is only one of many reasons for this symptom.
7. Generalized tremor syndrome (GTS)
This tremor-causing condition can occur in any size and color of dog, but it's also known as white dog shaker syndrome, because it is diagnosed most commonly in small, white breeds (especially the Maltese, the West Highland White Terrier, and the Bichon Frise). The tremors can be localized to the head or generalized—affecting the entire body. While the cause is unknown, there are some theories suggesting that the immune system plays a role. Steroid medications like prednisone are prescribed for treatment. While GTS mostly affects young dogs, because dogs have lifelong signs, older dogs can manifest symptoms too.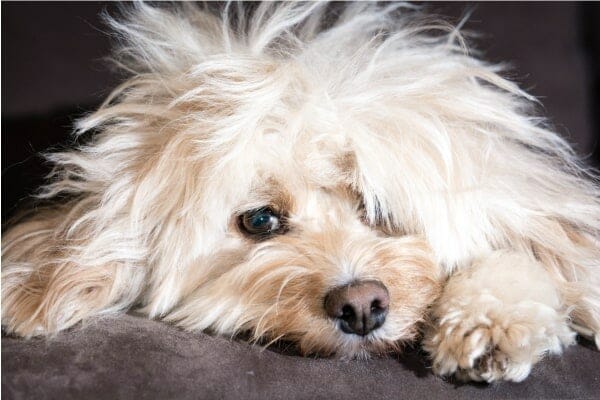 8. Pain
If your older dog shivers or shakes, especially in the hind end, he may be exhibiting one of the signs of pain due to canine arthritis. Dogs can also experience generalized pain due to infection, injury, and even dental disease. Depending on the source of pain, your veterinarian might recommend further diagnostic testing and/or prescribe pain medication. If arthritis is suspected, our comprehensive guide, How to Relieve Arthritis Pain in Dogs, is a helpful resource.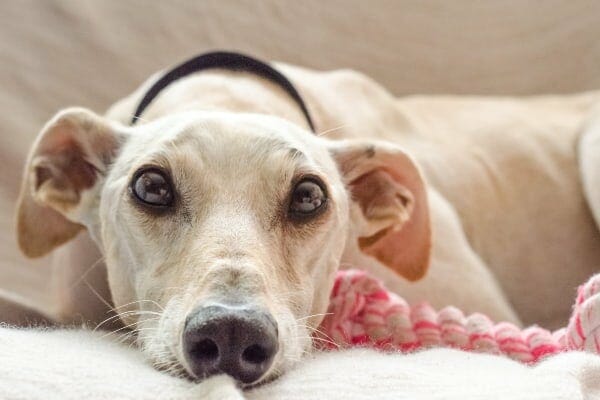 9. Idiopathic
The term idiopathic comes from Greek roots and literally translates as "private disease," but we use it commonly in medicine to mean "of unknown cause." There are many idiopathic conditions in veterinary medicine, ranging from seizures to vestibular disease. The term can be associated with tremoring in older dogs too.

Unfortunately, idiopathic old dog tremor syndrome is—like all idiopathic mysteries—a diagnosis of exclusion. In other words, veterinarians rule out everything else and then are left with idiopathic disease as the fall-back explanation.
If your senior dog exhibits shaking hind legs and the problem has not developed into progressive neurologic disease and your vet has ruled out other common diagnoses, then you may be left with this diagnosis, which is not bad news. It is considered a benign condition.
10. Anxiety and fear
Like people, dogs can shake when they're afraid or anxious. Some dogs can be afraid of loud sounds like thunderstorms or fireworks. For senior dogs, problems like vision loss due to cataracts and hearing loss can alter their confidence and personality and make them more likely to tremble.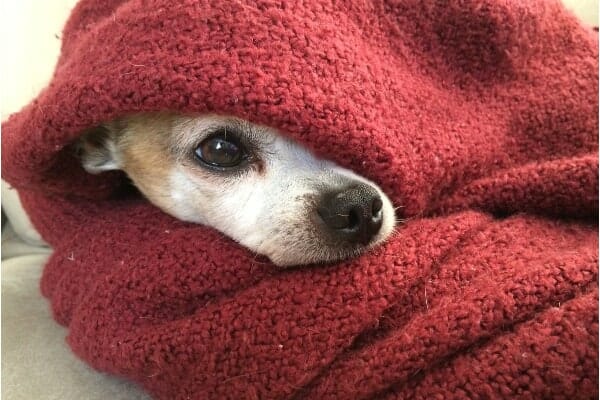 11. Canine cognitive dysfunction
Another cause of shaking in older dogs is canine cognitive dysfunction (CCD). Dogs with CCD can become more anxious and restless, especially at night. For more information about this common condition that afflicts senior dogs, check out Managing Canine Cognitive Dysfunction in Dogs: Signs, Symptoms, Solutions.
When to see the vet
You know your dog better than anyone. If your grey-muzzled companion is experiencing shaking and trembling, make an appointment with your veterinarian today. Early diagnosis almost always yields better outcomes.
In addition to performing a thorough physical exam, your vet will want to gather some key information to formulate a "rule out" list. By carefully observing your dog's symptoms, you can help your veterinarian narrow down the diagnosis. Be prepared to answer questions like these:
1. Is the shaking/trembling episodic—meaning does it come and go? Or is it ongoing and continuous?

2. Does the shaking/trembling change with your dog's activity level? In other words, is it worse with activity and better at rest?
PRO TIP: We've all heard the joke about your car suddenly not having the "symptom" you made the appointment for, as soon as you pull up to the mechanic's garage to have it checked out. The same phenomenon occurs in veterinary medicine! Take a video of your old dog shaking to show your veterinarian in case the patient looks different in the exam room than at home. We believe it will be exceedingly valuable for your vet to see exactly what you see at home. Thanks to the modern cell phone camera, this is easy homework.
What was the underlying cause behind Bailey's shaking?
In the case of Bailey, I brought him to our hospital for testing to screen for some of the problems outlined above. Thankfully, all his results came back within normal limits! We determined that his "old dog shaking" occurred mostly at night due to anxiety and CCD. I've intentionally made some changes in our nighttime routine, and I started him on a prescription diet for older dogs, plus a supplement for calming. I'm happy to report that his shaking has greatly improved!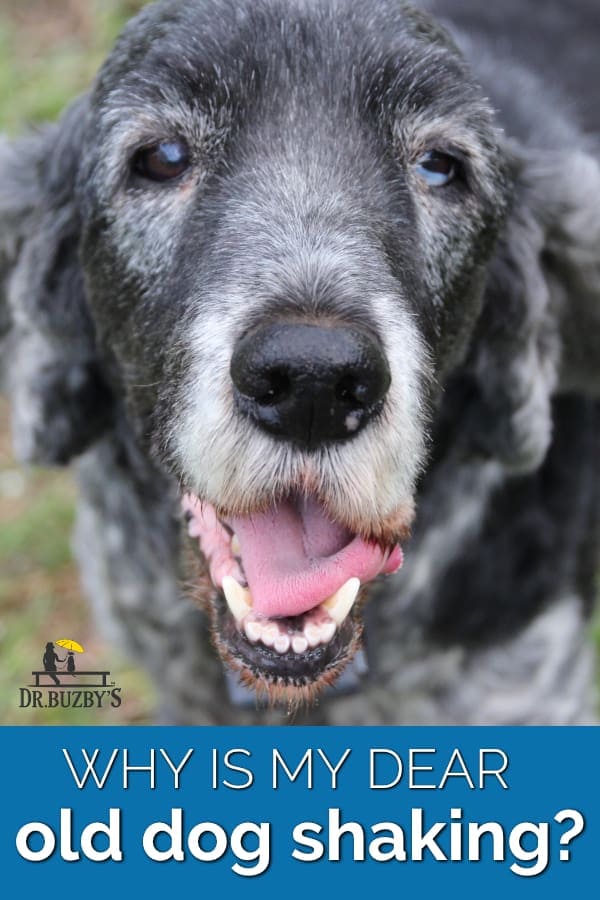 Does your dear old dog shake or shiver?
Please comment below. We can all learn from each other.