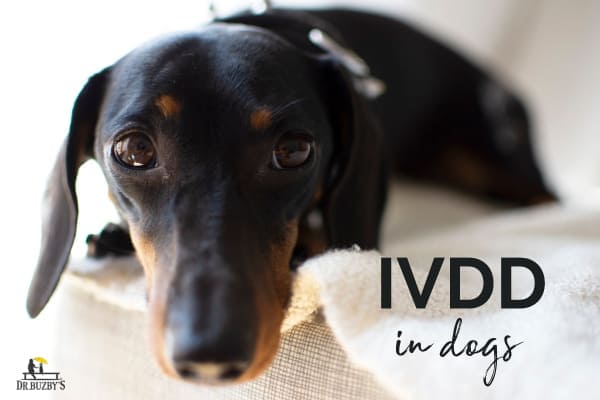 Summary: A miniature Dachshund named Tango is diagnosed with intervertebral disc disease. Integrative veterinarian Dr. Julie Buzby recounts the story, shares why IVDD in dogs occurs, and explains what to expect at the vet visit.
Understanding why IVDD occurs in some dogs
If you have ever owned or loved a Dachshund, you are probably familiar with the most common spinal disease in dogs—intervertebral disc disease, commonly referred to as IVDD.

But I don't like to talk about "diseases," I like to talk about dogs. So our story begins with a MUCH loved four-year-old miniature Dachshund named Tango.

His family doted on him like he was the crown prince and often expressed their love with treats, extra helpings of dog food, and bits of bacon snuck under the breakfast table. Tango weighed in at a whopping thirty pounds. Based on his frame, he should have weighed about fifteen. (To learn your dog's ideal weight, please read my article: Canine Body Condition Score.) His owners were embarrassed. They knew Tango was too heavy, but they couldn't seem to break their bad habits.

Concerned about the impact of this practice on his health, I had encouraged weight loss through several methods: cutting back his treats, feeding a lower calorie diet (and less of it), and gentle exercise. But so far, we had been unsuccessful at helping Tango shed his extra pounds.
Now Tango sat on his mom's lap in my exam room, and they both looked very worried. His mom explained that he was reluctant to get up from his bed, and when he did, he walked like a drunken sailor. She set him gingerly on the exam table, and he stood with a hunched back. I could read the pain in his face.

My heart sank. This was Type I intervertebral disc disease until proven otherwise.
Type 1 intervertebral disc disease
Type I intervertebral disc disease is common in some dog breeds including:
Corgi
Lhasa Apso
Cocker Spaniel
Beagle
Pekingese
Shih Tzu
Dachshund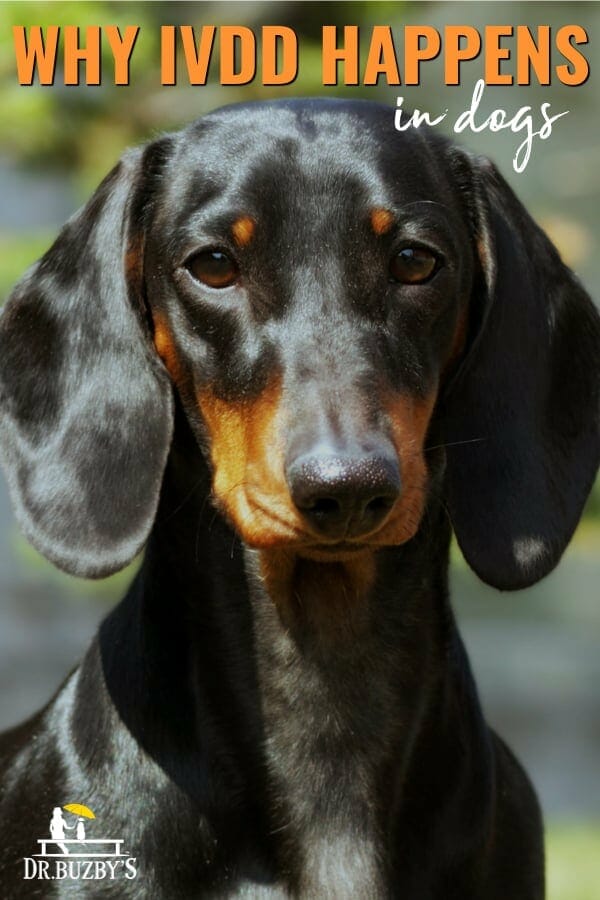 But miniature Dachshunds, like Tango, are regarded as the highest risk breed. According to a 2016 article published in the Journal of Canine Genetics and Epidemiology, Dachshunds are at 10-12 times higher risk than other breeds to develop IVDD. In fact, one in five Dachshunds will show clinical signs related to IVDD at some point in their life.

These statistics probably have you wondering, "Why?" The answer may surprise you.
The problem is chondrodystrophy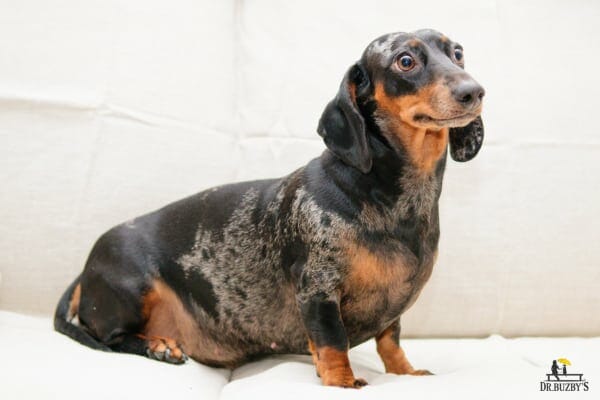 Type I disc extrusion is most often encountered in breeds like Tango that are chondrodystrophic. The University of California Veterinary Genetics Laboratory describes chondrodystrophy as "a trait that defines many dog breeds and is characterized by reduction of long bone length (shorter legs) as a consequence of early changes in the structure of growth plates."
But what does this have to do with a dog's spine?
How a dog's spine works
The dog's spine is really an ingenious design. It needs to be rigid to provide protection for the spinal cord but also flexible to allow for movement. Thus, instead of one solid bony structure encasing the spinal cord, the dog's spine (like a human's) is a long, bony column made up of many individual vertebrae. From the base of the skull to the sacrum (pelvic region), there are 27 vertebrae that make up the dog's spine. Between the vertebral bodies, there are small "washers" that act as cushions. These structures are called intervertebral discs.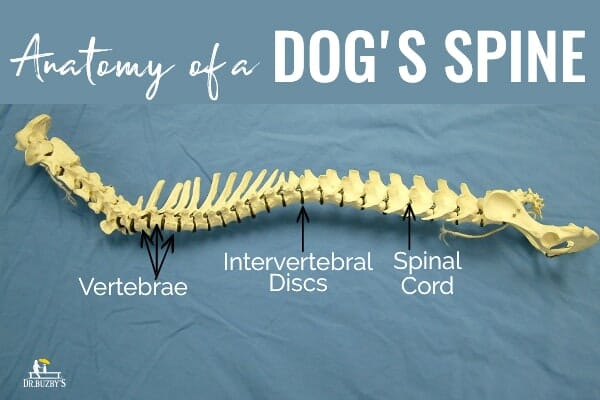 Anatomy of a dog's disc: the "jelly donut" analogy
A disc is much like a jelly-filled donut. In the middle is the nucleus pulposus, or the jelly in our analogy. It is predominantly made of water and acts as a shock absorber. It is surrounded by the annulus fibrosis, or the donut—a tough, fibrous ring of tissue bands. Together, they absorb shock for the spine and protect the spinal cord from injury.
When the "jelly" hardens and the disc ruptures
Disc degeneration can occur in any breed of dog. But for chondrodystrophic dogs, because of an autosomal dominant genetic mutation, it starts very early in life (beginning in puppyhood) and continues at an accelerated rate. Changes in cell types within the nucleus pulposus (the jelly) render it less jelly-like and more rigid in consistency. The discs also begin to calcify. Wear and tear over time can lead to a breakdown of the unhealthy annulus (the donut), and the nucleus ruptures through the path of least resistance (out the top of the donut).
When the disc herniates, the nucleus (jelly) shoots out and hits the spinal cord causing swelling (edema) and hemorrhage (bleeding). The spinal cord suffers from both bruising and compression. As you can imagine, neither are good for the delicate cable of nerves that we call the spinal cord. The trauma to the cord manifests as pain and weakness. In some cases, paralysis can result.
Location, location, location
Disc rupture can occur anywhere in the dog's spine, but most occur in the thoracolumbar region or mid cervicals (neck). About 3/4 of acute disc herniation happen in the discs located from the last few thoracic vertebrae to the first lumbar vertebrae.

The explanation I've heard for this is because the thoracic vertebrae have stabilization from the rib cage, but the lumbar vertebrae don't have ribs attaching. So the thoracolumbar junction is a leverage point for instability and torque. Further, one ligament that runs between the vertebrae to provide stability tapers and disappears in this region.
No "mom guilt" allowed
If you've been through back problems with your Dachshund, past or present, I know it's tempting to lament the "what ifs." But this is not likely something you caused or could have prevented.
Dr. Bill Thomas, a veterinary neurologist at the University of Tennessee College of Veterinary Medicine, explains it this way, "Chondrodystrophic dogs don't extrude discs because of activity. They extrude their discs because they are chondrodystrophic.

Chonodrodystrophic dogs develop chondroid degeneration of their discs. This is genetic. It has nothing to do with activity and nothing to do with the length of their back. It is a genetically determined defect in the metabolism in the disc. There are a lot of specific biochemical changes but the basic problem is the disc loses water content. So instead of being soft and flexible, it becomes dried out and brittle. Most importantly, it is no longer able to withstand daily stress and stain. Eventually, the ligaments tear.
These biochemical changes start at weeks of age. And there is no evidence that exercise or activity affects this degeneration."
Type 1 IVDD in dogs occurs in young to middle-aged dogs
When you understand the underlying pathology—the early and rapid degeneration of chondrodystrophic discs—two odd things make perfect sense:

1. These dogs present with acute (sudden onset) symptoms, but in most cases, there is actually no history of a trauma causing disc herniation. In some cases, a traumatic event (like colliding in play or jumping down from the bed) occurred prior, but it's not the ultimate cause. It's the straw that breaks the camel's back—no pun intended.

2. Type I intervertebral disc disease typically occurs in young to middle-aged dogs, like Tango.

Interestingly enough, there is another type of IVDD associated with older dogs. This is Type II IVDD, affecting mostly large breed dogs, and the underlying cause is different.
Diagnosing IVDD: The vet examination
As I examined Tango, I explained to the little Dachshund's owner that I was worried about his back. She nodded in agreement because we had discussed this concern at almost every prior wellness visit.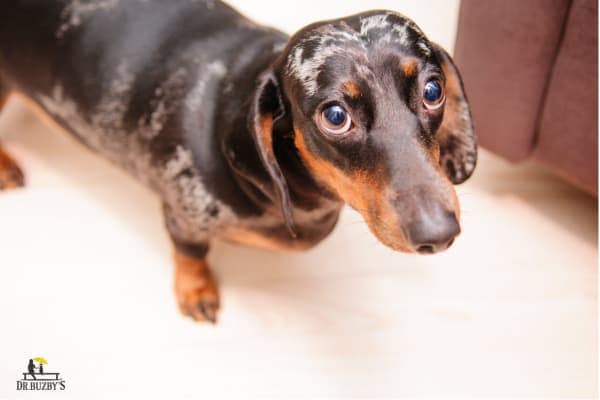 Performing a head-to-tail exam
In the interest of being thorough, I performed a head-to-tail exam, listening to his heart and lungs, checking his eyes and ears, and palpating his belly. Next, I gently palpated the Dachshund's vertebrae, from the base of his skull, working my way down. As I neared the middle of Tango's spine, he yelped and dipped his back away from my hand. Often we repeat tests on a physical exam to confirm that they are an accurate representation of the dog's response. But I certainly didn't want to repeat hurting him. I believed him the first time.
Finally, I came to the moment of truth—his neurologic examination. This would help me determine if a disc seemed the likely cause of his problems and also localize where, approximately, in the spinal cord the disc was damaged.
The neurologic exam: checking reflexes
As I checked his reflexes, I explained to Tango's family what I was looking for. The reflexes in his back legs were brisk and normal which told me that he had a classic thoracolumbar herniation. If they had been sluggish or absent, I would have determined the problem was in the lower lumbar spine. If all four limbs were abnormal, the problem would have been higher up in the spinal cord—in his neck.
Next came the two most critical parts of the test:
Checking conscious proprioception
I used two techniques to make sure Tango could feel his feet. In the first, I supported his body and flipped his hind paw upside down in a "knuckled over" position. A normal dog should flip the foot back briskly—to stand on the paw pads instead of the top of the foot. (For a demonstration on how I test for conscious proprioception, please watch the video below of a healthy dog's reaction.)
Tango was very, very slow to replace his foot in the normal position. I repeated this test several times on each hind paw.
This technique evaluates "conscious proprioception"—the brain's conscious awareness of where the body is in space—and helps to determine if the nerve pathways to the brain are intact. Tango's were, but he was much slower than normal to "right" his hind feet.

Incidentally, this is a test that I teach my veterinary clients who own a dog with back issues. It's an important prognostic indicator and easy to learn to do at home.
Testing for deep pain
Finally, I gently pinched Tango's toes with a hemostat to make sure he could feel his feet. This may be the worst test I have to do on dogs. Seriously, it always makes me cringe, and I know I look like Dr. Jekyll to the clients, but it's a critical test that can't be skipped. I'll explain why in a second.

Tango definitely could feel the pinch. The little Dachshund let out a yelp. It's important to note that a dog moving/pulling his leg away from the pinch is not a positive test. I needed to see Tango consciously respond through an obvious change. In other words, I was looking for a head turn, vocalization, or even the dog trying to bite me. This ensures that his brain had received the signal of pain from his toe.
Why testing for deep pain is critical in determining IVDD
When the ability to feel deep pain in the limbs goes away, we grade the dog a 5 out of 5 on the IVDD grading scale, and the prognosis (expected outcome) becomes much worse. The gold standard treatment for grade 5 dogs is surgery. Had Tango shown me that he was not aware that I was pinching his toe, I would have recommended emergency back surgery, called a hemilaminectomy. This surgical procedure has a great recovery rate when deep pain is still intact. Around 96% of dogs will recover fully. When deep pain is lost, however, that recovery rate drops to 50%.
IVDD Grading Scale
In grade 1, the dog is painful but has no change in gait and no neurologic deficits. In grade 2, the dog experiences pain, weakness, and decreased conscious proprioception. Grade 3, 4, and 5 worsen incrementally. By grade 5, the dog can no longer move the back legs (and front legs too if the disc is located in the neck), cannot urinate normally, and does not feel his back legs.
Grade 1 – Pain only
Grade 2 – Change in gait (ie. drunken sailor gait) plus conscious proprioceptive deficits
Grade 3 – Partial paralysis (called paresis)
Grade 4 – Paralysis with pain perception present
Grade 5 – Paralysis with loss of deep pain perception
Tango's IVDD was a grade 2
With confidence, I explained to Tango's owners that I was almost certain he had a herniated disc in his thoracolumbar spine. He could still move his legs, and he could still feel them. He could stand, but he was weak. My examination graded Tango at a 2 on the scale.
Other possible causes of IVDD-like symptoms
"Is there anything else it could be?" Tango's mom asked.
Although Tango was practically speaking the words, "Help me, I have intervertebral disc disease," we had not proven it.
The "runner up" diagnosis was a fibrocartilaginous embolism (FCE)—a poorly understood condition in which a piece of cartilage breaks off and lodges in a blood vessel, causing neurologic signs similar to IVDD. (For more on FCE, please read my article, Spinal Stroke in Dogs: How Love and ToeGrips® dog nail grips Helped Ozzie Recover.)
I also mentioned less likely options like trauma to the spinal cord, or even cancer. But given Tango's age and breed, this was IVDD until proven otherwise.
X-rays and advanced diagnostic testing
You may be wondering about X-rays and whether they would be needed to confirm the diagnosis.
The answer is…maybe. Discs don't show up on a normal radiograph (X-ray) unless they are calcified—meaning they have become hard and mineralized. Seeing a mineralized disc on X-rays from a Dachshund would be about as shocking as seeing a mosquito in the summer.
Plus, most older dogs will have them. Just because there is a mineralized disc on radiographs doesn't mean that there is disc compression on the cord. But sometimes a calcified disc can be positioned in such a way to suggest herniation. Additionally, X-rays can show a narrowing of the spaces between the vertebrae.
But it's important to understand that your veterinarian cannot diagnose IVDD based only on radiographs. Advanced diagnostic imaging is necessary to confirm the diagnosis—such as a myelogram, CT scan, or MRI.
That said, your vet may or may not recommend radiographs if IVDD is suspected. I explained all this to Tango's owner, and we elected not to do radiographs.
Grade 2 IVDD dogs are, by definition, still walking. In the vast majority of cases, we recommend medical (non-surgical) management at this stage.
Now that I had conducted a thorough exam, it was time to develop a treatment plan for Tango.
Tango's treatment plan
In part two of this blog post series on IVDD in dogs, I share Tango's treatment plan and recovery. Don't miss out! Please sign up for Dr. Buzby's Barkworthy, my weekly dog health email, so you're sure to receive "the rest of the story" delivered to your inbox. Plus, when you sign up now, you'll receive my free e-book, Seven Ways to Love Your Senior Dog.
Do you have a question or comment about IVDD?
Please comment below. We can all learn from each other.