Hypothyroidism in dogs can be a tricky condition to diagnose and manage. Integrative veterinarian Dr. Julie Buzby teams up with her colleague and friend, Jennifer Shepherd, DVM, to reveal the truth about hypothyroidism in dogs including the common misconception that a T4 test is all you need for an accurate diagnosis. Learn the causes, symptoms, and treatment for canine hypothyroidism.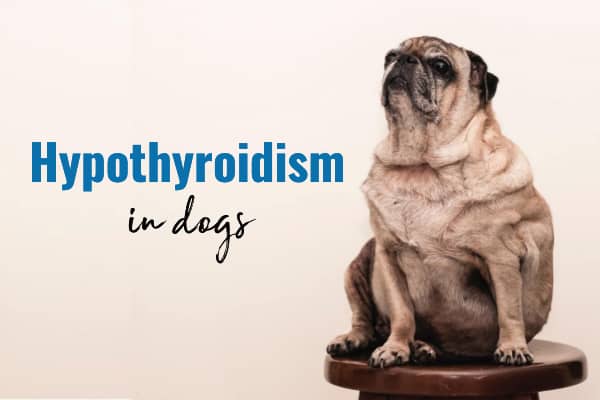 I'm willing to bet that in your circle of family and friends, you know someone who takes medication to manage low levels of thyroid hormone, or hypothyroidism. Maybe it's even you personally. If so, you're not alone—an estimated 20 million Americans have some type of thyroid dysfunction.
Hypothyroidism is a common condition diagnosed in dogs—but in my professional opinion, I believe thyroid disease one of the most over-diagnosed conditions in veterinary medicine. By the end of this article, you'll see why.
Before jumping ahead, let's review the role of the thyroid gland and then move on to the markers that yield an accurate diagnosis of canine hypothyroidism.
What is the thyroid gland?
If you remember from high school biology, the thyroid gland is part of the endocrine system. Although you can't see or feel it, your dog's thyroid gland sits in his neck on either side of his trachea (windpipe). It produces hormones that regulate your dog's various body systems. When certain hormone levels dip below a normal range it results in hypothyroidism.
One hormone produced by the thyroid gland is called thyroxine (T4). It is crucial to controlling your dog's metabolism. When there is not enough of it circulating in your dog's body, his metabolism slows down and his cells don't have the energy to do what they need to do.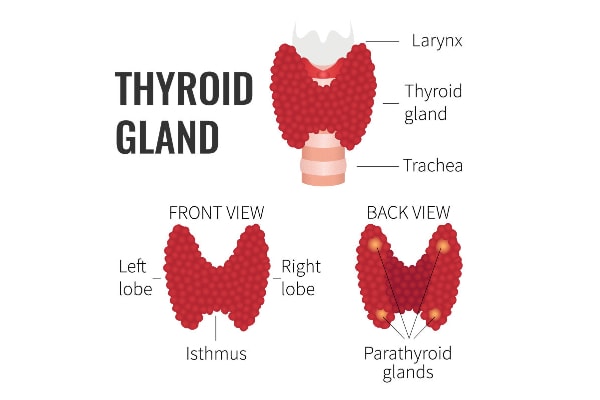 Diagnosing hypothyroidism in dogs: T4 and the big picture
Before diagnosing hypothyroidism in dogs, it's critical to understand the big picture when it comes to T4.
Routine blood panels often include a total T4 (TT4) level for good measure. Quite often, however, the T4 value comes back low, causing concern that the patient has hypothyroidism. This is where it gets tricky—hypothyroidism is just one of several reasons for low T4. Dogs can have low T4 values from:
Age-related changes: It's normal for circulating blood thyroid hormone levels to decline with age.
Daily fluctuations: It's completely normal for T4 levels to rise and fall throughout any given day.
Euthyroid sickness: Euthyroid means "having a normally functioning thyroid gland." In this case, there's nothing wrong with the dog's thyroid, but the T4 values are low because the thyroid gland is reducing hormone production in response to illness somewhere else in the body.
Certain medications: Prescription medications, like prednisone, can lower T4 levels. With prednisone, in particular, levels often remain low long after stopping the medication.
Because of the range of causes of low T4, I'm convinced that some dogs on daily thyroid medication don't need to be.
How to test for hypothyroidism in dogs
Recently I told a client that I suspected her 7-year-old Golden Retriever was hypothyroid. She replied, "Oh, so I need to get her T4 tested?" It made me pause and say, "Well, yes. That's a good place to start."
The TT4 screening test: A good place to start
The TT4 (total T4) is a screening test and no more. If the TT4 comes back in the upper 50% of the reference range, your dog does not have hypothyroidism. A low normal TT4 level could be normal for your dog, or it could be the early stages of hypothyroidism. Regardless, if a TT4 comes back suspect, additional tests must be run to confirm a diagnosis of canine hypothyroidism.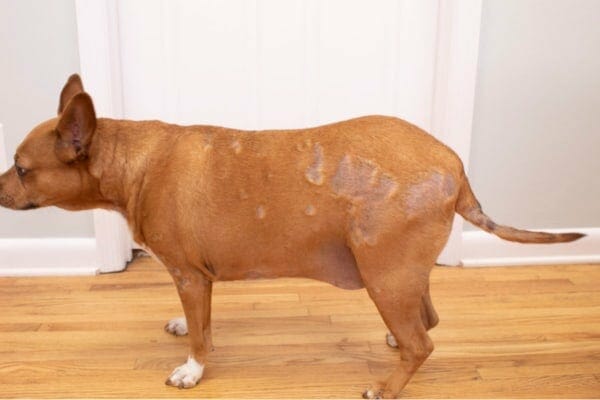 So what's after an initial TT4 screening?
After an initial TT4 screening that shows low T4 concentration, the gold standard is further blood tests which are usually more expensive. To be practical, compassionate, and work within my client's comfort level, I generally propose three options:
Monitor the dog, and repeat the basic blood panel down the road. This option depends on the dog's clinical status and overall health.
Run the additional diagnostic testing—pricey but the current gold standard.
Begin a month-long trial on thyroid medication then repeat the T4 value.
Because option three is often the only viable choice for owners with financial limitations, over-diagnosis can occur. Confusing the matter even further, sometimes dogs feel and do better on the medication, even if they did not have a primary thyroid problem.
The Merck Veterinary Manual confirms this when they explain: "Many diseases and conditions can mimic hypothyroidism, and some of the clinical signs, even in dogs with normal thyroid function, can improve after administration of exogenous supplemented thyroid hormone."
Here's what usually happens. A dog owner decides to try thyroid medication for a month after receiving a low T4 on a blood panel. The month goes by, and the dog returns for a follow-up. The owner believes the dog has improved during that month, and the repeat T4 level comes back much higher but not "crazy high." When this happens, the dog will usually stay on thyroid medication for life.
As long as your veterinarian monitors your dog's T4 levels every six to twelve months, this usually works out okay. Rarely, I do see toxicosis in dogs from overdosing on thyroid medication. Symptoms of overdose include hyperactive behavior, increased thirst and urination, and heart issues.
A comprehensive thyroid panel to test for hypothyroidism
If a dog owner chooses to run additional blood tests, some veterinarians recommend skipping the screening TT4 test to check a more robust thyroid panel initially. In the long run, this can save time and money. The more comprehensive thyroid panel must be sent off to a reference lab.
One of the most common thyroid panels consists of a TT4, a fT4 (free T4), and a TSH (thyroid stimulating hormone) level. Incidentally, these are all tests routinely run in people, too. TT4 and fT4 are both forms of the thyroxine hormone. Free T4 is less affected by non-thyroid illness or medications (i.e. less false positives) but is also harder to accurately measure, and thus, a more expensive test.
Thyroid-stimulating hormone (TSH) is produced by the pituitary gland in the brain, and it tells the thyroid gland when to produce thyroid hormone. When the body doesn't want the thyroid gland to produce thyroid hormone, as in cases of euthyroid sickness, the TSH levels are low, leading to low T4 levels.
However, in cases of true hypothyroidism, there is not enough thyroid tissue to produce T4. The pituitary gland senses the low levels of T4 and ramps up production of TSH to stimulate the thyroid gland to increase its production. If the TSH level is high and free T4 or TT4 are low, your dog most likely has canine hypothyroidism.
But in order to know for sure, you also need to look for two other critical markers.
Diagnosing true canine hypothyroidism: Clinical signs
I've covered the first marker of canine hypothyroidism—low TT4. But that alone isn't enough for an accurate diagnosis of hypothyroidism. You, in partnership with your veterinarian, need to note your dog's clinical presentation and signalment (age and breed).
1. Clinical presentation: signs of hypothyroidism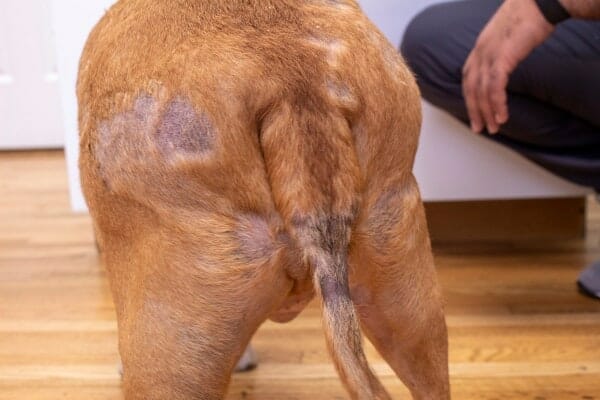 When considering a diagnosis of canine hypothyroidism, I begin with a thorough physical exam. Several questions run through my mind:
Does the patient exhibit clinical signs? Symptoms of hypothyroidism include hair loss (alopecia), scaly skin, skin infections, and lethargy.
Is he overweight or obese? (Keep in mind that the most common reason for obesity in dogs is not hypothyroidism—it's overfeeding and lack of exercise.) For help determining whether your dog is overweight, see my post: Your Dog's Body Condition Score (BCS): Find Your Dog's Number in 3 Easy Steps.
It's interesting that metabolic diseases like canine hypothyroidism can share symptoms and this list could also fit a condition called Cushing's disease. Learn more about Cushing's disease in my post: Cushing's Disease In Dogs: Symptoms, Diagnosis, Medications.
As a general rule, I suspect hypothyroidism when my patient has a weight problem plus something else. For example:
Weight problem plus chronic ear infections, hyperpigmented (dark) skin with unexplained hair loss, or a drop in energy level.
Weight problem plus high cholesterol (even after fasting for the blood test). Over half of truly hypothyroid dogs will display high cholesterol on fasted bloodwork. So this is a great tip-off!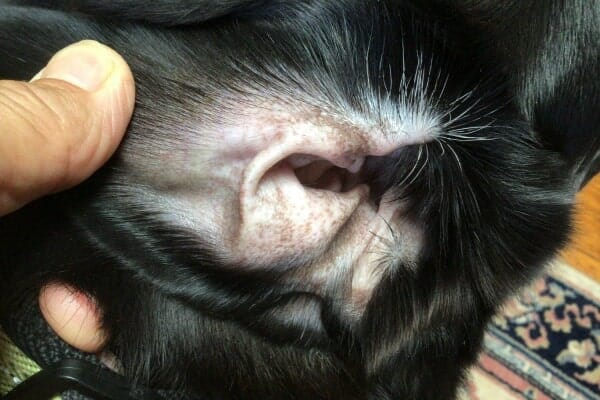 PRO TIP: Since a minimum of a 12-hour fast is ideal, I recommend you schedule your dog's lab work for the morning and fast from dinner the night before. During the fast, water is completely fine. I explain fully in my post about how to improve dog lab tests.
2. Signalment: Age and breed
Although hypothyroidism can occur in dogs of all ages and breeds, it's most common in middle aged dogs around two to eight years old. The average age of diagnosis is seven. Males and females are affected equally, but hypothyroidism is most prevalent in the following breeds:
Golden Retrievers
Doberman Pinschers
Irish Setters
Miniature Schnauzers
Dachshunds
Cocker Spaniels
Great Danes
As you can tell, this condition usually shows up in medium- to large-size dog breeds. I don't see it very often in toy or mini breeds.
Now that you know the three markers of true canine hypothyroidism—low TT4, clinical presentation, and signalment—let's take a closer look at its causes, how it's treated, and a few atypical symptoms.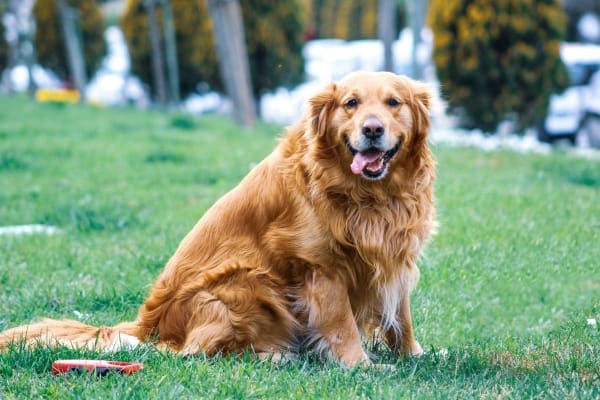 What causes hypothyroidism in dogs?
There are two common causes of hypothyroidism in dogs: lymphocytic thyroiditis and idiopathic atrophy.
Lymphocytic thyroiditis causes the slow destruction of the thyroid gland by the immune system. Genetics do play a role in its development as the autoimmune disease, equivalent to Hashimoto's disease in humans, may be inherited.
Idiopathic atrophy is the shrinking of the thyroid gland with no known cause. It occurs when the functioning cells of the thyroid gland are replaced with adipose tissue (fat).
Both lymphocytic thyroiditis and idiopathic atrophy occur slowly over time.
In either condition, you may notice your dog gradually gaining weight, developing ear infections, losing his hair coat, or facing decreased levels of energy. Because the signs come on slowly, you may just think this is the normal aging process for your dog. More than likely, however, after discussing these concerns with your veterinarian, he or she will recommend thyroid testing.
It's worth mentioning that cancer can also lead to hypothyroidism (and hyperthyroidism, for that matter). However, both are rare. Cancer accounts for less than 5% of cases of hypothyroidism in dogs.
How do vets treat canine hypothyroidism?
Medication for hypothyroid dogs
Treatment for hypothyroidism involves boosting the low hormone with a synthetic (manufactured) hormone called levothyroxine. Most dogs receive levothyroxine twice daily, but some dogs do well on once-daily treatment.
Dosing is not something that you should adjust yourself, so speak to your veterinarian about ideal recommendations for your dog. Finding the appropriate dose for each individual patient also sometimes takes some tweaking, so follow up bloodwork and dose changes are usually part of initial treatment. I also recheck thyroid levels one to two times per year in my well managed patients, just to be sure their dose is still appropriate.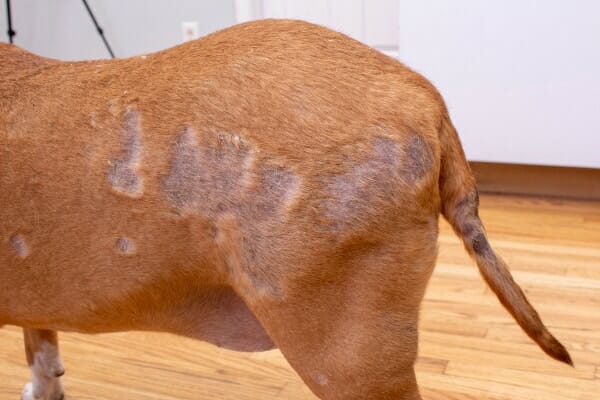 Once your dog starts on levothyroxine, you should expect to see an increase in his energy level within a few days. Skin problems, ear infections, and changes in hair coat may take four to eight weeks before noticing improvement. With treatment, most pet parents notice their dogs develop an increase in appetite and weight loss. I will say, it's a beautiful thing to see the before and after changes in a hypothyroid dog who has been diagnosed and appropriately treated.
What are the atypical symptoms of canine hypothyroidism?
Although skin changes, weight gain, and lethargy are the most common clinical signs, hypothyroidism can also present with other less-common clinical syndromes like:
Lipid (fatty) deposits on the corneas of the eyes
Cardiac arrhythmias
Megaesophagus in dogs (dilation of the esophagus)
Tragic face in hypothyroid dogs
In moderate to severe cases of canine hypothyroidism, an odd thickening can occur in the dog's skin called "myxedema." This is caused by deposits of polysaccharides in the deeper layers of the skin. This thickened skin on the face results in drooping of the eyelids and what we call a "tragic" expression or tragic face. I've only seen it a handful of times in practice, but it's a definite tip-off for hypothyroidism.
If you're the owner of a senior dog, something that may be of particular interest to you is that several notorious neurologic disorders have been linked to hypothyroidism. These include hind-end weakness, laryngeal paralysis, and vestibular disease.
If your dog has been diagnosed with one of these conditions, I'm not saying he's also hypothyroid, but it's definitely worth ruling out with bloodwork. Unfortunately, even if he is hypothyroid, treatment won't necessarily resolve the concurrent neurologic disorder.
Canine hypothyroidism: Two real-life stories
Before wrapping up, let's look at some real-life stories that put into action all we've talked about so far.
Jake's story: A Golden Retriever's hypothyroid diagnosis
Jake is a seven-year-old Golden Retriever. When he came in for his first appointment, he was overweight, had a dry coat, and hair loss along his sides and tail. Of course, I raised my eyebrows when his owner reported he was always battling ear infections. I immediately suspected hypothyroidism in dogs based on the total package of his age, breed, and clinical symptoms.
A full thyroid panel confirmed the diagnosis, and Jake started on thyroid supplements twice a day. He started to lose weight within a few weeks, and his family was thrilled to report his renewed energy. It took a few more months, but his hair coat slowly improved, and ear infections became less frequent.
Samuel's story: A Husky dog's hypothyroid symptoms
Samuel is not as straightforward as Jake. Samuel is a nine-year-old Siberian Husky. He had been gaining weight over the past three years, but it was written off as decreased activity and too many treats. But then he started to develop frequent hot spots along his back that never completely cleared up.
He started acting strange, sometimes seemingly unaware of what was going on and having urinary accidents in the house. Initial blood tests were normal as was his complete blood count. His in-house thyroid level was low normal. We suspected that was due to euthyroid sickness.
Samuel's symptoms only progressed with more lethargy, skin problems, and continued weight gain despite a strict diet. When blood tests were repeated a few months later, his in-house TT4 level was still in the normal range but had decreased. We decided to send a full thyroid panel to a reference lab.
Results came back—a low normal TT4, low free T4, and high TSH—a classic panel for true hypothyroidism. I made the diagnosis and Samuel started treatment. It took a few months, but I'm happy to share Samuel began to thrive once again.
Talk with your vet and take comfort
If after reading this article you suspect your dog may—or may not—have true canine hypothyroidism, schedule an appointment with your vet as soon as you can.
Armed with knowledge and a deep desire to help your dog feel his very best, I'm confident you're just a few short weeks away from knowing whether hypothyroidism is his underlying condition or if another common cause of low T4 plagues your beloved companion.
Either way, take comfort in the fact that you're doing everything you can to help your dog live the healthiest life possible.
Does your dog have a hypothyroidism diagnosis?
What symptoms tipped you off to the problem? Share in the comments below. We'd love to hear your dog's story.