Can I give my dog melatonin? As a veterinarian, I answer questions about giving pets over-the-counter medications and supplements on a daily basis. Some are not useful (or safe), but many have their place. Melatonin for dogs falls into the latter category. Melatonin can treat a variety of conditions in dogs if given appropriately.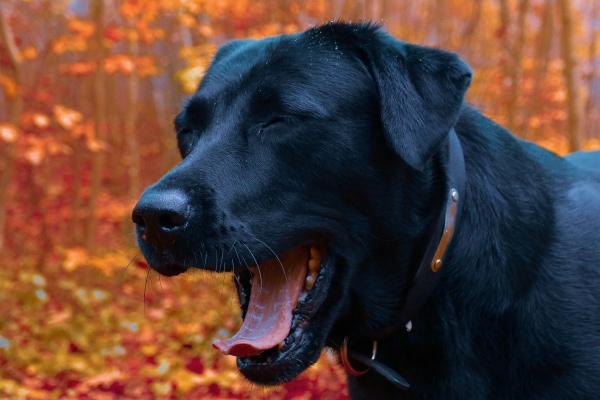 If you've been following my three-part series on melatonin and dogs, you know it is a natural hormone produced by the pineal glands. Melatonin supplements are very safe for dogs (as long as they do not contain xylitol) and can be used to treat a variety of conditions.
In Part I, Marvelous Melatonin for Dogs, I covered melatonin 101—the what and why. In Part II, Canine Cognitive Dysfunction in Dogs, I discussed using this neurohormone to help senior dogs with sleep-wake disturbances, separation anxiety, and restlessness associated with doggy dementia. (In fact, melatonin is being studied as a potential treatment for Alzheimer's disease in humans.)
By the end of this article, you'll learn how this mysterious compound can be used to treat other medical conditions in dogs too, most notably skin issues. Although it's not an effective treatment for most dermatologic conditions we see in dogs, I've seen melatonin work wonders in certain cases. Let's start by looking at melatonin for hair loss in dogs.
Can I give my dog melatonin for hair loss?
To answer this question, let's begin by briefly reviewing the role melatonin plays. In addition to improving sleep-wake cycles, melatonin helps regulate seasonal shedding cycles—where animals lose their winter coat in the spring and grow a thick coat in the winter.4
The mechanism by which melatonin is involved in regulating hair growth is not fully understood. However, it is believed that melatonin either works by directly stimulating the hair follicle or by stimulating other hormones within the brain that would affect fur growth.3,4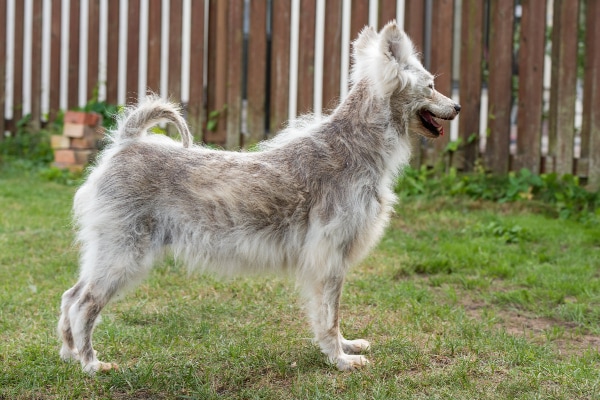 We know that melatonin levels increase with exposure to darkness. It makes sense, then, that we can see seasonal changes in systems that are affected by melatonin—such as the skin and fur—when the days get shorter and longer.
In dogs, melatonin may be helpful in managing two conditions that cause hair loss: seasonal flank alopecia and alopecia X. In both cases, the condition is considered cosmetic—the dog either has a thinner fur coat than normal or the dog has lost fur entirely. Dogs with these conditions are typically not itchy.
However, there are other diseases where hair loss can occur such as hypothyroidism in dogs and Cushing's disease in dogs. These conditions should both be ruled out prior to relying on melatonin as a primary treatment.2
Melatonin and seasonal flank alopecia
Seasonal flank alopecia is often seen in dogs in northern regions such as the upper Midwest, Northeast, and Canada. Certain breeds seem to be predisposed to this condition2, including:
Boxers
Bulldogs
Airedale Terriers
Doberman Pinschers
Scottish Terriers
Labrador Retrievers
Giant Schnauzers
Akitas
It is believed that the reduced exposure to light in the winter months may play a role in hair loss.2 Melatonin has been shown to help improve hair coat in some cases, but some cases will resolve on their own during the spring/summer as the daylight hours increase.2,3 If your dog shows signs of seasonal hair loss, ask your vet if melatonin may be a good option.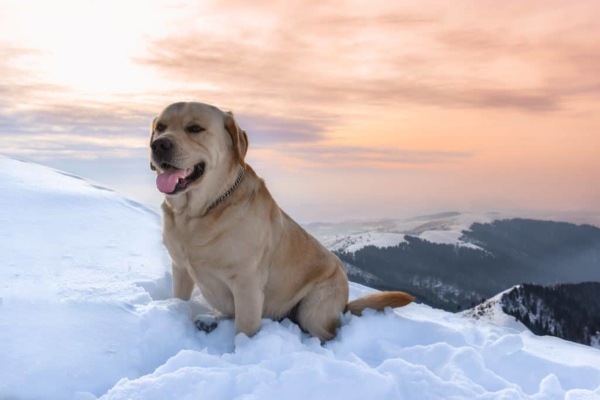 Melatonin and alopecia X
With alopecia X, the cause of hair loss is still unknown. We see alopecia X more commonly in Nordic breeds3 with double coats, such as:
American Eskimo dogs
Chow Chows
Pomeranians
Alaskan Malamutes
Although the exact cause is unknown, it is believed to be related to a hormone imbalance. This is because spaying and neutering intact dogs has been shown to cause the hair to regrow.3 In patients that are already spayed and neutered, melatonin is often the first-line treatment for alopecia X, especially considering potential side effects of melatonin are usually milder than other treatment options.
Melatonin and other medical conditions
The potential uses for melatonin are many and varied. Continued research of this hormone show its utility can be surprising.
Melatonin and platelet restoration: Mind-blowing results
In dogs and humans, there is a condition known as Immune Mediated Thrombocytopenia (IMTP), where the body attacks and destroys its own platelets. Platelets are blood cells that are critically important for blood clotting. So when their numbers get too low, the patient can experience severe bruising and bleeding.
A recent study in humans diagnosed with difficult to control IMTP showed improved ability to clot and stop bleeding when melatonin was added to their treatment protocol.1 It is believed that melatonin helps IMTP patients by encouraging the cells that produce platelets in the bone marrow, megakaryocytes, to reproduce more quickly.1,4,5 In other words, melatonin appears to stimulate platelet production in immune-mediated thrombocytopenia. That is truly amazing!
We don't yet have much data on using melatonin to treat IMTP in dogs, but so much can be extrapolated from human medicine into veterinary medicine. Melatonin has such a high safety index, there are very few contraindications for at least giving it a try in dogs with IMTP (as long as other medical conditions have been ruled out). I'm so excited to keep watch for more research in using melatonin to treat IMTP in dogs.
Melatonin and cancer
There may be benefits of using melatonin, in combination with other treatments, for management of certain cancers. Melatonin can be especially useful in helping with treatment of hormone-mediated cancers, such as mammary cancer.
Some studies have shown that melatonin may have antioxidant properties to counteract the effects of chemotherapy, and it also may help prevent the spread of certain types of cancer.6,8
Other studies indicated that melatonin may sensitize some cancers to chemotherapy, allowing for treatment of some resistant tumors.7 In mice, melatonin helped improve anemia caused by chemotherapy medications.1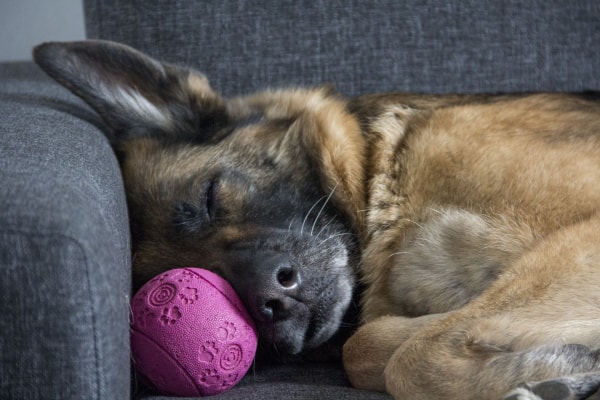 Melatonin and seizure disorders
Using melatonin as an additional therapy for seizures has received mixed reviews. There is some evidence that in dogs who had a high number of nighttime seizures, melatonin helped reduce the number of seizures.3
Some studies in humans have shown melatonin lowers the seizure threshold, meaning seizures happen less frequently. However some other studies in humans have shown melatonin to increase the risk of seizures.5,6
Studies in dogs showed no significant difference in levels of melatonin in dogs with or without seizure disorders.
Therefore, it is important to talk with your veterinarian or veterinary neurologist if your dog has seizures and you'd like to learn more about melatonin for this condition.
Can I give my dog melatonin supplements?
Beware of formulations that include xylitol
While I mentioned the dangers of xylitol in Part I of this series on melatonin and dogs, it's important to reiterate it. Also, it's important to call out that melatonin gummies are the most common culprits.
It is critical that dog owners avoid formulations of melatonin that contain xylitol. While melatonin itself is very safe, xylitol is HIGHLY toxic to dogs. For more information about the dangers of xylitol, please read my article: Xylitol and Dogs: The Dangers That Dog Owners Must Know.
How much melatonin can I give my dog?
At this point, if you're thinking your dog may benefit from taking melatonin to manage one of these conditions, you may be wondering what the appropriate dose of OTC melatonin is. Unfortunately, there is no one-size-fits-all dose for using melatonin to treat various conditions in dogs. The correct dose is influenced not only by how much your dog weighs, but also by what condition you're trying to treat, and your dog's health history.
Also, I never recommend starting a medication without first discussing with your veterinarian whether it's safe or appropriate for your dog. If your vet feels that your dog is a good candidate for melatonin supplements, he or she will recommend the correct dosage.
Melatonin worked wonders for my Pomeranian patient
Finally, since I like to talk about dogs and not just conditions, let's meet a 4-year-old neutered Pomeranian named Elvis. Despite having a doting owner who adored him, Elvis looked like he'd been rescued from a grooming incident that had gone awry. He had a mane of rust-colored fur around his neck, but his body was bald. Patches of his skin had turned to a blackish leather and his tail looked like that of an opossum with mange.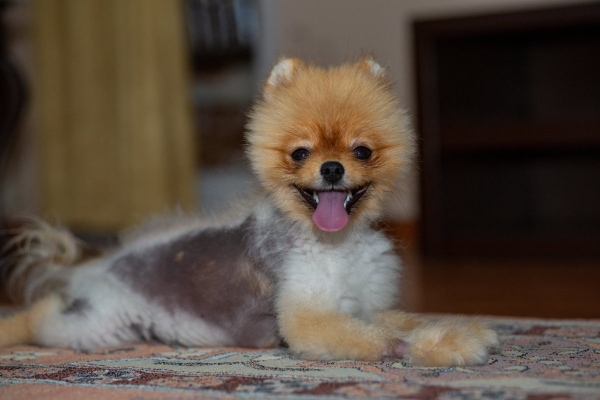 We did a full work up with labs to try to get to the bottom of what was causing Elvis's hair loss. All of his bloodwork results pointed away from the "normal" dog endocrine diseases which can cause hair loss—like Cushing's disease in dogs and hypothyroidism—and toward a diagnosis of alopecia X.
Marvelous melatonin to the rescue
We started Elvis on oral melatonin. I explained to his mom that we would commit to a three-month trial before making any further changes. Dogs with alopecia X reportedly demonstrate hair regrowth in 40-60% of the cases.
It took over four months until Elvis had the coat of a normal Pomeranian, but he regrew his hair! It was somewhat stunning to behold.
Speak with your veterinarian about giving your dog melatonin
Even though I've dedicated three articles to the marvels of melatonin for dogs, we've just touched the tip of the iceberg on all that this amazing neurohormone can accomplish. As our knowledge of melatonin grows, we will likely see it become used more frequently to aid in treating a variety of conditions with very minimal side effects.
As always, I encourage all pet owners to talk with their veterinarians before starting any additional medications or supplements.
What questions do you have about melatonin?
Please comment below. We can all learn from each other.
Sources:
Byers, C G. "Just Ask the Expert: Is There a Role for Melatonin in Dogs and Cats with IMHA?" DVM360, 27 July 2017, veterinarymedicine.dvm360.com/just-ask-expert-there-role-melatonin-dogs-and-cats-with-imha.
Jeromin, A M. "Seasonal Affective Disorder Can Be Culprit for Canine Hair Loss." DVM360, 1 Apr. 2003, veterinarynews.dvm360.com/seasonal-affective-disorder-can-be-culprit-canine-hair-loss.
"Melatonin and Seasonal Alopecias." Veterinary Practice, 1 Nov. 2013, veterinary-practice.com/article/melatonin-and-seasonal-alopecias.
"Melatonin." Plumb's Veterinary Drug Handbook, Veterinary Information Networm, 1 Jan. 2015, www.vin.com/members/cms/project/defaultadv1.aspx?id=4692338&pid=451&.
"Melatonin." VIN Veterinary Drug Handbook, Veterinary Information Networm, 30 June 2017, www.vin.com/members/cms/project/defaultadv1.aspx?pId=13468&id=7868548.
"Melatonin: Side Effects, Uses, Dosage (Kids/Adults)." Edited by L Anderson, Drugs.com, 26 Mar. 2019, www.drugs.com/melatonin.html.
Reiter, R J, et al. "Melatonin, a Full Service Anti-Cancer Agent: Inhibition of Initiation, Progression and Metastasis." Int J Mol Sci, vol. 18, no. 4, 2017, doi:10.3390.