Laryngeal paralysis in dogs (lar par) is one of a handful of true veterinary emergencies. By sharing the real-life story of a Labrador Retriever diagnosed with laryngeal paralysis, integrative veterinarian Dr. Julie Buzby reveals the signs, symptoms, and treatment options for this condition. Through detailed images and a video of a dog with laryngeal paralysis, discover why seconds truly do matter in treating acute manifestations of this disease.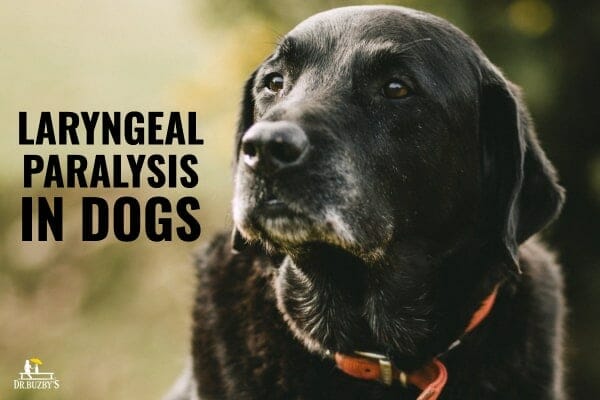 The ultimate guide to laryngeal paralysis in dogs
Laryngeal paralysis in dogs: Charlie's story
When I think of laryngeal paralysis in dogs (commonly known as lar par), I think of Charlie—a good-natured black Labrador Retriever who had been my patient for many years.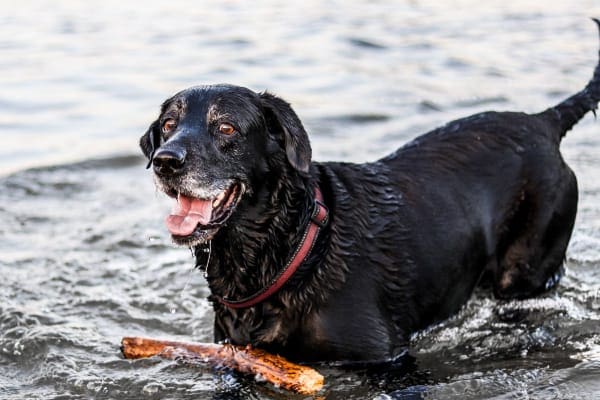 I think about a complex syndrome in senior dogs called Geriatric Onset Laryngeal Paralysis Polyneuropathy or "GOLPP." While it had not been fully characterized nor named when Charlie was alive, in retrospect, I'm sure GOLPP most accurately described his condition.
I still think about the night we lost Charlie because of this disease, and the three boxes of tissues his owner and I went through.
Don't ignore the classic "roar"
The senior Labrador Retriever's mom, Francis, was the quintessential veterinary client—observant and conscientious. When she noticed changes in Charlie's breathing, she quickly scheduled an appointment for a veterinary exam.
Francis was almost apologetic in the exam room because the symptoms she described were somewhat vague. She said that sometimes Charlie's breathing sounded like he was roaring. But as she described this, he lay sleeping on the cold tile floor, looking like the picture of health.
She also explained that Charlie's voice had changed when he barked. She finished that sentence looking sheepish, as if I might write off her concerns to some manner of delayed doggie puberty.
However, it's important to point out two things:
I am a passionate believer that you, the owner, know your dog better than anyone else. If you are concerned, then I am too.
Changes in your dog's behavior are always worth mentioning to your vet, no matter how strange or insignificant they may seem.
When Francis described her concerns, I believed her. It wasn't her job to ascribe significance to what she observed and make a diagnosis. That was my job. Her job was to recognize changes as early as possible and alert me to them. And, she was a superstar at that.
Signs and symptoms of laryngeal paralysis in dogs
Although Charlie's mom didn't realize it, she was describing telltale signs of laryngeal paralysis in dogs which include: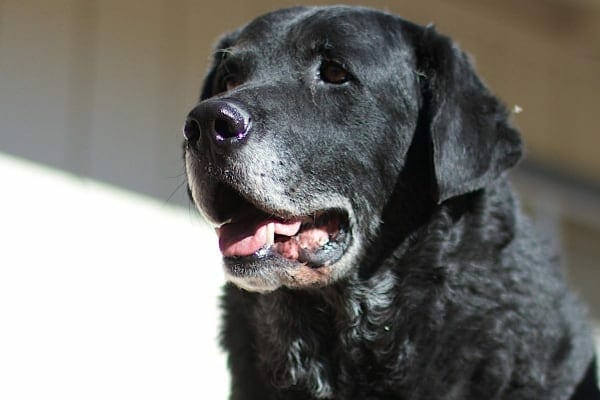 Raspy breathing
Changes in the dog's bark
High-pitched noisy breathing (stridor) which may worsen with exercise or excitement
Coughing or gagging, especially when drinking or eating
Difficulty inhaling fully
Exercise intolerance
Increased panting
Respiratory distress
Understanding a dog's larynx
After I'd finished listening to her observations and examining my patient, I explained that understanding laryngeal paralysis starts with understanding a dog's larynx. Here's a brief description:
Deep in the dog's throat is a region we call the larynx. You might know it by the term "voice box." Here we find important protective structures known as the arytenoid cartilages. These are two small ridges of tough tissue on either side of the entrance to the trachea (windpipe) that open and close with each breath. They are controlled by muscles that are in turn controlled by two nerves—the recurrent laryngeal nerves and vagus nerves.
What is laryngeal paralysis in dogs?
Laryngeal paralysis is a condition in which the cartilages that protect the upper airway fail to open and close appropriately. There is nothing wrong with the cartilages themselves, but rather the muscles that control them. Truth be told, it's not really the muscles themselves that are the problem. It's the nerves that supply the muscle.
With laryngeal paralysis, the nerve is not sending a strong signal to the muscle. As a result, the muscle weakens and no longer opens the larynx effectively. Sometimes, one cartilage is involved, and in other circumstances, it is both.
In a normal dog, the nerves command the muscles to move, which makes the cartilages open and close like a gate to allow air to move during breathing and control what enters into the lungs.
In a dog with laryngeal paralysis, the cartilage flaps (either one or both) do not move, causing obstruction of the airway as the dog breathes. It can be very noisy as the air rushes past these structures sitting in the path of the air flow. While many structures are important in the function of the upper airway, only one muscle actually opens the cartilages—the cricoarytenoideus dorsalis.
What does lar par sound like in dogs?
If nerve supply to this muscle deteriorates, the characteristic stridor (aka roaring) is heard when the dog breathes because the cartilage causes turbulence as the air moves past. As with my patient, voice changes (dysphonia) and difficulty taking in a deep breath (inspiratory dyspnea) may also be seen.
Types of laryngeal paralysis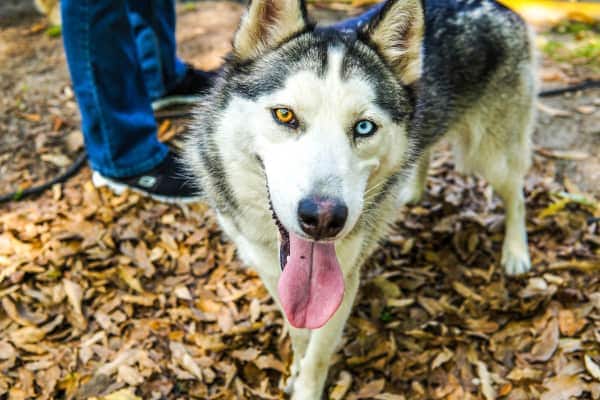 In the interest of making this story complete, I should tell you that dogs can either be born with lar par, meaning it is congenital, or they can develop it as they age, which is the acquired form.
1. Congenital laryngeal paralysis
Congenital laryngeal paralysis in dogs most often affects:
Huskies
Bouviers des Flanders
Rottweilers
It's fairly uncommon, but it should be on the differential list for any young puppy with the characteristic roaring sound when breathing.
2. Acquired laryngeal paralysis
Acquired laryngeal paralysis is the more common type of lar par. Certain breeds seem predisposed to this condition including:
Labrador Retrievers
German Shepherds
Golden Retrievers
Newfoundlands
Borzois
Greyhounds
Brittany Spaniels
Mixed breeds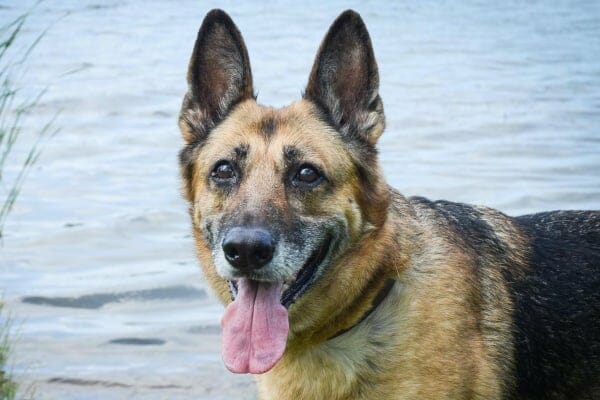 What causes laryngeal paralysis in dogs?
Generally, the reason dogs develop lar par is not known. This is why the condition was first called "Idiopathic Acquired Laryngeal Paralysis in Dogs."
Idiopathic means "of unknown cause." The term still accurately describes this condition—we don't fully understand it. However, research studies are underway to learn more.
Laryngeal paralysis is often the first sign of a generalized polyneuropathy
When I diagnosed Charlie many years ago, it was still believed that laryngeal paralysis in dogs was an isolated condition that only affected the laryngeal nerves.
In recent years, research has shown that many (some would say all) dogs with lar par actually have a generalized polyneuropathy. This means other nerves are eventually involved too. However, laryngeal paralysis is often the first and most obvious manifestation of the problem.
Geriatric Onset Laryngeal Paralysis Polyneuropathy (GOLPP)
In 2012, this led to the recognition of a condition named Geriatric Onset Laryngeal Paralysis Polyneuropathy (GOLPP), which I mentioned at the beginning of our story. To reiterate, the cause of GOLPP has not been discovered.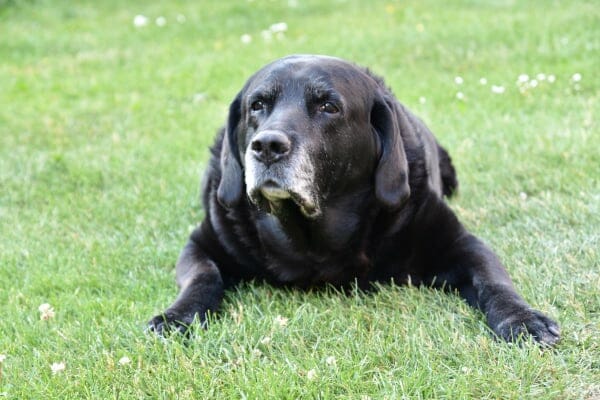 In addition to the signs of laryngeal paralysis listed earlier, senior dogs with geriatric onset laryngeal paralysis polyneuropathy may have:
Generalized weakness in all muscles, not just those in the upper airway.
Trouble walking, unsteady gait, abnormal stance, or difficulty climbing stairs or getting up on furniture due to hind end weakness.
Gagging, difficulty swallowing, or regurgitation (process where undigested food is passively expelled through the mouth) due to esophageal dysfunction.
How is laryngeal paralysis in dogs diagnosed?
If you suspect that your dog may have laryngeal paralysis, a visit to your veterinarian is in order. Diagnosis of laryngeal paralysis in dogs is based on a combination of signalment (age and breed), as well as clinical signs, such as the characteristic stridor. To confirm the diagnosis, an upper airway examination is performed. (This is what we did with Charlie.)
It is very difficult, if not impossible, to look into the back of an awake dog's throat to see the structures in question. That's why dogs are sedated, usually with an anesthetic drug called Propofol. (Probably the same short-acting anesthetic you had if you've had a colonoscopy.)
Examining a dog's larynx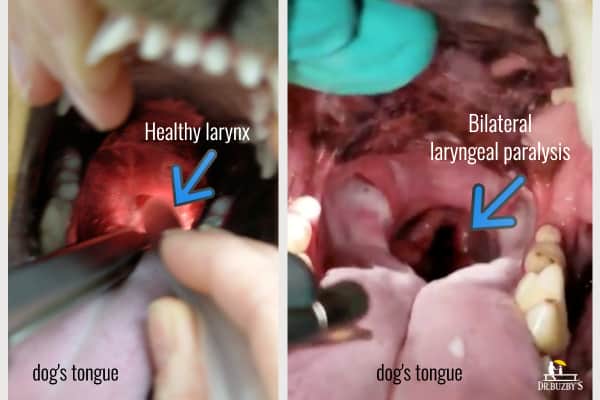 After Charlie was sufficiently sedated to allow me to override his gag reflex and get a good look at his larynx, I injected a drug called doxapram into his IV catheter. This stimulated him to take several breaths. During this short window of time, a lighted laryngoscope was held in the mouth so I could observe his cartilages.
I diagnosed Charlie with bilateral laryngeal paralysis because neither of his cartilages moved.

A video of a dog with laryngeal paralysis
Although the video below is not of Charlie, it represents exactly what I saw on his exam. To help you acclimate to the video, the dog's soft tongue is in the foreground. The arytenoid cartilages are the somewhat draping structures in the back of the throat—almost like curtains hanging in a dark window.
Sometimes lar par presents as one side moving and one side paralyzed. Sometimes there is partial paralysis—where movement is present, just not to the degree we expect. Other times, as you'll see in this video, the cartilages look like statues. They are frozen in place. (This was the situation for Charlie.)

Here's the real problem with this disease and why this blog post really matters—sometimes the diagnosis isn't made before a crisis occurs. When dogs need to cool off, they pant. In warm climates, this is especially important.
In a dog with lar par, the obstruction of the airway makes cooling difficult and rapid overheating (heat stroke) can occur. I have seen dozens of dogs in my career in this condition, and it is heart-wrenching.
When I diagnose laryngeal paralysis in one of my patients, I always ask the owners if they are willing to move to northern Alaska. I'm only half joking. Because of the cooling mechanism failure described above, the heat is brutal for these dogs, and what's even worse is the humidity. I practice veterinary medicine on the swampy coast of South Carolina. Need I say more?
Why is seeking medical care critical if you suspect lar par?
If you have a senior dog who suddenly seems to be in a loud respiratory crisis on a hot, humid day, you have a true veterinary emergency on your hands. Don't panic. Seek veterinary care immediately. Do not take a "wait and see" approach, since heat stroke in dogs can be very serious and time is of the essence.
There are not a lot of times in veterinary medicine where I truly believe seconds count for your dog. This is one of them.
Once your dog is stabilized, which can be a long and challenging task, your veterinarian will discuss treatment options for lar par or GOLPP. Neither condition is "curable." However, often they can be managed.

How do you treat laryngeal paralysis in dogs?
If the laryngeal paralysis is relatively mild, supportive therapies can be tried.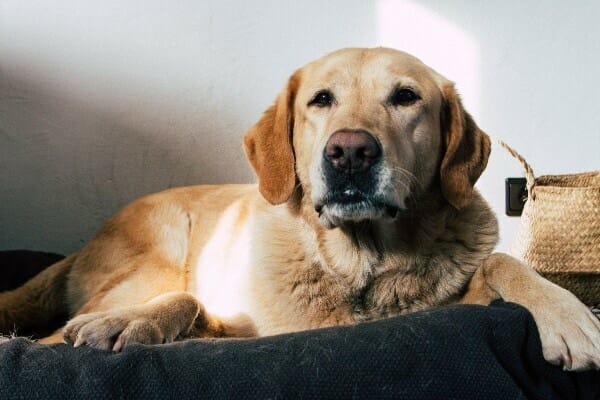 Supportive therapies for lar par include:
Minimizing excitement/stressful situations and administering sedatives as needed to facilitate calmness.
Avoiding hot, humid weather (i.e. cranking up the AC and staying inside during the hottest and most humid parts of the day).
Using harnesses rather than neck leads and collars.
Additionally, there are anecdotal reports that doxepin, a tricyclic antidepressant, can help. No studies have thoroughly evaluated this, but some reports estimate improvement in up to 75% of patients. I have also found it to be helpful in my patients. The mechanism by which it works for lar par is unknown.
Surgery for laryngeal paralysis in dogs
If symptoms worsen or cannot be managed conservatively, a surgical treatment option exists. The procedure is called tie-back surgery. It can be very successful, but it's not without risk. It is usually done by a board-certified veterinary surgeon because the canine neck is full of important blood vessels and nerves.
The surgeon will approach the larynx through an incision on the dog's neck. One of the cartilages will be "tied back" so that it is permanently open and not obstructing air flow. The other will be left alone, even if both cartilages are involved.
What happens after laryngeal paralysis surgery?
The good news is that dogs with lar par immediately breathe better after surgery and are able to lead more normal lives. The bad news is that about one-fifth of dogs who have this procedure will get aspiration pneumonia. Since the cartilages serve as a "gate" to protect the airway, if one is tied open, then aspiration of fluid and food into the lungs is possible. As a result, dogs with a tie-back surgery must be closely watched for signs of aspiration pneumonia.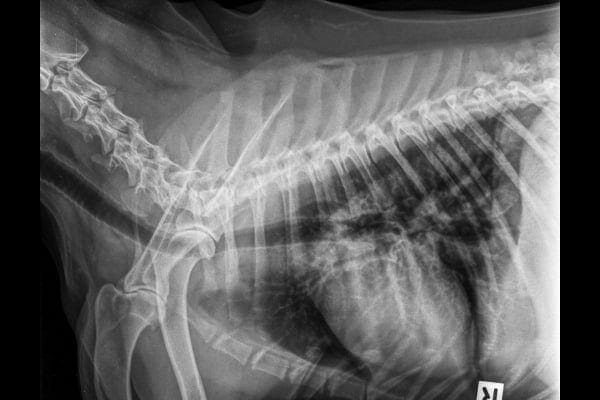 Signs of aspiration pneumonia following tie-back surgery include:
Lethargy
Change in appetite
Fever
Nasal discharge
Coughing
Changes in respiratory rate or effort
How to manage aspiration pneumonia
Changes in feeding and antibiotics (when warranted) can help manage aspiration pneumonia. And in all fairness, it's important to note that esophageal dysfunction (often a fundamental component of the dog's GOLPP) also plays a role in the development of aspiration pneumonia, not just the tie-back procedure. Many of these dogs have a dilated, flaccid esophagus (called megaesophagus in dogs) that increases the risk of regurgitation and aspiration pneumonia.
But there's a deeper issue to consider. Most dogs with lar par probably have a polyneuropathy (GOLPP) that will worsen with time. Since the cause of GOLPP has not been discovered, treatment is aimed at supportive care.
Tie-back surgery will help treat the laryngeal paralysis, but we also need to address the "whole dog."
How can you support the "whole dog" following a lar par diagnosis?
In addition to managing lar par, here are three options you can consider for the well-being of the whole dog.
1. Improve your dog's gait and stability.
Dogs with lar par as a component of GOLPP may have trouble rising and may stumble easily. Our company's signature product, Dr. Buzby's ToeGrips® dog nail grips, can improve the dog's traction on slippery floors. In fact, ToeGrips may also provide increased proprioceptive stimulus—helping the neurons from the weak hind end make connections with the central nervous system. This aids the brain in knowing how the feet are positioned, thus improving the dog's overall gait and stability.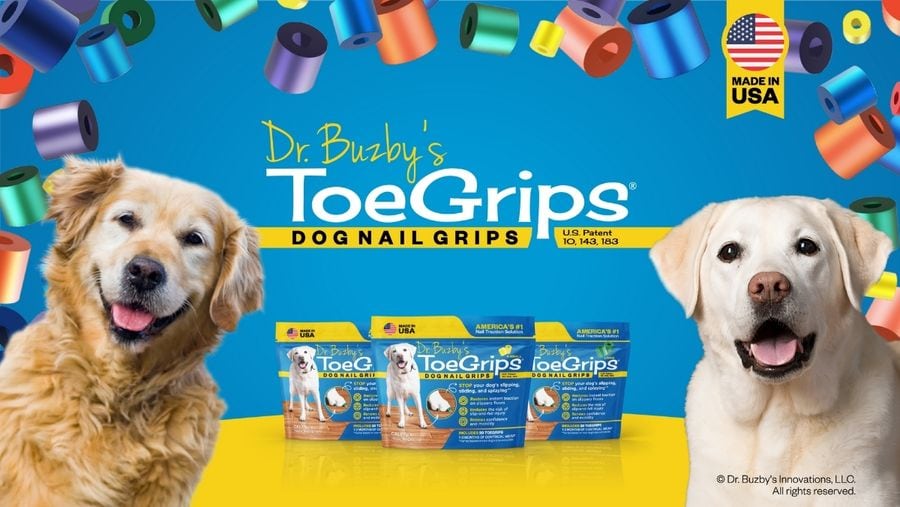 2. Consider a Bailey chair.
One study estimated that two-thirds of dogs with GOLPP also have trouble drinking and eating as the disease progresses. If your dog is struggling with swallowing issues and subsequent aspiration pneumonia, your veterinarian will likely discuss changing the consistency of your dog's food and using a Bailey chair. These measures help prevent the pooling of food in the esophagus, regurgitation, and aspiration pneumonia.
When a dog is standing on all fours and eating, the esophagus is essentially horizontal, making it easy for food to get trapped in a poorly functioning esophagus rather than transported to the stomach. A Bailey chair holds a dog upright while eating which makes the esophagus mostly vertical. This change in positioning takes advantage of gravity to help the food slide down the esophagus and into the stomach.
3. Offer protection from the heat and humidity.
Finally, I cannot stress enough the importance of protecting these dogs from heat and humidity. As veterinarians, we rarely make this diagnosis in the winter. When the heat and humidity get bad, these poor older dogs begin to fail and often present as emergencies.
Charlie's legacy: spreading awareness of lar par to help other dogs stay safe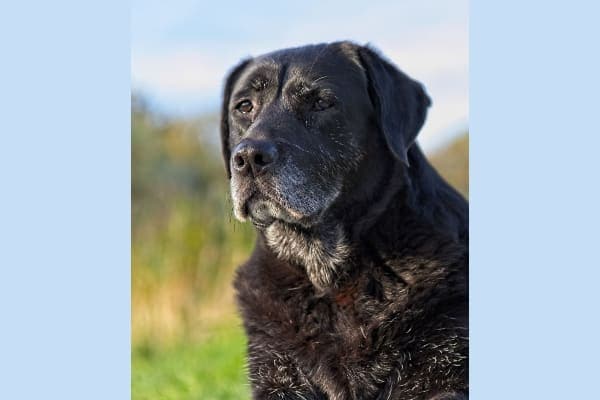 Sadly, Charlie's story does not have a happy ending. One hot, humid summer day, Charlie left his home through a doggie door while his family was out. The combination of his weak hind end plus a respiratory crisis in the sauna-like weather caused Charlie to collapse outside.
He wasn't able to make it back inside the doggie door to the protection of the air conditioning, and he wasn't able to pant effectively to cool himself down. His mom came home to find him flat out in the backyard. Devastated, she rushed him to us. His temperature upon arrival was 107°F. (A dog's normal temperature, which is one of five dog vital signs, is between 100-102.5°F.) Our team tried our best, but we could not save him.
At the time, I could find no silver lining in the tragic loss, and I cried with his mom until we had no tears left to cry. But perhaps in writing his story, his legacy will live on to help another dog stay safe.
What to do if you think your dog has lar par
Make an appointment with your veterinarian.
Anticipate your vet will want to perform a laryngoscopic exam to confirm the diagnosis.
Keep your dog cool at all times.
Minimize stress/excitement.
If your dog ever demonstrates signs of respiratory distress, seek veterinary care immediately.
While laryngeal paralysis can be a stressful diagnosis, it is not without hope. By knowing the signs, acting quickly, and partnering with your veterinarian, you're ensuring the best possible outcome for your faithful companion.
For more information on lar par and GOLPP, read: Canine Laryngeal Paralysis: A Veterinarian Answers Your Questions.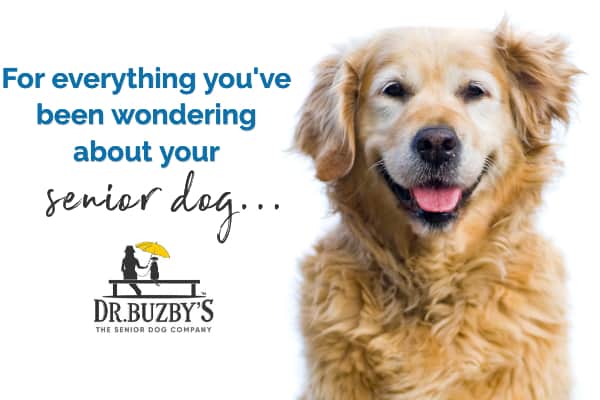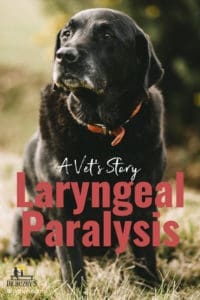 What questions do you have about laryngeal paralysis in dogs?
Please comment below. We can all learn from each other.