Megaesophagus in dogs, a condition where the esophagus becomes dilated and functions poorly, can be an overwhelming and concerning diagnosis for many dog parents. But help is here. Integrative veterinarian Dr. Julie Buzby explains the causes, symptoms, diagnosis, treatment, and prognosis for megaesophagus so you can be prepared should your dog develop this condition.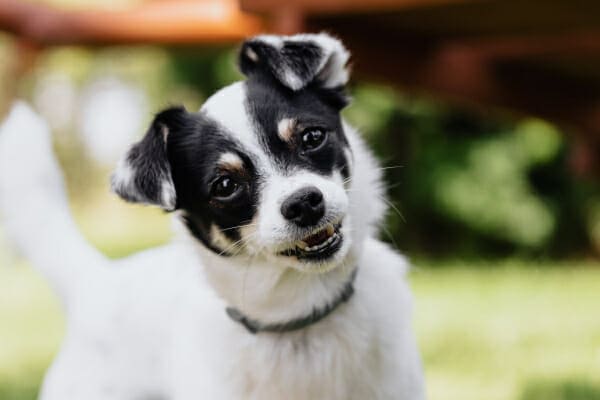 A 7-year-old German Shepherd dog, Jasper, sat patiently during his examination. I listened carefully as his mom explained that he'd been bringing up all of his food immediately after eating. She mentioned she had tried all kinds of different flavors of dog food in hopes that he had developed a food allergy. However, nothing was working. The only thing that her dog could hold down was water.
My veterinary client was so worried about her beloved dog. It was clear to her that he was losing weight and seemed less energetic. And she wondered what it meant for his future if her dear dog couldn't keep any food in his stomach.
As Jasper's mom was telling me what was going on at home, I already had a strong suspicion about what could be wrong. I explained to her that based on his symptoms, I suspected he had a condition called acquired megaesophagus.
What is megaesophagus in dogs?
As the name would indicate, a megaesophagus is an esophagus that is larger in diameter than it should be. This can occur due to damage to the nerves that help the esophagus function correctly. Or, it can happen because of an actual physical abnormality with the esophagus.
Megaesophagus can be acquired (i.e. something a dog develops later in life like Jasper) or congenital (i.e. something a dog is born with). Sometimes it is the only condition your dog is experiencing. Other times, it may be one of multiple conditions that occur at the same time due to an overarching disease state.
Megaesophagus prevents food from properly traveling through the esophagus to the stomach. This is what causes dogs to "vomit"—or more accurately, regurgitate.
We will explore megaesophagus in more detail soon. But first, it is important that you know how the esophagus should normally function.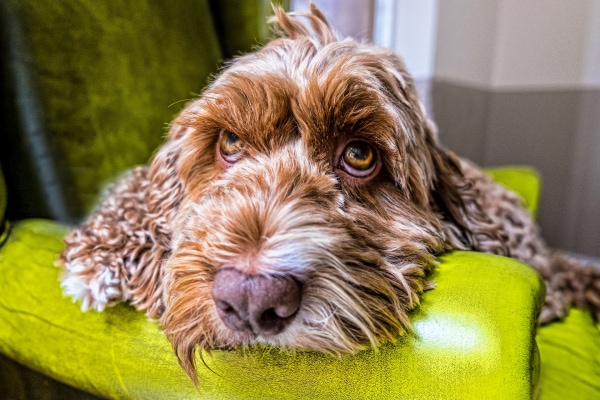 What is the esophagus and what does it do?
When your dog eats, food must travel from the mouth to the stomach somehow. This is where the esophagus comes in. It is a muscular tube located in the neck that connects the mouth to the stomach.
Moving food from the mouth to the stomach is a very active process that involves multiple muscles and nerves. Once a dog swallows the food, it moves into the top of the esophagus. Then the muscles and nerves work together to cause the esophagus to constrict and relax. This pushes the food down the esophagus and into the stomach.
If there is a problem with the esophagus or the nerves associated with it, the esophagus becomes weak and floppy. It can't constrict the way it should. As a result, the esophagus becomes wider in diameter. These changes together make a megaesophagus.
Now the food is stuck in the esophagus instead of moving to the stomach. And what goes down but doesn't reach the stomach must come back up. This is regurgitation, and it is usually the first sign of megaesophagus that owners notice.
What is the difference between vomiting and regurgitation?
Jasper's owner described what she was seeing as vomiting. However, it was actually regurgitation. It is common to confuse the two.
Thankfully, there are a few ways to distinguish vomiting from regurgitation.
Simply put, regurgitation is passive whereas vomiting is active. When vomiting, your dog will make that awful gagging sound that we all dread hearing. They will heave and retch. And then, with effort, the food comes up. Lovely thing to imagine, isn't it?
Also, vomiting can occur at various times after eating or drinking. It might be immediately after consuming food and water or it could be several hours later. The food that is vomited might be whole or could be partially digested already.
On the other hand, regurgitation is a passive action. This means that it occurs suddenly and without warning or effort. One minute your dog will be fine, and the next…splat. He or she is regurgitating. It looks like the food or water that was just consumed turns around and comes right back up. When this happens, there is no heaving, gagging, retching, or signs of nausea to warn you.
Typically, a dog will regurgitate food or water fairly quickly after eating or drinking, and the food comes up undigested. This is because the food never made its way down the esophagus and into the stomach. Instead, it just sat in the esophagus tumbling around.
What causes megaesophagus in dogs?
All these graphic details about vomiting and regurgitation probably raise the question in your mind about how exactly dogs end up with a megaesophagus. As mentioned earlier, there are two forms of megaesophagus—congenital and acquired.
Congenital megaesophagus
Dogs who are born with a megaesophagus have congenital megaesophagus. While it can happen in any breed, congenital megaesophagus is usually the most likely in:
German Shepherds
Wire Haired Fox Terriers
Shar Peis
Labrador Retrievers
Miniature Schnauzers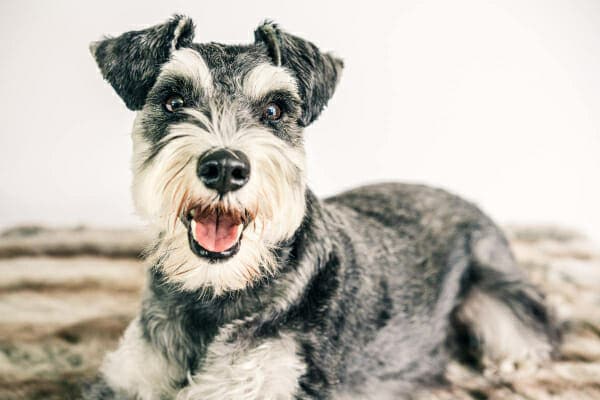 Some puppies have congenital megaesophagus because the nerves that control esophageal function are not fully developed. Other puppies may be born with a condition called a vascular ring abnormality. This occurs due to the presence of fetal blood vessels that do not go away after birth. It is normal for puppies to have these vessels during development, but they should disappear after birth.
In cases of vascular ring abnormalities, the vessels remain and wrap around the esophagus. This constricts the esophagus and prevents it from functioning normally.
Most puppies will start showing signs of megaesophagus around the time they transition to solid food. This is probably because their mother's milk is a liquid. This allows it to flow down the esophagus even if esophageal function is poor or there is a vascular ring abnormality constricting the esophagus. There can be some variation in this time frame, though.
Acquired megaesophagus
If the esophagus was normal at birth but the dog develops a megaesophagus later on in life, this is an acquired megaesophagus. Adult dogs with acquired megaesophagus can develop symptoms at various points in life, but it is most common in middle-aged or senior dogs.
Some diseases or conditions that could lead to a megaesophagus include:
Myasthenia gravis
The most common cause of megaesophagus is myasthenia gravis in dogs, a problem with signal transmission between nerves and muscles. Normally, when the nerve says "contract" the muscle gets the message and contracts. However, with myasthenia gravis, the immune system attacks the interface between the nerves and muscles. Now when the nerve says "contract" the muscle doesn't get the message or only gets a very weak message.
As a result, the muscles don't know when to contract or relax so they just sit around and don't do much. For the esophagus, this lack of signal transmission means it becomes dilated and can't constrict properly to pass food to the stomach.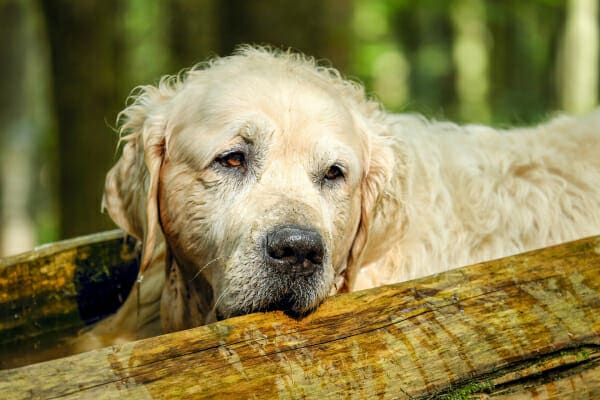 Geriatric onset laryngeal paralysis and polyneuropathy (GOLPP)
Another common cause of megaesophagus is geriatric onset laryngeal paralysis and polyneuropathy (GOLPP). It usually occurs in our beloved senior dogs who are between 8 and 13 years old.
This disease has three main parts to it—laryngeal paralysis in dogs, megaesophagus, and weakening of the hind legs. These three conditions occur due to degeneration of the nervous system. As mentioned, problems with the nervous system mean that the esophagus can't constrict and move food properly.
Trauma or damage from a foreign body
Esophageal trauma may happen for a variety of reasons. One of the most common causes is getting a foreign object lodged in the esophagus. Sometimes a dog tries to swallow a bone whole, and instead of sliding down to the stomach, it sticks somewhere in the esophagus. Or a dog may decide to swallow a toy, fish hook, knife, or other inappropriate items.
When these foreign bodies sit in the esophagus, they rub on the delicate tissue and cause injury. In order to heal the damaged area, the body lays down scar tissue. Unfortunately, sometimes the scar tissue forms a stricture (i.e. narrowing) in the esophagus.
Since food can't get through the narrowed section of the esophagus as easily, it accumulates in front of the stricture. Think about it like the traffic jam you would encounter if the road suddenly went from four lanes to one. This stretching of the esophagus eventually leads to dysfunction of the esophageal muscles and a megaesophagus.
Cancer
A tumor that either grows within the esophagus or grows outside the esophagus but compresses it can also lead to megaesophagus in a similar fashion as a stricture. Additionally, central nervous system cancer may also lead to megaesophagus.
This is far from an exhaustive list of all the conditions that can cause a megaesophagus, but it does cover some of the most common ones. For some dogs, no one is ever able to determine the true cause. Those cases are classified as idiopathic megaesophagus.
In order to give your veterinarian the best chance of finding the underlying problem, it is important that you pay attention to clinical signs at home.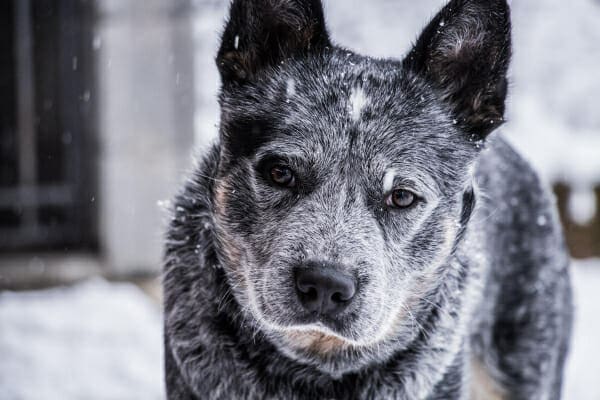 What are the symptoms of megaesophagus in dogs?
As previously discussed, the most common symptom of megaesophagus is regurgitation. Remember, this is different from vomiting because it is a passive action. There is no gagging, retching, or heaving. Also, it usually happens shortly after eating and the food is undigested.
Dogs with megaesophagus are unable to move food to the stomach and the intestines for digestion and absorption of nutrients. As a result, weight loss is common. They are hungry and want to eat, but the food just won't stay down. In cases of severe or ongoing megaesophagus, affected dogs might also lose muscle definition due to the lack of nutrients.
Anytime you suspect your dog is regurgitating or you notice your dog is losing a concerning amount of weight for no known reason (i.e. you aren't trying to help your dog lose weight), you should contact your veterinarian. The sooner your dog is evaluated, the better.
Another concern for dogs with megaesophagus is the risk of aspiration pneumonia. Have you ever swallowed food and it "went down the wrong pipe"? This is similar to what can happen to dogs with megaesophagus. If the esophagus is not working properly, undigested food can accidentally be inhaled into the lungs while eating or regurgitating.
If your dog does have aspiration pneumonia, it is likely that you will notice:
If you suspect your dog has developed aspiration pneumonia, it is important to consult your veterinarian immediately. Aspiration pneumonia can be life threatening.
How is megaesophagus diagnosed?
Most likely, if your veterinarian suspects megaesophagus and/or aspiration pneumonia secondary to megaesophagus, the first diagnostic test he or she will perform after the physical exam is a chest X-ray. This is usually the fastest and easiest way to diagnose megaesophagus.
However, there are some cases where megaesophagus is not easy to see on X-rays. In those situations, the veterinarian may give your dog a liquid contrast by mouth. The contrast shows up on X-rays and can highlight the esophagus, making its borders easier to see. But the contrast must be used with caution. There is a risk the dog could aspirate (i.e. inhale) the contrast medium.
The other benefit of chest X-rays is that they can show if your dog has aspiration pneumonia. This is very important to know because your vet will want to start treatment for aspiration pneumonia as soon as possible.
If your vet suspects an esophageal motility problem, he or she may also recommend fluoroscopy at a specialty clinic. This is a real-time X-ray that allows the veterinary specialist to watch food or liquids go down the esophagus. It can be a great way to diagnose motility issues that haven't yet lead to a definitive megaesophagus.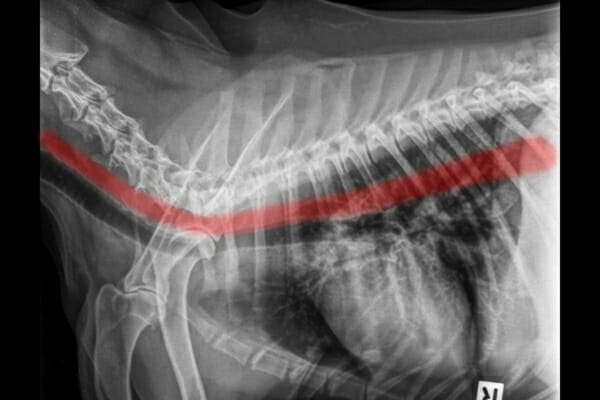 Testing to find the reason for the megaesophagus
The next step is to diagnose the cause of megaesophagus if possible. In puppies with congenital megaesophagus, the vet may be able to see evidence of a vascular ring anomaly on the initial chest X-rays. Since the vessels above the heart are constricting the esophagus, puppies with a vascular ring anomaly tend to have a very dilated esophagus in front of the heart and then a distinct area where the esophagus narrows significantly just above the heart on X-rays.
In older dogs who have acquired megaesophagus, there are multiple tests your vet might recommend. The exact tests will depend on the suspected cause and what clinical signs your dog has. Some potential tests include:
Blood tests to rule out hypothyroidism in dogs or Addison's disease in dogs, and to look for signs of infection such as aspiration pneumonia.
Sedated examination to look for signs of laryngeal paralysis (which would point to a diagnosis of GOLPP).
Blood tests or a Tensilon test (i.e. looking at the response to an injection that increases signaling molecules in the space between the nerve and muscle) to confirm myasthenia gravis.
If these tests don't yield an answer, your veterinarian may order other tests like biopsies, nerve stimulation tests, CT/MRI, etc. However, sometimes regardless of what tests are performed, the underlying cause of megaesophagus is never determined.
What is the treatment for megaesophagus?
The good news is that while it would be ideal to find the cause in all megaesophagus cases, there are still plenty of ways to help a dog who has megaesophagus even if the cause is unknown.
Treatment can be broken into two main categories—strategies to help a dog eat and drink with minimal regurgitation and strategies to address the underlying cause (if found).
We will focus primarily on the first category since it is universal to dogs with megaesophagus. If your vet finds an underlying cause for the megaesophagus, he or she will discuss the treatment or management options specific to that condition.
Find the best food for dogs with megaesophagus
The first step for managing megaesophagus is decreasing the chances of regurgitation. Different dogs will regurgitate with different consistencies of food. This makes it necessary to determine whether your dog has difficulty with solids or liquids. For example, my German Shepherd patient was able to keep water and liquids down. However, if he tried to eat solid food it would come right back up.
If your dog tends to regurgitate solid food, it is best to feed your dog liquids or slurries. To do this, you can buy food with higher water content, add water, and/or put food in the blender.
If your dog has problems with liquids, use solid food instead. For many dogs, "meatballs" of canned food are a safe option. This is because food meatballs are often the right size and consistency to stimulate enough esophageal motility to push food into the stomach.
Once you and your vet determine the best consistency for the food, the next step is figuring out how to feed it. Small, frequent meals are the best way to feed a dog with megaesophagus. Also, you should offer high calorie foods. That way, he or she doesn't have to keep down as large a volume of food to still get enough calories to help maintain weight.
Consider elevated feeding
The best way to offer food and liquid (i.e. water) to dogs with megaesophagus is through elevated feeding. When a dog is bending down to the floor to eat, the food has to fight gravity in order to get to the stomach. But if the head is level with the chest, or even better, the dog's whole front end is elevated, gravity can help the food slide down the esophagus and into the stomach.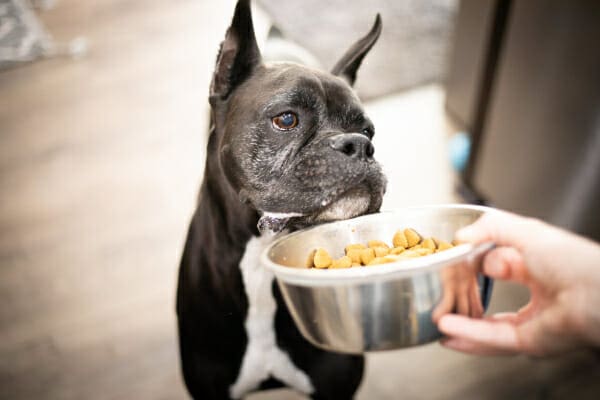 One way to do this is by placing your dog's food and water dish on a stool that makes the food level with his or her head. Using a step ladder or staircase is even more beneficial because it encourages your dog to stand on his or her hind legs and reach up for the food. The more elevated the food the better.
The other option is to use a specially designed feeding station called a Bailey Chair, which was designed specifically for dogs with megaesophagus. It is like a high chair for dogs. (You can purchase a Bailey Chair, or there are plans online if you want to build one yourself.)
The Bailey Chair encourages dogs to sit upright while eating. Also, it's beneficial because it easily confines dogs after finishing the meal. Keeping a dog confined and upright after meals is important because it has been shown that by decreasing activity after eating or drinking, dogs are less likely to regurgitate. Ideally, dogs should continue to sit in an upright position and be still for at least 10 to 15 minutes after eating.
Use a feeding tube
In cases of severe megaesophagus where elevated feeding is not working, your vet may recommend a feeding tube for dogs. This would allow food to go directly into the stomach without using the esophagus at all. However, a feeding tube does not mean that your dog will never regurgitate. Dogs will still naturally swallow saliva throughout the day. This saliva can be regurgitated even with a feeding tube in place.
What is the prognosis for a dog with megaesophagus?
Unfortunately, megaesophagus is often incurable. There are no medications or surgical options that have a high likelihood of restoring esophageal function for dogs with acquired megaesophagus. And surgery to correct a vascular ring anomaly only resolves clinical signs in about 30% of cases. Thus, the goals of treatment are to manage the disease, reduce regurgitation, and keep dogs comfortable. For these reasons, the prognosis is usually guarded to poor.
The exception to this is puppies with congenital megaesophagus. Sometimes, they will grow out of megaesophagus by the time they are about six months old.
In most cases, though, the prognosis is guarded due to the complications that are associated with megaesophagus. The number one concern is aspiration pneumonia. As mentioned, aspiration pneumonia can be deadly and cause severe effects on your beloved dog. Even in dogs who survive aspiration pneumonia, there can be secondary problems due to permanent lung damage.
The best way to give your dog the longest and happiest life possible is working closely with your veterinarian. It is important to closely follow your dog's feeding plan. This will help reduce the risk of regurgitation and aspiration pneumonia as much as possible. Also, monitor your dog closely for signs of aspiration pneumonia or other problems and promptly reach out to your veterinarian if you see any concerning symptoms.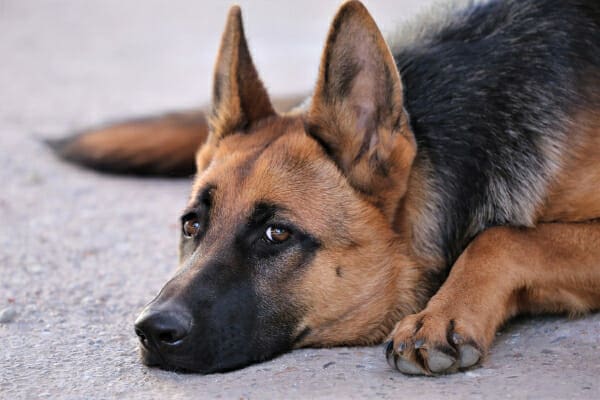 A Bailey Chair for Jasper the German Shepherd
We were never able to determine what caused Jasper's acquired megaesophagus. His mom made him a Bailey Chair that Jasper now loves to use every day when it is time to eat.
Over time, he started to gain back the weight he lost previously and his mom watches him very closely for signs of aspiration pneumonia. She knows that things can change suddenly for him. If she has any concerns about his health, she is always quick to contact me.
Managing megaesophagus in partnership with your vet
I understand that a diagnosis of megaesophagus can be quite concerning, and the outlook isn't great. However, that doesn't mean that you are powerless to help your pup. Actually, much of the management of megaesophagus is in your hands since it centers around how you feed your dog. And the feeding procedure gives you the chance to spend lots of quality time together. That 10 to 15 minutes your dog needs to stay sitting up after a meal can be a great time for some petting, ear scratches, etc.
Developing a strong relationship with your veterinarian is so important too. Having someone who is familiar with your dog's case of megaesophagus will help make treatment adjustments easier. Together, you and your vet can help ensure that your dog can have as happy and comfortable life as possible despite megaesophagus.
Have you ever had a dog with megaesophagus?
Please share any tips or tricks you might have learned through your dog's experience.