You've probably heard about omega-3 fatty acids for dogs, but do you know what they do and why they are so important for your dog's health? Integrative veterinarian Dr. Julie Buzby knows there's nothing "fishy" about this essential fatty acid that is commonly found in fish oils. By the end of this post, you'll know the benefits of omega-3s, and why it's another option you may want to consider for your senior dog.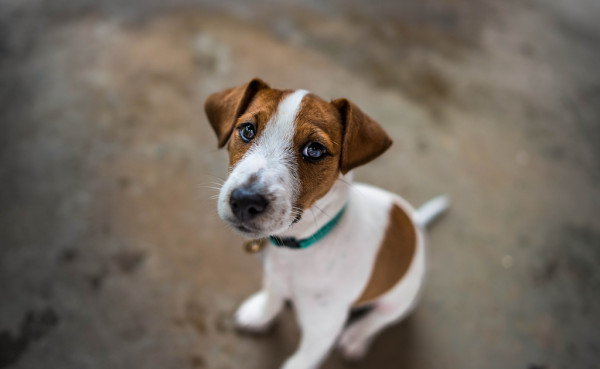 "Amazing" is a word I reserve for the best of the best, which is why I'm pairing it here with "omega-3 fatty acids for dogs." As an integrative veterinarian for 20+ years, omega-3s are one of my favorite tools in my canine healthcare toolbox, especially for our beloved grey-muzzled companions. But what are omega-3 fatty acids, and more importantly, can they help your dog? Let's find out.
What are omega-3 fatty acids?
Omega-3 fatty acids are the good, polyunsaturated fats that feed every cell in your dog's body. Bear with me as I take you back to high school chemistry class to break down that statement. The term "polyunsaturated" means that there are at least two double bonds in the molecule. This is in contrast to a "unsaturated" fat which contains no double bonds.
The polyunsaturated fats are named based on the location of the first double bond in relation to the methyl end. So an omega-3 fatty acid has a double bond between carbons 3 and 4. An omega-6 fatty acid contains the double bond between carbons 6 and 7. You get the point.
Omega-3 fatty acids are called "essential" because your dog's body needs them but cannot produce them. Instead, your pup must consume them through food or a supplement.
Within the omega "family," there are three types of omega-3s: docosahexaenoic acid (DHA), eicosapentaenoic acid (EPA), and alpha linoleic acid (ALA).
3 types of omega-3 fatty acids
Docosahexaenoic acid (DHA) and eicosapentaenoic acid (EPA) tend to get most of the attention, and rightly so. They play many important roles in the body including promoting organ health, immune system function, and growth and development. Plus, DHA and EPA can effectively reduce inflammation in the body. Cold water fish are a good source of DHA and EPA, which accumulate in their bodies due to their diet. Other foods with high omega-3 fatty acids, specifically DHA and EPA, include calamari, krill, and algae.
The third member of the omega-3 family, alpha linoleic acid (ALA), is less important than the other two. This is because the dog's body must convert ALA into DHA and EPA in order to use it. Unfortunately, that process is pretty inefficient with only an estimated 10% conversion rate. ALA can naturally be found in vegetable oils such as canola oil, soybean oil, walnut oil, corn oil, or flaxseed oil.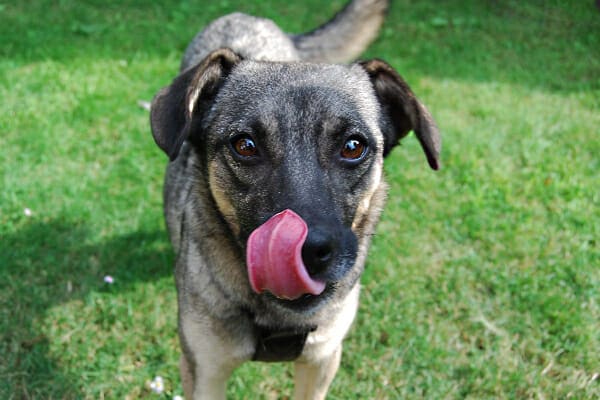 Omega-3 and omega-6 fatty acids for dogs: an important balancing act
In addition to omega-3 fatty acids, there is another member of the omega family called omega-6 fatty acids. This group includes linoleic acid (LA), which is essential for dogs. Omega-6s come from animal fats, vegetable oils, nuts, and seeds. They sometimes tend to get a bad rap for being "pro-inflammatory." But they do also play an important role in the body. Without sufficient amounts of omega-6s, dogs may suffer reproductive or skin issues or experience failure to thrive.
Nature intended the omega-3s and omega-6s to work together in a specific ratio for optimal health benefits. Research indicates a ratio of omega-6 to omega-3 fatty acids of 5:1 is optimal. Thus, it is important to pay close attention to the balance of omega-3 and omega-6 fatty acids for dogs.
What are the benefits of omega-3 fatty acids for dogs?
When it comes to benefits, Omega-3 fatty acids could win an award for versatility. They reduce inflammation throughout the body and benefit the skin, eyes, heart, bladder, kidneys, brain, and joints. The six primary benefits of omega-3 fatty acids for dogs include:
1. Supporting joint health
Since Omega-3s help reduce inflammation in the body, they are one of my favorite tools in my toolbox for osteoarthritis in dogs. A 2016 study looking at the effects of EPA and DHA for dogs with arthritis showed some promising results.
In it, researchers gave 74 dogs with arthritis either a DHA/EPA supplement or a placebo (medical grade mineral oil) for 84 days. The dogs who received an omega-3 supplement had significantly less pain, swelling, and crepitus (i.e. feeling and sound of bone grating on bone or cartilage) than those who got the placebo. And overall the dogs in the omega-3 supplement group had decreased pain and dysfunction and improved overall wellbeing by the end of the study.
While this is a relatively small sample size, it does seem to indicate that omega-3s can be very helpful to our arthritic pups.
2. Supporting brain development and maintenance
DHA plays a very important role in the brain. It helps with nerve signal transmission, and is a key structural component in the brain. It is critical that pregnant and nursing dogs receive adequate amounts of DHA to aid in brain and retina development in the puppies. Plus, puppies continue to need DHA for healthy brain development after they are born. Some studies also indicate that puppies whose diet contained higher levels of DHA were more trainable.
Additionally, omega-3s may be helpful for cases of canine cognitive dysfunction (CCD). This common affliction of senior dogs is similar to dementia or Alzheimer's disease in humans. Dogs with CCD may experience behavior changes, loss of housebreaking, decreased interactions with family members, changes in activity level, and/or disruptions in sleep-wake cycles.
A study of 142 dogs fed a DHA supplemented food for 60 days demonstrated improvement in all these areas. Plus, other studies have indicated that DHA can improve cognitive function in our canine companions showing signs of dementia in dogs.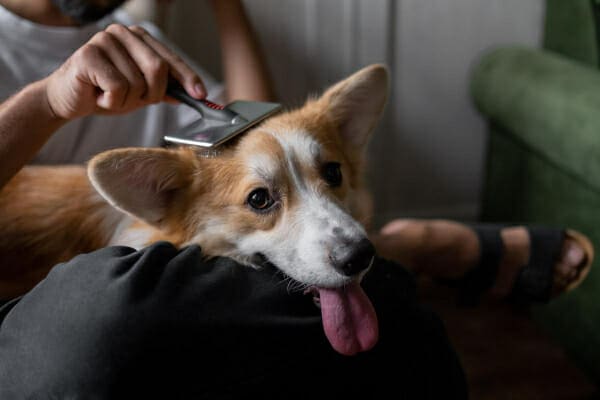 3. Improving skin and coat health
If your dog suffers from itchy, irritated skin, omega-3s may be just the ticket. In part, this is due to their anti-inflammatory properties. Studies indicate that itchy dogs who are started on fish oil supplement tend to have less itching and self-trauma and a better coat. For these reasons, omega-3 fatty acids can be a helpful allergy medicine for dogs, especially early on in the course of allergies. They probably won't be sufficient on their own for dogs with more severe allergies, though.
In addition to helping itchy dogs feel better, omega-3s are a go-to choice for many veterinarians for skin and coat health. If your dog has dry skin or a dry, brittle coat, omega-3s might be a great solution to give his or her coat a beautiful sheen again.
4. Maintaining heart health
Omega-3 fatty acids also are a useful adjunctive therapy for heart disease in dogs. Research indicates that omega-3s may reduce the risk of abnormal heart rhythms, which frequently occur in dogs with heart failure.
Additionally, omega-3 may help improve heart function, heart rate, and blood pressure. Dogs with heart failure also tend to lose weight and muscle mass as the disease progresses. However, in one study of 108 dogs, fish oil supplementation reduced weight loss and improved survival times in dogs with heart failure.
5. Improving kidney disease
Dogs who have kidney disease may benefit from omega-3 supplementation. One study indicated that fish oil supplementation can slow the progression of kidney disease in dogs who have glomerular injuries (i.e. problems with the filtration apparatus of the kidney). Omega-3s may also help protect the kidneys from acute injuries.
6. Assisting in cancer treatment
Additionally, omega-3 essential fatty acids may have some anti-tumor activities. One study indicated that omega-3 supplementation could potentially increase survival time and the disease-free interval for lymphoma in dogs who were treated with the chemotherapy drug doxorubicin.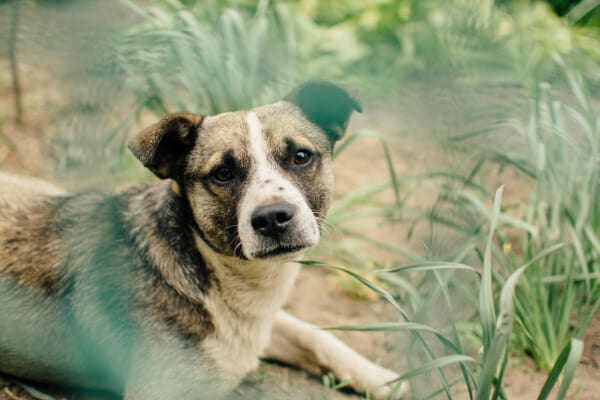 Why are omega-3s important for your dog's health?
As you can see, omega-3s play a vital role in the body and also have a great therapeutic value. As researchers continue to study omega-3 fatty acids, I suspect the list of benefits will continue to grow.
It is no surprise that without the proper amounts of omega-3s, dogs can experience a wide variety of health problems. Some of the most common symptoms of omega-3 deficiency are:
Dry, flaky skin
Brittle nails
Hair loss
Dull haircoat
Poor retina and brain development in puppies
These symptoms are common for a variety of other medical conditions. So it is always best to consult your vet rather than try to diagnose the issue yourself.
Omega-3 fatty acid supplements for dogs
There are a number of ways to provide the proper balance of omega-3 fatty acids in your dog's diet. Options include giving your dog salmon, anchovies, or sardines, or using a commercial dog food high in omega-3s. However, one of my favorite ways to ensure dogs get adequate amounts of omega-3s is through supplements.
While omega-3 fatty acids may be appropriate for dogs of any age, it's obvious why they are such a good supplement for senior dogs. As an integrative veterinarian, I recommend omega-3 supplements for nearly every one of my arthritic patients. I also suggest it for those suffering from age-related brain dysfunction, vision issues, heart disease, and skin conditions.
When I say omega-3s, remember that I really mean DHA and EPA. Hands down, a quality fish oil supplement is the most direct source of these essential fatty acids for dogs.
The brand of supplement that I recommend is the Nordic Naturals Omega-3 pet line. It's important to note that this product should be stored in the refrigerator to prevent it from becoming rancid. Omega-3s should never be exposed to temperatures over 80 degrees Fahrenheit.
Not all supplements are created equal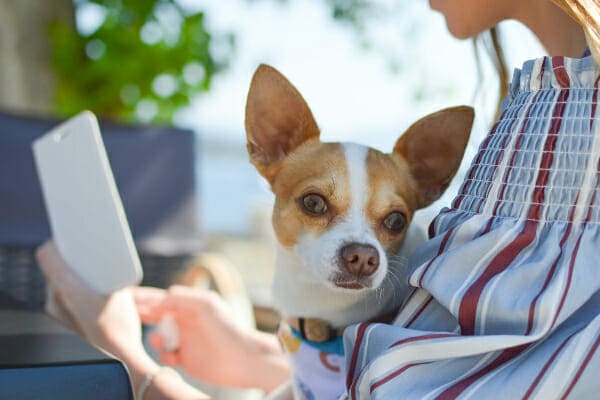 When you're choosing a brand of omega-3 supplement for your dog, be sure to consider:
The source of the ingredients
Concentration of DHA and EPA
Quality control and testing measures
How it is processed
Whether there has been independent (third-party) evaluation of the product
Depending on the source and processing, fish oil could potentially contain high levels of mercury or other heavy metals. Additionally, some fish oils, like cod liver oil, contain high levels of vitamin A or D. This could lead to a toxicity problem if administered in high doses.
Also, different omega-3 fatty acid supplements for dogs may contain varied amounts of DHA and EPA. Unfortunately, the label claims may not always be accurate. One study indicated that the EPA and DHA amounts in 21 out of 51 best selling fish oil products in the U.S. varied by more than 10% from what was written on the label. This is why it's important to use a product from a company you trust.
Encore Mobility
While we are on the topic of supplements, I also wanted to briefly mention Dr. Buzby's Encore Mobility™ hip and joint supplement. Among its many other benefits, Encore Mobility is high in omega-3 fatty acids from green lipped mussels for dogs.
Save 10% on Encore Mobility™ Joint Supplement for Dogs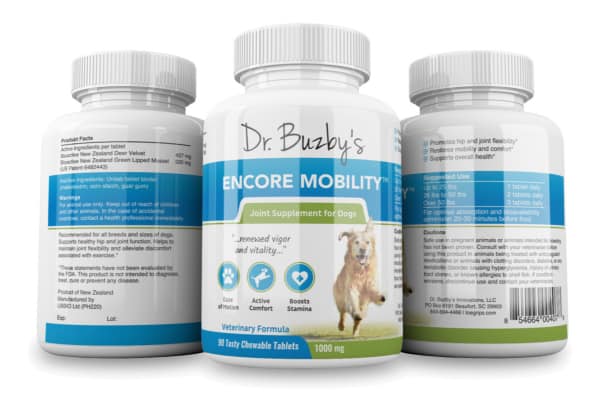 Give your dog more good days.
Use promo code HAPPY to save 10% on Encore Mobility.
In addition to DHA and EPA, it also contains a unique omega-3 not found in fish oils called eicosatetraenoic acid (ETA). ETA blocks a different inflammatory pathway than DHA and EPA, which provides additional inflammation-reducing properties.
Encore Mobility also contains deer velvet supplement for dogs, which further helps with joint health. To learn more about the benefits of Encore Mobility for arthritic dogs, check out the infographic below or read my blog: The Best Supplement for Joint Pain in Dogs Is Not Just About Joints.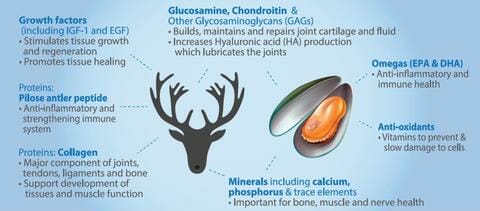 Dosage information for omega-3 fatty acid supplements
Once you pick an omega-3 supplement for your dog, the next question is how much you should give him or her. Unfortunately, that question doesn't really have one set answer. Different conditions may require different amounts of EPA or DHA.
It is best to consult your vet to get an exact dose recommendation for your dog. Also, it's important to note that it's possible to overdose your dog on fish oil. So don't go with a "if a little is good, more is better" approach.
A note about commercial dog foods and omega-3 fatty acids
As mentioned earlier in this article, the balance between omega-3 fatty acids and omega-6 is important to your dog's health. Commercially manufactured pet food is heavily made up of omega-6 fatty acids such as animal fats and vegetable oils. These ingredients do serve other important nutritional purposes. However, this practice also has resulted in a highly unbalanced ratio between the omega-3s and omega-6s in many foods, preventing them from working together.
In addition, many commercial dog food companies opt to use a plant-based fat as an omega-3 source instead of fish oil. These plant fats, such as flaxseed oil, primarily deliver ALA to your dog's body. And as you learned earlier, only about 10% of the ALA can be turned into the "useful" omega-3s, DHA and EPA.
While this might be fine for a young, healthy dog, it doesn't always work so well for a chronically ill or senior dog.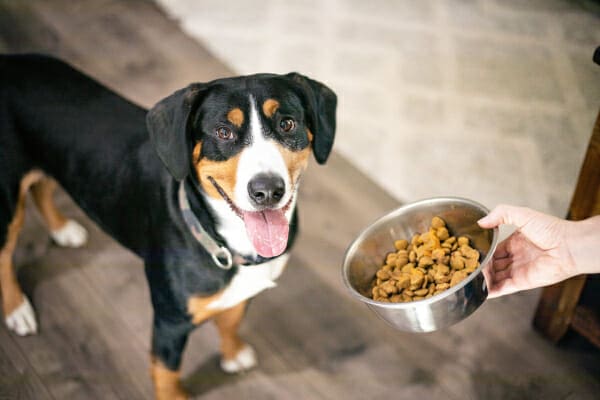 Some diets do contain adequate levels of omega-3 fatty acids for dogs.
However, I don't want you to think that every commercial dog food is automatically bad when it comes to its omega-3 and omega-6 profile. There are some over-the-counter diets that do have an optimal omega-3 to omega-6 ratio. This is more common in diets formulated for senior dogs or those with skin problems.
Also, several companies make veterinary prescription diets that are high in omega-3s for the management of arthritis, kidney conditions, or canine cognitive dysfunction. If you are interested in learning more about whether these diets could be right for your dog, speak with your veterinarian.
Are there any adverse effects of omega-3 fatty acids?
I can't say enough about the benefits of omega-3 supplements. But I would be remiss not to mention the possible adverse effects too.
Overall, dogs typically tolerate omega-3 supplements well. However, adverse effects are possible, most of which tend to be more common at higher doses. Side effects include:
GI upset (i.e. vomiting or diarrhea)
Delayed wound healing
Weight gain
Abnormalities in blood clotting (This is why it's important to let your vet know your dog is taking Omega-3s prior to surgery.)
Changes in immune function (which was noted in the laboratory but it is unknown if this is relevant in real life)
Some researchers have proposed that dogs taking fish oils and NSAIDs (i.e. non-steroidal anti-inflammatory drugs) at the same time may be at higher risk of issues with blood clotting. However, I use them together with many of my arthritic patients. This is a case where, in my mind, the known benefits of omega-3s for arthritic dogs outweigh this theoretical risk.
Speak with your veterinarian
You are your dog's biggest advocate. If, after reading this article, you believe that your beloved dog may benefit from omega-3s, please speak with your veterinarian. By partnering with your vet, you're sure to have the best answers about omega-3 fatty acids for your amazing dog.
'
Are you considering the benefits of omega-3 fatty acids for your dog?
Please comment below. We can all learn from each other.