Interdigital cysts in dogs can be painful for your pup and somewhat challenging to treat. To help you recognize interdigital cysts, integrative veterinarian Dr. Julie Buzby explains their causes, symptoms, diagnosis, treatment, and prevention.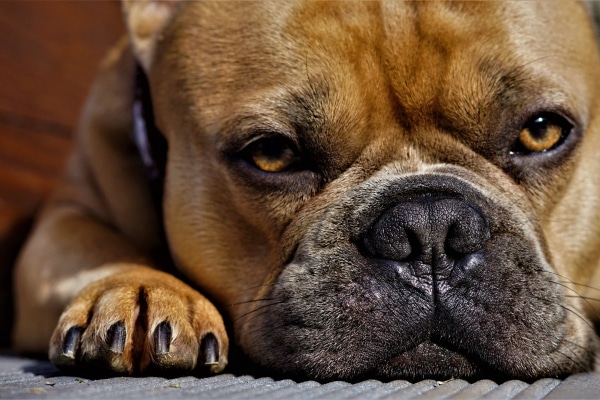 As a dog parent, you might have noticed that your dog's paws can require a lot of attention. You need to cut the hair in the webbing between the toes and perfect your dog nail trimming technique. Plus, you must watch out for itchy paws in dogs, ripped nails in dogs, a foreign body getting trapped between the dog's toes, or other paw problems.
One such problem is what brought Hailey, a 7-year-old Chinese Shar Pei, to my exam room. Hailey had been excessively licking her right front foot for about a week. And her mom noticed that Hailey had a small, raised, purple bump between two of her toes.
As I examined Hailey and listened to her mom talk about what she had seen at home, I became increasingly confident that Hailey had interdigital furuncles (often referred to as interdigital cysts in dogs).
What are interdigital cysts in dogs?
As I explained to my client, interdigital cysts are nodule-like lesions that form between a dog's toes. Veterinarians may also call this condition interdigital furunculosis, which is a more accurate term for what is going on.
While they look like cysts (i.e. membranes filled with fluid), these areas actually consist of an area of infection and inflammation around a hair follicle (i.e. furunculosis in dogs). However, for the purpose of the article, I will use the more common term, "interdigital cyst."
What does an interdigital cyst look like?
Interdigital cysts, as the name would imply, appear between the digits (i.e. toes). They usually form in the webbing between a dog's toes on the top side of the paw. However, in rare cases they can appear on the bottom of the paw instead.
Initially, interdigital cysts start in the deeper skin layers. Then they rise to the surface where you can see them. At this point, the cysts are raised, painful, purple or red nodules, as shown in the photo below of an interdigital cyst in dogs. The hair is often missing from the area, resulting in the cyst having a shiny, prominent appearance.
Additionally, interdigital cysts might contain a bloody, pus-like material. Sometimes a dog's interdigital cyst can burst or "pop," and start draining this material or bleeding out of a small hole in the center of the cyst.
Dogs can have one cyst or multiple cysts, depending on what caused them and how long it has been going on.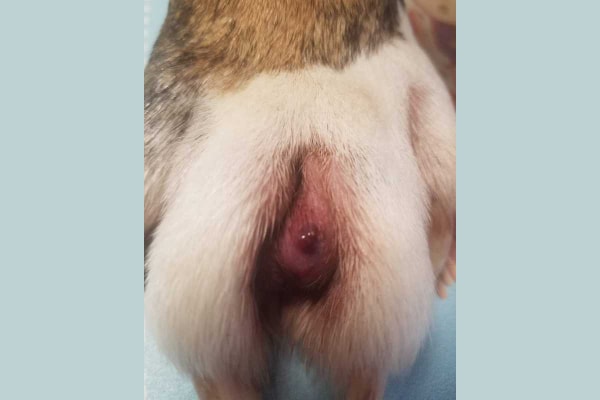 What causes interdigital cysts?
On a basic level, interdigital cysts are almost always caused by a bacterial infection that has affected the deeper layers of skin (i.e. deep pyoderma in dogs). But most of the time there are additional factors in play as well.
The most common factor is breed predisposition. Some of the frequently affected breeds are Chinese Shar Peis, English Bulldogs, and Labrador Retrievers. These breeds tend to develop cysts because of:
Poor foot conformation
Paw structure with increased webbing between the toes
Short, "prickly" hairs on the feet
Increased predisposition to allergies and other skin diseases
Short hair is especially a problem for these dogs because it acts as an irritant to the paw. Not only can it cause itching and inflammation, but it can also be shoved back into the hair follicles as your dog walks and the toes rub together. The result is ingrown hairs that are irritating to your dog and can predispose him or her to secondary bacterial skin infections.
Other predisposing factors
When other breeds of dogs are affected by interdigital cysts, they are usually suffering from another skin disease that has lead to the infection. There are four conditions that are most often associated with developing an interdigital cyst:
1. Demodicosis
As gross as this sounds, all dogs have demodex mites that live in their hair follicles. Normally these mites don't cause any issues. However, some dogs, especially those with poor immune systems, can develop a mite overpopulation. The end result is a deep skin infection on various parts of the body, including the feet in some cases.
2. Allergies
Another common cause of interdigital cysts in dogs is secondary infection from canine atopic dermatitis (i.e. environmental allergies). Dogs may be allergic to things that are in the environment seasonally such as weeds, grasses, trees, etc. Or they can be allergic to dust mites, storage mites, or other environmental components that are around all year.
Allergies lead to itching, which can lead to skin trauma, deep infections, and interdigital cysts. Since that is the case, stopping the itch is important. While Benadryl for dogs might be enough to help some dogs, others need stronger allergy medicine for dogs like Cytopoint® or Apoquel®.
3. Grass awns
Foxtails in dogs and other grass seeds can act as foreign bodies that lodge in your dog's paws. If the grass awn isn't removed, it will continue to bury deeper into the paw. This will lead to irritation and infection that spreads to the nearby hair follicles.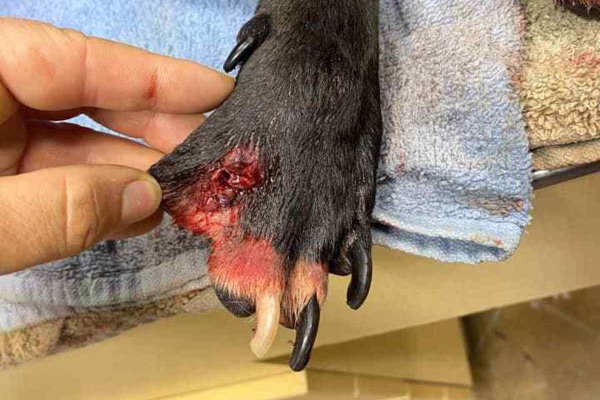 4. Obesity
Dogs who are overweight put more pressure on their paws and toes when walking. This causes increased friction and irritation between the toes. The resulting skin damage plus the potential for the hairs to be pushed into the skin can make an overweight dog more prone to ingrown hairs and interdigital cysts.
What are the symptoms of interdigital cysts?
By understanding the reasons that these cysts form, you can also predict some of the common symptoms of interdigital cysts. These signs may go along with the condition that predisposed the dog to the cyst or may be a result of the cyst itself.
Sometimes it is easy to see the characteristic 1 to 2 cm shiny, red to purple nodule between a dog's toes. However, your dog might not let you examine his or her feet. Or, your dog might have hairy paws that cause the cysts to be easily hidden. In these cases, it is important to monitor your dog for other signs that could indicate a problem, including:
Dog limping on a single foot
Holding up a foot when walking
Dog licking or biting paw excessively
Being hesitant to have feet touched
Signs your dog is in pain (such as crying out) when foot is touched
Missing patches of hair on the paw
Unpleasant, musty odor associated with the feet and toes
Presence of foxtails or other grass awns in your dog's fur
If you see any of these symptoms in your dog and suspect he or she is suffering from interdigital cyst sores, please consult your veterinarian promptly for diagnosis and treatment. These cysts can be extremely painful for your dog so it is important to get your dog some relief ASAP.
How is an interdigital cyst diagnosed?
Upon arriving at the veterinary hospital, your veterinarian will begin the appointment by collecting a history (i.e. asking questions about your dog). While your vet is talking with you, he or she will probably also start examining your dog. It is very likely that the vet will look over your whole dog, not just his or her feet.
This is a very important step because veterinarians are often able to diagnose interdigital cysts based on your dog's clinical signs and exam findings. Your veterinarian might not suggest any diagnostic tests at this point if he or she has already reached a diagnosis.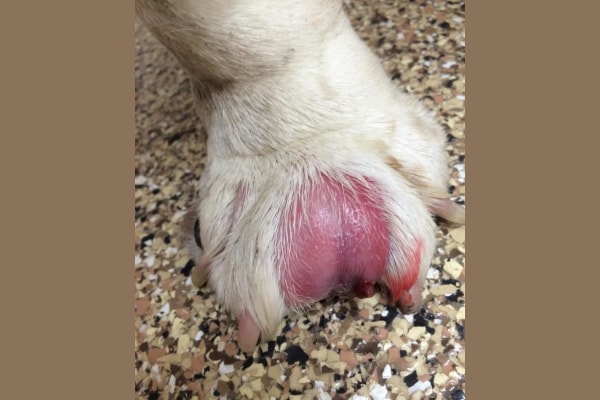 However, some vets will recommend additional diagnostics to gain more information, rule out other similar conditions, and get a definitive diagnosis for your dog. This may involve:
Submitting a biopsy of the affected area to a diagnostic lab to determine what kind of cells, bacteria, or parasites are present.
Collecting hair samples, skin scrapes, or cultures to look for the presence of parasites, bacteria, or fungus.
Performing an ultrasound or X-rays to look for orthopedic issues or cancer.
Using sedation to examine the wound and look for foreign bodies like grass awns.
What is the treatment for interdigital cysts in dogs?
After your veterinarian diagnoses interdigital cysts in your dog, he or she will discuss different treatment options. Regardless of the cause, the most important part of treatment is cleaning the area and using antibiotics.
For more mild cases, the vet will prescribe antibiotics that go directly on the skin (i.e. topical antibiotics). They work right on the wound to treat the deep skin infection and get rid of the interdigital cyst.
In addition to the antibiotics, your veterinarian will likely give you detailed instructions about how to keep the affected paws clean. Sometimes he or she might even send you home with a special cleaning solution to help kill bacteria and fungus that might be present.
While it might sound tempting, you should not try to pop or drain the interdigital cyst. Squeezing or poking the cyst is painful and doesn't make it resolve any faster.
If your dog has a severe case and/or multiple cysts, your veterinarian might recommend a more advanced treatment plan. This plan might include additional veterinary therapies such as:
Oral antibiotics (given by mouth)
Topical or oral anti-fungal medication
Steroid medications
Anti-inflammatories
Surgical removal of the cyst
Laser Surgery—using a CO2 laser to cut into the deeper skin tissue layers to remove the cyst and tissue surrounding it. This method can be successful, but does require intense care afterward. One small study on the response of interdigital cysts to laser surgery revealed that the cysts did not reoccur in 25 of the 28 dogs after treatment.
Regardless of what method your veterinarian chooses, it is important to understand that interdigital cysts can be difficult to treat and manage. Sometimes it takes several rounds of antibiotics or other therapies to find the one that works. Also, interdigital cysts can reoccur or appear in other locations.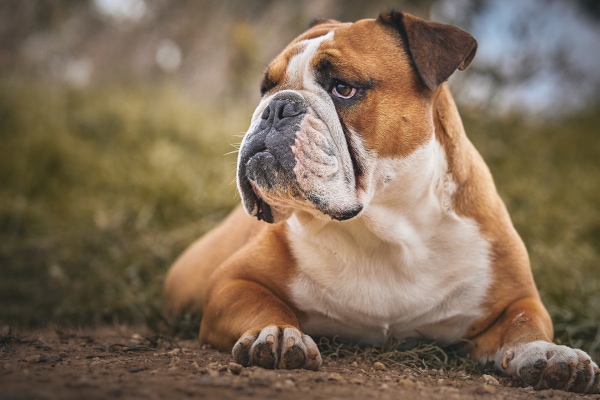 Is home treatment an option?
Clients often ask my veterinary colleagues and me if there are home treatments or natural remedies for interdigital cysts in dogs. As a holistic veterinarian myself and someone who often looks for natural treatments, I understand why owners ask this question.
However, in this case it is best to seek veterinary advice to get rid of interdigital cysts. As I mentioned, these cysts can be extremely complex, painful, and difficult to treat. And because they can come back, it is important to start managing them correctly right away.
Also, you probably remember that interdigital cysts are usually due to a deep skin infection and other skin problems. Adding products like essential oils or coconut oil might further irritate the skin. Or, if your dog has allergies and you don't know it, specific essential oils might make the problem worse.
The one thing I do occasionally tell my clients to do at home is Epsom salts soaks. This can sometimes help clean the wound and draw out a foxtail or grass awn. However, this home remedy isn't right for every case and for every dog. Please consult your veterinarian before using Epsom salts to treat interdigital cysts in your own dog. And if you do try this remedy, ensure that your dog does not drink any of the Epsom salt soak water.
How can you prevent interdigital cysts?
After treating and dealing with interdigital cysts, dog parents understandably often ask if there are ways to prevent them. Thankfully, while you can't change your dog's breed or the fact that he or she has allergies, there are some things you can do.
Overall, the best prevention method is to monitor your dog and his or her skin carefully. If you begin to notice your dog itching, licking, or chewing his or her paws, examine your dog's feet and consult your veterinarian. Catching a flare-up of the underlying cause (like allergies), and treating it, is often easier than treating an interdigital cyst that has already developed.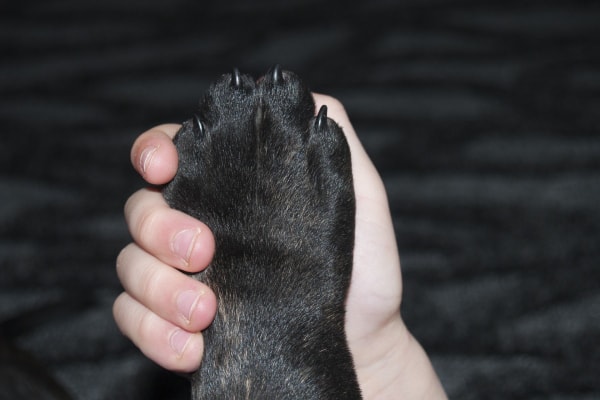 Weight management is another good prevention option. If you are wondering, "Is my dog overweight?", start by finding your dog's body condition score (BCS) and/or making an appointment with your vet. Hopefully. helping your dog lose weight will make him or her less likely to suffer from interdigital cysts.
You also can help your dog by keeping his or her feet clean and dry. Warm, moist paws are perfect environments for bacteria and fungus (i.e. a dog paw yeast infection) to grow. Once there is a skin infection, interdigital cysts are more likely to follow.
Keep in mind that no matter how hard you try to keep your dog's feet clean and monitor him or her for issues, this is not a guaranteed way to prevent the cysts from coming back. Especially for the predisposed dog breeds, interdigital cysts can and do reoccur. This doesn't mean it isn't worth trying any preventive strategies—just that you shouldn't feel bad your dog still occasionally gets a cyst.
Rely on your veterinarian
Especially for these diseases like interdigital cysts that are sometimes challenging to treat, it is important to have a great working partnership with your veterinarian. Together you will be able to come up with the best treatment and prevention plan for your dog. And if you need to modify the plan, you can work together to do that too.
Because I had a relationship with my client and knew she would closely follow my instructions for Hailey's care, I was able to develop a detailed plan. Hailey's treatment involved antibiotics, specific cleaning routines, and multiple follow-up appointments. Thankfully, after about four weeks, her cyst resolved and she was pain free again.
I have seen Hailey every year since then for her senior dog wellness checks, and she continues to do great! Hopefully knowing the ending to her story leaves you feeling encouraged that with a little help from your vet and some patience, you can get rid of your dog's interdigital cyst.
Has your dog ever had an interdigital cyst?
Please comment below