Non-slip rugs for dogs may be the solution you've come up with to stop your older dog from slipping on floors. But what if you could find a better alternative? One that means you don't have to redecorate every floor in your house? Integrative veterinarian Dr. Julie Buzby shares the best alternative to non-slip rugs for dogs. Learn why non-slip dog nail grips are a better option than covering up your hardwood and tile floors with rugs, runners, or yoga mats.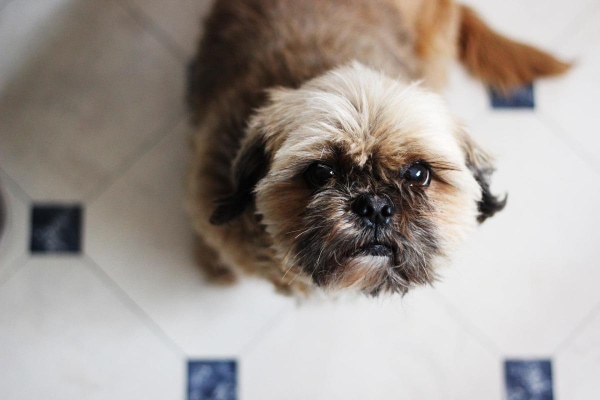 Carpet runners for dogs. Throw rugs. Even yoga mats. As an integrative veterinarian, I've listened to proactive dog parents share all kinds of solutions to stop their older dogs from sliding on hardwood or smooth floors. Some dog parents even explain how their floors look like a patchwork quilt of throw rugs in all shapes and sizes. These conscientious dog parents will do whatever it takes to help their grey-muzzled companions stop slipping. Can you relate?
I've wrestled with this common problem, too. I use various medications, supplements, and alternative therapies to improve mobility for my senior dog patients. But my clients still worry about their dogs slipping on hard floors at home.
And it's a valid worry. With slipping comes the potential for an injury.
Veterinarians and dog parents alike know that slipping and sliding is harmful to dogs physically. Plus, walking on hardwood and tile floors is not only difficult for senior dogs, but it's intimidating too. In addition to losing mobility, dogs lose confidence. This clearly impacts their quality of life.
"Cover your floors in throw rugs and runners," I used to say to my clients. It was an imperfect solution, but the best I had to offer.
Throw rugs: An adequate but imperfect solution for older dogs
It's not that a trail of throw rugs and yoga mats don't work to give a dog traction. They do! The problem is that they are stationary. Dogs venture off of them.
Inevitably, rather than lying on throw rugs, dogs will prefer to lie on cold, hard floors. But then they have to get up off those floors, rise, and attempt to walk. These older dogs (often suffering from osteoarthritis in dogs or hip dysplasia in dogs) need a solution that stays with them wherever they travel.
Enter Dr. Buzby's ToeGrips® non-slip nail grips for dogs.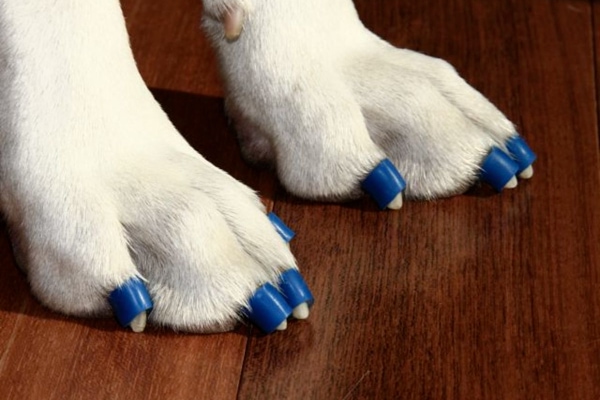 ToeGrips: A dog-centric alternative to non-slip rugs
Rather than confining a dog to a throw rug or non-slip runner, ToeGrips dog nail grips fit on a dog's toenails for instant traction that travels with your dog. They are a better alternative to throw rugs or mats because your dog can walk anywhere rather than being isolated to one room of the house on a rug. Plus, your dog can wear ToeGrips indoors and outdoors without fear of slipping, sliding, or splaying.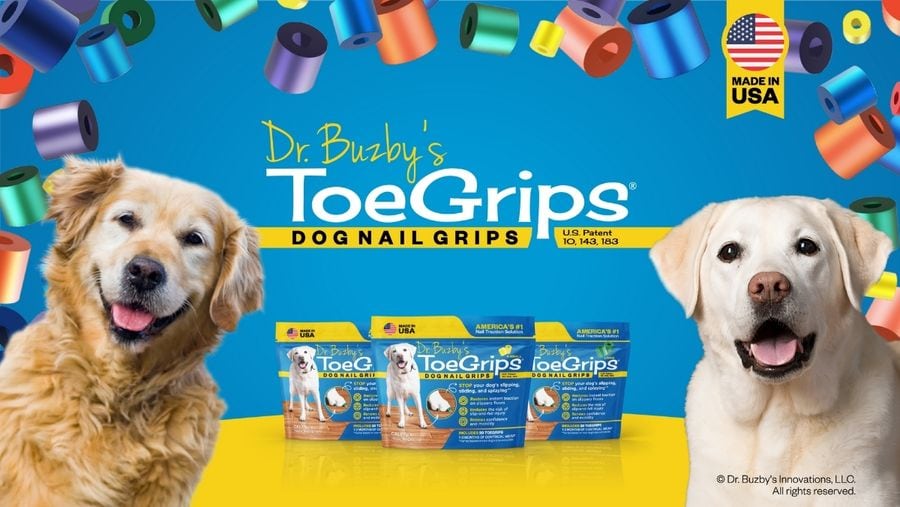 In full disclosure, ToeGrips® dog nail grips are my patented product. I founded the company because this simple idea dramatically improved the lives of my senior patients. (For more, read The Story of ToeGrips.)
ToeGrips versus non-slip rugs: A comparison table
Next, let's take a look at how ToeGrips non-slip nail grips compare to non-slip rugs for dogs. The product comparison chart below is a quick reference guide.
| | | |
| --- | --- | --- |
| | ToeGrips Non-Slip Nail Grips for Dogs | Non-Slip Rugs for Dogs |
| PERFORMANCE | | |
| Improves dog's traction on slippery floors | ✔️ | ✔️ |
| Veterinarian developed | ✔️ | |
| Scientifically tested | ✔️ | |
| DOG FRIENDLINESS | | |
| Restores dog's confidence | ✔️ | |
| Traction travels with a dog | ✔️ | |
| No need to cover up floors in home | ✔️ | |
| USE | | |
| Available anywhere | | ✔️ |
| Transform your dog rather than your home | ✔️ | |
| For young, active dogs | | ✔️ |
As you can see from the table above, both solutions help older dogs gain traction on slippery floors. However, non-slip nail grips have some rather remarkable advantages over non-slip rugs. Let's understand why.
How non-slip nail grips compare to non-slip rugs for dogs
1. Performance
While non-slip rugs and floor runners are an adequate traction solution for older dogs who slip, they stop short of delivering what dogs really need—traction with every single step.
A non-slip rug or floor runner works until a dog wants to step off of it and traverse into another room to be with the family, eat his or her kibble, or go outside. Due to fear of slipping or splaying (yes, they remember previous falls or struggles), dogs will isolate to a rug. This fear takes an emotional toll on our dear dogs.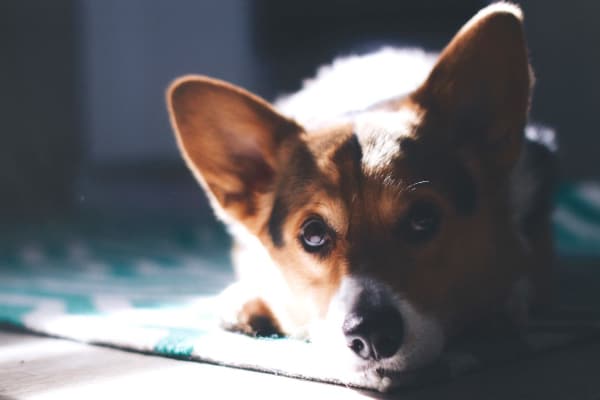 In contrast, ToeGrips non-slip dog nail grips were specifically designed for performance with every step. Because they fit on your dog's toenails to stop slipping, they are "traction that travels." Your dog doesn't have to live in fear of leaving a rug or carpet. He or she can traverse the house and rejoin the family, which is a confidence booster.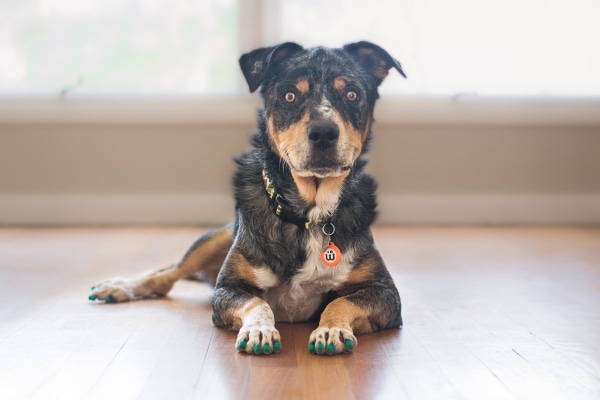 Scientifically tested
Veterinary orthopedic surgeons at Kansas State University College of Veterinary Medicine studied the gait of dogs wearing ToeGrips, analyzed the data, and then published their findings in Frontiers in Veterinary Science (a peer-reviewed scientific journal).
One of the primary goals of the study was to determine if ToeGrips non-slip dog nail grips significantly impacted a dog's gait. This is important because changing the way a dog walks may cause him or her to abnormally load or move the joints. And that would end up being potentially detrimental, especially for a dog who already had orthopedic issues.
According to the article, "The authors believe that the changes observed in this study are unlikely to be clinically significant to the mobility or comfort of normal dogs. Application of Dr. Buzby's ToeGrips® results in minimal changes to kinetic gait parameters."
This is very good news!
Additionally, one of my favorite sentences in the article was:
"The gait and force changes seen in this study after toe grip application counter the natural tendencies of dogs on slip surfaces and should result in better stability."
You see, they didn't set the study up to look at the grip component of ToeGrips non-slip dog nail grips.
But what they saw from the pressure platform data and their overall observations indicated that ToeGrips should give dogs improved stability on slippery surfaces. This is very, very good news!
Three more wins for ToeGrips non-slip nail grips
Finally, here are a few more reasons why ToeGrips non-slip nail grips get the "W" in the win column over non-slip rugs and runners when it comes to performance. ToeGrips:
Prevent slipping without interfering with your dog's natural stride
Are recommended by veterinarians worldwide for senior, special needs, and post-rehab dogs
Are durable—one set lasts for 1-3 months (2 months on average)
2. Dog-friendliness
Next, let's take a look at non-slip grips (ToeGrips) versus non-slip rugs through the eyes of your dog. Which solution would your dog choose? Again, ToeGrips get the "W" in the win column (or should I say "wagging tail happiness" column). Here's why:
Unlike throw rugs or non-skid rugs that are designed to protect your floors first, ToeGrips are specifically designed to help your dog stop slipping and restore traction instantly. Also, while ToeGrips may keep your dog's nails from scratching the floors, this is not the primary purpose.
ToeGrips are game changers for dogs around the world. In fact, you can read hundreds of ToeGrips reviews from happy customers whose dogs have been transformed by these non-slip grippers.
ToeGrips were designed for dog-friendly traction. In other words, the grips work with your dog's biomechanics to help your dog's toenails grip hard-surface floors. This means your dog doesn't have to pick and choose where he or she can walk based on the floor type. Your dog has freedom to walk anywhere again.
Overall, non-slip rugs are adequate when it comes to dog friendliness. They do the job for a slipping dog of any age. However, for our older or special-needs canine companions, rugs just can't give them as much freedom as they dream of having.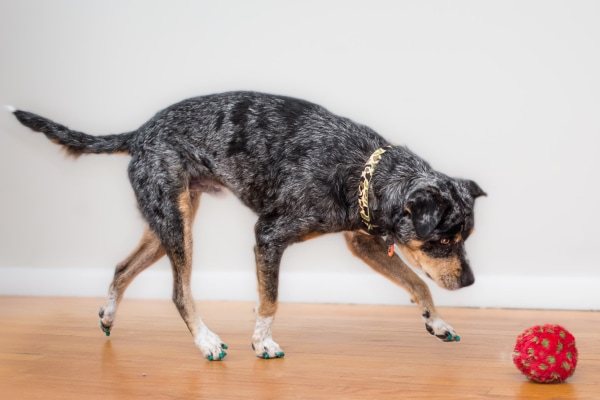 3. Ease of use
As you're considering whether or not non-slip mats and rugs are the best choice for your dog, you're probably evaluating how easy they are to purchase and use. Of course, rugs are widely available for purchase both online and in stores. They come in a wide selection and a variety of styles. Plus, they don't take much set up—just place them where you want them. These factors make non-slip rugs and floor runners an easy, quick solution.
However, rugs are covering up your hardwood or tile floor—the floor you most likely enjoy as part of your home's design.
Plus, there is the ongoing saga of buying one rug and then another one so your dog can have a little more freedom and traverse from rug to rug. Otherwise, your dog is isolated to one space—often away from the family. (Unfortunately, many dogs are afraid of hardwood floors and are apprehensive about stepping off the rug even when they want to be part of the family activities.)
ToeGrips transform your dog
Overall, non-slip rugs or mats solve the problem of your dog slipping by transforming your home.
Alternatively, ToeGrips transform your dog rather than your home.
How? Let me explain. Have you ever found yourself curling your toes in your shoes in a futile attempt to get more traction as you walk across an icy sidewalk? Well, many dogs do the same thing when walking on slippery floors. It doesn't work any better for them than it does for us.
This is where ToeGrips come in. They capitalize on a dog's natural traction mechanisms by helping the toenails grip the ground. Think about them like soccer cleats for dogs—except dogs get to wear them all the time.
Placed on your dog's toenails, ToeGrips fit snuggly and grip the floor at the tip of the nail. In other words, they provide traction at the exact point where your dog needs it—where the toenail touches the hard-surface floor. This picture illustrates the concept: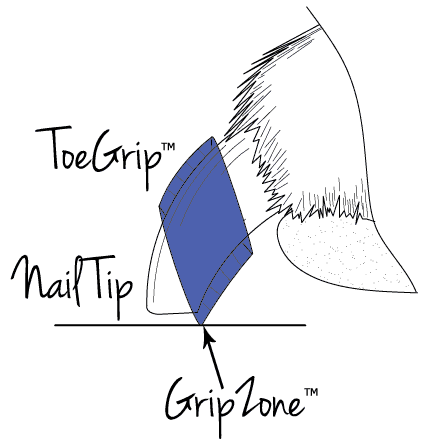 While non-slip nail grips take a little effort to apply, (see the video on how to apply ToeGrips), your dog will thank you for your time by giving you plenty of love! ?
Why ToeGrips non-slip grips instead of non-slip rugs for traction
No more dog throw rugs
ToeGrips® dog nail grips are the high-performance alternative to using non-slip rugs and runners throughout your home to stop your dog from slipping. They solve a dog's slipping by transforming the dog rather than requiring you to transform your house. While rugs may be the obvious solution at first, when compared, they don't give older dogs the freedom that ToeGrips non-slip dog nail grips offer. For traction that travels with your dog, ToeGrips are the dog-centric alternative to rugs.