Osteoarthritis in dogs can be a common affliction of our grey-muzzled companions. Integrative veterinarian Dr. Julie Buzby explains what osteoarthritis is, the stages of arthritis in dogs, symptoms, diagnosis, and treatment options. By the end of this article, you'll know many possibilities available for helping your senior dog live as long and comfortable a life as possible with osteoarthritis.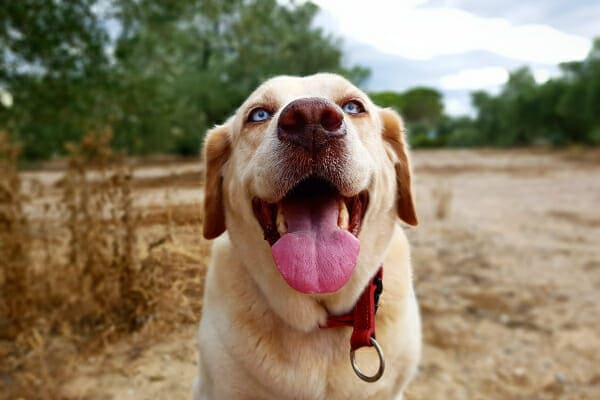 Getting older can be "ruff" for our senior dogs. With advancing age comes a variety of potential health problems, including osteoarthritis (OA) in dogs. If you yourself suffer from arthritis, you have an idea of how your dog feels. But even if you don't, or perhaps especially if you don't, it is important to know about osteoarthritis in dogs. A solid understanding of the condition can help you recognize what is going on with your dog and get him or her some much-needed relief.
What is osteoarthritis in dogs?
Osteoarthritis in dogs, otherwise known as degenerative joint disease (DJD), is a progressive, irreversible, degeneration of the cartilage and bone within a joint.
Another way of defining osteoarthritis is the "wear and tear" on joints. Osteoarthritis can occur in any joint, but most commonly in the hips, knees, elbows, and back. While not curable, there are many methods for managing the symptoms of osteoarthritis and keeping your dog comfortable.
The condition causes:
Inflammation (swelling)
Loss of cushioning within the joint
Pain
Lameness (limping or a change in overall mobility)
D

ecreased quality of life for both the dog and his or her family
Also, osteoarthritis is commonly called arthritis. I will use both terms interchangeably throughout this article.
To understand how the joint changes in canine osteoarthritis, you first need to understand normal joint anatomy. Several components make up a joint:
Cartilage, bone, and joint fluid
A layer of squishy cartilage normally covers the ends of the bones where they come together to form a joint. Synovial fluid (i.e. joint fluid) fills the joint capsule and provides lubrication and nutrition to the joint. Together, the cartilage and synovial fluid protect the subchondral bone (i.e. bone just below the cartilage) from damage due to pressure and friction as the joint moves and bears weight. They do this by providing smooth, slick surfaces that can glide past one another during normal joint movement.
Joint capsule
The joint capsule has a fibrous layer which acts as a physical boundary to keep the synovial fluid contained within the joint space. There also is an inner layer to the joint capsule called the synovium, which is responsible for producing synovial fluid.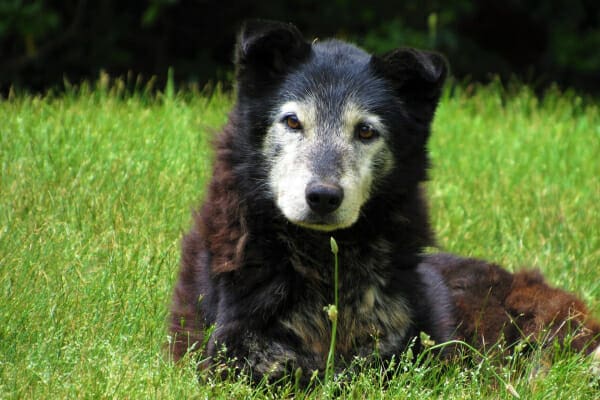 Joint changes in osteoarthritis
As a dog develops DJD, cartilage breaks down and the synovium becomes thick and swollen. As a result, the body tries to stabilize the joint by producing new bone tissue. The surfaces of the bones become irregular as osteophytes (new pieces of bone) grow on their surface. When bone is rubbing on bone in the joint due to cartilage loss or osteophyte formation, this can cause significant pain. The degenerative process also leads to inflammation within the joint.
What are the stages of osteoarthritis?
Since the degeneration of the joints and increase in joint inflammation tend to be progressive over time, dogs may go through various stages of osteoarthritis. Sometimes arthritis progresses quickly and other times that progression may take years.
Stage 0 to 1 osteoarthritis
Early in the disease, you may not see many outward signs even though the conditions are right for osteoarthritis to develop.
Stage 2 osteoarthritis
When a dog hits Stage 2, it may initially seem like he or she is simply slowing down or getting calmer with age. He or she may be a bit less interested in playing or going on walks.
Stage 3 osteoarthritis
At stage 3, the signs of arthritis tend to be a bit more visible. You may notice your dog obviously limping, having trouble with stairs, licking his or her legs (a sign your dog is in pain), or slower to get up and down.
Stage 4 osteoarthritis (end stage)
In stage 4 or end-stage osteoarthritis, a dog can be so painful he or she is unable to bear any weight on the arthritic leg. If the changes only occur in one leg, this can lead to a dog walking "three-legged lame" (i.e. holding one leg up as he or she stands and moves). If a dog has end-stage osteoarthritis in multiple legs, he or she may have a difficult time walking or functioning in general.
What causes osteoarthritis in dogs?
There can be multiple risk factors for osteoarthritis:
Body weight
Being overweight or obese makes arthritis much more likely. A dog that is obese has more pressure on his or her joints. Increased pressure over time can cause cartilage to break down. To determine if your dog is obese or overweight, try out my easy three-step method for determining your dog's canine body condition score.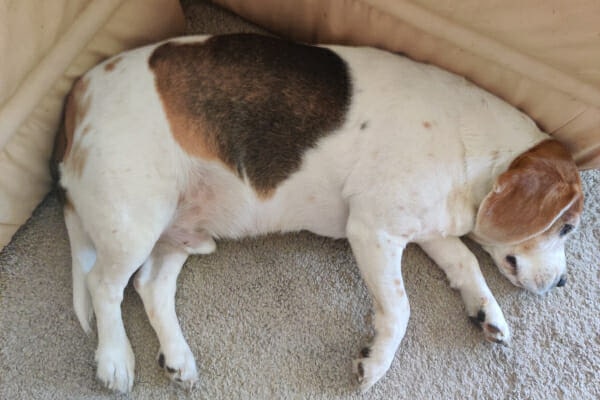 Age
While dogs can develop osteoarthritis at any year of age, it is more common in older dogs. This is because the joints have suffered more wear and tear over the years.
Previous injury or disease
When a dog injures a limb or joint (for example with a torn ACL in dogs) or has a joint disease (such as hip dysplasia in dogs), he or she is more likely to develop osteoarthritis in that joint. This is because the injury or disease alters the joint mechanics, causing the body to try to compensate. Repair of the injury, such as a TPLO surgery for dogs, does decrease the amount of arthritis. But these dogs usually do still develop some degree of arthritis.
Genetics
Some breeds (such as German Shepherds and Labrador Retrievers) or specific genetic lines are predisposed to the development of osteoarthritis. In those breeds—especially if their genetic line carries high risk of hip and elbow dysplasia—dogs may be born with an improperly formed joint. As a result, they can develop arthritis as early as the first year of life.
This is one of the many reasons it is important to find a reputable breeder who does health screenings on their breeding dogs if you plan to purchase a puppy. The Orthopedic Foundation for Animals (OFA) website has a list of all recommended screening tests for most of the dog breeds. It also explains a bit about how the screening tests are conducted.
Which joints tend to be affected?
Arthritis can technically happen in any joint in the body. But the most commonly affected joints are places like the hip, stifle (i.e. knee), shoulder, elbow, spine, or carpus (i.e. wrist).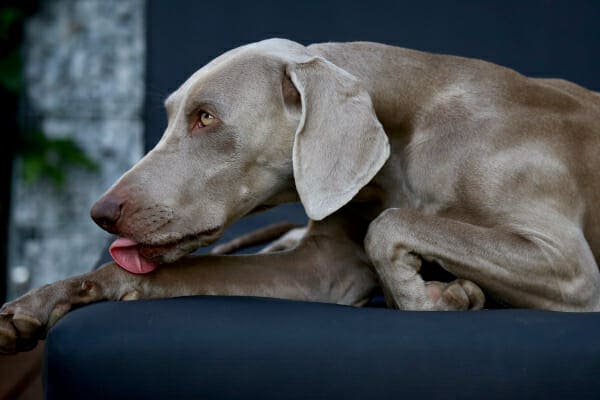 What are the symptoms of osteoarthritis in dogs?
Dogs can sometimes be very stoic. It isn't always easy to recognize signs your dog is in pain. However, try to keep an eye out for some of these more common signs of arthritis in dogs:
Limping on one or more legs (either a visible limp or walking with the body held in a new position)
Shifting weight from one leg to the other while standing
Holding one leg up (or "toe touching" a foot) while standing
Restless sleeping (shifting positions or moving to new resting places more often than normal)
Licking a particular joint or leg
Pain or resistance to being petted near a certain joint
Taking longer than usual to stand up
Growing tired more quickly during a walk
Avoiding stairs or taking them much more slowly than in the past
Inability to jump on the couch or bed, or to climb into the car
Panting or whining while at rest or while trying to sleep
If you notice any of these signs, please contact your veterinarian.
How is osteoarthritis diagnosed?
Your veterinarian will start off by doing a physical exam to look for muscle pain, joint stiffness, decreased range of motion, and evidence of pain or tenderness on palpation of the joints. After a thorough exam, your vet may strongly suspect the presence of osteoarthritis. But it is likely that he or she will recommend further diagnostics to confirm the diagnosis.
X-rays are often the best way to definitively diagnose osteoarthritis. Sometimes the veterinary team can take these X-rays while your dog is awake. Other times (especially if your dog has a lot of pain or experiences stress at the vet's office) your vet may wish to use sedation. This makes the process easier on your dog and helps get clear images.
Your vet will use the X-rays to look at the conformation (structure) of the joint and determine which joints are affected. He or she also can use them to evaluate the severity of the damage within the joints.
Early arthritis (stages 0 to 2) may be subtle and more difficult to see on an X-ray. However, advanced or end-stage arthritis (stages 3 to 4) is very noticeable. The veterinarian may see changes, such as osteophytes (i.e. new bone formation), a narrowed joint space, and changes in the shape or appearance of the bone, that signify osteoarthritis.
In some cases, it can be difficult to tell if changes on X-ray are suggestive of arthritis or a different disease (like a fungal infection or cancer). If your dog's X-ray is difficult to interpret, your veterinarian might recommend sending the image to a radiologist for further evaluation.
What is the treatment for osteoarthritis in dogs?
There is currently no cure for arthritis in dogs (or in people). However, it is possible to manage the disease and its symptoms. Treatment goals are to reduce pain and increase mobility (thus maintaining a good quality of life for your sweet pup).
The best way to achieve these goals is through a multimodal approach. Multimodal means using multiple methods of treatment. For example, combining medication and physical therapy.
The earlier the disease is diagnosed, the more successful treatment can be. For this reason, if you notice subtle changes in your dog's behavior, it is important to talk to your veterinarian right away. His or her recommendations may be able to delay the progression of the disease and keep your dog feeling good and moving comfortably.
Your dog may benefit from some of these treatment and management options long term:
Weight management
Your vet will evaluate your dog's weight and let you know if weight loss may be beneficial. Even if your dog is not obese, losing a bit of weight may be enough to decrease joint stress and increase overall comfort. In that case moving down one body condition score on the chart below (while preventing excessive weight loss and decreased muscle mass) may be all your dog needs to feel better.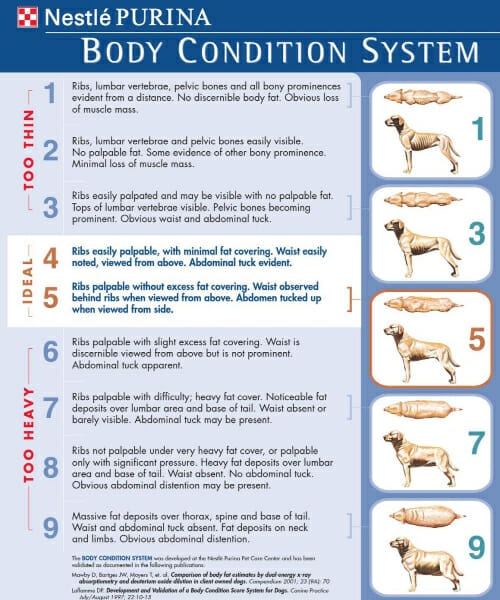 If you need some tips on how to help your dog lose weight, talk to your veterinarian and check out these two articles:
Appropriate activity levels
It is also important to keep your dog active while keeping exercise within his or her abilities. For instance, you may have an active husky who enjoyed running many miles with you every day. After arthritis develops, he or she may not be able to keep up on a run. But he or she may still enjoy going on long walks with you.
In general, you want to follow your dog's cues. If your dog wants to keep walking or playing, allow him or her to do so. But pay attention to how he or she feels afterward. If your pup seems painful or tired later in the day, then be sure to do less the next time you exercise together. It may help to keep a journal so that you can adequately track the kind of exercise that is best for your precious canine companion.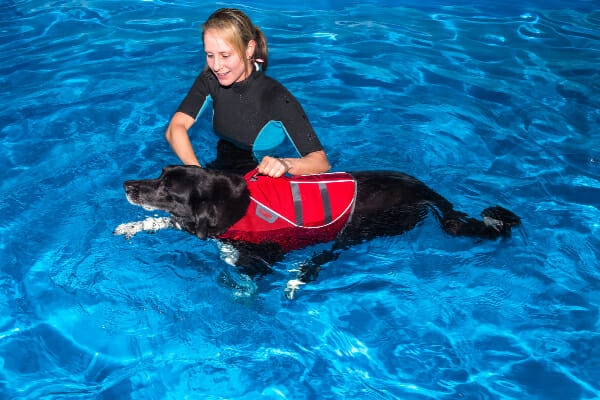 As your dog's arthritis progresses, your vet may recommend a more gentle exercise such as swimming or underwater treadmill sessions. Swimming can often be done independently. However, therapy on an underwater treadmill for dogs will require visiting a veterinarian who has special equipment and training in veterinary rehabilitation.
If your veterinary clinic does not offer this, the veterinary team will likely be able to recommend another clinic (or specialty practice) that does have an underwater treadmill.
ToeGrips
My signature product, Dr. Buzby's ToeGrips® dog nail grips, can be a great asset for dogs with arthritis. These rubber rings slip onto your dog's nails to give him or her a bit of added traction. This is especially helpful on slippery floors, which pose a big hazard for dogs with osteoarthritis. When they can't get good traction, they may slip and further injure themselves. ToeGrips can allow dogs to navigate the floors with confidence and make it easier for them to stand up.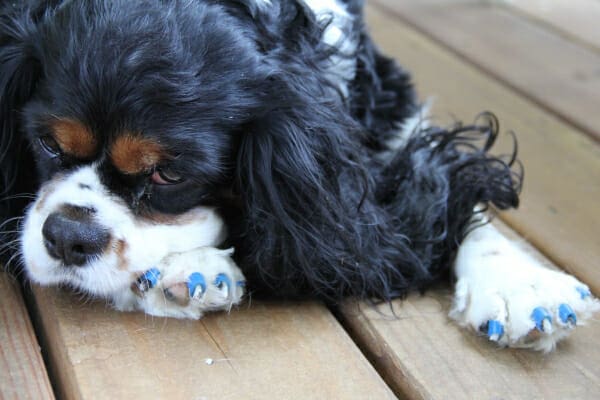 Over the years, I have heard countless testimonials of how ToeGrips have helped arthritic dogs. Plus, I have seen it with my own eyes time and time again (like with Hope, a sweet arthritic dog who played a pivotal role in the story of ToeGrips).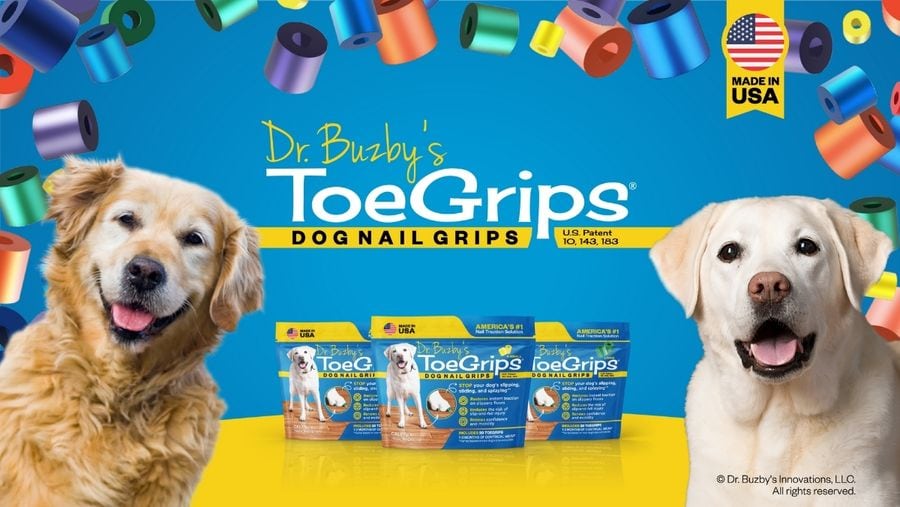 Alternative therapies
Veterinary medicine offers additional management options such as canine massage, acupuncture, a doggy chiropractor, and/or laser therapy for dogs. These also can be beneficial to your dog's comfort and overall quality of life. As a bonus, you may even be able to find a veterinarian who makes house calls to offer these services in your home. This can be especially helpful when going for a ride in the car is not comfortable for your dog.
Environmental modifications
There are many ways to help your senior dog with arthritis at home. Stairs and ramps can make it easier for him or her to get into the car or onto the bed. He or she may also appreciate having comfortable orthopedic foam beds in multiple locations in the house. Non-slip rugs or yoga mats can also give arthritic dogs some extra traction and confidence in areas with slippery floors.
Joint supplements
Your dog's doctor may recommend joint supplements for dogs such as glucosamine and chondroitin sulfate, green lipped mussel for dogs, methylsulfonylmethane (MSM), deer velvet supplements for dogs, tumeric/curcumin, hyaluronic acid, omega-3 essential fatty acids for dogs, or CBD oil for dogs. These products give the body the building blocks that it needs to keep the joints well-lubricated and well-cushioned. Early in the course of disease, supplements may be enough to help your dog feel and move much better!
My favorite choice for arthritic dogs is Dr. Buzby's Encore Mobility™ hip and joint supplement. It contains green lipped mussel and deer antler velvet, two amazing ingredients which have a host of benefits for the body. Check out the infographic below to learn more!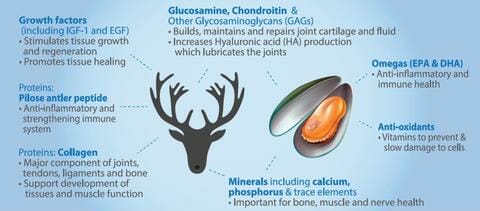 Just like ToeGrips, Encore Mobility has been life changing for many arthritic dogs. I spent countless hours researching the benefits of green lipped mussels and deer velvet before deciding to offer this product, and I stand behind it wholeheartedly. I wouldn't recommend it if I thought it was anything less than extremely safe and highly effective.
Save 10% on Encore Mobility™ Joint Supplement for Dogs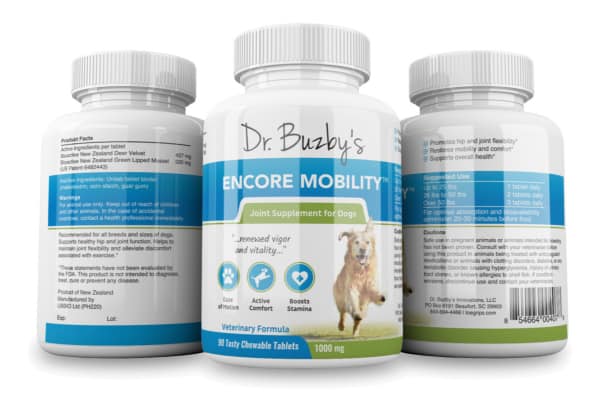 Give your dog more good days.
Use promo code HAPPY to save 10% on Encore Mobility.
Disease-modifying osteoarthritis drugs
Your veterinarian may also recommend a disease-modifying osteoarthritis drug (DMOAD) such as Adequan for dogs. DMOADs are unique in that rather than just treating the pain and inflammation after it happens like most medications, they actually help slow down the progress of osteoarthritis. Adequan Canine® (i.e. Adequan), an injectable medication, is the only FDA approved DMOAD for dogs. It protects joint health by:
Improving the quality of the joint fluid
Blocking the enzymes and hormones that promote cartilage destruction
Reducing inflammation in the joint
Stimulating the production of cartilage building blocks
Prescription medications
Later in the course of degenerative joint disease, it may take more than good management, joint supplements, and DMOADs to relieve arthritis pain in dogs. If you feel like your dog is still struggling to be comfortable and happy, it may be time to talk to your vet about a prescription medication trial.
Often the first medication prescribed is an NSAID (non-steroidal anti-inflammatory drug) such as carprofen, deracoxib, firocoxib, grapiprant, or meloxicam. (As an aside, there are a host of brand names for carprofen such as Rimadyl®, Zinecarp®, and Canidryl®, just to name a few.)
This class of medication decreases pain and swelling that is associated with osteoarthritis. Before prescribing an NSAID, your vet may recommend blood work to assess your dog's kidney and liver function. Based on the results, he or she will let you know how often the blood work should be rechecked.
It is important to note that the medications listed above are all formulated for dogs. It is not safe to give your dog human NSAIDS. Giving your dog Advil, or other human NSAIDS, may cause GI bleeding, kidney or liver failure, seizures, or other problems.
At first, an NSAID may be the only medication your dog needs. But as arthritis progresses, and pain worsens, your dog may need additional medications. Using several medications of different types to decrease pain by targeting different parts of the pain pathway is called multimodal pain management.
When taking that approach, your vet may decide to add in gabapentin for dogs, amantadine for dogs, tramadol for dogs, ketamine injections, and/or other drugs. As long as your dog tolerates the medications well without concerning side effects, this type of therapy can be incredibly effective at maintaining comfort and extending your dog's quality of life.
Surgery for osteoarthritis in dogs
In some dogs, management of arthritis may also include surgical options. When a dog is diagnosed with a congenital abnormality (i.e. present from birth) at a young age, surgery, such as juvenile pubic symphysiodesis for puppies with hip dysplasia, may be able to prevent or delay the onset of osteoarthritis. This can keep your dog active and pain free for many extra years.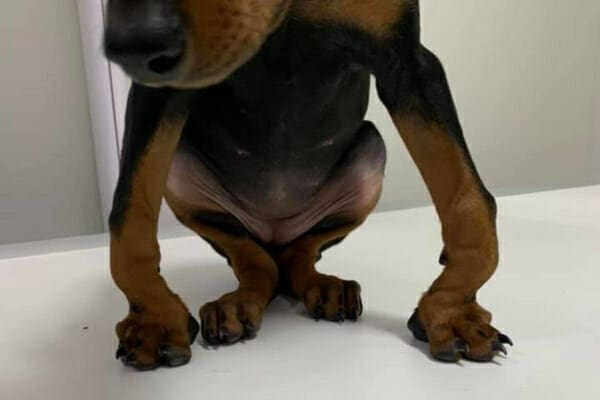 If your dog is dealing with pain and advanced disease of the hips at an older age, your vet may recommend a surgery such as a femoral head ostectomy(FHO) or a total hip replacement (THR).
The FHO removes the head of the femur. This procedure allows your dog's body to create a false joint and stabilize the hip with the surrounding muscle tissue. There is no more bone-on-bone contact, so the source of pain has been removed. Often, this is best for athletic dogs that are of a smaller size, and who are not overweight.
On the other hand, the THR completely replaces the joint with a metal joint. This surgery is more complex, and is therefore more costly. However, it is often the best option for large breed dogs, or dogs with other painful joints.
If your dog's osteoarthritis is in a joint other than the hips, surgical options will be different. However, the goal is the same—help your dog have better mobility with less pain.
For example, arthroscopic surgery is another procedure that your veterinarian might recommend. In this procedure, a very small incision is made at the joint. The surgeon can use surgical tools to clean out the joint and remove osteophytes. This helps reduce pain and inflammation.
A consultation with your vet or an orthopedic surgery specialist can be extremely helpful. He or she will be able to help you decide what is medically and practically the best option.
It is also good to keep in mind that medical management and physical therapy will be required for a period of time after surgery. This helps give your beloved dog the best chance for a good outcome.
How long can a dog live with arthritis?
Life expectancy for a dog with arthritis largely depends on the quality of care received and the stage of the disease. Even though osteoarthritis can't be cured, it is not a "terminal" disease. With a multimodal approach to managing osteoarthritis, many dogs go on to live full lives.
Osteoarthritis can be very painful in severe cases and may eventually keep a dog from enjoying life. However, it can usually be managed for many years so you can enjoy more time with your furry best friend.
Recognizing end stage arthritis in dogs
In some circumstances, arthritis progresses quickly. As mentioned earlier, this end-stage arthritis can be very painful. Dogs can experience a loss of mobility or inability to control pain.
This may lead to difficulty walking or even functioning, and quality of life can certainly decline rapidly. The following list may help you recognize advanced arthritis in dogs and when it is debilitating:
Your dog's mobility and joint pain are getting worse despite multimodal therapy.
He or she won't take pills well anymore.
Your dog is dealing with concurrent health issues (such as kidney disease or liver disease in dogs).
His or her quality of life is suffering significantly.
If your dog is suffering from end stage arthritis, you may wish to seek out a vet who provides dog hospice care or have a discussion with your dog's care team regarding end-of-life arrangements.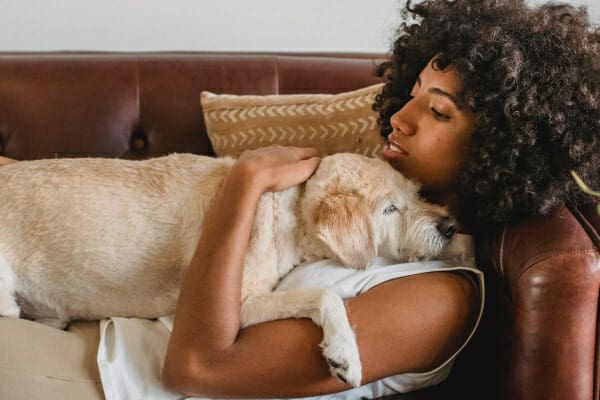 As a dog's family, it is common to wish you could do more. But at the end of a long and difficult road (such as managing osteoarthritis), sometimes the kindest thing you can do is know when to give your dog an escape from his or her struggles. Choosing euthanasia is not a failure—it is a way of allowing your dog to skip over the very hardest days that are still ahead of him. That is a merciful and kind decision, made with love.
If you are struggling with the decision of when to euthanize your dog with OA, these articles may help:
Final thoughts of hope
Wherever you are in your dog's osteoarthritis journey, I want you to know that you are not alone. There are countless other dog parents who are going through the same things with their dogs. And your veterinarian can help you find the right combination of therapies for your pup. There are many options that can potentially keep your dog happy, comfortable, and active for some period of time.
Yes, for some dogs, osteoarthritis does eventually get to the point where you may decide that euthanasia is the right choice. And I understand it isn't easy to think about eventually having to say goodbye to your sweet pup. But until that day comes, keep on living and loving with your dear dog. Make memories and treasure the days.
Does your dog have osteoarthritis?
Please share his or her story and any tips you have learned along the way.