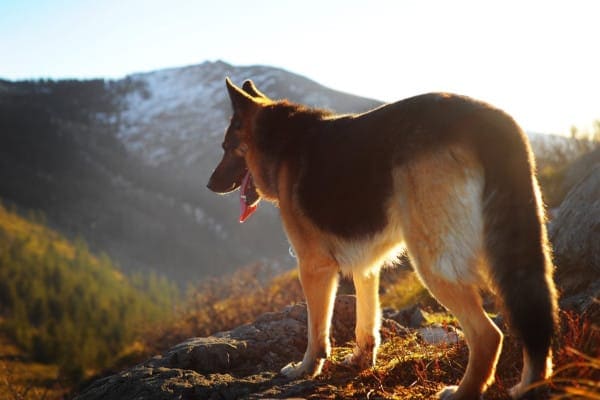 Canine hip dysplasia (CHD) ranks seventh for the most common congenital diseases in dogs, according to 2018 claims data from ASPCA Pet Health Insurance. Although a portion of those claims involved surgical treatment, most owners elect for conservative management, including supplements and medicine for hip dysplasia in dogs. And thankfully, according to a study published in the Journal of Small Animal Practice, three-quarters of dogs with hip dysplasia and secondary arthritis are able to live normal, comfortable lives with conservative care.
Understanding more about this condition will help you understand the goals of treatment. What Causes Hip Dysplasia in Dogs? Turns out, the answer to this question is complex. But the diagnosis is not. Find hope and help for dogs with hip dysplasia here.
Clinical signs and diagnosis of hip dysplasia
Clinical signs of hip dysplasia begin at a young age and can be subtle. Sometimes the first indication is a "bunny-hopping" gait—which looks exactly like it sounds. In a young dog without arthritis, this may be the extent of symptoms.
As dogs age, they can develop secondary arthritis, which causes pain and inflammation in the hips. Signs include:
difficulty or reluctance to rise
stiffness after lying in one position for a long time
loss of muscle mass in the rear limbs
shifting of weight to the front legs (to take pressure off of the hips).
In the image below, the plastic model of a dog's pelvis shows the difference between a normal hip and a dog's hip with dysplasia and arthritis.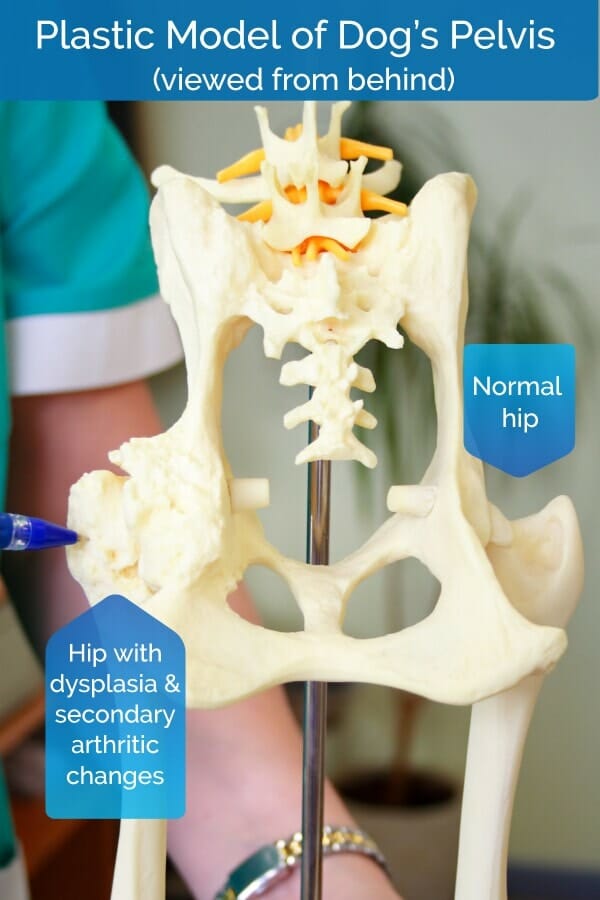 Your veterinarian may take X-rays to confirm a diagnosis of hip dysplasia
Your veterinarian will conduct a physical exam to rule out other causes of lameness. They will look for signs of pain when moving the hips through range of motion. They may also check for the Ortolani sign, an audible "clunk" sound when manipulating hips that are dysplastic. X-rays are usually definitive for diagnosis. The X-rays below offer a comparison of dogs without and with hip dysplasia.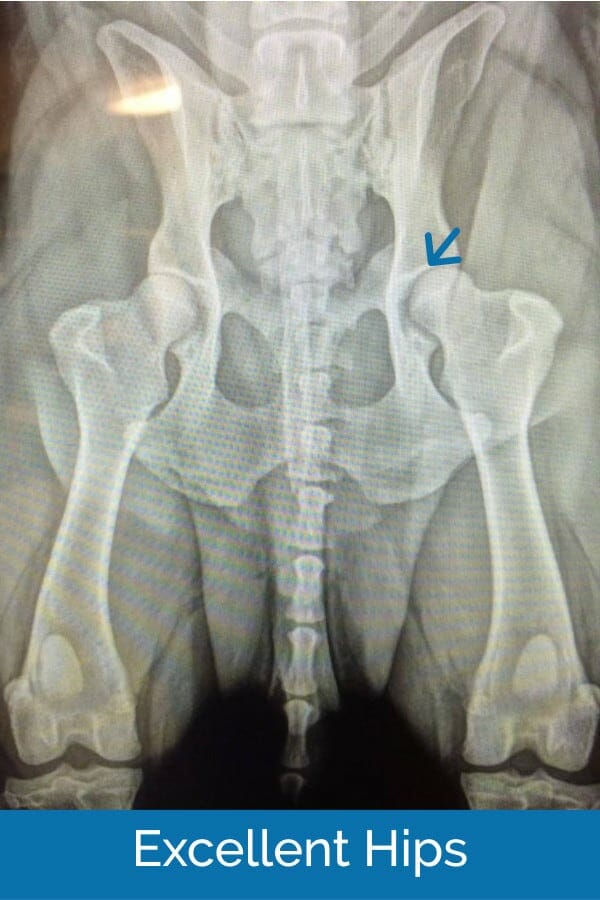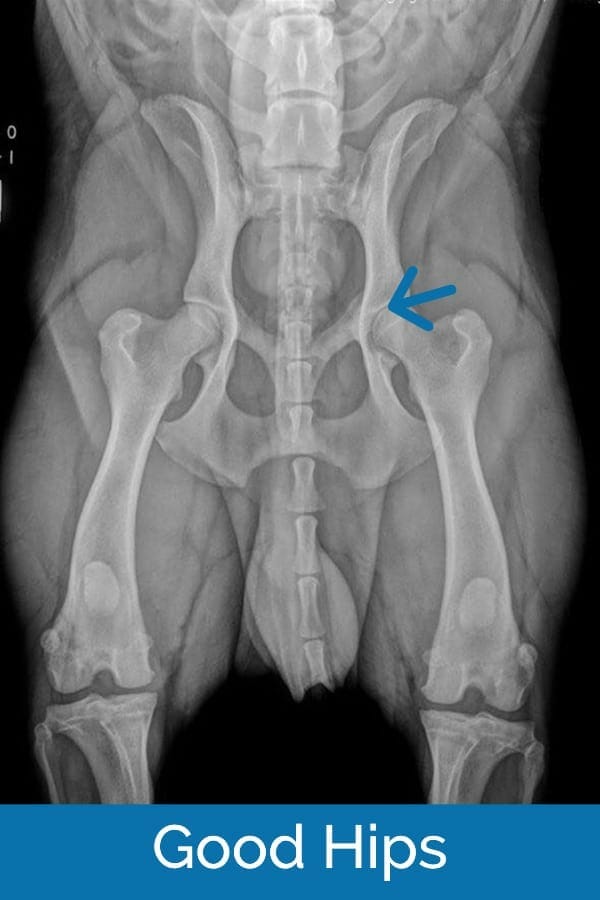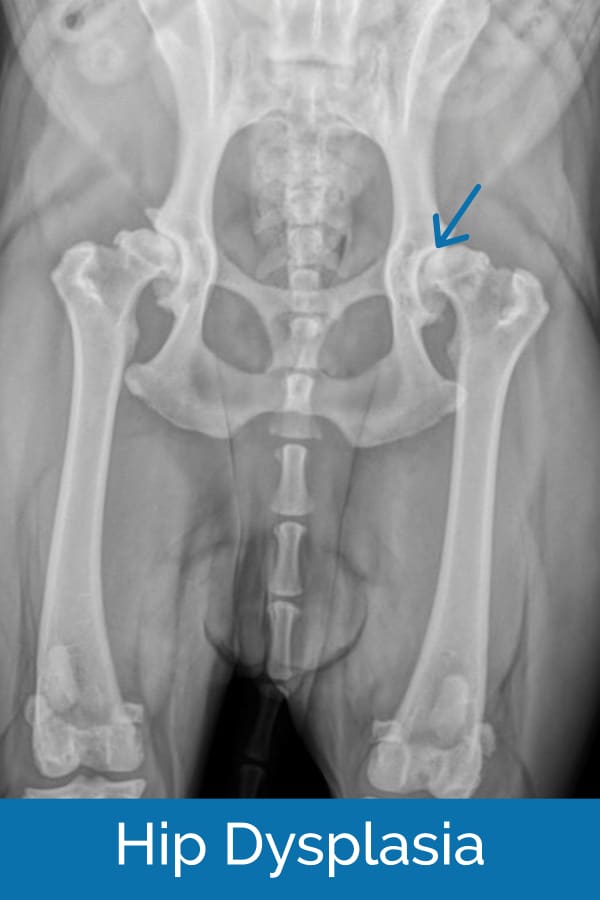 Surgical treatment options for a dog with hip dysplasia
Surgery may be presented by your veterinarian as the optimal course of action for hip dysplasia. For example, surgery is typically recommended for young dogs without evidence of arthritis. The most commonly performed procedures are juvenile pelvic symphysiodesis (JPS), triple pelvic ostectomy (TPO), total hip replacement (THR), or femoral head/neck ostectomy (FHO/FHNO). You can find excellent and concise information about each surgical procedure on the American College of Veterinary Surgeons' website.
But surgical treatment can be costly with significant recovery periods, and I'm well aware that surgery is simply not an option for everyone. As first-line treatment, veterinarians typically talk with clients about medicine for hip dysplasia in dogs.
What can you do for a dog with hip dysplasia? There is hope!
Broadly speaking, there is a plethora of medicine for hip dysplasia in dogs. I use the term "medicine" to encompass supplements, western medicine, and even some "non-conventional" medical management options. Although they do not cure the underlying biomechanical condition of hip laxity, the goal of treatment is to control inflammation and pain to improve mobility.
Unfortunately, much of this management is based on anecdotal reports. (Controlled studies are lacking, but a great deal of research is now focusing on canine hip dysplasia and arthritis.) However, these 11 tips for treating hip dysplasia come from my personal experience as an integrative veterinarian treating dogs through conventional western medicine and also acupuncture, veterinary chiropractic, supplements, and assistive devices.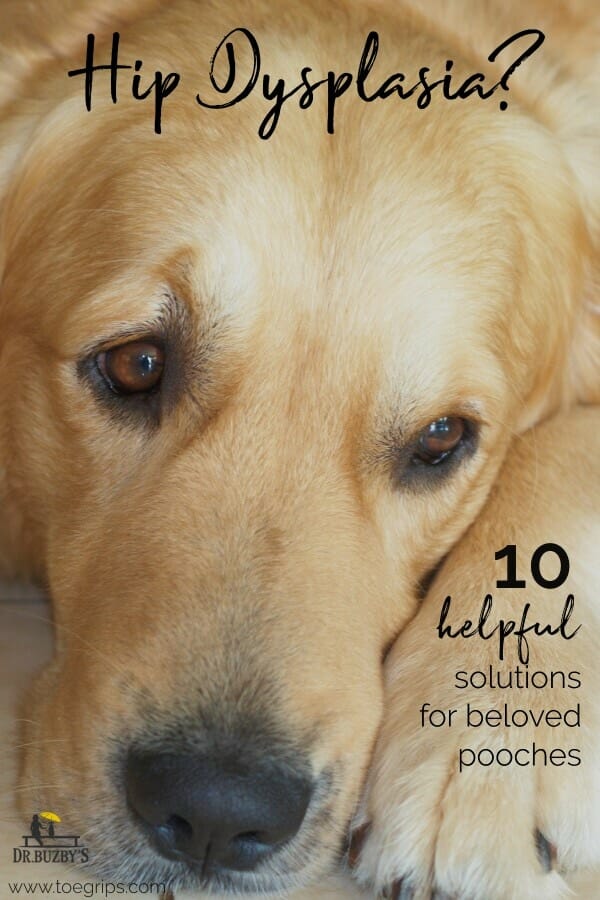 11 tips for treating hip dysplasia without surgery:
1. Weight management
My first tip, though not classified as a "medicine" for hip dysplasia for dogs, may be more valuable to my patients (and to you) than potentially all the medication options combined. It sounds so simple that you may think I'm exaggerating its merit. I am not. Maintaining a slim dog is key to joint health and longevity.
Weight management is critical for any dog with joint or back issues, but especially for dogs with hip dysplasia. Fatty tissue produces inflammatory hormones that cause chronic inflammation. This chronic inflammatory state can worsen osteoarthritis in the hips, not to mention the obvious issue of pressure on the joints from carrying around extra pounds.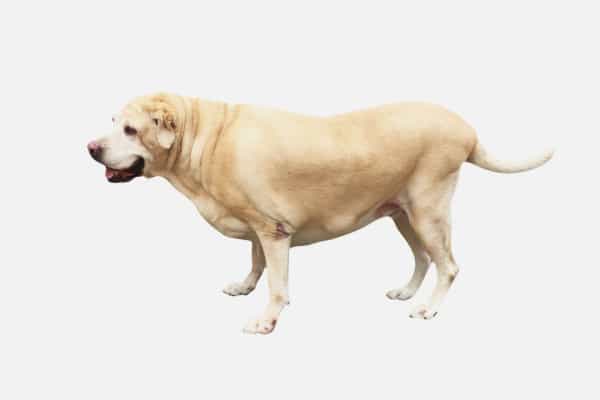 2. Nonsteroidal anti-inflammatory drugs
Nonsteroidal anti-inflammatory drugs (NSAIDs) are commonly used to manage pain in humans and animals. When vets speak of medicine for hip dysplasia in dogs, this is generally top of the list. There are many NSAIDs approved for canine patients including:
carprofen
meloxicam
firocoxib
deracoxib.
By decreasing inflammation and relieving pain, NSAIDs can appear to work miracles in painful dogs. While these medications are considered safe, they do have side effects to consider. A newer medication, Galliprant, is considered to be safer for patients with kidney and liver dysfunction, although more studies still need to be done.
(As an aside, I realize prescribing helpful medication is only half the battle. Many dogs, including my own, are reluctant to take pills. If your dog turns his or her nose up at medications, check out my five favorite tips, tricks, and techniques for how to get your dog to take a pill.)
3. Omega-3 fatty acids
 Omega-3 fatty acids reduce inflammation throughout the body, benefiting "creaky" joints. I routinely recommend this supplement for treating my hip dysplasia patients because it works and side effects are minimal. Two separate scientific studies in 2010 suggested that dogs with chronic osteoarthritis who were fed omega-3 fatty acids demonstrated improvement in their pain levels and arthritic conditions.
4. Joint health supplements/nutriceuticals
I recommend oral joint supplements for every single one of my hip dysplasia patients. There is a scientific debate about whether oral glucosamine and chondroitin, the two most common ingredients in joint supplements, are absorbed and improve joint mechanics. I believe these compounds increase the production of joint fluid and promote the health of the cartilage that lines the joint surfaces (and there might even be some anti-inflammatory component to these supplements).
While Glucosamine and chondroitin aren't necessarily "the magic bullet," they are an important component in multimodal management of degenerative joint disease in senior dogs. Further, because the two supplements are virtually harmless, I prescribe a 30-day trial for all my arthritic patients.
There are several options when you purchase a "joint supplement" and quality varies significantly. As with Omega-3 supplements, quality matters. Please consult your veterinarian before choosing a joint health product. In addition to the obvious compounds in the active ingredient list, there are also other bioactive compounds which can be present in joint supplements, such as MSM (methylsulfonylmethane), avocado/soybean unsaponifiables (ASU), and herbs— turmeric/curcumin, bromelain, boswelia, corydalis, and devil's claw. One of my favorite products that I recommend for treating dogs with canine hip dysplasia is called New Zealand Deer Velvet.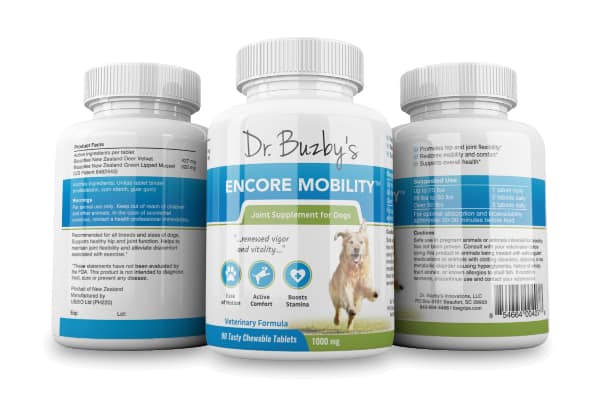 5. Adequan injections for dogs with hip dysplasia
I'm also a huge fan of Adequan injections for treating dogs with hip dysplasia. Adequan Canine is a prescription polysulfated glycosaminoglycan (PSGAG) that works like oral joint supplements to keep the cartilage in your dog's joints healthy and intact. However, because it is injected into the dog's muscle (trust me, not a big deal for the dog), it penetrates much better than oral products. It doesn't work for every dog, but I've seen some pretty dramatic results.
6. Appropriate, gentle exercise
Gentle exercise is important for musculoskeletal health. However, studies on the type, frequency, and duration of physical therapy are lacking in veterinary medicine. Some studies suggest that appropriate exercise (as opposed to exercise restriction) appears to be linked to lower lameness scores. I'm a huge believer in "use it or lose it," so this seems logical to me.
I'm a big fan of a newer branch of veterinary medicine. Canine rehabilitation practitioners and facilities, offering therapies such as underwater treadmill exercise, are becoming more prevalent. To locate a certified rehabilitation practitioner near you, go to the American Association of Rehabilitation Veterinarians website.
7. Acupuncture and laser therapy
Acupuncture and cold laser therapy are alternative treatments that have shown a great deal of anecdotal success. They can certainly be used individually (one or the other), but I find that they have a synergistic effect when used together to treat dogs with painful hips.
I have acupunctured hundreds of hip dysplasia patients over the past two decades, often using electroacupuncture to potentiate the effect, with very positive results. Acupuncture causes endorphin release (the body's natural opiods) into the bloodstream to ease pain and relax the dog. It also helps relax the muscles of the lower back and hind end, which are under abnormal stresses from the dog's chronic compensation. I tell new clients that we should be able to determine within three visits if acupuncture will be a worthwhile part of the dog's treatment plan, and typically we see improvement after the first visit.
Laser therapy was used in people for decades before making the jump into veterinary medicine. Lasers, which not every veterinary practice has because of their expense, emit light which penetrates into the tissues. The light increases blood flow to that part of the body, facilitating healing. Because today's lasers are so powerful, treatment lasts for mere minutes. Dogs tend to tolerate it very well.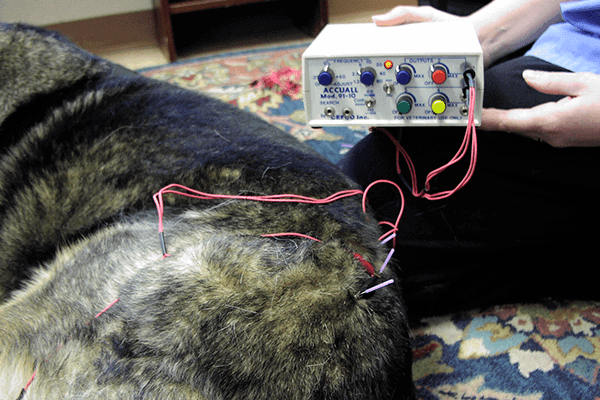 8. ToeGrips® dog nail grips
Dogs with hip dysplasia often struggle to rise from and walk on slippery floors. Dr. Buzby's ToeGrips® dog nail grips help dogs that slip and slide on slick floors with both their footing and confidence. ToeGrips® dog nail grips fit snugly on dogs' toenails to restore their traction on hardwood floors and smooth surfaces.
The non-slip grips can make a huge difference in comfort and mobility for dogs with hip dysplasia. (For an uplifting story about a senior dog who was diagnosed with hip dysplasia, please read ToeGrips® Dog Nail Grips for Senior Dogs: Bigsby's Success Story.)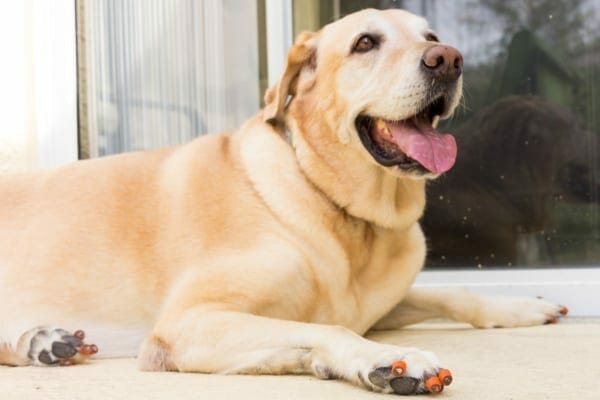 9. K9Align Hiplign™
K9Align Hiplign™ is another innovative "wearable therapy" for dogs with hip dysplasia. The form fitting therapeutic garment helps to promote correct posture by providing sensory input to the dog's trunk and pelvis as he moves. Four elastic straps, which attach by Velcro over the dog's hip area, provide a light elastic resistance to the hip musculature.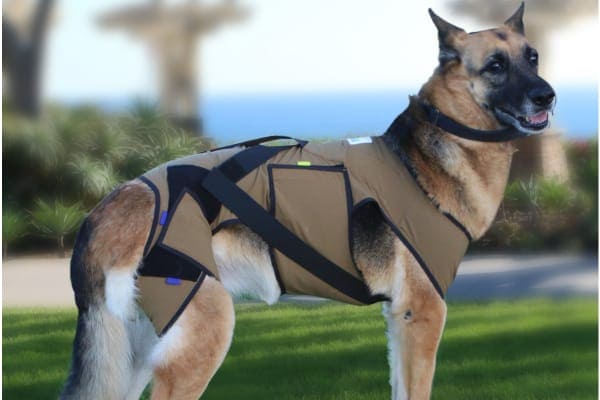 Over time and with regular use, K9Align™ builds muscle strength around the hips, which can lead to better dynamic stability of the hips and helps minimize symptoms. The garment is lightweight, easy to put on and remove, and treats both hips.
10. Multi-modal pain management
If your dog is still painful despite the use of NSAIDs, your veterinarian may prescribe additional medication to achieve more complete pain management for your dog. The goal of using multiple medications (multi-modal pain management) is to address the pain at different places in the body where the pain signal is being passed along. For example, the pain signal travels from the hips to the spinal cord and then is processed by the brain. Medications can reduce the pain signal differently at each of those points, thus reducing the intensity of the signal of pain from the hips to the brain. Some of the medications used include gabapentin, amantadine, and tramadol.
Gabapentin helps treat pain disorders by binding to over-active neurons, causing them to fire less frequently. This reduces the transmission of pain signals, similarly to the way pregabalin (Lyrica) works to treat pain in humans. Gabapentin is probably the second most commonly prescribed traditional medication for hip dysplasia in dogs (behind NSAIDs).
Amantidine is an anti-viral medication that has been shown to help reduce the pain associated with arthritis by increasing levels of dopamine in the brain. In one study performed on dogs with osteoarthritis in the hind end, one group of dogs was given an NSAID alone while another group was given amantadine plus an NSAID. The group given both medications had a more dramatic improvement with their pain, as evidenced by increased activity levels, compared to the group given the NSAID alone.
The last medication that may help reduce pain associated with hip dysplasia is tramadol. Current research suggests that tramadol alone is likely insufficient to manage the pain associated with arthritis. However, after tramadol is processed by the body, the components may help with pain relief by raising serotonin levels and having mild effects on the opiate receptors in the brain and spinal cord.
(Also, if you are searching for more information on pain management and tramadol use in dogs, please listen to my podcast with board certified veterinary anesthesiologist, Dr. Ralph Harvey. Or check out my article: Pain in Dogs: An Expert Interview with Dr. Harvey About the Stress, Fear, and Anxiety of a Painful Dog.)
11. CBD oil for dogs with hip dysplasia
An area of growing interest in human and veterinary medicine has been the use of CBD oil. Cannabidiol (CBD) differs from Delta-9 tetrahydrocannabinol (THC) in that it is believed to bind to receptors associated with decreasing pain and inflammation in the body. But it does not bind to the receptors in the brain that cause the effects that are associated with THC— such as getting "high."
A recent pilot study by Cornell University College of Veterinary Medicine evaluated the effects of CBD oil on the management of pain in arthritic dogs. The dogs treated with CBD oil in the study showed improvement in the pain scores reported by their owners. Also, they showed improved mobility as measured by exam and force-plate analysis. Their scores were compared to the dogs treated with a placebo. The only statistically significant side effect was a mild elevation in one liver enzyme on blood work.
The early research looks promising regarding using CBD oil for pain management in dogs. However, recommending and prescribing CBD oil is a legally grey area for veterinarians at the moment and laws vary state by state.
Treatment begins with getting your dog help for hip dysplasia
Finally, you know your dog better than anyone. If your dog with hip dysplasia is painful (as evidenced by he or she being less active and less interactive with the family), talk with your veterinarian about options. Pain is the number one inhibitor to quality of life for my canine patients, and perhaps for your dog too. Improving a dog's physical and mental well-being through pain management brings my clients and patients relief and brings me great joy as a veterinarian.
Of this I'm confident: when it comes to treating the pain in dogs associated with hip dysplasia, multimodal therapy is best. In other words, some combination of the 11 tips on this list will yield the greatest success. Dogs may respond differently to different products and therapies, expressing a type of individual variation, much like humans.
Rest assured, there is help and hope for a dog with hip dysplasia.
Click To Tweet
As always, working closely with your veterinarian is critical to the best outcome for your dog.
Do you have questions about canine hip dysplasia? Please comment below.