Canine hip dysplasia (CHD) is the most common inherited musculoskeletal disorder in dogs. Although there are a few surgical options for managing CHD, most affected dogs are treated conservatively, with supplements and medicine for hip dysplasia in dogs. Get 10 tips for conservative management by learning about these non-surgical treatments of hip dysplasia in dogs from integrative veterinarian Dr. Julie Buzby.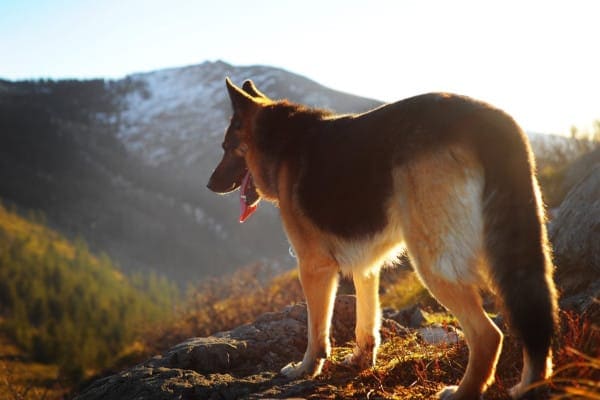 Canine hip dysplasia is a congenital malformation of the hip joint(s) in dogs. Dogs with hip dysplasia can develop arthritis and joint pain. Surgical treatment for CHD may be the best option in some cases. But it is invasive, expensive, and sometimes requires a board-certified veterinary surgeon at a specialty hospital to perform.
For these reasons, surgery is not always the best choice for every dog. Sometimes conservative therapy is a better choice than surgery. Thankfully, according to a study published in the Journal of Small Animal Practice, three-quarters of dogs with hip dysplasia and secondary arthritis are able to live normal, comfortable lives with conservative care.
Diagnosis of hip dysplasia
The first step to understanding the goals of various treatments for hip dysplasia is to understand the condition itself. What causes hip dysplasia in dogs? Considering the underlying cause of canine hip dysplasia can help determine how to treat hip dysplasia, and help guide the treatment.
The hip joint is a "ball and socket joint." In a healthy dog, the acetabulum (socket) fully covers the head of the femur (ball) to keep the hip securely in place. Dogs with hip dysplasia have malformed bones, preventing complete acetabular coverage. This causes laxity in the hip joint and can even predispose to hip dislocation.
Diagnosis of canine hip dysplasia typically starts with history, clinical signs, a thorough physical exam, and diagnostic tests such as X-rays and bloodwork.
Clinical signs of hip dysplasia
Clinical signs of hip dysplasia often begin at a young age and can be subtle. Sometimes the first indication is a "bunny-hopping" gait—which looks exactly like it sounds. The dog's back legs stay together in a little hop as they walk or run. In a young dog without arthritis, this may be the extent of symptoms.
Other dogs don't show signs until they are older. As dogs age, they can develop secondary arthritis, which causes pain and inflammation in the hips. Signs of arthritis caused by hip dysplasia can include:
Difficulty or reluctance to rise
Stiffness after lying in one position for a long time
Loss of muscle mass in the rear limbs
Shifting of weight to the front legs (to take pressure off of the hips)
Limping (can be intermittent and shift from one leg to the other)
Reluctance to run, climb, or jump
In the image below, the plastic model of a dog's pelvis shows the difference between a normal hip and a dog's hip with dysplasia and arthritis.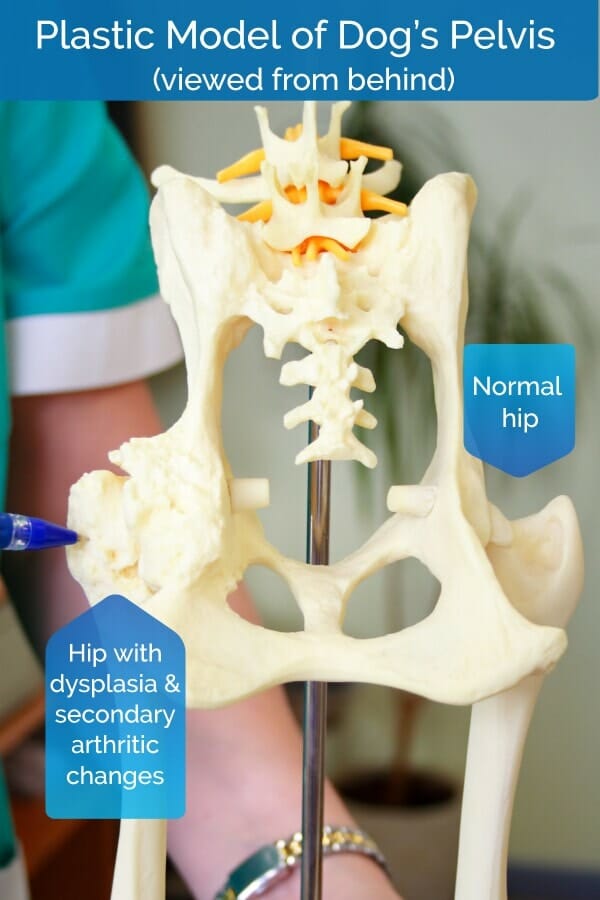 Your veterinarian may take X-rays to confirm a diagnosis of hip dysplasia
Your veterinarian will conduct a physical exam to help determine a cause for your dog's lameness. He or she will look for signs of pain when moving the hips through a range of motion. They may also check for the Ortolani sign, an audible "clunk" sound when manipulating hips that are dysplastic (Note: Sometimes the Ortolani sign is not detectable in a tense patient—therefore, a sedated physical exam may be the next step).
X-rays are usually definitive for diagnosis. The X-rays below offer a comparison of dogs without and with hip dysplasia.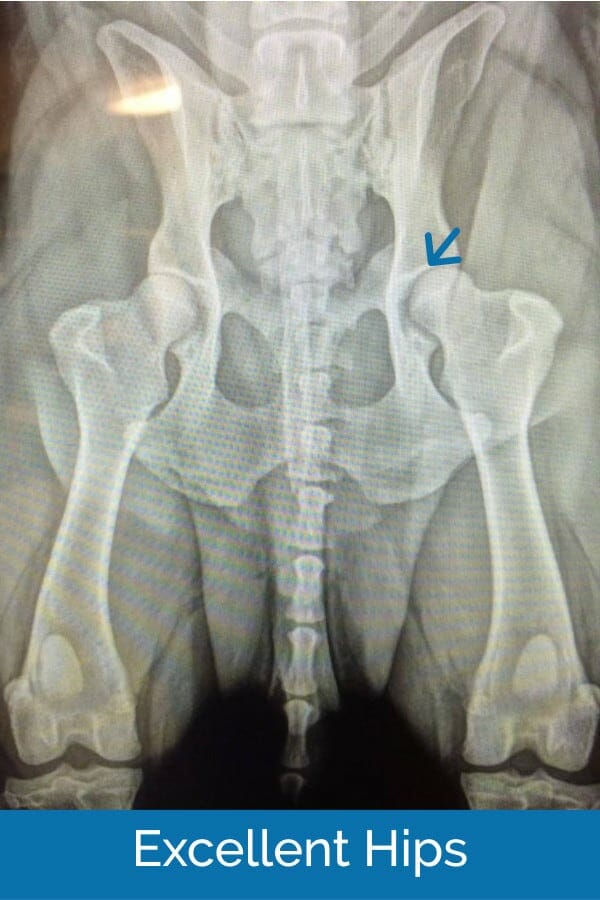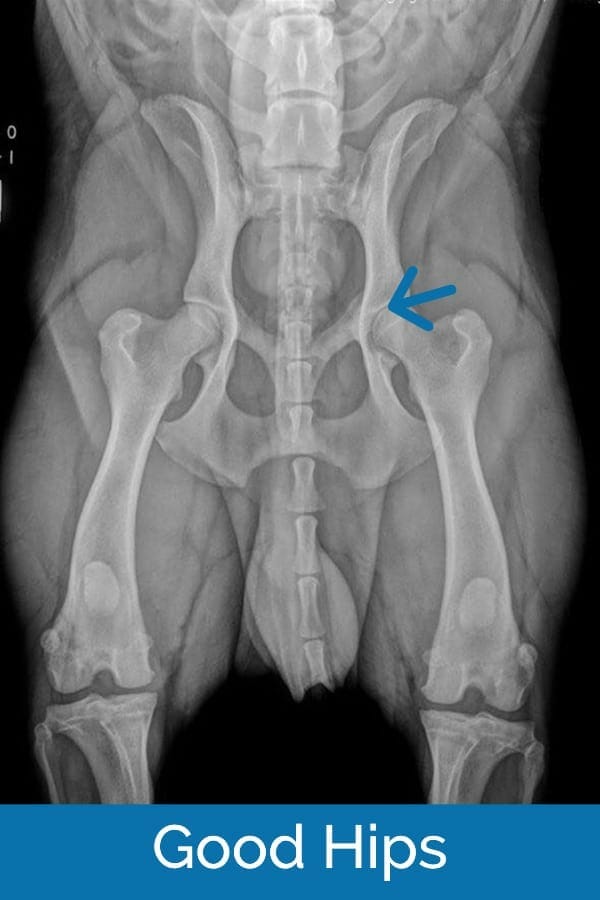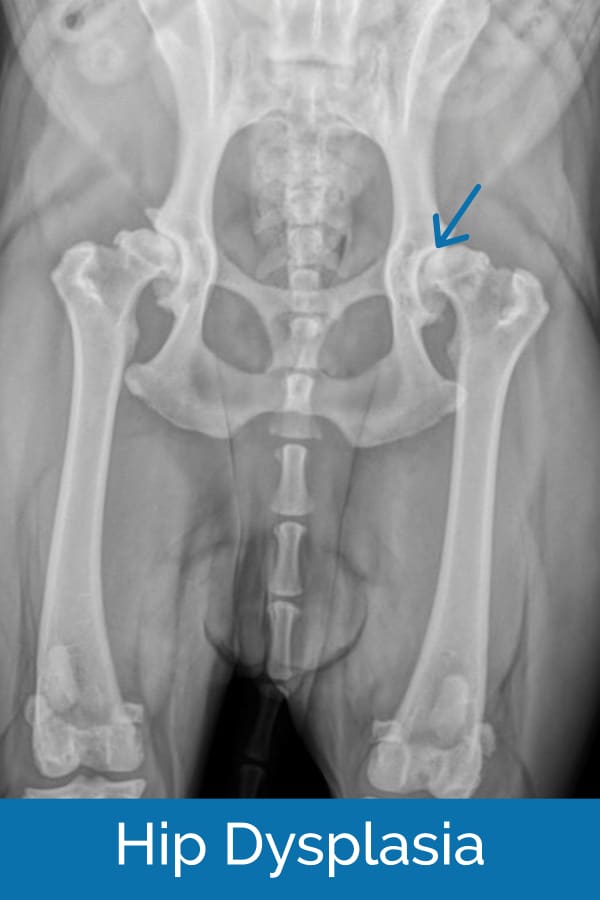 Treatment options for hip dysplasia in dogs
Treatment options for canine hip dysplasia fall into two categories: surgical and non-surgical. Since the subject of this article is focused on non-surgical options, I'll only briefly touch on surgical treatment. Then I'll launch into an in-depth look at managing hip dysplasia through medicine, supplements, alternative therapies, and more.
Surgical treatment for hip dysplasia in dogs
Surgical treatment may be the best option in some cases, particularly for young dogs without evidence of arthritis. The most commonly performed surgeries for hip dysplasia in dogs are juvenile pelvic symphysiodesis (JPS), triple pelvic osteotomy (TPO), total hip replacement (THR), or femoral head/neck ostectomy (FHO/FHNO).
You can find excellent and concise information about each surgical procedure on the American College of Veterinary Surgeons' website.
But surgical treatment can be costly with significant recovery periods, and I'm well aware that surgery is simply not an option for everyone. If surgery is not in your dog's future, do not despair!
Non-surgical treatments for hip dysplasia in dogs
There are a plethora of medical treatments for hip dysplasia in dogs, including senior dog supplements, western medicine, and even some "non-conventional" medical management options. Although they do not cure the underlying biomechanical condition of hip laxity, the goal of treatment is to control inflammation and pain to improve mobility.
So what non-surgical treatment options are available for canine hip dysplasia? Let's take a look at my top 10 tips for conservative management of hip dysplasia.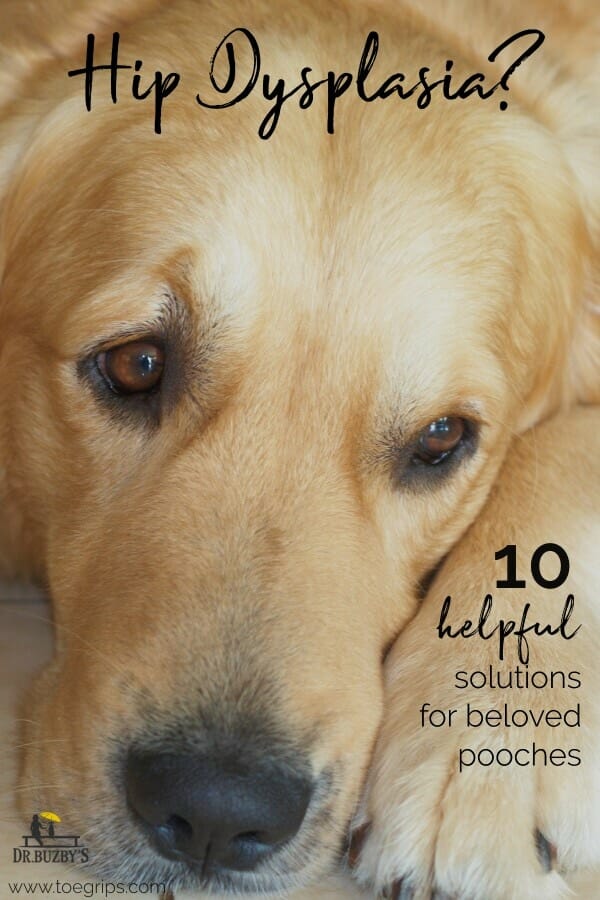 1. Weight management
My first tip, though not a "medicine," may be more valuable to my patients (and to you) than potentially all the medication options for hip dysplasia combined. Your dog's canine body condition score has a huge impact on joint health.
Simply put, the more your dog weighs, the higher the stress on his or her joints.
Larger dogs are more likely to develop hip dysplasia than smaller breeds, so even being "slightly" overweight can mean 10+ extra pounds placing stress on those hips.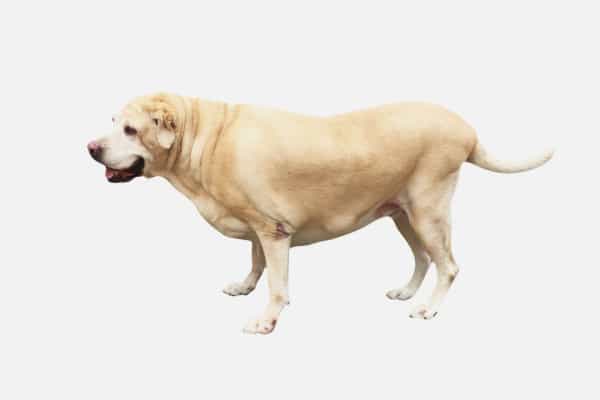 In addition to the physical toll of carrying extra weight, fatty tissue produces inflammatory hormones that contribute to chronic inflammation. This chronic inflammatory state can worsen osteoarthritis in the hips.
2. Nonsteroidal anti-inflammatory drugs
Nonsteroidal anti-inflammatory drugs (NSAIDs) are commonly used to manage pain in humans and animals. When vets speak of medicine for hip dysplasia in dogs, this is generally a first-line treatment. NSAIDs approved for dogs include:
Carprofen
Meloxicam
Firocoxib
Deracoxib
Grapiprant
By decreasing inflammation and relieving pain, NSAIDs can appear to work miracles in painful dogs. While these medications are considered safe, they do have side effects to consider. If your loyal companion takes NSAIDs regularly to manage osteoarthritis in dogs (OA) caused by hip dysplasia, your vet may recommend routine bloodwork to make sure their organs are handling the medications well.
(As an aside, I realize prescribing helpful medication is only half the battle. Many dogs, including my own, are reluctant to take pills. If your dog turns his or her nose up at medications, check out my five favorite tips, tricks, and techniques for what to do if your dog won't take pills.)
3. Multi-modal pain management
If your dog is still painful despite the use of NSAIDs, your veterinarian may prescribe additional medication to achieve more complete pain management.
Multi-modal pain management (using multiple medications and therapies to treat a condition) addresses the pain at different places in the body where the pain signal is passed along.
For example, the pain signal travels from the hips to the spinal cord and then is processed by the brain. Medications can reduce the pain signal differently at each of those points, thus reducing the intensity of the signal of pain from the hips to the brain.
Some of the medications used for hip pain in conjunction with or in lieu of NSAIDs include:
Gabapentin
Amantadine
Tramadol
Gabapentin
Gabapentin helps treat pain disorders by binding to overactive neurons, causing them to fire less frequently. This reduces the transmission of pain signals, similar to the way pregabalin (Lyrica) works to treat pain in humans. Gabapentin for dogs is probably the second most commonly prescribed traditional medication for hip dysplasia in dogs (behind NSAIDs).
Amantadine
Amantadine is an anti-viral medication that helps to reduce the pain associated with arthritis by increasing levels of dopamine in the brain. In one study performed on dogs with osteoarthritis in the hind end, one group of dogs was given an NSAID alone while another group was given amantadine plus an NSAID. The group given both medications had a more dramatic improvement with their pain, as evidenced by increased activity levels, compared to the group given the NSAID alone. Be sure to check out my article on amantadine for dogs for everything you need to know.
Tramadol
The last medication that may help reduce pain associated with hip dysplasia in dogs is tramadol. Current research suggests that tramadol alone is likely insufficient to manage the pain associated with arthritis. However, tramadol may help with pain relief by raising serotonin levels and having mild effects on the opiate receptors in the brain and spinal cord. Therefore, it may be helpful in combination with other pain medications. For more information, please read my comprehensive article on tramadol for dogs.
4. Joint health supplements/nutraceuticals
I recommend oral joint supplements for virtually all of my hip dysplasia patients. Research is ongoing regarding joint supplements—how much they help, how much to supplement, how well-absorbed various formulations are, etc. However, most of the ingredients in joint supplements for dogs are well tolerated with few (if any) side effects, so there's very little reason not to try!
The primary joint health supplements generally recommended are glucosamine and chondroitin. Although there may be conflicting data on how much benefit joint supplements provide, anecdotally I have seen huge improvements, especially when I start supplementing a dog at an early age.
Buyer beware!
As we know, hip dysplasia is the most common inherited musculoskeletal condition in dogs. It affects a lot of dogs. With that in mind, the market for the treatment of CHD is HUGE!
Joint supplements and "neutraceuticals" are not regulated by the FDA, and therefore are not subject to the strict testing and manufacturing requirements of the other medications we use. What this means is that basically any company can formulate a "joint supplement" and put it on the market for sale. There is very little oversight for making sure that the listed ingredients are even accurate!
Not all joint supplements are created equal.
If you do an internet search for "dog joint supplements," you will be inundated with hundreds, if not thousands of options to purchase. Quality matters! Please consult your veterinarian before choosing a joint health product for your dog.
In addition to the compounds typically found in the active ingredient list, there are also other bioactive compounds that can be present in joint supplements. I'll list a few here:
MSM (methylsulfonylmethane)
Avocado/soybean unsaponifiables (ASU)
Various herbs—turmeric/curcumin, bromelain, boswelia, corydalis, and devil's claw
New Zealand deer velvet —one of my favorite ingredients for treating dogs with canine hip dysplasia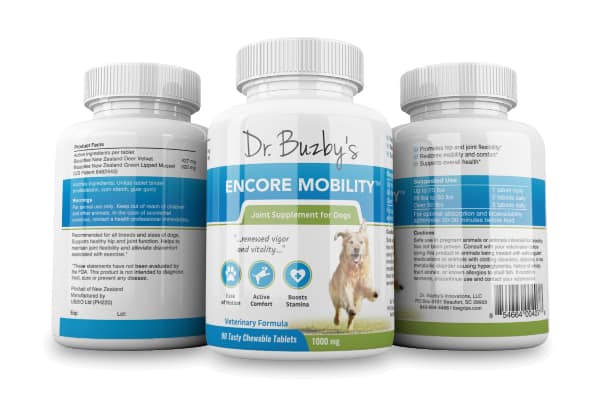 5. Omega-3 fatty acids
Omega-3 fatty acids reduce inflammation throughout the body, benefiting stiff, "creaky" joints. I routinely recommend this supplement for treating my hip dysplasia patients because it provides benefits with minimal side effects. The health benefits of omega-3 fatty acids for dogs are numerous.
6. Adequan injections for dogs with hip dysplasia
I'm also a huge fan of Adequan injections for treating dogs with hip dysplasia. Adequan Canine, a prescription polysulfated glycosaminoglycan (PSGAG), works like oral joint supplements to keep the cartilage in your dog's joints healthy and intact. However, because it is injected into the dog's muscles, it penetrates much better than oral products. It doesn't work for every dog, but I've seen some pretty dramatic results. For more information, check out my article on adequan for dogs.
7. Appropriate, gentle exercise
Gentle exercise is important for musculoskeletal health. However, studies on the type, frequency, and duration of physical therapy are ongoing in veterinary medicine. Some studies suggest that appropriate exercise (as opposed to exercise restriction) appears to be linked to lower lameness scores. I'm a huge believer in "use it or lose it," so this seems logical to me.
I'm very excited that canine rehabilitation practitioners and facilities, offering therapies such as underwater treadmills for dogs, are becoming more prevalent. To locate a certified rehabilitation practitioner near you, go to the American Association of Rehabilitation Veterinarians' website.
8. Acupuncture and laser therapy
Acupuncture for dogs and laser therapy for dogs are alternative treatments that have shown a great deal of success in managing dogs with hip dysplasia. They can certainly be used individually (one or the other), but I find that they have a synergistic effect when used together to treat dogs with painful hips.
I have acupunctured hundreds of hip dysplasia patients over the past two decades, often using electroacupuncture to increase the effect, with very positive results.
Acupuncture causes endorphin release (the body's natural opioids) into the bloodstream to ease pain and relax the dog. It also helps relax the muscles of the lower back and hind end, which are under abnormal stresses from the dog's chronic compensation.
I tell new clients that we should be able to determine within three visits if acupuncture will be a worthwhile part of the dog's treatment plan, and we often see improvement after the first visit.
Laser therapy was used in people for decades before making the jump into veterinary medicine. Lasers emit light that penetrates into the tissues. The light increases blood flow to that part of the body, facilitating healing. Because today's lasers are so powerful, treatment lasts for mere minutes. Dogs tend to tolerate it very well.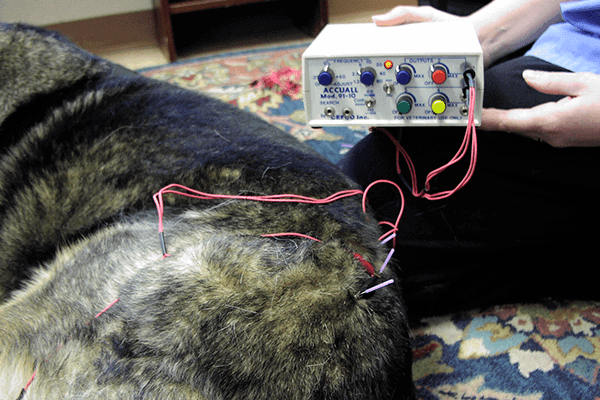 9. CBD oil for dogs with hip dysplasia
An area of growing interest in human and veterinary medicine has been the use of CBD oil for dogs. Cannabidiol (CBD) differs from Delta-9 tetrahydrocannabinol (THC) because it binds to receptors associated with decreasing pain and inflammation in the body. It does not bind to the receptors in the brain that cause the effects that are associated with THC—such as getting "high."
In various recent veterinary studies, dogs treated with CBD oil have shown improvement in the pain scores reported by their owners. Also, they have shown improved mobility compared to dogs treated with a placebo.
Early research looks promising regarding using CBD oil for pain management in dogs. However, recommending and prescribing CBD oil is a legally grey area for veterinarians at the moment and laws vary state by state.
Just like with supplements, there is currently not a lot of regulation of CBD products for animals. Please do not give your dog any OTC medication or supplement, including CBD oil, without first consulting your veterinarian!
10. ToeGrips® dog nail grips
Dogs with hip dysplasia often struggle to rise from and walk on slippery floors. ToeGrips® dog nail grips help dogs who slip and slide on slick floors with both their footing and confidence. The nonslip grips fit snugly on dogs' toenails to restore traction on hardwood floors and smooth surfaces.
ToeGrips can make a huge difference in comfort and mobility for dogs with hip dysplasia.
For one senior dog's ToeGrips transformation story, please read ToeGrips® for Senior Dogs: Bigsby's Success Story.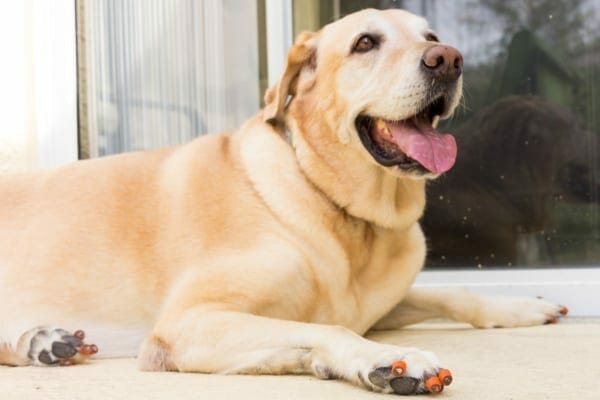 Hip dysplasia has many treatment options
Finally, you know your dog better than anyone. If your dog with hip dysplasia is painful (as evidenced by him or her being less active and less interactive with the family), talk with your veterinarian about options.
Pain is the number one inhibitor to quality of life for my canine patients. If you've had a dog that has suffered from hip dysplasia, you probably know how painful the condition can become without proper treatment. Improving a dog's physical and mental well-being through pain management brings my clients and patients relief and brings me great joy as a veterinarian.
When it comes to treating the pain in dogs associated with hip dysplasia, multimodal therapy is best. In other words, some combination of the 10 tips for treating hip dysplasia you found in this article will yield the greatest success. Dogs may respond differently to different products and therapies, expressing a type of individual variation, much like humans.
As always, working closely with your veterinarian is critical to the best outcome for your dog.
Do you have questions about treatments for hip dysplasia in dogs?
Please comment below.