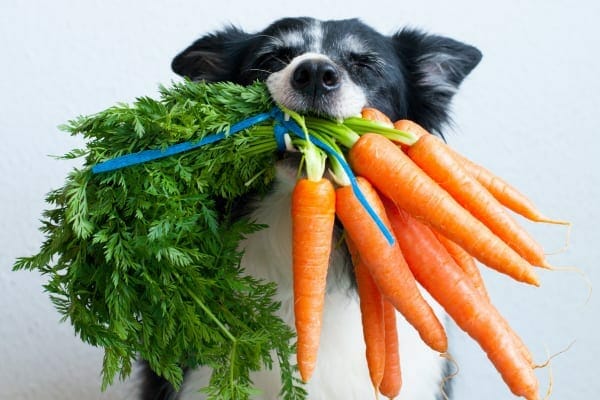 You probably know that pumpkin can be beneficial for dogs. But beyond pumpkin, the produce aisle holds many other vegetables that dogs can safely enjoy. If you're looking to expand your dog's palate, especially during the holiday season, check out this blog before you check out your crisper. Dr. Julie Buzby, integrative veterinarian and founder of Dr. Buzby's ToeGrips®, shares nine vegetables dogs can eat (plus, a few you'll want to steer clear of).
If you've strolled down the food aisle(s) of your favorite local pet store recently, you know you have a lot of nutritional choices for your senior dog. Dog food brands spend hundreds of thousands in marketing dollars to persuade you that their product is the healthiest option.
And while there are obviously good commercial dog food choices out there, did you know you can supplement your dog's diet with nutrient-rich veggies from your grocery store? It's true! Over in the produce section are dozens of vegetables your dog can eat — you just need to know which ones.
What is a high-quality diet?
I can't stress this enough — a high-quality diet is vital to your senior dog's health. Throughout his life, but especially in the senior years, your dog needs a balanced diet of proteins, carbohydrates, fats, vitamins, and minerals.
There's a common misconception that dogs are carnivores. This is, I suppose true from a high school biology classification standpoint. Dogs are in the order "Carnivora." However, nutritionally speaking, they're omnivores, which simply means they can derive nutritional value from a wide variety of foods—both meats and plants.
Consider the dog's ancestral cousin, the wolf. As the wolf feeds on its prey in the wild, it consumes "second hand" the prey animal's diet of seeds, fruits, and plants. Those nutrients are vital to the wolf's health — just like they are for your dog.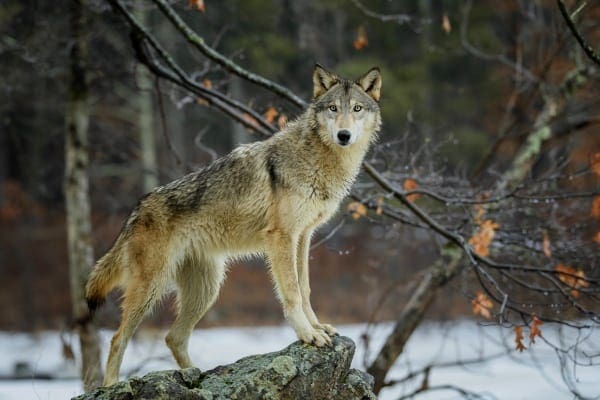 What are some of the general benefits of dogs eating vegetables?
From a tasty snack to a full-sized meal, certain vegetables are excellent for your gray-muzzled companion. Here are just a few of the general benefits:
Weight management: Dogs who are overweight benefit from veggie treats because they're low in calories and help them feel full faster. When your dog feels satisfied, he's less likely to overeat or act like he's starving.
Digestive health: The fiber found in vegetables promotes healthy digestive tract and anal gland function, and prevents constipation.
Diabetes management: Vegetables can help regulate blood sugar levels in dogs with diabetes.
Training rewards: Small amounts of veggies can make excellent motivational rewards for training and treats.
9 vegetables safe for dogs to eat
There are many vegetables dogs can eat. The following are guidelines for nine of my favorites, beyond just pumpkin.
1. Pumpkin
Technically, pumpkin is a fruit because it's the flowering part of the pumpkin vine. In the culinary arena, however, pumpkin is a vegetable.
Your senior dog can benefit from pumpkin because it's high in fiber and can help with stool problems. If your dog has diarrhea, the fiber will help thicken his stool by absorbing water. Conversely, if he's constipated, fiber will make it easier for stool to pass because of its mild laxative effect.
Pumpkin also contains pepita oil, which is a type of omega-6 fatty acid known as linoleic acid. This particular fatty acid is shown to have anti-inflammatory effects, especially for your dog's skin.
Cooked or canned pumpkin is the best (and easiest) way to serve pumpkin to your dog. Avoid pumpkin pie filling when you're shopping since it's loaded with sugar and even spices. Also steer clear of pumpkin seeds since they are a choking hazard.
Introduce pumpkin to your dog's diet by offering one to two tablespoons of it mixed with his other food. Don't be alarmed if your dog's stool color turns a bit orange.
2. Broccoli
Broccoli is another excellent source of fiber and can also provide vitamin C, which is essential for a healthy immune system.
It's best served cooked with no seasonings. However, small pieces of raw broccoli stalks are also thumbs up. Dogs love a good crunchy treat, and this makes a great low-cal snack. Be sure to serve bite-sized pieces so they do not become a choking hazard, especially if your dog is a small breed dog.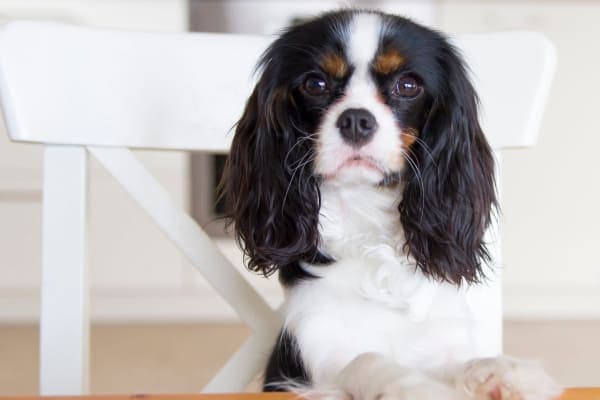 Dogs should eat broccoli in limited quantities because it can cause irritation to the lining of the esophagus and stomach if eaten in excess.
3. Kale and spinach
Dark leafy greens like spinach and kale are an excellent choice for your dog. They are high in:
Calcium: Important for healthy bones
Vitamin K: Crucial for the blood's ability to clot
Vitamin A: Supports your dog's vision
Iron: Integral component of hemoglobin, which helps red blood cells carry oxygen to tissues in the body
Folate: Necessary to facilitate absorption of nutrients from food into the small intestines
Kale and spinach can be served steamed or raw, but don't add any seasonings. One or two raw leaves are perfect for a snack, or you can shred the leaves and add them to your dog's bowl at mealtime. Years ago, I had a client who did this at the start of her Saluki's dinner each night. She called it her "salad course," and the dog loved it!
Due to kale's high calcium content, too much kale can contribute to urinary problems and bladder stones. Again, use common sense and give in moderation. Speak with your veterinarian before giving if you have any concerns or if your dog is prone to bladder stones.
4. Green beans
As mentioned in our post on how to host a happy and nutritious Pawsgiving, green beans are a great source of vitamins A, C, and K. The beans also provide minerals like iron and calcium, and they are beneficial for dogs with diabetes due to their low-calorie, high-fiber content.
Interestingly, green beans are considered true beans instead of legumes. Thus diets that contain green beans are grain-containing diets.
Green beans can be served boiled, steamed, or chopped. Avoid adding seasonings, and also steer clear of canned green beans that contain large amounts of salt. Start by giving your dog two to three green beans a day, making sure the amount of treats never tops ten percent of his diet.

Green beans should be a staple for dieting dogs because they provide volume to fill up a dog's empty stomach with few calories.
5. Brussel sprouts
Brussel sprouts are another high-fiber vegetable that contain vitamins C, K, and trace minerals like magnesium which is important for cellular metabolism and muscle function.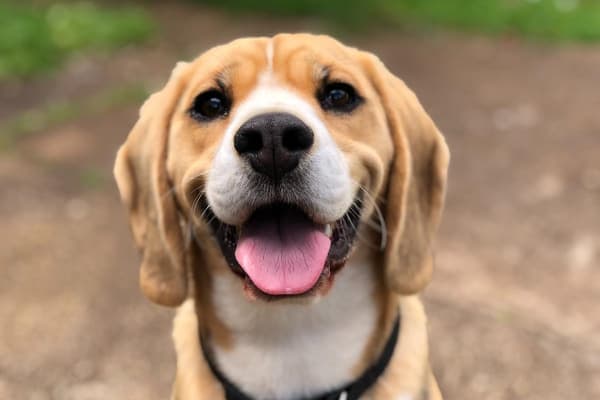 Avoid any oils or seasonings when preparing them and start with one or two brussel sprouts at a time. If your dog eats too many brussel sprouts, he can become gassy and bloated. This can lead to abdominal discomfort and, in severe cases, become an emergency.
Serve sprouts steamed or boiled but cut them into smaller pieces since whole, round sprouts pose a choking hazard for small and medium-sized dogs.
6. Carrots
Carrots are a good source of potassium, vitamin B6, and an excellent source of beta-carotene.
Beta-carotene gives carrots their signature orange color. This compound is used in the production of vitamin A, an essential vitamin that helps your dog's immune system and vision. A deficiency in vitamin A can lead to night blindness.
Carrots can be served steamed or boiled. A one-ounce serving containing ten calories is ideal for dogs that need to lose weight. Raw carrots also make for a great crunchy treat that dogs love, which, like broccoli, may help to reduce plaque and tartar on your dog's teeth.
Make sure that the size of the carrot is appropriate for the size of your dog. Terriers should only have raw carrots that are one or two inches in length. Large breed dogs will do well with medium-sized carrots but should still be supervised to prevent choking on large pieces.
Carrots are also low in calories but high in sugar, so you'll want to avoid giving carrots to your dog if he is diabetic.
7. Zucchini
Zucchini contains calcium, iron, magnesium, and fiber which helps promote a healthy gastrointestinal tract. Slightly crunchy, they are also low in calories.
Serve zucchini raw or steamed. Steaming makes them softer and easier to chew, and smaller pieces are perfect for small dogs. Large breeds can handle larger portions.
Start with three to four slices at a time and avoid zucchini that has seasonings or salad dressings. Many of these flavorings contain garlic and onions which are toxic for dogs (more on that below).
8. Sweet potatoes
Sweet potatoes are another high-fiber food that make for a very tasty treat. Found in many commercial dog foods, they're a great source of vitamins A, B6, and C.
You can serve sweet potatoes in a variety of ways. If fed raw, they should be chopped up into small cubes. Steaming or roasting the sweet potato makes them much softer and less of a choking hazard. Introduce sweet potatoes by giving your dog three or four slices at a time.
Like carrots, sweet potatoes are high in sugar content, so overweight and diabetic dogs should avoid them in their diets. For most, however, sweet potatoes are one of the many vegetables dogs can eat.
9. Peas
Snow peas and sugar peas are great for your dog! They're a good source of vitamins A and B and minerals like potassium and magnesium. Zinc is another mineral in peas that plays a role in a healthy immune system and thyroid gland function. A one-ounce serving of peas contains just twenty calories making it a perfect low-calorie snack.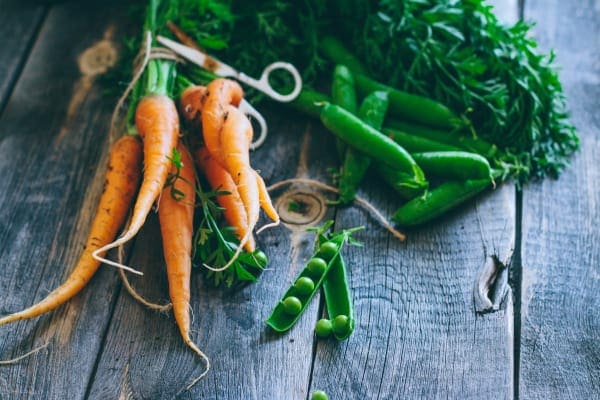 Avoid canned peas due to their high salt content and pea pods since they present a choking hazard. Peas also contain purines, a type of protein, so dogs with urinary incontinence and kidney issues should avoid them.
What vegetables should I avoid?
Now that we've covered vegetables dogs can eat, let's briefly go over which ones you should avoid.
Vegetables in the Allium family are toxic for dogs as they can damage red blood cells. Vegetables in this family include:
Onions
Garlic
Chives
Shallots
Also stay away from vegetables like asparagus that are tough to chew and present a choking hazard even when cooked.
A quick warning about mushrooms: Mushrooms from the store are generally safe but offering them to your dog as a treat might make him think that all mushrooms are okay — which they're not. Many of the mushrooms in your yard are toxic and may result in a painful, upset stomach. Because of this, I recommend avoiding mushrooms altogether.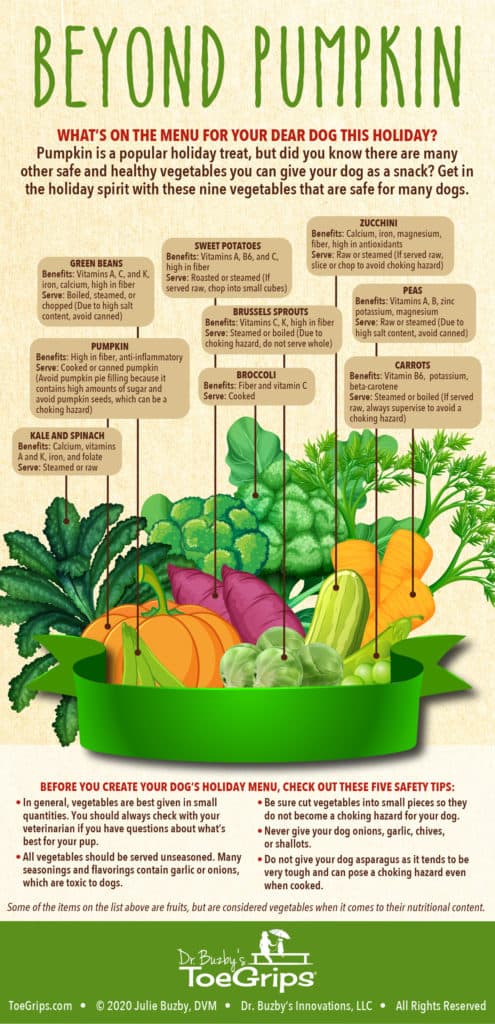 Eat your peas and carrots
Even if your senior dog enjoys a high-quality commercial diet, peas, carrots, and other vegetables have numerous health benefits that make them a wise (and tasty) supplemental treat.
Play around to see which vegetables your dog prefers, and at the beginning, always offer in very limited amounts. If you're not sure whether a vegetable is safe, given your dog's background and health history, always ask your veterinarian for advice and guidance.
Now you're ready to update your grocery list and have fun introducing your dog to a host of new veggies that are beyond good old pumpkin. Bon appetit!
Does your senior dog love his veggies? Which ones?
Share in the comments below — and let us know your quick preparation tips. We'd love to hear!