Dog anal glands are useful for communication and marking territory. But they can also be responsible for your dog scooting his or her rear end on the carpet or licking under the tail. To help you better understand this sometimes-problematic bit of your dog's anatomy, integrative veterinarian Dr. Julie Buzby explains the anal gland basics, including what anal glands are, where they are located, and how to recognize and manage anal gland problems.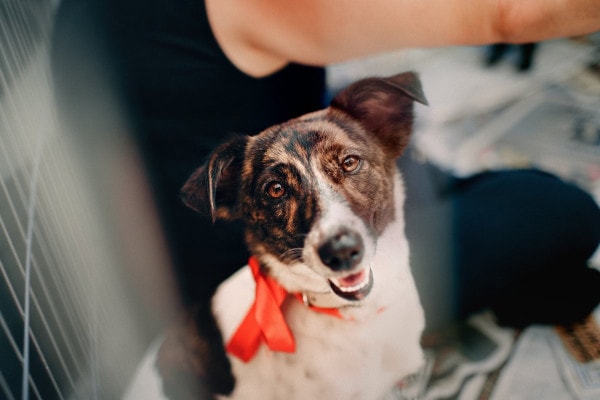 As a veterinarian, a question I tend to hear from dog parents periodically during appointments is, "Why is my dog rubbing his or her butt on the ground?" While there are several potential culprits, I almost always start by checking the dog's anal glands to see if they are overly full or infected.
What are anal glands in dogs?
In short, anal glands in dogs are the small sacs located near a male or female dog's anus that contain a foul or fishy-smelling liquid. But let's take a closer look at what anal glands are, starting with exploring the terms "anal sacs" and "anal glands."
The anal sacs are two small pouches located internally at approximately the four o'clock and eight o'clock positions around the dog's anus. Each sac wall is lined with large amounts of sebaceous glands (i.e. the anal glands).
Sebaceous glands are responsible for producing sweat in other locations. But in this case, the anal glands produce a strong, foul-smelling fluid that some people say has a fishy odor. This fluid is stored in the anal sacs. And then when the dog has a bowel movement, a small amount of the fluid is squeezed through a narrow canal and exits the body.
Thus, as you have learned, the anal sacs contain the anal glands. But practically speaking, most people use the terms interchangeably to mean the gland and sac combination, so I will too.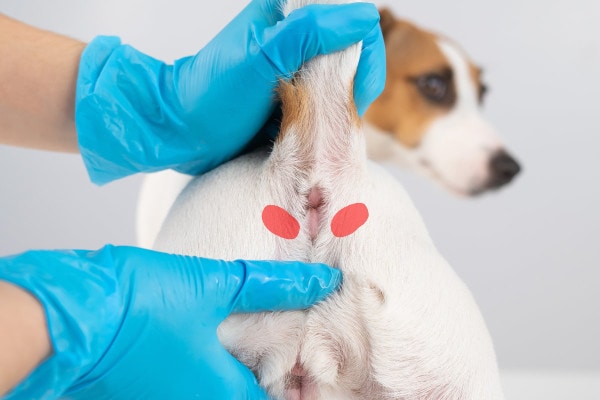 Why do dogs have anal glands?
You may be wondering what purpose the anal glands could possibly serve. Well, as you know, the anal gland fluid has a strong odor. But it isn't the same from dog to dog. Each dog has his or her own unique anal gland scent which serves as the dog's "signature" or "name tag."
Because of this, dogs can use their anal gland scent to mark their territories and identify each other. This is one of the reasons why, when you take your dog on a walk, he or she likes to stop and sniff every pile of feces. And it also helps explain why dogs sniff each other's butts when meeting. In both cases, the dog is using the scent molecules in dog anal gland secretions to get an idea of who the other dog is.
Plus, if a dog becomes extremely frightened, he or she may release the full contents of the anal sacs. This is thought to be a defense mechanism (due to the strong scent) and/or a way to warn other dogs that there is something scary in that area.
Why do dogs' anal glands fill up and need to be expressed?
All in in all then, anal glands can be useful to your dog as long as the dog is actually able to express the anal glands during defecation. However, the exit point from the anal sacs to the outside world is small. And sometimes dogs have overactive glands that produce thick anal gland secretions or a large volume of anal gland fluid.
This abnormal fluid composition or volume, in combination with the narrow canal that empties the anal gland, can cause the secretions to compact together and become lodged in the anal sac. Your dog can feel this build-up of secretions as it begins to put more and more pressure on the hind end. In response to the pressure and discomfort, he or she may try to empty the anal sacs by scooting on the ground, dragging the hind end, or licking the area around the anus.
If you only see your dog doing these behaviors once or twice over a long period of time, he or she was probably successful in emptying the glands. But, if your dog is repeatedly scooting on your carpet, licking under the tail, or showing any of the symptoms we will get to soon, it could indicate your dog has anal gland issues.
What are some anal gland issues in dogs?
When dogs can't properly empty their anal glands, they may experience a variety of anal sac diseases. Some common dog anal gland issues include:
Anal gland impaction—When the anal gland fluid is abnormal and/or can't exit the anal glands, it builds up and causes pressure and inflammation.
Anal gland infections—Left untreated, an anal gland impaction can turn into an infection. Alternatively, bacteria from the anal area can travel down the canal of the anal sac and cause an infection.
Anal gland rupture—If an anal gland infection becomes bad enough, it can rupture through the surface of the skin around the anus, creating an open wound that may leak anal gland secretions, blood, or pus.
Anal gland tumors—Occasionally, dogs can develop anal gland cancer, which may spread to other areas of the body.
Of these conditions, impacted or infected anal glands are the most common anal gland problem in dogs.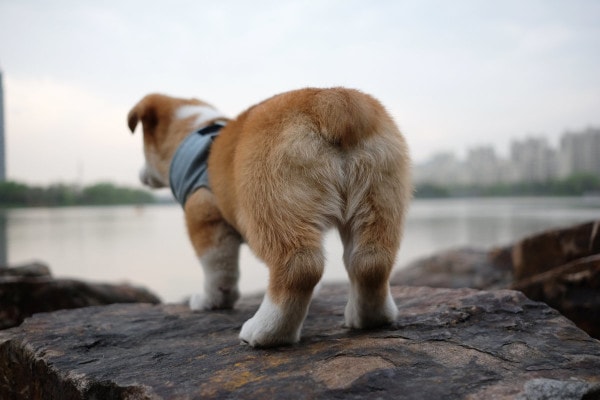 How do I know that my dog has an anal gland problem?
If you suspect your dog is suffering from an anal gland issue, it is important to consult your veterinarian. But in order recognize a problem, you need to have an idea of what you are looking for.
Scooting
The most common and easiest symptom for dog parents to detect is a dog beginning to scoot or drag his or her hind end on the ground. If your dog is doing this repeatedly, please contact your veterinarian. Scooting almost always means your dog's anal sacs are full. And they could become impacted, if they aren't already. A vet visit now to manually express the glands could help save your dog a lot of pain and discomfort.
Additional symptoms
However, not all dogs who have anal gland problems will drag their rear end on the ground. Therefore, it is also important to visually monitor the area around the anal glands and watch for other changes in your dog's behavior.
Some of the symptoms of anal gland problems include:
A bump or bulge near the anus, or generalized swelling in the region
Red and irritated skin around the anus
Area around the anus is warm or painful to the touch
Brown or red discharge leaking from the anal gland openings
An opening or wound near the anus
Straining to defecate
Diarrhea or constipation
Crying out or whimpering during a bowel movement, or other signs your dog is in pain
Repeatedly or quickly sitting down
Dog smells like fish (or a fishy odor in places where or or she frequently lies or sits)
If you notice any of these signs, it is important to contact your veterinarian.
What is the treatment for anal gland problems?
During the appointment, the vet will examine your dog from nose to tail. And he or she will likely perform a rectal exam with the index figure to evaluate the anal sacs and surrounding structures.
If the anal glands are full, the vet will express your dog's anal glands. Should your dog have an anal gland abscess or rupture, the vet may flush out the anal sacs or prescribe antibiotics or anti-inflammatories as well. Occasionally, with anal gland cancer or repeated problems, the dog might need the anal glands surgically removed.
How can you prevent anal gland problems?
Additionally, your veterinarian might give you suggestions to help prevent anal gland problems in the future. For some dogs, adding a fiber supplement like canned pumpkin for dogs or Metamucil for dogs can be helpful. Fiber for dogs can bulk up the stool. This may help the dog express the anal glands more effectively during defecation.
Other dogs may need routine anal gland expression at the veterinary clinic. This gets the material out, helping to prevent impactions or infections.
Finally, you may want to make it a habit to evaluate the area around your dog's anus on a regular basis. One good way to do this is to include it in a weekly 5-minute dog wellness scan. This sort of exam isn't going to prevent anal gland issues per se. But it can help you catch them when they are just starting.
(For an in-depth and easy-to-follow approach to this important at-home exam, including a section about how to look under your dog's tail for problems, check out Dr. Buzby's Master Class: The Tip-To-Tail Health Scan™).
How can I get rid of dog anal gland smell?
As we wrap up, I did also want to take a few minutes to talk about the stench in the room—anal gland fluid. Anyone who has been around a dog who has released his or her anal glands probably knows that smell. Anal gland fluid has a very strong, fishy odor that lingers. And it penetrates anything the anal gland secretions touch.
Anal gland smell on fabric
Let's say your dog got scared and accidentally expressed his or her anal sacs in the house or car. Or maybe he or she was scooting on the carpet or couch and successfully emptied the anal glands. Either way, you now have fabric that is soiled with anal gland secretions.
Often, white vinegar is a great way to neutralize the smell in fabric. Or I've also had clients have success using pet deodorizing wipes. The most important step is to thoroughly clean the surface and completely saturate the fabric with your neutralizer.
Anal gland smell on your dog
On the other hand, sometimes your dog has a lingering smell after expressing his or her anal glands. When this is the case, it is important that you only use pet-safe products to clean up your dog. This might be a spot clean using dog shampoo, dog wipes, dog grooming spray, etc.
However, if your dog has an anal gland issue, use caution when cleaning him or her up. Sometimes vigorous cleaning or using a strong product can cause irritation or pain.
Should you need to flush a ruptured anal gland or apply medication to the area, paper towels and gloves will be your friend. Often, the easiest way to minimize the smell is to be as clean as possible during the procedure. Have multiple pre-torn sheets of paper towels with you to catch any anal gland secretions that might come out. And put on gloves to keep the smell off your hands.
Monitor your dog for signs of anal gland issues
Many dogs can empty their anal glands naturally and never have a problem. But some dogs are prone to developing impacted or infected anal glands. If your dog falls into that category, it is particularly important that you are diligent about monitoring your dog for signs of anal gland issues.
While not life-threatening, anal gland problems can be painful (or uncomfortable at the very least) for dogs. So the sooner you catch a problem and contact the vet, the better. Plus, if you know your dog tends to have trouble expressing his or her anal sacs, it would be a good idea to talk to your vet about fiber supplements and/or regular manual expression.
By being watchful and well-informed, you can hopefully minimize the problems your dog's anal glands cause and maximize the fun you have together.
How often do your dog's anal glands cause a problem?
Please comment below.