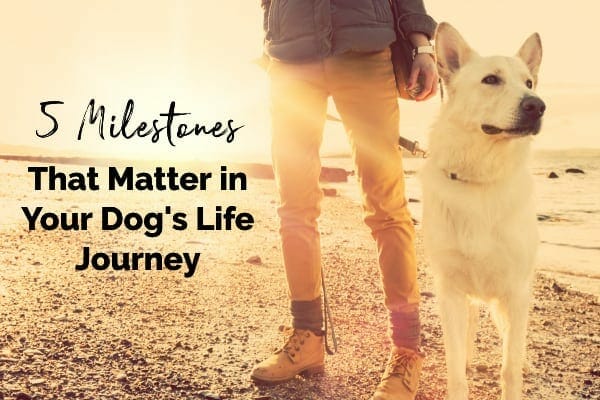 As a dog parent, did you know that you and your dog will experience five life milestones together? Dr. Julie Buzby, integrative veterinarian and founder of Dr. Buzby's ToeGrips®, helps you prepare for every step of your dog's life journey.
Life in transition with dogs
I'll never forget meeting Nancy Foster in my exam room.
She was dressed to the nines, sitting next to her smiley senior Golden Retriever named Pigeon, who was scheduled for acupuncture and a "consultation." The consult consisted of Nancy flipping through her note pad asking me 147 questions about Pigeon's options for pain.
As Nancy began to describe her relationship with her Golden, and the personal sacrifice she was willing to endure to provide Pigeon the best of care, it was evident there was a significant backstory I was missing.
I later learned that Pigeon had carried Nancy through the most difficult time of her life—the tragic loss of her husband.
And that scenario isn't uncommon.
I think of Milo the pug — how his mom described him as the only thing that kept her alive when her husband died of cancer.
And Tristan the shaggy mutt — who held his mom together through a divorce, and protected her when things got ugly.
I've never written these stories, but as I think about it, dozens of them spring to mind. They share a common theme—dogs' unconditional love, faithful companionship, and the reason for a broken human to get out of bed every day and keep going.
Even as our world shifts from stay-at-home orders and quarantining back to a new norm, I'm so thankful we're doing so with our dogs by our side.
And just as our dogs are there for us during life's transitions, so we, too, have the opportunity to cheer, support, and comfort the milestones in their own journey through life.
While every pet owner and dog's story is unique, most all will experience five predictable times of transition together.
Milestone 1: Adjusting to your new family member
Do you remember the first day you brought your dog home? What was it like? How did it go? You may be experiencing this transition right now. The Puppy Boom is one of the unexpected side effects of life during COVID-19.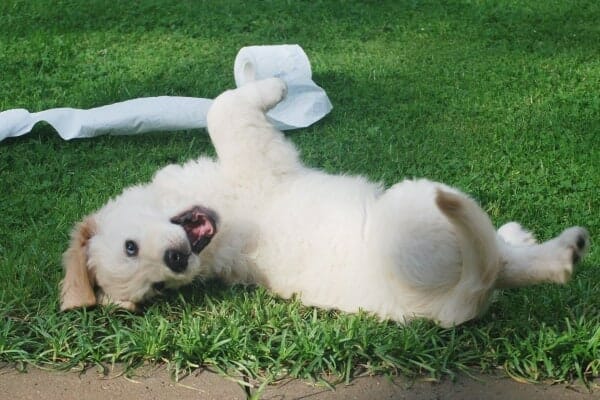 It seems that in lieu of taking vacations, Americans are buying puppies and adopting animals out of shelters. We've seen rescues and shelters empty out, which is absolutely lovely and restores my faith in humanity. What a phenomenal investment of the extra time and energy quarantine might afford.
During this adjustment period, it's important to set realistic expectations. Over the past few years, we have adopted three dogs into our family, and none of the transitions read like a Hallmark movie script. They were hard.
Because all three dogs were rescues, we knew nothing about their pasts. One had clearly suffered abuse, which made for a long and bumpy road until he could establish trust and eventually an unbreakable bond with our family. Another, after months of failure in the housebreaking department, was finally treated for a rare medical condition which solved the issue and resolved tension in our relationship. And most recently, we adopted Jake the hound, who also had significant health and behavioral problems that we had to work through.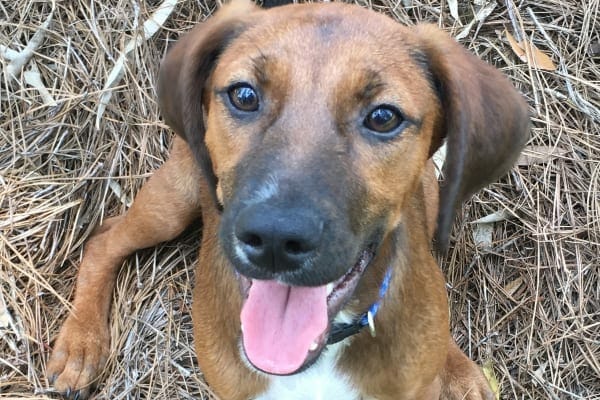 (You can read Jake's complete adoption story here: 7 Helpful Tips for Bringing a Stray Puppy or New Dog Into Your Home: The Story of Jake the Hound.)
None of these three adoptions yielded an instant utopia. Oh, don't get me wrong, I'll never forget the joy and excitement of welcoming these beautiful souls into our family's fold. There was so much love and laughter. But, if I'm honest, there were also sleepless nights, family conflict, countless hours of training (some with a hired professional), and 35,000 gallons of Nature's Miracle.
Life is not the staged and edited perfection of an Instagram post.
Of course, you will immediately fall in love with your new family member, as did we, but don't expect violins playing in the background while you enjoy carefree, pain-free living, without any urine on the floor.
If you're living through this transition right now, please extend lots of grace to yourself and your dog. It may take months (to years) to really hit your stride in that perfect bond.
It took time to figure out our dogs' personalities and nuances, yet all of our dogs have become the Best Dog Ever. And I'm absolutely positive your new addition will too! In fact, it's the eighth wonder of the natural world—that each of us has the best dog in the world.
Milestone 2: Entering the prime of life
For puppy owners, the next transition occurs when your dog reaches maturity. Your dog is entering the prime of life. There are physical changes, of course. For example, by five to seven months of age, all of a dog's 28 baby teeth have fallen out and are replaced by adult teeth. This results in behavioral changes too—generally, the chewing phase starts to dissipate.
Spay-neuter is also a part of the maturity picture, although the timing for sterilization has become a ragey hot topic. Over the past several decades, the party line was to spay before the dog's first heat (generally occurring between six to 12 months of age) because it dramatically decreases the chance of a female dog developing mammary cancer later in life. In recent years, there's been research published that highlights negative effects of early spay/neuter.
For good reason, this is such a controversial topic. It would be irresponsible for me to tell you there is one best practice here. (For more detailed information, please read The Washington Post's article, The Growing Debate Over Spaying or Neutering Dogs.)
I recommend that you speak with your veterinarian and weigh the pros and cons of when to spay and neuter your dog. And right now, this decision is complicated by the fact that many vet hospitals around the country, based on governors' orders and mandates, are literally forbidden from spaying and neutering. These measures were put in place in an effort to preserve PPE and anesthetic drugs for the human medical side. (For more about caring for your dog during the pandemic, please read my article, Navigating COVID-19 with Your Dog: 5 Coronavirus FAQs.)
Ultimately, I stand with the American Veterinary Medical Association stance which states that these decisions should be made on a case-by-case basis.
In that maturity phase, particularly after spay-neuter, your dog's daily caloric requirements will drop. That puppy growth phase requires energy to burn, just like kids burn up more calories than we do as more sedentary adults. After spay-neuter, because hormonal influence is lost, caloric requirements will drop off. This needs to be accounted for at the food bowl.
Talk to your veterinarian about how to feed your dog appropriately, both the type of food and the amount of food, because this is often a place in a dog's lifecycle where I see dogs transition into obesity.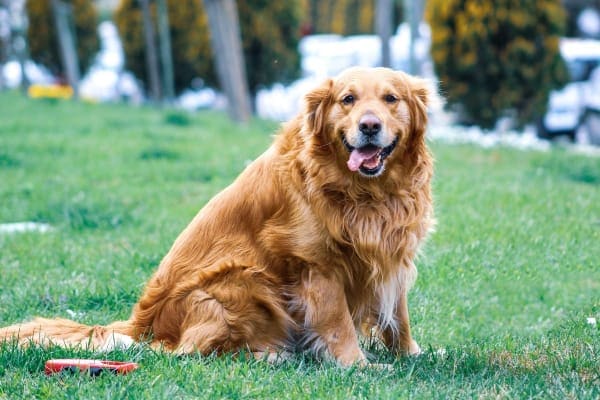 Almost two-thirds of American dogs are overweight or obese, which is so sad because it's preventable. Knowledge and proactivity will be your friends as you face this transition.
From here, hopefully, it's a smooth journey until we transition into your dog's golden years.
Milestone 3: Embracing the golden years
"Senior at seven" used to be the slogan of veterinarians. But it's no longer a "one size fits all" solution. Here's why: Large and giant breed dogs are going to hit that senior status earlier than small and toy breed dogs.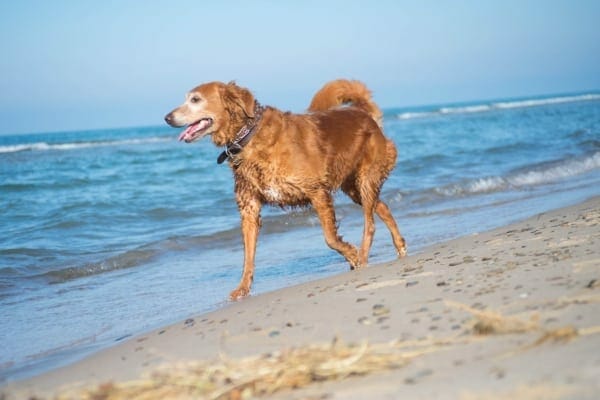 Typically, senior status is proportional to the lifespan of the dog. So a Great Dane's life stages will occur at different ages than a Papillon. A Great Dane lifespan could be seven to 10 years. A Papillon typically lives 13 to 16 years. But either way, it's important to recognize that as your dog transitions into the senior years, things will be different, and that's not necessarily a bad thing.
Grey-muzzle companions, like fine wine, have aged into a priceless treasure. To care for these sweet souls, you'll want to be at the vet more often. So instead of that annual exam that we think of for younger dogs, you'll want to see your veterinarian at least twice a year. Your dog will be examined by the vet from tip to tail and likely have lab work run at both of those visits because early detection and prevention is one key to longevity.
Want a road map for your dog's lab work process and how you can help ensure the best results? Read my blog: 7 Tips for Improving Your Dog's Lab Tests: Poop, Pee, and Blood, Oh My!
As your dog becomes a senior, you become his or her left tackle. Among other things, your job is to protect your dog from being blindsided by the hazards of the world to an aging body.
Examples of ways you can keep your dog safe include:
using a ramp for getting in and out of the car and on and off of furniture
keeping a nightlight on at night for your dog
adding reflective tape to the edge of steps
adjusting your dog's diet to best nourish your senior dog's changing body
applying ToeGrips® dog nail grips to protect your dog from slip-and-fall injury
For a complete explanation of these and other DIY tips, read 7 Senior Dog Care Tips: Keeping Your Dear Old Dog Comfortable.
Sadly, one day, it will dawn on you that your senior dog is really slowing down. This marks a new milestone.
Milestone 4: Weathering the good and bad days
Almost all of my veterinary clients talk to me in terms of their dog's "good days" and "bad days." It's not formal standardized lingo in the world of senior dog care, but it's practical lingo. It's what we experience on a day-to-day basis, and it's what shapes our hope for more time with our dogs.
I want to mention the concept of veterinary hospice care and refer you to a couple of different options around the country that operate such as Lap of Love Veterinary Hospice.
If you're in this phase of life with your dog, please take a deep breath. Hospice care doesn't only mean euthanasia. It implies a relationship with a veterinarian who can make house calls, coming to see your dog in the comfort of your living room, being more hands-on and more accessible. Hospice care opens lines of communication to talk openly and frequently about your dog's quality of life, mobility, and pain management to include acupuncture.
This side of veterinary medicine is exploding. I am such a big believer in the value this provides pets and their owners that when my children are all grown, I hope to open my own concierge house call practice for senior dogs.
I also see a huge boom in veterinary telemedicine.
With a telemedicine consult with your dog's regular veterinarian, you get virtual veterinary care through technology from the comfort of your own home. Your dog can lie on his dog bed, and the only disturbance he faces is you taking pictures or videos to share with your vet through the internet.
In both of these instances—in-home hospice care and veterinary telemedicine—your fragile senior dog doesn't have to be loaded in and out of the car. He doesn't have to risk slipping on the floor of the vet's exam room. He doesn't have to feel any anxiety associated with a veterinary visit. By virtue of the location and ease in which communication is facilitated, both of these offer an opportunity for more intimate and intense care.
Milestone 5: Saying goodbye with dignity
Dogs give us a thousand good days and only one bad one. The final milestone—when it's time to say goodbye—is the hardest day of any dog owner's life.
Some people say it's not worth it. They say the worst day is just too hard, despite all those good days that they shared with their dog.
I know it's a personal choice with so much emotion involved, but I wouldn't trade all the good days I've had with my dogs for anything. I choose to face the last day with the understanding that I don't grieve for my dog—he will be better now—I grieve for myself. And so unselfishly, I give my dog a final gift—to leave this world in dignity and peace.
I tear up even writing this as I think of our family's send-off for Luke, one of the three dogs I wrote about in the first milestone.
My children lay on the floor with him, stroking his head and sides. One of them spontaneously whispered on Luke's behalf:
Now I lay me down to sleep,
I pray the Lord my should to keep.
If I should die before I wake,
I pray the Lord my soul to take.
Our milestones with dogs
Just like all of life, nothing ever stays the same.
You change, your life changes, and your faithful dog changes. From playful puppy to smiley senior, you've been with your dog through it all. The two of you have faced life's milestones — together.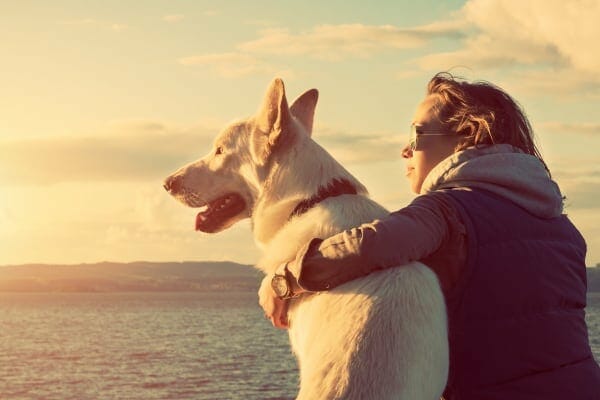 And as you celebrate where you've been with your furry friend and look ahead to where you're going, you'll receive the gift of perspective and see yourself in the middle of a story that's still being written — one that you'll treasure even more when all is said and done.
Have you had a dog walk by your side through one of your tough life milestones?
Share your tribute in the comments below.