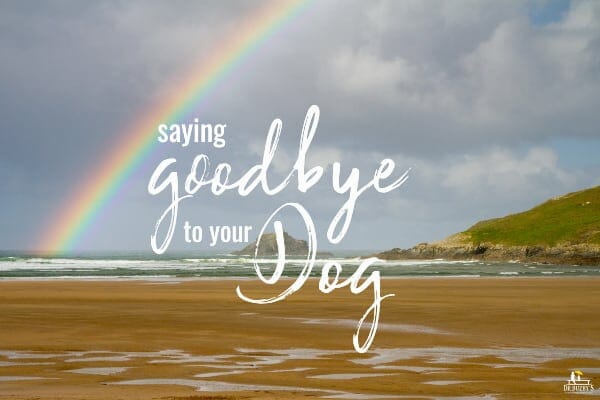 Are you struggling to know when to say goodbye to your dog? Most likely, your canine companion has been by your side through the joys and sorrows of life. He or she has been steadfast in their loyalty and love. You've walked life's path together—both literally and figuratively. Making the decision to let your grey-muzzled companion go may seem unbearable. Dog euthanasia is not an easy topic to broach, but comfort, hope, and help are here.
In part three of my series on dog euthanasia, I'm joined by my friend and veterinary colleague Dr. Elizabeth Chosa, owner of Courtenay Animal Hospital. Dr. Chosa shares a heartfelt message on selflessness as a final "gift" to our dogs during end-of-life care. If you are conflicted in knowing when it's time to say goodbye to your dog, I hope you find peace and comfort through Dr. Chosa's story of a 15-year-old dog named Rosie.
For parts one and two in this series on dog euthanasia, please read:
If you'd rather listen, please check out my podcast on dog euthanasia: Thinking Through the Goodbye.
Saying Goodbye to Rosie
by Dr. Elizabeth Chosa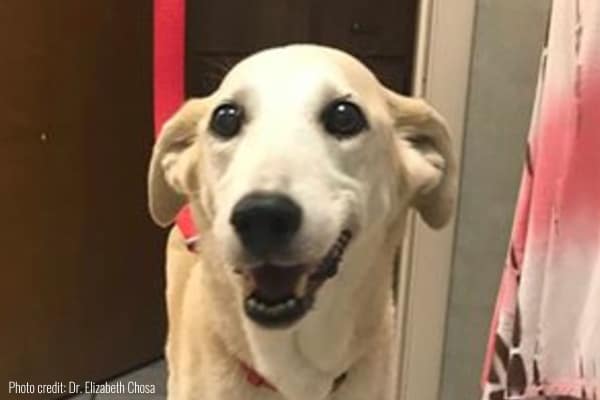 A week ago today, we said goodbye to a special patient, a dog named Rosie. She was 15 years old and had been rescued from a local shelter by her mama a long time ago.
Every day from that day until she said goodbye, Rosie's mama did every single thing she could to ensure that Rosie was as healthy, happy, and as comfortable as possible. Life for Rosie was as good as it gets. And, as companions go, her mama also felt like she had won the lottery.
This is all any of us can hope for when it comes to pet ownership—to have a beloved animal who becomes like a part of you and lives a good long life, where each of you makes things better for the other.
But when you are lucky enough to have such a relationship with an old pet, it means you'll also eventually have the burdensome responsibility of deciding when to say goodbye to your dog.
Talking openly about dog euthanasia
Rosie's mama and I had a long talk last week and I asked her if she wouldn't mind sharing parts of it with you. Some people don't know what questions to ask and aren't able to openly talk about the process as easily as Rosie's mama did. I thought sharing some of our talk may help others as they approach this heart-wrenching decision. It (dog euthanasia) can be a very difficult conversation but it's such an important one.
Pretty much everyone hopes that their senior pet will one day pass peacefully in his or her sleep. Choosing a time and day to end the life of a beloved companion feels unnatural. It can be an incredibly difficult task and one that is often fraught with inevitable guilt for those who love their pets.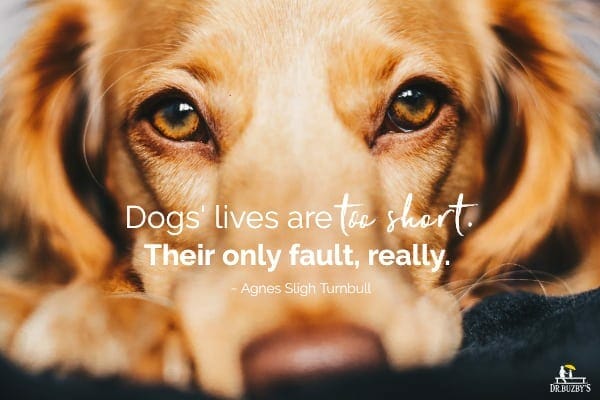 Alleviating suffering: the last gift of love
Unfortunately, pets rarely pass peacefully in their sleep, at least not before enduring an enormous amount of suffering, in most cases. Giving them the gift of alleviating that suffering is the last loving, generous act of pet ownership.
Thinking through the goodbye
But how do you know when it is time? One of the hardest factors is that animals often have good days and bad days near the end. On the bad days, especially after several in a row, owners often think it is time to let go. Sometimes they even make an appointment, only to wake up that morning and find their pet having a great day, which makes them doubt the decision and hold off a bit longer.
This cycle may repeat for weeks or even months and owners are unsure where their responsibility lies. No one wants to give up too soon, nor do they want to wait too long.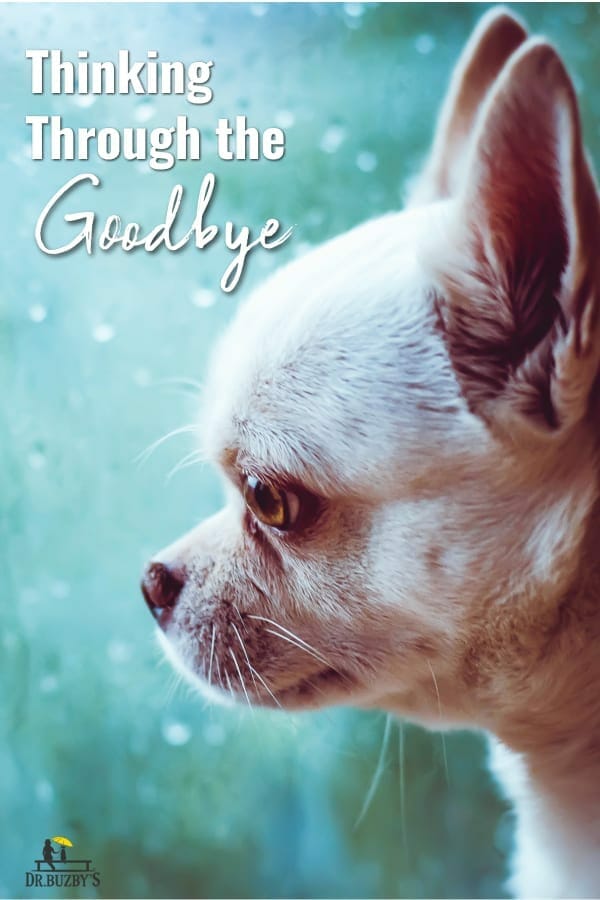 Passing peacefully
The reality is that if you really love your pet and you have thought "it might be time"—it is almost always time. It's just so hard to face that reality. I have had to make the decision for my own senior pets twice in the past two years and it never gets easier.
But it's important to keep in mind that it is a loving gift for them, to go peacefully when they are surrounded by people who love them, and not alone and scared or in tremendous pain and distress.
Tools to help you know when it is time to say goodbye to your dog
One simple tool that can help is to write on a calendar "good day" or "bad day" then look back over the last 10-14 days. If the bad days are outweighing the good ones, it's time to let your pet go before all of the days are bad.
Another idea is to make a list of your pet's very favorite things to do. When he or she stops doing those two or three things, it is time to say goodbye. Decide in advance that you won't waver and it will make the decision more objective.
Your dog has given you their very best throughout life and they deserve to leave with their dignity intact, while they can still stand up on their own and they are not incontinent. If you wait until they have completely stopped eating, cannot rise on their own, or are lying in their own waste, you have waited too long.
After more than 20 years working in the veterinary profession, I have talked to countless people who say that looking back they wish they hadn't waited so long. But I have never had a single loving pet owner come back and say they regret letting them go too soon.
Again, if you've thought that it might be time, it probably is time.
Your veterinarian can help you through the decision process
If you are approaching this decision (dog euthanasia), your veterinarian would be happy to help you through the process and give as much insight as possible into how your pet might be feeling. As veterinarians, our job is to advocate for the animals, but we also want to help family members come to a decision that will provide the most peace of mind possible during the difficult moments.
Sometimes that means making a housecall so that pets can pass comfortably in their own homes.
Sometimes it means sending home additional medications for hospice care to keep our patients comfortable until other family members can say goodbye.
Sometimes it means an owner will sing a song to the pet or take pictures or select a unique memento to honor the final moments.
Everyone grieves differently and there is no judgment from us—only education and compassion.
A consultation with Rosie's mom
When Rosie and her mom came in last week, it was just for a consultation. There was no rushing the process or the timeline. As we talked, she began to realize that the time should perhaps be sooner than she expected—for Rosie's sake.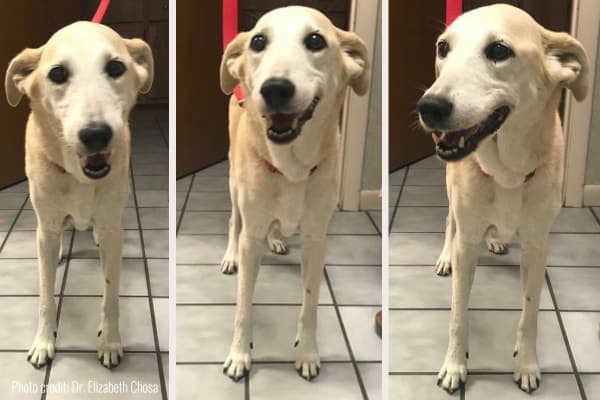 I took the pictures above of Rosie before her mom left to take her to the car. Rosie's mom and I talked about scheduling an appointment for the following week.
And then a few minutes later, Rosie's mom came back inside. She had decided to let Rosie go the very same day. We gave Rosie a sedative first and she fell asleep right next to her mama; she was snoring quietly when it was time…and she didn't have to feel anything at all when the final moment came.
If only we could all pass so peacefully and with such dignity.
About the author
Dr. Elizabeth Chosa is the owner of Courtenay Animal Hospital in Merritt Island, Florida. She is my friend, colleague, and inspiration in the way that she cares for her veterinary clients and her patients. Dr. Chosa graciously allowed me to share this story so that others who are considering dog euthanasia and knowing when to say goodbye to a canine companion may benefit from a real-life situation. I hope you find comfort and peace in your decision. For more about Dr. Chosa's practice, please visit the Courtenay Animal Hospital website or Facebook page.