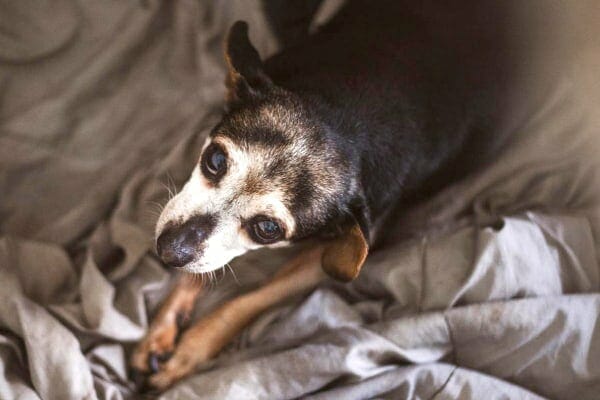 Yunnan Baiyao for dogs is one of the best-known Traditional Chinese Medicine (TCM) herbal supplements. Many veterinarians use it to control bleeding in emergency situations, so it has earned a place in the treatment of dogs with certain types of cancer, such as hemangiosarcoma. Dr. Julie Buzby, integrative veterinarian and founder of Dr. Buzby's ToeGrips®, welcomes her friend and colleague, Dr. P.J. Broadfoot, to the blog to discuss Yunnan Baiyao for dogs. Learn about its benefits, and how it could help your dog in a life-threatening or critical care situation.
As an alternative veterinary practitioner, I use many forms of complementary medicine such as acupuncture, holistic nutrition, naturopathy, and environmental medicine.
One form of complementary medicine that has caught my attention over the years is Traditional Chinese Medicine (TCM). Although the field is vast and wide, several herbal formulations show great promise for senior dogs. One of them is Yunnan Baiyao.
Before jumping into the numerous ways it helps dogs, I'd love to share my first (and second) encounter with the almost miraculous Yunnan Baiyao.
My first encounter with Yunnan Baiyao for dogs
When my brother's dog ended up hospitalized in Florida after a vicious dog attack, the veterinarians caring for him could not control his bleeding.
Panicked and trying to support my brother in every way I could from several states away, I contacted a local holistic practitioner in Florida. Having casually heard about Yunnan Baiyao's ability to reduce blood loss, she and I agreed over the phone it was worth a try. She graciously delivered a dose to the emergency vet clinic. After it was administered to my brother's severely wounded dog, it immediately and dramatically stopped the bleeding.
It was lifesaving! It was then I knew that I needed to include Yunnan Baiyao in my own veterinary arsenal.
Yunnan Baiyao manages bleeding
Shortly after stocking Yunnan Baiyao in my clinic, a dog came in that tragically had been shot through the tongue. Like my brother's dog, he was bleeding profusely. Out of ideas (and since you can't compression wrap a tongue), I pulled out a package of Yunnan Baiyao.
Once again to my complete delight, the bleeding stopped — needless to say, I was hooked! I had to learn more. My quest for information took me on a virtual journey across the globe and one hundred years back in time.
A brief history of Yunnan Baiyao
In 1902, Mr. Qu Huanzhang, a Chinese medicine practitioner from Jiangchuan County in Yunnan Province, formulated the medicine now known as Yunnan Baiyao. Translated to English, Yunnan Baiyao means "white medicine from Yunnan." Since its beginning, the medicine has won numerous awards including the Chinese National Gold Medal for quality in 1979, 1984, and 1989.
Yunnan Baiyao is among the most famous of the Chinese traditional medicines and commonly comes packaged as capsules, powders, or infused bandages. A package of Yunnan Baiyao capsules often includes a potent "rescue pill" reserved for emergency situations (more on that later). As a topical powder, Yunnan Baiyao stops bleeding immediately in minor cuts and scrapes. In fact, during the Vietnam War, soldiers used the powder for firearm wounds. It was so precious soldiers referred to it as "gold they wouldn't trade."
What is Yunnan Baiyao for dogs?
Yunnan Baiyao is a patented Chinese herbal supplement. Its ingredients include:
Pseudo ginseng
Chinese yam
Yam rhizome
Sweet geranium
Galangal root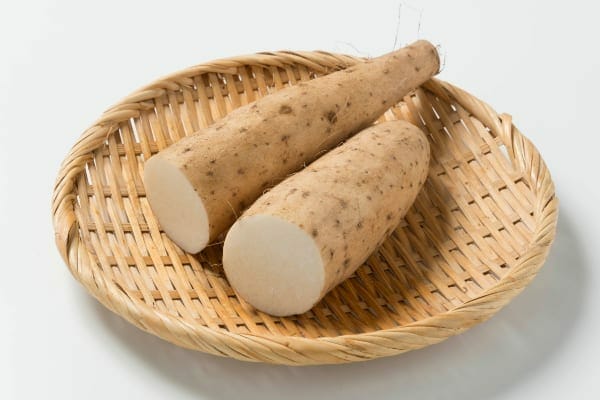 Pseudo ginseng root is the main active ingredient in Yunnan Baiyao and contains a high concentration of clotting ingredients when compared to other ginseng variants.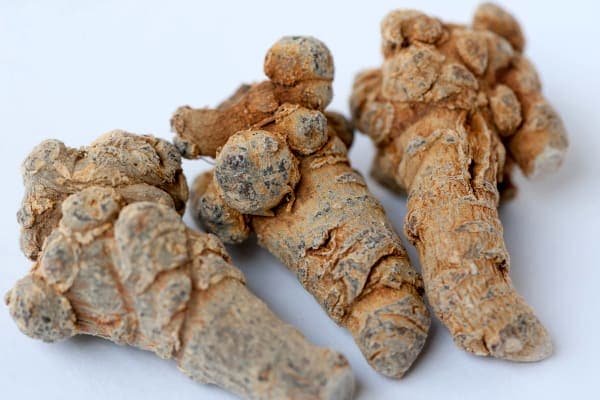 The "rescue pill," found in a package of the capsule form, contains a higher concentration of pseudo ginseng. Veterinarians often reserve this pill for critical bleeding emergencies like the two I mentioned above.
Are there Yunnan Baiyao capsules for dogs?
There is no Yunnan Baiyao product on the market specifically labeled for dogs. When veterinarians use Yunnan Baiyao, we are using the human product in an "off label" manner. Don't be alarmed by that phrase. Vets use hundreds of products "off label."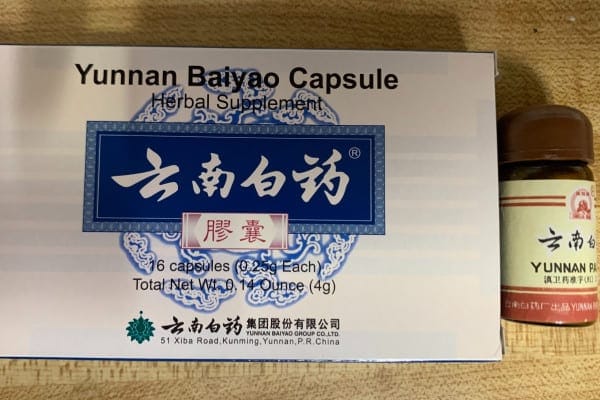 How does Yunnan Baiyao help dogs?
Yunnan Baiyao works in two seemingly opposite ways — truly one of the things that make it seem almost miraculous! It stops bleeding and also acts as an anticoagulant (blood thinner) to improve blood circulation and disperse clots. Veterinarians may use Yunnan Baiyao for dogs to:
Stop acute bleeding
Regenerate new tissue by removing accumulated blood (i.e. hematomas)
Relieve swelling by clearing away toxic materials
Alleviate pain by promoting circulation
Accelerate healing of contusions (i.e. bruises), sprains, fractures, purpura (i.e. hemorrhages under the skin), skin and muscle wounds, penetrating wounds, abdominal enlargement due to internal bleeding, and gastrointestinal, postpartum, and brain bleeds
Assist in management of immune-mediated thrombocytopenia (an autoimmune disease where the body attacks and destroys its platelets) and blood disorders related to tick-borne diseases in dogs.
Yunnan Baiyao may have additional benefits for other body systems, but more research is needed. Certainly managing bleeding using Yunnan Baiyao is already on the leading edge of veterinary medicine. Veterinarians are reaching for it in emergency situations like the two I described above.
Veterinary cancer specialists are also using Yunnan Baiyao for terminal cancer in dogs as part of the management plan.

What does the research on Yunnan Baiyao say?
Yunnan Baiyao research in humans
Multiple studies in humans have explored the use of Yunnan Baiyao as a method to regulate bleeding after oral, prostate, cervical, and other surgeries or procedures. These studies all indicated that using Yunnan Baiyao around the time of surgery made a clear difference in post-op bleeding times with minimal adverse side effects.
Yunnan Baiyao for dogs with hemangiosarcoma
In veterinary medicine, there have been studies in the use of Yunnan Baiyao for a hemangiosarcoma in dogs, which is an aggressive blood vessel tumor. One study concluded that Yunnan Baiyao caused hemangiosarcoma cell death at the time of administration and thereafter. In addition to its potential anti-tumor activity, some veterinary cancer specialists recommend Yunnan Baiyao to help control hemangiosarcoma-related bleeding.
What are the Yunnan Baiyao side effects in dogs? Is it safe?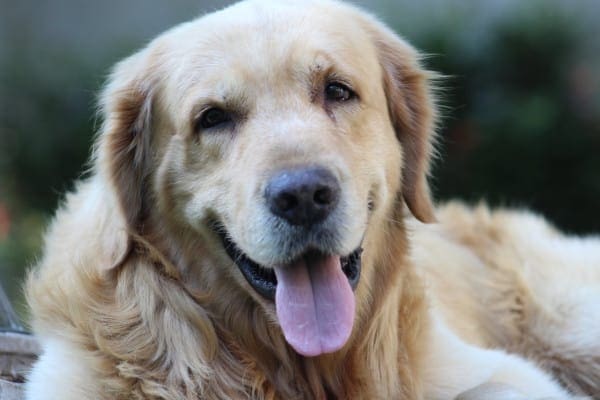 The short answer? Yes! When used as directed, Yunnan Baiyao is remarkably safe.
A recent article measured Yunnan Baiyao's effects on blood clotting. The dose used was also four times higher than the dose we typically use in a sick pet. Despite this, these dogs experienced no adverse effects.
In a spirit of full disclosure (and so that you can make the best decision about its use for your senior dog), it's important to note a few reported but rare side effects of pseudo ginseng (the main ingredient in Yunnan Baiyao):
One study reported that in high doses, pseudo ginseng was toxic to bone marrow stem cells. This could theoretically translate to reduced platelet, red blood cell, or white blood cell production.
There are a handful of cases where applying Yunnan Baiyao directly to the skin or mucous membranes caused application site irritation.
One review showed a very small percentage of patients experienced gut discomfort, none of which was life-threatening. In my opinion, this was not a significant enough effect to prevent me from using Yunnan Baiyao.
One warning: Heavy metals, mycotoxins, microbial agents, and pesticide residues often hide or disguise themselves in Chinese herbal supplements. It is critical to be vigilant when sourcing Yunnan Baiyao. (Your veterinarian should be able to refer you to the best source.)
What is the recommended Yunnan Baiyao dose for dogs?
You should always consult with your veterinarian before giving your senior dog any medicine or herbal supplement, including Yunnan Baiyao. They are the best person to advise you whether or not your dog would benefit and can give you a specific Yunnan Baiyao dose for your dog.
Yunnan Baiyao and veterinary medicine
Yunnan Baiyao is a nearly miraculous TCM herbal remedy. We certainly hope your beloved senior dog never has to face a terminal cancer diagnosis or uncontrolled bleeding situation. But veterinary medicine is increasingly recognizing Yunnan Baiyao's value in life-threatening or critical care situations.
Have you heard of Yunnan Baiyao?
Share your experience with the herbal supplement and how it has helped your senior dog.