A splenic mass in dogs may be just a blip on the radar for some senior dogs, and a life-threatening crisis for others. Integrative veterinarian Dr. Julie Buzby invites her friend and colleague, Dr. Jennifer Shepherd, to the blog to give you the scoop on splenic masses and share the stories of three of her patients.
When I think about Daisy, Bella, and Blue, I picture three different dogs with two things in common—loving owners and splenic masses. I also reflect on the heart wrenching conversations and difficult decisions that have to be made when I break the news to a pet parent that their beloved dog has a splenic mass. I remember the dogs whose lives have been cut short, but also those who emerged from the other side of the diagnosis happier and healthier than ever.
Before we can dive into a discussion of splenic masses, we need to lay the foundation. That means it's time for an anatomy and physiology lesson.
What is the spleen? What does it do?
The spleen is an internal organ located below the liver and stomach. Although the spleen is not necessary for life, it plays an important role in the health of a dog's blood. The spleen has several jobs:
Keeping red blood cells healthy.
Storing red blood cells and platelets.
Helping produce red and white blood cells.
Filtering microorganisms and antigens (foreign substances that trigger an immune response) from the blood.
The spleen has two parts— a body and a tail. A ligament attaches the body of the spleen to the outer surface of the stomach. The tail of the spleen is the free end that runs down the left side of the dog's body.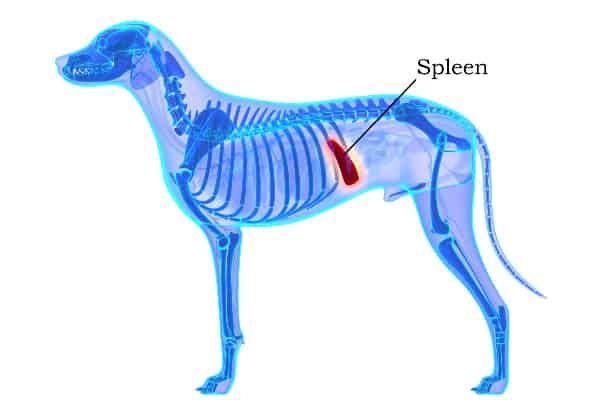 What is a splenic mass in dogs?
This term refers to a discrete enlargement of a portion of the spleen. While the word mass might sound a bit scary, keep in mind that it doesn't automatically mean your dog has cancer.
What causes splenic masses in dogs?
Because of the spleen's role in keeping blood healthy, it has a very generous blood supply. This puts it at higher risk for certain cancerous and non-cancerous masses. These include:
Hemangioma and hemangiosarcoma – a tumor of blood vessels, such as a benign hemangioma or malignant (cancerous) hemangiosarcoma. Hemangiosarcoma in dogs is the most common type of splenic cancer.
Splenic hematoma – Trauma to the abdomen and damage to blood vessels in the spleen cause this large encapsulated blood clot to form.
Lymphoma – This type of cancer can be found in the spleen but in most cases, the entire spleen is enlarged or swollen. There may be nodules within the spleen but typically not distinct masses.
Other types of tumors – While uncommon, cancers such as leiomyosarcoma, liposarcoma, and histiocytoma can all affect the spleen.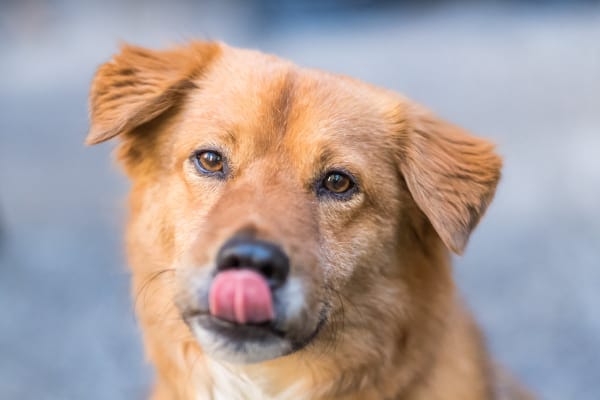 Are splenic masses usually cancerous?
As I mentioned above, finding a mass doesn't equal cancer in all cases. Overall, studies report that there is about a 50:50 chance that a splenic mass in dogs will be malignant (cancerous) versus benign.
If the mass is an incidental finding and the dog is asymptomatic, one study indicated that 70.5% of canine patients are benign, which is good news. Of the 29.5% of patients who were malignant, 58% of the masses were caused by hemangiosarcoma. (For more about the study, please check out the abstract found on the American Veterinary Medical Association's website.)
However, when the mass is bleeding into the abdomen, several studies show that approximately two-thirds of the masses are malignant. Approximately two-thirds of the malignant masses are hemangiosarcoma.
Which dogs are usually affected?
Splenic masses can develop in any age, breed, and size of dog. However, they are much more common in older and large breed dogs. Hemangiosarcoma more commonly affects German Shepherd dogs, Golden Retrievers, and Labradors.
What are the signs of a splenic mass?
In some cases, a dog may have absolutely no signs when your veterinarian finds the splenic mass on routine examination, X-rays, or an ultrasound. In other cases, the dog may show non-specific signs such as:
Decreased appetite
General lethargy (a tired, sluggish, lethargic dog)
Weight loss
Distended abdomen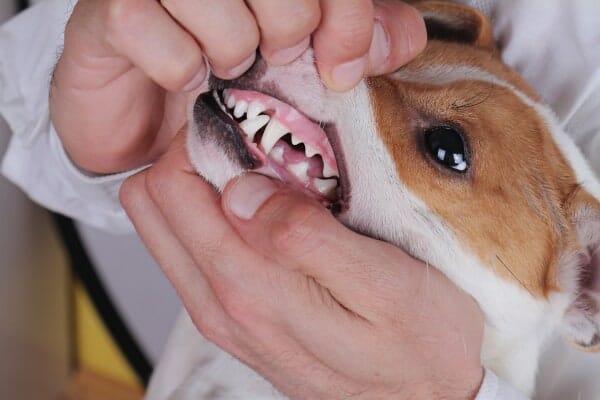 If the splenic mass ruptures and causes internal bleeding, your dog may exhibit:
Weakness
Collapse
Pale gums
Distended abdomen
Many times there are initially no obvious symptoms that would tell you that your dog has a splenic mass, so don't be hard on yourself if you didn't realize something was wrong.
What are some ways to further assess a dog with a splenic mass?
After finding a splenic mass, your vet may use other diagnostic tools to get a better idea of your dog's overall health status and to look for evidence of metastasis (spread). These include:
Blood tests
A complete blood count (CBC) can help determine if your dog is anemic, indicating the tumor may be bleeding. It also looks for the presence of abnormal red blood cells that could suggest an aggressive cancer.
If your dog is going to undergo surgery to remove the splenic mass, your vet may run a coagulation profile to make sure the blood can clot normally. A chemistry panel may also be run to assess the protein levels and kidney and liver function.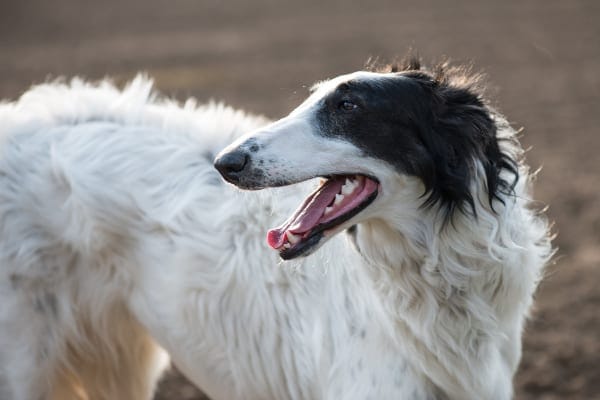 X-rays
Your vet may use chest X-rays to look for nodules in the lungs that could indicate metastasis of cancer from the splenic mass. He or she will also look for generalized heart enlargement because hemangiosarcoma can spread to the heart.
If a hemangiosarcoma on the heart ruptures, it bleeds into the pericardial sac, the thin membrane that wraps around the heart. Blood trapped in the space between the pericardium and heart compresses the heart. This dramatically decreases heart function and increases the risks of anesthesia.
Ultrasound
Your vet can perform an abdominal ultrasound to confirm the presence, size, and appearance of the mass on the spleen. If your vet suspects there is blood in the pericardial sac from a ruptured hemangiosarcoma, he or she may use an ultrasound of the heart (echocardiogram) to assess the heart further.
If the ultrasound shows additional tumors on the heart, liver, kidneys, or elsewhere in the abdomen, your vet may not recommend surgery. These findings usually suggest an aggressive cancer and poor long-term outlook.
Biopsy
If the ultrasound shows nodular solid masses on the spleen, an aspirate or biopsy may help identify the mass. However, the majority of splenic tumors are blood-filled so a biopsy will not tell us whether the mass is benign or malignant.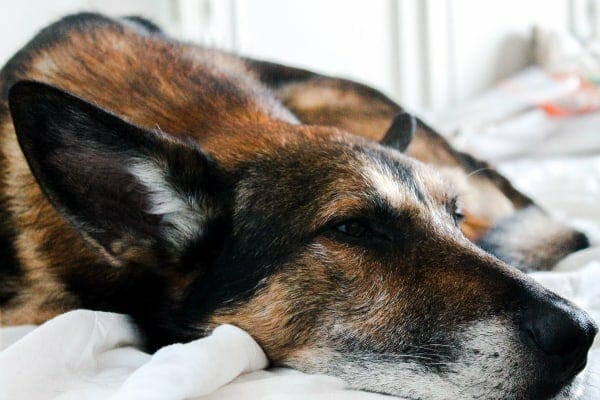 Removal of the entire spleen and analysis by a pathologist is the best way to definitively determine the type of splenic mass.
What are the risks of a splenectomy (surgical removal of the spleen)?
The spleen is highly vascular, meaning it has a very good blood supply. The surgeon must carefully and precisely ligate (tie off or seal) all of the blood vessels going to and from the spleen. This will decrease the risk of bleeding after the splenectomy.
In addition, many masses on the spleen contain large amounts of blood and are very fragile. If the mass ruptures during surgery, there is a risk of significant blood loss. Dogs who experience significant bleeding, either because the mass had already ruptured prior to surgery or ruptured during surgery, may require a blood transfusion.
In some cases, surgery may reveal there are additional bleeding masses that the surgeon cannot remove, such as a mass deep in the liver. In these cases, dog parents may decide on dog euthanasia during the procedure because of the uncontrollable bleeding. Despite the veterinary team's best efforts, some dogs may not survive the surgery and recovery period.
If you're weighing the risks of surgery for your dear dog, Dr. Buzby has written two articles that may help you:
Ultimately, the best way to make that decision is to discuss it with your veterinarian.
Abnormal heart rhythms may occur during and after surgery
It is common for dogs with splenic masses to "throw PVCs." PVC stands for premature ventricular contraction, an abnormal heartbeat that occurs when the ventricles of the heart contract too early. You may have experienced a PVC when you feel like your heart skipped a beat.
A few PVCs are not a concern, but if a dog has a large number in a row, it can affect blood pressure and oxygenation. They can also lead to ventricular tachycardia, a serious arrhythmia that needs to be treated. Because of the risk of PVCs, your veterinarian may recommend an overnight hospitalization in the ICU or at a 24-hour emergency clinic for monitoring.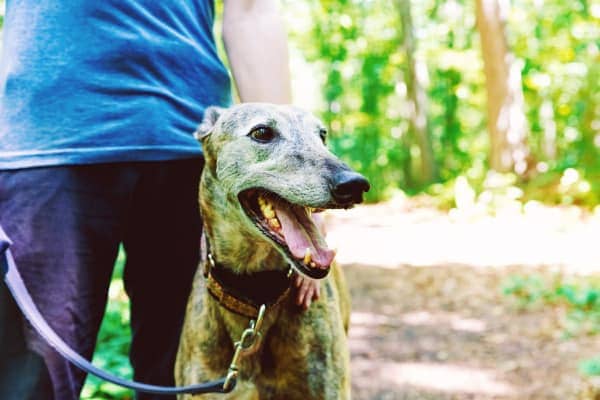 What is the prognosis for dogs with splenic masses?
Dog parents often have to make the decision about surgery to remove the spleen without knowing if the mass is benign or malignant. Other diagnostic tests may give clues, but ultimately, a pathologist needs to analyze the removed spleen. This makes the decision-making process difficult because the identity of the mass is a big determinant of long-term outcome.
If the mass is a hemangioma or a hematoma, your dog should not need further treatment after the splenectomy. These are benign processes so we expect your dog to be able to live a normal, happy life.
Hemangiosarcoma, a cancer of the lining of the blood vessels, is the most common type of splenic cancer. Because it is already in the blood vessels, it spreads to other places very easily via the bloodstream.
By the time your vet finds the hemangiosarcoma, there is usually at least microscopic metastasis. This means that although other masses may not currently be visible to the naked eye or on imaging like X-rays or ultrasound, some tumor cells have invaded other locations. These cells will eventually form a detectable mass that may begin to bleed.
Survival times for dogs with hemangiosarcoma
Unfortunately, with hemangiosarcoma, a splenectomy stops the immediate source of the bleeding, but does not otherwise extend your dog's survival time. With no other treatment, average expected survival time is about two months.
If a dog has follow-up chemotherapy from a board-certified veterinary oncology specialist, the median survival time increases to six to nine months. During that time many dogs can live normal, happy lives before ultimately succumbing to their disease.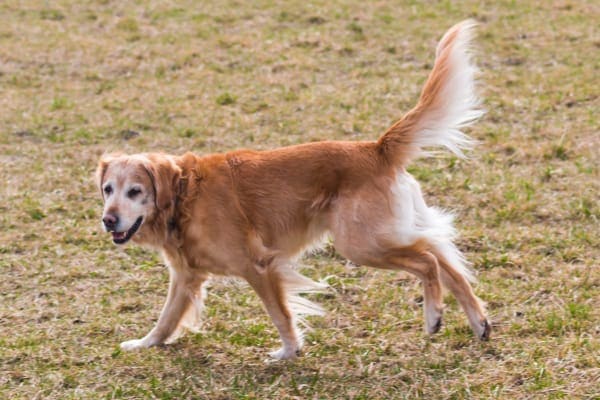 Now, to help give all this information a furry face, I want to introduce you to three of my splenic mass patients—Daisy, Bella, and Blue.
Daisy's story: A splenic mass as an incidental finding
When I saw Daisy for her annual wellness exam, her dad understandably thought her distended abdomen was from all the extra treats Daisy got when his mom visited.
But as I palpated Daisy's abdomen, it did not feel normal. The cranial abdomen (just behind the ribs) had a distinct round structure, about the size of a volleyball. An X-ray confirmed there was a large mass on the tail of her spleen.
Her blood work was normal, as were her chest X-rays. An abdominal ultrasound showed a single fluid-filled mass approximately 10 inches by 6 inches on the tail of the spleen. We discussed the benefits versus the risks of surgery at length, then scheduled surgery to remove Daisy's spleen.
Daisy's tumor ended up being a hematoma (encapsulated blood clot). She lived an additional three years after surgery and was euthanized at the age of fourteen due to severe arthritis and mobility issues.
Bella's story: A bleeding benign splenic mass
Bella came in with a two-day history of lethargy that was getting progressively worse. When she arrived, she was too weak to walk, her gums were pale, and her abdomen was distended. Since her abdomen was filled with bloody fluid, our veterinary team presumed that she had a bleeding tumor somewhere. We knew she was at a high risk for bleeding to death if we didn't perform emergency surgery soon. A decision had to be made quickly.
We presented her family with these three options:
Perform emergency abdominal exploratory surgery and a splenectomy if the bleeding was coming from a splenic mass.
See if we could stabilize Bella with intravenous fluids and a blood transfusion then send her home, knowing that if the bleeding didn't stop or started up again, she could die.
Say their goodbyes and euthanize her now.
Bella's family chose surgery. Our veterinary team started her on intravenous fluids to stabilize her while her baseline blood tests ran and then Bella headed to surgery. A blood-filled mass was found on the tail of her spleen, which had ruptured and was bleeding into the abdomen. We examined the rest of the abdomen and determined there were no other blood-filled masses that would indicate metastasis.
Bella's story has a happy ending. Her tumor was a hemangioma (benign blood vessel tumor) and she is still full of pep today, approximately 18 months after her spleen was removed.
Blue's story: Hemangiosarcoma and chemotherapy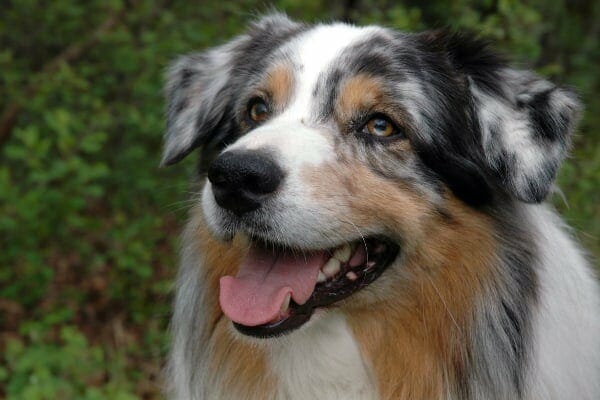 Blue was a ten-year-old Australian Shepherd who, like Bella, presented to my clinic with a bleeding splenic mass. He was diagnosed with a splenic hemangiosarcoma after undergoing a splenectomy. Post-op, he received monthly chemotherapy treatments through a veterinary oncologist.
For the next six months, he continued to play with his brother and go for two-mile walks every day. Then he had an episode of collapse caused by a metastatic tumor on his liver that had ruptured and was bleeding. The family elected to euthanize him that day but said they never regretted the chemotherapy and enjoyed the additional time they had with Blue.
A caring message about decision making for dogs with splenic masses
Learning your dog has a splenic mass can be very scary. You must decide— sometimes almost immediately—whether or not to move forward with an exploratory surgery and splenectomy. To make it even harder, we cannot necessarily predict whether surgery will be curative or if your dog has an aggressive cancer with a poor long-term prognosis.
As a veterinarian, this is one of the most heartbreaking conversations I can have with my clients. There is no right or wrong answer so every family must decide what is best for their dog and their family.
Please know that when you face these decisions, there is no judgment—only empathy— from your veterinary team. We will comfort and support you no matter what path you take.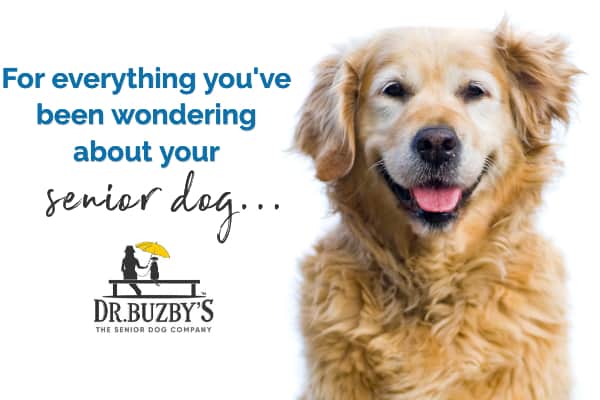 Have you ever had a dog with a splenic mass?
Please share your beloved dog's story below. Knowing others have been there too can be comforting to those facing the same difficult decisions.