You may suffer from heartburn, but did you know the same can happen for your furry friend? Acid reflux in dogs is very real. Integrative veterinarian, Dr. Julie Buzby, fills you in on why it occurs, what symptoms to watch for, and how it is treated.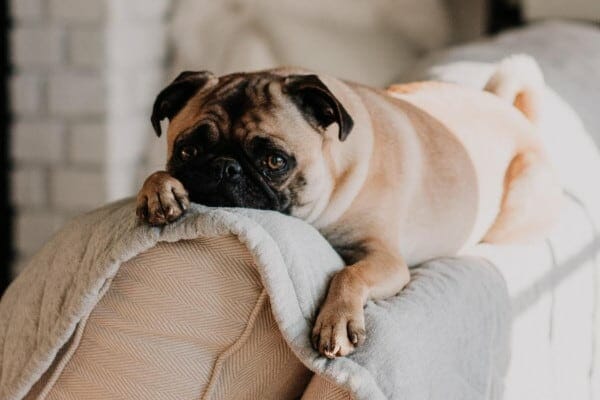 Humans and dogs have such a special bond. It's almost as if we can sense what the other is feeling sometimes—both emotionally and physically. Of course, I want all of my patients to remain healthy. But I will admit I am slightly intrigued when an owner brings in their dog for symptoms they have noticed in themselves as well.
Meet Rusty
Such was the case with Rusty, a 4-year-old English Bulldog. I greeted him and his dad in the exam room, and dad cut right to the chase. "Can dogs get indigestion?" he asked. "They can," I responded, "in a way. What's going on?"
Rusty had been having some digestive issues. He was more gassy than usual (really saying something for an English Bulldog), and had vomited bile a few times. His dad also noticed he seemed uncomfortable after meals. Sometimes he was even refusing food, which was very out of character for him.
"I feel bad for him," his dad told me. "He looks like I feel when I have heartburn."
"You may not be too far off base," I said. "We can see acid reflux in dogs, and he's certainly displaying some of the symptoms we look for. His physical exam is pretty normal, other than a few extra pounds and some stinky breath. Let's run some tests."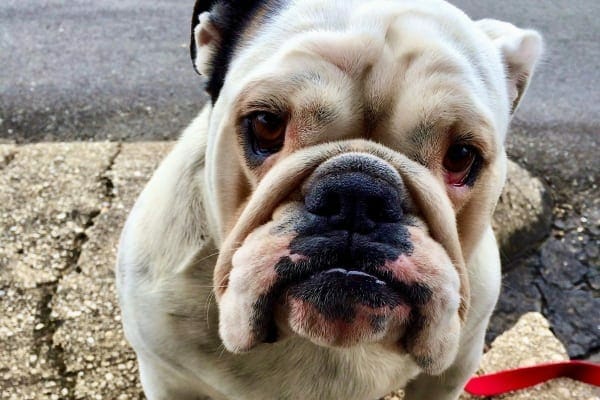 Getting to the bottom of Rusty's problem
Rusty's bloodwork, urinalysis, and X-rays were all normal. This was great news. It meant we ruled out a lot of potentially serious conditions that could be responsible for his clinical signs. Based on Rusty's symptoms and normal test results, I suspected acid reflux might be the culprit.
Next, Rusty's dad and I talked about referral to our local specialty clinic for endoscopy. This test involves using a camera to visualize the lining of the esophagus and stomach. It is the best way to definitively diagnose acid reflux, otherwise known as gastroesophageal reflux.
Ultimately, his dad decided to start with some symptomatic medical treatment. We will catch up with Rusty again in a bit to see how things worked out for him. But first, on to our discussion of acid reflux in dogs.
What is acid reflux in dogs?
In many ways, dogs' gastrointestinal tracts are similar to people's. When dogs swallow food, it travels down their esophagus into their stomach. The contents of the stomach are very acidic, which facilitates digestion of the food. The lining of the stomach and intestines are specifically designed to handle that acidic fluid. The esophageal lining, however, is not.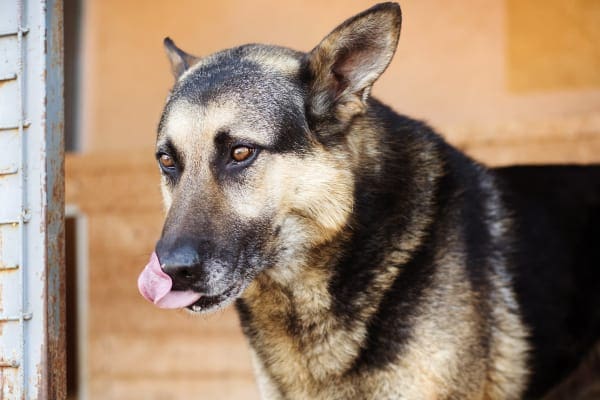 At the base of the esophagus, right where it attaches to the stomach, is a sphincter. When functioning properly, this little muscle opens to allow food to pass through to the stomach. Then it remains closed to prevent backflow of stomach contents into the esophagus.
In some dogs, the esophageal sphincter doesn't work properly. This can lead to acid reflux. When stomach acid travels up through the sphincter, it irritates the lining of the esophagus.
What are the symptoms of acid reflux in dogs?
Signs of acid reflux can be really variable and sometimes hard to recognize. Some dogs have very mild reflux. Therefore, they have very subtle symptoms. Other dogs have more severe inflammation of the esophagus. This can cause more serious or obvious signs.
If you think your dog may be experiencing acid reflux, watch for these symptoms:
Decreased appetite
Retching, burping, or gagging after eating
Lip licking (indicating nausea)
Regurgitation of undigested food
Chronic vomiting
Vomiting bile
Weight loss
Coughing or wheezing
Not all dogs with acid reflux exhibit all of these signs, and this is not an exhaustive list. Always consult your veterinarian if you are concerned about your dog.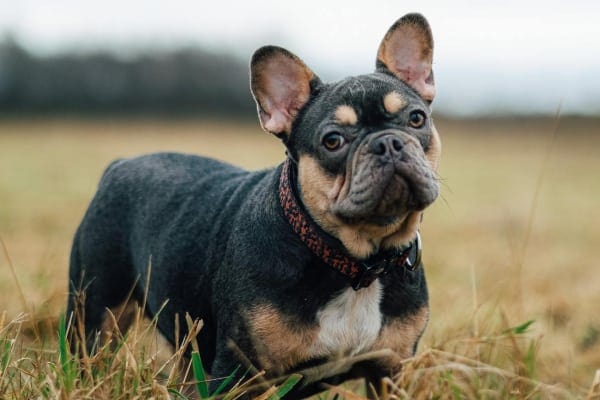 Watch out for aspiration pneumonia
It's important to note that dogs with acid reflux can be predisposed to developing aspiration pneumonia. This lung infection occurs when a dog vomits or regurgitates then inadvertently inhales some of the material. If your dog has acid reflux, watch for these aspiration pneumonia signs:
Fever
Cough
Difficulty breathing
If you notice these signs, seek emergency veterinary care.
Which dogs are most commonly affected?
Acid reflux can affect any dog at any age. However, there are some predisposing factors. Brachycephalic ("smushed faced") dogs, like my friend Rusty, are more likely to deal with this condition. Overweight dogs are also more prone to developing issues with acid reflux.
If you are unsure if your dog is the correct weight, talk to your veterinarian. I also recommend using my three-step canine body condition score to assess your dog's weight.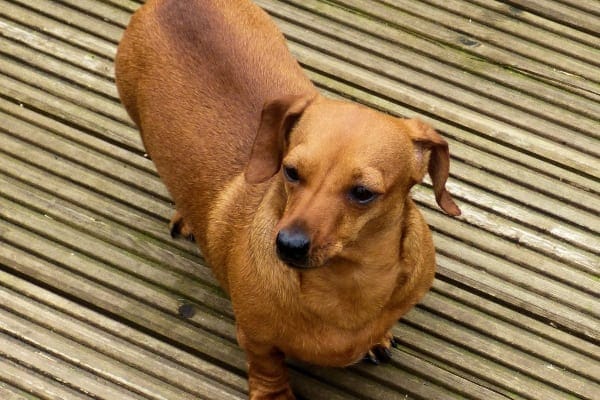 What causes acid reflux in dogs?
As discussed earlier, a dysfunctional esophageal sphincter muscle allows acidic stomach contents to flow backwards into the esophagus. A variety of conditions may lead to acid reflux, including:
Hiatal hernia
This congenital condition results in a portion of the stomach protruding through the diaphragm into the chest cavity. The stomach is malpositioned. As a result, stomach contents travel backwards through the esophageal sphincter. This causes many of the signs described above.
Hiatal hernias are most commonly seen in English Bulldogs. However, this didn't end up being Rusty's problem. Sometimes, your vet can diagnose the hiatal hernias on an X-ray. Other times, definitive diagnosis requires more specialized imaging such as endoscopy.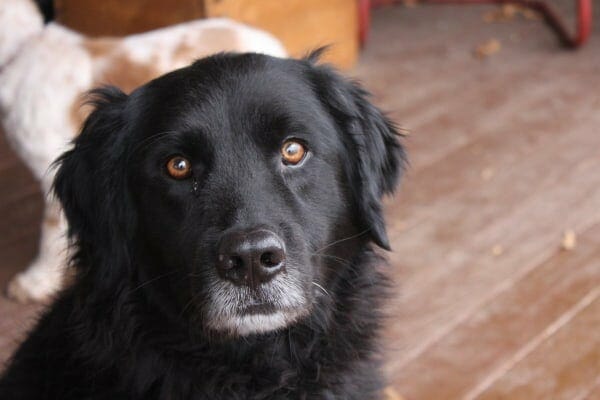 Delayed stomach emptying
In other situations, acid reflux occurs because the stomach doesn't empty as fast as it should. Normally, muscle movements called peristalsis push contents through the GI tract at an appropriate rate. However, some dogs may have a functional problem of the digestive tract itself. This causes peristalsis to slow down.
In other cases, something like a foreign body in the stomach blocks the exit. Now contents can't be moved out of the stomach, and a "traffic jam" of sorts ensues. Unable to move forward into the small intestines, stomach contents and acid backflow into the esophagus.
Problematic foods
People who have heartburn may have a pretty good idea which foods are the culprit. Certain foods can trigger acid reflux in dogs too. However, dogs can't tell you which food caused their heartburn.
Discuss your dog's diet with your vet if you notice signs of GI upset. Be sure to mention it if your dog recently changed foods or got a new treat. Some ornery dogs also steal food they shouldn't, so be on the look out for this too.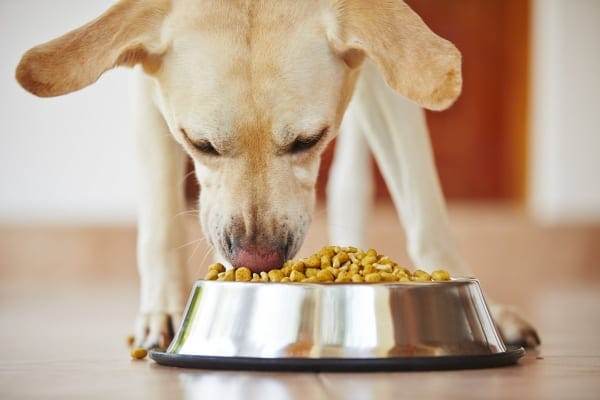 How is acid reflux treated?
To some extent, treatment depends on the underlying cause. Some dogs may need surgery to remove a foreign body from the stomach or repair a hiatal hernia. Traditionally, surgical repair of a hiatal hernia involves opening the abdomen. However, a recent Veterinary Surgery article looked at the possibility of laparoscopic correction for hiatal hernias in dogs.
For other causes of acid reflux, medications or lifestyle changes can help alleviate symptoms.
1. Antacids
We may use acid reducing medications, such as Omeprazole, just like in people. Some dogs improve with short courses of these medications. Other dogs will be on antacids long term to control their reflux.
2. Dietary changes
For dogs whose clinical signs are associated with certain types of foods, simply avoiding those foods may help. A diet trial may be recommended to try to narrow down foods that can trigger reflux. Some prescription diets may also help. Your vet might also recommend probiotics to aid digestion and help move ingesta through the GI tract.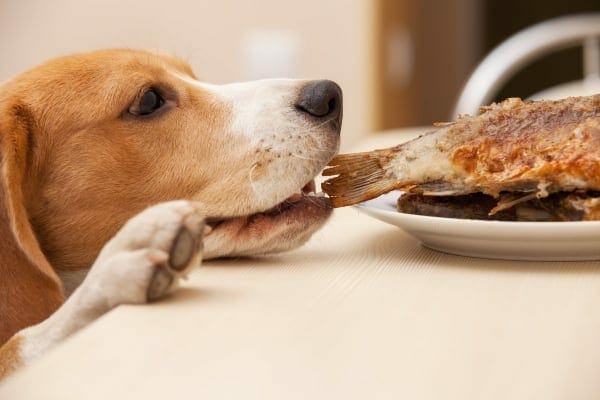 3. Small frequent meals
In some dogs, the stomach isn't equipped to handle one to two large meals per day. It goes from empty to very full. This may create issues with moving food through to the intestines. If food can't move forward, it may reflux backward into the esophagus.
To avoid this issue, break down the total daily allotment of food into three to four (or more!) smaller meals. This places less stress on the stomach. I've often found that we can get a good handle on reflux issues, such as regurgitation, nausea, and vomiting bile, just by feeding smaller meals and possibly using acid reducing medications.
Back to Rusty
In Rusty's case, we tried a couple different ways to help him. I wrote his dad a prescription for a highly digestible, low fat food. Not only would it hopefully decrease his reflux issues, but it might also help him shed some excess weight. Additionally, I shared with him the tips found in my article: How to Help a Dog Lose Weight.
Also, we had a discussion about which treats are appropriate for him and the foods that may trigger reflux. Rusty had been doing well with one large meal a day—until he wasn't. So that changed too. I had his dad split his daily food into four smaller meals. We put him on a two-week course of acid-reducing medication, then weaned him off slowly.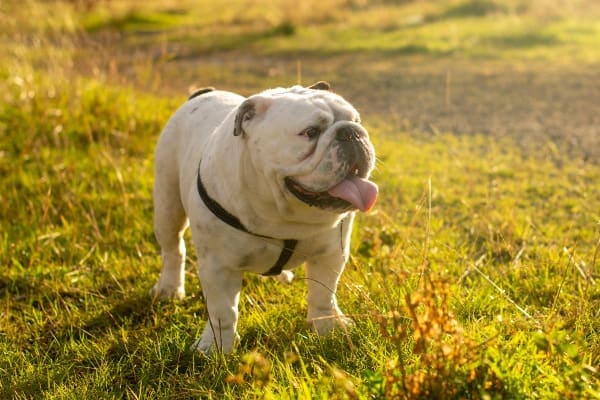 Overall, Rusty did great. With the lifestyle changes and the short course of medication his clinical signs improved drastically. He no longer seemed uncomfortable after meals, he stopped vomiting bile, and his breath even improved! Occasionally, Rusty needs a short-term course of a prescription medication, as he sometimes has a tendency to "counter surf" and get a hold of a triggering food. Overall though, he is much happier and healthier!
Don't delay. Talk to your veterinarian.
Is your dog showing any of the symptoms we talked about, even intermittently? Are you concerned he or she may be suffering from acid reflux? If so, make an appointment with your veterinarian. I am a firm believer that dog parents know their dogs best. If you think something is wrong, do exactly what Rusty's dad did—mention it to your vet. Your dog will thank you.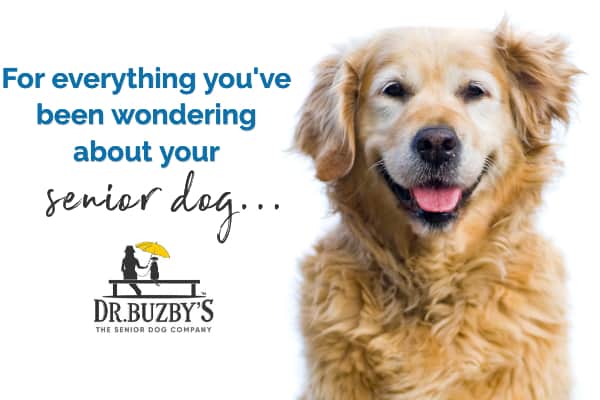 What has worked well to control your dog's acid reflux?
Please comment below.