Googling "veterinary specialists near me"? Help is here. In this guide to veterinary specialties, integrative veterinarian Dr. Julie Buzby explains how a specialist differs from a general practice veterinarian, and what each specialist does. Then she provides a link to the searchable database for each specialty, making it easy to locate a particular specialist near you in just a few clicks.
As a dog parent, you want what is best for your beloved dog—especially when your dog is sick, injured, or facing a surgical procedure. Understandably, the first place you would typically think to go for care is your trusted veterinarian's office.
The majority of the time, your dog's primary care veterinarian can indeed provide the diagnostics, treatments, and other care your dog needs. However, sometimes a situation arises where your dog needs advanced diagnostics, a complex or challenging surgery, or an expert opinion for a complicated medical issue. In those cases, your regular veterinarian might recommend taking your dog to see a veterinary specialist. 💙
I know the idea of going to a specialist may sound a bit overwhelming. And I want to help make it as low-stress for everyone as possible. That's why I created this guide to veterinary specialists. It provides an overview of the different types of veterinarians, and explains how to find the specialist your dog needs.
What is a general practice veterinarian?
In the United States, a veterinarian is a doctor who has graduated from veterinary school and passed a difficult licensing exam. Veterinary school is usually a 4-year graduate program after completing a bachelor's degree through an undergraduate school.
After graduation, many veterinarians go on to work in a general practice hospital where they provide comprehensive care to large and/or small animals. A primary care vet provides preventative care (e.g. vaccinations, parasite prevention, wellness exams, etc.). And he or she diagnoses and treats most conditions that dogs and cats develop.
However, some veterinarians may decide to pursue a specialty within veterinary medicine instead. These vets typically fall into one of two categories—vets who are board-certified in a specialty and those with a "special interest" in that specialty.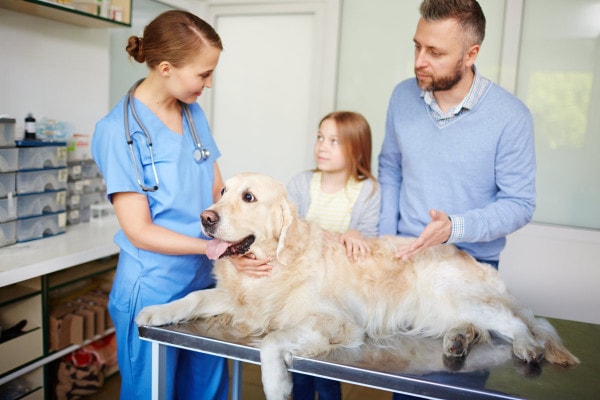 What is a board-certified veterinary specialist?
The term "board-certified" describes a veterinarian who completed veterinary school and then received formal training in a particular specialty, culminating in passing a specialty board exam. While it can vary depending on the specialty, becoming board-certified often involves an additional three to five years of advanced training (e.g. internships and residencies) after veterinary school.
During the training program, the veterinarian works and learns under the direction of a board-certified specialist. Also, he or she extensively studies books and research papers to learn as much as possible about his or her chosen field of interest. This additional training provides the foundation the veterinarian will need to become a specialist. And it also helps prepare him or her for the specialty board exam—a rigorous test that demonstrates that he or she is indeed an expert in that field.
After passing specialty boards, the veterinarian is referred to as a diplomate of the parent specialty organization. So for example, a board-certified veterinary dermatologist would be a Diplomate of the American College of Veterinary Dermatology (DACVD) and have the letters DACVD after his or her name.
What is a "special interest" veterinarian?
On the other hand, some veterinarians will decide to take a "special interest" in a specific type of medicine. Typically, these veterinarians did not complete a residency or attempt to pursue board-certification. Instead they might have attended a one-year internship after vet school. Or a "special interest" vet might have participated in continuing education lectures about a topic or worked closely with a board-certified specialist to learn more about the field.
Why seek out a veterinary specialist?
So who does your dog need—a general practice vet, a board-certified specialist, or a vet with a special interest in a particular field? Well, the answer depends on the situation.
General practice vets can meet many of your dog's needs. Often your vet acts as a dentist, radiologist, anesthesiologist, surgeon, dermatologist, ophthalmologist, and more. This works out great the majority of the time.
Specialists are well-equipped to handle difficult cases or complex procedures
But sometimes your dog may have a medical condition that is stumping your vet. In this case, the vet may recommend getting the opinion of a specialist. Since specialists are experts in one particular area, they may be able to shed some light on these challenging cases.
Alternatively, there may be times when your dog needs more extensive testing or treatment than the regular veterinarian can provide. This is another place where working with a specialist can help give your dog access to the best care possible.
These are just a few of the many situations where partnering with a specialist as well as with your regular vet can be beneficial. I like to think of it as having an extra person in your dog's corner. Not only is your vet there for your dog, but so is the specialist.
For example, let's say your general practice vet diagnoses your dog with a torn ACL in dogs . First, your vet may refer your dog to a board-certified surgeon for TPLO surgery for dogs. Then, after the surgery, your regular vet may recommend working with a vet with a special interest in rehabilitation therapy or a board-certified rehab vet during your dog's TPLO recovery.
How do I find veterinary specialists near me?
When your vet recommends a specialist, he or she will usually let you know what type of specialist (e.g. dentist, surgeon, ophthalmologist, etc.) your dog should see.
However, it is still important to have a working understanding of the different specialty options and how to conduct a "veterinary specialists near me" search efficiently. That way you can look at all the choices available to you and pick the one that seems best.
Next, let's take a look at the veterinary specialties and how to locate a specialist for your dog.
Anesthesia and pain management
Veterinary specialists who are Diplomates of the American College of Veterinary Anesthesia and Analgesia (DACVAA) are experts in anesthesia and pain management. Typically, these veterinarians work at large specialty hospitals in partnership with one of the other specialists (e.g. surgeons). Veterinary anesthesiologists commonly "run anesthesia" for major surgeries and for animals where anesthesia is more risky due to an underlying condition.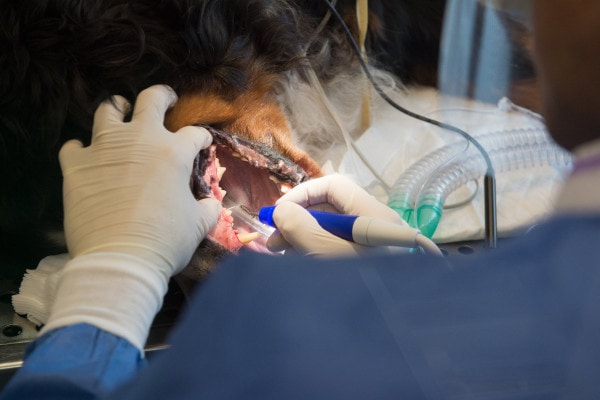 The veterinary anesthesiologist is responsible for:
Evaluating the patient prior to surgery
Creating the anesthetic and pain management plan
Helping monitor the dog during and immediately after surgery
Addressing any complications that may arise during anesthesia
Finding a board-certified veterinary anesthesiologist
It is rare that a dog owner would need to contact an anesthesia specialist, because typically the anesthesiologist is working closely with the other primary care or specialty veterinarians your dog is seeing. Plus, if you have questions about your dog's anesthesia plan, you can typically contact your veterinarian.
However, there is a ACVAA member directory should you need to find a board-certified anesthesiologist.
Behavior
Diplomates of the American College of Veterinary Behaviorists (DACVB) are board-certified veterinarians who specialize in animal behavior. They work with pet parents and referring veterinarians to diagnose and treat behavior problems in dogs (and other animals).
Veterinary behaviorists have an important job because behavior-related problems are one of the most common reasons dogs and cats are surrendered to shelters. And problematic behavior can also be detrimental to the human-animal bond. Working with a board-certified veterinary behaviorist can avoid or lessen the impact of those behaviors.
Some of the more common conditions veterinary behaviorists address include:
Generalized anxiety and separation anxiety
Fearful behaviors
Aggression (toward dogs, people, or other animals)
Difficulty training a dog
Trauma-related behavior
Note: It is important to recognize that veterinary behaviorists are very different from dog trainers or other types of behaviorists. Unlike non-veterinarians, veterinary behaviorists have the benefit of being able to look at the dog from a veterinary perspective and an animal behavior perspective.
This allows the veterinary behaviorist to use his or her extensive knowledge of behavior-modifying medications and expertise in animal health and behavior to create a treatment plan. Often, the DACVB's approach may combine medications as well as environmental modification, positive reinforcement, or other training strategies.
Finding a veterinary behavior specialist
If you are looking for a board-certified veterinary behaviorist, check out the ACVB Find a Diplomate Near You search function.
Dentistry
The American Veterinary Dental College (AVDC) is the organization that recognizes board-certified veterinary dentists. Veterinary dentists are the veterinary equivalent of our human dentists and orthodontists. Some dogs or cats may need to see a veterinary dentist for:
Advanced periodontal disease (i.e. dental disease in dogs)
Difficult tooth extractions
Oral masses
Fractured jaws
Other dental conditions
Or, the vet may recommend seeing a veterinary dentist if the dog has other diseases (e.g. kidney disease or heart disease) that might make anesthesia more complicated. A veterinary dentist often can complete a dental procedure in less time than a general practitioner due to the veterinary dentist's expertise and training. This can be help minimize the time the dog is under anesthesia.
Finding a veterinary dental specialist
The AVDC Find a Board-Certified Veterinary Dentist tool can be a great way to locate a veterinary dental specialist near you. Alternatively, your veterinarian may have a veterinary dentist he or she recommends.
Dermatology
Diplomates of the American College of Veterinary Dermatology (DACVD) are board-certified in veterinary dermatology. Their area of expertise is the skin, so they help diagnose and treat conditions including:
Skin conditions can be some of the most frustrating diseases for dogs, pet parents, and veterinarians because they can take a lot of time and resources to diagnose and treat. For this reason, dermatologists are an excellent resource when dogs have allergies, ear infections, or other skin problems that don't seem to be responding well to treatment.
Finding a veterinary dermatologist
If you are looking for a board-certified veterinary skin, ear, or allergy specialist, check out the ACVD Find a Dermatologist search function.
Emergency and critical care
Veterinarians who work in animal emergency hospitals might be a vet with a special interest in emergency and critical care. Or they could be a veterinarian who is board-certified through the American College of Veterinary Emergency and Critical Care (ACVECC).
These specialists are trained to respond in emergent and critical situations. They know how to act quickly and provide life-saving measures for dogs who are severely injured or sick. Emergency and critical care veterinarians can be important in many scenarios, including when dogs are:
The reasons for an emergency vet visit can go on and on. So as a good rule of thumb, if your dog is experiencing a problem that would make you want to go to the ER for yourself or another human, you might need to find an emergency and critical care specialist for your dog.
Finding a veterinary emergency room or ICU
I often recommend dog owners ask their normal veterinarian who they recommend for an emergency vet visit before an emergency strikes. And I also think it is important to keep the ER hospital's information easily accessible (perhaps in your phone, on your refrigerator, or in your dog first aid kit). However, if you don't have this information handy in the event of an emergency, you can also call your vet for a recommendation or quickly Google the nearest open hospital.
Holistic medicine
The American Holistic Veterinary Medical Association (AHVMA) is made up of a group of veterinarians who focus on holistic, integrative medicine approaches. They provide holistic treatments in addition to, or instead of, traditional medical treatments.
Holistic medicine is often viewed as a more natural approach, and may include:
Aromatherapy
Dog chiropractic treatment
Herbal medicine
Homeopathy
Rehabilitation
Stem cell therapy
Integrative medicine veterinarians may use these treatments for a very large list of conditions, ranging from arthritis and bone pain to chemical imbalances and more. Holistic medicine has become increasingly popular as veterinarians and pet parents learn the benefits of using treatments like acupuncture and physical therapy in addition to surgery and medications.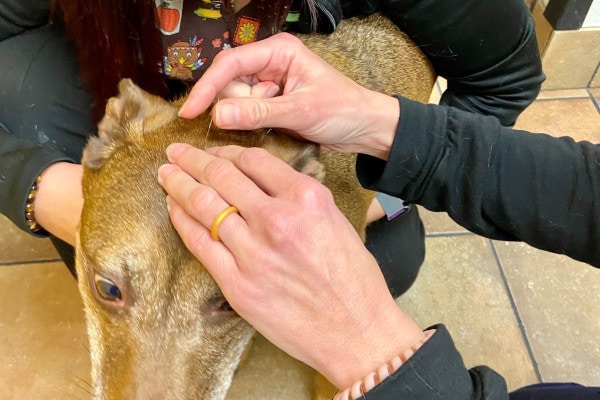 Finding a holistic veterinarian
If you think your dog could benefit from seeing a holistic veterinarian, ask your vet for a recommendation or use the AHVMA VetFinder—Find a Holistic Veterinarian tool.
Internal medicine
Diplomates of the American College of Veterinary Internal Medicine (DACVIM) are board-certified veterinarians who have completed advanced training in small and/or large animal internal medicine. This branch of veterinary medicine involves disease of the heart, brain, GI tract, and other internal organs. There are actually six categories of board certified veterinary internal medicine specialists:
Cardiologists
Veterinary cardiologists diagnose and treat heart disease in dogs such as dilated cardiomyopathy, mitral valve disease, congestive heart failure, and congenital heart disease. Sometimes they also manage conditions of the lungs, because the lungs and heart work closely together.
Neurologists
Veterinary neurologists specialize in conditions that affect the brain, spinal cord, and nerves. They can diagnose and treat dogs who have been paralyzed, suffered from trauma, or experienced a brain injury. Plus, they can help manage seizures in dogs and other neurological conditions.
Nutritionists
Veterinary nutritionists focus on nutritional management for animals. They can help create a feeding plan for animals who are healthy or for those who need a specialized diet due to kidney or liver disease, allergies, gastrointestinal diseases, etc. Veterinary nutritionists can also help you help your dog lose weight or evaluate if a home-cooked diet is nutritionally complete.
Oncologists
Veterinary oncologists specialize in cancer diagnosis and treatment. If your vet diagnoses your dog with cancer (or suspects your dog has cancer), he or she might recommend consulting an oncologist. Board-certified veterinary oncologists can help create treatment plans that may involve chemotherapy, radiation, surgery, or other therapies. And they can also provide information about prognosis and palliative care (i.e. comfort care) options.
Some cancers they treat include:
Small animal internal medicine specialists (SAIM)
Small animal internal medicine services focus on diseases that affect a variety of body systems. Board-certified veterinary internists may address:
Gastrointestinal (GI) problems— inflammatory bowel disease (IBD in dogs), acid reflux in dogs, dog stomach ulcers, etc.
Urinary system problems—kidney failure in dogs, resistant UTIs in dogs, etc.
Liver diseases—liver disease in dogs, gallbladder mucocele in dogs, etc.
Endocrine conditions—hypothyroidism in dogs, Cushing's disease in dogs, Addison's disease in dogs, hyperparathyroidism in dogs (a cause of hypercalcemia in dogs), diabetes in dogs, etc.
Blood cell conditions—anemia in dogs, immune-mediated hemolytic anemia (IMHA in dogs), immune-mediated thrombocytopenia (ITP in dogs), etc.
And so much more
Large animal internal medicine specialists (LAIM)
Large animal internal medicine specialists are very similar to small animal internal medicine specialists, but they work with animals like horses, cows, sheep, llamas, goats, alpacas, etc.
Working with an internal medicine specialist
In general, specialists do a good job of working together with your family vet on your dog's care. With many of these branches of internal medicine, it is particularly important that your vet and the specialist stay in close contact with one another. This is the case because the medications or treatments the internal medicine specialists may use could impact other aspects of your dog's medical care (e.g. dental care, preventative medicine, the safety of other medications, etc.).
Finding a veterinary internal medicine specialist
Typically, your primary care veterinarian would give you a referral to a veterinary internal medicine specialist. But if you need to find an ACIVM Diplomate yourself, you can use VetSpecialists.com, an online directory that lets you search for specialists in any of the six specialties under the ACIVM umbrella.
Ophthalmology
Diplomates of the American College of Veterinary Ophthalmologists (DACVO) are board-certified veterinarians who specialize in animal eyes. They have an important role because there are many conditions associated with the eyes. Since dogs can't talk or read the eye chart like you or me, it is up to the ophthalmologist to use his or her observations and diagnostic tests to determine what is going on with a dog's eyes and how to fix the problem.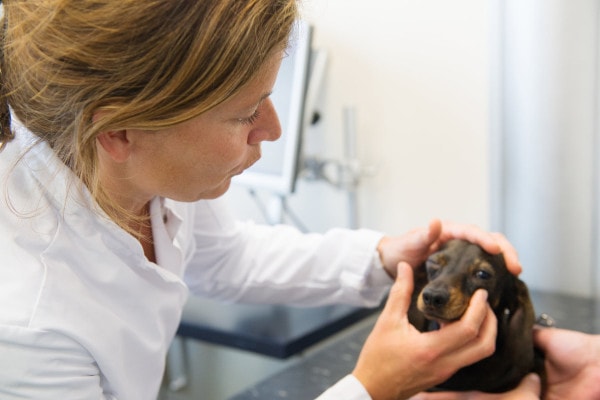 Your dog might need to see a veterinary eye specialist if:
The eyes are not responding to current treatment or are getting worse
Your dog has a deep or non-healing corneal ulcer in dogs
The vet has not been able to determine the cause of an eye problem
Your dog has cataracts in dogs and you are interested in cataract surgery
The eye disease is related to systemic diseases
Diagnosing or treating the eye condition requires tools the vet does not have access to
Eye problems are difficult to diagnose and can get worse quickly (and sometime cause blindness). Thus, it is important to consult a veterinary ophthalmologist if you or your veterinarian thinks your dog may need a veterinary eye doctor.
Finding a veterinary eye specialist
The ACVO Locate an Ophthalmologist tool can help you find a veterinary eye specialist near you.
Radiology
The American College of Veterinary Radiology (ACVR) is made up of veterinary specialists who are experts in radiology/diagnostic imaging (i.e. use and interpretation of X-rays, CT scans, ultrasounds, MRIs, etc.) and/or radiation oncology (i.e. radiation therapy). For the purpose of this article, we will focus on the imaging aspect since your dog's oncologist would most likely connect you with a DACVR who focused on radiation oncology.
Sometimes your vet may perform X-rays or ultrasound at his or her clinic and then send the images to a veterinary radiologist to "read." The radiologist will examine the images and use his or her expertise to describe and classify all the findings. This can help your primary vet reach a definitive diagnosis and create a treatment plan for your dog.
In other situations, your vet may refer your dog to a radiologist. If your dog needs a CT scan or MRI, your primary vet likely will not be able to perform those tests in their hospital. Therefore, you would need to take your dog to a hospital that has this equipment, and has a specialist who knows how to use the machines and interpret the results.
Finding a veterinary radiologist
You can locate the nearest veterinary radiologist using the ACVR Find a Specialist database.
Rehabilitation (physical therapy)
Veterinary rehabilitation involves the treatment of dogs (or other animals) who are painful and have a condition that limits the function of their body. Rehab is a great way to help dogs with bone, joint, muscle, or neurological injuries. It may involve using an underwater treadmill for dogs, strengthening exercises, balance routines, stretching, and other modalities to restore mobility, build strength, and reduce pain.
Rehab can be beneficial in conjunction with traditional treatment (like medication). Or there may be times where it is a stand-alone treatment option. Animals may need rehab for a variety of situations, including:
There are two main organizations that rehab vets may be part of—the American Association of Rehabilitation Veterinarians and the American College of Veterinary Sports Medicine and Rehabilitation.
American Association of Rehabilitation Veterinarians
The American Association of Rehabilitation Veterinarians (AARV) includes veterinarians with a special interest in rehabilitation. They may have completed a certification program in rehabilitation (often designated with the letters CCAT, CCRP, CCRT, CCRV, CCRVN, CCRVT CERP, or CVMRT after their name) or have training in acupuncture, chiropractic, or other integrative medicine modalities. Additionally, some members may be board-certified through the American College of Veterinary Sports Medicine and Rehabilitation.
The AARV Find A Rehabilitation Professional directory can be a great place to find a rehab vet near you. (Note: The directory also includes members who are veterinary technicians and in allied heath professions, so not all members are veterinarians.)
American College of Veterinary Sports Medicine and Rehabilitation
Diplomates of the American College of Veterinary Sports Medicine and Rehabilitation (DACVSMR) are board-certified veterinary rehabilitation and sports medicine professionals. They focus on injuries in working and athletic animals, but also work with other animals who need rehabilitation therapy. These veterinarians may have additional certifications as well as being board-certified.
If you are looking for a board-certified sports medicine and rehabilitation veterinarian near you, the ACVSMR Diplomate Search tool can be very helpful.
Surgery
Many general practice veterinarians perform some surgical procedures. But in cases where a dog needs a complicated or difficult surgery, or the dog is a risky candidate for surgery, a primary care vet may refer a dog to a veterinary surgeon. In fact, surgeons are one of the specialists that veterinarians send dogs to the most.
Some surgeons may have an interest in surgery and may have taken surgery courses or worked with a specialist. Others are Diplomates of the American College of Veterinary Surgeons (DACVS), which means they went through extensive training to become board-certified surgeons.
Veterinary surgeons have the specialized skills needed to perform complex procedures, and often perform surgeries in locations that also have a veterinary anesthesiologist. This combination can help decrease the risks of surgery (and post-surgical complications) and improve the outcome of the procedure.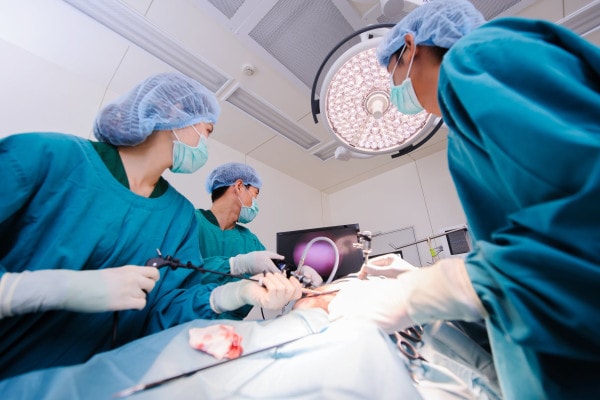 Veterinary surgery specialists may perform soft tissue surgeries such as:
Closure of a portosystemic shunt (i.e. abnormal connection between the liver's blood supply and the body's blood supply)
Complex mass removals
Splenectomy (i.e. removing a spleen)
Surgeries of the stomach or intestines
Complicated spays and neuters
Extensive wound repair
Surgeons may also perform orthopedic surgeries such as:
Surgeries to repair a torn ACL
Fracture repair
Amputation
Total hip replacement
Surgery to correct a luxating patella in dogs
This is a brief list. There are many more soft tissue and orthopedic surgeries that a board-certified veterinary surgeon may perform.
Finding a veterinary orthopedic or soft tissue surgery specialist
Your vet will probably refer you to a particular surgeon or specialty clinic, but should you want to look for one yourself, the ACVS Diplomate Search can help you find a board-certified surgeon near you.
Theriogenology (i.e. reproduction)
Diplomates of the American College of Theriogenologists (DACT) are board-certified veterinarians who are experts in the field of theriogenology (i.e. reproductive medicine). Theriogenologists can help manage breeding and reproductive problems. They assist with:
Artificial insemination
Breeding soundness evaluations
Endangered animal reproduction plans
Management of sexually transmitted diseases or those that affect reproduction
If your dog (or other animal) is part of a breeding program or has a reproductive problem, your regular veterinarian might recommend you consult a board-certified veterinary theriogenologist or a vet who has a special interest in reproductive medicine.
Finding a veterinary reproductive specialist
To search for a board-certified theriogenologist near you, take a look at the ACT Find a Theriogenologist database.
Toxicology
Diplomates of the American Board of Veterinary Toxicology (DABVT) are board-certified veterinary toxicologists (i.e. experts on toxins and poisons). However, there are also some vets who are well versed in the subject, but are not board-certified.
Toxicologists have a variety of roles. But the one most relevant to dog parents is advising general veterinarians on toxicology cases. For example, a vet may consult with a veterinary toxicologist if an animal is showing symptoms suggestive of poisoning. The toxicologists can assist with identifying the toxin and creating a treatment plan. Additionally, toxicologists can provide guidance if a dog eats or comes in contact with a potentially toxic substance.
Finding a veterinary toxicologist
Should you be worried that your dog got into a toxin, you can speak to a veterinary toxicology expert at Pet Poison Helpline or ASPCA Animal Poison Control Center. And your vet can also call the experts there to consult on your dog's case. There is a charge associated with the consultation, but the valuable information the veterinary toxicologists provide is worth every penny.
Final thoughts on veterinary specialists
I know it can be a bit intimidating to "start over" with a new veterinarian who doesn't know your dog. But you can trust that if your vet is sending you to a specialist, he or she thinks that is the best plan for your dog. Specialists (whether "special interest" vets or board-certified specialists) have so much to offer.
If your vet is suggesting a referral (and it is financially feasible), I would urge you to move forward with finding a specialist. And even if your vet hasn't mentioned a specialist yet, if you are concerned about your dog, it doesn't hurt to ask your vet about taking your dog to a specialist.
At the end of the day, specialist vets and your family vet are on the same team—your dog's team. By working closely with both sets of vets, you can navigate whatever life throws at your dog. After all, success is best achieved when everyone partners together!
How did you find a veterinary specialist for your dog?
Please share your tips in the comments.