Canine cognitive dysfunction (CCD) is similar to dementia or Alzheimers in humans—and can be heartbreaking. With hope and compassion, Dr. Julie Buzby shares a complete guide to cognitive dysfunction in dogs. Learn the symptoms, new treatment options (including supplements), how your vet may use a CCD rating scale for diagnosis, and the outlook for affected dogs. Plus, find a special section focused on how to manage the late-night disturbances that are commonly associated with cognitive decline. Help is here.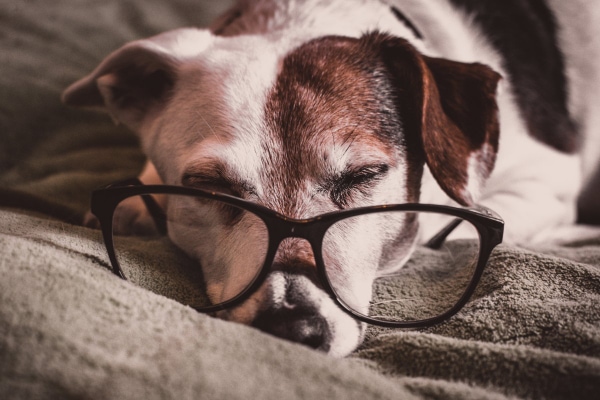 What is canine cognitive dysfunction?
Canine cognitive dysfunction (also called canine cognitive disorder or CCD in dogs) is a relatively common disorder in older dogs that involves changes in your dog's brain and decreased cognitive functions. It is estimated that CCD symptoms occur in 68% of dogs by the age of 16. In other words, nearly two-thirds of 15- to 16-year-old senior dogs have some manner of doggie dementia.
Equally important are the number of cases of cognitive dysfunction that go undiagnosed. According to research studies, in a group of dogs that are at least eight years of age, the incidence of CCD is expected to be around 14%. However, less than 2% have been diagnosed with this medical condition.
Often, dog parents chalk up behavior changes to "normal aging" when CCD may actually be the culprit.
The following table shows the percent of dogs at certain age intervals affected by at least one impairment associated with CCD.
| | |
| --- | --- |
| AGE OF DOG | % AFFECTED |
| 11-12 years | 28% |
| 14 years | 48% |
| 16 years | 68% |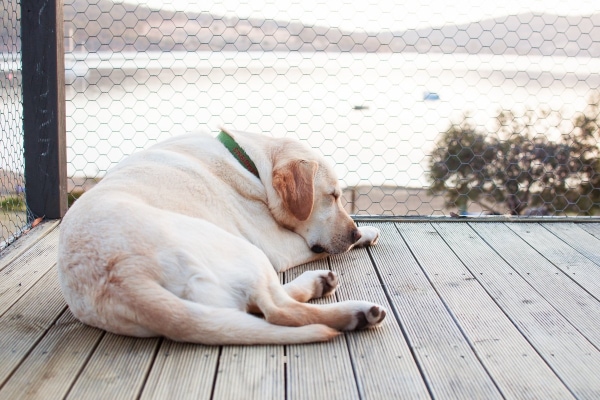 What are the clinical signs of cognitive dysfunction in dogs?
Canine cognitive dysfunction syndrome is associated with degenerative changes in the brain similar to dementia and Alzheimer's disease in people. These changes affect the function of the brain and can affect how your dog perceives the world, their mental state/awareness, and their ability to process sensory information.
Often, canine cognitive dysfunction syndrome is first noted by owners as unusual behavioral changes. For example, an owner may notice that his or her dog is less responsive or connected to them emotionally, appears confused or disoriented, or has a change in established sleep-wake patterns—often increasing nocturnal activity.
If you are concerned that your aging dog may have this medical condition, watch for some common clinical signs including:
| | |
| --- | --- |
| CLINICAL SIGNS: | HOW YOUR DOG MAY ACT: |
| Anxiety | Increased panting and pacing, unable to rest or relax, newly developed separation anxiety or noise phobias |
| Less engaged | Loss of interest in you or the family, sleeping more often, not wanting to play, decreased activity levels |
| Pacing | Repetitive walking around the house or walking in circles |
| Disoriented | Gets "stuck" in corners of the house, can't remember how to go around furniture, forgetting where the water or food dish is located, unable to find door to outside |
| House soiling | Previously potty trained, but now has accidents |
| Change in sleep-wake cycles | Wakeful and roaming at nighttime, unable to settle down and sleep at night |
To read about the manifestation of these signs in more detail, check out my article, 5 Signs of Dementia in Dogs. Then, if you think your dog is experiencing any of these signs, you may want to complete my canine cognitive dysfunction checklist and share it with your veterinarian. (Also, since changes in sleep-wake cycles can be especially disruptive, you'll find helpful solutions at the end of this article.)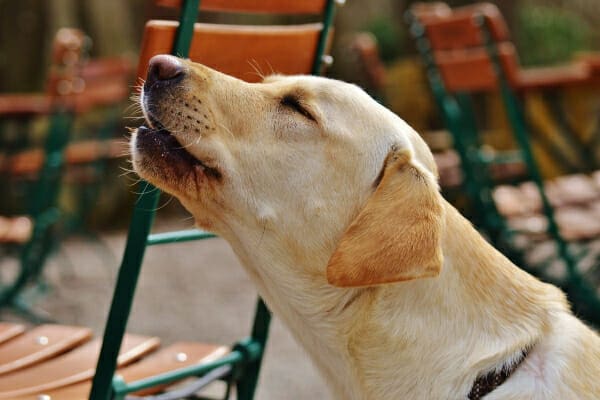 What are the causes of canine cognitive disorder?
Just like in humans, dogs undergo some significant brain changes as they age. These changes include:
Brain atrophy
Over time, the total weight and size of the brain decreases (i.e. the brain atrophies). This is especially noticeable in the cerebral cortex, basal ganglia, and cerebellar cortex.
The cerebral cortex is the center for learning ability, memory, personality, and information processing in the brain. The basal ganglia play a large role in learning, cognition, and emotion. Since the cerebral cortex and basal ganglia help make your dog who he or she is, it makes sense that loss of neurons in those areas could lead to changes in personality and behavior.
The process of brain atrophy also affects the cerebellar cortex. This portion of the brain is responsible for balance and coordination of movements. Dogs with CCD may have tremors or a tendency to sway or fall. They may also have difficulty with movement. However, these signs also occur in older dogs for a variety of reasons other than CCD. Thus, vets tend to place more emphasis on the mental signs of CCD during the diagnostic process.
Accumulation of ß amyloid protein
This abnormal protein may build up and form plaques in certain areas of the brain. This leads to decreased brain activity. Interestingly, this same phenomenon occurs in humans with Alzheimer's Disease. Deposits of ß amyloid may lead to loss of neurons, damage to signaling pathways, and reduced numbers of neurotransmitters (i.e. signaling chemicals in the brain). It may also interfere with the way the mitochondria (i.e. intracellular energy factories) in the brain work, which leads to less energy for the brain.
Researchers believe that small clots, microscopic bleeds, or other changes in brain blood vessels may compromise brain blood flow and result in ß amyloid deposition. Unfortunately, these ß amyloid deposits then lead to more blood vessel damage, which leads to more ß amyloid deposits in a vicious circle.
While more research is needed, many scientists do believe that cognitive impairment increases as the amount of ß amyloid in the brain increases. One study indicated that dogs with increased ß amyloid deposition tended to do worse on learning tests, which supports that theory.
Neurotransmitter and other brain chemical changes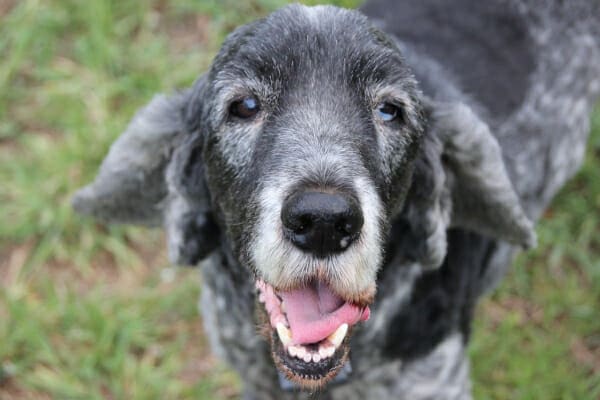 Dogs with CCD often have much higher activity of monoamine oxidase B (MAOB), a molecule which breaks down the neurotransmitter dopamine. This signaling chemical, dopamine, plays a role in your dog's attention, reactions, and moods.
Therefore, it would make sense that having less dopamine is correlated with changes in behavior. When we talk about treatment for CCD, one of the medications, selegiline, actually works by inhibiting MAOB.
As dogs age, they tend to have increased levels of free radicals in their brains. These damaging molecules may ultimately lead to brain cell death. Additionally, levels of other molecules and neurotransmitters may change as the brain ages. All of these factors (brain atrophy, ß amyloid deposits, changes to blood vessels, and altered brain chemicals) together may lead to CCD.
How will my vet diagnose canine cognitive dysfunction?
Unfortunately, the diagnosis of CCD is not always straightforward. There are a variety of other medical conditions that may cause signs similar to CCD. Plus, there is no easy, definitive test for CCD. Thus, the diagnosis is presumptively made through the process of elimination—a senior dog exhibiting the right combination of symptoms with no other explanation on lab tests.
History taking
Your vet will start the appointment with a thorough history. Since our patients can't talk to us, we vets rely very heavily on the information that you, the dog parent, provide for us. Your vet will probably ask questions about your dog that include:
Eating and drinking habits
Current medications or supplements
Recent changes in the home environment
Signs of sickness such a vomiting, diarrhea, coughing, a lethargic dog, etc.
Behavior changes (what you are seeing, when each change started, and if things are staying steady or getting worse)
If you suspect your dog may have CCD, you can help your vet (and ultimately your dog) by taking some videos of your dog when he or she is acting abnormally. This way your vet has a good idea of what you are seeing at home since your dog may act very differently in the clinic setting.
It also can be beneficial to create a timeline that records the behavior changes, when you first noticed them, and how they have progressed. The written timeline helps you organize your thoughts ahead of time and helps your vet track the symptoms.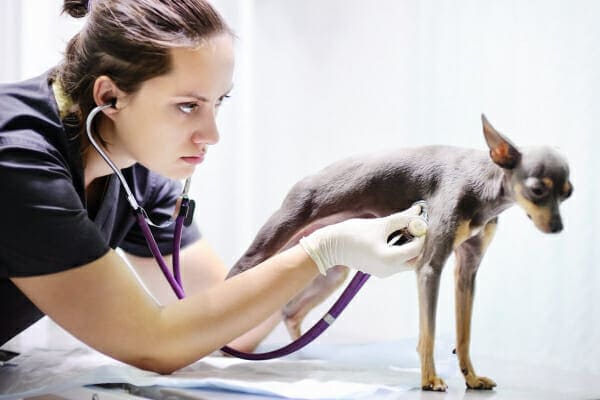 Medical tests for CCD in dogs
Next, your vet may want to run blood tests and other tests to rule out diseases that can look similar to cognitive dysfunction or may make its effects worse. Some of these tests may include:
Complete Blood Count (CBC)—This test looks for signs of infection and anemia.
Blood chemistry—A blood chemistry panel can reveal evidence of liver disease in dogs (which can sometimes affect mental ability) or diseases that may cause increased accidents in the house such as diabetes, Cushing's disease in dogs, and chronic kidney disease.
Urinalysis —A urine test to rule out urinary tract infection in dogs and assess urine concentration and contents.
Thyroid screening—A test to rule out hypothyroidism, which impacts metabolism and can manifest with neurologic signs.
Other diagnostic testing such as X-rays, CT scans, or MRIs.
Canine cognitive dysfunction rating scale
There are a variety of tools or rating scales that your vet may use to assess your dog's behavior. One such canine cognitive dysfunction rating scale is the Canine Dementia Scale (CADES). This tool evaluates your dog on 17 distinct areas spread across the categories of spatial orientation, social interaction, sleep-wake cycles, and house soiling. Each criteria is assigned a numerical score based on how often it occurs. The vet can then use the sum of the scores for all criteria to determine the degree of cognitive impairment or dysfunction.
A Frontiers in Veterinary Science article provides the Canine Dementia Scale (CADES) and explains how it was validated if you are interested in learning more about it.
What are the treatment options for canine cognitive dysfunction?
Many dog parents may assume that cognitive decline is part of normal aging and nothing can be done. However, this simply isn't true. Canine cognitive dysfunction is a real condition and the symptoms far exceed what could be considered "normal" for senior pets.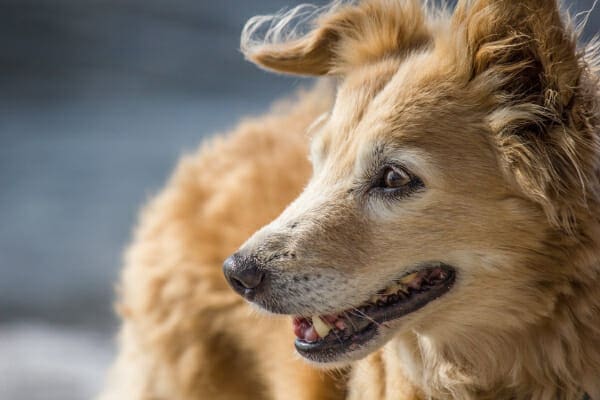 Unfortunately, CCD is a progressive condition and the progression differs in each dog. But even so, there are medications, treatments, and at-home changes that can help improve your dog's quality of life and slow the progression of CCD.
If your veterinarian has diagnosed your dog with canine cognitive dysfunction, you may be familiar with some of these treatment options for your beloved dog.
Canine cognitive dysfunction supplements
There are several dietary supplements that may benefit dogs with CCD. These include:
Melatonin—This "hormone of darkness" can help your dog sleep appropriately and may reduce anxiety. (More on the benefits of melatonin in our special section on dealing with sleep-wake disturbances below.)
Fish oils—The omega-3 fatty acids for dogs found in fish oils can help promote brain health.
Senilife®—This supplement is high in antioxidants which may help reduce brain aging behaviors (antioxidants help combat the free radicals in the brain of dogs with CCD).
S-adenosylmethionine (SAM-e)— Dogs on a SAM-e supplement may show improved executive functions and may have lessened clinical signs.
Medications
Your veterinarian may suggest several medication options for your dog with CCD:
Selegiline (Anipryl®)—This medication inhibits the action of MAOB (which is unusually high in dogs with CCD). By doing so, selegiline increases the levels of dopamine in the brain. This reduces the clinical signs associated with CCD. In one study, 77% of dogs responded favorably to selegiline therapy after one month. As a word of caution, selegiline should not be given in combination with certain other medications, so always ensure that your vet knows all medications and supplements your dog is taking.
Additional medications—Some dogs with CCD may benefit from anti-anxiety or anti-depressant medications, especially if anxiety is a big component of the dog's symptoms.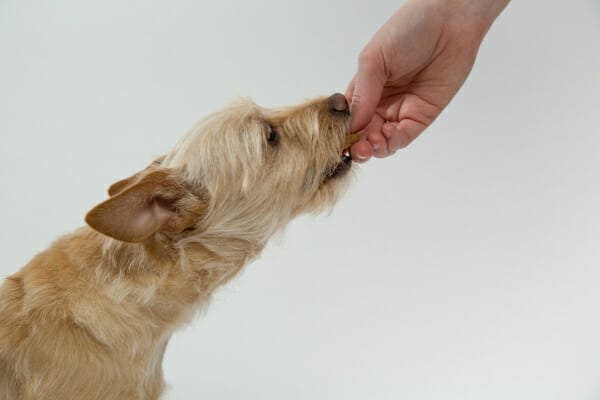 Food/diet
While I typically recommend home-cooked diets over prescription diets for dogs with medical issues, brain-boosting diets are one place where I strongly support the commercially available options. Dogs with CCD can benefit from diets that include high levels of specific antioxidants, essential fatty acids, vitamins, and substances that decrease free radical production.
Hill's® Prescription Diet® b/d Canine for "brain aging care," and Purina® Neuro Care are both prescription diets that do an excellent job of supporting brain function. There is also an over-the-counter diet, Purina® Bright Minds, which can also help with brain support.
Be advised that it may be several months before you see results from these diets. Although it takes time to see results, these diets are worth sticking with because they are an easy way to boost your dog's brain health.
Additional options
Some dogs may also benefit from anxiety-reducing compression garments such as a ThunderShirt. Another option is using Dog Appeasing Pheromone (DAP) products. These release a calming scent that promotes feelings of security and comfort for dogs while being undetectable to human noses.
Tips for at-home care: 5 things you can do for your dog
Making your dog comfortable at home will play a big part in your dog's quality of life. The list below includes five at-home care tips that I share with my clients.
However, don't feel like you have to be constrained to these tips alone. You know your dog best! Observe his or her behavior then make alterations in your home that you think could be helpful for his or her specific situation.
1. Establish a daily schedule and keep a routine.
In general, many dogs thrive on routines, but even more so when they develop CCD. Getting up, going outside, eating, walking, and going to bed at a predictable time can help your dog feel more comfortable in his or her surroundings. Plus, he or she has a better idea of what to expect each day. Obviously, there are going to be times when circumstances require a change of routine, but whenever possible try to stick to your set schedule.
2. Help your dog enjoy appropriate physical exercise.
Getting outside for some fresh air and exercise is great for a dog's sense of wellbeing. What this looks like may vary a bit depending on your dog's physical health. Some dogs may be up for exploring new neighborhoods, hiking, or going to new parks. Other dog's with more physical limitations may enjoy a short jaunt around the yard or to the neighbor's house. Watch your dog carefully for signs of pain or tiring, and let him or her take frequent breaks to sniff or rest for a few minutes.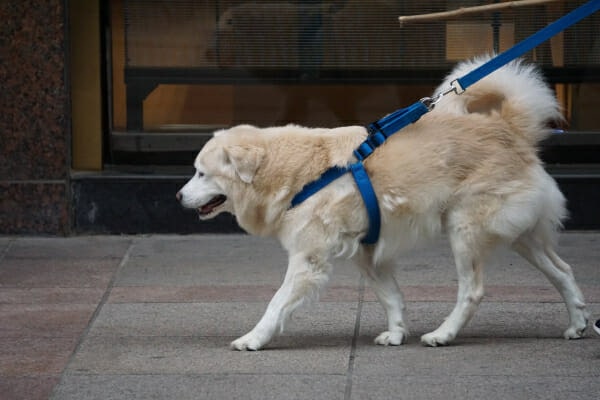 Some dogs may also enjoy playing fetch, wading in a creek (be careful with swimming if your dog is easily disoriented), or running around the yard with a doggie friend. Again, pay close attention to how your dog is doing and give him or her rest breaks fairly often.
3. Give your dog appropriate mental stimulation.
In addition to physical exercise, dogs with CCD also greatly benefit from mental exercise. This can take a variety of forms:
A "sniff-ari" (i.e. sniffing safari) where your dog gets to leisurely take in all the scents of his or her surroundings. The new smells provide mental stimulation and also serve as a natural break time on walks.
Teaching your dog new tricks (because old dogs can learn new tricks!)
Giving your dog puzzle toys where he or she has to lick, roll, chew, or otherwise manipulate the toy to get to the tasty food or treats inside. Have several of these puzzle toys and rotate them so your dog gets a "new" one each day.
Playing brain games with your dog (a quick internet search will reveal dozens of possibilities).
Providing new toys to play with (and playing with them with your dog).
4. Safeguard your dog.
Keep your dog safe by:
Closely supervising him or her in new or unfamiliar areas.
Ensuring your dog is wearing a collar with an ID tag and is microchipped. This will help increase the chances you are quickly reunited if your dog does get lost.
Blocking off dangerous areas of the house or yard such as a swimming pool, ravines, or steps if your dog is easily disoriented.
Keeping your dog on a leash or in a fenced yard to prevent him or her from straying into the road or getting lost.
Giving your dog a safe haven. This may be a room or area of a room where your dog can retreat for some peace and quiet when feeling overwhelmed.
5. Help your dog (and you) get a good night's sleep.
Establish a nighttime routine that includes one last late-night walk so that your dog can urinate before bed. This will help prevent accidents in the house. It will also reduce your dog crying to go out in the middle of night. Additionally, having a nighttime routine will signal to your dog that it is time to settle and get some rest. Senior dogs (and humans) seem to do best with a consistent schedule.
Ensure your senior dog has soft, orthopedic bedding to avoid putting pressure on arthritic joints.
If your dog does get up in the night, place night lights around your home so that he or she is able to traverse without bumping into furniture.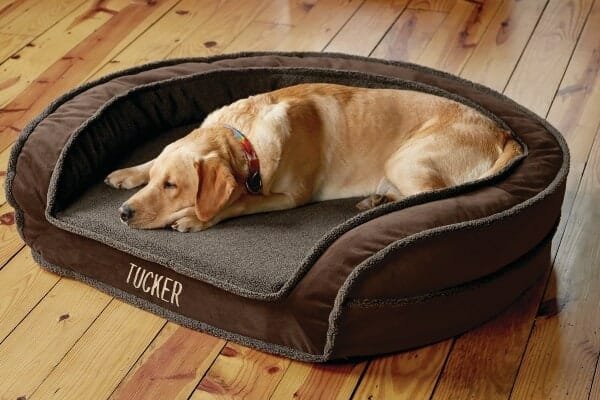 How canine cognitive dysfunction disrupts sleep-wake patterns
While we're on the subject of sleep, let's discuss sleep-wake patterns and canine cognitive dysfunction. Changes in your dog's sleeping habits can disturb everyone in the home and cause additional stress. The best way to describe the importance of addressing sleep-wake changes associated with CCD in dogs is through a real-life story.
A real-life example of how canine cognitive dysfunction disrupts sleep patterns
A couple of years ago, a gentleman came to me as a new client asking me to acupuncture his geriatric dog who frequently paced and barked at night. Though acupuncture can be helpful for dogs with sleep-wake cycle disturbances, I had never been asked to treat a case like this before. Hearing his story, I certainly developed a more acute sympathy for dogs who exhibit these symptoms and the people who love them, because both suffer.

The gentleman described his wife—the dog's caretaker—as being on the verge of a nervous breakdown. Like many moms, she was a light sleeper. At night, she would awaken when the dog began panting and pacing. She got up and tried to settle him by taking him outside, offering water, turning on a fan, and moving to other rooms in the home. Nothing helped. The nighttime ritual had to run its course until the exhausted dog and woman fell asleep in the early morning hours.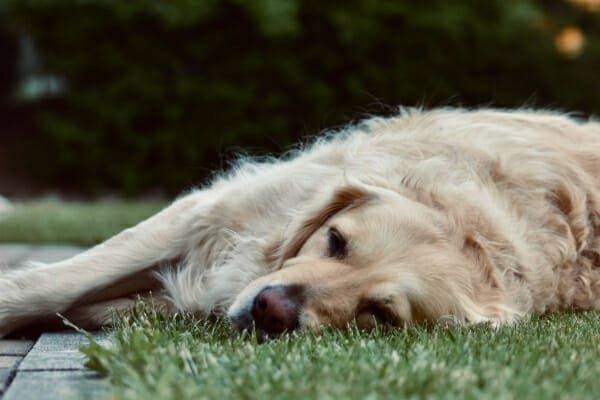 I know this is not an isolated case of sleep deprivation for senior dogs and their owners. Over the years I've heard many similar stories. In fact, if you have a senior dog, you may identify with these exhausted dog parents.
While there are many reasons why your dog is panting and restless, if the root cause is CCD (or CCD is one of the contributing factors), there are solutions.
Next, let's get into the nitty-gritty on why taking a "wholistic" approach to getting a restful night's sleep is critical for a dog with CCD.
Altered sleep patterns and CCD in dogs
As discussed above, altered sleep-wake cycles are a common symptom both in Alzheimer's and canine cognitive dysfunction. Depending on the canine patient, there could be other medical conditions or factors playing a role in senior dog anxiety at night, including:
Arthritis pain in dogs causing an inability to settle/get comfortable at night.
Blindness throwing off the dog's internal clock.
An increased urge to urinate due to diabetes or Cushing's disease in dogs.
Anxiety.
Interrupted sleep-wake cycles definitely affect the quality of life for the dog. But also affect the quality of life for the owners. Pet parents often report that the quality of their own sleep is affected by the sound of their dog pacing and moving around the room. They may also experience anxiety and guilt because their dog appears uncomfortable or is crying out when he or she gets "lost" and confused in the home.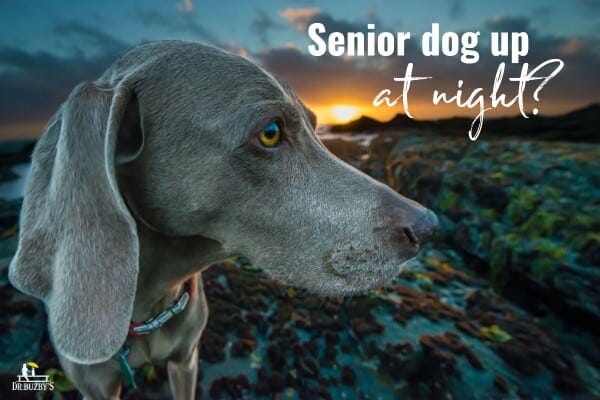 How do melatonin supplements help dogs with canine cognitive dysfunction?
As animals age, the production of melatonin decreases. Younger animals and humans have higher levels of melatonin compared with adults of the same species.
Melatonin supplementation helps increase the levels of melatonin in the body and encourages dogs to sleep appropriately. There is some evidence that melatonin may also decrease anxiety, which is another common symptom of CCD.
Whether or not cognitive dysfunction is an issue for the dog, melatonin has another benefit. Senior dogs often suffer from impaired vision, and blindness affects sleep-wake cycles.
Sleep-wake cycles can be altered with blindness, because the brain does not receive the signal from light to produce melatonin. In humans, the condition is known as non-24-hour sleep-wake disorder, where the body's biological clock does not match the traditional 24-hour day. Melatonin is used to reset the natural circadian rhythm and can be very helpful for blind dogs in this same way.
Finally, melatonin can benefit senior dogs by reversing certain types of hair loss and treating certain auto-immune diseases. For more about the many benefits of melatonin, please read my companion article: Melatonin for Dogs.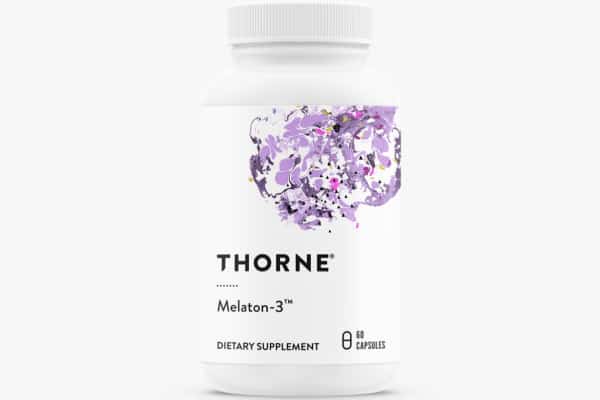 Taking a multimodal approach to helping your senior dog sleep
It is important to bear in mind that there may be several factors affecting your senior dog's sleep pattern. For example, a dog may not only have canine cognitive dysfunction, but may also have a painful condition such as arthritis or a disease that may increase the urge to urinate such as Cushing's, diabetes, or chronic kidney disease. Diuretic medications, such as lasix (furosemide) for heart disease may also increase the need to urinate and disrupt nighttime sleep.
So, while melatonin may help your dog sleep, there may be other management techniques to consider as part of a multimodal approach to managing doggie dementia and other elderly dog issues.
What is the prognosis for dogs with CCD?
Some dogs with more mild forms of CCD are able to live out their full lifespan with good management. However, this isn't the case for all dogs. Unfortunately, CCD does tend to be progressive. This means that even with multiple interventions and the best possible care, the symptoms may continue to worsen.
Unfortunately, dogs with severe CCD often have symptoms that significantly impact their quality of life despite trying many treatment options. One study indicated that dogs with severe CCD are often euthanized within 18-24 months of diagnosis.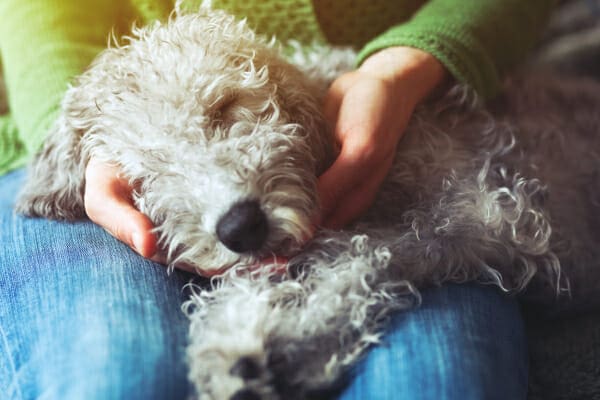 Making the decision for euthanasia
CCD is a difficult and devastating diagnosis for dogs and their parents. Your dog may be physically healthy yet suffering from severe mental or behavioral challenges. Unfortunately, many parents of dogs with CCD will have to wrestle with the decision about when to euthanize their sweet pup. It isn't a decision that I can make for you, but I want to offer you a few articles that might help:
I want to assure you that severe CCD signs are a valid reason for deciding that euthanasia is the right choice for your dog. You aren't giving up on your dog. And you aren't being selfish because you are tired of being kept up all night or cleaning up accidents. CCD steals your dog's dignity and sense of self.
I understand what a heart-wrenching decision it is even when you know it is the kindest thing you can do for your dog. And I think that chances are, you will know deep down in your heart when it is time to set your dear dog free from the confines of a mind ravaged by CCD.
Partnering with your veterinarian for your senior dog's sake
You are your senior dog's biggest advocate. I encourage you to speak with your veterinarian if you notice any behavioral problems or changes with your dog including increased accidents, pacing at night, or increased anxiety. Based on the assessment, your vet may be able to prescribe medication and/or supplements to better manage your dog's condition. Your dog's veterinarian is always the best source of wisdom in making those changes.
Finally, please find comfort in the fact that, through managing your grey-muzzled companion's CCD symptoms and helping your dog get better sleep, you are improving your beloved dog's quality of life. And even in the midst of CCD, you and your dog can still have many wonderful times together and make lasting memories.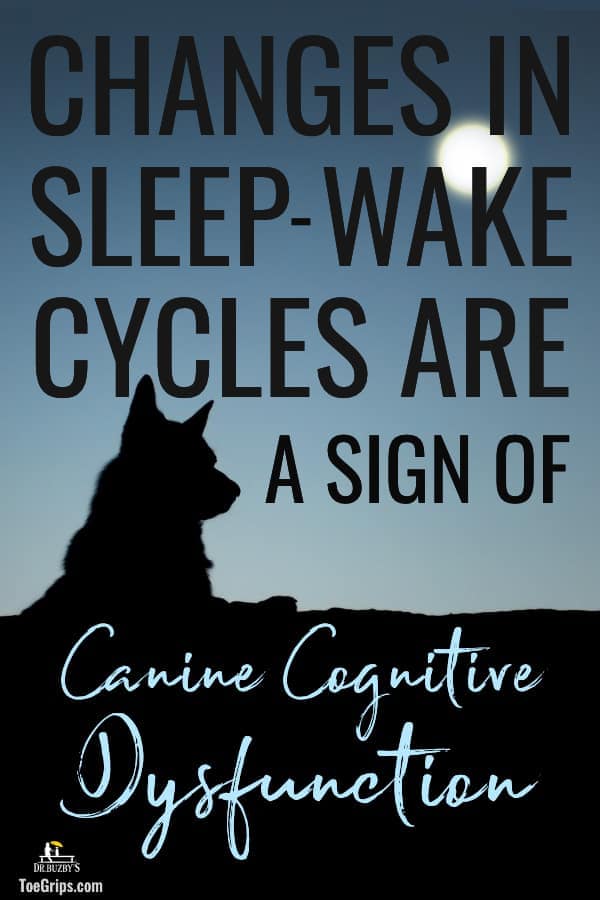 Is your senior dog showing signs of CCD?
Please comment below. We can all support each other.