Sundowners in dogs is a common problem for our grey-muzzled companions. To help shed some light on this condition, integrative veterinarian Dr. Julie Buzby discusses the cause, symptoms, diagnosis, and treatment for sundowners in dogs. Plus, she provides a variety of practical ways to calm a dog with sundowners so you both can get more sleep.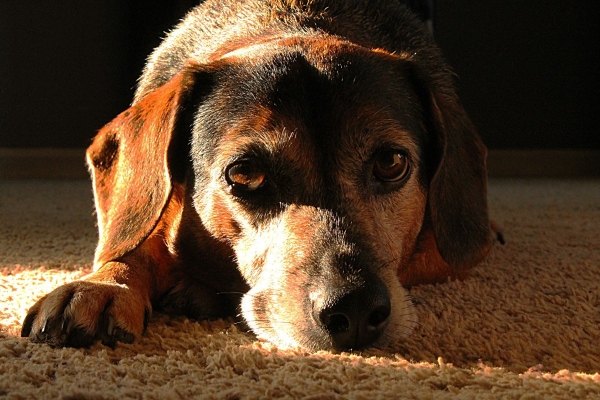 Senior dogs can make wonderful companions for many pet parents. But sadly, with advancing age can come a variety of challenging medical conditions. Some health problems can be brought to light with a physical exam, routine blood testing, or special imaging. But cognitive function problems such as sundowners syndrome tend to be a bit harder to pinpoint in older dogs.
Can dogs get sundowners?
You may have heard the term "sundowners" as a condition that a grandparent or other human family member is afflicted with. It generally applies to older adults who are experiencing abnormal behavior or confusion that starts late in the evening and extends into the night hours.
As it turns out, dogs can have sundowners too, and it even looks sort of like it does in people.
What is sundowners syndrome in dogs?
In dogs, sundowners syndrome is part of canine cognitive dysfunction syndrome (CDS), which can also be called doggie dementia. All of these terms describe a slow process of cognitive decline which occurs in older dogs. It is a recognized medical condition, not just "normal aging" or "slowing down."
Since dogs are living longer, doggie dementia is becoming a more prominent problem. In fact, one research study indicated that 28% of 11 to 12-year-old dogs, 48% of 14-year-old dogs, and 68% of 16-year-old dogs will have some degree of cognitive dysfunction.
In general, sundowners can affect activity levels, personality, and sleep-wake cycles. Affected senior dogs may sleep more and play less as they get older. Aging dogs who were once outgoing and sociable may suddenly become reserved, fearful, or in rare cases, more aggressive. And it may also become harder for them to sleep through the night, resulting in them pacing around the house in the dark at odd hours. This last behavior is why doggie dementia sometimes gets called sundowners syndrome in dogs.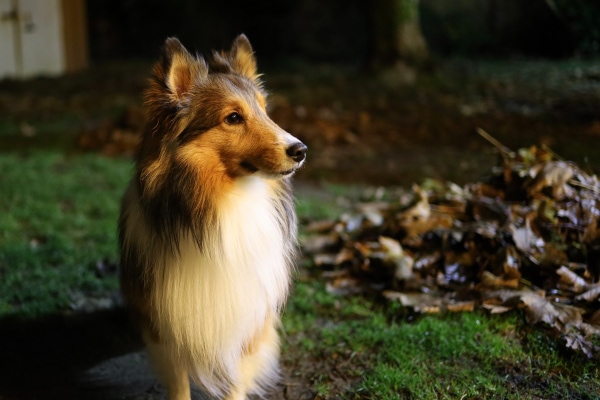 Why does sundowners occur?
While the true cause of sundowning in dogs is unknown, researchers believe that a senior dog's brain may undergo some of the same physical changes as the brain of a human with Alzheimer's disease. Over time, proteins called beta-amyloid accumulate in the brain's tissues. These proteins form plaques that lead to brain inflammation and irreplaceable loss of nerve cells.
This loss of neurons has many consequences, one of which is a disruption of the dog's biological clock. Normally the body runs on a 24-hour cycle known as a circadian rhythm. One of the big regulators of circadian rhythm is a hormone (i.e. chemical messenger) called melatonin. A small gland in the brain, the pineal gland, releases melatonin when the body senses less light (e.g. when the sun goes down). This makes a normal dog tired and helps to reset the circadian rhythm for another day.
However, this process doesn't always work right for dogs with dementia. Due to the structural changes in the brain and a drop in melatonin levels, dogs with sundowners can have problems with their sleep-wake cycles. This may help explain why sundowning in dogs is more common in the evening and night hours.
What are the signs of sundowners in dogs?
As I alluded to, issues with sleep-wake cycles are but one of the many manifestations of cognitive dysfunction in dogs. Generally, the symptoms may appear mild in the beginning and then intensify over time. This is particularly true in dogs who live longer than 12 to 13 years.
To help remember the different signs of dementia in dogs, you can use the acronym DISHAAL. It stands for the following:
Disorientation
Interaction changes
Sleep changes
House soiling
Activity changes
Anxiety
Learning and memory
Let's take a look at each of these symptoms in a bit more detail.
Disorientation
Affected dogs may seem confused or almost as if they are zoned out. A disoriented pup will have trouble navigating his or her surroundings, and you may find him or her stuck in corners or behind furniture. Additionally, sundowning dogs might gaze into space, staring at a wall, or pace or wander without stopping. Sadly, sometimes they won't even recognize their family members.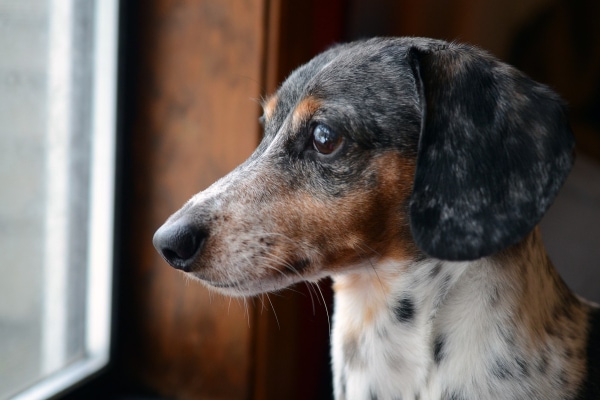 Interaction changes
Dogs with sundowners may not greet their owners like they used to. Some dogs may even go to great lengths to avoid interaction entirely. This may include hiding from people and other pets or becoming visibly upset when someone touches them.
Alternatively, a normally aloof pup may suddenly stick to your side like glue. All of these scenarios could point to sundowning if they are abnormal for your dog.
Sleep changes
Instead of staying asleep until morning, dogs with sundowners might wake up several times a night. Sometimes you may notice senior dog anxiety at night, including pacing, panting, whining, or barking. Or you might wake up to a furry face breathing near yours or the sound of ceaseless tag-jingling.
For dog parents, the loss of sleep seems to be one of the hardest aspects of sundowning to deal with. Once your dog wakes you (and potentially the rest of the household), it can be hard to get back to sleep. Dealing with this night after night can feel overwhelming and discouraging. Your dog can (and likely does) sleep all day, but you probably don't have that luxury.
House soiling
Dogs potty-trained from a young age will rarely have accidents inside the house. But because dogs with sundowners become confused, they might start urinating and defecating in your home. It can also seem like they cannot hold their bladders for as long as they used to. This might result in you having to walk your furry friend more frequently and/or purchasing "piddle" pads for your pup.
Activity changes
Some dogs may suddenly become more active while others start sleeping the day away instead of playing. The excitable, energetic dog that suddenly shows less interest in running or playing fetch could be showing signs of sundowners. So could a dog who was normally a "couch potato" but now endlessly paces or walks in circles.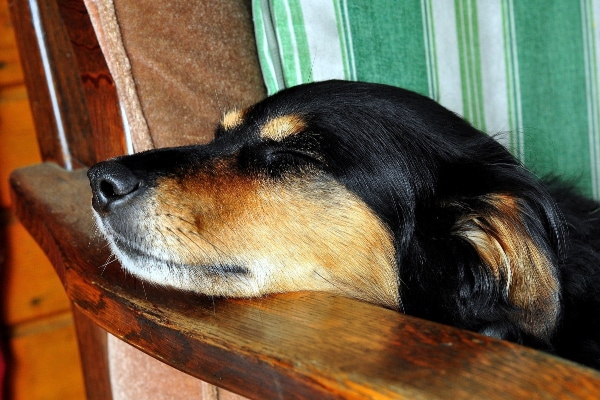 Anxiety
Senior dogs with sundowners can become fearful of new things in the home (e.g. furniture). Or, where once your dog wanted to be in the center of the activity, he or she may now spend more time on the outskirts, shaking or hiding. Your dog may also be more reactive to loud sounds or fast activity. This might explain why some older dogs can show signs of anxiety around young children or excitable new pets.
Also, in addition to increased noise and visual sensitivity, dogs with sundowners who were normally calm being away from their family members might start to develop separation anxiety as they age.
Learning and memory
Dogs with dementia may forget some of the basic tricks they learned like "sit" and "stay." Plus, it may become more difficult for them to learn new commands or behaviors as they get older. Even though most dog parents don't agree with the old adage, this might be where the phrase "you can't teach an old dog new tricks" was coined.
Sundowning dogs may also forget where their food and water is. Or they may go to the wrong side of the door, or not even remember which door takes them outside. This can make necessary daily tasks like eating and going outside much more difficult.
How is sundowners syndrome diagnosed?
As you have probably gathered, dogs with sundowners can have a wide array of different symptoms. Cognitive decline isn't a one-size-fits-all process. This also means that diagnosing it isn't always very straightforward because there isn't an easy diagnostic test with a "yes" or "no" result.
To further complicate matters, sometimes other conditions may have signs that also look a little like sundowners. For example:
Due to these factors, your vet often needs to do a bit of detective work to find the cause of your dog's symptoms.
He or she will start by talking with you about what you are seeing at home. Then he or she may ask you to fill out a canine cognitive dysfunction checklist. These checklists can be a helpful way to visually see how many symptoms of sundowners the dog is showing and which areas are most problematic.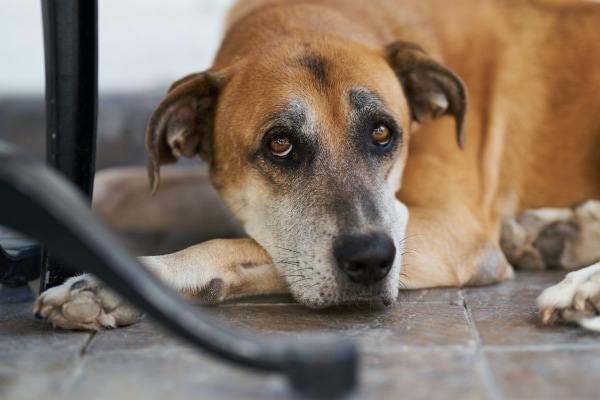 Additionally, your vet will want to perform a complete physical exam and some routine testing to rule out medical problems. This might include blood work, urine testing, and imaging like X-rays or ultrasound. Once it is clear that the symptoms are not coming from a physical ailment, your vet may conclude that your furry friend has sundowners syndrome. Then it is time to talk about how to help your sundowning dog.
What is the treatment for sundowners?
While there is no definitive cure, dogs suffering from sundowner syndrome have lots of different therapeutic options. It is important to remember, though, that no one particular therapy will be 100% effective. And it can take several weeks or months before you may see a positive response.
Medications
In recent years, the antidepressant selegiline has been approved for use in dogs for the treatment of CDS. Selegiline for dogs (Anipryl®) works by increasing dopamine levels in the brain. Since dopamine is a signaling molecule, increased levels can help with memory and improve the ability of nerve cells to "talk" to one another. It isn't the solution for every dog, but one study indicated that 77% of dogs with CDS showed improvement on selegiline.
Additionally, sundowning dogs may benefit from anti-anxiety medications like trazadone. Since it is a serotonin antagonist/reuptake inhibitor (SARI), trazadone increases the level of serotonin (i.e. the happy hormone) in the brain. This can help dogs feel more calm.
Supplements
There are also a variety of useful supplements for sundowners syndrome in dogs:
Solliquin® and Zylkene® contain ingredients that are naturally calming and/or can help with the creation of serotonin.
Adaptil® contain pheromones that mimic those of a nursing mother dog, which is meant to help with relaxation.
Antioxidant supplements like Novifit® or products containing resveratrol may reduce the formation of harmful free radicals and help with overall brain function.
Melatonin for dogs can help dogs with sleep-wake cycle disturbances sleep better at night.
Omega-3 fatty acids for dogs have anti-inflammatory effects and are good for brain health.
CBD oil for dogs may be beneficial for dogs with sundowners because of its purported anti-inflammatory and calming effects. However, there is still little data proving its efficacy.
Brain-health diets
Diet can also have an impact on your dog's brain health, and may help calm a dog with sundowners. Prescription diets like Hill's® Prescription Diet b/d canine and Purina® Neuro Care are rich in omega-3 fatty acids and antioxidants. The goal of these diets is to help minimize inflammation and delay the onset of age-related changes in the brain.
Purina also makes a probiotic called Calming Care that has been shown to have a naturally calming effect on dogs.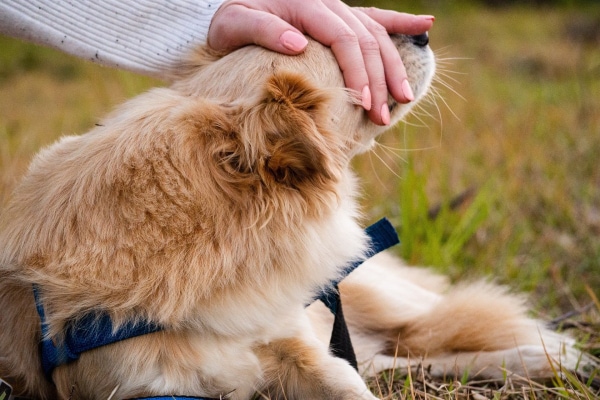 How can you calm a dog with sundowners?
Besides relying on calming medications and supplements, try out some of these at-home tips to help decrease sundowning:
1. Maintain a calm household (or give your dog a quiet spot)
This means trying to lower the amount of noise or sounds at home, especially during the daytime. If loud sounds and chaos is unavoidable (like at my house with 8 kids!), try to find a quiet area for your dog to relax in peace.
2. Play calming music
Consider playing a variety of calm, quiet music in the background throughout the day. When researchers investigated the effects of music on shelter dogs, they found that classical, jazz, and reggae music had a calming effect. That would make those genres (or something similar) a good option. However, based on the study at least, you should avoid rock music because it made the dogs more nervous.
3. Avoid bright lights, especially in the evening or at night.
Since melatonin release is tied to light levels, keeping the lights down in the evening may lead to higher melatonin levels. This could translate to better sleep at night.
4. Exercise and explore together.
Getting outside for a walk, hike, game of fetch, or even a dog wagon ride has many benefits for your dog. Exercise is great for mobility and weight management. Plus, doing activities together strengthens your bond and stimulates your dog's brain.
There are a few safety considerations to keep in mind, though. If your dog is used to a sedentary lifestyle or has orthopedic issues, work with your vet to create a safe exercise plan. Also, be careful with letting your dog off leash. Sometimes dogs with sundowners can get confused and wander off, fall in a pond, or get into other dangerous situations.
5. Keep your dog's surroundings familiar and safe.
To help minimize confusion and injury, try to avoid rearranging the furniture or moving your dog's food and water dishes. Also, consider purchasing a baby gate to block your dog's access to areas where he or she could get hurt (e.g. at the top of a flight of stairs).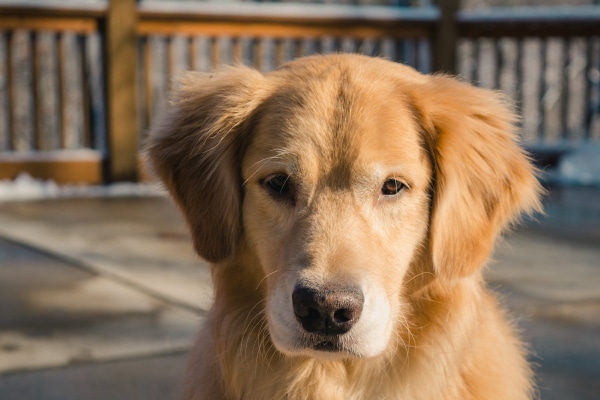 How long do dogs live with sundowners?
The medications, supplements, and strategies we just discussed can improve the quality of life for dogs with sundowners. And since sundowners syndrome doesn't directly impact the dog's physical health, some dogs can live for several years after the diagnosis. However, eventually the mental toll sundowners takes on dogs (and their families) may raise the question, "When do I euthanize my dog with dementia?"
This isn't a question I can answer for you, but I can help you start to think through it. Like many euthanasia decisions, it comes down to quality of life. But in this case, quality of life might look a bit different because the dog's mind, not the dog's body, is sick. For example, a physically healthy dog can still have a poor quality of life if he or she is awake all night, severely anxious, getting lost frequently in the house or yard, not recognizing family members, etc.
You know and love your dog so I suspect that you will have an idea of when it might be time to say goodbye. But you can, and should, also lean on your veterinarian during this time. He or she can provide tools like a quality of life scale for dogs and answer any questions about preparing for your dog's euthanasia.
Finally, I want to remind you that you are not being selfish when you make the decision to euthanize your dog with sundowners. You aren't doing it because you are tired of caring for your dog and cleaning up messes or want to get some sleep. Instead, you are making a loving decision to set your beloved dog free from the confines of his or her mind. That isn't selfish at all.
Tackle sundowners in dogs with your vet's help
Watching your sundowning dog struggle can be heartbreaking, but it doesn't have to leave you feeling powerless. If you notice changes in your dog's behavior or cognitive function, please contact your vet. While there's no cure for sundowners, there are things that your vet can recommend to help calm your dog and boost his or her mental function.
It may seem difficult in the moment but try to remind yourself that sundowners may alter what your dog's sunset years look like, but it doesn't have to take the enjoyment out of them. In many cases, there is still a lot of smiles, snuggles, and fun left to be had.
Does your dog have sundowners syndrome?
Please comment below.