If it seems like every time you turn around (or try to fall asleep) your dog keeps licking the base of their tail, this article is for you. In it, integrative veterinarian Dr. Julie Buzby discusses the top nine reasons a dog may incessantly lick the base of the tail. Plus, she explains how you and your vet can work together to help your dog feel comfortable again.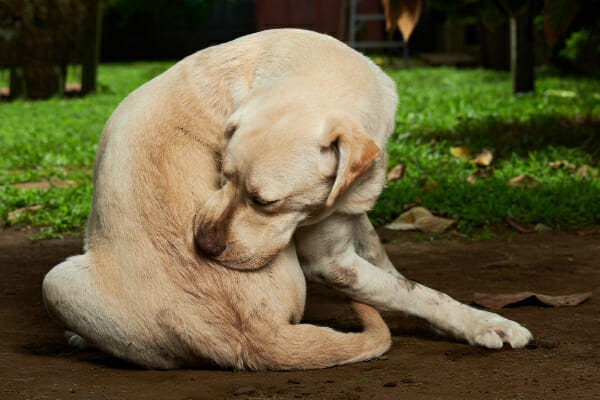 Have you ever been lying in bed trying to sleep, when your dog starts licking or chewing non-stop? That repetitive sound can suddenly seem so loud that all you can do is focus on it. How could you possibly sleep when your dog is so busy licking him or herself bald?
Meet Luke, a dog who couldn't stop licking his tail
This is the exact reason that Luke, a 7-year-old German Shorthair Pointer, was brought in for an exam. His mom couldn't believe how many hours a day Luke could focus on licking the base of his tail. She and her husband kept joking that Luke's tongue would fall off before he would stop licking.
Since Luke and his family are avid hikers, his mom usually maintained a very strict schedule of applying flea and tick medication every month. However, they missed a dose that month due to Luke being with a pet sitter while they were on vacation. Luke's mom was now worried that his incessant licking and chewing was a sign that he had fleas.
As I watched Luke while his mom was talking, it was obvious that Luke was very interested in the base of his tail. Normally, when he came in for an exam, he was busy sniffing the whole exam room for cookies. Not today. I assured his mom that we would look closely for fleas in Luke's hair. In addition, I told her that I was going to do a thorough exam since there were several other reasons Luke could be licking so much.
9 reasons a dog keeps licking the base of the tail
Let's take a look at the top nine reasons why a dog may be licking and chewing the base of the tail.
1. Fleas and flea allergic dermatitis
For many dog parents, when their beloved dog begins licking, chewing, or scratching, the first concern is fleas. No one wants to have fleas on their dog or in their home.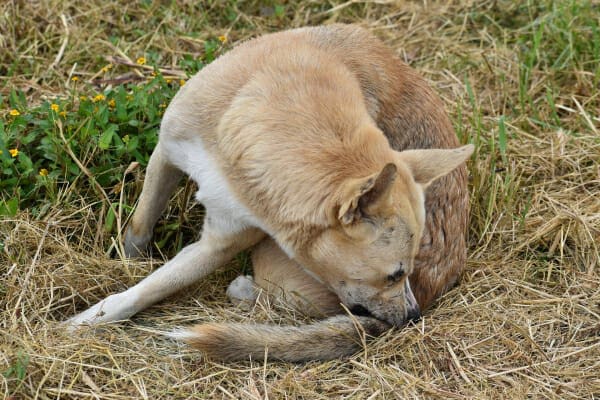 If fleas are present, the first sign is usually persistent licking, chewing, and scratching in the main areas where fleas like to reside. The most common spot is the base of the tail. Also, fleas frequently like to spend time around the neck and shoulder blades. However, they may be anywhere on the dog's body, including the face and back.
Dogs and cats who have a larger infestation or a sensitivity to flea saliva (i.e. flea allergy) can have additional signs as well. Flea allergic dermatitis (FAD) is the term for the changes that occur as a result of a flea saliva allergy. Affected dogs may:
Be intensely itchy
Lose hair at the base of the tail or other areas
Have red patches on their skin
Have multiple, small scabs from the flea bites
Additionally, dogs who have a bad case of FAD can be prone to secondary skin infections.
Diagnosis of fleas
Fleas can sometimes be difficult to see with the naked eye. However, it may be worth seeing if you can spot any on your dog. They look like small, brown wingless insects which can jump quite far. Additionally, you can look for "flea dirt" (i.e. flea feces). It appears as black-brown specs or "dandruff" in the areas that fleas like to live. Another way to look for fleas is to buy a flea comb. Run the flea comb through your dog's coat then examine it for the presence of fleas or flea dirt.
If you suspect that your dog has fleas like my veterinary client did, please consult your veterinarian. Sometimes, fleas can be very obvious during a physical exam without additional diagnostics. However, especially in very mild cases or very hairy dogs, fleas may not be as obvious. Your veterinarian may recommend additional tests such as a skin scrape to look for other parasites that could cause itching or skin changes. They also might perform blood work to look for anemia secondary to the fleas biting and feeding off of your dog.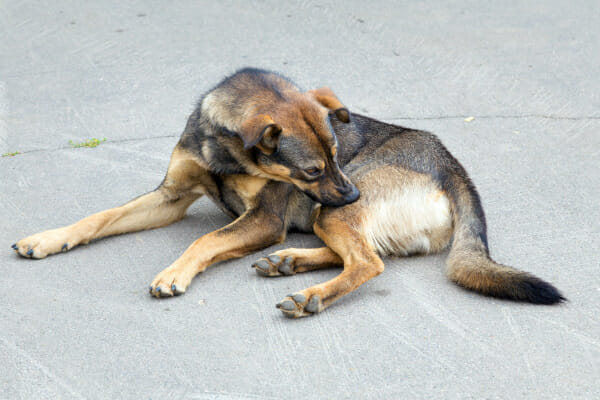 Treatment of fleas
Thankfully, in most cases, if the vet diagnoses your dog with fleas, there are various treatment options that are readily available. At the very least, your veterinarian will recommend treating with flea prevention. Depending on your vet's recommendation, this might be a chewable treat, liquid, collar, or topical medication that is applied directly to your dog's skin.
Please note that your veterinarian's office is the best place to get flea medications. Over-the-counter products may be ineffective or sometimes even dangerous.
Additionally, your vet may recommend bathing your dog and brushing him or her with a flea comb. If your vet uses a topical product to treat the fleas, ensure you ask him or her how long to wait to give your dog a bath.
Sometimes your veterinarian may recommend other medications like a dewormer since fleas can transmit tapeworms. Dogs with FAD also may need antibiotics for a secondary skin infection or allergy medicine for dogs to help relieve some of the allergic response.
Unfortunately, 95% of the flea population lives in the environment as eggs, larvae, and pupae (i.e. immature flea life) forms. Only 5% of the population will be on your dog as adult fleas. This means that addressing the immature fleas in the environment is very important. Vacuuming your house and furniture multiple times a day and washing all bedding in hot water can be helpful. In some cases, you may also need to flea bomb the house or use an environmental spray.
Be patient as it can take a lot of time and work to get rid of fleas completely.
2. Anal gland problems
What if, not only is your dog constantly licking his or her hind end, but also scooting it on the floor? Another reason for a dog licking the base of the tail is that his or her anal glands are full.
The anal sacs (i.e. anal glands) are two small scent glands that are located just below and on both sides of the anus. They contain a very strong fishy-smelling liquid or paste that helps dogs mark their territory. Most dogs empty them naturally when having a bowel movement. However, some dogs need help expressing them.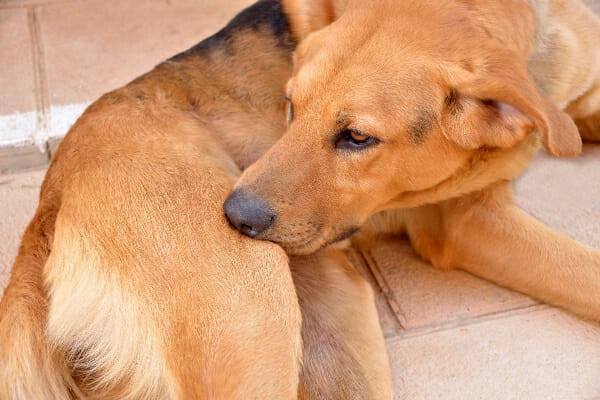 Signs that your dog's anal glands might be full include:
Licking the hind end
Biting at the base of tail
Scooting on the ground
Straining to defecate
A fishy odor coming from the rear end
If not addressed promptly, some dogs will get impacted or infected anal glands. When this happens, there might be small amounts of bright, red blood in the stool. You also could notice swelling or an open wound in the four o'clock and eight o'clock positions in relation to your dog's anus.
Diagnosis and treatment of anal gland issues
If you notice any of the signs above, you should seek treatment for your dog with your veterinarian. Impacted or ruptured anal glands can be very uncomfortable and painful for your dog. And if there is an infection, the longer it goes untreated, the worse it can get.
When you take your dog to the veterinarian, he or she will probably perform a physical exam and a rectal exam. During the rectal exam, the vet can check and express your dog's anal glands.
Depending on what your veterinarian suspects is going on, he or she may perform some additional tests. The vet might recommend treatment such as anti-inflammatories, antibiotics, warm compresses, or adding fiber such as canned pumpkin for dogs to the diet.
3. Food or environmental allergies
Another common reason why your dog may be persistently licking or biting at the base of the tail is allergies. Dogs get allergies just like we do, which are usually food or environment-related.
Food allergies are more likely to occur year-round or when diet is suddenly changed. On the other hand, environmental allergies tend to occur during specific seasons. This isn't always the case, though. Just like in people, dogs can be allergic to multiple foods or multiple pollens, grasses, dusts, etc. in the environment. Also, dogs can have both food and environmental allergies.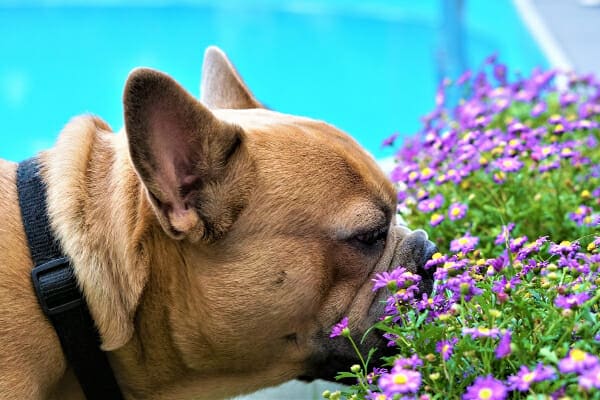 Regardless of the allergy, your dog will likely be scratching, licking, or biting the base of his or her tail or other parts of the body. Dogs with allergies can also develop red, irritated skin. Some dogs may even suffer from otitis in dogs (i.e. ear infections).
There can be slightly differing symptoms between food and environmental allergies. Dogs with food allergies could experience vomiting and diarrhea in addition to skin problems. Dogs with environmental allergies are more likely to experience sneezing, coughing, watery eyes, and increased shedding.
If your veterinarian diagnoses your dog with allergies, he or she will discuss the management options such as special foods, supplements, allergy shots, or medications. While allergies can't be cured, the good news is that working with your vet to create a specialized plan for your dog can help him or her feel much better.
4. Contact dermatitis
Have you ever walked through a patch of weeds and noticed that within a few minutes your legs were itchy? This can happen to dogs too, and it is called contact dermatitis.
Contact dermatitis is similar to allergies but is a more localized response. It occurs when something irritating touches the skin. The irritating substance could be grasses, plants, carpet, soaps/shampoos, etc. As a result of the irritant, a local allergic reaction occurs.
This usually results in red, itchy skin and possibly hives. Contact dermatitis can occur anywhere on the dog's body, but is most likely on the abdomen, feet, or around the tail and rear end. If a dog's face comes in contact with the irritant, his or her eyes may be red and watery as well.
If you suspect your dog has contact dermatitis, you should wipe the irritated area with a warm, wet washcloth or give your dog a bath with a mild shampoo. You should also consult with your veterinarian. If the bath helps, your veterinarian may not do any diagnostics or treatment at that time. Otherwise, he or she will probably recommend diagnostic tests and treatments very similar to those mentioned above for allergies. Of course, you will also want to try to avoid contact with things your dog is sensitive to in the future if possible.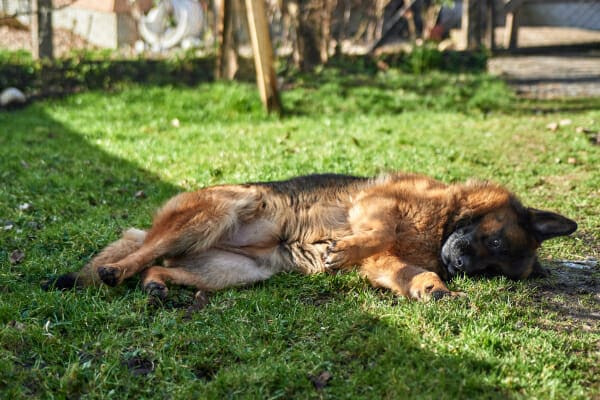 Contact dermatitis and food or environmental allergies can both result in something called a hot spot as well. Hot spots are painful areas of red, irritated skin and often can develop secondary infections. They can also ooze moisture, pus, or blood. Typically, they start in a very localized area where your dog is excessively licking and chewing. However, they can spread if ignored. If you notice a hot spot, please make an appointment with your vet promptly.
5. Internal parasites
Not only could your dog be licking and chewing at the base of the tail due to external skin problems, but there could be an internal cause as well. One reason might be that your dog has internal parasites, more specifically worms. The most common worms of concern are roundworms and tapeworms in dogs.
Roundworms are usually passed from mother dogs to their puppies or acquired when dogs ingest wildlife or feces of other animals. Tapeworms, on the other hand, are passed to dogs through ingesting fleas or consuming an infected prey species such as rabbits. If your dog is excessively licking and chewing at the base of the tail and diagnosed with fleas, it is likely that your veterinarian will want to check for tapeworms as well.
The most common sign that your dog has worms is the presence of worms in your dog's feces. Roundworms will look like spaghetti noodles. Tapeworms look more like pieces of rice. Often your dog will act like his or her rear end is itchy. This might mean that your dog scoots on the floor or is non-stop licking and chewing at his or her tail and hind end. Dogs with worms may experience vomiting, diarrhea, and weight loss.
If you see worms in your dog's feces, be sure to pick up the poop immediately to avoid other animals or children coming into contact with the worms. You should bring a fresh fecal sample to your veterinarian so they can test it for worms and other parasites. This will help the veterinarian determine what medication to give your dog. It is likely that your dog will be given a dewormer. If your veterinarian suspects tapeworms and fleas, your dog may also be treated for fleas as described above.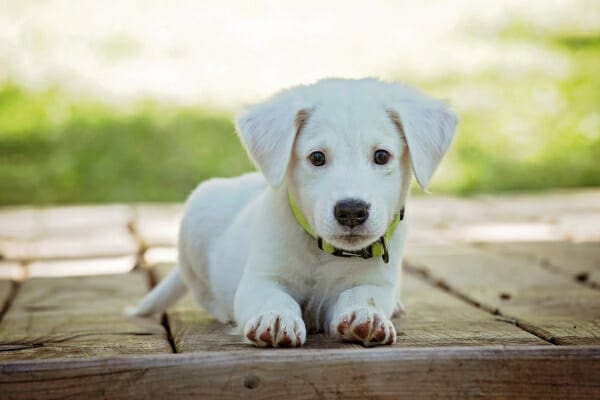 6. Hormone imbalances
Another internal cause of excessive tail licking is medical issues caused by hormone imbalances. When you hear the word 'hormone" you might tend to associate it first with sex hormones, However, hormones are responsible for many other functions in your dog's body. Some of them play a role in maintaining healthy skin and hair coat.
As a result, dogs with hormone-related conditions like Cushing's disease in dogs, diabetes mellitus, and hypothyroidism in dogs may suffer from skin or coat problems like rough, patchy coats or bald spots. When the coat isn't healthy, it can become itchy and irritating for dogs. The skin might also become thickened, rough, and possibly pigmented. Depending on what hormonal disease your dog has, there might be other clinical signs including:
Decreased energy (a lethargic dog)
Increased or decreased appetite
Vomiting
Diarrhea
Increased urination
If you suspect that your dog has a hormone imbalance, you should consult with your veterinarian immediately. Certain hormone-related diseases can be life-threatening if ignored. It is very likely that your veterinarian will check blood work and a urine sample. Sometimes, X-rays or an ultrasound are needed as well. The exact treatment will depend on your dog's diagnosis. Most likely though, it will involve a prescription medication and possibly a change in diet.
7. Pain
Excessive licking could be one of the signs your dog is in pain. This can be especially true in our beloved senior dogs.
Licking an area that hurts can be comforting to dogs. This is just like how you or I might massage an area on our bodies that hurts. Dogs also lick painful areas because their first instinct is to try to clean a "wound." Dogs can't always determine if the "wound" is external like a cut or internal like joint pain. Therefore, it is common that they will lick the painful area to try to clean and heal it.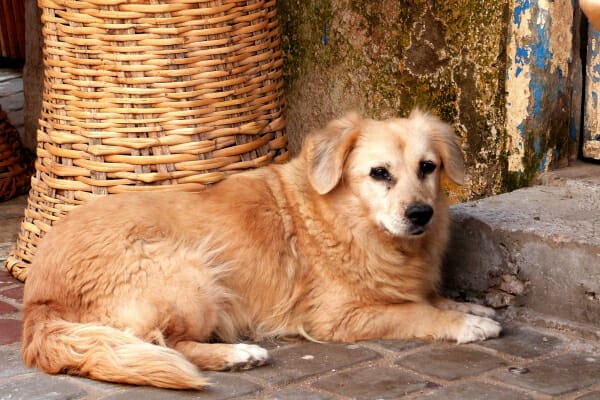 An area could be painful due to skin disease or a hot spot as described above. In senior dogs, the area also might be painful due to osteoarthritis in dogs. If your dog is licking the base of the tail and hind end, it could indicate that he or she has arthritis in the lower spine (such as spondylosis in dogs), hips (possibly from hip dysplasia in dogs) or hind legs.
Diagnosis and treatment of pain
If your vet suspects arthritis or a bone problem, he or she will likely perform a thorough physical exam to assess your dog for lameness or decreased range of motion. The vet might also recommend X-rays to rule out broken bones or other bone abnormalities. Treatment will depend on the diagnosis that your veterinarian gives your dog.
If it is arthritis, your vet might discuss ways to relieve arthritis pain in dogs. This could include:
8. Behavioral problem or anxiety
Excessive licking can be a sign of a behavioral issue or anxiety problem as well. Some dogs will over groom themselves out of boredom. Initially, it starts out as a normal grooming behavior, but then it becomes a habit that the dog performs when there is no other stimulation. This is a similar to high energy dogs who destroy toys or furniture when they don't get regular exercise and playtime.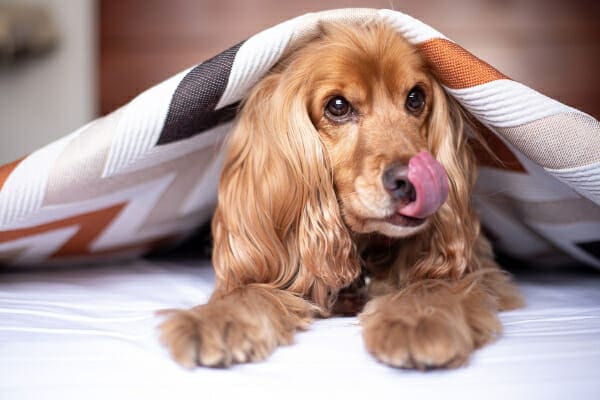 Persistent licking can also be a sign of anxiety. With anxiety, dogs may lick so much that it causes harm to the skin and leads to possible infection. If your dog has anxiety, there could be other symptoms including:
Decreased sleep
Excessive whining or barking
Pacing
Destructive behaviors
Eating too fast
Fear of loud noise
Just like in humans, dog anxiety comes in many forms. Some cases of anxiety are more obvious than others and easier to diagnose. If you suspect your dog has anxiety, it can be helpful to video him or her doing the anxiety-related behaviors. Also, take note of what was going on in the house at the time.
Watching these videos will help your veterinarian understand what you are seeing at home when your dog is anxious. Some veterinarians will also use a questionnaire to help determine the specific type of anxiety your dog has.
Once your vet diagnoses your dog with anxiety, he or she may recommend medications or supplements to help manage the anxiety. Different exercise routines or games may be suggested as well. Remember, anxiety can be frustrating for you, your dog, and your veterinarian. This is another disease that may take time and trial and error to manage.
9. Grooming behavior
If your dog is licking the base of his or her tail but isn't showing any other symptoms, it is possible that this is normal grooming behavior. Licking occasionally, or when the fur is dirty, is a normal way for dogs to keep their coat clean and shiny. However, dogs should not groom excessively to the point that they cause irritation or bald spots.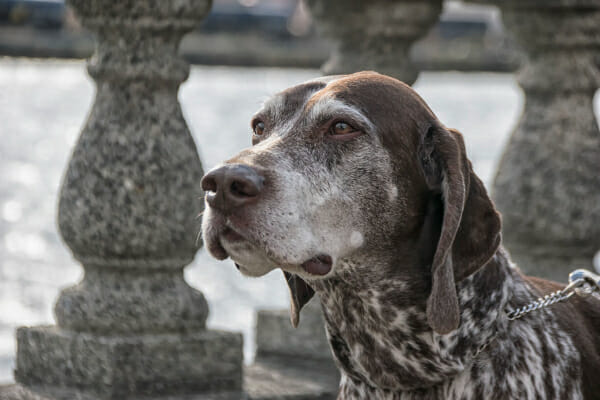 Luke's reason for licking the base of his tail
After closely examining Luke and watching him lick the base of his tail during the exam, I determined that he did in fact have fleas. His mom agreed to a fecal test to rule out secondary tapeworms. Thankfully, he was tapeworm-free!
I sent Luke's mom home with instructions regarding flea prevention and regular vacuuming of the house. She called me later that week saying Luke seemed more comfortable already.
Paying close attention to your dog's behavior can help your veterinarian determine the cause of your dog's constant licking. As I like to remind you, you are your dog's biggest advocate and the one who knows him or her best. So if you suspect any of these nine reasons for licking the base of the tail, please contact your veterinarian. As always, your veterinarian is a wonderful resource for your dog's health problems and truly wants your dog to be happy and healthy.
If your dog has ever licked the base of his or her tail, what was the reason?
Please comment below.