Dog anal gland issues (e.g. anal sac impaction, infection, rupture, or cancer) can quite literally be a pain in the rear for your dog. To help you navigate these problems, integrative veterinarian Dr. Julie Buzby gives some background on anal glands, and then explains the causes, symptoms, diagnosis, treatment, and prevention of anal gland issues in dogs.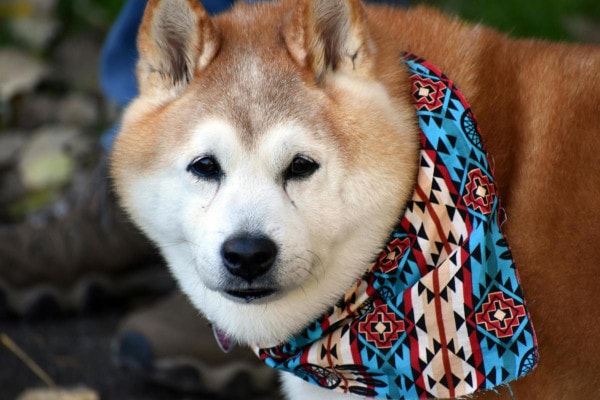 Dogs like Chester, who was driving his mom (and himself) crazy by scooting his hind end on the carpet non-stop, show up on my schedule fairly often. And more times than not, the culprit ends up being some sort of anal gland issue.
Chester was no exception. As I examined him, I discovered that he had a small hole about the size of the tip of my little finger below and to the side of his anus. This told me that Chester's anal sac, which was probably previously impacted, had now ruptured.
Chester's mom was very surprised to hear this because she didn't know that there could be anal gland problems in dogs other than the glands just being full. I explained to her that there are actually multiple different anal gland problems that a dog could have. Thankfully, though, many of them can be treated, and often even prevented, with proper management.
What are anal glands in dogs?
To understand problems associated with the anal glands in dogs, it is important have an idea of the anatomy and function of healthy anal glands.
The anal sacs are two small pouches that are located beneath the skin in a dog's anal area. Both male and female dogs have an anal sac on each side of the anus—one at approximately four o'clock, and the other at approximately eight o'clock.
The anal sacs are lined with sebaceous glands (i.e. the anal glands) that produce a foul smelling fluid. Normally this fluid builds up slightly in the anal sac. Then, as the dog has a bowel movement, the fluid exits the anal sac to the outside world via a small canal.
(Thus, strictly speaking, the anal glands line the anal sacs. However, most people use the terms "anal glands" and "anal sacs" interchangeably, so I will do so in this article too.)
The fluid that the dog releases from the anal glands is normally fairly thin and tan, and has a strong fishy odor. This smell acts as a dog's "signature" or "name tag" in the environment. The odor is unique to each dog. And dogs use it to mark their territory and identify themselves.
When another dog sniffs the feces and anal gland fluid on the ground (or smells the other dog's hind end), that dog will be able to "recognize" the other dog. This signature helps dogs investigate and learn about each other.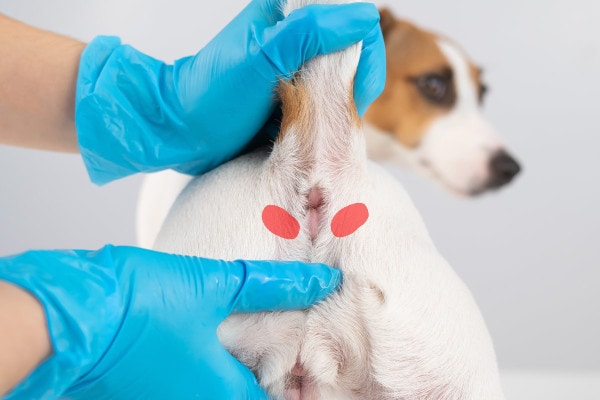 Why do anal glands sometimes cause problems?
As discussed, dogs can empty their anal glands naturally when defecating. However, sometimes all doesn't go according to plan, and the anal gland secretions start to accumulate in the anal sacs. As a result, pressure builds up in the anal area—which can be very uncomfortable or even quite painful. If not resolved, the buildup of anal gland material can lead to anal sac disease.
4 Anal gland issues in dogs
There are four main anal sac problems in dogs—anal gland impaction, anal gland infection, anal gland rupture, and anal gland cancer. Let's discuss each one.
1. Anal gland impaction in dogs
Anal sac impaction occurs when the anal gland secretions begin to build up abnormally in the anal glands. The exact reason this happens isn't clear. However, there are some theories.
Expressing the glands requires applying the right amount of pressure to the glands to carefully squeeze the fluid out during the bowel movement. Typically, the physical act of defecating and the presence of the feces passing through the anal sphincter should apply the necessary pressure.
Contributing factors
However, if the feces are an abnormal consistency, having a bowel movement may not exert the right forces to empty the glands. Additionally, in some dogs, the glands may be harder to empty than normal due to abnormal anatomy or health problems. For example, the opening of the canal out of the anal sac is already very small. But sometimes it is naturally abnormally narrow or becomes narrower due to inflammation.
Plus, some conditions (e.g. allergies) can cause a dog to produce a large amount of anal gland fluid. Or the anal gland secretions may become thickened and compacted. All these factors may create a situation where not enough anal gland material may be able to get out of the anal glands during defecation.
Conditions that contribute to anal gland impaction in dogs
Thus, the following conditions may make dogs more likely to have an anal gland impaction (and subsequent anal gland issues):
Chronic, ongoing skin infections (especially near the hind end)
Obesity (which may reduce muscle tone)
Inappropriate amounts of fiber in the diet
Soft stool or chronic diarrhea
Food allergies or seasonal allergies
Genetic predisposition (especially in small breed dogs)
Swollen anal sacs
Progression of anal gland impaction
If a dog has any of these conditions, he or she might be unable to fully express the anal glands. As more and more material builds up in the anal glands, the tissue may become swollen and inflamed. And the whole gland may become blocked or plugged—which is uncomfortable for your dog. Impacted anal glands also can make it difficult for a dog to defecate because there is so much pressure in the anal area.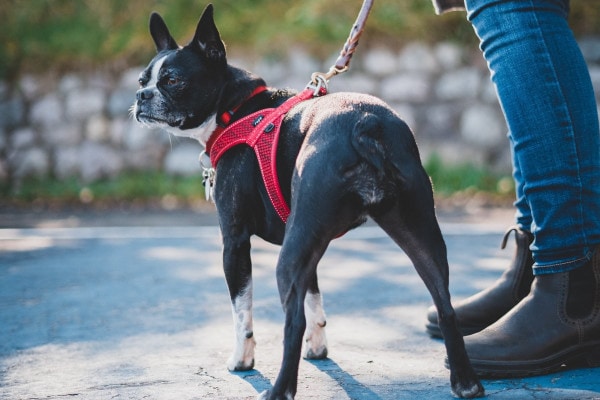 Minor impactions may be resolved when a dog scoots or has a large bowel movement. But many dogs with impacted anal glands need a veterinarian to perform manual anal gland expression. Otherwise, if the impacted gland is left untreated, it could lead to an anal gland infection.
2. Anal gland infection or abscess in dogs
Anal gland infections can occur relatively easily after an anal gland becomes impacted. This is the case because the fluid and environment in the anal sac are ideal for bacterial growth. Also, since the anal glands are located so close to the anus, bacteria from the feces can enter the anal sac.
If the dog is unable to properly express the anal glands, the bacteria continues to grow and multiply (rather than being "flushed out" as the anal glands empty). This leads to an anal gland infection or abscess in dogs— which can be extremely painful.
As the anal gland abscess grows, the gland fills with not only the normal secretions, but also bloody fluid or pus. This adds to the pressure that your dog feels in his or her hind end. Your dog might scoot more often, whimper when defecating, or have abnormal bowel movements.
3. Anal gland rupture in dogs
As the pressure continues to build from the infection and anal sac inflammation (i.e. anal sacculitis), the anal glands become more swollen. Eventually, the infection may rupture through the surface of the skin. Once the anal gland bursts, the dog typically has a small hole near the anus—just like Chester did. The ruptured anal gland may leak anal gland secretions, blood, or pus, and have a foul smell.
While the rupture might relieve some of the pressure that your dog was feeling, it leaves your dog with a potentially painful open wound. And it exposes the inside of the anal sac to the "outside elements," including bacteria from feces or the dog's environment.
Left untreated, dogs with anal gland ruptures may develop irritation or infection of the anus or rectum and the surrounding skin. When this happens, your dog's appetite and bowel movements may be affected due to the pain.
4. Anal gland cancer in dogs
While anal gland impactions, infections, and ruptures are the most common problems associated with dog's anal glands, it is also possible for dogs to develop tumors in the anal glands.
The most common type of cancer that occurs in the anal glands of dogs is called anal sac adenocarcinoma. This is a malignant cancer that typically originates in one anal sac. However, since it is malignant, it can metastasize (i.e. spread) to other parts of the body. Usually, it first spreads to nearby lymph nodes. But it can later metastasize to more distant locations like the liver, lungs, and spleen.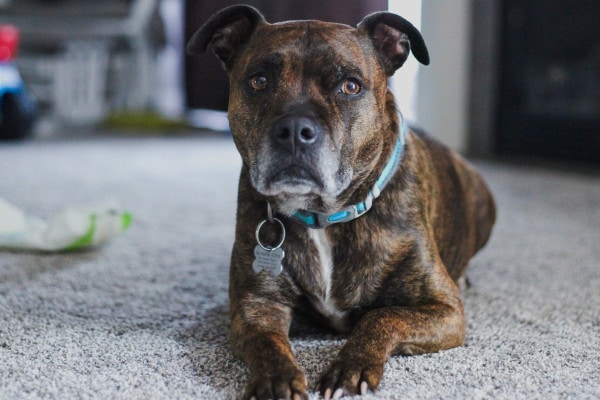 Initially, the dog may be asymptomatic or show signs associated with other anal gland issues. But as the cancer grows and spreads, it becomes increasingly painful for your dog. If the cancer spreads to other locations, your dog may begin to have trouble breathing or other symptoms associated with the lungs or liver. Plus, dogs with anal sac adenocarcinomas may also develop hypercalcemia in dogs (i.e. high blood calcium). This can cause a lethargic dog, GI upset, increased thirst in dogs, or muscle weakness.
What are the symptoms of blocked anal glands in dogs?
Unlike dogs with anal gland cancer, who tend to have more systemic signs, dogs with anal gland impaction, infection, and rupture usually have symptoms that center around the anal glands themselves. Their signs may include:
Scooting or dragging of the hind end (this is often the first sign)
The dog licking the base of the tail or chewing under the tail
Abnormal or strong odor associated with your dog's rear (your dog smells like fish)
Swelling or bulging near your dog's anus
Straining to defecate
Red or irritated skin near the anus
Constipation or diarrhea
Decreased appetite
Bloody or dark discharge on the feces (not to be confused with melena, which is digested blood in the stool)
Bloody, dark, or pus like discharge in the anal area
A small wound or opening near your dog's anus
Whimpering or crying out when defecating
Holding the tail tucked between the legs
Repeated quick sitting or reluctance to sit
If you notice any of these symptoms, especially if you know your dog has a history of needing his or her anal glands expressed, please schedule a visit with your veterinarian. Anal gland issues are much easier to treat if they are caught early—before there is an infection or rupture.
How will the vet address anal gland issues in dogs?
During the appointment, the vet will talk with you about your dog's symptoms and history. Then he or she will examine your dog and perform a rectal exam with his or her index figure. The rectal exam gives the vet a chance to palpate each anal sac and the surrounding tissue. Plus, the vet may also be able to palpate the dog's lymph nodes in the area with a finger.
If the anal glands are full, the vet will attempt to express them. (Some dogs are too painful to tolerate this without sedation). While expressing the anal sacs, your veterinarian will be able to tell if the gland was full, impacted, or contained abnormal discharge. From there, the vet will develop a treatment plan.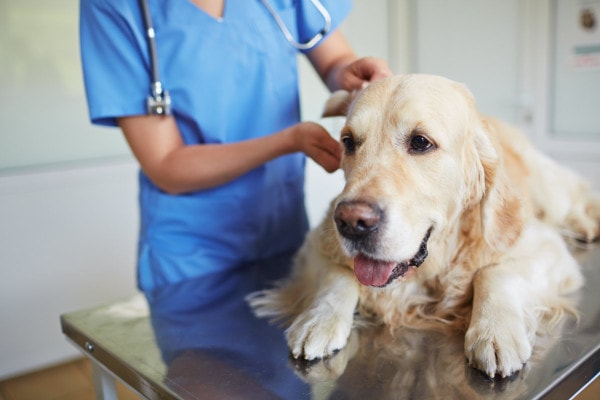 Treatment for anal gland impaction
If the anal glands were merely impacted, expressing them may be all the treatment your dog needs. However, the veterinarian will most likely also give you recommendations to prevent anal gland problems in the future. If your dog has an anal gland issue because of an underlying condition such as allergies, being overweight, or a skin infection, your veterinarian will develop a plan to address that problem.
Additionally, your veterinarian might recommend routine, scheduled appointments for anal gland expression. This can help ensure the sacs are being emptied properly, and it allows the vet to monitor the dog for worsening symptoms.
Another method to prevent anal gland impactions is to add more fiber for dogs into your dog's diet. You can do this by changing to a different dog food or by adding a fiber supplement like Metamucil for dogs to your dog's food. Alternatively, you could consider giving your dog some canned pumpkin for dogs, which is also rich in fiber. The goal with the dietary changes is to bulk up the stool. This can increase the chances that having a bowel movement will express your dog's anal glands.
Anal gland infection, abscess, or rupture
If your veterinarian detects an anal gland abscess or rupture, he or she will mostly likely recommend additional treatment beyond expressing your dog's anal glands. This may involve pain medications such as non-steroidal anti-inflammatory drugs (e.g. carprofen for dogs) or steroids (e.g. prednisone for dogs).
Plus, the vet will need to address the infection in some way. Systemic antibiotics are one option, however, local treatment is also becoming popular.
In a study in Veterinary Dermatology on local treatment for canine anal sacculitis in 33 dogs, flushing and infusing the anal glands with an antimicrobial and steroid combination achieved clinical resolution of anal sacculitis in 72.7% of dogs. And the owners reported a resolution of symptoms in an additional 12.1% of dogs. These results were achieved without the need for systemic antibiotics.
Therefore, in some cases the vet may recommend surgically draining the anal gland abscess and/or flushing the anal sac and filling it with an antimicrobial (and sometimes anti-inflammatory) medication. Depending on the situation and your dog's comfort level, your vet may suggest sedating your dog for this procedure.
Additionally, your veterinarian might recommend applying warm compresses to your dog's anal gland region to decrease the pain and swelling. Or, he or she might suggest a course of laser therapy for dogs, since it has healing and anti-inflammatory properties.
Plus, from a preventive aspect, the vet may advise you to bring your dog in for routine anal gland expression or provide dietary fiber supplementation as described above.
However, for dogs with recurring anal gland issues or cancer associated with the anal sac, these measures may not be enough. Some dogs need surgical removal of the glands.
Can a dog's anal glands be removed?
Dealing with repetitive anal gland issues can be very frustrating for dog parents and their dogs. Sometimes, if medically necessary, the veterinarian can surgically remove a dog's anal glands. This is the case because dogs do not need their anal glands to survive and enjoy a long, happy life.
If your dog is consistently developing anal gland infections or has been diagnosed with anal gland cancer, removing the anal glands may be the best treatment plan. Some general practitioners are comfortable performing this surgery themselves. But other primary care veterinarians might refer your dog to a veterinary specialist.
Most dogs do very well after surgery to remove the anal glands. However, some dogs might experience mild inflammation and drainage from the surgical site. And occasionally, dogs can develop fecal incontinence because of nerve damage from the surgery.
If your dog is in pain, has cancer, or has chronic reoccurring anal gland problems, surgery might be the best option. But before committing to surgical anal gland removal, you should discuss all your treatment options with your veterinarian to decide what is right for your dog.
Back to Chester
After I explained anal gland issues and treatments to Chester's mom, we decided on the best course of action. Chester's treatment plan consisted of:
Pain management and antibiotics
Warm compresses at home
Wearing a cone to prevent licking and worsening irritation
Adding canned pumpkin to his diet
Regular anal gland expressions at the vet clinic for the next three months
At the end of his three-month plan, Chester's anal glands were healthy, and he was back to normal. Chester's mom changed his diet long-term to include more fiber and monitored his bowel movements very closely. Thankfully, since then, Chester has not had any more anal gland problems.
Work with your veterinarian
Anal gland problems can be frustrating for you and painful for your dog, especially when it seems like your dog can't catch a break. However, hopefully by working closely with your veterinarian, using preventive strategies like routine anal gland expression or increased dietary fiber, and closely monitoring your dog, your dog's anal gland issues will become a thing of the past. And then you can get back to enjoying more good days together, just like Chester and his mom.
Does your dog have anal gland issues?
Please share your experiences below.