Dog head tremors can be a bit disconcerting. One minute your dog is normal, and the next he or she seems to be nodding "yes" or shaking "no" on repeat. To put your mind at ease, integrative veterinarian Dr. Julie Buzby explains the causes, symptoms, diagnosis, and treatment of idiopathic head tremors in dogs.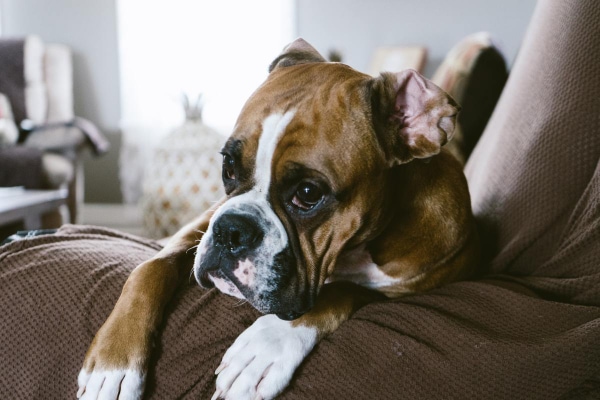 "It was the strangest thing. When I looked over at Dudley, his head was shaking up and down over and over again, almost like one of those bobblehead dolls. After a few minutes, the nodding stopped and he wandered over to play with a toy like nothing had happened."
As my client said those words to me, the condition that immediately popped into my head was idiopathic head tremors in dogs. But I knew that before jumping to that diagnosis, I needed to gather more information to ensure that her beloved English Bulldog wasn't suffering from a more serious neurologic condition.
Since dogs can occasionally have seizures that involve the head, the first order of business was to determine if what my client was seeing was truly a head tremor.
What are dog head tremors?
I explained that the term "tremor" describes the involuntary shaking or trembling of a body part. When this trembling is localized to the head, it is called a head tremor.
Head tremors in dogs are considered to be a type of involuntary muscle movement disorder. In other words, your dog cannot control when or how the muscles are moving. Head tremors mostly occur when dogs are awake, but can sometimes happen while a dog is sleeping.
What are the symptoms of head tremors in dogs?
In dogs who are experiencing a head tremor, their head may shake up and down (as if they were nodding "yes") or side to side (as if they were shaking their head "no"). Occasionally, dogs can also have a rotational tremor. These movements are typically small yet rapid.
While they might look a bit similar at first glance, head tremors are different from seizures because dogs do not lose consciousness with head tremors. Also, seizures in dogs may cause other signs such as twitching of the muscles of the face, loss of bowel or bladder control, or involuntary limb movements. These signs are absent with head tremors.
What causes head tremors?
Unlike in seizures where the causes are better understood, the exact mechanism of action behind head tremors is not clear. However, some researchers have theorized that activation of certain areas of the brain can cause head tremors. More specifically, head tremors may be connected to stimulation of the groups of neurons within the brainstem that helps with patterned motor activity.
In a condition called idiopathic head tremor syndrome, these neurons seem to activate spontaneously and without any obvious trigger. However, there are a variety of neurologic and neuromuscular disorders that can also cause dog head tremors. They include:
Central nervous system disorders
Congenital disorders affecting brain development
Damage or injury to the cerebellum (i.e. the part of the brain that controls coordination)
Low blood sugar (i.e. hypoglycemia)
Toxin exposure (e.g., pyrethrin, drug overdoses, various poisons)
For the purposes of this article though, we will focus on idiopathic head tremors.
What are idiopathic head tremors in dogs?
Many of the conditions in the list cause head tremors that are more persistent or chronic. But canine idiopathic head tremor syndrome (IHTS) is characterized by head tremors that are intermittent and self-limiting. They can start and stop at random. And in some instances, you may be able to halt a tremor by drawing your dog's attention to something else such as a toy or a dog treat.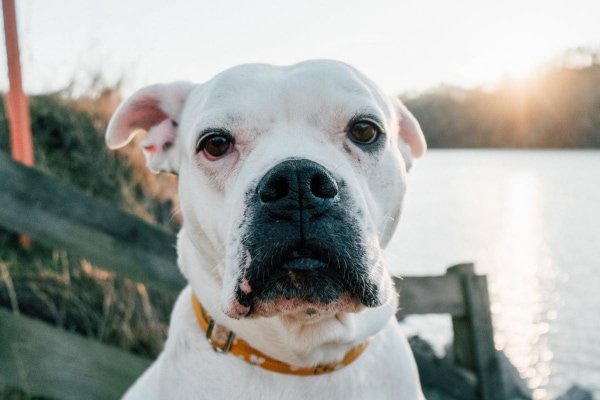 What causes idiopathic head tremors in dogs?
As alluded to earlier, the term "idiopathic" means that there is no obvious cause for the tremors. However, some veterinary researchers believe these episodes are stress-related. Other studies propose that illness, various medications, heat cycles (in female dogs), and surgery may be triggers for head tremors.
Which dogs are prone to idiopathic head tremors?
There also may be a genetic link as certain dog breeds are more susceptible to IHTS. Predisposed breeds include:
Boxers
Doberman Pinschers
English Bulldogs
French Bulldogs
Labrador Retrievers
Spaniels
While there doesn't seem to be any sex predisposition for IHTS overall, some reports indicated it is more likely to affect male Doberman dogs than female Doberman dogs. Also, most dogs with idiopathic head tremors will experience their first episode around two to three years of age. But it is possible for older dogs or senior dogs to experience IHTS as well.
What are the tremor episodes like?
These tremors occur spontaneously and may only last for a few minutes at a time. In fact, the majority of idiopathic head tremor episodes last less than five minutes. However, in some cases, the head bobbing may last for up to an hour. And there are a few reports of tremors lasting more than 12 hours per day.
Some dogs may experience idiopathic head tremor episodes multiple times in a day or in a week. But for other dogs, the episodes may be few and far between.
Most dog parents will notice head tremors while their pup is awake. But it is possible to see head tremors in dogs while sleeping. This is different from the limb-twitching or vocalizing that you might notice when your puppy or senior dog sleeps.
The video below illustrates what a tremor episode may look like. If you find this disturbing, you may want to skip this video.
How are idiopathic head tremors in dogs diagnosed?
If you suspect your dog is experiencing head tremors or other neurologic signs, it is important to contact your vet promptly. Based on the information you provide, your vet will advise you on whether you need to make an emergency vet visit, schedule a vet visit during regular business hours, or continue to monitor your dog.
Since idiopathic head tremor syndrome is a diagnosis of exclusion, your vet will want to rule out other causes of your dog's symptoms before making a diagnosis of IHTS. This usually involves collecting a medical history, performing a physical examination, and running diagnostic tests.
Medical history
A detailed medical history will be important. The more you can remember about what your dog was doing prior to the episode, what you saw during the episode, and how long it lasted, the easier it will be for your vet to figure out what is going on. Also, having a video recording of your dog during one of these episodes can help immensely!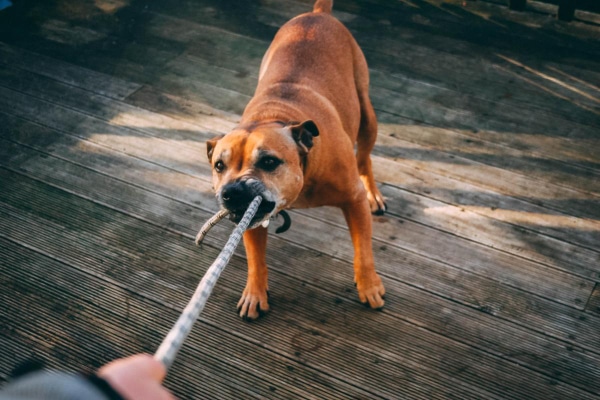 In order to be IHTS, the only clinical sign present should be the head tremor itself. The tremor can be in any direction (vertical, horizontal, or sometimes rotational) and may stop when someone distracts the dog.
On the other hand, if the dog has a history of loss of urinary bladder control, drooling, difficulty walking, or loss of consciousness during the episode, it may be more likely the dog is experiencing seizure activity rather than IHTS. Or, especially in an older dog or senior dog, head shaking, a head tilt, and being a wobbly and off-balance dog could point to old dog vestibular disease (i.e. doggie vertigo), not IHTS.
Physical examination
A comprehensive physical exam, with an emphasis on the neurologic exam, is also an important part of the diagnostic process. Dogs with idiopathic head tremors should not have any persistent neurologic abnormalities or other abnormal findings on their physical exam.
Diagnostic testing
Depending on your dog's symptoms, your vet may also recommend specialized testing including:
Bloodwork
Infectious disease panels
CT scan
MRI
Cerebrospinal fluid (CSF) analysis
For dogs with idiopathic head tremor syndrome, these tests will appear normal, thus ruling out many of the other conditions that can cause head tremors (plus some of those that cause seizures or other neurologic problems).
What is the prognosis for idiopathic head tremors?
In many ways, if your vet diagnoses your dog with idiopathic head tremors, this is good news! Unlike seizures, idiopathic head tremors are not dangerous for dogs. They don't cause sharp elevations in body temperature. And they shouldn't cause any bodily harm (like if a dog were to hit their head or fall down the steps during a sudden seizure).
Plus, unlike other causes of head tremors, idiopathic head tremors are not a sign of a bigger and potentially serious problem. They don't cause pain or discomfort, don't tend to progress, and don't require ongoing monitoring.
In fact, some studies show that the tremors may stop altogether in about 66% of affected dogs. But even for those dogs with long-term idiopathic head tremors, their prognosis is still good. These episodes of head tremors do not impact their overall quality of life.
What is the treatment for idiopathic head tremor syndrome?
Since it is such a benign condition, there is usually little reason to attempt to medically treat idiopathic head tremors in dogs. This works out well since there also aren't any medications, including anti-convulsants, which can effectively and reliably stop the tremors.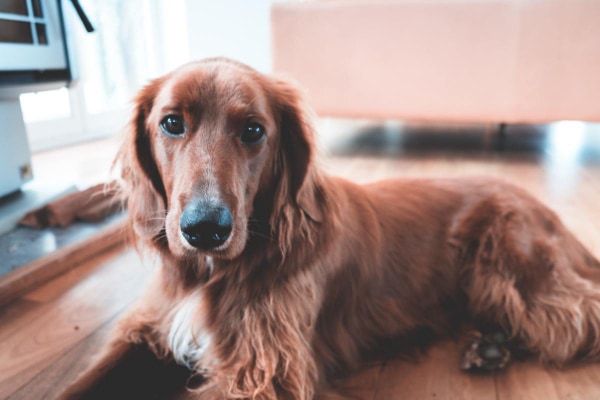 Interestingly, while it sounds almost too easy to be true, distraction halted the head shaking in 87% of dogs according to a study in Veterinary Medicine International. Therefore, the main "treatment" is to remain calm and try to distract the dog with a toy or treat to see if the head tremor stops.
Speak with your veterinarian
Idiopathic head tremors may look a bit odd, but they are nothing to fear. Other causes of head tremors, however, can be more serious. If your dog starts shaking his or her head side to side or up and down, or showing other neurologic signs, head to your veterinarian to get some answers.
Hopefully, just like my sweet Bulldog patient that I told you about earlier, it will turn out that your dog has idiopathic head tremors. If that is the case, you can breathe a sigh of relief. Chances are good that the head tremor may bother you more than it bothers your dog. And like I told my client, IHTS doesn't pose any danger to your dog and shouldn't interfere with him or her continuing to live life to the fullest.
Does your dog have idiopathic head tremors?
Please comment below.