"How often should I take my dog to the vet?" If you are asking yourself this question, why not ask the expert in vet visits—a veterinarian. Integrative veterinarian Dr. Julie Buzby explains the veterinary visit schedule for dogs of all ages, and why those visits are so vital. Plus, she answers some vet visit FAQs to help you and your pup have a smooth and calm trip to the vet.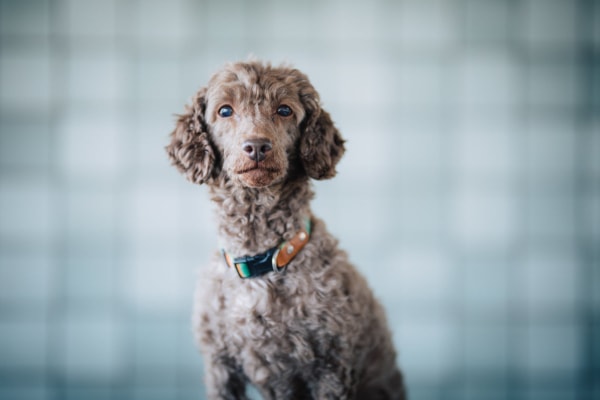 As dog parents, we strive to do what is best for our dogs so they can live long, happy lives. But sometimes it isn't easy to know what they need or how to help them thrive. After all, our furry family members can't tell us how they are feeling.
That's why it is so important to build a relationship with a trusted veterinarian. Without a doubt, whether you just adopted an 8-week-old puppy, or are the proud parent of dignified senior dog, routine veterinary care is vital to your dog's wellbeing.
By the end of this article, you'll have answers not only to your question about how often to bring your dog to the vet, but also the "why" and "when" behind routine vet visits. Plus, in the FAQ section, you'll learn strategies for bringing a nervous or reactive dog to the vet.
How often should I take my dog to the vet?
At a minimum, most veterinarians want to see an adult or senior dog once a year. And young puppies will need to go to the vet more often—about every three to four weeks for the first few months of life.
During a wellness appointment, you can expect your vet to:
Perform a thorough physical exam
Administer needed vaccinations
Carry out screening tests to look for parasites or diseases
Discuss and implement a parasite prevention program
Address any other relevant issues for your dog's age and medical history
And this is just the tip of the iceberg. Wellness visits address your whole dog from nose to tail. They are a great way to help keep him or her happy and healthy through the years.
Since, as you can imagine, the concerns in puppyhood are quite different than those that arise during a dog's golden years, let's take a closer look at what happens during the vet visits over your dog's lifetime.
Vet visits for puppies
Adopting a puppy and bringing home your new best friend is exciting! But puppies require time, training, and—you guessed it—veterinary care. In fact, most puppies should go to the vet every three to four weeks until they are at least 16 weeks old.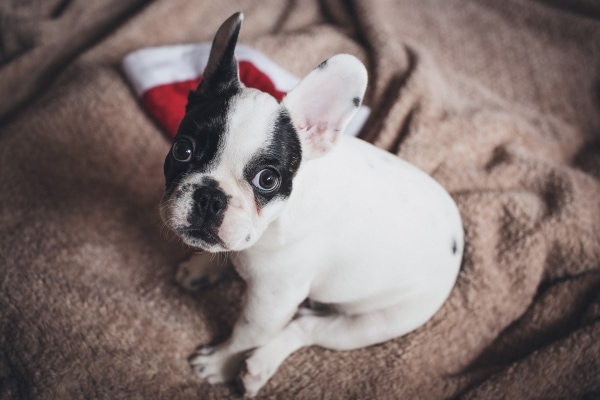 Typically, I recommend scheduling the initial vet appointment within the first week of adopting your puppy (or as soon as possible). Taking your new little one to the vet is an item on your new puppy checklist that helps give him or her a great start to life. It allows your vet to examine your pup to establish what is normal for him or her. Plus, it is a great way to catch any problems early on and start protecting your pup's health.
Puppy physical exam
At the puppy wellness visit, the vet will closely look at your puppy from head to toe (and tail). Some important things that vets check for in new puppies are:
Umbilical hernias—This separation of the muscle layers at your dog's belly button can occasionally trap and cut off blood supply to the abdominal contents.
A cleft palate—Sometimes during a puppy's development the tissue on the roof of the mouth doesn't properly fuse together, leaving an abnormal opening. Depending on the severity, puppies can have difficulty nursing or be at increased risk of aspiration pneumonia.
Heart murmurs—When puppies are born, they normally have a vessel called the ductus arteriosus that connects two large vessels of the heart. However, the ductus arteriosus should close within the first few days of life. If it doesn't, the resulting abnormal blood flow causes a heart murmur, and can lead to heart failure if left treated. Additionally, puppies may also have other congenital heart defects that may lead to a murmur of varying significance.
These are the three most common things vets want to detect early in new puppies. However, your vet will also conduct a thorough examination of your puppy to look for any other problems.
This exam is a great time to ask your veterinarian questions about your puppy and his or her care. Especially if you haven't had a puppy for a long time or are new to this particular breed, your vet can be a wealth of information on everything from house training to feeding schedules.
Parasite prevention for puppies
At your puppy's visit, your vet will probably discuss a parasite prevention program with you. Deworming is important for puppies because worms can be passed down to them from their mom, or contracted by coming into contact with eggs or larvae in the environment. Also, since they have weaker immune systems, puppies are at increased risk of having problems secondary to parasite infections.
Plus, getting your puppy on a heartworm, flea, and tick preventive is important. Even puppies can get heartworm disease in dogs from the bite of an infected mosquito. And starting a flea and tick preventive can help prevent fleas, ticks, and tick borne disease in dogs.
Vaccinations for puppies
Since, as mentioned, puppies have fragile immune systems, vaccinations are another key ingredient for helping keep your new puppy safe and healthy. Which vaccines are necessary for your dog will depend on your dog's lifestyle, job, breed, environment, and where you live. Some potential vaccinations include:
Rabies
Distemper, hepatitis (adenovirus), parvovirus, parainfluenza (often combined and called a DAPP or DHPP vaccination)
Leptospirosis
Influenza
Bordetella (kennel cough)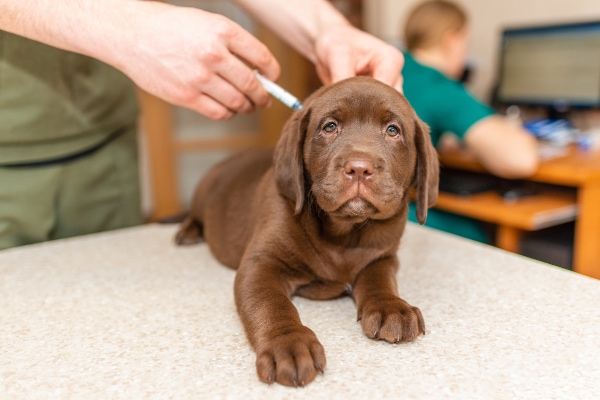 Depending on the vaccine type, your puppy may need one dose or several doses to create an adequate immune response. For example, puppies only need one dose of the rabies vaccination. But they need at least three doses of the DHPP/DAPP vaccination between 6 and 16 weeks of age at two to four week intervals to achieve good immunity to those diseases.
Vet visits for adult dogs
Typically, if your dog was fully vaccinated as a puppy, those vaccinations are considered to last one year. Thus, your dog will be due for another wellness visit shortly after his or her first birthday.
During the one-year wellness visit, the vet will discuss your dog's lifestyle, exposure risk, and vaccination history to determine which vaccinations he or she would recommend. Sometimes a dog may need yearly booster shots to prevent certain diseases. Other vaccinations may only need to be repeated every three years after the initial series.
In addition to reviewing your dog's vaccinations, the wellness visit also allows your vet to perform a physical exam on your dog. This helps the vet assess how your furry friend is growing and changing from puppyhood to adulthood.
Plus, your vet can carry out parasite testing like a fecal test for dogs and heartworm test, and review your dog's parasite prevention program. Just like with puppies, parasite prevention is an important part of adult dog health care too.
Additionally, if your dog was not spayed or neutered as a puppy, your vet will likely recommend scheduling the surgery around the time your dog turns one.
Dogs older than one year
The following year, and every year of adulthood after that, your dog should continue to have a yearly wellness visit to help keep him or her in peak physical health. As discussed for one-year-old dogs, part of that visit will involve assessing your dog's vaccination needs.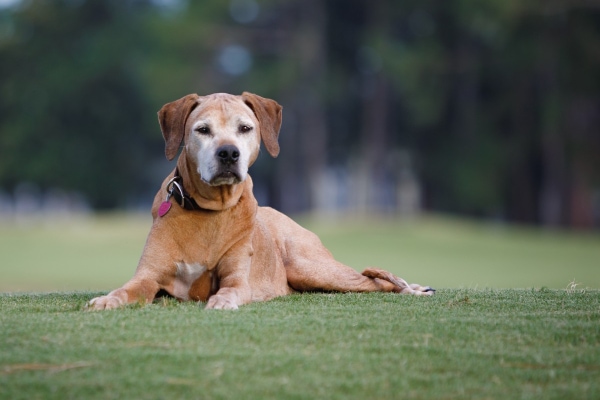 Additionally, your dog should receive parasite screening, a parasite prevention program, and a comprehensive physical exam each year. During the exam, the vet will evaluate your dog's eyes, ears, nose, mouth, joints, heart, lungs, abdomen, skin, lymph nodes, and more. This can help your vet detect any abnormalities before they start causing problems.
For example, since 80% of dogs over the age of two years have some degree of dental disease in dogs, the vet will pay special attention to your dog's oral health during the exam. Additionally, the vet may recommend establishing oral care routines like brushing your dog's teeth . And he or she may suggest scheduling routine dental cleanings to help prevent or remedy dental problems.
Senior dog wellness visits
These same pillars of preventative care—physical examinations, parasite prevention, and vaccinations—hold true for senior dogs as well. But older dogs are also at increased risk for various diseases and problems. Therefore, if you have a senior dog, I recommend once-a-year visits as the minimum. But I would prefer twice-a-year visits so I can closely monitor your grey-muzzled friend.
More frequent veterinary visits allow the vet to catch health issues sooner. One benefit is that it gives you and your veterinarian the chance to closely monitor your dog's weight and find your dog's body condition score (BCS). Weight gain or loss can be a subtle sign of various underlying health conditions.
Plus, sometimes something you mention when you are talking about your dog (such as increased thirst in dogs or signs of dementia in dogs) may tip the vet off to a potential problem. Or, during the physical exam, the vet may find an issue like a heart murmur in dogs or signs of arthritis in dogs.
Detecting problems from the history and physical exam
Some additional health conditions that the history and physical exam may point the vet toward include:
Health issues revealed by blood work
Additionally, to monitor your pet's health, your vet will probably recommend routine blood and urine tests. These can be a helpful way to detect problems such as:
If the history, physical exam, and/or screening tests reveal any potential issues, your vet can discuss the next steps with you. This may involve further testing (e.g., additional blood work, ultrasound, or X-rays), medications, supplements, lifestyle changes, etc. The sooner you find these problems the better, which is why taking your senior dog to the vet twice a year is so important.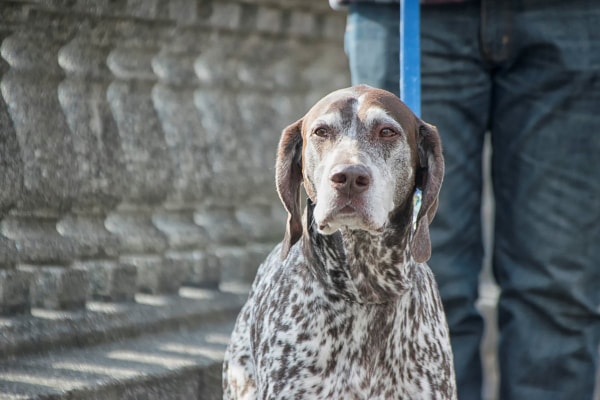 Monitoring senior dogs with chronic diseases
Additionally, if your senior dog is diagnosed with a chronic condition, he or she will likely need more frequent vet visits to monitor the progression of disease and response to therapy. Depending on the diagnosis, your dog may require regular physical exams, blood work, X-rays, or ultrasounds.
If this is the case, please follow your vet's guidance on the timing of those tests. While it may feel like a lot of visits (and a big expense), close monitoring can provide the opportunity to prevent a disease from worsening. This has the potential to improve your dog's quality and quantity of life.
Vet visit FAQs
Now that you know how often you should take your dog to the vet and why it is so important to your dog's health, let's move on to answering from FAQs.
FAQ #1: How long do vet appointments take?
The length of the veterinary appointment will vary with each veterinarian, dog, and the type of appointment. If your dog is going in for a routine physical exam and vaccines, the appointment will likely range from 15 minutes to an hour. If your dog needs blood work or imaging (like an ultrasound or X-rays), the appointment may take longer—up to two or three hours.
In some cases, your vet might even ask you to drop off your dog for a few hours. This is a way to give the vet time to perform diagnostics and treatments without making you wait.
If your vet appointment is going longer than expected, please be patient and kind with your veterinarian and the staff. Animal hospitals are very busy, and everyone is working very hard to ensure that every
animal receives the best care possible.
FAQ #2: Should I feed my dog before going to the vet?
The answer to this question really depends on why your dog is going to the vet's office. Most of the time, it is ok if your dog eats his or her normal meals that day. However, there are a few situations where you may not want to feed your dog shortly before hopping in the car:
If your dog tends to get carsick, you may want to withhold food for several hours prior to the trip. This can reduce the chances of your pup vomiting during the drive. Additionally, you can talk to your vet about medications like Cerenia for dogs or other ways to reduce car sickness.
Especially if your clinic uses fear-free methods, it can sometimes be helpful if your dog is a bit hungry prior to the visit. That way he or she may be more interested in the peanut butter, baby food, treats, or other food items the veterinary team may use to distract your dog and associate the visit with good things.
If you know your dog needs blood work, it is best to ask the vet about the feeding instructions. For many tests, it may not make a difference if your dog as recently eaten. However, some blood tests require your dog to be fasted. And others require feeding a specific number of hours before the test or having your dog eat between blood draws.
FAQ #3: How can I calm my dog down before and during a vet visit?
Anytime I have a client bringing their dog to me, I want it to be as positive an experience as possible. And I have no doubt that you feel the same way as a dog parent. No one likes to see a dog trembling, whining, cowering, or frantically trying to escape from the vet clinic. Luckily, there are a variety of things you can do do help promote a calm vet visit.
Ideally, this begins with the first new puppy veterinary visit. These new pet visits can be a great way for the veterinary team to bond with your dog. And they help your dog learn that the vet office is a positive place.
As mentioned in FAQ #2, the entire team will try their best to use positive reinforcement and treats to make the experience fun for your pup. Then, hopefully, when the puppy or new dog comes back in the future, he or she will be excited to see everyone and feel comfortable in the clinic.
Take your dog to the vet for a "happy visit"
I know there are plenty of times, though, where a dog might be nervous meeting the vet right from the start. That's okay! Your veterinary team will work extra hard to win your dog over. Often, this is done by using treats, toys, and rewarding good behavior. Your vet might also recommend bringing your dog in for "happy visits" or "socializing appointments."
These types of appointments are great for building a relationship between the veterinary team and your dog. The vet won't perform any exams, vaccines, tests, or treatments while your dog is there. Instead, your dog will get to visit with the hospital staff, explore a bit, maybe step on the scale or walk through an exam room, and get rewarded the whole time.
The idea is that after a few of these "not scary" appointments, your dog will learn that the veterinary clinic is a safe place to be. Then, when your dog does need treatment or a "real" visit, he or she will feel more comfortable.
Practice veterinary visits at home
Additionally, I encourage dog parents to practice "fake vet visits" at home. To do this, pair a high value treat with touching your dog's feet, ears, mouth, and belly. Or normalize petting those areas of the body while you are snuggling on the couch with your pup. (Please keep safety in mind, though. If your dog is acting nervous, growling, or tries to bite, do not keep trying to handle him or her in this way.)
By making this a positive or normal experience, your dog may be less fearful when the vet is performing the physical exam. Plus, it makes it easier for you to perform a 5-minute dog wellness scan so you can monitor your dog for any problems between vet appointments.
FAQ #4: How do I take my aggressive dog to the vet?
As much as you may try to make it a positive experience, some dogs may still feel uncomfortable at the veterinary clinic. It is a strange place with weird sounds and smells. This can be enough to make even a happy dog reactive.
If your dog is aggressive or reactive during vet visits, don't feel ashamed. Your dog is scared and his or her "fight or flight" response ramped up to the max. It doesn't make your dog a "bad dog" and it doesn't make you a "bad dog parent."
It just means you need to try to take some precautions to keep everyone safe. When you call to make an appointment, please let the receptionist that your dog doesn't like vet visits. Also, when you arrive at the office for the appointment, remind the veterinary team that your dog is scared and reactive. They will be grateful for the warning.
After you have checked in at the vet's office, ask to wait outside or in your car with your dog. The waiting room can be full of triggers for reactive dogs, so sitting there can increase anxiety and aggression. Staying outside, on the other hand, can help your dog stay calm.
Use a muzzle as a helpful safety tool
Once it is time for your dog's appointment, offer to muzzle your dog, or let the vet muzzle him or her. I know it can be difficult to see your best friend in a muzzle. But it doesn't hurt your dog, and it can help keep the situation safe. Some dogs can even be comforted by the muzzle because they don't have to decide how to react (i.e. whether to bite or not). The muzzle can take away that temptation and, as I like to say, "help keep everyone honest."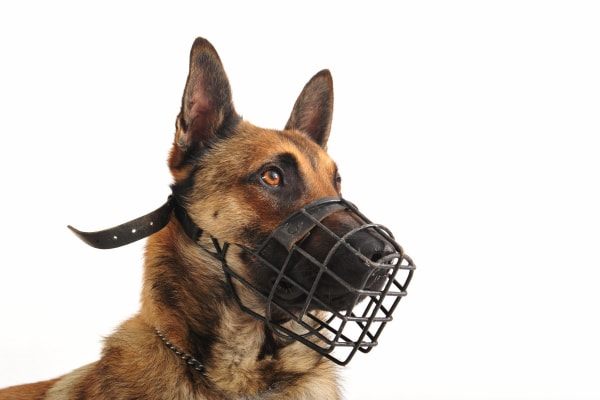 Some dog parents will work on muzzle training at home so that their dog happily accepts the muzzle. This way the dog parent can bring their dog into the hospital with a muzzle on. Since these dogs are accustomed to the muzzle, they tend to do better with it than a dog who only gets muzzled at the vet. If you want to learn more about muzzle training, I highly recommend checking out the Muzzle Up! Project website.
Follow the veterinary team's lead
Next, let your veterinarian and the nurse lead the rest of the appointment. They might continue the appointment in the exam room with you offering treats as a distraction. Or they could request to take your dog to the treatment area for the exam and vaccines. If the vet makes this recommendation, please understand it is for good reason. Your dog will be okay. Many dogs are more relaxed when not around their parents because they don't feel like they need to protect them.
For example, my old dog would not let anyone touch her if I was in the room. She thought she needed to protect me from strangers—after all, this was her job at home. But the second I walked out, she was melting on the floor and begging for belly rubs from the assistant and veterinarian.
FAQ # 5: Are there dog sedatives for vet visits?
Vets understand that some dogs are so reactive and anxious when going the vet that treats and belly rubs aren't enough to win them over. But this doesn't mean that all hope of a calm (or at least calmer) vet visit is lost.
Anti-anxiety medications for vet visits
If your dog is anxious or reactive during vet visits, your vet might suggest trying anti-anxiety meds to "take the edge off." Typically, the vet will recommend giving anti-anxiety meds like trazodone for dogs the night before the appointment and one to two hours prior to the vet visit.
These medications help your dog relax and reduce the anxiety that he or she experiences. With medication, some previously anxious or reactive dogs are so relaxed that they actually enjoy the visit!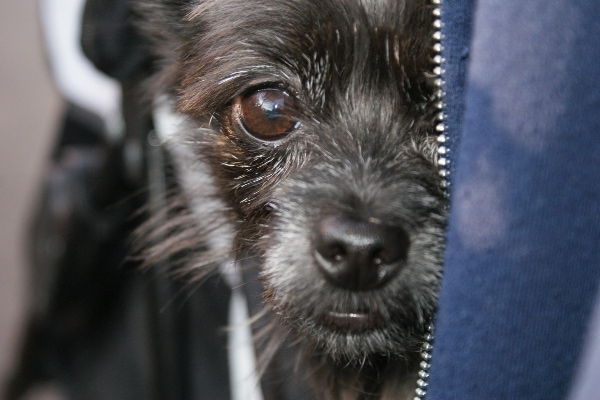 Sedatives for vet visits
In more severe cases, your vet might recommend using a medication that has a sedative effect. Some examples include gabapentin for dogs, acepromazine, or dexmedetomidine. Ideally, one of these medications would sedate your dog enough that you and the veterinary staff can safely handle your dog. Also, they help keep your dog safe from harming himself or herself in a frantic attempt to get away.
Hope for calming anxious dogs at the vet
Anxiety medications or sedatives really can make a difference for some dogs, so please don't be afraid to try them. While your dog may need these medications for initial vet visits, the good news is that some dogs do learn to enjoy the vet. This takes a lot of training, patience, and dedication from you, your dog, and your veterinarian. But it is possible!
For more help with your reactive or fearful dog, please talk to your veterinarian or check out my article, Taking Your Dog to the Vet: 15 Tips for Success.
Is your dog due for a vet visit?
As you have learned, vet visits are so important for safeguarding your dog's health. They are a great way to ensure your dog is protected against parasites and disease. And they allow your vet to promptly detect and then address any abnormalities before they cause big problems. Whether you have that new, tiny puppy or the sweet, grey muzzled senior dog, your vet wants to see them regularly.
Remember that as a general rule of thumb, your vet will want to see your puppy every three to four weeks until your puppy is at least 16 weeks of age. Then you should take your dog to the vet yearly until he or she becomes a senior. Finally, you would ideally take your senior dog to the vet twice a year for wellness exams. And of course, you should also take your dog to the vet if you think he or she is sick or injured or you have any other concerns.
If you haven't taken your dog to the vet recently, why not call and schedule a wellness exam? It's an easy way to ensure your furry friend gets the very best care.