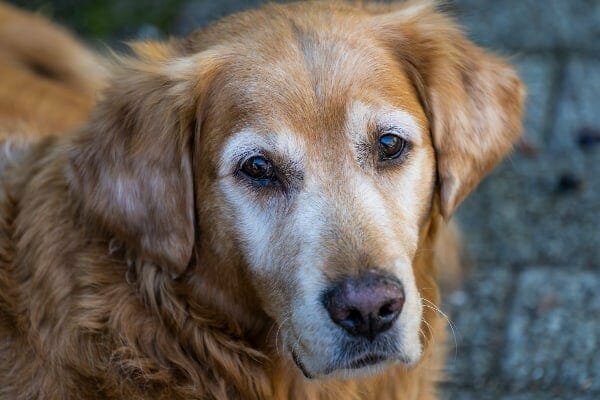 Integrative veterinarian Dr. Julie Buzby's favorite supplement for joint pain in dogs does more than just help the dog's joints. Learn what makes this the best joint supplement for dogs and why Dr. Buzby (a 20-year veterinarian with a successful track record in senior dog care) stands behind it so much so that she's willing to put her name on it.
The best supplement for joint pain in dogs is not just about the joints
It may sound surprising, but the best supplement for joint pain in dogs isn't just about the joints. With over 20 years of veterinary care under my stethoscope— the majority of those years focused on improving the lives of senior dogs—I made this discovery about three years ago.
But rather than telling you about the best joint supplement for dogs, let me show you the results through the true story of a German Shepherd named Frieda.
Meet Frieda
Frieda's mom came to my veterinary office with her beloved German Shepherd who suffered from hip dysplasia. Her vet, who had exhausted all the traditional options of medicine, had referred Frieda to me for acupuncture.
Frieda was fairly young at six. But she was really not doing well.
Her owner was distraught.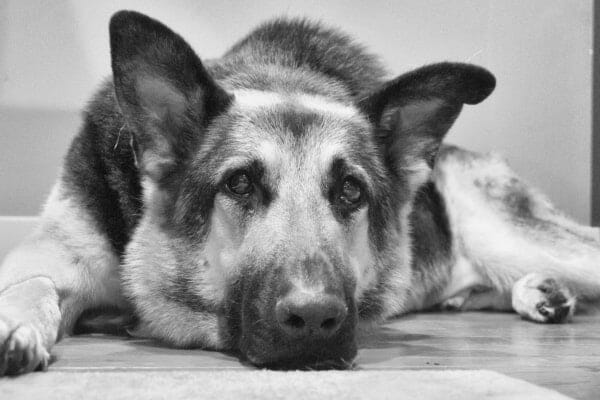 Putting a joint supplement plan place
As I began to gently run my hands over the dog and perform a physical exam, I said to the owner, "I don't want to disappoint you because I know that you're here for acupuncture today. And, if your dog were 14 years old, I would throw everything at him possible, including the kitchen sink, because my goal would be to get your dog feeling and moving better as fast as possible. And in that case, it wouldn't really matter to me what worked. We would just do an empirical cocktail of medications, supplements, herbs, and physical modalities."
"But in your case, your dog is only six. It matters a lot more to me what works and what doesn't work because I suspect that whatever does work, she will be on for the rest of her life, which hopefully means many, many more years.
So I think we really need to try things in a step-wise fashion and just change one variable at a time. That way, we will know what's working."
The client understood my reasoning and agreed. Then she asked the obvious question that I had managed to avoid till then,
"Okay, what do you want to try first?"
I looked at her intently and said, "Honestly, the first thing I want to try, even though you're here for acupuncture, is a joint supplement…with New Zealand deer velvet and green lipped mussel."
I think she was skeptical. She raised her eyebrow a bit, but she was willing to trust me and give it a try.
A few weeks later, Freida's mom texted me: "I need more joint supplement."
"My dog is now running, which she hasn't done in many months, and she's acting like a happy six-year-old German Shepherd!"
While I can't say that I was surprised— I'd had other clients who'd shared similar testimonials about New Zealand deer velvet —it was great news!
While I'm sure that at some point in Frieda's life, we'll need to consider additional therapies, she is now thriving—which means her doting owner is thriving too.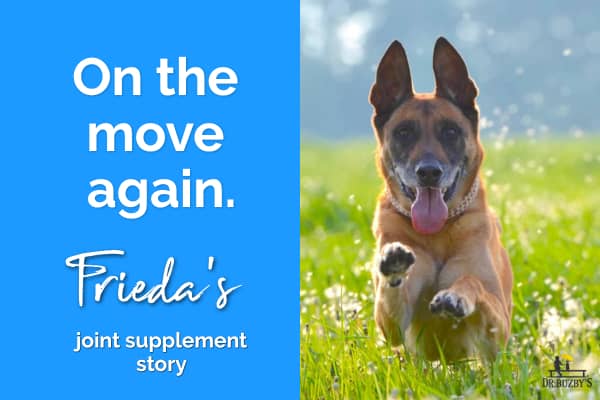 Did Frieda's story pique your curiosity about what's behind this joint supplement? Feel free to skip down a few paragraphs. However, if you're wondering about why finding the best supplement for joint pain in dogs is part of my mission as an integrative veterinarian and founder of ToeGrips® nail grips for dogs, please read on.
A quest to find more ways to help dogs
As a veterinarian, I often have to deliver heart-wrenching news. I may tell a dog owner that the bloodwork results indicate a beloved pet is in kidney failure. I may share X-rays and explain to a family that the reason their beloved dog collapsed is due to an abdominal tumor.
So imagine my joy when I'm able to offer help and hope to a distressed dog owner. This is precisely why, over 20 years ago as a newly minted veterinarian, I registered for veterinary acupuncture training and began my career practicing integrative veterinary medicine.
Supplements as a component of integrative veterinary medicine
To understand what integrative medicine is, you just need to know what the word integrate means—to combine or blend into a functioning whole. I realized very early on in my career (like week one) that as valuable as traditional veterinary medicine is, I still needed and wanted more tools in my toolbox.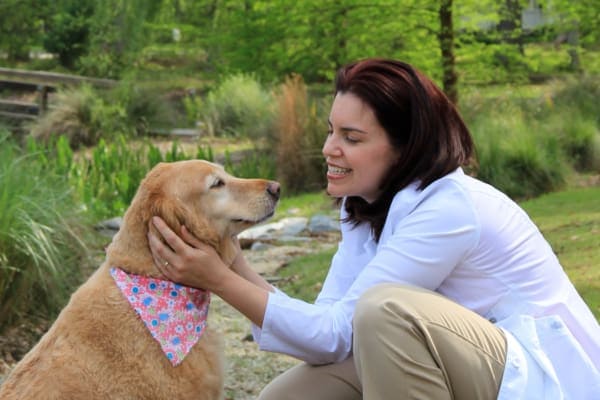 So I prescribe antibiotics. I cut corn cobs out of dogs' stomachs in surgery. I administer vaccinations. But, I also run titers, perform acupuncture, and prescribe supplements.
Utilizing a combination of western medicine and complementary therapies to achieve maximum benefit in each individual patient is my goal as an integrative practitioner.
Integrative medicine gives me more tools in my toolkit, so to speak, so I can help you help your dog have the best life possible.
Finding the best supplement for joint pain in dogs
Because I am an integrative veterinarian (certified in both veterinary acupuncture and animal chiropractic), I have the good fortune of caring for a slew of senior dogs. Ninety-five percent of my current practice is comprised of senior dogs. I am often "the last resort."
"We've tried everything else. You're our last hope."
I've heard this too many times to count.
Obviously, these are hard conversations, but I have to confess that I love them! I find myself handing the client tissues while gently explaining that I think we've got a lot of options left to try.
Then I watch as hope enters the room and transforms the scene from black and white to technicolor.
This is the backstory on why I'm qualified to share what I know to be the best supplement for joint pain in dogs. It's why I'm always looking for more tools for my toolbox. And it's why joint supplements (and one in particular that's my gold standard) are part of my integrative approach to veterinary care. Let's take a deeper look at joint supplements.
Hip and joint supplements abound: some are good options
Virtually every one of my patients suffers from joint problems and is on some combination of anti-inflammatory medications and joint supplements. And, good heavens, there are a zillion options out there when selecting joint supplements for dogs. Most are built on a "base" of glucosamine and chondroitin. Beyond that, some additional ingredients are beneficial and some, I think, are "hocus pocus."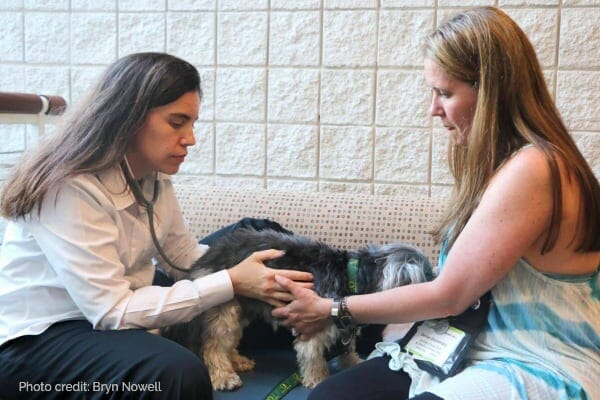 There are even prescription dog foods touted for senior dogs with joint pain. While I do believe that prescription diets have their place, improving joint health is not one of those places, in my opinion. I'd much rather have a client feed an excellent quality diet and then administer joint supplements separately. This allows me to control the concentration of "active ingredients" the dog gets and it's likely quite higher than what they'd get in the dog food.
Three cheers for green lipped mussel! A better option
For most of my career, my go-to recommendation for the best joint supplement for joint pain in dogs contained green lipped mussel. It is like a power-packed "superfood" for dogs. Green lipped mussel has been demonstrated to contain the following:
chondroitin
amino acids
many vitamins and minerals
And in terms of bioavailability and synergism, I deeply appreciate that these are naturally occurring compounds, not synthetic molecules made in a lab. (Think about the difference between consuming Vitamin C from an orange versus taking ascorbic acid tablets.) Whole food nutrition is better than chemical alternatives.
However, I have found a new gold standard. It's one that I have seen restore my patients' spark and spunk too. It contains green lipped mussel, of course, plus an ingredient that I wasn't familiar with until three years ago.
Delivering the one-two punch: the best joint supplement for dogs
While attending the American Academy of Veterinary Acupuncture's annual conference, I learned about the benefits of New Zealand deer velvet. One of the veterinarians I met at the conference was speaking about a product containing both green lipped mussel plus bioactive deer velvet.
The veterinarian explained that in his homeland (Israel) this joint supplement is prescribed more than GlycoFlex and Cosequin DS combined.
This piqued my curiosity and started my journey to determine whether New Zealand deer velvet combined with green lipped muscle was indeed the best supplement for dog joint health.
What's behind green lipped mussel and New Zealand deer velvet
The infographic below "pulls back the curtain" on how New Zealand deer velvet combined with green lipped mussel packs a one-two punch. To learn more about what I discovered, read on!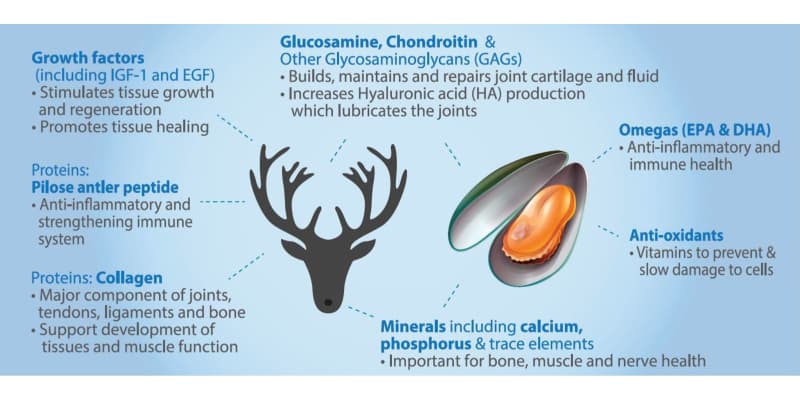 A research study shows the benefits of New Zealand deer velvet for arthritic dogs
Through my research, I discovered that there was a fair amount of science behind the concept of using deer velvet for health, in both humans and animals. Not only did New Zealand deer velvet appear to be extremely safe, but also there was a research study that concluded that deer velvet was quite beneficial for dogs with osteoarthritis. To read the complete abstract, please see the clinical evaluation shared by the National Center for Biotechnology.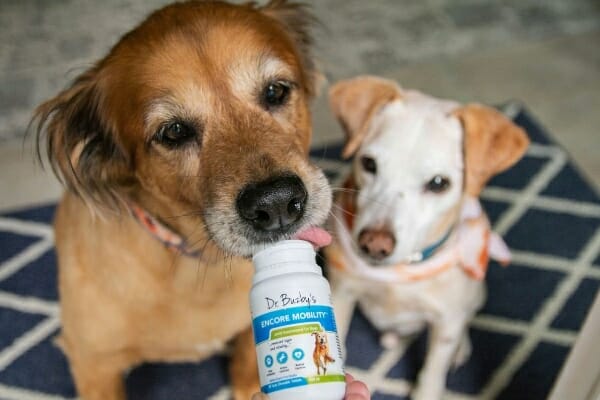 Why do I consider this the best supplement for joint pain in dogs?
Because New Zealand deer velvet works differently…
Deer velvet is harvested from deer antlers, which grow from nothing to about 45 pounds in 45 to 50 days. It's such a rapidly growing mammalian tissue that, in traditional Chinese medicine, it's actually considered a plant. (It grows like a weed…literally.)
Note: Lest you send me hate mail, the deer antler (which the deer loses as part of its natural cycle) is humanely harvested with local anesthetic, and the deer continues on with life.
There's nothing quite like deer velvet in nature; it is filled with an exorbitant amount of growth factors. That is what makes it so valuable for tissue regeneration and healing. (Think of it similar to stem cells.)
What dogs benefit from this joint supplement?
From my experience as a veterinary practitioner, I've found this joint supplement to benefit many dogs with many types of medical conditions including:
Is your dog a good candidate?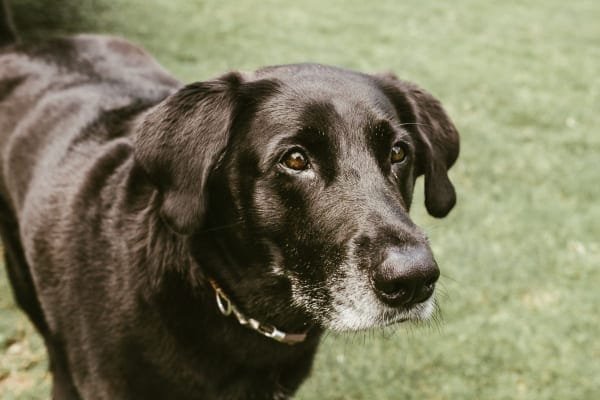 If your dog is a bionic senior dog, then you probably don't need to change your dog's regimen. Just keep doing what you're doing!
But if you're like my clients and your beloved senior dog is slowing down, then read on…
Encore Mobility™: The best supplement for joint pain in dogs
I've had so much success with this joint supplement in my own practice, that we are now launching the same exact veterinary formula that I've been using for the past several years, under my own label, with my name as my endorsement: Dr. Buzby's Encore Mobility™ joint supplement for dogs.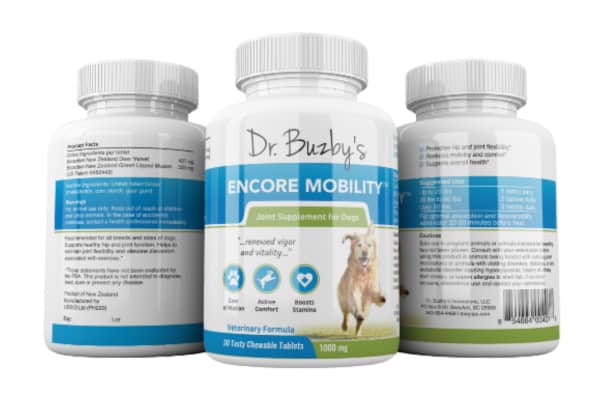 The Benefits of Encore Mobility™ joint supplement for dogs
As Frieda's mom explained through witnessing her dog's own stored vigor and vitality, this joint supplement not only supports hip and joint flexibility but also supports overall health for:
renewed vigor and vitality
ease of motion
better comfort
increased stamina
P. S. Dogs love the taste of Encore Mobility™
Finally, if you've ever tried to give a dog a pill, you (and your dog) will be relieved to know that the chewable tablets are irresistible to dogs and the most palatable joint supplement I've ever seen. Especially since senior dogs can have "iffy" appetites, it was critical that Encore Mobiity was "dog candy" for our grey-muzzled companions.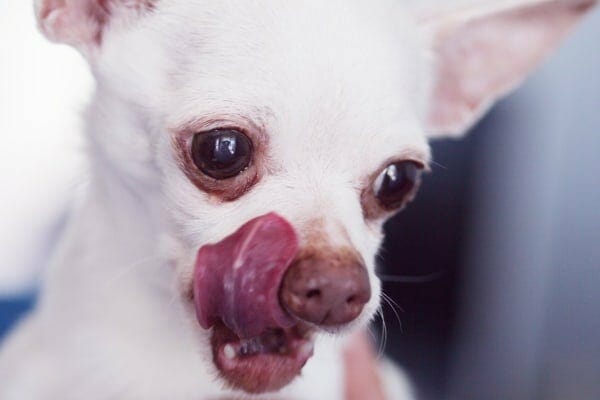 Dramatic results
You can probably tell as I write this thesis from my heart, that I'm passionate about this product as the best joint supplement for dogs. I hope you can also tell that I'm passionate about helping dogs, especially the grey-muzzled ones!
But even more than that, I'm passionate about being honest! There is no one "miracle cure" for all dogs, for all disorders, for all situations. Anyone claiming that they know of one is akin to the snake oil salesmen of the 19th century. Deer velvet is not magical, but just like ToeGrips®, when used appropriately, it can yield pretty dramatic results.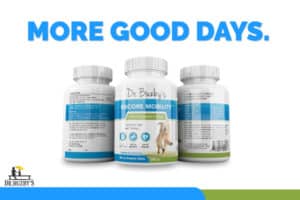 What questions do you have about New Zealand deer velvet for your dog?
Please comment below.