Hip dysplasia in dogs is one of the most commonly diagnosed orthopedic conditions vets see. With a range of severity from very mild to tragically debilitating, this condition affects many canine companions. But what exactly causes hip dysplasia in dogs? Integrative veterinarian Dr. Julie Buzby explores the variables that may contribute to hip dysplasia, and shares symptoms, diagnosis, and treatment options.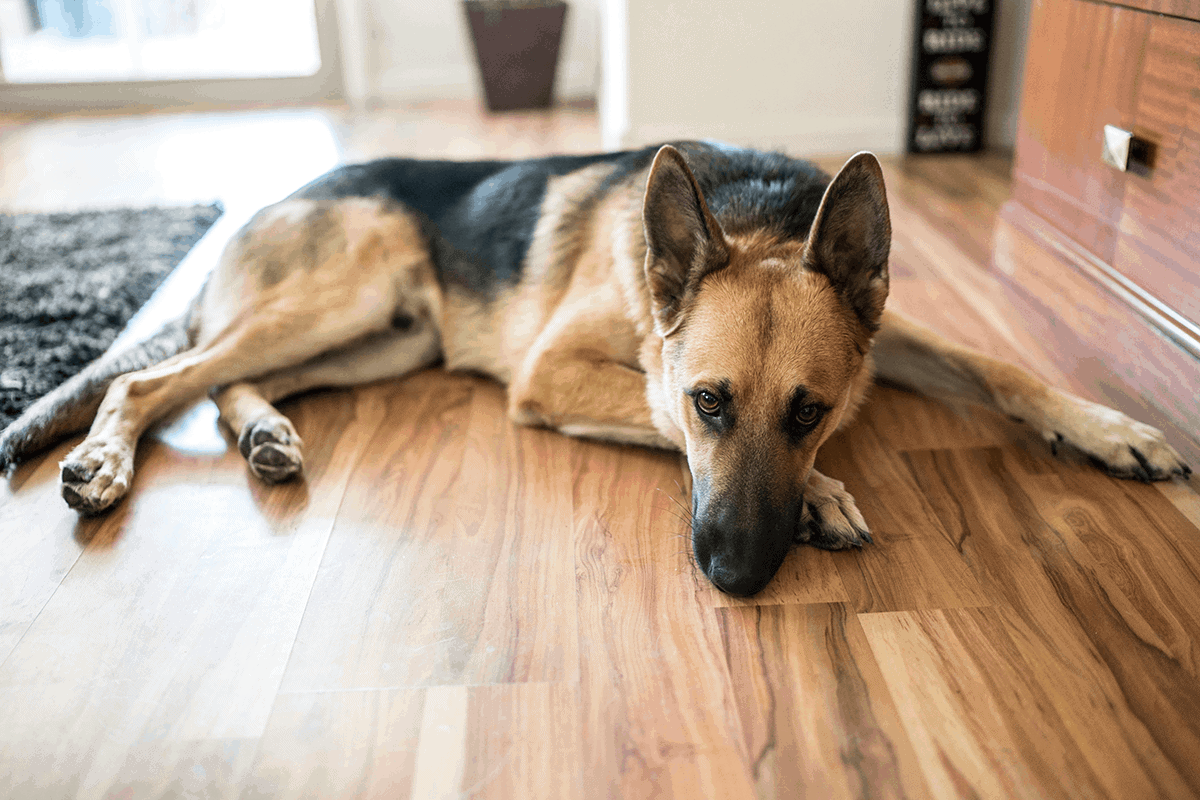 The "what" of hip dysplasia is well understood. Hip dysplasia is a condition in which the ball and socket joint, created by the femur and pelvis, doesn't function properly. This malalignment of the joints can cause pain, joint laxity, weakness, abnormal gait, and can lead to the development of osteoarthritis (OA).
Things become more complicated when we start to talk about the "why" of hip dysplasia. What exactly causes hip dysplasia in dogs? The answer is not simple, and even experts do not always agree on any one particular definitive cause.
Genetics, diet, environment, hormones, exercise, and other variables all come into play when considering possible causes of canine hip dysplasia (CHD). Unfortunately, it is nearly impossible to study any one of these variables in exclusion of all others; therefore, decisively attributing the condition to one of them isn't reasonable. We have to take a look at the whole picture.
Genetics
Hip dysplasia begins at birth. Taking that into account, we have to consider genetics as one of, if not the most important factor in what causes it. This is why responsible breeders of "at risk" breeds screen for hip dysplasia before selecting which dogs to use in breeding. Choosing dogs with healthy hips hopefully reduces the incidence of hip dysplasia in their offspring.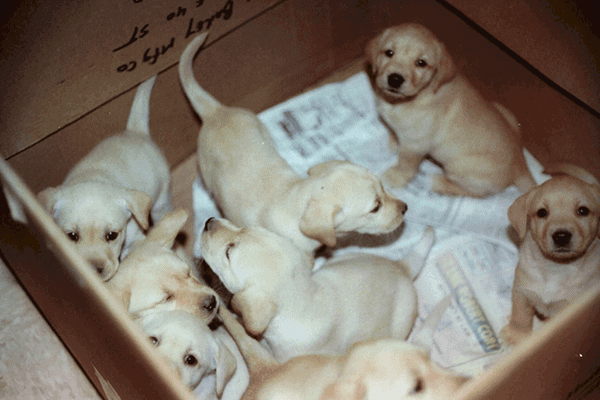 Which breeds are at risk for hip dysplasia?
Because this is a heritable condition, you may be wondering which breeds of dogs are most at risk for hip dysplasia. While this condition may occur in any breed (or mixed breed!), we see it more often in some dogs than others.
Breeds most likely to have hip dysplasia include:
German Shepherds
Golden Retrievers
Labrador Retrievers
English Bulldogs
Mastiffs
Great Danes
Saint Bernards
French Bulldogs
In general, this condition affects large breed dogs more commonly than smaller dogs, but again, any dog may be affected.
Are you considering bringing home a new family member that belongs to a higher risk breed? I advise asking about family history and any testing that has been performed. This will help you determine whether your potential new canine companion may have an increased risk of hip dysplasia.
The Orthopedic Foundation for Animals (OFA) and AIS PennHip are two resources that offer testing for hip dysplasia in dogs. These tests can not only be used to diagnose hip dysplasia in individual dogs, but also can be useful in selecting ideal dogs to be used for breeding in at-risk breeds.
Nutrition
It's no secret that nutrition plays an important role in the development of healthy bones and joints. Growing puppies, particularly large breed puppies, need a proper diet to grow appropriately. The ratios of calcium, phosphorus, proteins, fats, and carbohydrates in foods all play a role in keeping your dog healthy.
Improper nutrition is probably the second-highest contributor to the development and severity of hip dysplasia in dogs. Controlling the growth rate of puppies with hip dysplasia through nutrition and careful monitoring of growth can make a huge difference in their joints as adults.
Each individual dog has his or her own nutritional needs. Your vet is your best resource for advice on what food to feed, and how much to feed.
Remember to also consult with your veterinarian before starting your dog on any over-the-counter supplements or medications. While you might think you're doing the best thing for your pup, some supplements can actually worsen hip dysplasia, especially in young, growing dogs.
Obesity
In addition to diet, we have to look at Canine Body Condition Score when discussing orthopedic conditions like canine hip dysplasia. Although the conformation of the bones themselves defines the condition itself, factors such as obesity certainly contribute to the severity of the clinical signs.
Logically, the more extra weight a dog is carrying, the more stress is placed on his or her joints. This is true for any dog, even those with healthy joints. Compounding that with diseased joints may result in disaster.
It is extra important for dogs with hip dysplasia to maintain a lean body condition. Dogs that have hip dysplasia and are also overweight or obese are far more likely to develop arthritis at a young age, and to have difficulty walking, running, jumping, etc.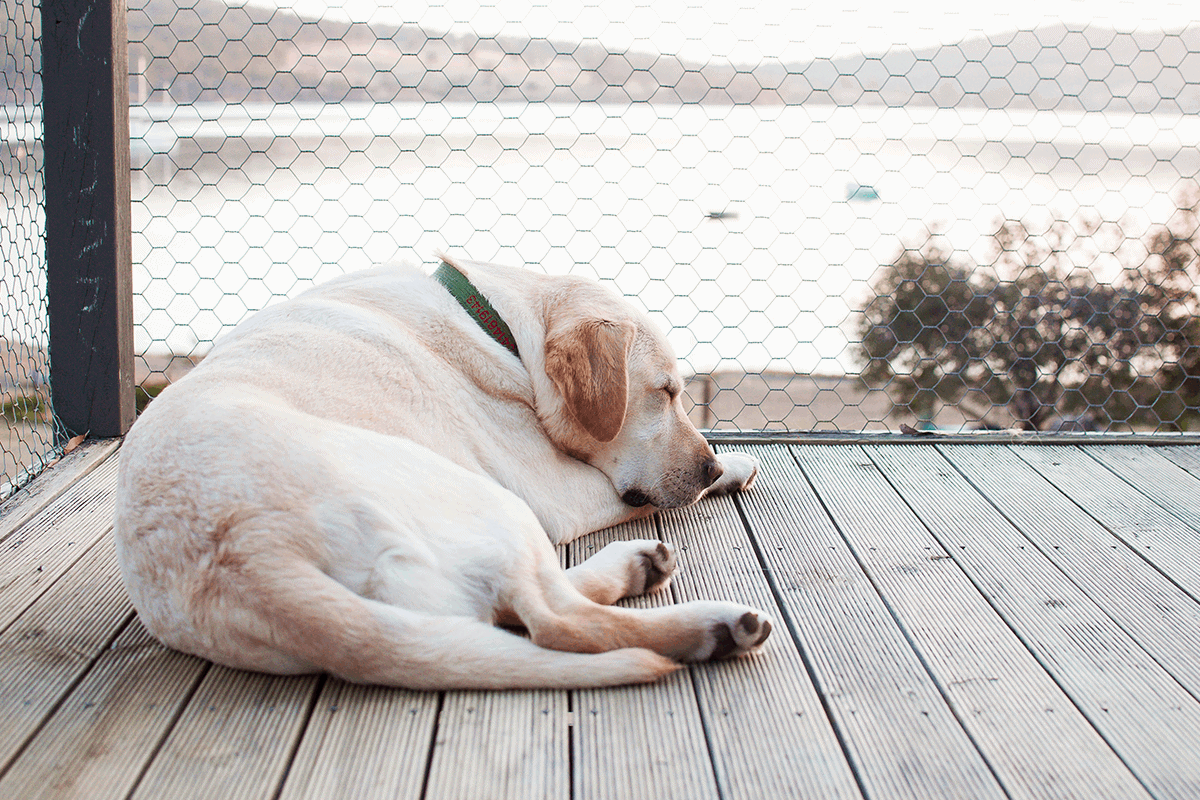 Environment
Although genetics is the primary contributing factor to the development of CHD, some other environmental factors can play a role. Some of the variables that may impact the development of hip dysplasia in dogs include:
Exercise—amount, type, and intensity
Trauma or injuries during skeletal development
Excessive climbing—some recommendations even suggest not letting puppies under three months climb stairs
Growth rate
Body weight
To sum it up, it's important to look at genetics, nutrition, obesity, environment, and more to get the whole picture behind the causes of hip dysplasia in dogs. Next, let's move on to the symptoms of hip dysplasia in dogs.
Symptoms of hip dysplasia
As hip dysplasia can have a wide range in severity, and may be diagnosed at almost any age, symptoms can be variable from dog to dog. In general, dogs may show the following clinical signs of hip dysplasia:
Lameness or limping on one or both hind legs
Unusual gait (often "bunny hopping")
Hind limb weakness
Muscle wasting
Exercise intolerance or difficulty walking, running, or jumping
Difficulty rising from lying or sitting
Poor range of motion
Dislocation of one or both hips
Affected dogs may show any of these signs; symptoms may also be intermittent. Generally, symptoms are worsened with activity.
Diagnosis of hip dysplasia
Typically, dogs are diagnosed with hip dysplasia after displaying one or more of the symptoms listed above. A veterinarian may recommend taking X-rays that can show the telltale conformation of the hip joints. Veterinarians see a shallow acetabulum, flattened femoral head, and thick femoral neck, often with early signs of degenerative joint disease or arthritis. Usually, X-rays are enough for a veterinarian to diagnose this condition.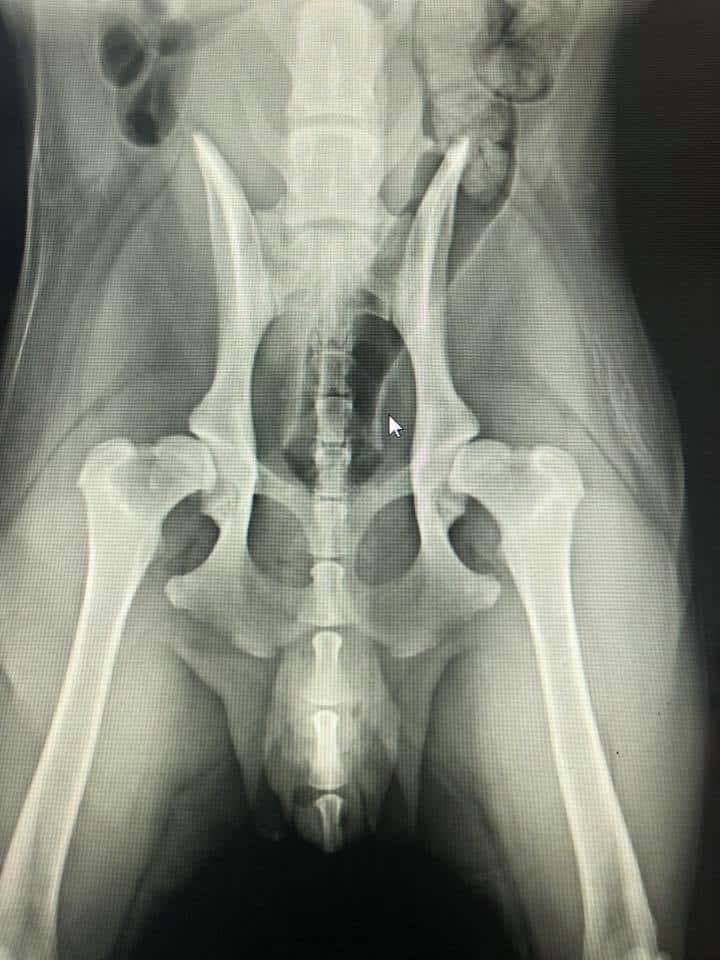 Younger dogs with hip dysplasia may show evidence of joint laxity during an Ortolani test, which may be performed by your veterinarian if he or she suspects your puppy is at an increased risk for hip dysplasia. Interestingly, this same test is also performed on newborn (human) babies to test for hip dysplasia!
Treatment for hip dysplasia
Canine hip dysplasia has a plethora of treatment options. Deciding the best course of treatment depends on many things, including the severity of the dysplasia, the size of the dog, the age of the dog at diagnosis, and your finances.
Of course, the first step is to work with your vet to control for any environmental contributors. Weight loss (if indicated) and making sure your dog is on an appropriate diet are two great starting points.
Surgery
Veterinarians have a few different surgical options for treating CHD. The type of surgery performed depends primarily on the age of the dog at diagnosis.
Juvenile pubic symphysiodesis (JPS)
JPS may be performed in puppies between 10 and 18 weeks. In this procedure, a growth plate at the bottom of the pelvic bone is surgically closed. This affects the angle of the acetabulum (the "socket" of the ball and socket joint) and increases its coverage over the femoral head as the puppy grows.
Unfortunately, the window in which this surgery is possible is very small and relies on an extremely early diagnosis of hip dysplasia. Most puppies are not showing clinical signs at this young age. So, often by the time CHD is diagnosed, it is too late for a JPS to be performed.
Double or triple pelvic osteotomy (DPO/TPO)
This surgery involves making cuts on the pelvic bone at specific locations and rotating them to change the coverage of the acetabulum over the femoral head. Typically, this procedure is reserved for young dogs under 10 months of age.
Femoral head ostectomy (FHO)
This surgery is for dogs who have clinical signs of hip dysplasia or have dislocated their hip(s) and are not candidates for other types of corrective surgeries. It can be performed on dogs of any age.
In this procedure, the top of the femur (the "ball" of the ball and socket) is removed, and a "false" hip joint is constructed of the muscles, tendons, and ligaments surrounding it. Because the hips are supported by soft tissue structures, this surgery may not be a good choice for large or giant breed dogs, as their body weight may put too much stress on those tissues.
Dogs who have FHOs typically do not regain full mobility of their hips. But because the bone is removed, we can greatly reduce the development of arthritis and reduce pain.
Total hip replacement (THR)
Just like you may be familiar with hip replacement surgery in humans, this surgery uses implants to recreate the hip joints.
THR often provides the best outcome for dogs with severe hip dysplasia. But it may not be an option for everyone. This surgery is generally performed by a veterinary surgeon; the availability of a specialist may be limited depending on the area. It is also the most expensive surgical option—total hip replacement can cost between $3,500-7,000 per hip. Realistically, this is not financially feasible for all dog parents.
Non-surgical treatment
For a variety of reasons, surgery is not always the best treatment for every dog with hip dysplasia. It may not be indicated in dogs with less severe clinical signs, owners may be financially limited, a dog may have other underlying health conditions that make surgery too dangerous, etc. Fortunately, veterinarians have other medical treatment options that can be a huge boost in the quality of life for dogs with CHD!
Joint supplements
A quick internet search will show thousands of options for senior dog supplements, many of which advertise promoting joint health.
Dogs with hip dysplasia often develop arthritis, sometimes at a young age, so I often recommend supplements that include glucosamine and chondroitin, as well as omega-3 fatty acids.
One of my favorite sources of glucosamine and chondroitin is green-lipped mussel for dogs, which can be found in Encore Mobility.
Save 10% on Encore Mobility™ Joint Supplement for Dogs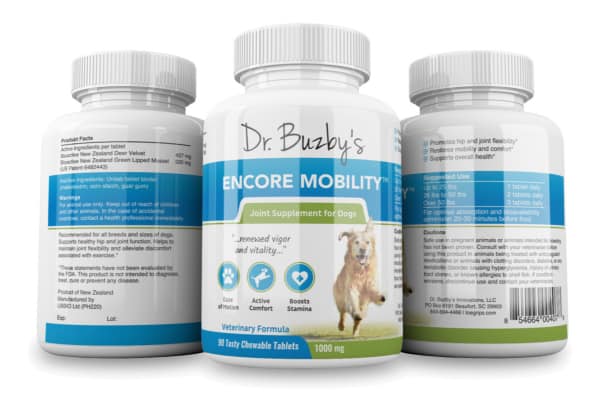 Give your dog more good days.
Use promo code HAPPY to save 10% on Encore Mobility.
Talk to your veterinarian about any supplements he or she recommends for your dog.
Pain medication
When joint supplements aren't enough to quell clinical signs of arthritis and joint inflammation, veterinarians have many options for treating joint pain in dogs. These can include non-steroidal anti-inflammatory drugs (NSAIDs), gabapentin for dogs, and others.
Your vet will know what the best medication options are for your dog and may recommend routine bloodwork to make sure your dog's organ function is able to safely metabolize those drugs.
Remember to never give your dog over-the-counter medications without consulting your vet!
Physical therapy and rehabilitation
For dogs with CHD, maintaining range of motion and muscle mass is crucial to minimizing clinical signs and keeping those hips in good shape for as long as possible. Physical therapy, rehabilitation, and acupuncture for dogs are great tools that can be used to treat dogs as part of a non-surgical treatment plan, or during recovery from surgery.
Prognosis
If your dog has been diagnosed with hip dysplasia, you may be wondering about the long-term outcome. You may even be asking yourself, "How long can a dog live with hip dysplasia?"
The good news is that hip dysplasia in itself does not shorten a dog's lifespan. The goal is to make sure that they have a good quality of life with as little pain as possible for as long as possible.
Most dogs with CHD eventually develop some degree of osteoarthritis in dogs, so treatment at that point focuses on relieving arthritis pain.
Your vet will help guide management and will make recommendations based on your dog's individual case. No two are the same! But do not despair—you and your pup can spend many happy years together!
Do you have questions about what causes hip dysplasia in dogs?
Please comment below.