A dog paw pad injury can run the gamut from burns to cuts or punctures. To help you know what to do if your dog has a hurt paw pad, integrative veterinarian Dr. Julie Buzby describes the types of paw pad injuries. Plus, she gives step-by-step first aid instructions on what to do for paw pad injuries and explains when to call the vet.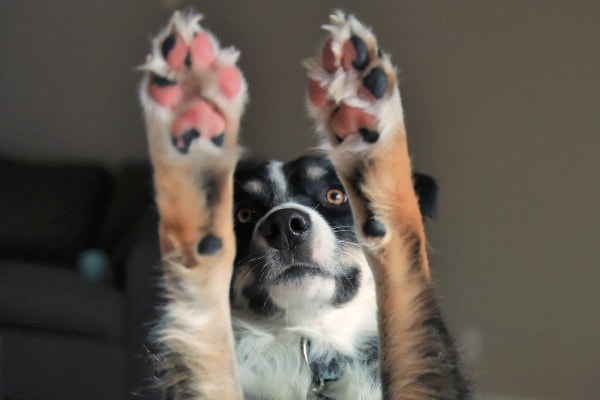 Recently, one of my clients brought her Labrador Retriever, April, to see me for a paw pad injury.
When April started limping during her daily walk, her mom discovered that April had stepped on a sliver of broken glass. Thankfully, my client had previously taken classes about "doggie first aid," so she was well prepared. She gently removed the sliver of glass from April's paw. And then she cleaned and bandaged the paw and made an appointment with me.
As I examined April's injured paw, I commended her mom on a job well done. The paw looked great and the bandaging job was excellent. Her first aid classes had definitely paid off.
Not all dog parents may have had the chance to take a course like that though, so I wanted to write this article to provide guidance about recognizing and treating paw pad injuries. But before we get to that, let's start with some paw pad basics.
Why are a dog's paw pads important?
Have you ever heard the saying "put your best foot forward"? Usually, this refers to entering a new challenge or situation with a good attitude. But literally "putting their best foot forward" is also important for our dogs.
What I mean to say is that your dog's paws play a big role in his or her well-being. The muscles, bones, tendons, and ligaments help your dog walk, run, or play. And doing so comfortably and securely is made possible in part by your dog's paw pads.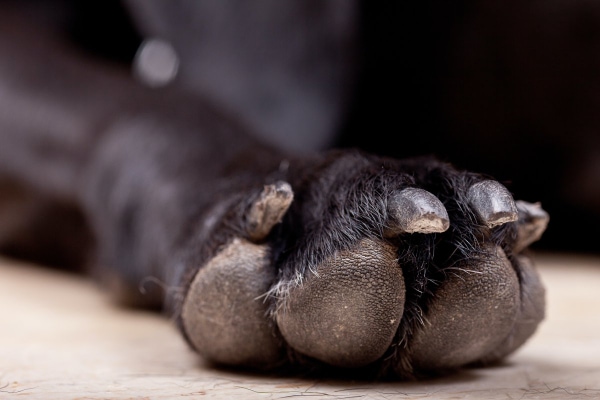 These thick, squishy foot pads provide cushioning and absorb impact every step your dog takes. This reduces the strain on the bones and joints of your dog's foot.
Plus, in combination with the toenails, the foot pads provide traction as your dog walks. And they help him or her navigate rough terrain. Last, but certainly not least, the paw pads protect your dog from extreme temperatures.
(To learn more about the amazing anatomy of your dog's paw, check out my article on dog paw anatomy.)
What are some types of paw pad injuries in dogs?
The paw pads are in constant contact with the ground and are exposed to many elements that can cause wear and tear. This opens them up to a variety of injuries including:
Foreign bodies
One of the more common foot injuries I see in my patients is a foreign object puncturing the paw pad. Various sharp objects such as broken glass, foxtails in dogs, nails, sticks, fishing hooks, and more can become embedded in the paw pad.
Cuts
If a sharp object doesn't get lodged in the pad, it could cause a cut instead. Paw pad cuts are another common injury since one of the pad's jobs is to protect the rest of the foot from coming into contact with dangerous objects. These cuts often happen when a dog slices a foot on something sharp. However, dogs can also get non-traumatic cuts if they have dry paw pads that crack and split open.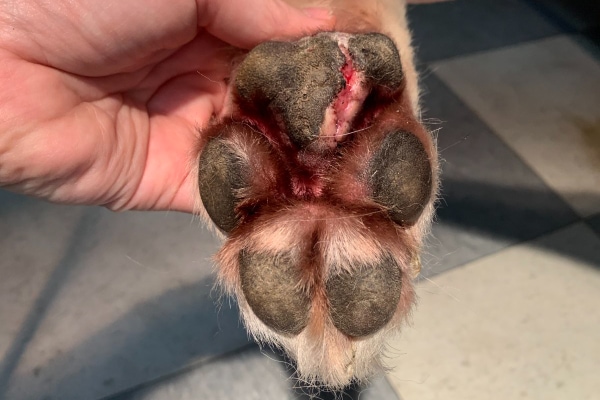 Flaps
Paw pad flaps are very similar to cuts but tend to cover more surface area on the paw since they run roughly parallel to the surface of the paw pad. Typically, a flap will occur when something slices the dog's foot horizontally.
For example, if your dog's foot becomes tangled in sharp wire or metal, it might partially shave off a section of the paw pad. This creates a loose flap of skin. Flaps can also happen if a cut is left untreated. As the cut becomes larger, eventually the tissue may tear, forming a flap.
Sometimes the flap hangs down from the foot, but other times it partially folds back over the exposed tissue. Generally speaking, flaps are more painful than cuts. Each step your dog takes pulls on the loose skin and irritates the flap.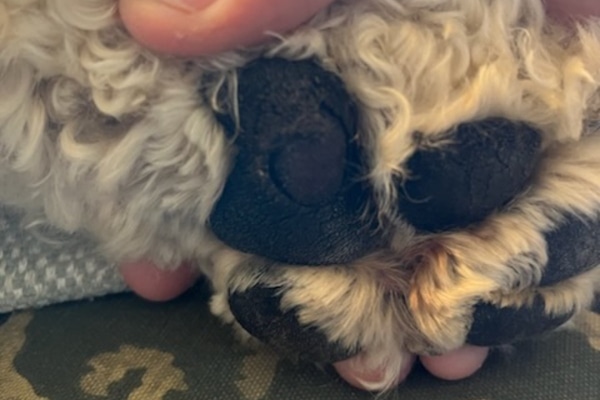 Burns
Unfortunately, I see a lot of pad burns in my patients too. These usually occur in the summer months as the sun heats up the asphalt, concrete, artificial turf, or other surfaces. Even on a seemingly pleasant 86°F day, the pavement can be a blistering 135°F. Unsurprisingly then, when your dog walks on hot pavement, it can physically burn his or her paw pads.
On the other hand, extremely cold temperatures, like walking on ice for a prolonged period of time, can also burn your dog's paws. And walking on ice melt products can cause your dog's paws to become dry, cracked, or burnt too.
Finally, walking through spilled caustic substances can cause chemical burns on your dog's feet. And spending a long time running over abrasive surfaces like tennis courts can also burn your dog's paw pads.
Ingrown toenails
Sometimes overly long nails can begin to curl toward the paw pad. If the nail gets long enough and has no where else to go, it may create a penetrating wound in the pad.
Not only are ingrown toenails extremely painful for your dog, but they can also cause a paw pad infection by trapping dirt and bacteria in the wound.
This is one of the many reasons why I believe trimming your dog's toenails monthly is so important. If you aren't comfortable doing them yourself, check out my Nail Trimming Master Course or reach out to your veterinarian for help.
What are the signs of a paw pad injury?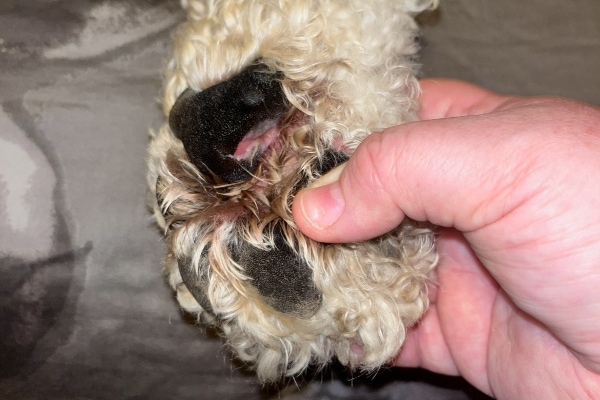 If your dog experiences any of the paw pad injuries listed above, there are several symptoms you might notice:
Sudden lameness (your dog is limping)
Crying out when putting weight on the affected paw
Being unwilling to put pressure on the paw
Bleeding from the paw pad
Licking or biting at the paw
Swelling of the foot
Discoloration or reddening of the paw pad
Visible cut, flap, puncture, or object in the paw pad
Discoloration of the hair on the foot
If you notice any of these symptoms, carefully inspect your dog's paw. Depending on what you find, there may be some helpful first aid measures you can take until you can get your dog to the veterinarian.
First aid for paw pad injuries
To get a better idea of what is going on with your dog's paw, and to learn what to do for your dog's paw pad injury, follow these steps:
1. Evaluate your dog as a whole
Comfort your dog and assess his or her attitude. If your dog is severely painful, you may not be able to safely look at his or her foot by yourself. Even the nicest and most well-behaved dog can react negatively when in pain.
If your dog does not want you messing with the injured paw, please seek veterinary care rather than attempting to follow the rest of the steps.
2. Take a closer look at the paw
If you feel it is safe to look at your dog's paw, carefully inspect the top and bottom, the paw pads themselves, and the area between the toes and paw pads. It is important to know if your dog has a cut, flap, puncture wound, burn on the paw pad, if your dog ripped a nail off, or if there is no visible injury.
Depending on the problem and injury, you might need to provide different types of first aid care. The following steps are specific to paw pad injuries…
If there is an object in the paw pad, go to step 3a. Otherwise, proceed to step 3b for a bleeding wound or step 4 for a burn or non-bleeding wound.
3. Remove foreign objects (if present and safe to remove) and apply pressure to stop the bleeding
3a. If your dog has a small or superficial object puncturing the paw pad, you may be able to remove it with your fingers or tweezers. But if the object is deeply lodged or possibly puncturing a blood vessel, nerve, or joint, do not remove it yourself. Instead, make an emergency vet visit.
3b. If the wound is actively bleeding, apply pressure evenly with a clean cloth or paper towel. Minor wounds should stop bleeding within a minute or two. But, if the cut keeps steadily bleeding for 10 to 15 minutes, you should contact your vet immediately. This could be an emergency.
4. Clean the wound
Once the bleeding has stopped, it is a good idea to clean the wound. I recommend doing so with cool water because it can help reduce swelling and ease pain, especially if your dog is suffering from a burn. You can also use gentle anti-bacterial soap, or disinfecting agents like chlorohexidine or betadine, to help remove bacteria and prevent an infection.
Remember that as you clean the wound, it might start bleeding a little again. If this happens, gently apply pressure until the bleeding stops.
5. Apply a bandage
In order to keep the wound clean and safe from further injury, you might need to bandage your dog's foot. (Or if you don't have bandaging materials, wrapping a clean towel or T-shirt around a bleeding wound while you make your way to the vet will also work in a pinch.) When applying the bandage, it is important to use clean materials like gauze and vet wrap. For detailed instructions, please read my article about how to wrap a dog's paw.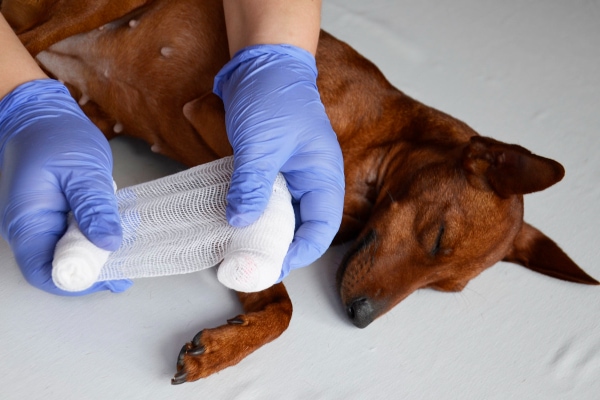 Remember that a bandage that is too tight is far worse than no bandage at all. Please ensure that you can insert one to two fingers into the top of the bandage. If not, it is probably too tight. Also, watch for signs that the bandage is cutting off your dog's circulation. Signs to look for include swollen toes (if sticking out of the bandage) or a foot that is cool to the touch or discolored.
6. Contact your veterinarian
Even though you provided first aid for your dog's paw, it is important to follow up with your vet to see if any additional steps are necessary.
While waiting for the veterinary appointment (if one is needed), check and change the bandage daily. This allows you to monitor the wound for changes or signs of infection. And regular bandage changes also decrease the risk that the bandage is restricting your dogs circulation.
How will the veterinarian evaluate a dog's paw pad injury?
During the appointment, your veterinarian will start by performing a physical exam on your dog. Although the main problem is your dog's paw pad injury, the vet will probably want to do a full body exam to ensure your dog doesn't have any other injuries.
Then, while examining the foot, he or she will look for cuts, punctures, burns, or other injuries. Plus, he or she will likely palpate and manipulate the bones and joints of the foot to check for issues with those structures.
If your vet suspects there is an object (like a foxtail or metal nail) deep in the foot, he or she may also recommend an X-ray. This can be a good way to help determine if the wound involves the bones or joints. Plus, especially with a metal object, the X-ray helps the vet assess the position and location of the foreign body.
How does the vet treat a paw pad injury?
Depending on the location of the dog pad injury, the vet may want to trim the hair on the affected foot. This will allow better visualization of the dog foot pad injury and helps keep the wound clean. Then your vet will clean the wound and remove any debris or foreign objects.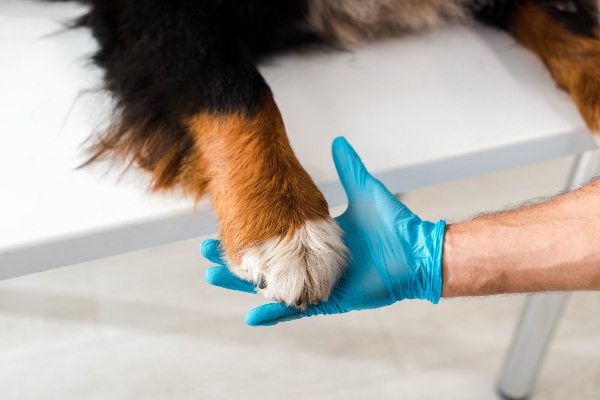 If your dog has a cut or flap, your veterinarian will probably not suture the pad closed. I know this may seem odd because usually getting a deep cut equals needing stitches.
The paw pads are a bit different from other areas on your dog's body, though. They don't usually hold stitches very well. Because they encounter so much friction and movement, the sutures can easily be torn out. And in many cases, suturing the pad does not speed up healing time.
However, bandaging the foot can be very helpful. If there is a cut or burn, your veterinarian might apply an antibacterial ointment or soothing cream to promote healing and decrease pain. Next, he or she will apply a bandage. This bandage serves many purposes:
Controlling bleeding
Decreasing the chances of re-injury
Keeping the wound clean
Containing the medication that is applied
Preventing your dog from licking or chewing on the wound (but sometimes the dog needs an E-collar too)
As your veterinarian is applying the bandage, be sure to listen carefully to the instructions. He or she will direct you regarding how often to change the bandage, what materials and medications to use, and if you need to bring your dog back in for rechecks.
Be patient and stay in contact with your vet
As your vet will probably explain, paw pad injuries can take time to heal since your dog is constantly using the foot. Remember to be patient with the process. Follow your vet's instructions and contact your vet if you suspect your dog's injury isn't healing well.
(And keep in mind that, as discussed earlier, it is important that you don't place the bandage too tight. Foot and toe swelling from a too-tight bandage is one of the most common complications I see with paw pad injuries.)
How do I prevent future foot pad injuries?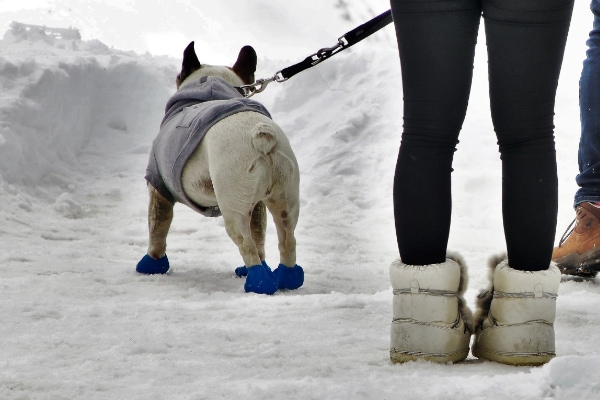 While sometimes an injury is unavoidable, there are a few precautions you can take to prevent paw injuries. They include:
Avoid exposing your dog's feet to extreme temperatures. This may mean timing your walk so that it isn't in the heat of the day (which also helps avoid heat stroke in dogs) or revising your route so your dog isn't walking on hot sidewalks. Remember that if you can't comfortably hold the back of your hand against the pavement for 7-10 seconds, it is too hot for your dog to walk on.
Consider protective dog booties like PawZ dog boots. These rubber boots are thin enough to allow your dog to sense the ground while also providing protection against ice melt products or extreme temperatures. They can also be great for keeping a bandage clean and dry while outside. (As a word of warning, remove the PawZ boots once you come inside. They could compromise your dog's circulation if left on too long).
Wash your dog's feet off after winter walks to remove any ice melt products (and do the same if you suspect your dog walked through any other chemicals).
Try out thicker dog boots or socks to protect your dog's feet if walking where there could be sharp rocks, trash, or other dangers. Be warned, though, that these types of dog boots tend to make it harder for dogs to sense where their feet are (i.e. proprioception in dogs), so they aren't my favorite products.
Carefully inspect your dog's feet (and whole body) for foxtails after every trip outside if you live or visit somewhere where foxtails are a problem.
Regularly trim your dog's nails to keep them from growing into the pad.
Keep your eyes open for hazards along the path or trail.
You can provide paw pad injury first aid for your dog
While all of these prevention strategies are helpful, I also want to remind you of the importance of being prepared for possible injuries ahead of time. If you don't already have a dog first aid kit, now is a great time to make one for your house and one for your car or backpack. You never know when you might need it!
Hopefully, your dog doesn't ever get a paw pad injury. But if he or she does, remain calm, grab your first aid kit, and follow the steps I outlined for you in this article.
I believe that you can provide first aid to your dog. But when in doubt, remember to contact your veterinarian for advice. He or she can help you manage your dog's pad injury so that your pup can be back to playing in no time!
Has your dog ever had a paw pad injury?
Please comment below.