If the words "red" and "itchy" describe your dog's paws, a yeast infection could be the culprit. Integrative veterinarian Dr. Julie Buzby gives you the scoop on dog paw yeast infections, including the causes, predisposing factors, symptoms, treatment options, and prevention strategies. Plus, you'll find dog paw yeast infection pictures throughout the article.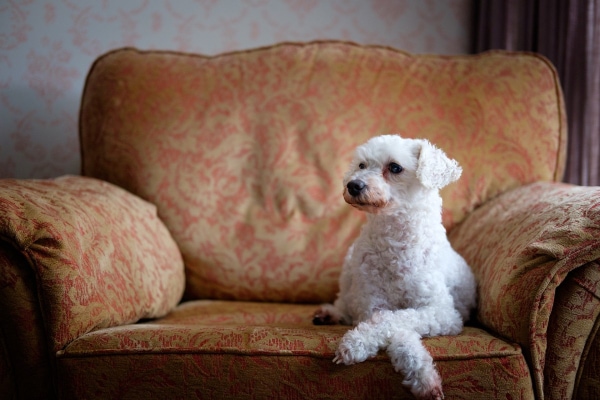 Especially in the warmer months of the year, but to some extent all year round, dogs with itchy, red, irritated feet come walking through my clinic doors. Some of them even plop down in the waiting room or exam room and start licking and chewing at their paws almost instantly.
These poor dogs are distressed because their feet are so itchy. And their poor parents are upset because they hate seeing their beloved pups so uncomfortable.
While there are a variety of reasons a dog may have itchy red paws, a paw yeast infection definitely ranks high on that list. Thankfully, with the proper treatment and a good prevention plan, I can usually offer these dogs (and their parents) some much-needed relief.
What is a dog paw yeast infection?
As weird as it might sound, yeast and bacteria are a normal part of your skin and your dog's skin. However, sometimes the number of yeast (or bacteria) gets too high. Or an abnormal type of yeast begins to grow on the skin.
When there is yeast overgrowth, this is called a yeast infection (or a fungal infection). A dog yeast infection can happen on any part of the skin. But it is most likely to occur in areas with lots of skin folds and trapped moisture. This makes a dog's paw the perfect environment for yeast to start multiplying out of control and causing problems.
Why do yeast infections tend to occur?
As you just learned, some amount of yeast is normal on a dog's skin. So this means that if your dog has a yeast infection, it is probably secondary to some other issue. Conditions that can set the stage for a yeast infection include:
Food or environmental allergies, which cause itchy skin
Bacterial infections of the skin (i.e. pyoderma in dogs)
Presence of a wound (such as a cut or puncture hole from a grass awn or foxtail)
Auto-immune diseases
Skin cancer
These diseases can weaken the skin barrier. Plus, the body's immune system and the dog's skin are already busy working hard to deal with those conditions. This makes it easier for yeast to escape the body's defenses and rapidly multiply. The resulting yeast overgrowth and skin inflammation are also known as yeast dermatitis.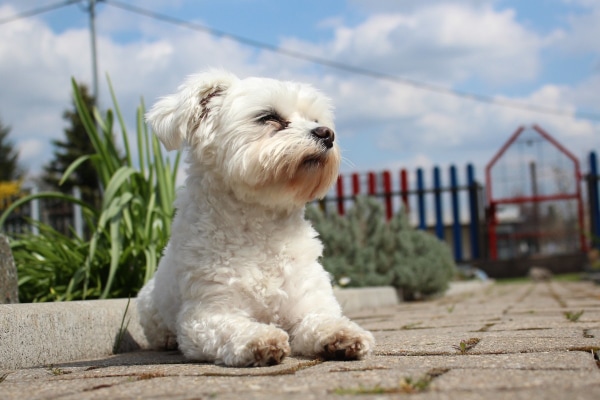 How do dogs get yeast infections on their paws?
A dog's paws are one of the most common places for this to occur. Because the paws are contacting the ground, they are exposed to more "damaging" elements. All the grass, dirt, weeds, and water that touch your dog's paws can cause your dog's allergies to flare up. Or they can cause cuts, irritation, or trapped moisture. If this happens, your dog's skin barrier can weaken, allowing yeast to grow out of control.
Additionally, these elements can cause dogs to lick their paws more frequently. The saliva adds moisture and the repetitive licking of the paws breaks down the skin barrier. Plus, airflow to the spaces between the toes is pretty limited. These factors set up the perfect environment for a yeast infection.
What are the predisposing factors for a dog paw yeast infection?
As you are probably noticing, there are three things that yeast love:
Warm, moist skin
Small spaces or skin folds without good airflow
Skin with a weakened defense
If any of these are present on your dog, he or she might be predisposed to developing a yeast infection. Let's take a closer look at these factors.
Warm, moist skin
Have you ever bought a brand-new loaf of your favorite bread to take camping with you? Maybe you threw it into the cooler to protect it on the drive out. When you got to your destination, you pulled it out and set it in your warm car to be used later.
However, you didn't notice that some of the ice had melted in the cooler. When the time came to make the perfect sandwich, you were met with a wave of disappointment. Your bread was moldy!
What does moldy bread have to do with dog yeast infections? Let me explain!
Mold is a fungus, and so is yeast. Just like mold rapidly grew on your warm and moist bread, yeast does the same thing on your dog's warm and moist skin. This means that if you have a dog whose feet are frequently damp, he or she could be at risk of developing a yeast infection. Some of the risk factors for moist paws include:
Swimming or walking in water
Being recently bathed
Frequently licking the paws
If your dog falls into any of these categories, it is important to check the paws regularly. If you notice your dog's paws are wet, you should dry them to help prevent yeast infections. The dog paw yeast infection picture below shows what yeasty paws look like…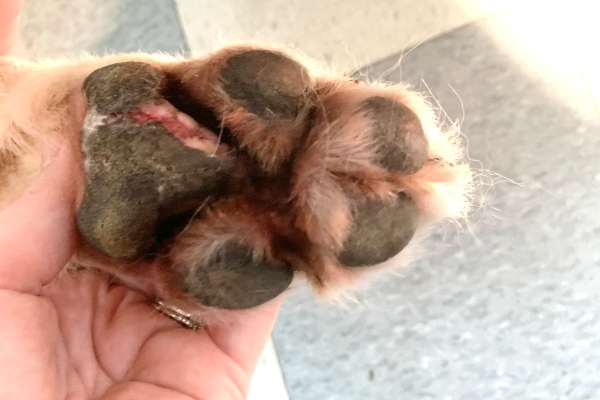 Skin folds and tight spaces
Skin with lots of skin folds or small spaces (like in between the toes) are the perfect places for yeast to develop. The skin folds prevent good airflow. As a result, these areas are more likely to trap and retain moisture.
This means that certain dog breeds (such as those who are known for having extra skin) are also predisposed to developing yeast infections. Some of these breeds include Shar-Peis, English Bulldogs, and French Bulldogs. Additionally, excessive hair can also trap moisture in a dog's paw. Thus, dogs with hairy feet can be at increased risk of developing a yeast infection.
Skin with a weakened barrier
As I mentioned previously, yeast infections usually occur secondary to another problem. Therefore, dogs who suffer from diseases that compromise the skin barrier (such as the ones we talked about earlier) are at increased risk of developing yeast infections in their paws.
Dog breeds who are predisposed to other skin problems like allergies are more likely than other dogs to have pododermatitis (i.e. inflammation of the skin on the paw) which can lead to yeast infections. Some of these breeds include Golden Retrievers, Boxers, Labrador Retrievers, Dalmatians, Shih Tzus, and Staffordshire Terriers (Pitbulls).
Additionally, senior dogs are at an increased risk of developing yeast infections on their paws. This is partly due to the fact that their immune system is not as good as it once was. If the immune system is weak, your senior dog will have a difficult time fighting off opportunistic yeast infections.
Senior dogs can also have a more difficult time grooming themselves properly. If they are suffering from osteoarthritis in dogs, they may not be able to clean their paws as well. This means there may be more bacteria and debris trapped between the toes, which weakens the skin barrier.
Genetic predisposition
There are some dogs that are thought specifically to be genetically predisposed to yeast infections. These include:
West Highland Terriers
Cocker Spaniels
Lhasa Apsos
Dachshunds
Basset Hounds
Shetland Sheepdogs
Malteses
Poodles
Chihuahuas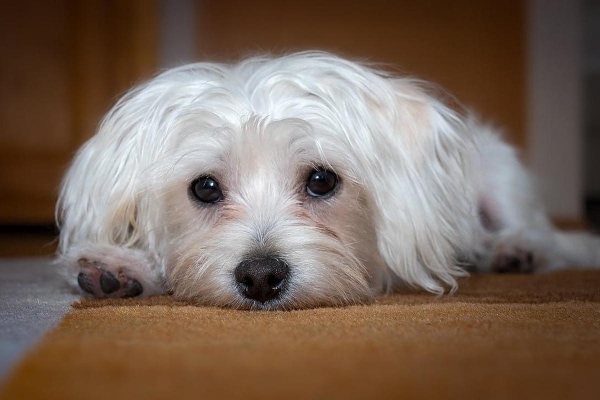 What are the symptoms of a dog paw yeast infection?
If you know your dog is at risk of developing a yeast infection, there are some common symptoms you can watch for at home. These include:
Red paws
Hair loss
Itchy paws
Yeast infections can cause red dog paws in two ways. First, the skin of the paw might be red and irritated. Secondly, the hair might also have red or pink salivary staining from excessive licking and chewing of the paw. Sometimes there can be brown discharge around the base of your dog's nails too.
Yeast infections can also cause hair loss on the paw or other parts of the body. They can be painful and irritating to your dog too. If this happens, your dog's paw might be sensitive to touch, and you might be wondering, "Why is my dog limping?"
Additionally, yeast infections can give your dog itchy paws. You may notice that your dog is excessively licking or chewing his or her feet due to the irritation and itchiness.
If your dog is showing these signs and you suspect he or she might have a paw yeast infection, please consult your veterinarian for diagnosis and treatment.
How will my vet diagnose a dog paw yeast infection?
In order to diagnose a yeast infection, your veterinarian will start by performing a physical exam on your dog. Part of that includes carefully examining your dog's paws for redness, irritation, or other signs of a yeast infection.
If your veterinarian suspects a fungal infection, he or she will likely recommend a skin swab, skin scrape, and/or tape impression of the affected area. These are all methods to collect cells and organisms from the skin. The veterinarian will apply the collected material to a microscope slide and then examine it for bacteria, footprint-shaped yeast, parasites, or abnormal cells. Alternatively, the vet may decide to submit the samples to a veterinary diagnostic lab.
Depending on your dog's specific case, the veterinarian might recommend additional testing. This could include performing allergy testing, taking a skin biopsy, or running some blood work such as chemistry, complete blood count (CBC), and thyroid levels (T4). The vet may use these different tests to determine the cause of your dog's skin irritation and help manage any underlying diseases.
What are the treatment options for a dog paw yeast infection?
Once your vet has diagnosed your dog with a yeast infection, he or she will come up with a treatment plan that is specific to your dog's situation. It may sound simplistic, but the key to treating yeast infections (or most other medical problems) is to closely follow your veterinarian's instructions. Doing this will help prevent the infection from persisting or getting worse.
There are a few treatments that your vet might suggest. One option is to use an antifungal medication, which may be a pill that you give your dog by mouth. This can sometimes be challenging if your dog won't take pills well. Alternatively, your vet might recommend an antifungal cream, wipe, or ointment that you can apply directly to your dog's feet.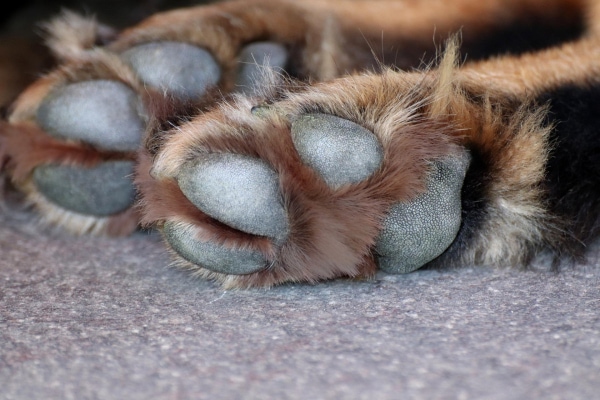 The vet might also send your dog home with a medicated shampoo. When using these antifungal shampoos, the directions might tell you to leave the shampoo on your dog for a specific number of minutes before rinsing. Most shampoos state that this should be about five minutes. But it is best to follow your veterinarian's instructions and/or read the label when bathing your dog to ensure you use the product correctly.
(To learn more about properly using shampoos and other topical treatments, check out this Veterinary Partner article on topical therapy for skin conditions.)
Finally, the vet will discuss ways to address the underlying cause of the yeast infection. We will talk about that more in the prevention section since while it is an integral part of resolving yeast infections, it is arguably more important for preventing them.
Be patient and keep the follow-up appointments
It is important to note that treating yeast infections can take a long time in some cases. If your dog has a complicated yeast infection, he or she may need several rounds of treatment. During this time, your veterinarian might want to see your dog for some follow-up appointments. These visits allow your vet to monitor the effectiveness of the treatment and watch for any potential side effects of the medications.
Are there any home remedies for a dog paw yeast infection?
As we just finished discussing, the best thing you can do is to take your dog to the vet for potential yeast infections or other skin problems. However, there are a few home remedies you can try that might help your dog.
The first thing I recommend is taking your dog's diet into consideration. If your dog is suffering from food allergies, change his or her diet to something less triggering. For many dogs, this means finding a "sensitive skin diet" or a diet with a different protein (such as buffalo or elk). While these sorts of diets are available over the counter, you may end up needing a prescription veterinary diet. If you need help, talk to your veterinarian about what diet is best for your dog.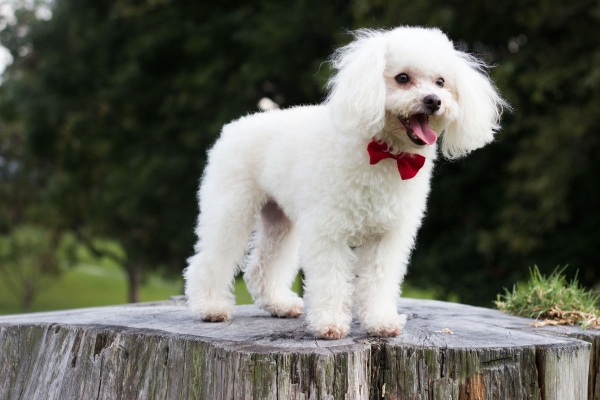 The next option is to try treating your dog's yeast infection with a paw soak. For example, using a gentle, odor-free soap can help break up debris and remove extra bacteria on your dog's foot. Or Epsom salts can help remove grass awns from your dog's paws. They also can be soothing for your dog's skin. You need to be careful that your dog doesn't drink the soak water though.
I have also had clients ask me about treating the yeast infection on their dog's paws with apple cider vinegar. However, apple cider vinegar can be very harsh on your dog's skin. If your dog has a cut, wound, or sensitive skin, it could burn and hurt your dog when applied.
Also, apple cider vinegar can dry out your dog's skin, which may or may not be a good thing. Some dryness might be helpful since yeast like moist areas. However, it is problematic if the skin becomes too dry. For this reason, I recommend speaking with your veterinarian about your dog's specific scenario before using apple cider vinegar.
Home remedy reminders
I have two parting words of advice about at-home treatment for yeast infections:
Before trying a home remedy, discuss it with your veterinarian. While home remedies can be helpful, using the wrong ones can make a paw yeast infection worse.
Sometimes the best treatment plan is to rely on the medications your vet provides and then focus the at-home part of the plan on preventing future yeast infections. After all, the best and safest home remedy is prevention.
How do you prevent paw yeast infections?
There are several great ways to reduce the chances your dog will continue to get yeast infections. After all, as the saying goes, "Prevention is the best medicine."
1. Keep the paws clean and dry
Remember that fungus likes warm and moist environments. So it is important to prevent these types of environments on your dog by keeping your dog's paws clean and dry. You might want to consider trying these at-home strategies:
Shave/clip extra hair on your dog's feet (especially between the toes), If you need help, be sure to ask your groomer or a veterinarian.
Rinse then dry your dog's feet after he or she has been outside, especially if he or she walked in dirt or weeds. This will help clean the paw and remove any allergens or irritants.
Dry your dog's paws if they are wet from swimming, being out in the rain, etc.
Check your dog for grass awns such as foxtails.
Ask your vet if you should use antifungal wipes on your dog's feet on a regular basis. These wipes can be a great way to remove debris and control the yeast population on the feet. Ensure you wipe between the toes on both surfaces of the paw and around the nail beds for maximal efficacy.
2. Manage the underlying cause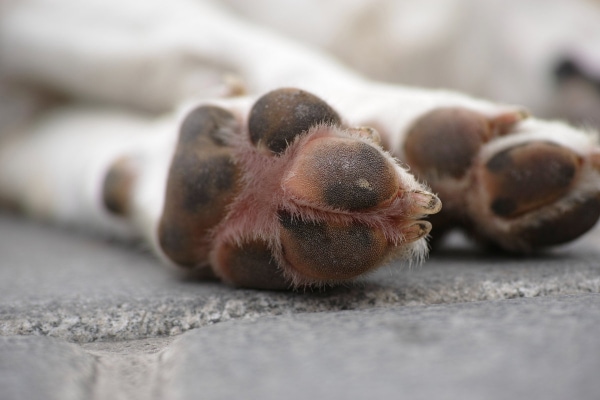 Another important part of prevention is managing any underlying diseases that might be making your dog more prone to yeast infections. For example, if your dog has allergies, it is important to keep his or her allergies in check. Your veterinarian can suggest some allergy medications for dogs or other helpful remedies. This will promote good skin health and avoid an opportunity for fungal counts to increase.
You can also talk to your vet about ways to help improve your dog's skin barrier health. This may involve omega-3 fatty acids for dogs, which have great skin and coat benefits as well as anti-inflammatory properties.
3. Monitor your dog carefully
Finally, check your dog's paws regularly. If you know your dog is prone to skin problems or yeast infections, it is important to monitor him or her closely. Catching yeast infections early will make them much easier to treat. It also will prevent your dog from becoming as painful or uncomfortable.
Help your dog get a handle on paw yeast infections
Dog paw yeast infections can certainly make your dog's feet itchy and uncomfortable. Sometimes it may feel like your dog will never get the relief that he or she (and you) so desperately wants. But the good news is that with the help of your veterinarian, appropriate treatment, and the use of these preventive strategies, your dog can often become significantly more comfortable.
So if your dog is licking and chewing at his or her feet and you notice that the skin and/or hair in those areas is becoming red, please do your dog a favor. Schedule an appointment with your vet. That way he or she can figure out if it is a paw yeast infection—or something else—that is causing your dog so much distress. That way your dog's paws can start feeling better soon and you can focus on more exciting things like your next adventure together.
Has your dog ever had a paw yeast infection?
Please comment below.