Laser therapy for dogs is a fast-growing treatment option in the veterinary world. For dogs facing debilitating pain and chronic inflammation, laser treatments are showing promising results. Integrative veterinarian Dr. Julie Buzby welcomes Dr. Jennifer Shepherd to the blog to take a closer look at laser therapy for dogs. Learn everything you need to know about whether it's right for your canine companion.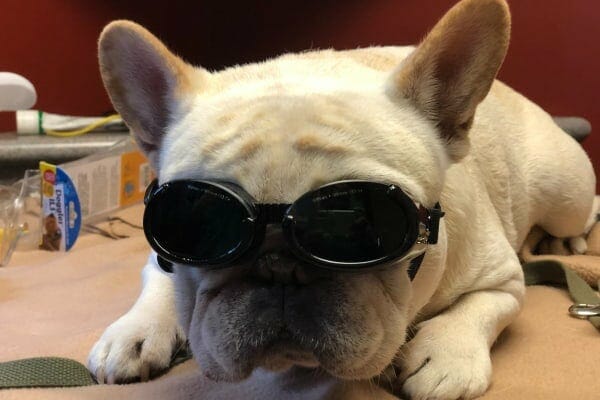 Watching your once bouncy and energetic dog grow old and slow down can be heart-wrenching. Whereas you once headed out the door without a thought as to whether your dog could keep up, you now find yourself counting the cost of every activity. If you take a hike, play frisbee, or romp in the yard today, how stiff and sore will he be tomorrow? If this sounds like you, laser therapy for dogs may be a treatment to explore.
Before I dive into the details, however, I want to introduce you to Gabby, a patient of mine whose owners understood that painful dilemma all too well.
Laser therapy for dogs: Gabby's story
Shortly after her eleventh birthday, Gabby came in for her annual checkup. Her family expressed concerns that their beloved Golden Retriever/Labrador mix could no longer enjoy her favorite thing in life—hiking through the state park with her family.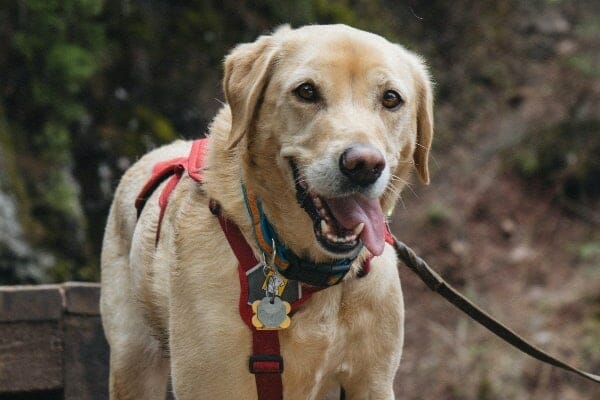 It broke her family's heart to leave her behind, but they couldn't bear to see her in so much discomfort just a few minutes into the hike. These little adventures she loved so much now required three days of rest to fully recover.
During Gabby's exam, not only did I find thickening of her elbows due to years of arthritis (she'd suffered from canine elbow dysplasia since she was two), but she was also uncomfortable extending her hips. Because she'd lived with her elbow dysplasia, Gabby had transferred more of her weight to her hind legs. Years of this weight transfer was taking a toll on her back end and causing pain in her hips as well.
Gabby was already on a comprehensive treatment regimen to manage her joint pain. As a young dog, she'd started on a high-quality glucosamine dog supplement. As she grew older, she needed additional solutions including a joint-health prescription diet and non-steroidal anti-inflammatories (NSAIDS) for her bad days. Now her daily NSAIDs were at the highest dose. Her family was doing everything possible for her including keeping her at a healthy weight to reduce the stress on her joints.
Like so many loving parents who struggle to know when it's time to say goodbye, Gabby's family was heartbroken at the thought of dog euthanasia. Yet they saw how much the pain was affecting Gabby's quality of life.
Our clinic had just invested in a therapy laser and I offered laser treatments as an additional modality to help with Gabby's arthritis pain. The family was skeptical but willing to try anything to help her.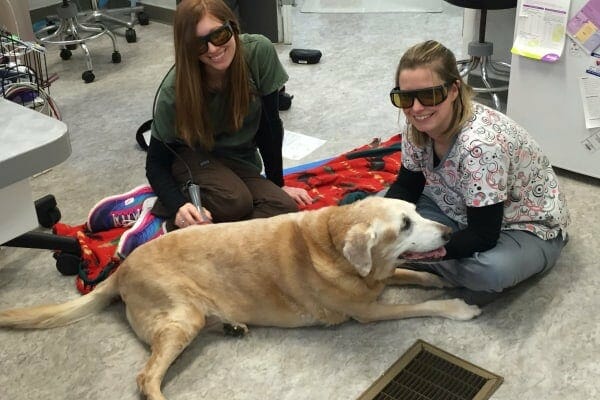 What kind of laser is used for laser therapy for dogs?
The term laser may sound a little intimidating. When most people think of lasers, they probably either picture a sci-fi movie or an industrial laser cutting through diamonds. However, there are many different types of lasers.
In veterinary medicine, there are two types of lasers that are used — a surgical laser that cuts through tissue and a cold therapy laser used to reduce pain and inflammation in our patients.
Cold laser therapy for dogs
A cold therapy laser (also known as low-level therapy laser) delivers a beam of laser light deep into the tissue without causing any damage. The term "cold therapy" came about because, unlike a surgical laser, this laser does not cause the tissue to generate heat. The therapy laser sends light through a hand-held probe which is placed directly over the areas to be treated.
Lasers used in laser therapy for dogs come in different classes, depending on their maximum output. The most common therapeutic lasers are either Class III or Class IV.
How does laser therapy for dogs work?
Laser therapy reduces pain and inflammation, accelerates healing, and promotes tissue regeneration. The light affects the tissue at a cellular level, causing a biochemical response in the cells called photobiomodulation (PBM). In other words, the laser can cause specific, beneficial changes to the cells in the tissue.
1. Laser therapy for dogs decreases pain
Photobiomodulation from the laser causes an increased release of endorphins, the body's own pain-reducing chemicals. You may have heard of endorphins in connection with a runner's high — a feeling of euphoria and decreased pain perception that accompanies strenuous exercise. In this case, your dog hasn't just finished running a marathon, but the same principle holds true. More endorphins translate to less pain.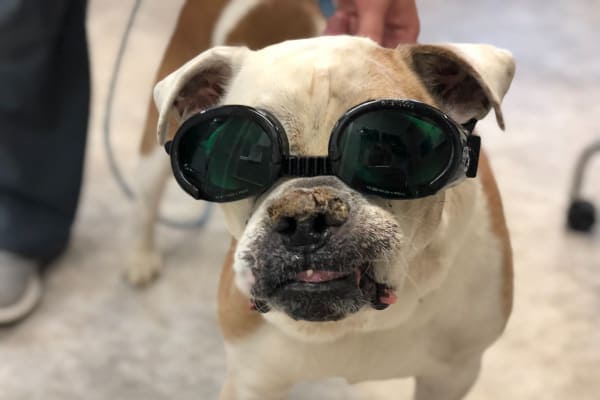 2. Laser therapy for dogs reduces inflammation and swelling
The light from the laser can decrease the release of pro-inflammatory chemicals, thus reducing the inflammatory signals in the region. It also causes the lymphatic vessels in the area to dilate. Lymphatic vessels are the pipelines responsible for collecting fluid in the tissue and returning it back to the bloodstream, so increasing the diameter of the pipes increases the amount of fluid that can be carried away. Less fluid trapped in the tissue means less swelling.
3. Laser therapy for dogs speeds healing
The bloodstream is responsible for carrying oxygen, cells, and other substances into a region and removing waste products. Since laser therapy can increase blood flow to an area, this means more "good stuff" comes into the area and more "bad stuff" gets taken away, which is beneficial for healing.
How often must laser therapy treatments be performed?
The length of the treatment depends on the underlying condition. For now, we will focus on osteoarthritis. Osteoarthritis is a chronic condition, meaning it has been present for a long period of time and is slowly progressing. Each patient is different and the treatments vary based on response to treatment. However, for osteoarthritis, the treatment plan involves three phases: induction, transition, and maintenance.
Learn more about how you can relieve arthritis pain in dogs.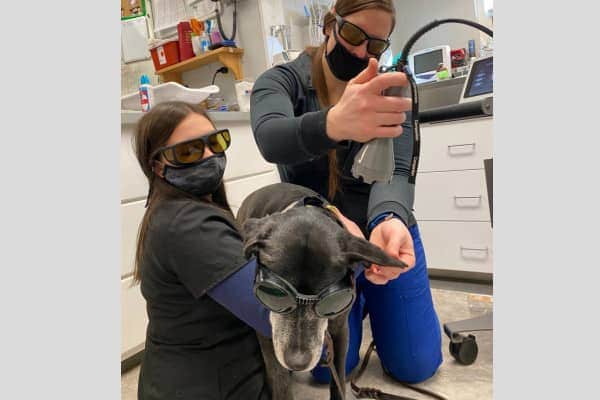 1. Induction phase of laser therapy for dogs
During the induction phase, it is recommended to treat every other day until the dog shows clinical signs of improvement. For most dogs, this is about four weeks but can vary from two to eight weeks depending on the patient. Once the inflammation and pain have been significantly reduced, the patient moves to the transition phase.
2. Transition phase of laser therapy for dogs
During the transition phase, the frequency of treatments is gradually reduced. Initially, treatments will decrease from three times a week to twice a week, then weekly over the course of another four to 12 weeks.
3. Maintenance phase of laser therapy for dogs
During the maintenance phase, laser treatment is repeated at a frequency that maintains the improvement seen at the induction and transition phases. Again, this varies from dog to dog, but for most patients, it is usually every three to four weeks.
How long do the laser therapy treatments take?
The time required for each treatment depends on the size of the patient, the size of the treatment area, the number of treatment areas, and the severity of the condition.
In Gabby's case, she had three areas treated for her osteoarthritis: both elbows and her lower back. Her treatments took about 20 minutes. A smaller dog only getting one area treated may only need five to 10 minutes. A larger dog with multiple joints affected can require 45 minutes of treatment.
What are the potential side effects of laser therapy for dogs?
As long as the laser is used properly, there are minimal side effects. If used incorrectly, there is a potential risk of superficial burns. However, commercial lasers have protocols and safety mechanisms built in so this is unlikely to happen.
Laser therapy for dogs is painless, but most dogs will feel a slight radiating warmth similar to a warm shower. I have a few anxious patients that don't like the veterinary clinic or being touched. In those cases, the stress of the laser treatment outweighed the benefit. However, most patients tolerate the treatment well and many relax during their laser therapy sessions.
Is laser therapy safe for dogs?
A therapy laser should never be used in the eye because it can cause damage to the retina. Thus, although scattered radiation from the treatment is unlikely to cause eye damage, we encourage everyone involved in the laser treatment session to wear protective eyewear. This includes the person(s) administering the treatment, the dog parents there for moral support, and the patient. As an aside, dogs in goggles make for adorable pictures!
Laser therapy helped Gabby hit the trail again
Gabby responded very well to her laser treatments. She came in every Monday, Wednesday, and Friday for a month. After a few weeks, her family started taking her on hikes again.
Although she wasn't back to her two-year-old form, she was able to explore the woods with her family and enjoy life again. We gradually reduced her laser treatments until we were able to maintain her comfort level with treatment sessions every four to six weeks.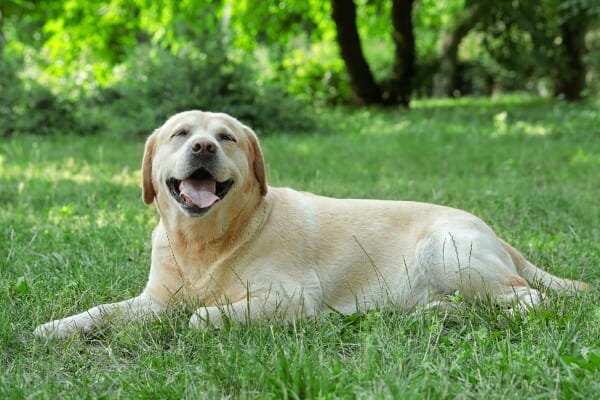 Gabby still needed NSAIDs, glucosamine supplements, and a joint diet to manage her arthritis. However, the laser therapy sessions helped slow the progression of her arthritis and improve her quality of life for the next two years. The outcome thrilled her family and Gabby was ecstatic to be back in the woods hitting the trail again.
Are there other uses for laser therapy for dogs?
Laser therapy has so many indications in veterinary medicine. Initially, I thought we would be recommending it mainly for older arthritic dogs like Gabby. However, now I use laser therapy treatments frequently for other conditions.
Use of laser therapy for dogs with chronic conditions
Other chronic conditions — those that are slowly progressing over a long period of time and unlikely to get better quickly — can be treated using the same three phases we used for Gabby's arthritis.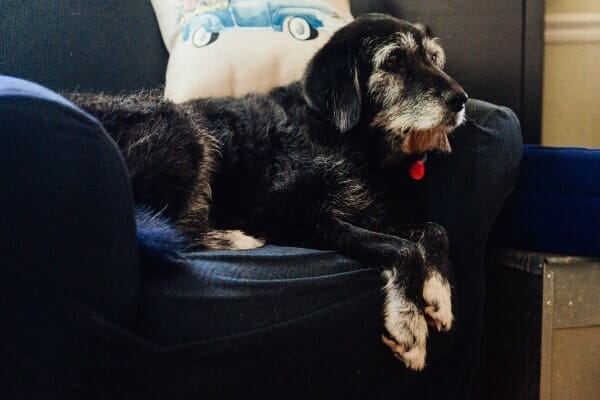 Laser therapy is great for dogs with chronic conditions such as:
inflammatory bowel disease
neuropathies (conditions involving nerve damage or dysfunction)
degenerative joint disease (osteoarthritis) and other musculoskeletal diseases
Use of laser therapy for dogs with acute conditions
Cold therapy laser treatments are also great for many acute conditions — ones that develop quickly. Many acute conditions have a sudden onset of pain and inflammation, which is lessened through laser therapy.
Examples of acute conditions where the laser is beneficial include:
Examples of laser therapy for dogs with specific conditions
To demonstrate how versatile laser therapy for dogs can be, I want to explain how I would use it in my practice for certain conditions.
Laser therapy for dogs with IVDD
I think one of my favorite uses of laser therapy is for dogs who experience intervertebral disc disease (IVDD). With IVDD, the discs between the vertebrae in the back rupture or bulge, causing pain and decreased nerve function. This can happen anywhere along the spine, but most commonly occurs in the neck and the lower back.
Learn more about why IVDD happens in dogs.
A lot of these dogs are very painful, especially when IVDD occurs in the neck. Some dogs go home with anti-inflammatories, muscle relaxers, and opioids. While beneficial for pain relief, these medications can cause sedation, anxiety, or nausea.
Laser therapy can penetrate deep into the heavily muscled area of the dog's neck to decrease the need for other pain medication and lead to a quicker recovery.
Laser therapy for dogs post-surgery
Almost every patient that has surgery performed at our veterinary clinic receives a laser therapy treatment on the surgery site. A quick post-operative treatment that is usually less than a minute can significantly reduce pain and swelling at the surgery site and improve healing.
The one exception to post-operative use is for mass removals that have the potential to be neoplastic (cancerous). There is a concern that the increased blood flow to the surgery site could lead to metastasis (spread) of the cancer. This has not been proven, but the potential risks outweigh the benefits.
Laser therapy for dogs with wounds
Laser therapy for dogs can be especially beneficial in large wounds that are too big to close surgically and/or have significant infection. The laser kills superficial bacteria and helps with tissue regeneration for a reduced healing time. Every other day laser treatments can reduce healing time by approximately 25%.
Does laser therapy really work?
I will be honest. When I first heard about laser therapy, I was skeptical. After talking with many other veterinarians, they all said, "The best way to see how well it works is to use it on yourself."
So let me preface this personal story with a "don't try this at home" disclaimer. But as the owner of the veterinary hospital, owner of the laser, and fully consenting adult, I "sacrificed" my body in the name of science.
I have temporomandibular joint syndrome or TMJ. Usually, ibuprofen is enough to take care of it. However during one very stressful period, ibuprofen wasn't enough, and I was in a lot of pain.
I decided to try the therapy laser. The warmth instantly felt nice, and it was definitely not painful. I planned to try it only on one side of my jaw every other day for a week and leave the other side untreated so that I had a "control" for comparison.
About two hours after my treatment, I realized that the right side of my jaw was no longer painful, but my left side was still so painful that I cringed just from touching it. I couldn't wait an entire week to treat the left side. So I pulled the laser out again and treated the other side. By the end of the day, I felt normal again with no pain in the TMJ or the muscles surrounding it!
Setting realistic expectations for laser treatment for dogs
Laser therapy does not always result in a miracle recovery. In some cases, we may not see a huge improvement. This could be due to a number of factors including how advanced the disease is, a patient's tissues not having a significant reaction or pain in another area. Laser therapy is often an adjuvant to treatment, meaning it doesn't replace medical therapy but is used along with it.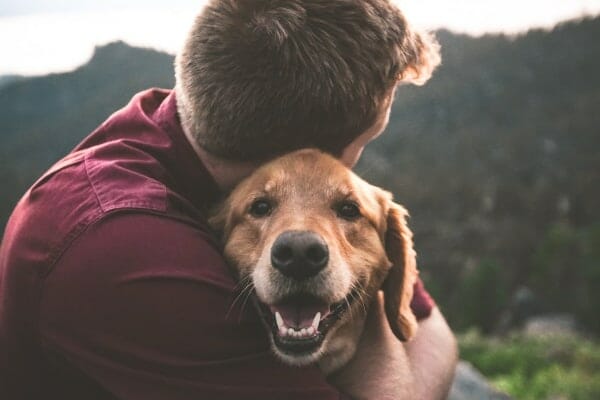 Your dog may still need pain medication but maybe at a lower dose. He may feel more comfortable but still limp because of a functional problem in the joint. Sometimes your dog may need a longer course of treatment to achieve the desired effect. Even if you do not visibly see improvement, your dog is receiving benefits from the laser. Plus, you don't have to worry about harmful side effects.
Laser treatment for dogs: great benefits and minimal side effects
Whether your dog is struggling with arthritis pain like Gabby, or any number of other conditions, laser therapy can help reduce pain and inflammation, speed healing, and get her back to the things she loves. With so many great benefits and minimal side effects, it's definitely worth a conversation with your veterinarian.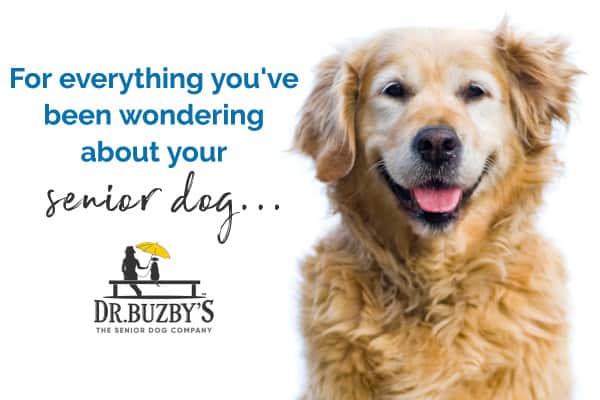 Do you have an experience with your dog and laser therapy?
Please share what you and your dog experienced so others can read and learn from even more first-hand accounts.