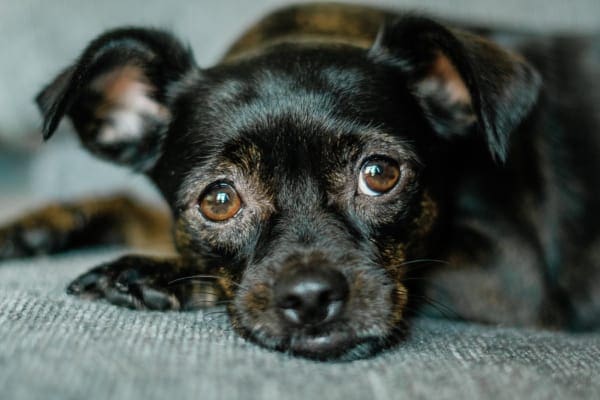 What is myasthenia gravis in dogs? This condition, which is as complicated as its name sounds, affects the way nerves send signals to muscles to make them work. Integrative veterinarian Dr. Julie Buzby breaks down the signs, symptoms, and treatment options through the story of Brutus, a dog who fully recovered from myasthenia gravis.
I'm not sure if it's appropriate to confess that vets have favorite patients, but we do. Brutus, a 10-year-old Min Pin owned by a super conscientious client, was one of my favorites. If you know anything about Miniature Pinschers, you know they are "feisty."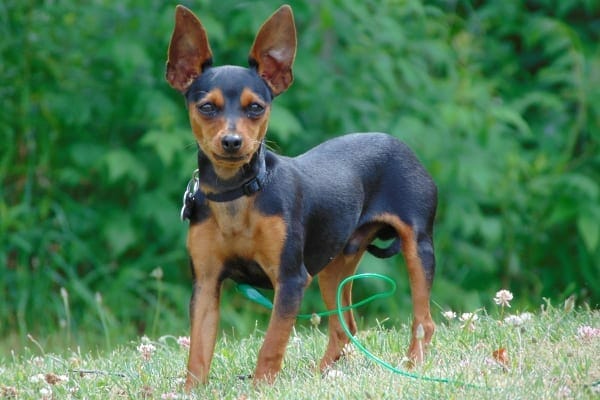 I remember hearing an acquaintance use the term "man's man" to refer to her husband once. While I'm not sure what that means exactly, I can tell you that Brutus was a "Min Pin's Min Pin." So to see Brutus in my office with dullness in his eyes instead of his usual fire made my heart hurt.
The vet visit and making a diagnosis
Brutus's mom had scheduled a vet appointment because her beloved dog was vomiting and coughing. Before I performed my physical exam, I listened to Brutus's story as told by his mom and read over the notes taken by the veterinary technician. As I stood at the exam table observing Brutus, it occurred to me that he may not be vomiting at all.
Was it vomiting or was it regurgitation?
Asking this question to a client is akin to the ophthalmologist flipping the dial back and forth repeatedly during your eye test and asking, "Which is better? This one or that one?" I feel overwhelmed by that question and wonder if it's really my job as the patient to figure it out.
So instead of asking the client to delineate between vomiting or regurgitation, I asked how, when, and where Brutus was "vomiting." Turns out, Brutus "vomited" typically after eating. And he didn't gyrate and retch (like dogs typically do before vomiting). His mom described the food as "splashing out of him." It was almost as if it took Brutus by surprise. Until proven otherwise, he was regurgitating.
During Brutus's physical exam, his mom mentioned that he'd seemed lethargic, so I recommended blood work and urine testing. These test results were unremarkable. His liver, kidneys, electrolytes, and blood cell counts all looked good.
I also recommended a chest X-ray. The regurgitation clue made me eager to look at his esophagus—the tube that connects the mouth to the stomach—and the cough made me want to look at his lungs.
Brutus's chest X-ray had some interesting findings. One of his lung lobes had a different color (or opacity) compared to the other lung lobes, suggesting pneumonia. This explained his cough.
And we had a BINGO…his esophagus was severely enlarged.
In a normal chest X-ray, the dog's esophagus is nearly invisible. Because of Brutus's enlarged esophagus, called megaesophagus, and because of his other clinical signs, I suspected that Brutus had aspiration pneumonia secondary to an underlying diagnosis of myasthenia gravis.
What is myasthenia gravis?
Myasthenia gravis is a disease that affects the space between nerve endings and muscles called the neuromuscular junction. In a healthy dog, nerves send a signal to the muscles in order to make the muscles move. A chemical called acetylcholine is released into the neuromuscular junction and conducts the signal to cause the muscles to fire. Then an enzyme called acetylcholinesterase is released to stop this signal so that muscles aren't being constantly stimulated to work.
The two causes of myasthenia gravis: inherited or acquired
Myasthenia gravis in dogs happens in one of two ways. First, it can be inherited. Certain breeds are affected more often than others, including Jack Russell Terriers, Smooth Fox Terriers, Springer Spaniels, and Miniature Dachshunds. With the inherited type, a dog is born with abnormal neuromuscular junctions so clinical signs are obvious at a very young age (typically six to eight weeks).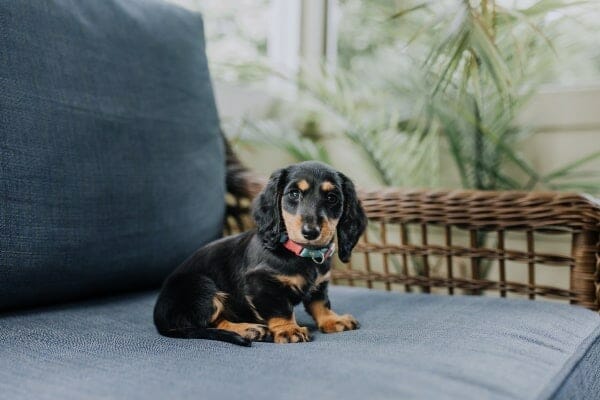 The more common cause of myasthenia gravis in dogs is known as acquired myasthenia gravis. In this scenario, the immune system attacks the acetylcholine receptors in the neuromuscular junction so that when acetylcholine is released into the gap, there are fewer available receptors to participate in relaying the signal.
I like to use a sports analogy to explain acquired myasthenia gravis. Imagine a track race where the relay racer tries to hand off the baton, but the next runner isn't available to take it. In acquired myasthenia gravis, the end result is that the signal does not get to the muscle. This results in decreased muscle strength.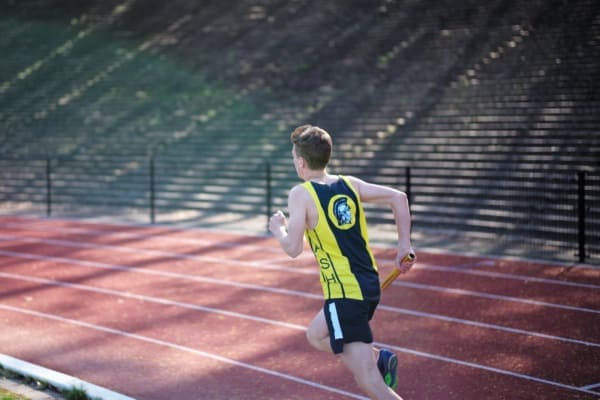 Acquired myasthenia gravis is most often diagnosed in dogs aged one through four or in older dogs aged nine to thirteen. Breeds like Akitas, Newfoundlands, Labrador Retrievers, Golden Retrievers, and Great Danes are affected more often than other breeds.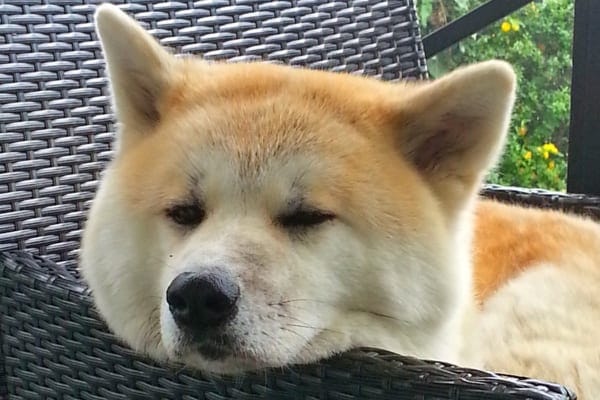 What are the clinical signs of myasthenia gravis?
One of the most common clinical signs is dysphagia, or difficulty eating and swallowing. Dysphagia is usually caused by megaesophagus—an enlarged esophagus. The esophagus becomes dilated and flaccid because it is largely comprised of skeletal muscle, impacted by the nerve synapse problem described above.
The weak esophagus cannot efficiently move food down to the stomach, so the dog regurgitates (or brings up) his food and water when he eats and drinks. This is dangerous because pets that regurgitate can accidentally inhale their food and water in the process, causing aspiration pneumonia—an infection in the lungs.
Just like in humans, pneumonia from any cause makes pets very sick with coughing and usually fever. A dog will tend to lose weight very quickly because he or she cannot get enough food to the stomach for digestion and absorbing nutrients. The reason I belabored the point about vomiting versus regurgitation is that dogs die for lack of humans differentiating between the two.
According to Dr. Linda Shell, a veterinarian who is board certified in veterinary internal medicine and neurology, "The mortality rate in acquired myasthenia gravis approaches approximately 50%, due in large part to misdiagnosis of vomiting instead of regurgitation from esophageal weakness and dilatation."
The two types of acquired myasthenia gravis in dogs: generalized or focal
The most common type of acquired myasthenia gravis in dogs is called "generalized." Just like the name indicates, it affects the whole dog. Esophageal dysfunction is very common for dog with this condition. Other clinical signs of generalized myasthenia include:
Lethargy/fatigue
Muscle weakness (especially exercise-related) and collapse
Hind limb weakness/stiffness
Another form of myasthenia gravis is called "focal." In this condition, symptoms are localized to the muscles of the face and head. Thus, signs include:
Inability to close eyes (even during sleep) due to weakness of the eyelids
Drooling
Voice change (For another condition that can manifest with this odd symptom, read my article on laryngeal paralysis in dogs.)
Regurgitation (megaesophagus)
Therefore, not all cases of myasthenia gravis in dogs present with symptoms of weakness/gait changes.
How is myasthenia gravis diagnosed?
A veterinarian might suspect that a dog has myasthenia gravis if there are clinical signs and history like Brutus's, but to be honest it's an "oddball" diagnosis that might not be top of mind. There are three ways to confirm the diagnosis:
1. A blood test
If your vet suspects myasthenia gravis in your dog, she may send out a highly sensitive blood test that looks for antibodies against acetylcholine receptors. This "gold standard" test for myasthenia gravis in dogs accurately diagnoses about 98% of dogs with acquired myasthenia gravis, though it can yield false negatives. Unfortunately, it can take up to two weeks to receive test results.
This was the test I sent out for Brutus, and it did seem to take an eternity to come back. But when it came back positive, I did the dance of joy! We had answers. And we could help him!
2. Tensilon test
Another test, called the Tensilon test, involves using injectable edrophonium chloride. The commercial name for this drug is Tensilon. It is a short-acting enzyme that inhibits acetylcholinesterase, thus temporarily flooding the neuromuscular junction with acetylcholine, which allows normal conduction of nerve signals to the muscles.
Dogs can sometimes have a dramatic response, going from lethargic to normal within moments of the intravenous injection. However, sometimes they can have minimal to no response. Also, Tensilon is no longer available commercially for veterinarians (the supplier stopped producing it), but a similar drug called neostigmine can be used.
Thanks to the brilliant team at Southeast Veterinary Neurology , you can watch this "before and after Tensilon" video of a dog being diagnosed with myasthenia gravis to see the dramatic difference:
3. A tissue sample
Finally, tissue samples can be submitted for biopsy to look for antibodies. However, taking a tissue sample from a muscle can be very invasive and painful for a dog. Most veterinarians rely on clinical history and the acetylcholine receptor blood test for answers.
It's important to note that, because tumors of the thymus—a gland located in the upper chest—can cause myasthenia gravis symptoms, veterinarians may also take chest X-rays and sometimes utilize ultrasound to examine the thymus.
How is it treated?
There are a few factors to consider when treating myasthenia gravis. If a dog like Brutus has developed aspiration pneumonia, then the pneumonia must be addressed as the highest priority. In fact, by the time the blood test results came back to confirm his myasthenia diagnosis, Brutus's pneumonia was under control.
As an aside, treatment for pneumonia varies among dogs. It may include a combination of fluid therapy, oxygen therapy, nebulization and coupage treatments (to help break up mucus), and broad-spectrum antibiotics. If the dog is having severe difficulty eating/swallowing, then he or she may even need a feeding tube to provide nutrition.
Oral medications may be used to treat myasthenia gravis
Once conditions like pneumonia are addressed, myasthenia gravis in dogs is treated with an oral medication called pyridostigmine bromide (brand name: Mestinon), which is a tablet version of the Tensilon injection but it lasts longer than the injection. Pyridostigmine is typically given two to three times a day, and because it can cause stomach upset and nausea, it should be given with food. Most dogs improve with pyridostigmine alone. Some need to be on this medication for life, but some can be successfully tapered off.
Brutus's treatment plan for myasthenia gravis
Despite being a "tough guy," Brutus had a sensitive stomach. We started the medication at the low end of the dose and slowly worked up. And slowly, his symptoms started to improve!
Many people have told me that they could never be a veterinarian because they couldn't endure seeing animals suffer. I get it. But imagine the joy I experienced seeing Brutus return for his recheck visits—and seeing his personality and energy blossom!
An immunosuppressive drug may be used to treat myasthenia
Although Brutus needed no additional medications, in some cases, immunosuppressive drugs must also be given. Remember that the underlying trigger of myasthenia gravis in dogs is believed to be related to the immune system.
A steroid like prednisone can be immunosuppressive when given at a high dose. However, if the dog has problems taking prednisone due to its side effects, then your vet may prescribe a different immunosuppressive medication.
Surgery is a treatment for dogs with myasthenia due to a tumor
If the dog's myasthenia is due to a thymic tumor, then the tumor should be surgically removed. This kind of procedure is highly invasive because the thymus is located inside of the chest cavity. If the entire tumor cannot be removed, then the dog will need to continue using oral medications and, unfortunately, have a guarded prognosis.
Tips for at-home care for megaesophagus related to myasthenia
Dogs with megaesophagus will have difficulty keeping food down. One way to help your dog is to give him or her elevated food and water dishes to keep the esophagus in a more neutral position while eating and drinking.
To take this concept one step further, a special highchair for dogs exists called the Bailey chair, which owners can build themselves. To learn how, please visit baileychair.blogspot.com.
Dogs can be trained to sit upright in this device so that gravity helps keep their food down as they eat. Ideally, the dog remains in a position that elevates the head above the belly (to help the food "slide" down the esophagus) for 20-30 minutes after each meal. Experimenting with the consistency of the food (ie. altering it to a gruel) may also be helpful in minimizing regurgitation.
Finally, if your dog has megaesophagus and you're searching for more practical home care tips, you can join an online support community at yahoo.com/group/megaesophagus.
What is the expected outcome for dogs with myasthenia gravis?
If you have found this article because your dog has recently been diagnosed with myasthenia gravis, here's the most important part of this article for you:
Apart from complications (and these can be life-threatening and need to be taken seriously), the prognosis—expected outcome—for your dog not only surviving this diagnosis but also going into complete remission is good!
The clinical signs of myasthenia gravis can resolve after several months of treatment. Your veterinarian will be monitoring your dog's progress at recheck visits. In cases with megaesophagus, chest X-rays will be done every month or so to make sure that the condition is resolving.
Remember our "gold standard" blood test for diagnosis? Veterinarians also use it to monitor a dog's response to treatment. The acetylcholine receptor blood test should be checked every two to four months after starting medication. Once the results are in normal range, the dog is in remission, though medications will likely need to be continued for life.
Brutus's return to good health
Thankfully, with the medication along with the lifestyle changes that Brutus's mom made for him, Brutus never suffered another bout of aspiration pneumonia.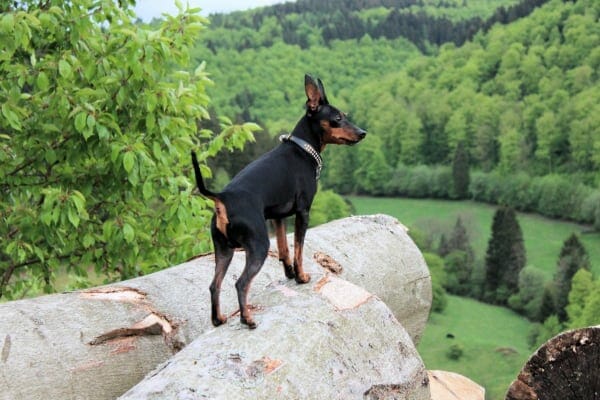 He regained his full zeal for life and went into remission after about six months of treatment. We then gradually tapered his medication to the lowest effective dose and continued to monitor Brutus at recheck vet visits.
A note about vaccinations
Because of my concern that vaccinations might trigger his immune system and cause him to relapse into active, symptomatic disease, I worked with my state's public health authorities to obtain vaccination waivers and we titered Brutus annually in lieu of vaccinations. This is a controversial issue, but for any diagnosis with an autoimmune component, vaccines should be given sparingly and cautiously. The AMVA provides detailed information in its article and policy, Annual Rabies Vaccination Waiver.
Honoring Brutus
Brutus's mom made the difficult decision to let him go at the ripe old age of 15, due to causes unrelated to myasthenia gravis. By sharing his story, we hope to honor his memory and help other dogs who may have this complicated condition. We hope you've found encouragement, help, and answers in the story of Brutus.
What questions do you have about myasthenia gravis in dogs?
Please comment below. We can all learn from each other.