Natural supplement for dogs: Are they must-haves or marketing hype? As an integrative veterinarian, Dr. Julie Buzby has seen firsthand the difference natural supplements can make in the quality of her patients' lives. But researching supplements may have you wondering whether the word "natural" is meaningful or if it is a marketing gimmick. Discover what "natural" means and get the nitty-gritty on Dr. Buzby's three go-to senior dog supplements. Your senior dog will thank you for it!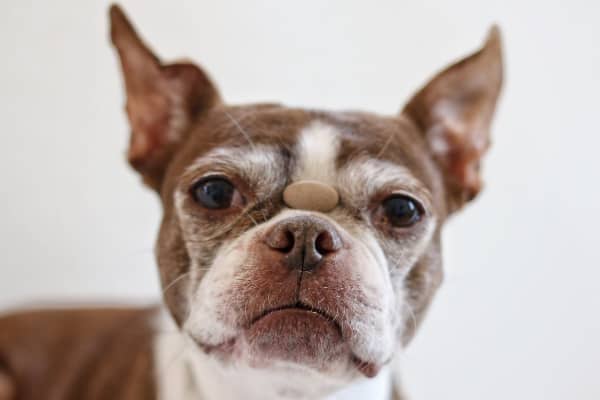 As my daughter, the future lawyer, would point out, we must begin a discussion of natural supplements for dogs by defining our terms and asking a few important questions. Namely, what does the word "natural" mean in this context? And does it carry any real significance, or is it just a marketing ploy?
What does "natural supplement" imply?
First, let's define the concept of natural supplements for dogs.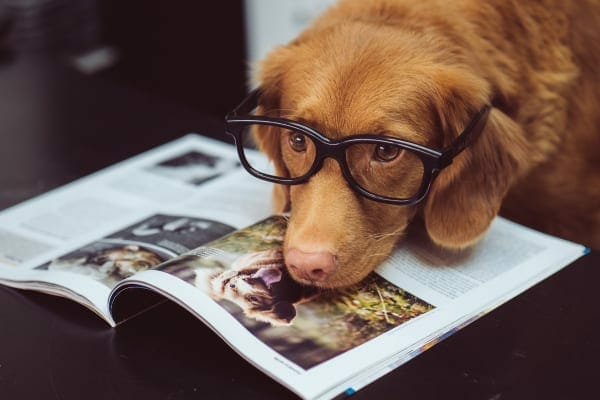 In Part I of this series on senior dog supplements, I mentioned that pet supplements fall into a "no man's land" as far as the U.S. Food and Drug Administration (FDA) is concerned. The FDA categorizes pet supplements as food. Unfortunately, the FDA stops short in offering further guidance on product labeling. So we look to the Association of American Feed Control Officials (AAFCO), which sets labeling standards, for a detailed definition of the term "natural."
Allow me to summarize. Natural supplements for dogs must be derived from nature—not chemically manufactured—and free from artificial ingredients. This definition precludes artificial flavoring, coloring, and preservatives—and anything else made in a laboratory—to be present in notable quantities.
What are my "big 3" best natural supplements for dogs?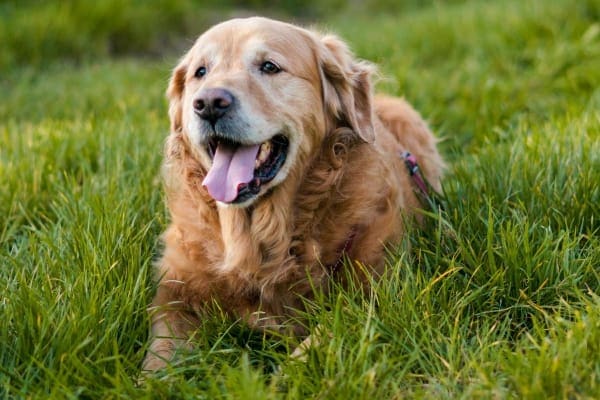 In Part I of this series, I promised to get specific on a few of my favorite natural supplements for dogs. However, as I like to tell my new clients, "If you were to get 100 vets in a room and ask them about the best natural supplements for dogs, you'd probably get 105 opinions!"
Because I love senior dogs and have seen firsthand the difference supplements can make in their quality of life, I'm happy to share my "big 3" recommendations and give my reasons behind the supplements I've chosen. I'm not writing this because it looks good on paper. Virtually all of my senior patients are on my list below, because I know they work, and their owners have seen them work. Please remember, though, this is not an exhaustive list.
1. Omega-3 fatty acids for dogs
If this were run like the NFL draft, Omega-3 supplements would be my number one pick. They have the ability to positively impact every cell in your dog's body. The polyunsaturated fatty acids eicosapentaenoic acid (EPA) and docosahexaenoic acid (DHA) found in omega-3s are "good" fats that help build and repair cell membranes. If you have even a remote recollection of high school biology, you can imagine how important they are to the body.
However, like humans, dogs cannot produce these fatty acids on their own. They must consume them orally — either through their diet or through supplements. Most dogs who consume a healthy, balanced diet won't have a fatty acid deficiency. However, they usually still benefit from additional supplementation since the latest research points to high levels of omega-3 intake as optimal.
Ask your veterinarian to help you calculate the right dose for your dog based on his or her health needs. The Canine Arthritis Resources and Education website has detailed information on dosing. You can review it as a starting point for the discussion with your vet.
What are the benefits of omega-3 fatty acids for senior dogs?
Omega-3s reduce inflammation in the body. In fact, veterinarians have used them for years as a natural skin and coat supplement for dogs. If your dog has itchy or irritated skin, a supplement rich in omega-3s would be worth considering. All of my canine allergy patients take omega-3 supplements.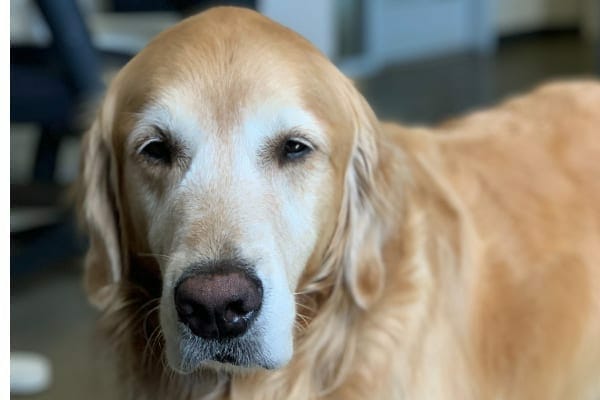 This supplement also wins the award for versatility. It can benefit your dog's eyes, bladder, brain, and joints. I've recommended omega-3 supplements for every condition from renal disease to heart disease and even some types of cancer in dogs.
Omega-3s are always on my short list of natural supplements for canine arthritis , since it is an inflammatory condition. And research supports this use. Studies show that dogs with chronic osteoarthritis who were fed omega-3-fatty acids experienced less pain and saw an improvement in their arthritic conditions.
Should I choose a plant-based or fish-based omega-3 for my senior dog?
A fish-based product is best. Here's why.
Flaxseed oil, a plant-based product, contains a fatty acid that requires your dog's body to convert it to EPA and DHA. Dogs have limited ability to make this conversion. A 2007 research study evaluating the impact flax seed and fish oils had on Boxers with cardiomyopathy supports this premise. Whereas fish oil significantly reduced irregular heart rhythms in Boxers with heart disease, flaxseed oil did not. I thoroughly believe supplementation with high-quality omega-3 fish oil is the best choice.
If you read part I in this series, you'll recall how much quality matters when selecting supplements for your dog. When choosing a fish oil, consider the source of the ingredients and whether the company tests for contaminants such as heavy metals.
Nordic Naturals is the brand I recommend to my clients. The company offers Omega-3 Pet™ products in liquid and soft gelatin capsules with EPA and DHA harvested from cold-water fish like wild anchovy and sardines.
How do I safely store my omega-3 supplements?
Once purchased, store the supplement in a cool, dry place, preferably in the refrigerator. Omega-3 supplements should never reach temperatures of 80 degrees or more.
Exposure to heat, light, and air can oxidize fatty acids causing dangerous free radicals to form. This gives the product a rancid, fishy smell. Giving your dog oxidized omega-3s would be harmful, not helpful.
2. Green lipped mussel for senior dogs
My next pick on my list of best natural supplements for senior dogs is green lipped mussel. Specifically, it's the quintessential natural supplement for senior dogs' joints.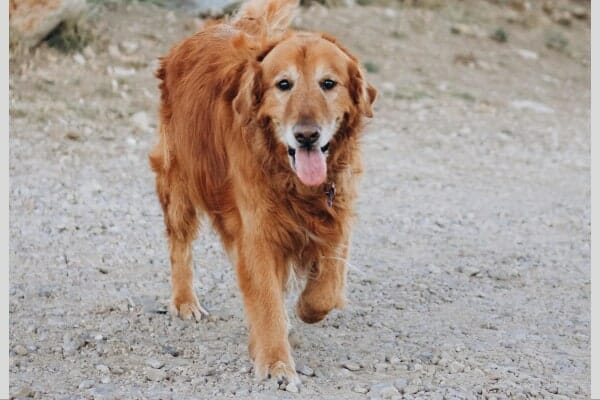 Why green lipped mussel for senior dogs?
Green lipped mussel is packed full of restorative compounds like the omega-3 fatty acids, EPA, and DHA I discussed above. But that's just the beginning.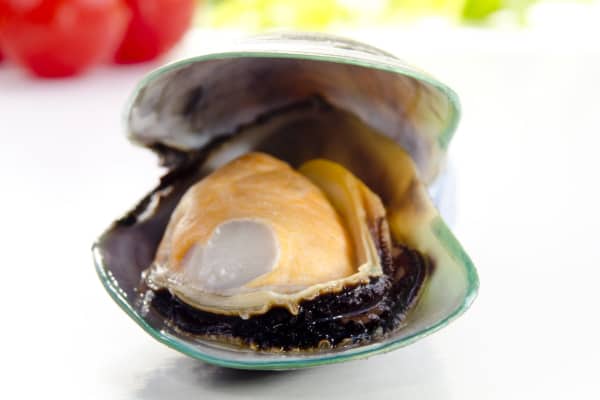 It's also rich in glycosaminoglycans (GAGs). You may not be familiar with that term, but have you ever heard of glucosamine and chondroitin? Your dog may even be taking a supplement now that contains them. Glucosamine and chondroitin are structural building blocks for cartilage, and the two best known GAGs.
One of the concerns I often hear from clients is: "I don't want my dog to be on a medication like Rimadyl that could have side effects." I'm not sure if this is a universally held belief among senior dog parents, or if my client population is skewed because I lean toward holistic therapies. I understand where they are coming from.
I'm not averse to prescribing non-steroidal anti-inflammatory drugs (NSAIDs) like Rimadyl, Previcox or Metacam, but I always, always start with a natural supplement containing GAGs first (or along with conventional medications).
This is because GAGs have a sky-high reward to risk ratio. They work like NSAIDS in the body, reducing inflammation and pain, but without significant side effects. Unlike NSAIDS, you don't have to monitor bloodwork for a dog taking green lipped mussel.
How do the GAGs found in green lipped mussel help senior dogs?
GAGs improve the health of a dog's joints in two ways. First, they are building blocks, necessary for synthesis and repair of the cartilage, which lines most joints. As you might imagine, this is very helpful for old joints that have experienced wear and tear from an active and happy life.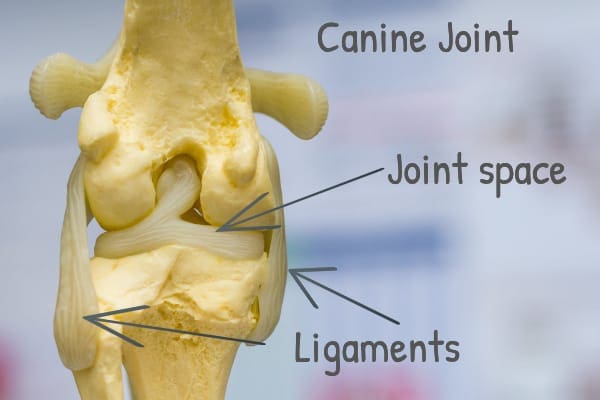 Another GAG found in green lipped mussel is hyaluronic acid. It is the main component of synovial fluid — a syrupy fluid that lubricates the joints to make motion more efficient and comfortable. The concentration of hyaluronic acid in the body decreases with age. This is one reason why I supplement all of my senior canine patients.
Because of the restore-renew-rebuild properties of the naturally occurring GAGs, amino acids, vitamins and minerals in green lipped mussel, I recommend it not only for joint disease but also for torn ACL in dogs and intervertebral disc disease in dogs.
3. New Zealand deer velvet for senior dogs
Number three in my "big three playbook" of natural supplements for senior dogs is New Zealand deer velvet. Deer velvet is the only quality renewable source of glucosamine, chondroitin sulfate, collagen, and hyaluronic acid. It also is full of growth factors. We've already covered the role and importance of the GAG family in the health of cartilage and joint fluid, so let's turn our attention to collagen and growth factors.
Collagen and growth factors defined
Collagen is a protein found in tendons, ligaments, skin, muscle, cartilage, and bone. Collagen is the adhesive holding the connective tissues together. In fact, collagen was once used to produce glue. As we age, we lose collagen. This is why collagen can be beneficial for everything from arthritis to reducing wrinkles. If you've ever heard of the nutritional benefits of bone broth, they are predominantly related to collagen.
The other key ingredient in deer velvet is growth factor — formally called "insulin-like growth factor 1," or IGF-1. Antlers are the fastest growing mammalian tissue, regrowing rapidly year after year. Growth factor is what allows for this to happen. The regenerative property of deer velvet, thanks to IGF-1, is a wonderful gift for senior dogs.
Where can I find green lipped mussel and New Zealand deer velvet for dogs?
One of my all-time favorite natural supplements for senior dogs that combines the power of New Zealand deer velvet and green lipped mussel is Encore Mobility™. The infographic below details the benefits.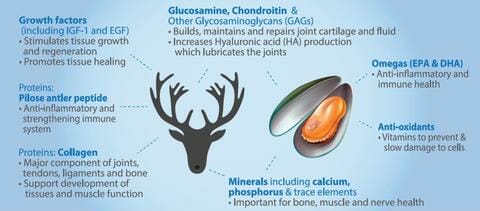 Not only do I recommend it for dogs with hip dysplasia, arthritis, IVDD, and cruciate tears, but I also recommend it for my senior patients who need a little dip in the fountain of youth. It's one of my favorite tools in my toolkit to help senior dogs feel good enough to re-engage in life's adventures.
Save 10% on Encore Mobility™ Joint Supplement for Dogs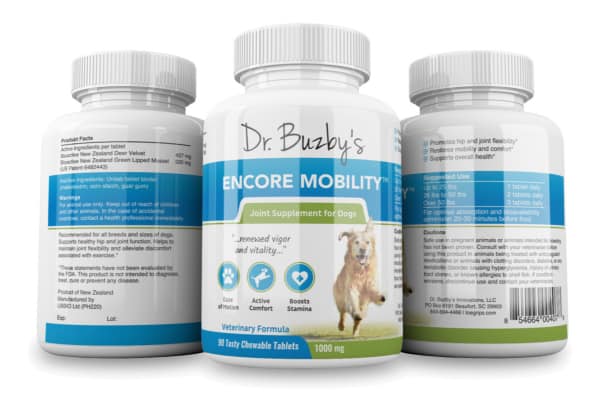 Give your dog more good days.
Use promo code HAPPY to save 10% on Encore Mobility.
Giving your senior dog every advantage
My desire is to equip you with more tools in your toolbox so you and your aging dog can actively enjoy the golden years. Supplements are some of my favorite tools! I think there are a lot of game-changing products for senior dogs that don't qualify as "natural." And I think there are a lot of "natural" products on the market that don't live up to their hype and are just a fad.
So when it comes to the best natural supplements for dogs, do your research, only buy from established/reputable companies, and ask your veterinarian for guidance.