If your older dog is losing teeth, it's usually an indicator of periodontal disease. Integrative veterinarian Dr. Julie Buzby shares the signs, symptoms, and treatment options for dental disease in older dogs. Learn how early intervention and preventative treatments can help your dog live a happy, healthy life.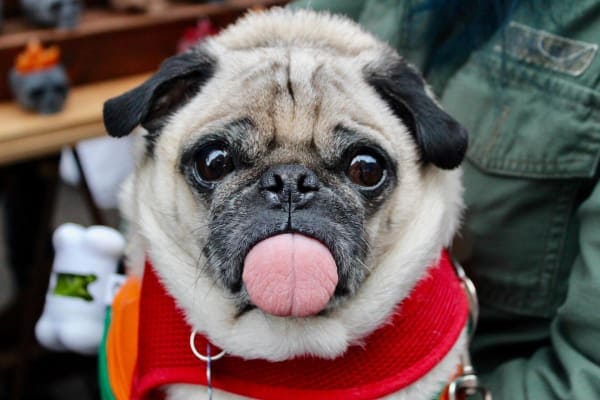 Did you know there is a connection between your dog's oral health and their overall well-being? Awareness of the causes of tooth loss, the signs of early dental disease, and dental disease prevention and treatment options can help keep your senior dog healthy and comfortable when it comes to oral hygiene.
However, without regular dental exams, professional cleanings, and an awareness of the signs of dental disease, your senior pup could very well end up losing some of his or her teeth.
So what can you do today to prevent tooth loss in the future, and what options are available if your dear old dog has already lost a tooth or two? Let's dive in.
Why is my older dog losing teeth?
If you've noticed your senior dog losing teeth and you can't chalk it up to a traumatic injury, it's quite possible your dog has some degree of periodontal disease (i.e. dental disease in dogs).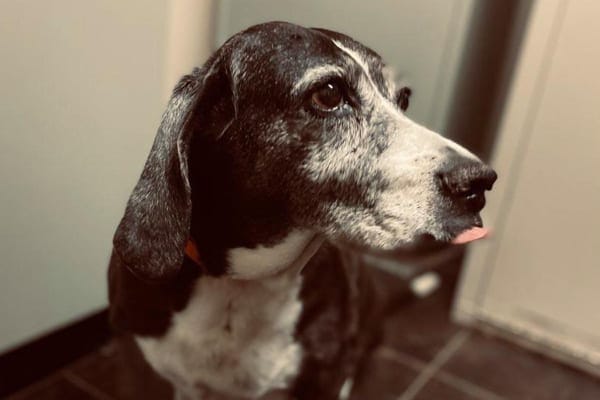 What is periodontal disease in dogs
Periodontal disease is inflammation or infection of the tissues around the dog's teeth. These include the gums (or gingiva), the periodontal ligament that anchors the tooth in place, and the alveolar bone that surrounds the tooth roots.
Veterinarians diagnose periodontal disease very commonly. It is estimated that over 80% of adult dogs will develop some degree of periodontal disease by the time they are three years old.
This disease starts when plaque, a sticky substance made from saliva mixed with food particles, builds up on the teeth. Bacteria in the plaque can cause an inflamed gum line (i.e. gingivitis). This gum disease can progress to infect the alveolar bone surrounding the teeth.
Routine brushing can remove plaque from the teeth. But if not removed, plaque eventually hardens into tartar (i.e. calculus) over time. Brushing alone cannot remove tartar. It's like cement on the teeth.
As tartar accumulates, inflammation increases and bone loss occurs. When alveolar bone loss exceeds 50%, teeth loosen and can fall out on their own.
The severity of periodontal disease may not be visible just by looking in a dog's mouth. Dental X-rays under general anesthesia will help your veterinarian determine the stage of periodontal disease.
What are the stages of periodontal disease in dogs?
As defined by the American Animal Hospital Association, periodontal disease in dogs is staged based on how advanced it is and how much of the gums and alveolar bone are affected.
There are four stages:
| | |
| --- | --- |
| Stage 1 | Gingivitis and dental calculus; the alveolar bone is intact |
| Stage 2 | Early periodontal disease; <25% bone loss around the teeth |
| Stage 3 | Moderate to severe gingivitis; 25-50% alveolar bone loss |
| Stage 4 | Advanced periodontal disease with severe gingivitis and >50% bone loss |
What are the signs of periodontal disease in older dogs?
Catching periodontal disease early can save teeth from eventual loss or extraction. If you notice your dog displaying any of the following symptoms of dental disease, schedule a check-up with your veterinarian.
Bad breath
Pain when chewing
Red or bleeding gums
Dropping food or drooling when eating
Chewing only on one side of the mouth
Showing preference for soft foods or refusing to eat hard foods
The image below shows a senior dog with significant periodontal disease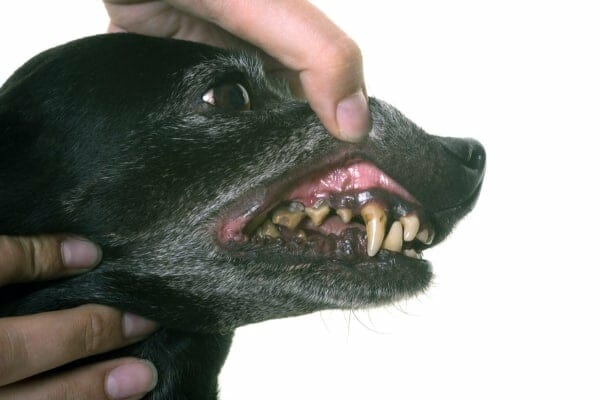 Signs of advanced stages of periodontal disease
If your dog is in the more advanced stages of periodontal disease, you may see the following:
Pus around the teeth and gums (may be visible when you push on the gums)
Visible thick tartar on the teeth
Loose teeth or teeth that have fallen out
Receding gums
Swelling around the mouth or face because of tooth root abscesses (more common if your dog has a fractured tooth)
Refusal to eat because of severe pain and oral sensitivity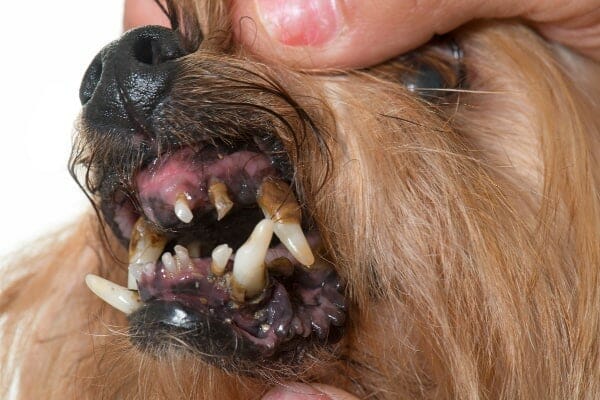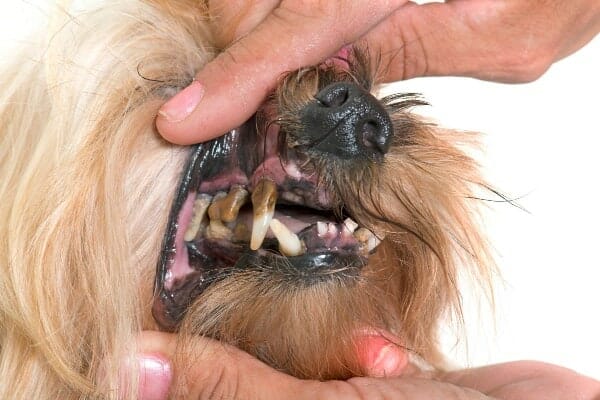 How does periodontal disease affect my dog's health?
It may appear that your aging dog's oral health is separate from the rest of her body, but nothing could be further from the truth. In fact, periodontal disease is one of the most common health problems diagnosed by veterinarians.
Here are three ways poor dental health can affect a dog's overall health and well-being:
Gradual weight loss: Because of the pain associated with periodontal disease, dogs often lose weight. If it hurts to eat, your dog will eat less and less.
Lower quality of life: Dogs with dental disease may have less energy because their mouths may be a source of constant pain. This also means chronic inflammation, which is bad for mind and body. A painful dog may have no interest in playing with toys.
Increased risk of heart disease: If your dog's gums bleed due to gingivitis, bacteria from the mouth can enter her bloodstream and migrate to the heart. The bacteria attach to the heart valves, causing inflammation (i.e. endocarditis). In its early stages, endocarditis causes lethargy and weight loss. As it progresses, it leads to signs of heart failure such as:

Coughing
Difficulty breathing
Exercise intolerance
Sudden collapse
Is tooth loss normal for an older dog?
Let me be abundantly clear that if you're wondering, "At what age do older dogs start losing teeth?" the answer is NEVER—at least not in an ideal world. Do older dogs lose their teeth? Yes, they do. I see it all the time in my veterinary practice. But, it's not something we expect to happen in a healthy mouth. Tooth loss in dogs is not normal at any adult age.
In other words, unless suffering from a traumatic injury, it is not normal for an adult or aging dog to lose teeth. It is a sign of periodontal disease.
Take, for example, older people. Do you have an older parent or grandparent who is losing teeth? Maybe, but I'm guessing they are under the care of a dentist, endodontist, periodontist, oral surgeon, or some combination of these specialized doctors.
We do not treat tooth loss as a "routine" part of aging for senior citizens. It happens, but it indicates something is wrong. The same holds true for our dear old dogs.
How can I help my older dog who is losing teeth?
If you've noticed your dog is eating less due to dental pain, you can switch out any hard kibble for canned food, or even add warm water to soften his or her food. Anyone who's ever had a toothache can tell you that sometimes hunger is preferable to eating something crunchy.
Although it may encourage them to eat, softening your dog's food will not treat the underlying problem.
If your older dog is having a hard time eating or has lost any of their 42 teeth, a trip to the veterinarian is in order. By simply examining your dog's mouth while she is awake, your vet can make some recommendations about how to proceed. He or she might suggest taking dental X-rays under general anesthesia to determine the periodontal disease stage and formulate a treatment plan.
A full dental cleaning under general anesthesia is the most common and effective treatment for periodontal disease.
What is involved in a routine dog dental cleaning?
During a dental prophylactic procedure, an ultrasonic scaler (just like those used by human dentists!) breaks up and removes plaque and tartar. After that, a polisher smooths the surface of the tooth making it harder for bacteria to adhere and form plaque in the future.
Sometimes a special gel is inserted below the gum line to help prevent future plaque and tartar from accumulating. These gels often contain an antibiotic to treat minor infections.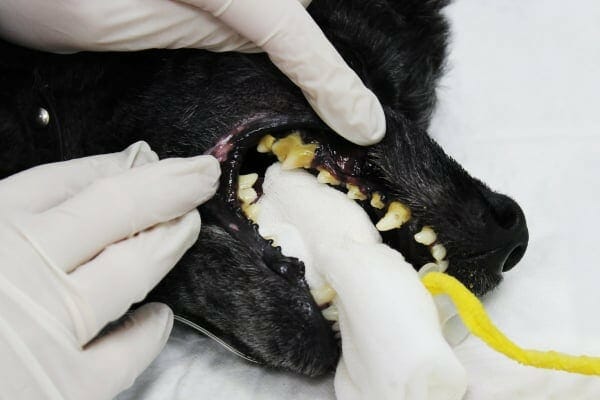 For the safety and comfort of your dog, X-rays and teeth cleanings should always be performed under general anesthesia. Non-anesthetic dental procedures simply cannot effectively treat or prevent periodontal disease. It's extremely difficult, even in the best-behaved canine patients, to get dental X-rays without sedation. Also, cleanings won't be as effective on an alert patient since the teeth can't be cleaned or scaled below the gum line.
The "root" of the problem in periodontal disease lies with 60% of the tooth below the gum line. Thus, a dental procedure must be able to assess and treat the whole tooth, not just make the visible portion of the tooth look pearly white again.
What happens if diseased teeth are found?
In some cases, a board-certified veterinary dentist can save diseased or fractured teeth. Compared to general practice veterinarians, board-certified vets have a broader range of experience and procedures at their disposal such as a root canal, a vital pulpotomy, or crown restoration.
Most canine dental procedures are performed at the general practice level, and without specialized equipment and training, many of those advanced procedures are not possible. Teeth with significant alveolar bone loss typically require extraction. Even if those teeth are scaled and polished, advanced periodontal disease is not reversible, and the teeth are likely to become infected and painful for the dog.
Can I prevent periodontal disease in my dog?
In many cases, yes! Periodontal disease can be prevented with consistent dental care. Regular tooth brushing is one huge step in the right direction.
Tooth brushing removes food particles and bacteria before they turn into plaque. Keep in mind it only takes a few days for plaque and tartar to form, so daily brushing is ideal!
If you've never brushed your dog's teeth before, there may be a bit of a learning curve for your dog and for you. Take it slowly, and stick with it! Use a soft-bristled toothbrush and toothpaste designed for dogs since human toothpaste can be harmful to dogs if swallowed. I recommend C.E.T. brand toothbrushes and toothpaste to my clients.
For a video tutorial and step-by-step instructions, please check out my article: Should I Brush My Dog's Teeth? 7 Toothbrushing Tips.
Other dental products for dogs
You may also want to consider other doggie dental products in addition to toothbrushes and doggie toothpaste. Dental chews can help physically remove food particles. Some even have a special coating to prevent bacteria from sticking to your dog's teeth. Water additives, oral hygiene rinses, and therapeutic veterinary diets can also be beneficial for dogs who are prone to dental disease.
For the most effective products, look for the distinctive white logo of the Veterinary Oral Health Council, or see their current list of accepted dental products for dogs. Any product with this seal of approval has gone through two clinical trials to demonstrate its efficacy, so you can feel confident it will delay plaque and tartar formation.
In addition to brushing your dog's teeth at home and choosing effective dental products for dogs, you can also look no further than your dog's toy box and only choose safe chew toys for dogs.
Preserve the smile you love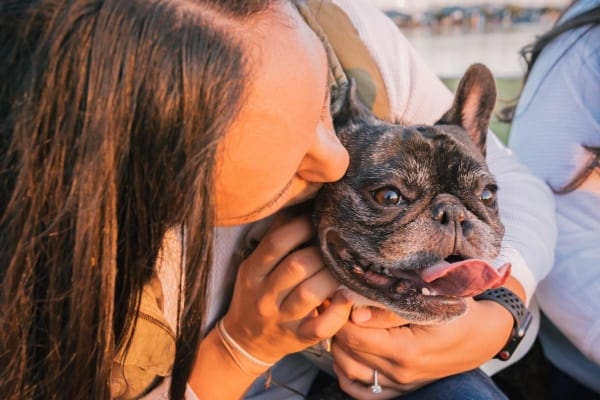 Periodontal disease at any stage is serious, and if left untreated, can lead to tooth loss, difficulty eating, weight loss, and even heart disease. However, the sooner you notice early warning signs, the more likely you are to preserve that happy smile you've come to love over the years.
Of course, if your dog is already losing teeth, contact your veterinarian right away. With quick intervention, you can relieve your pup's discomfort in no time.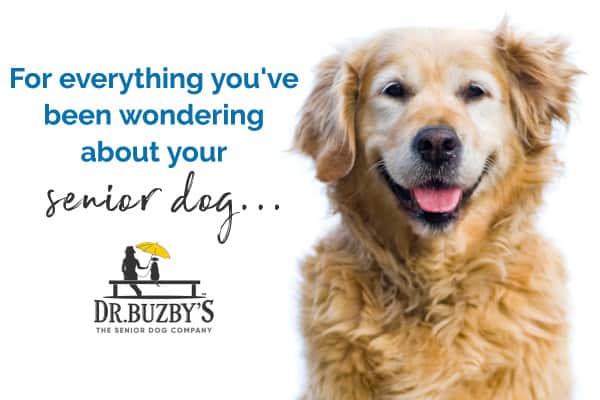 What habits do you have for keeping your dog's teeth and gums clean?
Please comment below.