Do you wonder if your dog is too old for surgery? Senior dogs certainly have their own surgical and anesthetic considerations. So how do you know if surgery is the right thing for your dog? Integrative veterinarian Dr. Julie Buzby gives insight into deciding whether surgery may be the right call for our geriatric friends.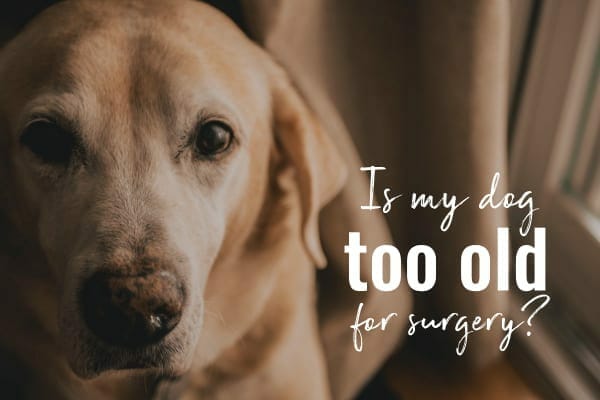 "But isn't my dog too old for surgery?"
As an integrative veterinarian with over 25 years of experience caring for senior dogs, I field this question from pet parents on a regular basis. The answer may not be what you'd expect.
Age is not a disease, and your dog is never "too old" to receive the quality care he or she needs, even if it requires anesthesia and surgery.
Let's discuss how to reduce the risks of surgery for your senior dog and why quality care at every age is critical.
How to reduce the risks of surgery for your senior dog
Senior dogs can have unique anesthetic considerations (see Is My Dog Too Old for Anesthesia) and may have more prolonged recovery periods than their younger counterparts. But that doesn't mean that surgery should be off the table for them.
The good news is that many older dogs can do great during and after surgery, and we stand a chance at significantly improving their quality of life.
A thorough work-up prior to anesthesia should be part of the plan for any dog that is having surgery, but this is especially important for older dogs.
Senior dogs can have underlying health issues that we don't know about. Performing a physical exam, diagnostic tests like blood work (including blood cell count and chemistry), X-rays, and sometimes even ultrasounds of the abdomen or heart (depending on what the surgery is and what the individual dog's health history is) may be warranted before proceeding. Identifying (and managing) underlying health concerns before surgery can significantly reduce the risks of anesthesia.
Your vet may also recommend more in-depth monitoring for your pet during surgery itself. Vets can routinely measure heart rate, oxygen levels, body temperature, blood pressure, and more.
If your veterinarian doesn't have the monitoring equipment he or she thinks would be best for your dog's surgery, he or she may recommend referral to a board-certified veterinary surgeon for the procedure.
With your dog's health history in mind, your vet can steer you in the right direction to make a sound decision on whether surgery is the best choice for your grey-muzzled companion.
Surgery for senior dogs: A veterinarian's remarks
Recently, I read the following remarks from my colleague, Dr. Kelly McGuire, and I asked for her permission to share them. I couldn't agree more with her sentiment and I love her perspective.
Yesterday I euthanized two of my long-term patients. One was Gabriel. He was a 17-year-old Cairn Terrier. When he was 15 I started seeing him. He had a murmur and cataracts and osteoarthritis. He was "old." He also had severe dental disease. I pretty much begged them to let me do a dental. We did.

I made him not "old" for another 18 months. Their previous vet told them he was too old and not ok for anesthesia at 13. He was owned by two wonderful women who hugged me and thanked me for more good times with him.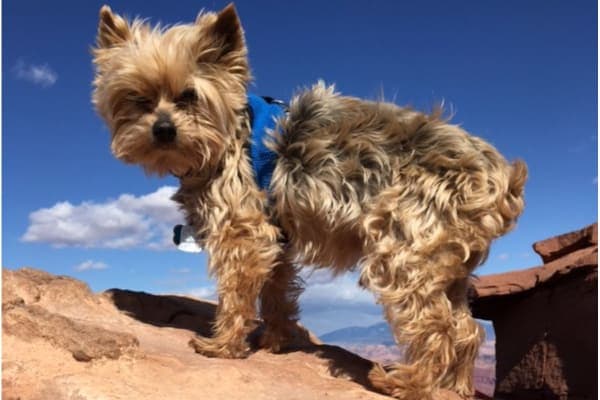 The other was Noel. She was almost 18, I think. She had chronic kidney disease (CKD), hypothyroidism, a heart murmur in dogs, and a growing splenic tumor. I removed that spleen two years ago. She lived another two years until the CKD caught up with her. The two men that owned her are amazing and wonderful and thanked me for getting them more time.
Will it always work? No. But we've got to change the mindset that says, "My dog is too old for surgery."
I work in a city and clinic that are constantly growing. Sometimes I even have to disagree with what my clients have been told by other vets…I beg them to please stop telling people it can't be done. These animals and owners deserve a chance at more quality, pain-free time."

~Dr. Kelly McGuire, Park Hill Veterinary Medical Center, Denver Colorado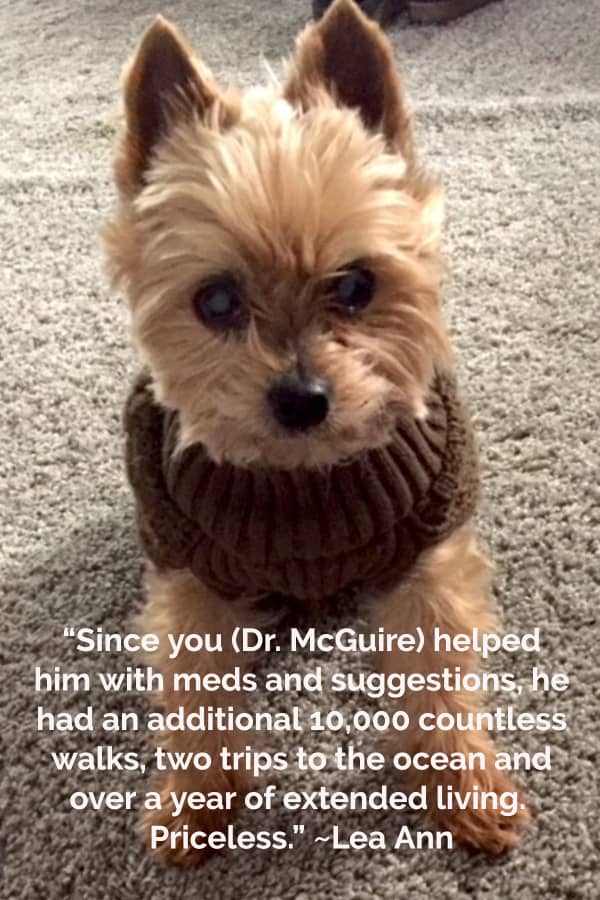 Dental surgery for senior dogs
My next story comes from a friend and colleague, Dr. Christy Mackenzie. She gave me permission to share her account of choosing dental surgery for her own dog, who was 18 years old when he had his dental!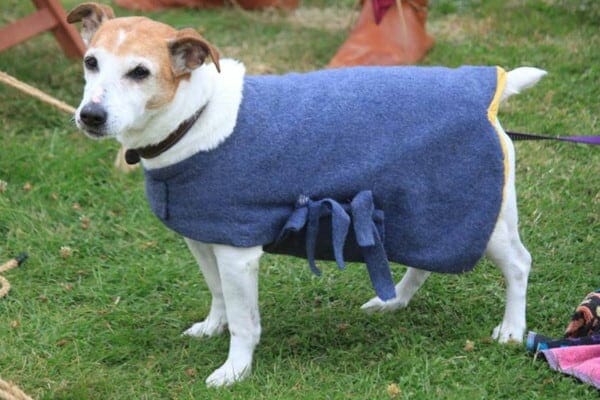 I tell people all the time that I anesthetized my 18-year-old Jack Russell Terrier, Kip, for a dental—six months before he passed away. He had moderately high liver values at the time, but he needed it done.

And then he had another happy six months, as opposed to not having another happy six months. Worth every penny!

Was I scared about it? Of course, I was. I'm always a little scared for any patient that's going under anesthesia, in spite of trying to make it as safe as I can for every patient. But, to me, it's worth the risk to make them comfortable and happy.

Plus, we found out at that last dental that while we thought all his teeth were healthy, since he had had regular dental cleanings most of his life, he actually needed two of his last molars removed (that couldn't be seen on regular exam while awake). So we spared him a LOT of discomfort for those last six months!"

~Dr. Christy Mackenzie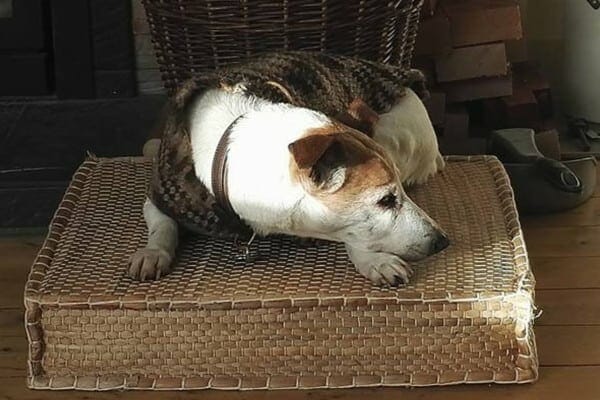 Ensuring senior dogs get the best quality of care
In all of these examples, I hope you can feel the gravity of the decisions. As veterinarians, we don't take lightly that choosing surgery for a senior dog is a difficult decision. Veterinarians carefully examine each patient and perform appropriate lab work and diagnostics in advance.
Significant thought and care go into custom formulating the anesthetic protocol for our senior patients. They receive intensive care and monitoring before, during, and after the procedure.

The bottom line is this…we don't shy away from anesthetic procedures if there is a golden opportunity to improve our senior canine patients' quality of life.
Dental surgery for old dogs
For example, dental extractions under anesthesia on senior dogs with "trench mouth" is one of the most rewarding parts of my job. These patients feel so much better afterward. It's like I dipped them in the Fountain of Youth! And that's just one example of how it is possible to improve the quality of life for senior dogs through an anesthetic procedure.
My last story comes from one of our ToeGrips® dog nail grips customers, Cynthia. Recently, she shared with me her story about choosing surgery for her senior dog. With her permission, I'm sharing her account and I hope that it helps others who are grappling with this decision.
A dog owner's decision to choose surgery for her senior dog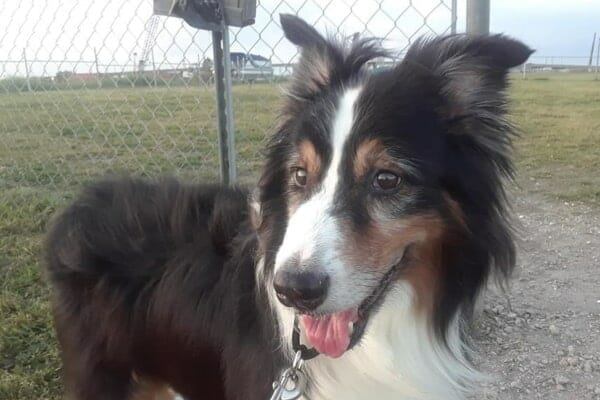 Chopper is our 13-year-old black-tri Australian Shepherd who was intact until last week. He has always been such a sweet and loving boy! We had chosen not to neuter him after two litters of pups he sired because he was diagnosed with degenerative disc disease which led to a dorsal laminectomy at eight years old.

Following the surgery, we felt he had suffered a stroke as he would not lie down. We were told by his doctor, a top neurosurgeon, that it was a behavioral disorder. We insisted this was not normal or behavioral, so they did a series of spinal injections and he was able to sleep normally once more. After all of that, we didn't want to put him through a surgery to neuter as he'd been through so much medically.

Just after he turned 10, I noticed a very slight change in his ear set; the right side looked a little different. So off to the vet we went. Upon initial exam, we were once again referred to a specialist as a brain tumor was suspected.

A CT Scan was recommended and we agreed to the procedure. It did not show a tumor or cyst but it did confirm he'd had a stroke in the past. Not something I was happy to have been right about, but it did affirm I do know my dog.

Next was an MRI which did confirm there was a tumor/cyst applying pressure to the brain stem and the fifth cranial nerve, possibly a nerve sheath tumor. There was no way to know without doing a triple craniotomy, which we were not inclined to do given the grave possible consequences…brain bleed, brain swelling, altering who he was mentally, and possibly not surviving the surgery.

The odds just were not in his favor.

Without surgery, they said we probably had three months left with him. We were beyond devastated. We decided that we would continue to love him and cherish every single day.

Three months passed, and we still had our happy boy. Then six months, a year, then two. His vets were amazed!

A year ago, he began to have incontinence issues. He would struggle to urinate but with a much decreased stream. Our vet prescribed a medication to help with bladder control. That worked about six months until he began to have issues once again.

We were out of town working in Colorado and took him to a vet referred to us. Upon hearing his history, she suspected we were dealing with a prostate issue as opposed to the bladder. She ordered an abdominal ultrasound which showed an increased prostate. We stopped the bladder medication and started a regimen of prostate medication.

This worked almost six months, until this February when it flared up again but was definitely the worst it had ever been. Total incontinence with him wearing male wraps/diapers. He was miserable and we were worn out from all the worry and the constant cleaning of him. This time we were in New Orleans, LA, and did not have a vet who knew his history.

We contacted the vet who treated him in Colorado and miraculously one of her best friends was in practice here in NOLA! She was able to get us an appointment the next day! We did full panels of bloodwork, a urine culture, and repeated the abdominal ultrasound.

His prostate was again very enlarged. The culture grew E. coli and staph bacteria so we started him on antibiotics and discussed options. Given the brain "cyst," degenerative disc disease and prostate issue, we had to try to decide which was causing the incontinence. We all agreed that the prostate was the most likely culprit and easily solved with a neuter.

Our only reluctance was anesthesia given his age and past medical challenges. We were worried that the few neurological side effects he did have could be permanently increased by the anesthesia.

The vet was very knowledgeable and nice, and worked up a plan for a short surgery with as few possibilities for problems as possible. We scheduled surgery for March 7 of this year. She planned to neuter, aspirate the prostate and get a sterile urine sample.

I am extremely happy to report that he did very well in surgery with no complications, woke up and recovered well from the anesthesia.

However, the first 24 hours, we did see an increase of neurological symptoms which really scared us but the vet felt they would return to normal within 48 hours. Thankfully, they did and he was urinating normally within hours of the surgery.

He is acting as though he is young again! I'm so thankful to have had a team of doctors who cared so much about his quality of life! He has recovered so much better than we could have ever expected!

And your ToeGrips gave him so much more stability after his back surgery! Thank you for all you do!"

-Cynthia Fowler
Considering surgery for your senior dog? Take these 4 steps
If your veterinarian is recommending surgery for your senior dog, it's because she or he believes that it will help your dog feel better, and maybe live longer too!
Here are specific steps to take to help you determine what's best for your dog:
1. Speak with your veterinarian about your concerns.
Have a frank discussion with your vet about surgery and share any concerns you have. Veterinarians are well aware that anesthesia and surgery can be life threatening for any animal and want to make sure you as a pet parent are comfortable moving forward. Open communication is best for everyone!
2. Discuss the pros and cons of surgery for your senior dog.
Ask your vet to lay out the pros and cons of the surgery. This way, you and your veterinarian will have a clear idea about whether the benefits of surgery outweigh the risks.
3. Consider a referral to a veterinary specialist.
If you or your veterinarian feels uncomfortable about proceeding, you can ask for a referral to a specialty facility. Many referral hospitals have board-certified veterinary surgeons and anesthesiologists. They also have specialized equipment that may maximize the chance of a positive outcome for your dog's surgery.
4. Remember, age is not a disease.
Please don't write off a surgical procedure because of the myth that your dog is "too old for surgery or anesthesia." Age is not a disease!
I hope these perspectives shed some additional light on surgery for senior dogs, and that you feel empowered to make the best decision for your own dog.
Do you have questions about surgery for your senior dog?
Please comment below.