Figuring out how to keep dogs cool in summer is important not only for their comfort but also for their health and well-being. Sadly, heat stroke claims the lives of hundreds of dogs each summer, and it's largely preventable. To help you figure out how to keep your dog cool, comfy, and safe this summer, integrative veterinarian Dr. Julie Buzby provides 17 cooling strategies.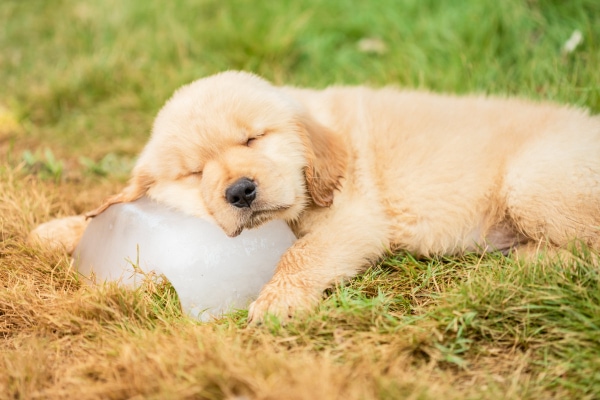 Summer is often synonymous with long, hot days. As a dog parent, the extra hours of daylight and warm weather provide plenty of time and opportunities to create special memories with your beloved dog. But while the summer heat brings with it camping, hiking, and other fun outdoor activities, it also means an increased risk of heat stroke or heat exhaustion for your dear dog.
As a result, it is critical to know what happens when a dog starts to suffer from heat exhaustion or heat stroke, and how to prevent those problems by keeping your dog cool in summer.
What are heat stroke and heat exhaustion?
Heat exhaustion and heat stroke both occur when your dog's body is no longer able to properly cool itself. Normally, appropriate internal body temperature in dogs is maintained by panting, lying on something cool to transfer heat to that surface, or sweating through the dog's paws.
However, if dogs are left inside a hot car or spend too much time playing in hot weather, their bodies' cooling mechanisms can become overwhelmed. And they will be unable to cool down sufficiently.
When this happens, heat exhaustion occurs first. Your dog may be panting heavily and appear weak, dizzy, or disoriented. If you think your dog is experiencing heat exhaustion, it is important to take your dog somewhere cool and quickly help him or her cool down. Heat exhaustion is not usually an emergency. However, it can turn into heat stroke, which is a life-threatening emergency.
Heat stroke in dogs occurs when the dog's body temperature is so high that the body can no longer function properly. Some heat stroke symptoms include:
Excessive panting and drooling
Bruising of the skin
Incoordination
Being a lethargic dog or sudden sleepiness
Vomiting or diarrhea (which may be bloody)
Collapse, loss of consciousness, or changes in mental status
Extremely elevated body temperature (technically anything over 105oF but often in the range of 107-109oF)—which is why I think it's important dog parents learn how to take a dog's temperature.
Once signs of heat stroke in dogs begin, the prognosis can quickly worsen. Affected dogs may experience brain damage and organ failure, or even die from heat stroke.
Therefore, it is important to immediately make an emergency vet visit if you suspect your dog may have heat stroke. If you can, try to mist your dog with cool (not cold) water and turn on the air conditioning on the way to start the cooling process.
How can you keep your dog cool in summer?
However, rather than having to figure out how to cool your dog down once he or she has heat exhaustion (or worse), it's much easier and safer to prevent your dog from overheating in the first place. Plus, keeping your dog cool in summer weather also makes him or her more comfortable. No one likes being overheated, whether you are a person or a dog.
So, let's discuss how to keep dogs cool in the summer. I want to share with you my 17 favorite ways to keep your furry friend safe while enjoying being outside.
Staying cool in the house during the summer
In many situations, it will be cooler inside the house than outside. There are some great ways to use the indoors to keep your dog cool.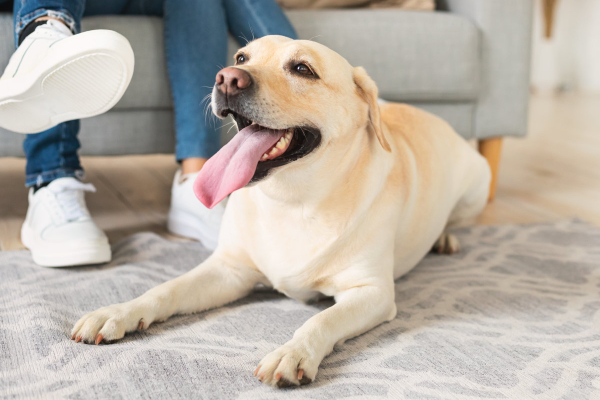 #1: Turn on the air conditioning
On a hot day, sitting on the couch with the air conditioning blowing on you probably sounds amazing. And your dog likely thinks so too! If your house has AC, this is certainly the easiest way to keep your dog cool.
When possible, try to keep your dog inside during the hottest parts of the day. This is when your dog is at the greatest risk of overheating. Even if your dog seems ok outside, making him or her come inside and cool down can be good for your dog—and probably for you too!
We'll talk more about the importance of hydration in a bit. But I wanted to mention that you should ensure your dog has access to clean, fresh water while chilling in the house too.
#2: Provide good airflow, especially if you don't have AC
While air conditioning sounds nice, I know there are many people who do not have AC. So, how do you keep your dog cool inside the hot house (or apartment or garage) without it?
One of the best ways is to circulate the air inside the house. In summer, the house can feel "stiff" and hot if there is not good airflow. If you have ceiling fans, turn them on—especially during the cooler parts of the day. This will help push the air around and even out the temperature throughout the house.
You also can purchase box fans, standing fans, swamp coolers, or stand-alone AC units. There is a large range of sizes and costs for these items. This lets you customize your selection to match what is best for your house and situation.
If you only have a fan or swamp cooler in one room, try to keep your dog in that location. It's likely the coolest room in the house. And it would be the most comfortable place for your dog to relax.
#3: Move the dog bed or kennel away from the window
Whether you have AC or not, it's important to consider where your dog is sleeping when inside the house. If your dog goes to his or her favorite bed, kennel, or blanket, he or she might not notice that it's located in a spot that's considerably warmer than the rest of the house.
If your dog's bed or kennel is near a window, skylight, or other path of sunlight, move it away. That way it isn't in or near the direct sunlight. Also, move the bed if it's in a room without good ventilation and airflow. This way, your dog won't have to choose between a comfortable bed, or being in a cooler spot.
#4: Use a dog cooling mat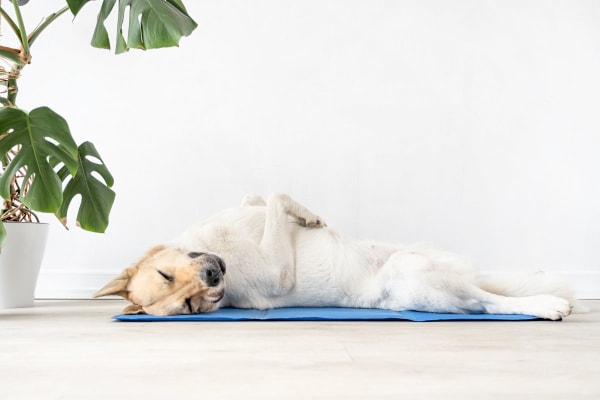 Even if you move the dog bed out of the sun, the soft, fluffy surface might be warmer than your dog prefers on hot days. As a result, he or she may get off the bed and go sleep on the tile or wood floor during the summer. These surfaces hold cold better than the dog bed, making them a cooler spot for your dog to nap.
If your dog seeks out the cool floor, he or she would probably love a cooling mat. Cooling mats can work in many different ways. Some need to be filled with cold water before each use. Others are activated by the pressure of your dog lying on them. And some cooling mats plug in or have batteries to run them. These often have adjustable temperature settings so you can pick how cool the mat needs to be for your dog.
Cooling beds can help conduct cooler air to your dog. This allows him or her to maintain a lower body temperature. Additionally, I like cooling mats because they give the dog a cool surface to lie on that isn't the floor.
Cooling mats provide cushioning too
While lying on the floor is okay for most dogs, some dogs might need to lie on something softer instead. For example, lying directly on the hard floor can worsen dog elbow calluses. And senior dogs or those with osteoarthritis in dogs might have a hard time sleeping on the floor. The increased pressure from the hard floor can be painful on their already sore joints. Plus, it can be difficult for them to get the traction to get up off the floor (but Dr. Buzby's ToeGrips® dog nail grips can help with that.)
For these dogs, cooling mats are the perfect solution! Not only can they help keep dogs cool, but they are also comfortable, especially for senior dogs or those with orthopedic problems. This makes them one of my favorite products to keep dogs cool in the summer.
Keeping your dog cool outside during the summer
While keeping your dog inside is one way to stay cool, most dog parents want to take their dogs on fun adventures during summer. So how do you keep your dog safe and cool while enjoying the hot weather?
#5: Keep your dog hydrated
Anytime your dog (and you) spend time outside in the summer heat, proper hydration is key to staying cool. When it's hot, it's easier for dehydration (and its negative effects) to set in. Drinking water is always important—but even more so in warm weather.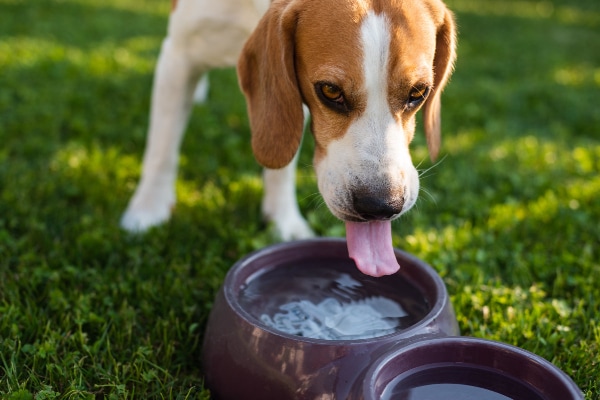 In order to stay hydrated, dogs should drink at least one ounce of water per pound of body weight per day. So, if your dog weighs 15 pounds, he or she should drink at least 15 ounces of water a day. However, there are exceptions to this guideline. Dogs who are active, pregnant, older, or have conditions like kidney failure in dogs will need to drink more water each day.
When outside (and inside), your dog should always have access to clean, fresh, cool water. The water bowls should be easy to reach and find. Check the bowls daily to make sure that they are clean and free of bugs, dirt, plants, and other debris.
Placing the bowls in the shade or another comfortable location can help encourage your dog to visit the water dish more often. So can finding a bowl that your dog really likes to drink from. Additionally, if your dog has a favorite place to sleep or relax outside, you may want to put the water dish in that location to encourage your dog to drink.
#6: Take breaks regularly
In addition to proper hydration, taking breaks from the heat is also critical.
When your dog is outside for long periods of time, it's easier for his or her body's cooling system to become overwhelmed. If this happens, your dog will not be able to regulate his or her body temperature—increasing the risk of heat exhaustion and heat stroke. Therefore, when you are enjoying the weather with your dog, it's important to take him or her inside every so often—especially if you have been playing and exercising together.
By taking your dog inside the house, your dog can lie down and cool down some. This gives the body time to play "catch up" and lower the internal temperature. Keep in mind that when your dog is inside, it's important to encourage him or her to lie in a cool spot (such as by the AC, on the floor, or on a cooling mat). Also, make sure your dog has access to water.
It might sound silly, but if you take your dog inside to relax, please make sure that he or she actually relaxes. This isn't a continuation of playtime inside. Instead, the break should be used for resting and sitting or lying down. If your dog wants to, this is the perfect time for a nap!
Still, take breaks if you are far from home
If you and your dog are out hiking (or doing another activity away from home), it's important to take breaks. This might mean stepping off to the side of the trail for a few minutes to drink water, pet your dog, and let everyone catch their breath. If possible, find a shady place to relax for a bit. Then, continue on your hike if your dog looks ready and eager to go.
#7: Hang out in the shade
Along the same lines, whether you are hiking, camping, on a walk, at the dog park, or playing at home in the yard, it's important to make sure that your dog has shady spots where he or she can escape the heat. While it doesn't change the actual temperature outside, standing in the shade can feel 10 to 15 degrees cooler since the sun is not constantly shining on you and your dog.
I often get asked if dog houses can act as shade to keep a dog cool. The answer is…it depends. Many dog houses are not constructed in a way to keep the inside cool. In fact, many are actually designed to provide warmth. So, the inside of a doghouse could be hotter than the normal outside temperature.
On the other hand, there are some dog houses that are built more like miniature homes. These have siding, insulation, and other components that might keep the inside cooler. But, even with this kind of house, it is important to place the doghouse in the shade. If it's in direct sunlight, it's more likely to heat up.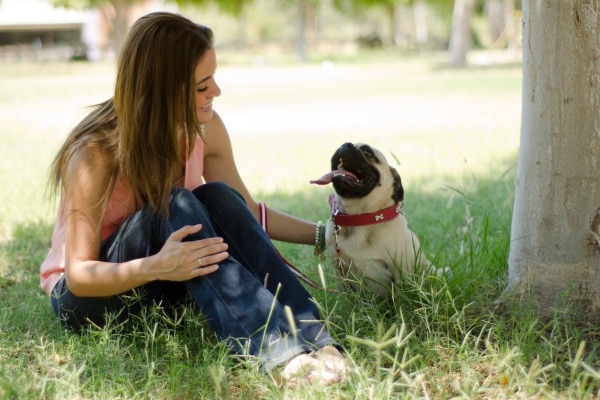 Anytime your dog is going to spend time in the doghouse, you must check the temperature inside first. Additionally, you should always check inside for snakes. Snakes like to find cool, shady places to hide. Therefore, summer is a very common time for snake bites in dogs to occur.
#8: Let your dog play in the water
If shade isn't doing enough to keep you and your dog cool, swimming is a fun and great way to relax in the warm weather. You can keep your dog cool by:
Setting up a sprinkler so he or she can run through the cold water or get sprayed by it (but always test the temperature or let it run a bit first—the residual water that sits in a hose while turned off can reach scalding temperatures)
Filling a kiddie pool with water
Taking your dog to the lake or river (which could be a great option for keeping your dog cool if you are camping near water)
Visiting a friend with a dog-friendly pool
Going to the ocean
Water safety tips
While playing in the water is fun, it's important to always remember to practice water safety and be aware of your surroundings. If you and your dog visit the ocean or another large body of water, closely monitor the waves and tides. Strong waves can be dangerous for your dog and make it difficult for him or her to safely swim.
Additionally, if your dog is swimming in salt water, avoid letting him or her drink large amounts of the water. The saltwater might seem like it's quenching your dog's thirst. But it can actually dehydrate your dog, or occasionally lead to life-threatening salt toxicity.
In fact, if your dog wants to play in or drink any kind of standing water, you should examine the water first. Contaminated water, or water containing blue-green algae, and dogs don't mix. Both could be harmful (and even deadly) to your dog. If you see any signs of contamination or blue-green algae, it is best to avoid letting your dog swim in (and drink) the water.
Finally, keep in mind that some dogs who swim a lot during the summer may develop limber tail syndrome in dogs (i.e. swimmer's tail). If this happens, talk to your veterinarian and give your dog a break from swimming for several days.
By closely monitoring your dog in the water, you and your dog can enjoy a fun (and safe) day!
#9: Offer your dog frozen treats and "pup-sicles"
Playing in the water is certainly fun. But there are other ways to help your pup survive summer heat waves too. Frozen treats are one of my dogs' favorite ways to do so.
Each year, I fill an ice tray with water. Then I put snacks that are safe and freeze well in each ice cube slot. My favorite foods to include in my frozen treats are vegetables dogs can eat. Once filled with yummy veggies, or other treats, I freeze the ice tray to make small, cubed frozen snacks for my dogs. Alternatively, you could stuff your dog's Kong with canned food, peanut butter (as long as it's free from xylitol, which is toxic to dogs), or other tasty treats and then freeze it.
When making frozen treats for your dog, it's important to only use safe and healthy ingredients. Also, ensure the veggies (or other food) are cut in appropriate sizes so they won't be a choking hazard. Some dogs get very excited about frozen treats. This makes them more likely to choke when quickly eating the treat.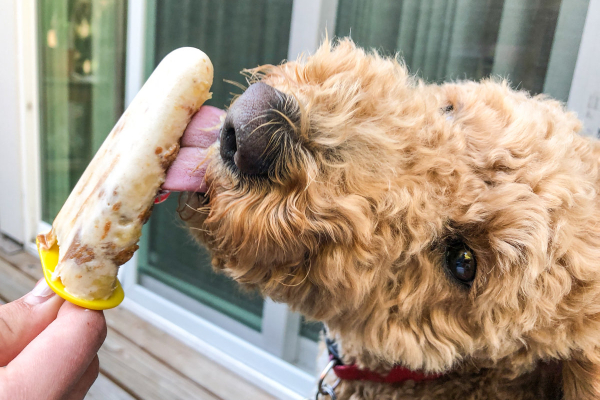 In addition to frozen treats, I have many clients asking about giving their dogs ice cubes. Ice cubes are another potentially safe treat option for your dog during the summer. However, it's important to avoid giving ice cubes or other frozen treats in large amounts or aggressive chewers. They don't adhere to my typical guidelines for choosing safe chewing toys for dogs because they are hard enough that you can't dent them with a fingernail. Thus, it is possible that chewing on these hard treats (rather than mostly licking them until they melt or chasing them around) can cause damage to your dog's teeth.
#10. Stay inside during the hottest part of the day
These frozen treats are fun outside. But they can also be a way to keep your dog happy (and cool) while inside the house (especially if you do a frozen Kong where the mess is a bit more contained). This is helpful because staying inside during the hottest part of the day is another great tactic for keeping your dog cool.
Playing outside in the early morning or late afternoon will let your dog enjoy the outdoors during the coolest part of the day. And in the middle of the day (which is usually the hottest part), your pup can relax inside without overheating. (While in the house, remember to practice the tips that we discussed at the beginning of this article.)
Keep your dog cool on walks, hikes, boat trips, car trips, and more
Sometimes there are specific situations—like walks, hikes, boating, or car trips—where you might need to put some extra thought into keeping your dog cool.
#11: Keep your dog cool on walks or hikes
As we just discussed, the best time to take your dog outside is during the coolest part of the day. This is also the best time to go for walks or hikes with your dog in the summer.
If your dog is used to going on walks every day, it's important to continue this schedule during the summer. Dogs need walks to exercise, stretch their legs, and sniff and explore their surroundings. But, when walking, it is crucial to take some precautions to keep your dog safe (and cool):
Keep walks shorter if it is extremely hot outside.
Don't let your dog get overstimulated or exercise too vigorously. (This is especially important if your dog is a flat-faced breed like Pugs, Boston Terriers, and Bulldogs. These breeds can overheat faster than other dogs.)
Monitor your dog for panting or sudden signs of lethargy. If your dog looks tired, stop walking and take a break. Then, turn around and go home.
If walking on pavement, concrete, or the beach, check the temperature of the ground with your hand. If the ground feels like it's burning your hand, it could possibly burn your dog's paw pads and cause a dog paw pad injury. Therefore, it's best not to walk on hot surfaces.
If you must walk your dog on hot surfaces, use dog booties like PawZ dog boots to protect the paw pads from burns.
Always take water with you on walks so your dog can stay hydrated (and bring some for yourself too).
By practicing these precautions on your walks, you and your dog can enjoy exploring and exercising during the summer.
#12: Keep your dog cool on boats
Every summer, not only do clients ask me about taking their dogs for walks, but they also ask about boating with their dogs. In most cases, it's safe to take your dog boating with you! But, it is important to ensure that he or she is safe and stays cool.
If your dog is joining you for a boat ride, make sure the boat has tall enough sides for your dog to safely sit in the boat without falling out. When the boat is moving, your dog should be sitting down and not walking around. If needed, keep your dog on a leash to encourage him or her to sit next to you.
When the boat is moving, the airflow will help keep your dog cool. But, if the boat is stopped, it could become too warm for your dog. If you are going to be anchoring, try to do so in the shade. And if your dog begins excessively panting or appears to be hot, start the boat and go for a drive to let your dog cool down.
And of course, if the water is not rough and your dog likes swimming, this is the best way to keep your dog cool while boating.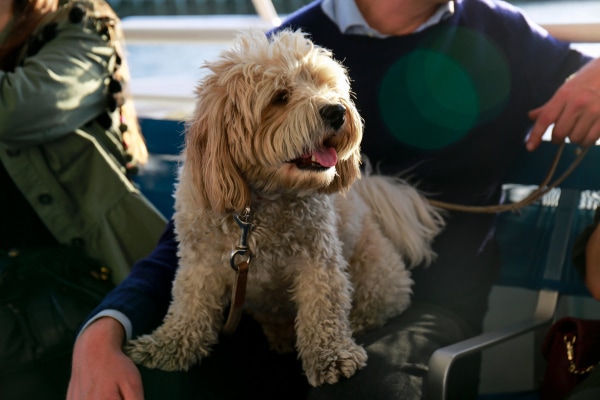 #13: Keep your dog cool in the car
I get asked how to keep a dog cool in the car while driving and when parked every year. This is a topic that I'm always happy to discuss with dog parents. According to the American Veterinary Medical Association's article on pets in vehicles, hundreds of pets die in hot cars every year. And these deaths are completely preventable.
When you are driving, it's easy to keep your dog cool in the car by using the air conditioning or putting the windows down. But that doesn't work so well when the car isn't running or moving.
If you are parking your car, you should not leave your dog in the car. This is true even if you will only be inside the store for five minutes or you cracked the window. In that time, the car can become too hot for your dog.
Parked cars heat up quickly
Studies have shown that the temperature inside a car can increase by 20oF in only 10 minutes. If your dog is in the vehicle for 20 minutes, the internal temperature can rise by 30oF. And in an hour, the car temperature can increase by over 40oF.
So, even on a 60-degree day, if you leave your dog inside the parked car, it could reach over 100 degrees in an hour. Or if it is 95 degrees outside, the car can become a roasting 115 degrees inside during a 10-minute errand.
Additionally, studies have demonstrated that car covers, parking in the shade, and leaving windows down do not help keep the car cool. Even if you did all of these things and left water for your dog, he or she can still overheat. And the outcome could be serious illness or death.
If you know that you are going to be running errands while your dog waits in the car, it's best to leave him or her at home on warm days. I know it's fun to take your furry friend with you. But in the summer, do your dog a favor and let him or her relax in the AC at home. (And as an added safety tip, always ensure your dog is properly secured in the car when he or she does come along.)
Think about dog-specific cooling factors
Characteristics of your dog may also change how easy—or difficult—it is to keep your dog cool.
#14: Carefully consider if you should shave your dog (usually the answer is "no")
In addition to questions about cars, I get asked every summer about shaving dogs for the warm weather. Many clients ask, "Do dogs' fur and coats keep them cool?" Or, "Does cutting dogs' hair or shaving them keep them cooler?" These are great questions that I love to answer!
It is important to know that a dog's coat serves many purposes, including:
Keeping him or her warm in the winter
Protecting the skin from branches and other items that could cut or damage the skin
Keeping your dog cool in the summer
Protecting the skin from sunburns
Since part of the coat's job is to keep the dog cool and prevent sunburn, shaving your dog every summer is usually not the answer. But there are some situations where it might be appropriate.
To shave or not to shave…
Let's start with dogs who shed less and have "hair-like" coats—Poodles, Schnauzers, Doodles, Yorkies, etc. These dogs have single-layer coats and are predisposed to fur matting and clumping. Fur that is matted and close to the skin is more likely to trap heat, which isn't good.
If your dog falls in this category, he or she needs to be brushed daily to prevent fur matting. And your dog needs regular grooming to keep the coat at a proper length and condition. If your dog's fur is already matted, he or she might need to be shaved in the summer to remove mats and improve coat health. But, as much as possible, ensure the shave is not so close to the skin that your dog is going to get sunburned outside.
On the other hand, some dogs—Huskies, Labradors, Corgis, German Shepherds, Cattle Dogs, etc—have double-layer coats. These breeds need both layers of their coats to have healthy fur and skin. They should never be shaved (unless directed by a veterinarian for a medical reason).
If you shave a double-coated dog, the hair can become coarse and dry. This is unhealthy for the coat, and it may never grow back properly. Additionally, shaved dogs with this type of fur are more likely to become too hot or cold because their coat is not there to properly regulate body temperature. 
Therefore, you should not shave a dog just because it is summer and hot outside. There are specific requirements and recommendations for each dog based on the breed and fur type. If you have any questions about what is best for your dog, please consult your veterinarian.
#15: Keep your dog at a healthy weight
In addition to the characteristics of the coat, a dog's weight can also impact his or her ability to stay cool during the summer.
Overweight dogs are more likely to have a difficult time breathing and exercising without their temperature-regulation mechanisms becoming overwhelmed. This is especially true for flat-faced breeds like Pugs and Bulldogs. If your dog is overweight and tires easily, he or she is at increased risk of suffering from heat exhaustion or heat stroke.
If you are wondering, "Is my dog overweight?" you can try to find your dog's body condition score (BCS) at home or talk to your vet. The vet can also recommend some ways to help your dog lose weight.
In general, picking healthy dog food and feeding a strict amount each day is a great place to start. Plus, you should limit the table scraps and treats that you give your dog. Exercise is also important—but only at the right time of day and for the right length of time—so your dog doesn't get too hot.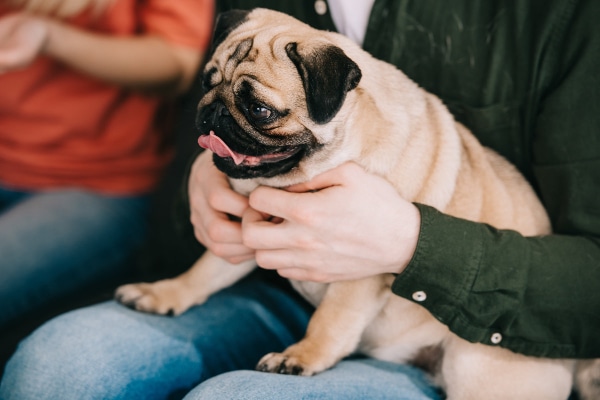 With a little work and time, your dog will hopefully be enjoying his or her new "summer-bod" in no time.
#16: Determine if your dog is at high risk for overheating
In addition to overweight dogs, there are some dogs who also have an increased risk of overheating during the summer.
Senior dogs are one such group. They are more likely to have chronic diseases (e.g. heart disease in dogs), and their body can have more difficulty regulating internal body temperature. Additionally, senior dogs can become weaker faster than adult dogs—leaving them without the energy to drink water or find a cool place to nap.
The other group of interest is brachycephalic dogs. While any dog breed can become too hot, it's important to take extra caution to keep your dog cool if he or she is brachycephalic. These dogs have flat, squished faces. Due to their face shape, brachycephalic dogs have smaller nasal openings and limited airflow. This decreases their ability to breathe properly and regulate body temperature—especially when exercising in the heat. Some brachycephalic breeds include:
French Bulldog
English Bulldog
Boston Terrier
Pug
Boxer
Chow Chow
Pekingese
Shar-Pei
Lhasa Apso
Shih Tzu
Please exercise extreme caution with these dog breeds on any hot or humid day. The temperature doesn't have to be very high for them to start having issues keeping cool.
#17: Work with your veterinarian to develop a cooling plan for your pup
If you have any concerns about keeping your dog cool this summer, the best person to talk to is your veterinarian. He or she can review your dog's risk factors, desired activities, and cooling options. And then he or she can help you come up with a plan to keep your dog cool in the summer.
Give your dog the "ulti-mutt" cool summer
Whether or not your dog has any heat stroke risk factors, every dog is at risk of overheating in the summer under the right conditions. As a pet parent, it's your job to monitor conditions outside and decide what is best for your dog. But with these 17 tips, you and your dog can enjoy the "ulti-mutt" summer!
How do you keep your dog cool during his or her favorite summer activities?
Please comment below.