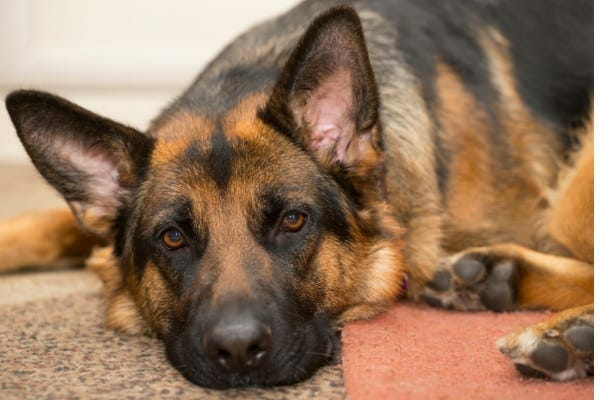 Intervertebral disc disease in senior and large breed dogs
In the final article of this four-part series on intervertebral disc disease, integrative veterinarian Dr. Julie Buzby recounts the story of an aging German Shepherd named Oslo who suffered from IVDD (Type II). Through sharing his story, you'll learn the signs, symptoms, and treatment for IVDD in senior and large-breed dogs. For a comprehensive guide to IVDD, please read parts I, II, and III:  IVDD in Dogs: Why It Happens, IVDD: Can a Dog Recover Without Surgery?, and IVDD Surgery: What if Your Vet Recommends Surgery for Your Dog? 
If I were to ask you what comes to mind when I mention intervertebral disc disease in dogs, would you think about a paralyzed Dachshund? A Beagle with neck pain? A senior German Shepherd dragging his hind paws?

The truth is, any of these scenarios would be correct, each falling into a subcategory of IVDD in dogs. In fact, there are three different types of intervertebral disc disease, each with a typical "doggie persona."

But in order to differentiate the three types of intervertebral disc disease, we need to understand a bit of canine anatomy. Let's refresh!
Anatomy of a dog's spine
The dog's spine provides protection for the spinal cord while allowing flexibility and mobility. It is composed of skeletal vertebral bodies, which are hard and protective, and the intervertebral discs, which are tough yet flexible. The discs are positioned between the vertebrae and act like shock absorbers.
Using a donut as a way to describe a dog's disc
Think of each disc like a donut made of tissue. The disc is made of a tough, fibrous outside ring (annulus fibrosus), and a non-compressive "jelly" nucleus pulposus inside that absorbs impact.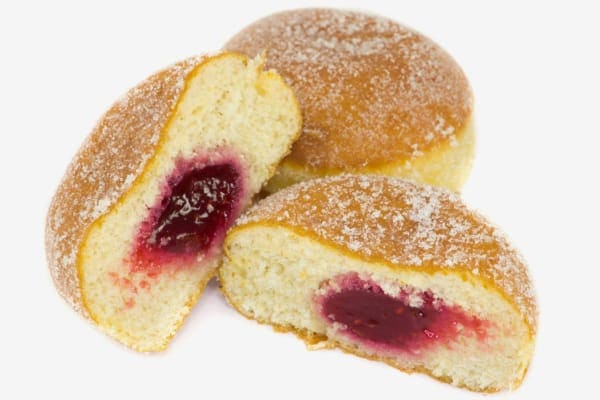 Intervertebral disc disease arises when the inside or outside of the "donut" doesn't stay where it belongs!
3 types of intervertebral disc disease
That's where the different types of IVDD come into play. Let's break each one down:
1. Hansen Type I
Associated with acute (very sudden) extrusion of disc material, concussion of the spinal cord, and sudden signs.
Typically seen in Corgis, Dachshunds, and Basset Hounds (but ANY breed can be affected). These dogs have an inherited, pathologic condition of their cartilage, causing a brittleness to their discs early in life which predisposes them to intervertebral disc disease.
For a comprehensive guide on Type I IVDD, please read IVDD in Dogs: Why it Happens.
2. Hansen Type II
Associated with slow, chronic swelling and pressure by the annulus fibers, causing gradual compression of the spinal cord and weakness.
Typically seen in older, large breed dogs.
Unlike Type I IVDD in dogs, this is a protrusion of the outer part of the disc rather than an extrusion of the disc material (jelly).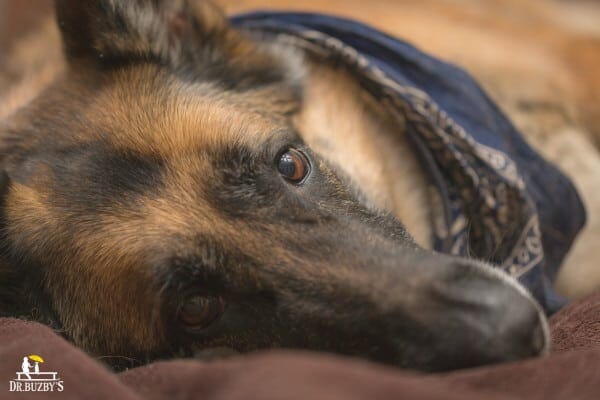 3. Hansen Type III
Also called acute non-compressive expulsion of the nucleus pulposus (jelly). In this scenario, a very small amount of nucleus material hits the spine at a very rapid rate of speed, leading to significant swelling and bruising of the spinal cord.
This occurs most often in young animals after trauma. I've seen it a few times, notably in dogs who were unsecured passengers during car crashes. (Please always use a canine seat belt or other restraint system when traveling with your pets!)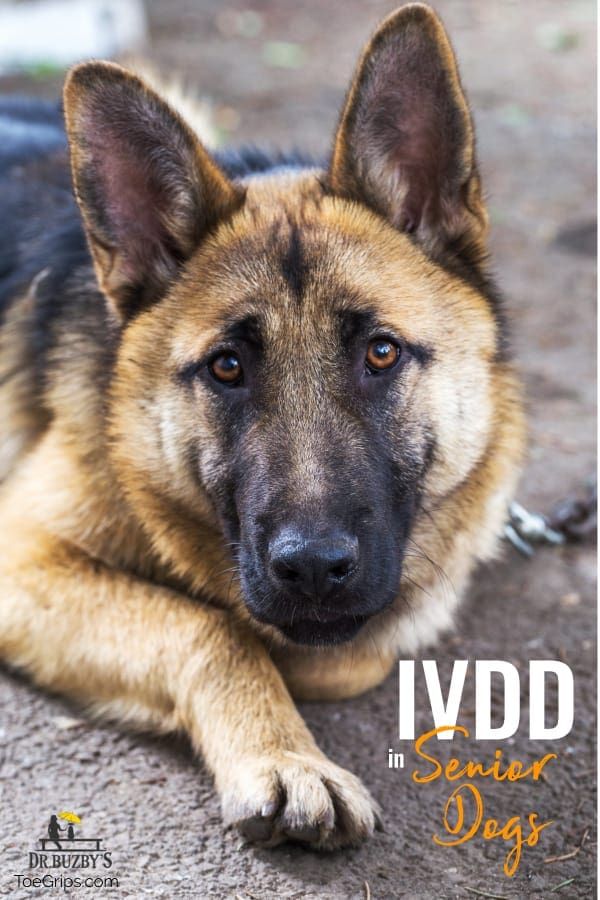 Understanding Type II IVDD in senior and large-breed dogs
Type II IVDD occurs in older dogs and is not influenced by genetics. Disc extrusion most often occurs in the thoracolumbar (middle) spine, but can also occur in the neck (cervical) and lumbar (lower back) area. Although Type II can occur in any breed, it's most commonly associated with large-breed dogs, especially Doberman Pinschers and German Shepherds.

Distinctions between Type I and Type II IVDD
| | |
| --- | --- |
| TYPE I IVDD | TYPE II IVDD |
| Young or middle-aged dogs | Older dogs |
| Chondrodystrophic breeds | Large breeds |
| Acute (sudden onset) | Chronic and progressive |
| Caused by disc extrusion | Caused by disc protrusion |
Hansen Type II IVDD in dogs is similar to what happens in humans with intervertebral disc disease. With age and normal "wear and tear," the tough, fibrous covering (annulus) of the disc starts to break down, allowing fluid to accumulate. This leads to swelling of the annulus. Over time, the swollen annulus starts to protrude into the spinal cord and apply pressure. The spinal cord is very delicate; pressure is not a good thing. The compression is gradual, so symptoms begin slowly. They may be insidious and attributed to aging rather than to disc disease.
Symptoms of Type II IVDD
Symptoms include decreased conscious proprioception (not "flipping the foot" over as normal), ataxia (staggering when walking), and weakness. All four legs will be affected if a cervical disc is involved, whereas only the rear limbs are affected if the thoracolumbar or lumbar area is the cause of the problem. In many cases, the bulging annulus is not perfectly in the center but rather off to one side, which may lead to signs being worse on that side.
The problem with this condition is that it can be difficult to differentiate from other chronic, progressive disease processes in old dogs. Therefore, a close relationship with your trusted veterinarian is critical.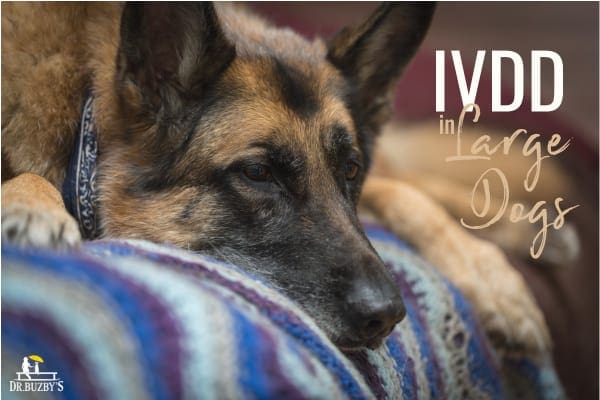 Managing chronic IVDD in an aging dog: Oslo's story
Oslo is a perfect example of this. Oslo was my patient in his golden years. He was a beautiful, sweet-natured German Shepherd and a retired police dog. Working dogs are wonderful, important members of the law enforcement community, and they are chosen carefully and undergo extensive training. Even amongst that elite canine community, Oslo was exceptional. When he reached his older years, he started to slow down, and his handler decided it was time to retire Oslo so that he could enjoy his senior years.
When I saw Oslo, he was in great body condition. His owner had kept him fit and trim. Over the previous few months, he had been slower to rise from his bed, struggling with weakness in his rear limbs. As he moved around, he was stiffer and slower than usual. Occasionally, he would stumble. His appetite was good, and he wasn't having any other signs of illness or dysfunction.
The physical exam
Starting with my usual "nose-to-tail" physical examination, I thoroughly checked his mouth, teeth, eyes, ears, and gum color. I then palpated his lymph nodes, listened to his heart and lungs, felt his abdomen, and took a look under his tail. Everything looked great on the first pass. I didn't see anything that worried me. Oslo was 12 years old and was due for his senior blood work as well.
Though this isn't specifically related to IVDD, it's important to stop here and remember that yearly and even twice-yearly check-ups are an important part of pet care. Just as we visit the doctor for wellness visits, so should our pets. As dogs enter their senior years, visits should be at least twice a year. (Remember, a dog year is equivalent to roughly seven human years.) At those visits, a thorough check-up and senior baseline lab work should be done. This will include a complete blood count (CBC), chemistry panel, heartworm testing, urinalysis, and thyroid level.
Back to Oslo. He had faithfully visited me twice annually since he was seven years old. At his last visit, six months prior, his lab work was pristine. But since he was having difficulties, I wanted to make sure nothing had changed. It may be easy to be lulled into a sense of security by normal test results in the past and decide to forego testing in the present, but we shouldn't fall into this trap!
As a veterinarian, I've had countless patients present to me with illness, and when I recommend blood work, the well-meaning owner replies, "But he just had those tests eight months ago!" Trust me, a lot can change in a matter of days, let alone months, so blood tests are almost always part of a baseline work-up when a new problem presents.
I explained as much to Oslo's owner. He was on board for whatever we needed to do. We collected a blood sample, and then I started my neurological examination.
The neurological exam
A typical neurological exam includes checking the cranial nerves in the head and neck, as well as the reflexes in the limbs, the sensation of pain, and conscious proprioception—the knowledge of where body parts are spatially.
Oslo's cranial nerves were all perfectly normal, which told me his stumbling and difficulty rising weren't a brain problem.
"Knuckling" and other observations
I watched Oslo walk across the room and noticed he was slow and stiff in the back legs, and he also stumbled occasionally. Even more rarely, he would knuckle his back left foot, dragging it along on its top surface. After Oslo walked, my technician gently restrained him on his side so that I could test his reflexes. I tapped his knees with my reflex hammer, just as an MD might do to your knees. Both patellar reflexes were normal, telling me that the problem wasn't in his lumbar nerve bundle but rather higher up in the spinal cord. His front legs were totally normal, so this localized the problem to his mid-spine—the thoracolumbar area.
Oslo's correction of his hind paws once I "knuckled them over" to test conscious proprioception was very sluggish. This told me that the signals going to his brain were foggy somewhere. As expected, his front limbs were normal when tested. When I gently pressed down on his thoracolumbar spine, he tensed throughout his body and closed his mouth tightly, a sign that this very stoic dog was in pain.
Signs of a spinal cord problem
I explained to his owner, Mike, that Oslo had signs of a neurological problem to his back legs. I knew this because his front legs were normal (ruling out a neck/cervical problem), his rear limb reflexes were normal (ruling out a problem in the nerve bundle of the lumbar region), and he had decreased conscious proprioception in both rear limbs, with the left being worse than the right. My suspicion was a spinal cord problem somewhere in the thoracolumbar region, predominantly affecting the left side.
But what was the cause, and what could we do about it?
Mike and I talked about possible causes. My biggest concern was Type II IVDD. However, I couldn't rule out something more sinister like degenerative myelopathy in dogs (a well-known disease in German Shepherds) or a tumor growing in his spinal cord.
Here's where things get tricky. To truly know the cause, Oslo would need an MRI of his spine. It's an expensive procedure that involves general anesthesia. Mike was eager to do what we needed to do, but like most people, he couldn't break the bank.
Is surgery an option for Type II IVDD dogs?
Mike wanted to know if surgery would help his friend. Even among the veterinary community, the answer to this question is more grey than black and white.
Why? Because (unlike Type I IVDD in dogs) the spinal cord compression with Type II IVDD is a chronic process and, therefore, neurologic deficits may not be reversible. That said, surgery is certainly what most veterinary neurologists would recommend as the preferred treatment for dogs who have symptoms beyond just pain and weakness. (Part I in this series includes a detailed explanation of how IVDD in dogs is graded.)
Why predicting positive surgical outcomes is more difficult in Type II IVDD
Like with Type I extrusion, hemilaminectomy is the surgery of choice. Unfortunately, prognosis (expected outcome) is harder to predict in these cases than in dogs with acute disc rupture (Type I). Additionally, because there has been long-term compression of the spinal cord, the results may not be as good.
While removing the protrusion can be of benefit, a small subset of dogs will worsen dramatically after surgery. The theory behind this is that when the protrusion is removed, blood flows back into the damaged tissue, carrying the nasty, damaged spinal cord tissue back into the systemic bloodstream.
Some neurologists postulate that these dogs would actually do better with earlier identification of disc extrusion and surgery, but it remains theoretical.

As a veterinarian whose patients are predominantly senior dogs, I am acutely aware (and empathetic) that electing to send your senior dog for an MRI under anesthesia and a major surgery without stellar odds is a weighty decision. As in every situation, we discuss pros-cons and weigh the options. I often ask clients to at least consider the neurology consult (exam and discussion with a veterinarian who specializes in neurology). Even if the advanced imaging and surgery are not in the cards, getting a second opinion is valuable. I should also note that I have personally seen older dogs with Type II intervertebral disc disease do miraculously well after back surgery.
Related story: Is My Dog Too Old for Surgery?
Medical management of Type II IVDD
Since Oslo's symptoms were limited to pain and weakness, and he was still getting around normally on his own, I advised Mike that medical management was the best option for his dog. He just needed "fine-tuning" to improve his mobility, comfort, and quality of life.
Together, we came up with a plan for Oslo. His bloodwork and urine sample were perfect, so he was an excellent candidate for nonsteroidal anti-inflammatory drugs (NSAIDs). NSAIDs down-regulate inflammatory mediators and help with pain management. Unfortunately, they have some negative side effects too, so we try to use them sparingly.
I started Oslo on meloxicam once a day and counseled Mike to watch for any GI upset or dark stools (which could indicate gastrointestinal bleeding). We also talked about gabapentin, an excellent neuropathic pain inhibitor. (Incidentally, this is the drug I had used in our Dachshund in parts I and II of our series on IVDD in dogs.)
Other medications that your vet may prescribe
There are a host of different medical management options for IVDD in dogs. In addition to those that I prescribed for Oslo, any of the following could be prescribed by your veterinarian:
Making home and lifestyle modifications
We also discussed gentle, controlled leash walks. Exercise is great for arthritis and stiffness (the "use it or lose it" concept), but for Oslo's symptoms, I erred on the side of caution with metered leash walks. At the first sign that Oslo was uncomfortable or weak from his walks, the exercise was to be stopped, and he was to rest.
Mike had a ranch house, which was helpful, as Oslo could avoid stairs. Mike opted to invest in pet stairs to help Oslo navigate the furniture. This would help him avoid jumping on and off the furniture, potentially exacerbating any preexisting tears in the discs.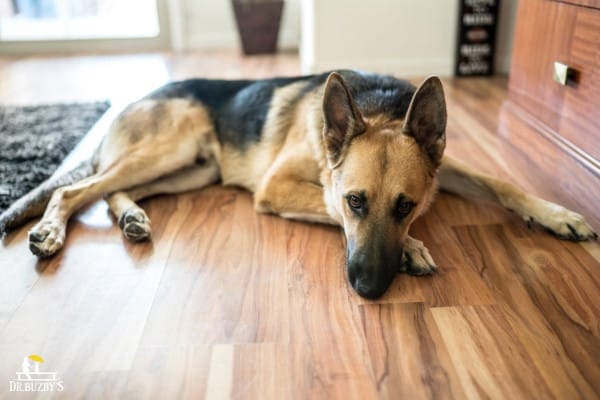 Lastly, we talked about our company's signature product, ToeGrips® dog nail grips. Mike's house had hardwood and tile flooring, and this made getting around progressively more difficult for Oslo. Increasing his stability and footing was critical. Mike had already put down several area rugs to address this problem. Applying ToeGrips® dog nail grips was the last piece in the stability puzzle.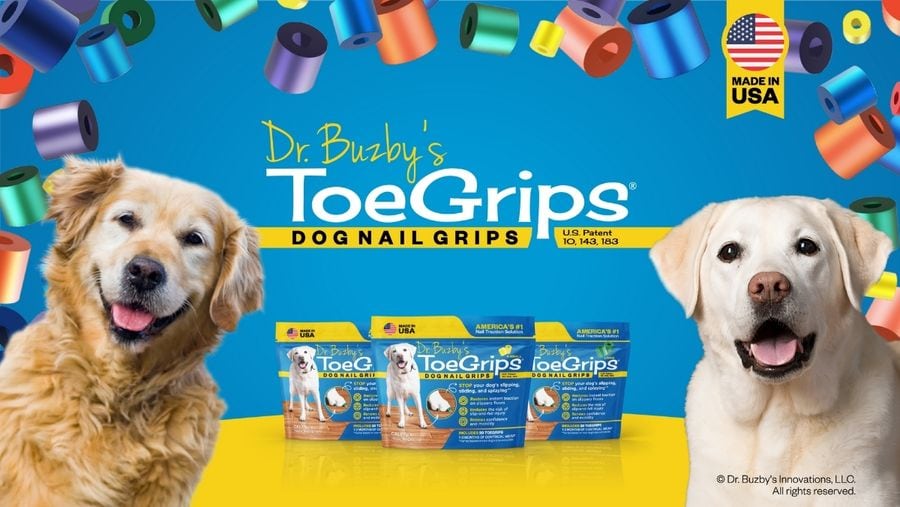 Alternative therapeutic approaches to managing IVDD in aging dogs
To add to the treatment regimen, we touched on alternative therapeutic approaches including physical therapy, acupuncture, and supplements such as turmeric, New Zealand deer velvet, and fish oils.
Lastly, I acupunctured Oslo (using dry needles and electrostimulation) and scheduled a follow-up appointment in a week.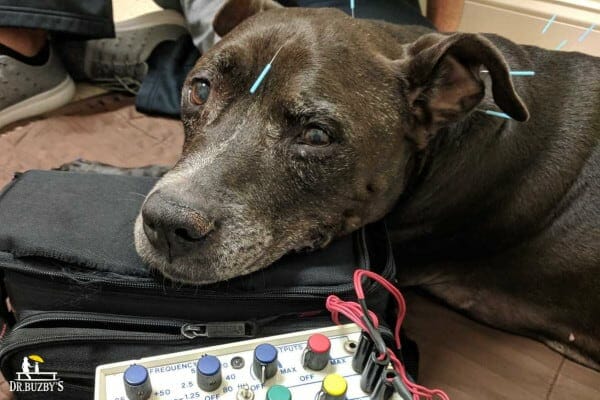 It's important to stop here and note that there are a host of canine supplements on the market. Some work, others decidedly do not. I am asked almost daily about giving CBD oil to dogs, and I would have considered it a reasonable choice for Oslo, pending progress. Contrary to popular opinion, nutraceuticals and supplements do have the potential to cause harm and also may interfere with prescription medications. When choosing supplements for your dog, work closely with your veterinarian.
Taking a wholistic approach to managing IVDD
Mike followed my instructions to the letter, and Oslo remained stable for well over a year. He stumbled occasionally and sometimes struggled to get up, but with a "wholistic" approach tailored to his condition, he did very well.
This reinforced my suspicion that Oslo had a disc problem. If he had been suffering from a tumor in his spine or degenerative myelopathy, I would have expected his problems to notably worsen with time. Instead, he plateaued and remained in good health and spirits, receiving acupuncture treatment every three weeks for the remainder of his life.
He died at the ripe age of 14 from unrelated problems.
Excellent care and recurring symptoms
Oslo was an incredible dog and his owner took excellent care of him. But even with the best care, many dogs have a recurrence of symptoms from Type II IVDD. In some cases, these can be managed with adjustment of the treatment plan (medications) and complementary veterinary modalities.
I am a huge believer in acupuncture and physical rehabilitation (PT) for these dogs. We did not have a practitioner in our area, but if we had, I would have also referred Oslo for physical rehabilitation.
May we all support each other and offer hope and help for IVDD dogs
By sharing Oslo's story, I hope that other IVDD dogs can benefit and enjoy an improved quality of life. And I hope that dog owners are empowered to work closely with their vets to formulate a treatment plan yielding the best life possible…for both ends of the leash.
What questions do you have about IVDD in senior and large-breed dogs?
Please comment below. We can all learn from each other.