Signs of dementia in dogs can be distressing to notice. After all, we want our grey-muzzled companions to be mentally sharp and happy for as long as possible in their golden years. Integrative veterinarian Dr. Julie Buzby takes an in-depth look at the five common signs of doggie dementia and explains how to help your dog with dementia keep living the good life.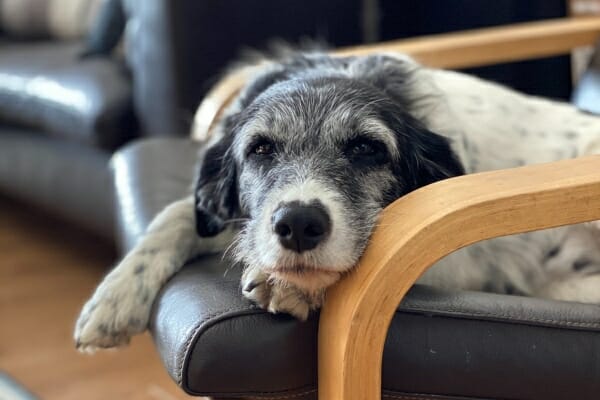 Recently, a longtime friend and client brought in his 10-year-old black Labrador Retriever, Dixie. I had known her since she was about three months old. Dixie pranced into the clinic with the same happy attitude that she is known for.
However, Dixie's dad looked very concerned. As I asked what was going on, Dixie's dad started describing some changes he had noticed at home recently. His dear Labrador was no longer sleeping through the night. She was also barking more than normal and had started to show some aggression towards her "brother," a small Terrier mix. It was very obvious that something was changing with his beloved dog.
Finally, he looked up at me and said "Dixie is doing things I never would have expected from her. Can dogs lose their memory?" I looked back at him and told him, "Yes, unfortunately dogs can develop dementia."
I went on to explain to Dixie's dad that our canine companions are living longer than they used to because of the wonderful care they receive at home and by their veterinarian. This is great news because it means we get more time with our dogs. However, it also means that an increasing number of dogs are living long enough to develop doggie dementia (i.e. Canine Cognitive Dysfunction in Dogs or CCD).
What is dementia in dogs?
Dementia occurs in senior dogs as they age. Their brain undergoes changes that are very similar to what doctors see in human Alzheimer's disease or dementia patients. In fact, a 2019 article published in Frontiers in Neuroscience compared canine cognitive dysfunction and Alzheimer's disease in detail. These brain changes can affect a dog's memory, personality, sleep patterns, activity, and appetite.
In recent studies, it has been estimated that approximately 28% of senior dogs develop CCD by 11 to 12 years old. When dogs reach the ages of 15 to 16 years, it is estimated that approximately 68% have doggie dementia.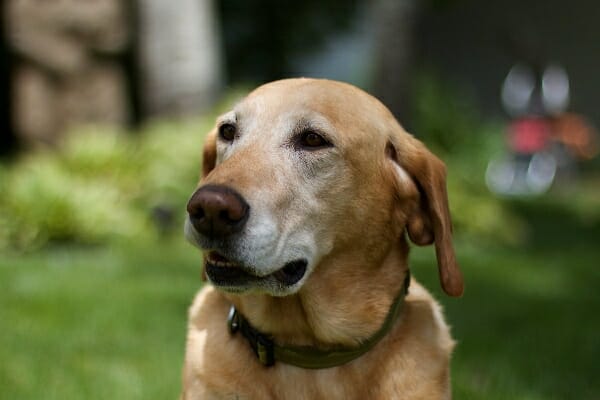 What are the signs of dementia in dogs?
As dementia starts in our beloved senior dogs, initially it may be difficult for you to recognize. The early signs are sometimes very subtle. That's why it is important that dog parents know what to look for.
Dementia in dogs has three stages of symptoms—mild, moderate, and severe. There are typical patterns that appear within each stage. However, it's important to note that not every dog follows these exact patterns or stages. So any of the signs described below could be seen at any time once dementia sets in.
In the early stage of dementia, signs tend to be more mild and easier to miss. You may notice changes in your dog's sleep patterns and maybe mild changes in how your senior dog socializes with you or other pets.
The moderate stage is when signs may become more apparent to you. The most frequent symptom you may notice at this stage are accidents in the house—even though your dog was previously house-trained.
The last stage is severe symptoms. In this stage, the signs mentioned above tend to increase. Also, you may notice your dog starting to wander around the house throughout the night instead of sleeping. Your dog may begin to bark more at things that aren't really there. Let's explore these signs in depth.
Sign #1: Disorientation
Some dogs with dementia seem to lose their sense of direction or may walk around appearing confused. Disorientation can be seen in a variety of ways in our senior dogs. Some dogs may walk up to furniture and appear unsure of how to go around it.
If you have ever seen the movie A Bug's Life, the scene in the very beginning of the movie when the leaf falls and blocks the line of ants carrying food is similar to disorientation. That leaf falling blocks the path that the ants always take, and they become disoriented and need the other ants to lead them around the leaf back to the correct path.
Sometimes, as our senior dogs become disoriented, they might need help just like this to re-learn how to go around the couch or table to get where they want to go.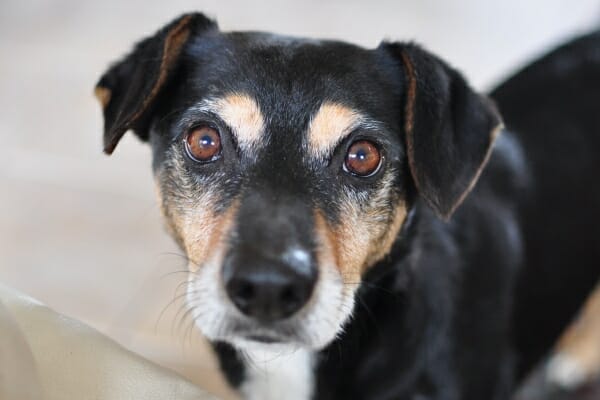 Other signs of disorientation include:
Forgetting where the water bowl or doggie door are located even though they have always been in the same spot.
Walking in circles as if stuck in that motion and don't know how to stop.
Getting stuck in a corner or standing with the head leaning on the wall like he or she doesn't know what to do (head pressing).
Standing at the wrong side of the door when it is opened.
If you begin to see your dog exhibiting any of these signs, but you are not sure if your dog is truly disoriented, take a video to show your vet. This will help you explain what you are seeing so your vet can figure out the best way to help your pup.
Sign #2: Changes in social behavior
One of the most common reasons dog parents bring their dog into the vet is social behavior changes at home. These changes may occur with the people living in the house or with other pets. As mentioned, doggie dementia affects our dogs' memories. This means they may forget those that they live with or forget how they normally play with other dogs or cats.
Some dogs become less interested in playing with or receiving attention from their people. This may mean they no longer care when company comes over. They used to get excited or bark to greet guests, but now they don't. Other dogs may become more needy and want extra attention.
Finally, the change that is usually the most concerning to owners, is sudden aggression toward people or animals. This was one of the big problems Dixie's dad was seeing because Dixie was attacking her terrier "brother."
If you begin to see changes in behavior at home, especially more aggressive behavior, please discuss it with your veterinarian immediately. While these changes may be related to dementia in dogs, it is important to make sure that there are no other health problems going on. Arthritis in dogs or other causes of pain in dogs could also cause your senior dog to act differently.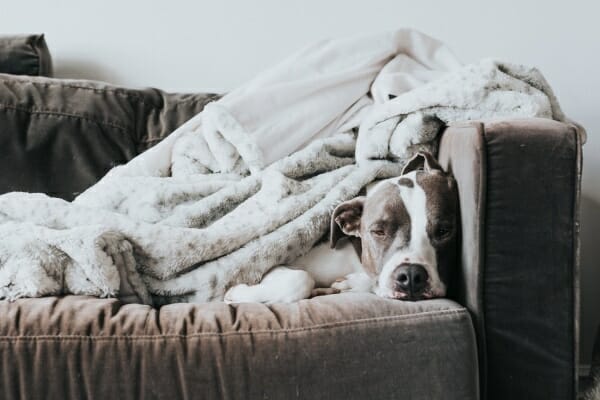 Sign #3: Changes in sleep patterns
In some cases, altered sleep patterns may be the first sign that you recognize in your furry friend because this interrupts your own sleep. Dogs with dementia often start waking up more in the middle of the night than they previously did. Dementia can be one of many causes of senior dog anxiety at night.
Your dog may do different things when he or she wakes up. Some may pace back and forth all night as if they are anxious about something. Other dogs may wake up barking as if someone knocked on the door or they saw a ghost. And others may wake up and decide they are starving and need to eat right then!
Some dog parents describe this stage as being similar to having a newborn baby at home or to sundowning in humans with Alzheimer's. It is okay to be frustrated when this happens because it is exhausting for both you and your dog!
Sign #4: Accidents in the house
As dementia sets in, some senior dogs may forget the commands and tricks you previously taught them. When you say "sit," "come," or "stay" they may just look puzzled. Dogs with dementia may also forget all that hard work you put into house-training. Inappropriate urination or defecation in the house may occur due to:
Increased anxiety that occurs with dementia.
Going outside and forgetting what they were supposed to be doing.
Forgetting where the doggie door is or how to use it.
However, accidents in the house can happen for other reasons in senior dogs. Urinary incontinence in older dogs, Cushing's disease in dogs, administration of medications like prednisone for dogs, or urinary tract infections in dogs may also cause urinary accidents. It is important to discuss accidents and other signs with your veterinarian to ensure he or she has the needed information to make the right diagnostic and treatment plan.
Sign #5: Increased anxiety and changes in activity or appetite
As mentioned, doggie dementia may cause increases or decreases in activity. Increased activity usually presents as pacing or restless nights. On the other hand, dog parents may easily mistake decreased activity during the day as age-related slowing down. Dementia patients commonly want to sleep more during the day or may not be as excited to play as they used to be.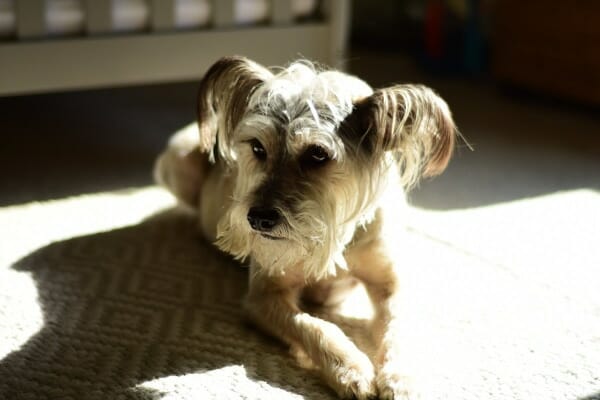 Activity may also change because anxiety can become worse once dementia sets in. Sometimes, dogs can sense the changes happening. They are scared and confused because they don't remember how to follow commands or they keep getting lost around the house.
In addition to confusion-anxiety, some senior dogs with dementia may develop noise-based anxiety. This may include reacting to fireworks, thunder, or even small noises like car alarms or the stove beeping. Another common sign some owners notice is that their four-legged friend is more attached to them. This can be a result of separation anxiety.
Since activity can decrease and anxiety can increase, another sign is decreased eating and drinking. This may occur because dogs feel too tired or confused to get up and go to the bowl. They also could forget where the bowl is located or forget that they were hungry or thirsty.
How is doggie dementia diagnosed?
The most important diagnostic step is dog parents noticing the signs at home. You spend the most time with your furry friend and you know him or her best. Dogs often tend to behave differently at the vet than they do at home, so your vet may not be able to see what you see.
It is important that you let your veterinarian know when your dog's behavior is changing and you think something is wrong, just like Dixie's dad did. If you are confused about what your senior dog is doing or don't know how to describe it, pull out your smart phone. Pictures and videos can help your vet "see" what is happening.
Once you bring your pet to the vet, he or she will ask you to describe what is going on. Typically, your vet will also ask a variety of follow-up questions. Sometimes he or she may recommend different tests such as blood work, X-rays, ultrasound, CT, or MRI. These tests can help rule out other health issues that could have similar signs.
These steps are important because there isn't an easy "yes" or "no" test that can definitively say if your dog has dementia. Ultimately, your vet makes the diagnosis based on your observations after ruling out other conditions.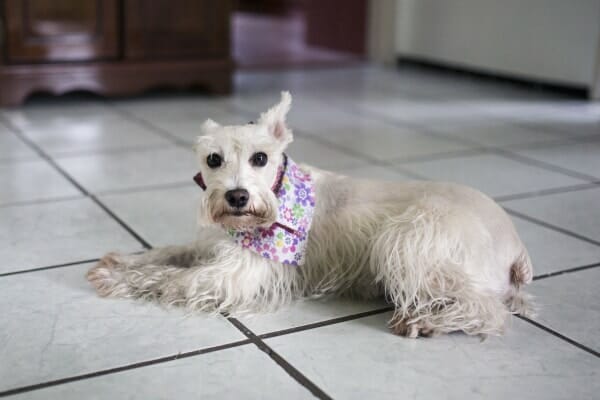 How are signs of dementia in dogs treated?
Your veterinarian may prescribe medications or supplements to help keep your dog comfortable and manage anxiety or disrupted sleep patterns. Some of the more common may include:
Melatonin for dogs, which may help restore normal sleep-wake cycles.
Anti-anxiety medications.
Anipryl® (Selegiline), a medication which affects signaling chemicals in the brain to manage the signs of dementia.
There are a variety of medications, supplements, and diets that may help with dementia beyond the short list shown above. Your vet is the best person to decide which of these options are right for your dog, which is why they are not covered in more detail here.
There are also activities you can do at home to help your dog's memory. You may have heard human doctors recommend puzzles to Alzheimer's patients. Puzzles can be good for dogs too! You can try different "thinking games" at home such as food puzzles (found on Amazon and at most pet stores).
Some owners play "watch the food" where they put a piece of food under a cup and leave two cups empty. Then they move the cups in a circle on the floor and the dog has to find the food. Also, this can be a way to encourage your senior dog to eat.
Back to Dixie
Dixie's relationships with her dad and "fur sibling" improved after starting anxiety medication and learning "thinking games." She loves to play hide-and-go-seek with her dad. He told me that once he taught her this game, their relationship grew back to where it was and her activity level seemed to improve.
She still has some hard days, but she continues to love food and going on her walks. Her dad understands that just like with human Alzheimer's or dementia, it can progress over time. However, he is making the most of her golden years and plays an important role in helping her improve!
Hope for dogs who are showing signs of dementia
If your senior dog is showing some of the five signs we discussed or if he or she has recently been diagnosed with dementia, it can be normal to feel scared or unsure what is next. However, there are so many ways you can improve your dog's quality of life.
Dementia doesn't have to define the last chapters of your dog's life. Be sure to ask your veterinarian any questions that you have and work with him or her to develop a plan for your dog. Together, you can help your senior dog have comfortable, happy golden years in spite of his or her doggie dementia diagnosis!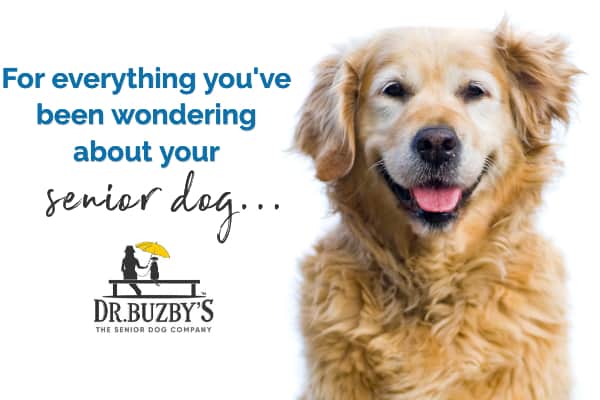 Does your dog have dementia?
Please comment below to share his or her story.