Your dog's spine plays a key role in his or her health. Integrative veterinarian Dr. Julie Buzby shares dog spine anatomy and how movement is crucial to the health of the canine spine.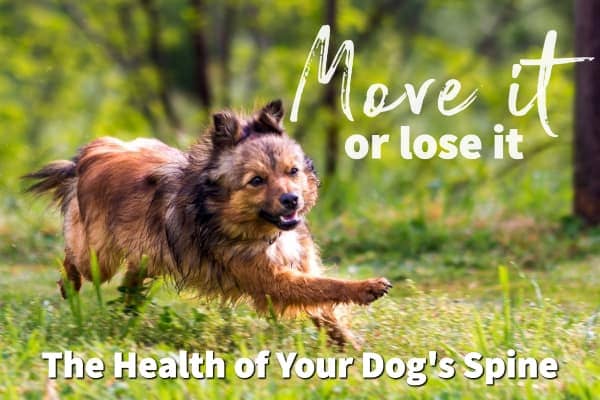 We've all heard the expression "move it or lose it" as it applies to our own health. The more physically active we are, the healthier our bodies are. Did you know that the same is true for dogs? And that a dog's spine plays a key role in your dog's well-being?
Understanding and managing your dog's health begins with some basic anatomy and a little science about the way the canine spine replenishes and nourishes itself. By understanding how it works, you can help your dog live the longest, healthiest life possible. Let's get started!
Dog spine anatomy
First, to understand the role that the spine plays in your dog's well-being, we need a clear picture of the anatomy of a dog's spinal column. As you can see in the X-ray below of a dog's spine, it really is quite amazing in itself.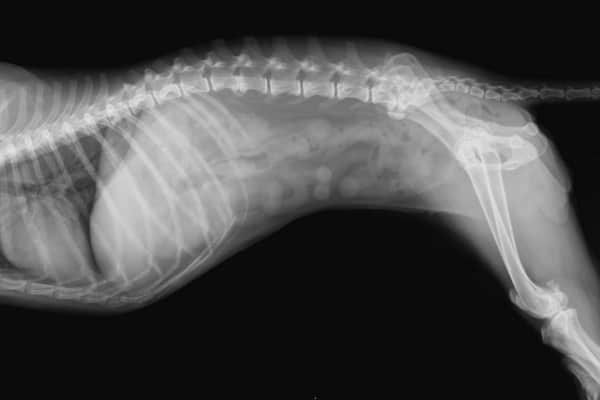 A dog's spinal column
Nerves
The dog's spinal column is comprised of numerous nerves each firing information down and up the spinal cord. It keeps your dog's body safe and operational. These nerves transmit signals for movement and sensation.
Vertebrae
The backbone consists of a series of bones which integrate in a very specific way. Let's break it down.
Hard bones, called vertebrae, encase the spinal column structure and protect it from injury. The vertebrae create a unique design that allows the body to move and flex. If the dog's spinal cord were encased in one long, tunnel-like bone, the dog would literally not be able to bend. (Think of a scarecrow or a rigid broomstick.) Thankfully, that's not the case. Instead, the dog's spinal cord is very flexible.
As the diagram below shows, there are five regions of vertebrae that make up the dog's spine (backbone). By looking closely at the diagram, you'll see dogs have:
7 cervical vertebrae
13 thoracic vertebrae
7 lumbar vertebrae
Sacrum (3 fused vertebrae)
Caudal vertebrae (variable number based on tail length)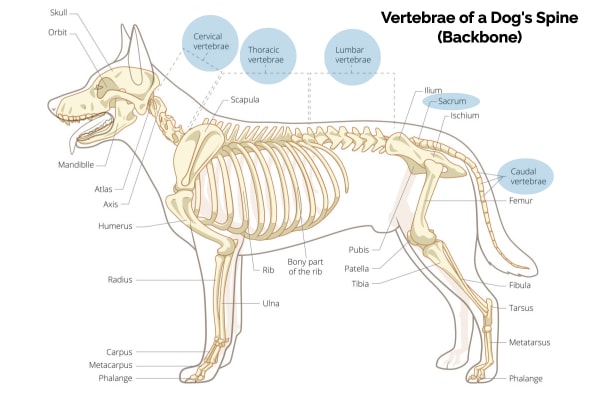 Discs
Next, there are several joints between each vertebra. Each joint is separate and individual. A cartilage disc fits between each joint. In the image below, you can see the vertebrae, how the discs fit between the joints, and how the spinal cord is housed within the them.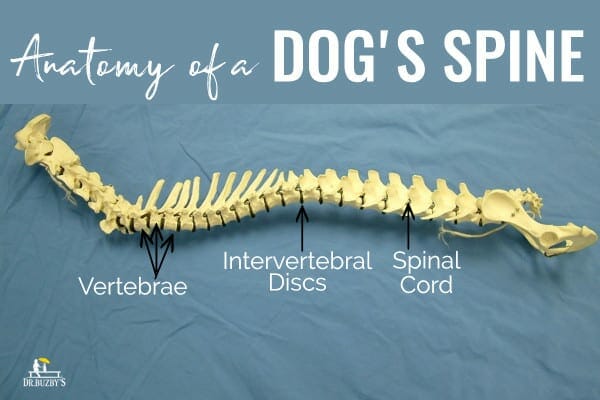 The discs do not have blood vessels in them. However, discs live, and they do a very important job. If your dog (or you) have ever suffered from back pain, you probably know the important role that discs play.
When discs deteriorate: Back pain in dogs
Next, let's take a look at one of the most common causes of back pain in dogs—intervertebral disc disease. IVDD in dogs is a catchall phrase for disc-related back problems. While Dachshunds are one of the breeds often associated with IVDD, it is common in many breeds.
Intervertebral disc disease
Let's break down the meaning of intervertebral disc disease by looking at the meaning of each word in the term:
INTER = Between
VERTERBRAL = The two vertebrae (the two bones)
DISC = The shock-absorbing structure
DISEASE = A disorder, something is not right
Essentially, intervertebral disc disease is a problem with the disc. It may bulge out of its normal placement and put pressure on the spinal cord. Or, a disc may completely rupture. (A ligament at the top of the disc can rupture and the disc material can move out of its normal spot, create inflammation, and cause damage to the spinal cord.) This manifests in a variety of degrees of neurologic disease.
A dog may present with the following symptoms:
The health of your dog's spine
Now that we understand basic dog spine anatomy and what can happen when a dog's joints deteriorate, let's take a look at how to keep your dog's spine healthy.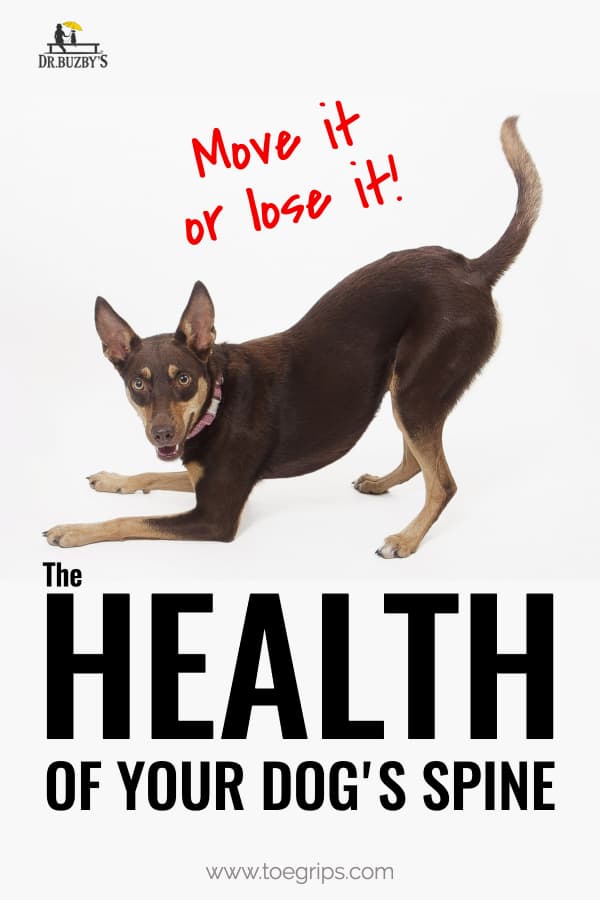 Why mobility is key to your dog's spinal health
As an integrative veterinarian, I can't stress enough the importance of mobility. Not only is it key to your dog's spinal health, but also it's key to your dog's overall health.
Dogs were made to move. In the wild, they traveled for miles a day. Mobility is essential to every aspect of your dog's health: physical, mental, and behavioral. Because dogs walk on four legs rather than two, back flexibility and health is even more important than it is for people.
Additionally, motion (the very act of the body flexing and extending repetitively) is an essential feature in providing nutrition to the discs of the backbone. The term for this is "imbibition."
Imbibition is the act of the dog's spine flexing and extending repetitively through movement to provide nutrition to the discs of the backbone.
How to keep the discs in a dog's spine healthy
Unlike other areas of the dog's body like the skin and liver that receive nutrients and oxygen through the blood vessels and that carry waste products out of the tissues, the dog's discs do not contain blood vessels. So how do the discs stay healthy?
Imbibition
That's where imbibition comes in. Imbibition is the the process of the discs continually being squeezed and then pressure coming off of them (compressing, relaxing, and expanding).
The easiest way to understand imbibition is to picture a sponge immersed in water. Now imagine squeezing the immersed sponge with your hand, squeezing out all the water, and then letting go of the sponge. When you let go, the sponge fills back up with water again. The process, repeated over and over again, is basically the process happening in the discs in imbibition.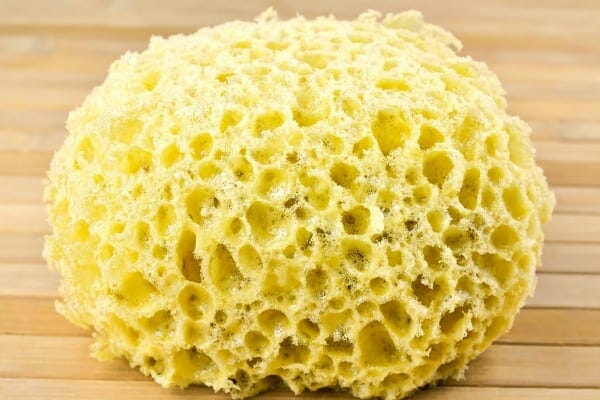 Now, let's apply this same theory to your dog's spine:
Every time there's a movement in your dog's body, there's a squeezing and releasing of spinal fluid that the discs are bathed in.
The nutrients are moving in and out.
As the spinal fluid is moving out, it's taking waste products with it.
This process continues as long as your dog is in motion.
Finally, imagine the sponge submerged in water again. This time your hand isn't actively squeezing the sponge. The sponge sits in one static position with one static amount of content. There is no change. Using this same analogy, you can deduce why movement is crucial for dogs.
Without movement, a dog's joints have been scientifically proven to begin deteriorating in less than 24 hours.
From a dog's joints to muscles to ligaments to mental health and right down to the discs of a dog's spine, movement is the key to a dog's life. Mobility is a dog's greatest asset.
What's the key takeaway? Take steps now with your dog. Literally. Every step our dogs take with us will be a step in the right direction toward a better quality and quantity of life. Let's all move it…so that our dogs don't lose it.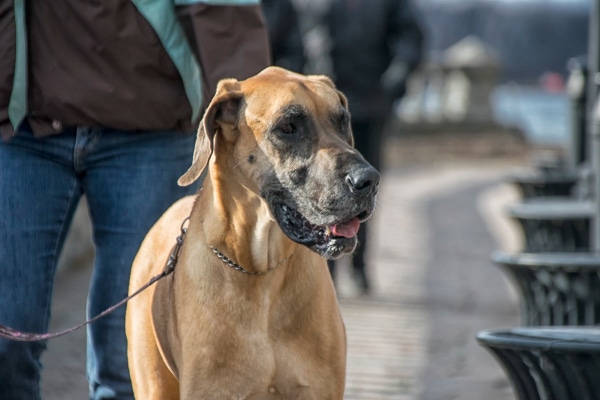 Frequently asked questions about dog spinal health
Finally, I get many questions from my veterinary clients about dog spinal health. You may have some of the same questions, too. Here answers to three common questions:
I can feel my dog's backbone. Is that normal?
Usually, yes. If your dog's spine is easily felt with a thin layer of fat, it's most likely normal and indicates your dog is at a healthy weight. That being said, if your dog's backbone protrudes, it may be an indication that your dog is on the thin side (depending on breed and conformation).
For more about your dog's topline (backbone) as an indication of your dog's body condition score, please check out my article on three easy steps to body condition scoring your dog. Also, it's always best to check with your veterinarian if you're concerned about your dog's health.
If you notice changes to your dog's backbone, such as vertebrae suddenly appearing more apparent, this may indicate a health concern. Muscle wasting, nutritional issues, metabolic disorders, certain types of cancers, and osteoarthritis in dogs can all make the backbone more visible.
Is a dog's tail an extension of the spine?
Yes! Interestingly, your dog's tail is an extension of your dog's spine. Whether your dog's tail is long or short, it includes the caudel vertebrae—a region of your dog's tail that's part of the spine (backbone).
How can I tell if my dog has back pain?
If you suspect your dog is experiencing back pain, please make an appointment with your vet. He or she is always the best source of information and can accurately diagnose your dog. Your veterinarian may perform a physical and neurological examination to understand the underlying cause. Some of the common signs your dog is experiencing back pain include:
Hunched posture
Crying in pain when touched or picked up
Stiff gait, limping, or dragging back legs
Muscle spasms or trembling
Changes in mood or behavior
Reluctance to jump, run, or climb
Appetite change
For more information about the canine spine, please listen to my podcast: Move it or Lose It: The Health of Your Dog's Spine.
What questions do you have about the health of your dog's spine?
Please comment below.