IVDD surgery is often thought of as a last resort for dogs diagnosed with intervertebral disc disease. So when is IVDD surgery the best option? And why? In Part III of Dr. Julie Buzby's series on IVDD in dogs, she resumes the story of Tango, a 4-year-old miniature Dachshund diagnosed with his first episode of IVDD. (For Parts I and II, please read IVDD in Dogs: Why It Happens and IVDD: Can a Dog Recover Without Surgery? ) By the end of this article, you'll have a comprehensive understanding of IVDD surgery, IVDD surgery success rates, IVDD surgery costs, and what to expect after IVDD surgery.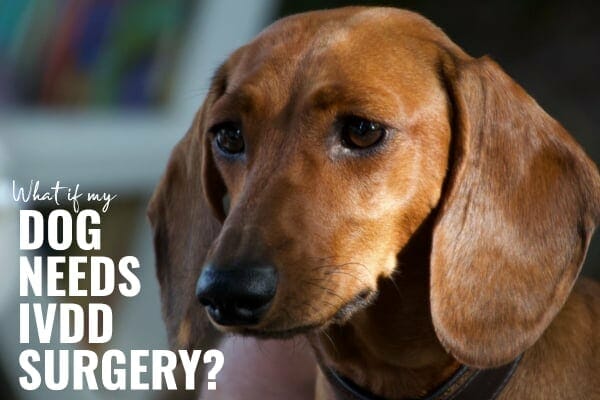 After an unsuccessful attempt managing IVDD at home with medications and strict rest, my Dachshund patient named Tango and his mom were back at my office. The notes in his chart read, "Not walking after falling off bed." I cringed inwardly and headed to the lobby.
There sat Tango with his mom. She was holding him tightly and crying. I gestured for her to follow me into an exam room, where she placed her beloved Dachshund gently on the table. He waddled like a seal—his chest elevated and his hind end awkwardly dragging behind. He clearly wasn't moving his back legs.
Since I'd already performed a thorough physical and neurologic exam on Tango at his first visit, I skipped right to the heart of the matter. Did he still have what veterinarians call "deep pain?"
What is deep pain perception and why is it relevant to IVDD surgery?
To understand deep pain perception and IVDD, we need to take a look some canine anatomy. The spinal cord is like a superhighway of nerve fibers. Imagine strands of rope, yarn, and thread bundled together and running from the brain, through each of the vertebrae, to the lower back. That's the spinal cord.
Certain fibers carry the impulses associated with conscious proprioception (sense of body position). Others carry the signals for motor function (the ability to walk). The smallest fibers carry the impulses for deep pain.
These deep pain fibers are the last to be impacted by a compressive force (i.e. a disc herniation) precisely because they are the smallest fibers. The fibers vary by diameter. This is why there is a predictable progression in what reflexes/responses an IVDD dog loses neurologically.
Conscious proprioception, carried on big fibers—the "ropes"—is lost first. Veterinarians test conscious proprioception by turning a dog's paw over (knuckles down) and seeing how long it takes the dog to correct his or her paw position. A healthy dog will put his or her paw back down the correct way (pad-side down) almost immediately. Various neurological injuries can cause conscious proprioception to be delayed or absent.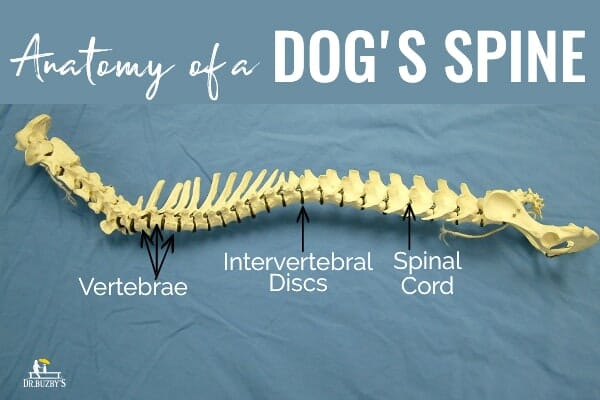 Loss of motor function—the "yarn" in my analogy—is next. When motor function is compromised, the dog can't walk or move his or her legs.
The last sensation to go is the perception of deep pain, carried by the "thread." Veterinarians test deep pain by tightly pinching a dog's toes and gauging the reaction. This may sound mean, but it's very important for us to know what degree of nerve damage a dog is experiencing.
The treatment plan and prognosis (expected outcome) are both based upon symptoms, which correlate to the fibers that have been impacted.
Distinguishing between Grade 4 & 5 IVDD
Veterinarians use a grading scale of one through five for IVVD dogs. The more severe the symptoms, the higher the grade. Grade 5 dogs represent the most critical cases.
Grading scale for IVDD in dogs:
Grade 1 – Pain without neurologic deficits
Grade 2 – Change in gait (ataxia) with delayed or absent conscious proprioception
Grade 3 – Partial paralysis (called paresis); the dog is able to move the legs but not walk
Grade 4 – Paralysis with deep pain perception present
Grade 5 – Paralysis with loss of deep pain perception
The grade is a reflection of how badly the herniated disc is compressing the spinal cord. In many cases just the back legs are affected, but in some dogs all four legs are affected. This is dependent on where along the spine the injury occurs. The higher up toward the dog's neck, the more likely the front legs are involved.
In the case of my patient having already lost motor function, Tango was a grade 4 or 5. But I needed to test his deep pain perception to know which one.
I took a hemostat out of the drawer and pinched one of his back toes, hoping desperately he could still feel them. His mom watched anxiously.
Tango let out a yelp when I tested both hind paws. His mom and I both breathed a sigh of relief as I rubbed Tango's head to ask for forgiveness. I then gently felt his abdomen. His bladder was enormous—another sign of grade 4 or 5 IVDD.
I looked up and began explaining my thoughts to Tango's mom. "He's now gone from grade 2 to grade 4," I explained. "But he can still feel his feet. It's time for referral to a veterinary neurologist for IVDD surgery."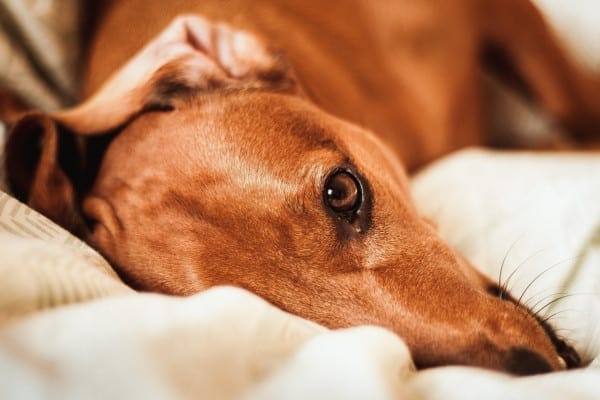 Why IVDD surgery is recommended
IVDD surgery is the recommendation for dogs who have lost motor function as a result of intervertebral disc disease. In fact, surgery is the gold standard treatment for any dog who has more than just pain symptoms (grade 1 IVDD). The prognosis with surgery for these dogs is significantly better than without surgery.
But I also appreciate that not every client can afford IVDD surgery. There is no judgment from veterinarians when clients cannot spend thousands of dollars for their dog to go to a referral hospital for back surgery. And in those cases, veterinarians do the best they can with medical management and home care.
Managing higher grade IVDD is certainly more intense than grade 1 or 2. Often, a dog with grade 4 or 5 IVDD has lost his or her ability to pee or poop unassisted. (This was why Tango's bladder felt so big when I palpated his abdomen.)
In these situations, dogs need help voiding the bladder with manual expression several times a day. As the dog's parent, you must maintain your dog's fastidious hygiene to prevent him or her from developing urine scald and pressure sores. It is not an easy condition to manage, and I understand management may not be able to fit into everyone's lifestyle.
If surgery is not a feasible option, and medical management is unsuccessful or not reasonably possible, you and your vet may sadly need to consider the option of euthanasia for your dog in the case of grade 4 or 5 IVDD.

IVDD surgery success rate
Studies have shown that surgical treatment for IVDD is successful in more than 90% of dogs with grade 1-4 IVDD. However, with grade 5 IVDD, success drops to only 50-60% if the surgery occurs within 24 hours of symptoms. For dogs who have surgery performed after the initial 24-hour window, the success rate drops dramatically.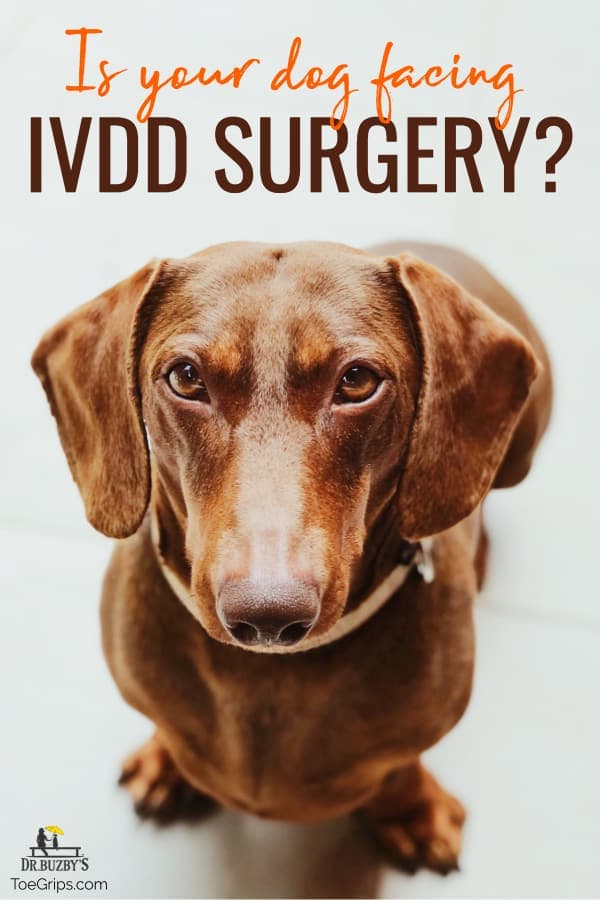 How much does IVDD surgery cost?
IVDD surgery cost varies based on common sense factors such as how extensive and complicated the surgery is and how long the dog remains hospitalized. Additionally, geographic location is one of the major factors affecting cost. The cost varies depending on the city, state, or geographic area of the United States where the surgery is performed.
While the actual surgical procedure may cost roughly between $1500-$4000, you must also take into account the hospitalization (aftercare), diagnostics such as imaging (X-rays, MRI, CT) and bloodwork, and medications. The total price tag for IVDD surgery ranges from approximately $3000 to $8000.
Planning ahead for IVDD
If you are the parent to a Dachshund or another breed that runs a high risk for IVDD, I recommend purchasing pet insurance or setting aside money before it's needed to cover the cost of IVDD.
During Tango's very first puppy visit, when he was just nine weeks old, I had discussed intervertebral disc disease with his mom. That may sound depressing, but we had talked about many other health and wellness issues like diet, dog tooth brushing, and dog nail trimming. Since he was a high-risk breed, I felt compelled to also go over the basics of IVDD. I suggested that my client consider pet insurance for her dog.
Instead of choosing pet insurance, my client created what she dubbed "The Tango Fund." Every month she put money aside in case Tango ever needed IVDD surgery. Sadly, that day had come. But her foresight made the decision to say "yes" to my recommendation for surgery much easier.
Although it's not ideal, if you can't afford IVDD surgery, that doesn't necessarily mean it's the end of the road for your poor pup. There are options such as Care Credit if financing is a possibility, or you can discuss more medical management options with your vet.
Preparing for IVDD surgery
I made a phone call to our local neurologist to set up the surgery consult. Within 30 minutes of walking into my exam room, Tango was on his way to the specialty hospital for advanced diagnostics.
Before surgery, the neurologist needs to determine the location of the herniated disc(s). This can be done with several modalities including a CT scan, an MRI, or a myelogram.
MRI is the best way to look at soft tissue in the spine, but it is not always available. CT is a good method, as well, but also not always at hand. A myelogram is a contrast study using radiographs (i.e. X-rays). In this method, a dye is injected into the cerebrospinal fluid (CSF) around the spinal cord and then sequential X-rays are taken. This will show where a disc (or discs) is bulging and help the surgeon plan his or her approach.
Types of IVDD surgery
Thus far, we have been referring to "IVDD surgery" as a general concept. But there are several types of IVDD surgeries, all with lovely, long, Latin-based names:
Hemilaminectomy
Pediculectomy
Dorsal Laminectomy
Ventral Slot
Fenestration
The most common surgery for a herniated thoracolumbar disc is the hemilaminectomy. In this procedure, the articular facets (the joint surfaces between vertebrae) are removed and bulging disc material is cleared away from the spinal cord. If a disc in the neck has slipped, then the ventral slot procedure may be performed.
These are advanced surgeries that are always performed by a neurosurgeon. They require specialized equipment and excellent technique for a good outcome. (For more detailed information on IVDD surgeries, please read the Veterinary Medical Teaching Hospital at UC Davis' article on disc disease.)
My Dachshund patient had an MRI which identified a disc bulging between his 11th and 12th thoracic vertebrae. He went to surgery, and the neurosurgeon performed a hemilaminectomy. The surgeon was concerned about the disc in front of and behind the herniated T11-12 disc, so he "fenestrated" those as a preventative measure.
In this procedure, a small window is cut into the "jelly donut" (described in Part I of our series), called the annulus fibrosus, and the "jelly," called the nucleus pulposus, is removed. This, in theory, prevents spinal cord damage from future herniation of these discs.
What to expect after IVDD surgery
As you might expect, spinal surgery in dogs is a serious procedure and post-op care can take weeks to months. Typically, dogs stay in the hospital for three to ten days following surgery. Once a dog can urinate on his or her own and pain is well controlled, he or she may go home.
Convalescent care includes four to six weeks of restricted activity (crate rest—absolutely no jumping, running, stairs, etc.), administering anti-inflammatory medications, and sometimes antibiotics. In some cases, a sling may be helpful for supporting a dog's back end during recovery.
Just like with any surgery, IVDD surgery aftercare includes incision care. Keeping the incision clean and dry, and monitoring for any signs of infection—redness, heat, swelling, or discharge—prevent incision complications. Typically, skin sutures or staples are placed over the incision and should be removed 10-14 days after surgery.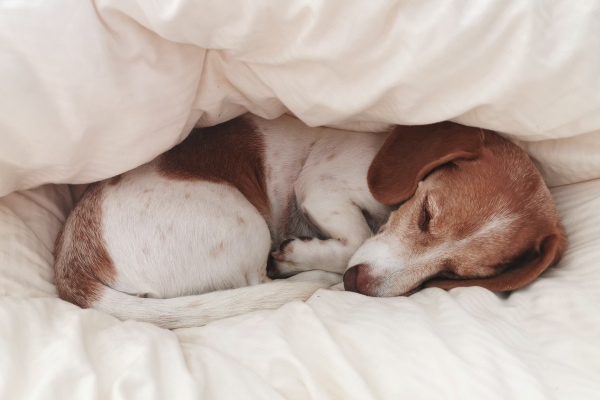 Physical therapy for pets is one of the fastest-growing aspects of veterinary medicine. Many veterinary surgeons will routinely prescribe physical therapy as part of the post-op plan for their patients because rehab can provide dramatic benefits. Additionally, rehab practitioners can teach dog parents to do simple techniques, such as massage and passive range of motion, as part of a home therapy program.

Alternative treatments that I've found to be very helpful include acupuncture and laser therapy. Supplements may also be added to conventional medications for possible anti-inflammatory benefits. My personal favorite is the combination of deer velvet and green-lipped mussel. I've had such good results with New Zealand deer velvet in my IVDD patients and in senior dogs that we now offer it through our website.
In fact, I recently received this note from a dog owner who tried New Zealand deer velvet for her Dachshund:
I have 2 short-haired Dachshunds: one is 11 years old and one is 5 years old. In late October, the younger one tweaked his back from jumping off the couch and was in a lot of pain for several weeks. He slowly got better after strict crate rest, Neurontin, and a muscle relaxant. Absolutely no long walks/exercise during this time. In early December, I went outside to look at the Christmas lights, and Oscar launched from the couch again. I forgot to put him in the crate and he reinjured himself. The cycle of multiple vet visits, strict crate rest, Neurontin, and a muscle relaxant began again. Oscar was getting very sad and tired of being in pain.

Then, it was recommended that I call Dr. Julie Buzby. Her advice was life-changing for Oscar. I tried the New Zealand Deer Velvet while he was recuperating with his daily crate rest. THE RESULTS WERE ABSOLUTELY INCREDIBLE. After 3 days of being on the Deer Velvet, Oscar's sadness changed to happiness and he began to regain his normal activity level. He is now completely pain-free. No prescription medicines for his strained back (partially herniated disk) and he has resumed his 30-minute walks a day. My husband and I will continue the New Zealand Deer Velvet as a daily regimen for Oscar. He does have disk disease (as many Dachshunds do), so we are very grateful for this product to keep him pain-free and active for many years to come!" ~Jennifer Chastain
After his surgery, Tango spent three days in the hospital recovering. He had a urinary catheter in place so his bladder would stay empty because he couldn't yet urinate on his own or walk.
This is a common scenario after surgery. Many dogs need several days to weeks for the swelling in the spinal cord to decrease. If everything goes as planned, movement will gradually come back to the legs during that time. The same is true for bladder control. In some cases, it can take one to three weeks for this to happen, and a dog might even go home with a urinary catheter in place.
How quickly will a dog recover following IVDD surgery?
The speed of recovery and the success of the surgery are dependent on the extent of injury to the dog's spinal cord, the period of time between injury and surgery, and post-operative care. (To see the transformation IVDD surgery can bring about, check out the brilliant team at Southeast Veterinary Neurology, who shared the story of Buster, a dachshund who recovered from IVDD surgery.)
As you might imagine, the more severely the dog was affected by IVDD on our grading scale and the longer the time between injury and surgical decompression, the worse the prognosis (expected outcome). Thankfully, most dogs who have IVDD surgery recover normal function quickly. But severely affected dogs may be left with varying degrees of permanent damage.
Strict rest is incredibly important after surgery, as too much activity can lead to pain, trauma, and reinjury.
In the case of my patient, this time, Tango's owner was prepared. She had his gabapentin for dogs, trazodone, and a comfy crate ready with his favorite snuggly toys. Also, she had purchased low-fat dog food, consulted with me about how many calories he needed per day to lose weight, and had decided no more bacon scraps.
Two weeks after his surgery, Tango was walking well again. He was able to control his bladder, and his mom had started him on his weight loss regimen. Tango's story has a happy ending.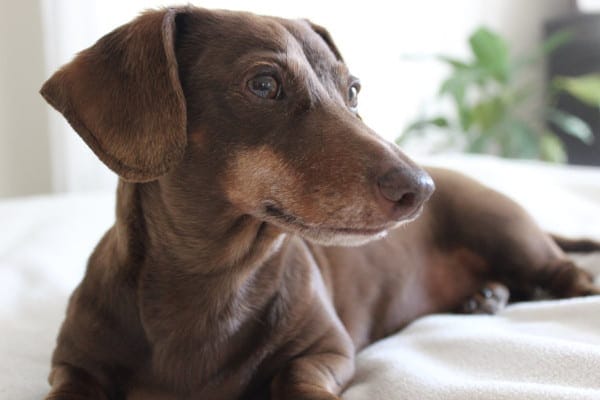 IVDD recurrence after surgery: Will IVDD strike again?
The good news is that most dogs who undergo IVDD surgery will not experience additional disc herniations. However, some will. (Dachshunds have been proven to have a higher risk of recurrence than other breeds.) The main reason Type I IVDD occurs in dogs is because of genetic factors which affect chondrodystrophic breeds. The abnormalities that predisposed one disc to bulge or herniate are likely present in other vertebrae.
But I'm a huge believer in being proactive and positively impacting what we can, which means making home modifications to try to maintain health and reduce high-risk behaviors such as running or jumping.
Making long-term home and lifestyle modifications following IVDD surgery
IVDD survivors may benefit from lifestyle modifications. I recommend the following to my clients. In consultation with your vet, you may also want to consider:
Adding ramps or stairs for porches, beds, and other furniture to reduce your dog's jumping
Maintaining your dog at a healthy weight
Engaging in low-impact, controlled activity/exercise only
Changing from a collar to a harness for dogs with cervical IVDD (IVDD in the neck)
Wearing Dr. Buzby's ToeGrips® dog nail grips to prevent slips and falls while increasing stability, especially for dogs who struggle with slipping on hard surface floors. I recently received this note from a dog mom whose Dachshund is a ToeGrips® dog nail grips wearer:
Our 13 year old dachshund has been protected from the slippery hardwood floors for years using toe grips on his back paws. Just this year he needed back surgery, and his recovery was successful in no small part due to toe grips protecting him from slipping and sliding. A wonderful product!"

~ Francesca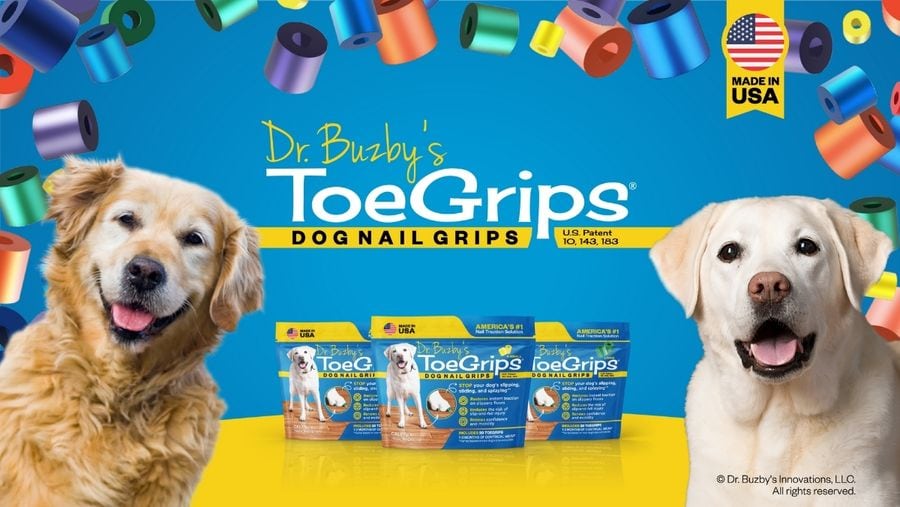 Conclusion
Finally, if your dog is being treated for IVDD, whether managed medically or surgically, the key is REST, REST, REST, AND MORE REST. I can't emphasize enough the importance of crate training your canine companion from puppyhood. It is invaluable in case strict crate rest is ever prescribed for IVDD or any medical condition.
Most importantly, perhaps, is being aware and observant of your dog. At the first sign of back pain and weakness in your dog, seek veterinary care. And if your dog does have IVDD, remember—there are many treatment options! Maintaining close communication with your veterinarian is important.
What questions do you have about IVDD surgery for dogs?
Please comment below.