Laid-back summer days may mean water sports for your canine companion and you. If your dog's tail "goes limp" or "looks broken" after swimming (or even after a bath) it could be limber tail syndrome in dogs (i.e. acute caudal myopathy). Practicing veterinarian Dr. Julie Buzby shares one dog's experience with this painful condition that often has a mysterious water association. By the end of this article, you'll know the facts, causes, symptoms, and treatment for limber tail.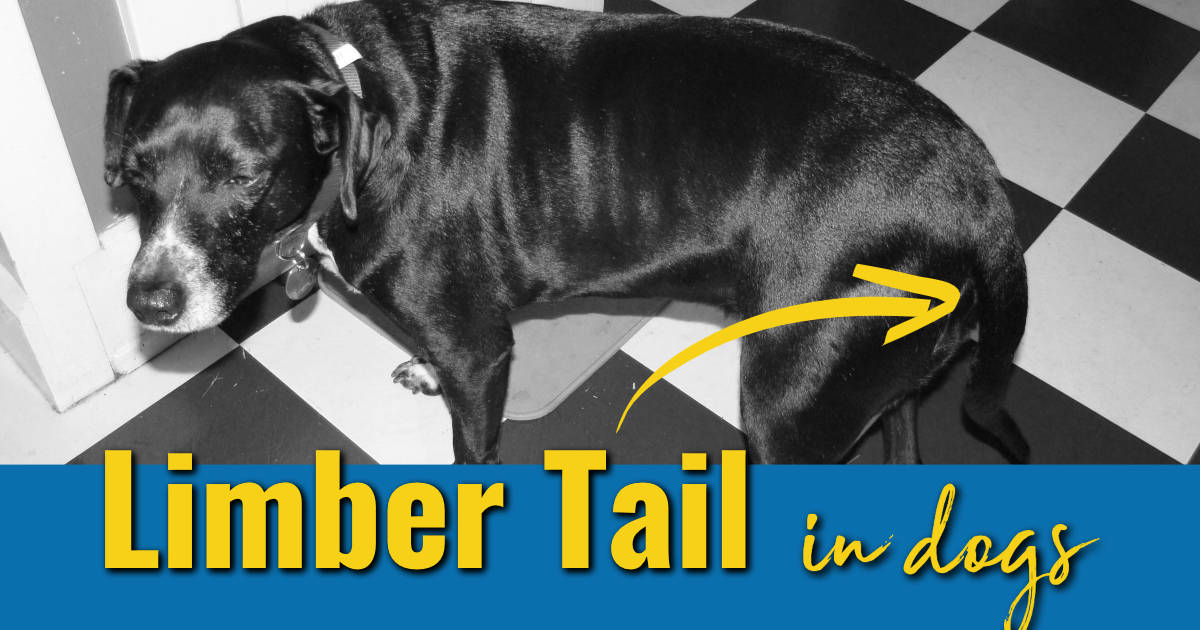 "I'm taking Banjo to the vet. Call me when you can."
My sister lives four hundred miles away, so her voicemail one Saturday morning was all it took for me to know something was majorly wrong with her dog. Especially since the day before my sister had followed my seven tips for improving canine lab tests at a routine vet visit, and her dog, Banjo, checked out perfectly. What changed between then and now?
I immediately called her back. My sister explained that she believed Banjo broke his tail after hitting it on her iron bed. Her beloved dog's tail was suddenly limp and crooked.
Banjo's diagnosis: Limber tail syndrome
A broken tail? That didn't sound right to me. As I listened to her, a condition that causes dogs to have a limp tail came to mind. I asked if Banjo had been in the water yesterday.
My sister confirmed my suspicions when she said that she'd given her dog a bath the previous day.
"I think he has something called limber tail syndrome," I explained. "The bad news is it's excruciatingly painful. The good news is he's going to be fine."
This summer as temperatures rise and your own four-legged friend looks to beat the heat with a dip in the lake, a romp in the waves, or a cold water bath, be on the lookout for a suddenly droopy and limp tail. Like Banjo's, it very well might be limber tail syndrome. While this condition is not as well-known as other summer-related hazards for dogs such as heat stroke in dogs, canine fireworks anxiety, and blue-green algae toxicity in dogs, it's one that dog parents should be aware of.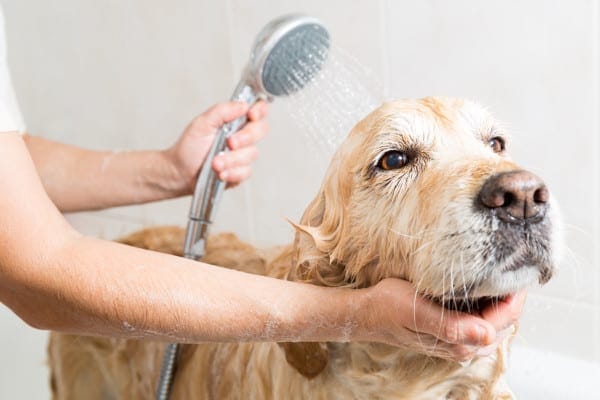 What is limber tail syndrome?
Limber tail syndrome, or acute caudal myopathy, is a relatively common condition in which a dog's tail either drops down from the base or extends horizontally three or four inches and then continues downward.
It is also known as:
Broken wag
Cold tail
Dead tail
Frozen tail
Lab tail
Rudder tail
Swimmer's tail
Limber tail is common in sporting and hunting dogs like Labrador Retrievers, Golden Retrievers, Setters, Pointers, and Foxhounds.
What causes limber tail in dogs?
While the exact cause of a dog's limp tail isn't always known, it is thought to be caused by damage to the muscles of the base of the tail. Think of it as the muscles being sprained or strained.
One research study on "cold tail" examined four Pointers with this diagnosis. It confirmed evidence of damage to the muscles of the tail via bloodwork and electromyography.
This muscle damage is usually due to overuse during swimming or bath time.
Why is my dog's tail suddenly limp?
A dog naturally uses his or her tail for balance. When in the water, the tail aids in steering and changing directions in addition to balance. This can cause a limp tail in dogs due to overexertion.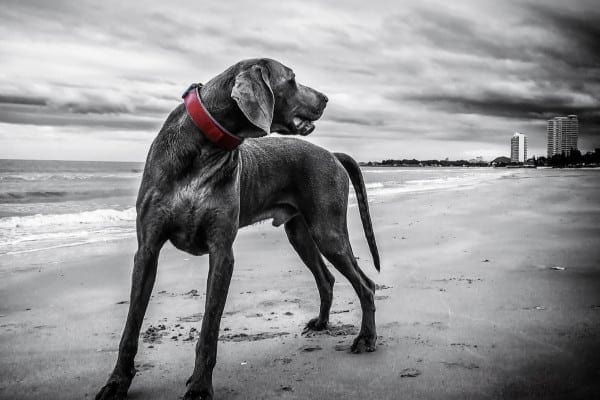 However, there are other conditions that can also predispose dogs to developing a limber tail. This includes:
Cold weather and cold temperatures
Temperature and humidity changes
Long periods of time spent in a kennel
Rapid increase in exercise (no training/building up to it)
Exposure to cold water
If you have ever exercised during wintertime, you know that your muscles are tight and need "warmed up." This is why it is important to stretch before exercising. Sudden exercise/exposure can increase the risk of muscle injury or strain. It's the same for our dogs too.
A common misdiagnosis
In my years at veterinary school, never once did I learn about limber tail syndrome. In fact, if it hadn't been for a seasoned colleague early on in my vet career who set me straight, I would have misdiagnosed my first patient who had the tell-tale signs of limber tail.
Unfortunately, it's common to misdiagnose limber tail for other conditions such as:
And while it's important to rule out these more serious conditions, limber tail is the most likely diagnosis for water-loving dogs with the classic symptoms.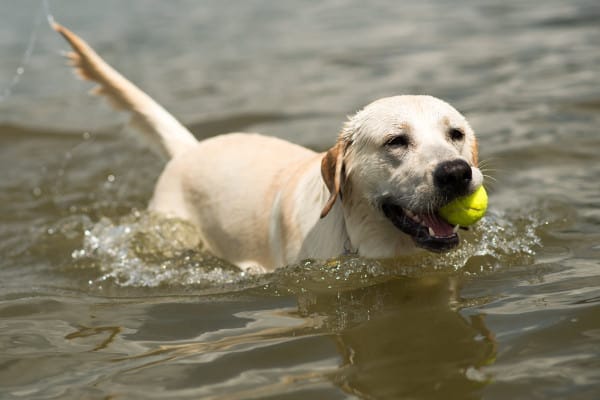 Symptoms of limber tail syndrome
Limber tail syndrome is a strange phenomenon, and it seems to take dog parents by surprise. Especially if your dog loves the water, it's important to know the following common symptoms and risk factors of limber tail syndrome:
Pain at the base of your dog's tail (where the tail meets the body)
An inability for your dog to hold the tail normally
Dog's tail hanging limp and droopy-looking
Dog's tail limp and swollen
Reluctance to wag or move the tail due to pain
Dog's tail limp and won't wag
Licking or chewing of the tail
Recent exposure to water such as an ocean, lake, river, or cold water bath
Recent strenuous work or exercise, especially for sporting breeds like English Pointers, Labradors, or Beagles
Prolonged crate confinement from travel or being home alone
Exposure to water is a consistent clue in all the cases that I've seen over my 25+ years as a veterinarian. It's important to note, however, that a limber tail diagnosis does not require recent water activity.
My dog's tail is limp: Pain or no pain?
As you can see from the list of symptoms above, swimmer's tail can look differently for different dogs. This is because every case occurs due to a different muscle injury, and no two dogs are the same.
In most cases, if your dog's tail is limp from limber tail, there is usually pain associated with the injury. This is especially true for dogs who are very active and tend to overuse their tail.
But in some cases, the injury may be very mild — so your dog's tail might be limp but no pain. Think about it like a rolled ankle. Sometimes you take a weird step and just roll your ankle a little. It's stiff but you can still walk fairly pain free. Other times, you roll your ankle so bad you injure it to the point that you need a boot or cast. This variation in pain is very similar to what a dog with a limp tail might feel. (By the way, it's also important to call out that dogs are very stoic and may mask pain.)
Overall, limber tail tends to be painful more often than not.
How is limber tail diagnosed?
Thankfully, limber tail is a fairly easy diagnosis to arrive at. It will involve a visit to your veterinarian, though.
When you and your dog arrive at the animal hospital, your veterinarian will examine your dog. A physical exam will be performed to look for signs of injury, pain, and abnormalities in the tail.
If your dog has the "classic history" of swimming a lot recently, your vet might arrive at the diagnosis of limber tail right away. If not, he or she might need some diagnostics to help rule out other diseases first.
For example, limber tail can present similarly to a dog with a broken tail. In order to diagnose between limber tail vs a broken tail, your veterinarian might take X-rays. The findings from X-rays can help rule out some of the other disease possibilities mentioned above, too.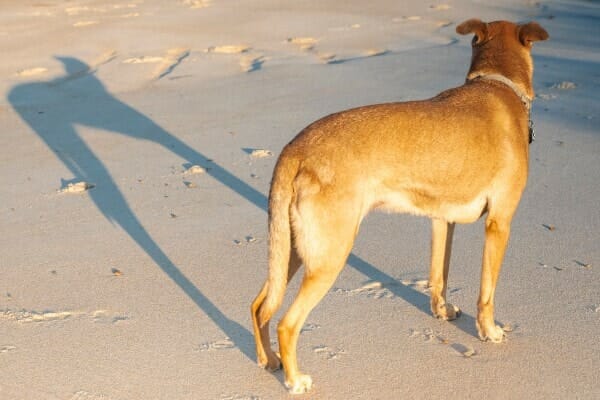 What is the treatment for limber tail in dogs?
If your dog has been diagnosed with swimmer's tail, you are probably eager to know what's next. How do you treat limp tail? Thankfully, dogs with limber tail syndrome typically only take a few days to recover. With a combination of rest, time, and anti-inflammatory medication for pain, most dogs significantly improve within a short period.
In addition to anti-inflammatories, your veterinarian might prescribe a medication called gabapentin. Gabapentin for dogs is becoming more common as a treatment option. The reason I personally like gabapentin for limber tail is because it usually has fewer side effects than anti-inflammatories. Also, gabapentin can help calm down dogs who are energetic and don't want to relax.
Home treatment for limber tail
Speaking of relaxing, this is the most important part of treating a dog with limber tail. If you want a home treatment option for your dog with a limp tail, rest is the best thing you can provide for your dear dog.
As I mentioned, limber tail usually happens from overuse. So in order for a dog's limp tail to heal, the tail needs to rest. I know this is easier said than done, though. How do you stop a happy dog from wagging his or her tail? If you have an enthusiastic dog, the answer is, you probably can't.
However, you can avoid creating excitement to help reduce the amount of wagging. This means no doggy play dates with friends, no guests over to the house if that excites your dog, limiting activity to leash walks only, and less playing at home.
On the other hand, it is important not to restrict your dog too much by putting him or her in a crate for long periods. Lying in a crate, especially if it is small, can make your dog's tail muscles stiff. This can make your dog's limp tail even more sore and painful.
Most importantly, you should avoid giving your dog baths or letting him or her swim while healing.
If you are like my sister, you are probably asking, "What can I give my dog for limber tail?" Unfortunately, there are not any over-the-counter medications that are safe for dogs and would help with a limp tail. If you want to give you dog more than just rest, I recommend adding in a hot or cold pack. The ice or heat pack can be used to help reduce swelling and inflammation in the tail.
How long does limber tail last?
Limber tail usually only lasts a few days. That was certainly the case for Banjo. A few days after our Saturday morning conversation, my sister called to share that her dog was once again happily smacking his wagging tail into her legs and furniture.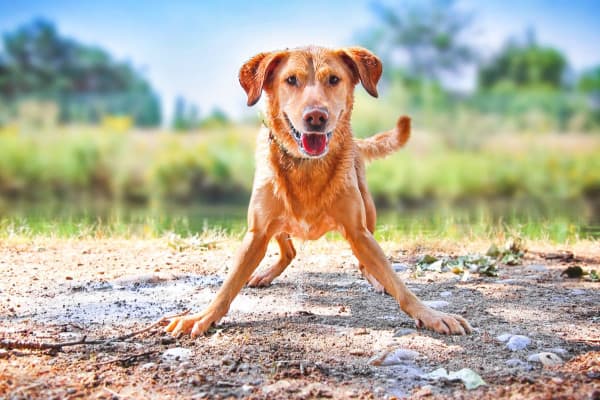 Interestingly, I have had a few of my patients with this diagnosis receive immediate relief from veterinary spinal manipulation (ie. a dog chiropractic adjustment of the sacrum), but the majority do not.
What is the prognosis for limber tail?
On top of healing quickly, I am happy to say that the prognosis for limber tail is usually good. If you rest your dog and allow time for the tail muscles to heal, the tail should make a full recovery.
If the rest period is not long enough, it is possible that your dog will re-injure his or her tail.
How can you prevent limber tail?
Some dogs, especially those predisposed for limber tail, can develop the condition a second time. I have even had a client whose dog's tail is limp after swimming every summer.
The best way to avoid this happening to your dog is through conditioning. By exercising your dog and slowly building up to more strenuous activities, you can help your dog strengthen his or her muscles. Think about if you were training for a marathon or to climb a mountain. You can't just wake up one day and decide to go complete this activity. You spend months training and preparing your body.
The same needs to happen for your canine companion. If your dog spends all year resting and then is suddenly active all day long and every day, his or her tail is more likely to become fatigued and injured. So, it's important for you to help your dog build up strength by starting with short swims a few times a week. By slowly adding more time in the water, your dog should be better prepared.
And just like before you run, you should always "stretch your dog." Of course, by this phrase I don't mean actually stretching your dog's legs into fancy poses or anything like that. Rather, I mean giving your dog a bit of time to stretch his or her legs. For example, if your dog has been confined in the car or kennel, give him or her a short leash walk. This will help your dog calmly and naturally stretch his or her muscles. Once your dog's had a chance to stretch, you can let him or her run, play, and swim!
This "warm up" isn't a guaranteed way to prevent limber tail from happening again. So, if you see your dog's tail limp after a bath or other activity, you should stop and check your dog. You may even want to give your furry friend a tip-to-tail dog wellness scan.
As always, please speak with your veterinarian if you're concerned about your dog's tail or any other body parts!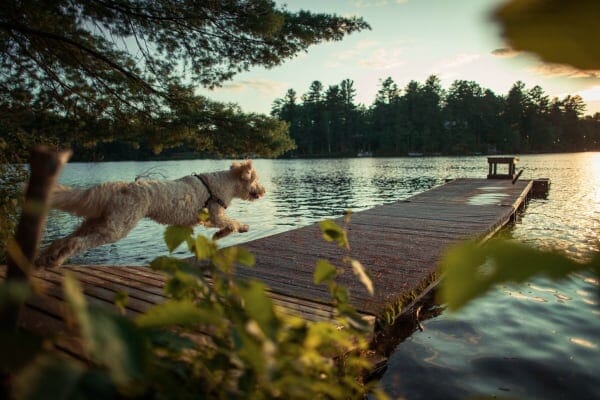 A simple action plan
This summer, as you venture outdoors, know the risks of limber tail in your water-loving dog. If you do see sudden onset of symptoms, you'll have a hunch on the diagnosis. And you'll be ready to set up an appointment with your veterinarian to formulate a plan.
Now, enjoy the warmer days and have a ball watching your canine companion make a huge splash — whether that's in your bathtub, off the end of a dock, or in the foam of the salty tide.
Has your dog ever had a limp tail after swimming or bathing?
Please comment below. We can all learn from each other.