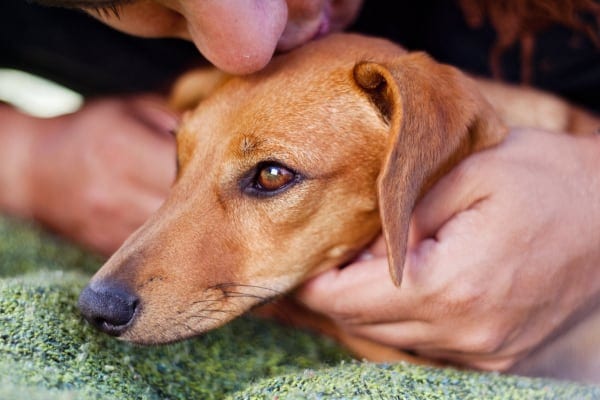 If your senior dog has recently faced canine vestibular disease, you may be eager to learn tips and exercises for dogs to make the road to recovery a smooth one. As a follow-up to her article on vestibular disease in older dogs, Dr. Julie Buzby welcomes Dr. Susan Davis, internationally recognized physical therapist for animals, to share her expertise. Dr. Davis draws from her 30+ years of experience to give you these 10 at-home tips and exercises for dogs recovering from vestibular disease.
As a proactive pet parent, you want your senior dog to be active and alert for as long as possible — playing, exercising, and joining in family activities.
But what if your dog suddenly begins to lose balance and body control? Having a pet who was fine one minute and dizzy the next can be distressing. What you thought would be a typical day soon fades into a worrisome and mysterious nightmare as your dog weaves and wobbles while navigating to the dog food dish, bumps into walls, and stumbles and falls just walking across the room — all while holding its head with a puzzling tilt while the eyes dart side to side.
What in the world is happening?
Vestibular disease in dogs
It's quite likely that your dog's vestibular system — responsible for helping maintain balance — is not working properly. As Dr. Buzby explained in her first blog post, Old Dog Vestibular Disease, canine vestibular disease is very similar to vertigo in humans.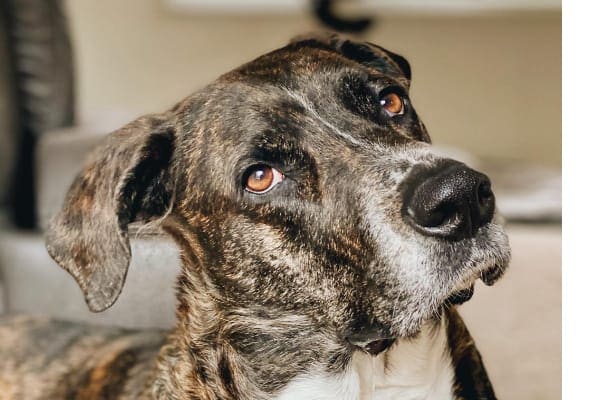 Symptoms include:
ataxia (staggering and stumbling)
nausea
vomiting
nystagmus (back and forth eye movements)
falling to one side
a distinctive head tilt
Causes of vestibular disease in dogs
Vestibular disease is broken down into two categories — central vestibular disease and peripheral vestibular disease—because the vestibular system is divided into two parts. The peripheral portion includes structures of the inner ear plus one of the cranial nerves. The central portion includes the brainstem and the nerves which project from it.

Within those two classifications, there are a variety of causes. A visit to your veterinarian will help identify which one your dog is experiencing.
Central vestibular disease in dogs
This type of vestibular disease can be caused by inflammation, blood clot(s), infection, toxins, tumors, or head trauma. Central vestibular disease is the less common of the two types.
Peripheral vestibular disease in dogs
Although trauma, toxins, and tumors in this location can also cause vestibular signs, the most commonly diagnosed causes of peripheral vestibular disease in dogs are middle or inner ear infections and idiopathic vestibular disease.
Idiopathic vestibular disease is also called old dog or geriatric vestibular disease because it affects senior dogs. The term "idiopathic" means that we don't know why it occurs. Thankfully, it is associated with a good prognosis because it responds well to treatment (including TLC and tincture of time) and often resolves completely within a few days or weeks.
Now that you understand more about the causes of vestibular disease in dogs, let's talk about how you know for sure if your dog has vestibular disease. Then we can dive into some tips and exercises for dogs with vestibular disease to help get your dog on the fast track to recovery.
Diagnosis of vestibular disease in dogs
The best way to help your dog is by knowing what you are dealing with, so even if you are pretty sure your dog has vestibular disease, a trip to the veterinarian's office is essential. Your veterinarian will examine your dog and possibly perform a test or two to gather more information before reaching a diagnosis and formulating a treatment plan.
Dr. Julie Buzby loves to recall cases where she has ruled out other more serious causes via a thorough history and neurological examination, and gets to gleefully assure the owner that although their dog's signs are unsettling, the situation is not dire. Such was her experience when she diagnosed her beloved patient, Lola, with old dog vestibular disease in part one of this series.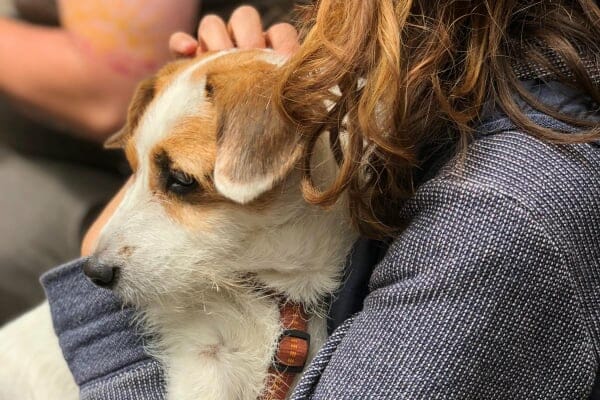 Recovery from vestibular disease in dogs
Recovery from vestibular disease in dogs involves a combination of rest, medication, and home treatment. Make sure to follow your veterinarian's instructions and administer any medications as prescribed. As part of your dog's treatment for vestibular disease, your veterinarian may recommend physical therapy.
For your dog's safety, ensure your dog is healthy enough for exercises
Infection or inflammation must be under control and no longer in an active state when initiating therapy exercises. Your dog may still be on medication when you begin, which is perfectly fine, as long as there is definite improvement and the condition is beginning to resolve. Otherwise, there is a risk of the condition worsening. Check with your veterinarian if you are not sure when to start exercises.
Consult a professional for help with exercises
If you are unsure about any exercise or procedure, consult with a physical therapist for animals or veterinarian specializing in rehabilitation. You may be able to have an in-person visit or confer with them via a telehealth appointment. They can walk you through the process to ensure you're performing the exercise correctly.
If your dog seems uncomfortable or resists your efforts, do not continue that exercise without seeking guidance from a professional.
10 tips and exercises for dogs with vestibular disease
Your dear dog is home, taking medication, and slowly recovering from this dizzying condition. Encourage your dog's recovery with these 10 tips and exercises.
1. Consider how you can assist with everyday activities.
When dogs are able to perform everyday activities (albeit with a little help from their owners), they retain dignity and quality of life. Simple ways you can help your dog include:
elevating food and water bowls
placing food and water bowls against a wall so they stay put if your dog sways or loses balance
using a sling or harness to assist with standing and walking.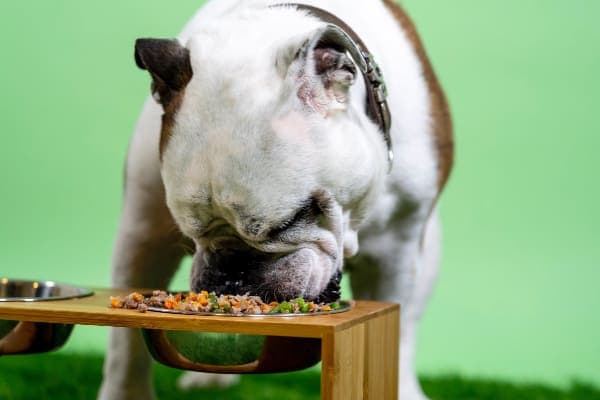 If you would like specific recommendations for products that can help your dog, please see Dr. Buzby's favorite things for senior dogs.
2. Limit movement to a safe area.
Limit your dog's space to move. A small room, a crate, or a section of a room partitioned off with stacked pillows or cushions will work. Keep your dog away from hazards such as stairs, furniture, and electrical cords. Make sure to clear away any objects that might cause stumbling or tripping.
3. Offer (literal) support for sleep and rest.
Grab a towel and tightly roll it up. Position it under your dog's neck during sleep. Also, place cushions around the body for extra support and comfort. Do not force this if your dog finds that other positions seem to be more comfortable.
If your dog is unable to rise without assistance:
reposition your dog every four to six hours to help prevent pressure sores from forming
use soft bedding
promptly change bedding if it becomes soiled with urine or feces.
4. Cover hard-surface floors and turn on the lights.
Floor surfaces should be non-slip, otherwise use ToeGrips® dog nail grips, yoga mats, rugs, or carpet runners with smooth edges to keep your dog from slipping. Place the mats or rugs so that your dog will have a continuous path over the hard surfaces. I do not recommend socks or booties for vestibular disease as they prevent the paw pads and nails from sensing the floor and gripping it properly.
Also, keep your dog's area well lit for maximum vision. This helps your dog move around with more confidence and reduces the chances of bumping into walls or furniture.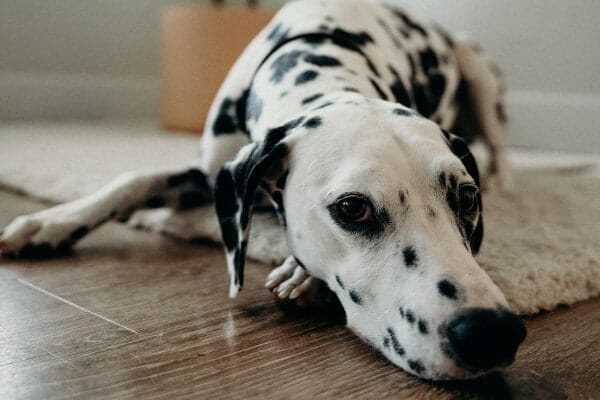 5. Provide stability for walking and moving.
Using a lightly-weighted jacket or vest designed especially for dogs may provide an added sense of stability for walking and moving. Allow your dog to move about for a few minutes at a time with the weighted vest. The amount of weight placed on the dog should be light in comparison to their body size. Do not use a weight that is too heavy and causes your dog to strain or struggle.
In chronic cases of vestibular disease, using a wheeled cart with outriggers to prevent toppling may be a great way to let your dog move around on its own.
6. Avoid water therapy.
Water therapy is amazing for canine arthritis and taking pressure off joints, but when your dog has vestibular disease, it needs joint pressure and the sensation of bearing weight on the ground. Water therapy can confuse the sensory system and provide too much motion, making it difficult for the dog to control its movement, or can lead to dizziness, nausea, and vomiting.
7. The stand-and-rock weight-shifting exercise
If vestibular disease hindered your dog's ability to stand, help it relearn with the stand-and-rock weight-shifting exercise.
First, holding your dog close to you for support, help it stand. Next, place your hands and arms around the body and rhythmically rock your dog back and forth then from side to side. Do this for one minute in each direction, twice per day.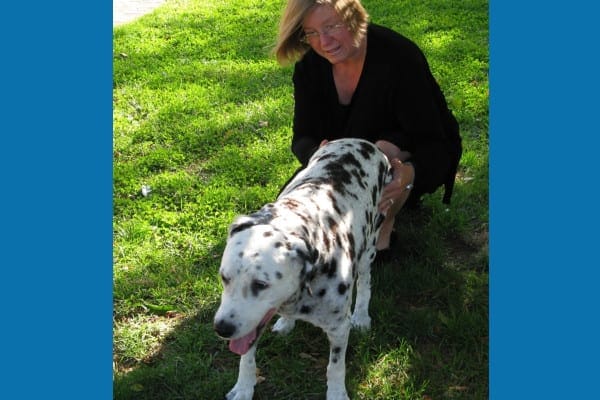 8. Core exercises to improve abdominal strength.
While your dog is in a standing position, use your fingers to tickle the belly. This will cause your dog to tighten its abdominal muscles.
Another technique uses a small treat to encourage your dog to bring its head and neck to the left, then to the right while the body remains still. Repeat this six times to each side, two to three times per day.
9. A standing balance exercise
If your dog cannot stand (or stay standing), use your hands, a sling, or a stack of pillows underneath the belly for extra support.
Start with two to three minutes of standing and progress to five. As your dog's standing improves, remove your hands, pillows, or slings and see if your dog can stay balanced. Keep your hands close by, as if spotting your kids during gymnastics, so you can steady or catch your dog when needed. Try to maintain soft eye contact during all balance exercises as visual stimulation helps your dog control body movement. Some dogs perceive direct eye contact (staring) as a threat, so be aware of how your dog is reacting and modify your plan accordingly.
If you're handy around the house, you may want to consider building a simple structure to support your dog's trunk while it's relearning to balance. One senior dog owner, Tom, built a wooden standing frame with sling suspensions and a padded sawhorse for his dog, Abby.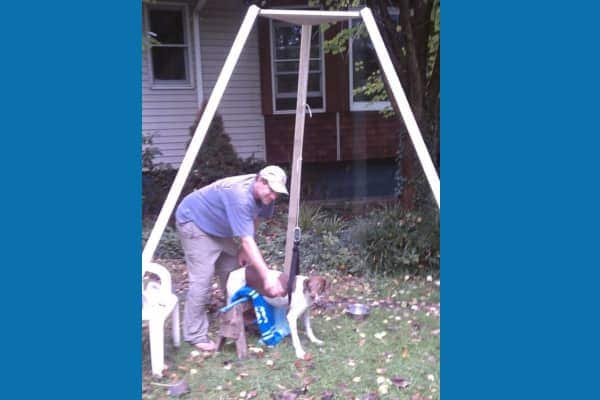 10. The tail-pull exercise
The tail pull is a technique I use to promote balance during walking. Stand behind your dog and hold the tail at the base (near the rump, and not near the tip). Use a firm grasp (but without squeezing the tail) and encourage your dog to walk while you hold the tail — almost like a rudder steering a ship. Do not try to pull the tail to either side, but merely straight back toward you. This will stimulate the dog to move forward.
With knowledge, you can help your dog
It's difficult to watch your dog stagger about with canine vestibular disease, but there are many things you can do to help your dog recover — the first of which is to visit your veterinarian. Then, under the guidance of a veterinarian or a physical therapist for animals, consider using some or all of these 10 tips and exercises for dogs with vestibular disease to help your dog put this dizzying diagnosis in the past.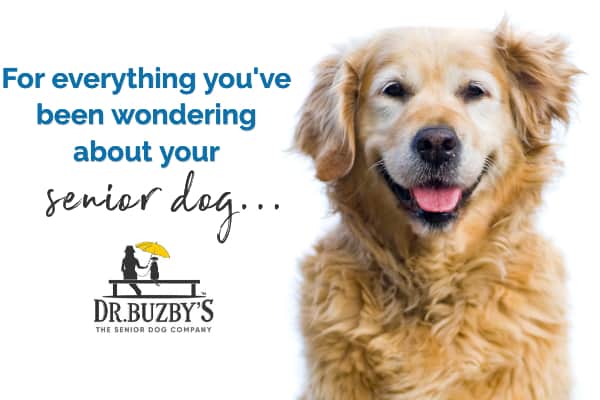 Do you have an experience with canine vestibular disease?
Please share in the comments below — your story and input is invaluable!