Wondering how to feed a dog with vestibular disease? When your dog's world is spinning, eating tends to be difficult for him or her. But these tips from integrative veterinarian, Dr. Julie Buzby, might be just the thing you need to get your dog's recovery started off on the right paw.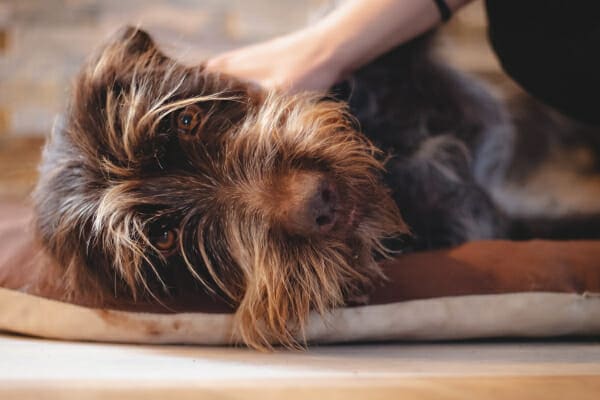 The symptoms of vestibular disease are so dramatic that they can strike fear in the heart of even the most experienced dog parent. Imagine you suddenly find your beloved dog leaning to one side, circling, and vomiting. And your dog's eyes are flicking back and forth. It may be easy to fear your pup is having a dog stroke or dog seizures. But thankfully, after an emergency vet visit, you discover your dog is actually suffering from old dog vestibular disease.
Luckily, with vestibular disease, the severity of the symptoms doesn't necessarily equate with a poor prognosis. Often, supportive care, including a healthy diet, may be all your dog needs to get on the road to recovery. This is good news.
However, it may leave you wondering how in the world your dog is supposed to eat when he or she is still so dizzy? To understand how to help your dog eat and why food may not appeal to your dog, it's helpful to first share a quick overview of vestibular disease.
What is vestibular disease?
This condition affects a dog's inner ear and brain and alters his or her sense of balance. When a dog is suffering from vestibular syndrome, he or she lacks the ability to know where the body is in space. This may give him or her the sensation of falling, leaning, or rolling even if he or she is standing still. It is thought that the sensation is much like vertigo or getting off an extreme roller coaster.
Many different conditions can cause the symptoms associated with vestibular disease. This means it is important that you take your dog to the veterinarian for an official diagnosis and treatment plan. Don't try to diagnose your dog yourself. If you see any combination of the signs listed below, seek out your veterinarian as soon as possible.
What are the symptoms of vestibular disease?
Leaning to one side
Head tilt
A dog who is wobbly and off balance (i.e. ataxia)
Circling
Eyes flicking back and forth or up and down (i.e. nystagmus)
Wide-legged stance
Vomiting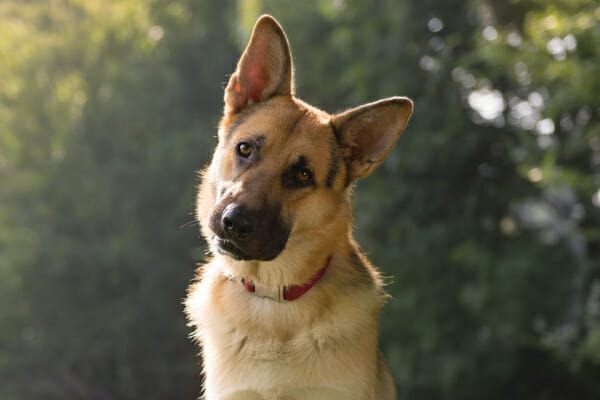 What causes vestibular disease in dogs?
Vestibular disease is most commonly classified as "idiopathic," meaning that the true cause of the condition is unknown. Idiopathic vestibular disease is more common in senior dogs (hence its other name of "old dog vestibular disease"). However, vestibular disease can occur in dogs of all ages. Sometimes vestibular disease may be associated with:
Some types of cancer in dogs
Vascular events (such as strokes)
Drug toxicities
Inflammatory diseases of the nervous tissues
To reach a vestibular disease diagnosis, your vet will examine your dog, consider his or her age and history, and perform any indicated diagnostic tests. As discussed, sometimes he or she will be able to pinpoint a cause. However, other times your vet may classify the vestibular disease as idiopathic.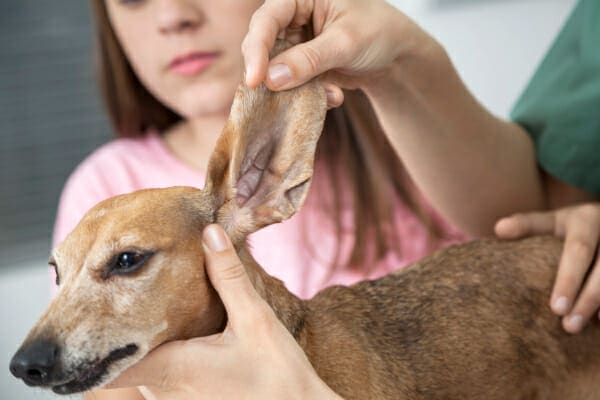 Why won't dogs with vestibular disease eat?
Now that you have an understanding of vestibular disease, let's talk about how to keep your dog as comfortable and healthy as possible while he or she recovers.
In some cases of vestibular disease, the symptoms last around 72 hours. However, they may persist for a week or longer. Thus, helping your dog eat and drink during this time is very important.
If you have ever experienced extreme nausea, you understand why your dog may be turning up his or her nose at the food bowl during this time! Your dog's resistance to eating or drinking may be two-fold in this scenario.
First, he or she may not have much of an appetite. And second, even if he or she wants to eat, it may be a struggle to have the balance to walk to the food bowl and stay steady enough to eat.
Luckily, although your dog may refuse to eat initially, there are some simple environmental modifications and common medications that can help your dog want to and be able to eat and drink.
4 tips for feeding a dog with vestibular disease
To help you help your dog eat and drink during an episode of vestibular disease, I have compiled these four tips. Most of them are easy to do and use things that you already have around the house.
As a word of caution, if your dog is actively vomiting or unable to hold his or her head upright, you should not offer him or her food. A dog can go multiple days without eating. It is better to wait for his or her condition to improve than to risk your dog vomiting and accidentally choking on the vomit or getting aspiration pneumonia.
1. Keep your dog well supported when lying down.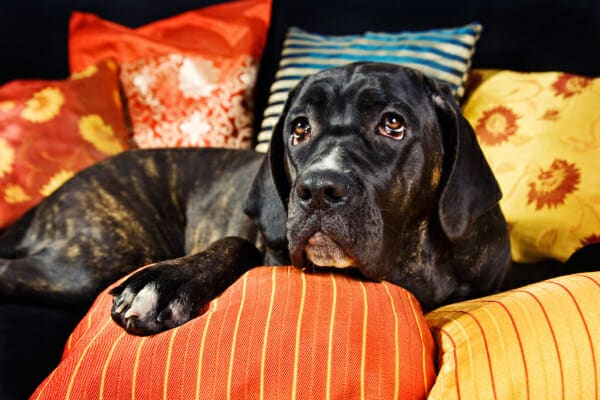 A dog suffering from vestibular disease often feels more comfortable with firm support behind the back when lying down. Sometimes a dog is not able to stand up yet, but can raise his or her head and attempt to eat a little bit.
In this case, position your dog against a wall or other solid surface that supports the back and pelvis. The brain may still be making your dog feel like he or she is spinning or leaning. But the support of the wall should help your dog be less likely to roll or fall when trying to eat.
Even when not trying to eat or drink, some support can be very helpful for your canine companion. Chances are, if your dog was hospitalized at the vet clinic, he or she would probably be positioned in a corner with his or her back well-padded with rolled bedding.
This technique can be used to keep your dog comfortably supported in either a lying or sitting position. You can use a bolstered dog bed, pillows, rolled towels or other similar items to position your pup.
2. Offer support when standing.
As recovery progresses, your dog may want to stand and eat in an upright position. Consider creating a place where he or she can lean against a wall or stable furniture. This may help him or her feel more comfortable when eating.
Place your dog's food and water bowls at a slightly elevated height (just below the chest is ideal) using a box, step stool, or stand. Then position it in a corner where your dog can lean against the wall on one side and have you support his or her shoulder and chest on the other side.
3.Give your dog good traction.
The more stability you can offer your dog, the better. Ensure he or she is on a slip-free surface when walking, standing, eating, and drinking. Avoid towels or blankets on the floor that can slide under his or her feet or present a tripping hazard. Instead, put down yoga mats or rubber-backed rugs to help with traction and provide padding.
Also, consider applying Dr. Buzby's ToeGrips® dog nail grips. These rubber rings are easy to place on your dog's nails and will help him or her gain traction wherever he or she goes. This added traction can help your dog feel more secure and confident when walking and standing.
Additionally, ToeGrips seem to improve proprioception—a dog's sense of where his or her limbs and body are in space. This is especially useful for dogs with vestibular disease as they have trouble with orientation and balance.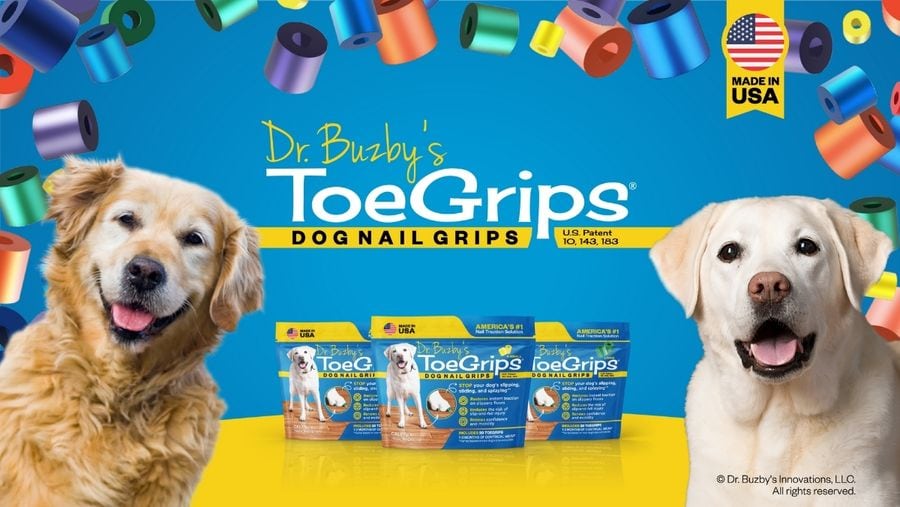 4. Make the food more appetizing
If possible, try to avoid adding "human food" or a new dog food to your dog's meals as this may cause GI upset. Instead, you can make his or her normal food more palatable and easier to chew by moistening it with some warm water or low-sodium chicken broth.
Alternatively, you can form easy-to-grab "meatballs" out of canned food. These meatballs can make it easy to hand-feed your dog if the bowl is too difficult in the early stages of recovery.
Initially, your dog may drop a lot of food on the floor. This is often part of the process so don't be alarmed. Instead, plan to feed him or her somewhere that is easy to clean up. Patiently put the food back in the dish or hand it to your pup again when it gets dropped.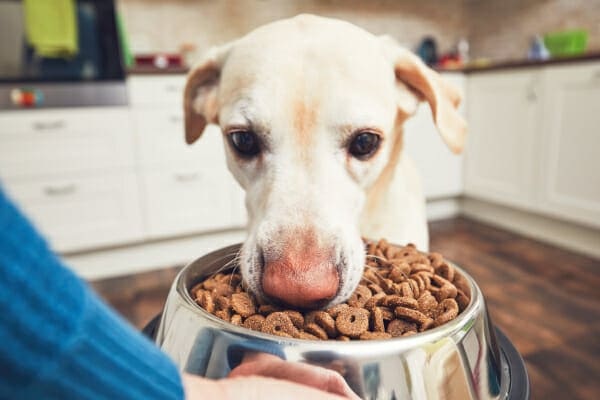 Medications for vestibular disease
After your vet diagnoses your dog with vestibular disease, he or she will discuss the use of one or more anti-nausea medications. These can be helpful to combat the vomiting and spinning sensation. That way your dog will hopefully feel better and be more likely to want to eat. Some of the more common medications include:
Meclizine
This is an antihistamine that can suppress the stimulation of the vestibular system inside your dog's inner ear and brain (which is what is causing the symptoms). Vets may also prescribe it for dogs with severe car sickness. However, meclizine is not appropriate for all dogs. It also cannot be used with other antihistamines. Be sure to get permission from your vet prior to giving it.
Maropitant (Cerenia®)
This strong anti-nausea medication inhibits vomiting by blocking the stimulation of the vomiting center in the brain. Most vets also think it has anti-inflammatory effects, which is an added benefit when treating dogs with vestibular disease.
Maropitant is a prescription medication. Your vet can give an injection of maropitant in the clinic or send you home with a few oral doses. The injectable form is particularly convenient in a patient who is not eating normally.
Ondansetron (Zofran®)
Ondansetron is a serotonin antagonist that works similarly to Maropitant but without anti-inflammatory effects. It is a prescription medication available in both injectable and oral tablet form.
Additional helpful medications
Your veterinarian may also prescribe anti-inflammatories, antibiotics, steroids (such as prednisone for dogs), or appetite stimulants for dogs. He or she will base that decision on your dog's condition and the underlying cause of the vestibular disease. While not a medication, it's definitely worth mentioning that there are several exercises for dogs with vestibular disease that can aid your dog's recovery.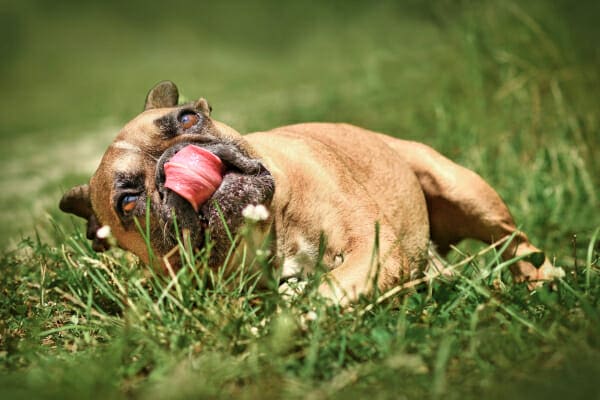 Will my dog be like this forever?
Although the presentation of a dog with vestibular disease can be quite scary, the good news is that most dogs recover with almost no long-lasting symptoms other than sometimes a slight head tilt. However, recovery time can vary from dog to dog.
Most likely, you will need to help your dog eat, drink, and go outside for around three to seven days before you will see improvement.
If at any point you notice a worsening of the symptoms, or you are unable to get your dog to eat or drink, please notify your veterinarian. He or she can give fluids to your dog either in the vein (i.e. intravenous fluids) or under the skin (i.e. subcutaneous fluids). He or she may also decide to place a temporary feeding tube for dogs if it has been too long since your dog has eaten.
Recovery begins with the dog food dish
I understand how scary it can be to watch your dog stumble around and feel like you are helpless to change the situation. But you aren't. In fact, I would say that you are vital to your dog's recovery. This is a condition where medications, supportive care, and tincture of time can often do wonders. You are the perfect person to patiently and lovingly work with your dog as he or she figures out how to stand, walk, eat, and drink.
As a proactive dog parent, ensuring your dog can eat nutritious meals is actually one of the most important things you can do. So take a deep breath, re-read these tips, and get to work. You can successfully feed your dog with vestibular disease and support him or her through this difficult time.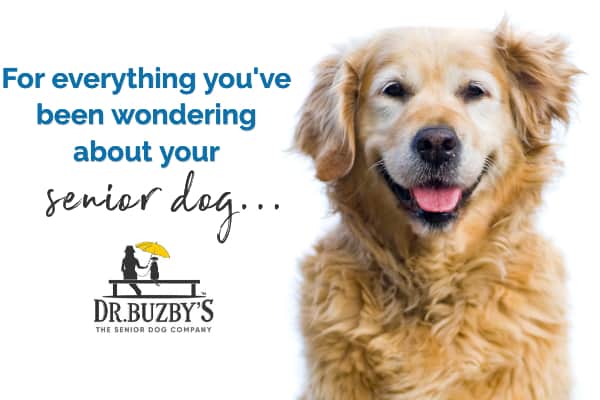 What tips or tricks did you use to help your dog with vestibular disease eat and drink?
Please comment below.