PEMF therapy for dogs (i.e. pulsed electromagnetic field therapy) is quite beneficial for dogs who have chronic orthopedic problems, acute wounds or injuries, or other painful conditions. Integrative veterinarian Dr. Julie Buzby invites PEMF expert Lisa Miksis to the blog to explain what PEMF therapy involves and how it could help your dog have more good days.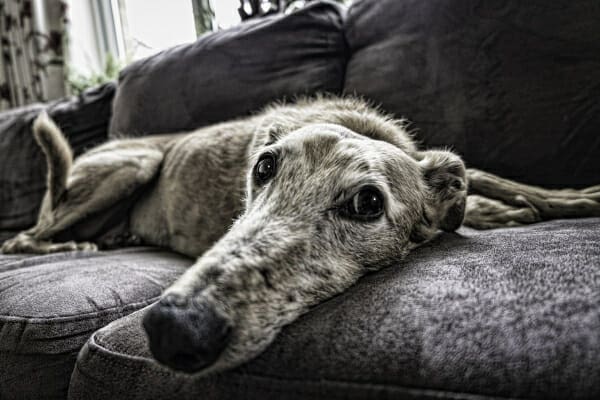 The vast majority of us do not give a second thought to the role of magnetic and electrical fields in our daily lives. Well, let's be honest, most of us do not even give it a first thought! But you may want to if you are currently caring for a dog with osteoarthritis, disc related conditions, an acute injury, a bone fracture, or any other soft tissue condition that results in inflammation, pain, and reduced mobility.
What is PEMF therapy for dogs?
But let's back up a moment and quickly familiarize ourselves with the basics of both magnetic and electrical fields. This information can help you understand how pulsed electromagnetic fields (PEMF) can help your dog enjoy a more vibrant quality of life!
Electric fields
Let's say you are experiencing a rapid heartbeat or an anomaly in the rhythm of your heart. Your physician will probably order an electrocardiogram (EKG). This test measures the strength and timing of electrical impulses passing through each part of your heart. The impulses are what dictate your heart rate and rhythm.
And that's not all these currents do. As it turns out, your body is full of electrical charges that control everything from nerve communication to muscle contraction and organ function. These electrical charges result from positive and negative ions that exist in the body. Keeping them in balance is crucial for the cells to operate efficiently.
Magnetic fields
When you step outside and feel the warmth of the sun on your face, it brightens your day. But you probably don't stop to express a moment of gratitude that you are not being bombarded by charged particles from the solar wind. These particles could strip away the earth's atmosphere and destroy all life as we know it! Thankfully, the earth's magnetic field protects us from this fate. No magnetic field would mean no atmosphere that is fit for life on earth.
Additionally, migratory animals such a birds, butterflies, and whales rely on the earth's magnetic field. It provides the information they need for navigation during migration.
These amazing magnetic fields are created by putting electrically charged particles in motion. That is exactly what is happening inside the core of the earth when the molten rock moves as the earth spins on its axis.
Electromagnetic fields
Now, it is time to put those two concepts together. If we take the electric particles and really accelerate them (think of it like a river flowing rapidly) we can create a magnetic field perpendicular to the flow of the electric particle river. This creates an electromagnetic force or field. Electromagnetic force is one of the four fundamental forces that govern all interactions in nature. Gravity is another of these forces.
Even though we cannot see or feel these electromagnetic fields, they surround us and are a vital player in all life processes. On a huge scale, light is an electromagnetic force. And on a microscopic scale, all cellular activity is controlled by cells signaling each other. Those messages are carried by positive and negative ions.
What does PEMF therapy do?
Magnetic fields, specifically pulsed electromagnetic fields (PEMFs), at the right intensity, frequency, and application duration can positively influence these cell signaling processes. This can have incredible benefits on the body, especially when the cells are not communicating effectively due to injury, age, illness, and stress.
Research and clinical trials looking at the effects of magnets, electromagnetic fields, and PEMF on the body and cells have been ongoing since the early 20th century. The following are some landmark Food and Drug Administration (FDA) clearances for PEMF:
1979—Approved for treating non-union bone fractures and stimulating bone growth
1998—Approved for urinary incontinence and muscle stimulation
2004—Cleared as adjunct to cervical fusion surgery
2006—Approved for treatment in depression and anxiety
2019—Cleared as adjunctive treatment of postoperative pain
What are the benefits of PEMF therapy for dogs?
Researchers have identified many of the cellular processes PEMFs influence1. The core mechanisms of action lead to:
Cell proliferation (i.e. multiplication) and collagen formation
Reduction of inflammation
Increase in circulation
Increase oxygenation of tissue
Pain reduction2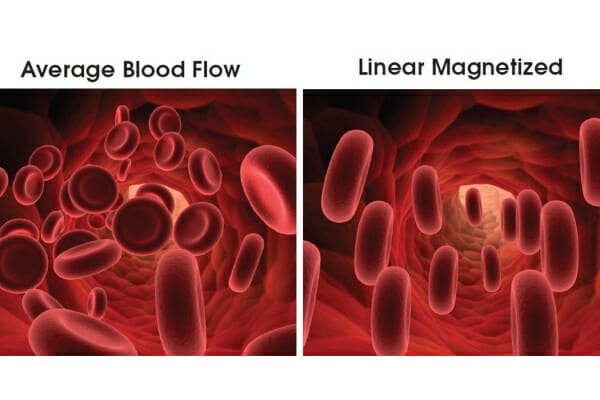 As it relates to veterinary medicine and animal health, these effects can have an incredible benefit in managing conditions in dogs such as:
7 FAQs about PEMF therapy for dogs
Now that you understand a bit of the theory behind electromagnetic fields and the potential benefits, let's explore some practical aspects of PEMF treatment. Over the years, I have answered many great questions about PEMF therapy from dog parents. Some of the most common are compiled here.
FAQ #1: How do I know if PEMF is the right choice for my dog?
A consultation and close communication with your veterinarian is a must when considering any new therapy for your dog. He or she can help determine if PEMF treatment could be a good option.
FAQ #2: Does my dog need to get PEMF therapy at a veterinary clinic or rehab center or can I do it at home?
Clinics often offer PEMF therapy as part of a routine therapy treatment. However, many dogs can benefit from using PEMF more frequently than you can practically go to the clinic. Luckily, there are many options for use at home—PEMF loops, PEMF beds or mats, PEMF dog jackets, and more . You can either purchase a PEMF machine directly from your veterinarian or purchase or rent one from a PEMF company.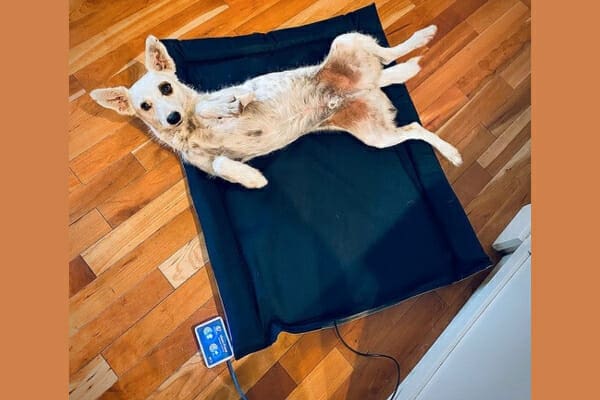 FAQ #3: What technical specifications should I be looking for in a PEMF device?
PEMF companies use a wide range of PEMF intensities, waveforms, frequencies, and delivery methods. Understandably, this can sometimes make the choices feel overwhelming. Two important considerations are the intensity and pulse frequency.
Intensity
Keep these factors in mind when looking at the intensity of a PEMF device:
PEMF intensity or strength is commonly measured in tesla (T) or gauss (G). The stronger the intensity, the deeper the therapeutic field will get. (For comparison, the strength of the field emitted by the Earth is 25-65uT (microtesla) or 0.25-0.65G.)
For a wound, surface condition, or for a calming effect on the central nervous system, a low intensity system below 1G in peak intensity can be effective.
On the other hand, a device in the 2-30G range for peak intensity is going to be the most effective for triggering mechanisms to positively influence tissue regeneration and repair, manage inflammation in larger joints or deep tissue, or promote bone healing.
Pulse frequency
When evaluating pulse frequency, you should know:
Most of the devices on the market today fall into the pulse frequency range of 5-60Hz. That is because this is the closest range to the frequency emitted by the Earth, which is approximately 7.83Hz. Look for a device for your dog that falls into this category.
Ideally, you want a device that offers you the capability to select from a few different frequencies in one device. Some conditions are found to respond better to one frequency versus another. Having a device that allows you to select from at least three frequencies will expand the use of your PEMF device.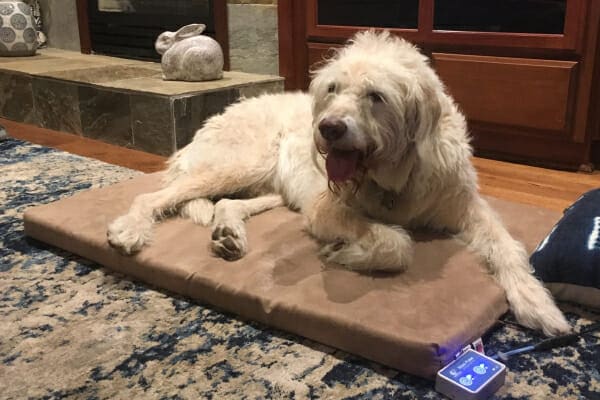 FAQ #4: How do I pick the best PEMF machine for my dog?
It is best to do your homework before settling on the PEMF device that will be ideal for your dog. Factors to consider are:
How long has the company been using their technology, frequency, and intensity for dogs? And what results do they have?
Are you looking simply to relax your dog or to treat a specific condition?
Do you need a PEMF bed to treat many tissue areas at once or a smaller PEMF loop to address smaller, target areas?
What are the customer support options for both treatment questions and device issues?
What is the longevity of the device?
Is it rechargeable or disposable?
What is the price?
FAQ #5: What should I expect when I use PEMF on my dog and when should I see results?
The main results that you should see are:
Reduced pain and inflammation
Increased mobility
Healing of acute soft tissues injuries
Overall positive impact on quality of life
However, how these results manifest and when they occur will vary widely from dog to dog. Factors that may influence when results become evident include:
The dog's age
Overall health of your dog
The condition you are treating (acute or chronic)
The dog's activity level
Other therapies or pharmaceuticals you are using
A dog can get immediate pain relief from just one treatment! But the ultimate effect of PEMF therapy is cumulative. It could take a week to a month for the mechanisms triggered by the therapy to manifest in noticeable, lasting results. So be patient.
FAQ #6: What treatment protocol should I follow?
This will be device specific. In general, treatments usually vary from one 30 to 60 minute treatment a day to multiple 10 to 15 minute treatments in one day.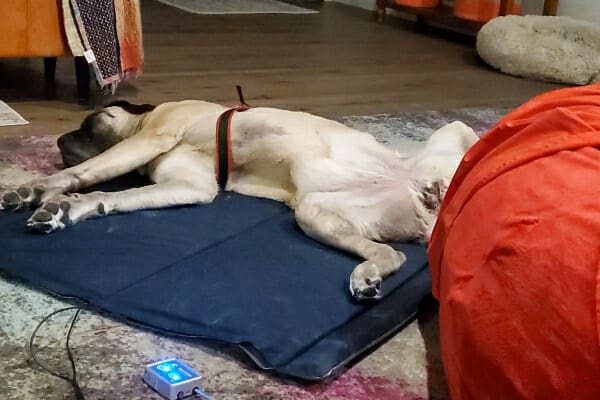 FAQ #7: Are there any negative side effects or contraindications to PEMF therapy?
Using a PEMF device in the intensity and frequency range noted above should have no negative effects on your dog. This is because it is a non-invasive therapy that will pass through a healthy cell with no impact.
However, there are a few contraindications with PEMF, as with any therapy, that you should be aware of. Do not use PEMF therapy on:
Pregnant dogs—it could interfere with the natural growth process
Areas that are actively bleeding or hemorrhaging
Dogs undergoing cancer treatment prior to consulting with your veterinarian
Dogs under the age of one year
Talk to your veterinarian about PEMF therapy
As you have discovered, PEMF therapy can be a great way to improve your dog's quality of life. It is non-invasive, easy to perform in the comfort of your home, and virtually risk free. If you think that PEMF therapy might be a good choice for your dog, please consult with your veterinarian or veterinary rehabilitation professional. Then, if they give you a green light and you decide to purchase or rent a device, keep in mind the answers to the FAQs above.
From Dr. Buzby: My goal as a veterinarian and the founder of Dr. Buzby's—The Senior Dog Company is to help improve the lives of senior dogs and give them more good days. I firmly believe that PEMF therapy can do that for some dogs who are struggling with pain and inflammation.
About the author
Lisa Miksis is President at Respond Systems Inc. in Branford, CT, a company that manufactures and sells veterinary therapy devices, including PEMF therapy systems, worldwide. She has BS from Boston College in Biology and leads Respond Systems' R&D efforts related to PEMF technology and its effect on cellular processes that contribute to delivering pain management, healing, and disease and injury prevention.
References:
1. Cristiano Luigi, Pratellesi Tiziano. Mechanisms of Action And Effects of Pulsed Electromagnetic Fields (PEMF) in Medicine. Jrl of Medical Research and Surgery (2020) 1:6.
2. Anthony J. Lisi , Mickey Scheinowitz, Richard Saporito, Anthony Onorato (2019). A Pulsed Electromagnetic Field Therapy Device for Non-Specific Low Back Pain: A Pilot Randomized Controlled Trial. Pain Ther (2019) 8:133-140.
3. Pinna S, Francesca Landucci, Anna Maria Tribuiani, Fabio Carli and Antonio Venturini . The Effects of Pulsed Electromagnetic Field in the Treatment of Osteoarthritis in Dogs: Clinical Study. Pak Vet J, 2013, 33(1): 96-100.
4. Hallie B Murray, Brian A Pethica. A follow-up study of the in-practice results of pulsed electromagnetic field therapy in the management of nonunion fractures. Orthopedic Research and Reviews 2016:8 67-72.
Have you tried PEMF therapy for your dog?
Please share your experiences below.