Pyometra in dogs (i.e. infected uterus) is an emergency, because it can make dogs extremely sick and may even be life-threatening. To teach you more about this condition, integrative veterinarian Dr. Julie Buzby invites emergency veterinarian Dr. Kathryn Williams to the blog. Dr. Williams frequently cares for dogs with pyometra at her emergency clinic, which is why she is so passionate about educating others about how to recognize, and most importantly, prevent pyometra.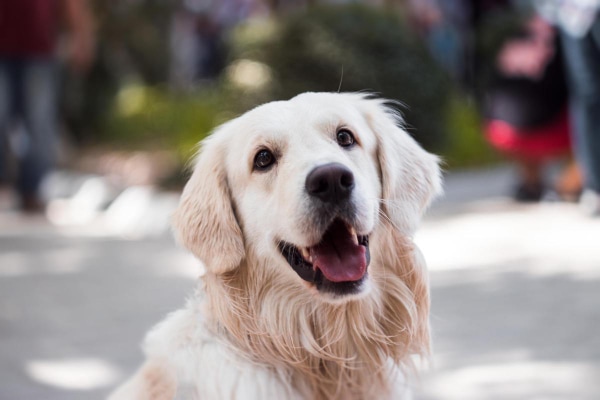 One of the things I love about emergency medicine is the variety of cases I see on a daily basis. Even dogs suffering from the same condition can present differently. Nothing illustrates that point better than the cases of Princess and Bella. These two dogs had the same life-threatening disease, but looked very different when they came to my emergency clinic.
The "tail" of two pyometras
Princess was a 10-year-old female Chihuahua who presented to me on the emergency for not wanting to eat, vomiting, and feeling lethargic. When I first started examining Princess, you could tell she was miserable. She had barely eaten in days, and all she wanted to do was sink down on the table.
On bloodwork, Princess' white blood cell count was extremely low. I was concerned this meant her white blood cells were swarming to somewhere in her body to fight a serious infection. As it turns out, I was right. Princess' X-rays revealed a dilated uterus, consistent with a severe uterine infection called pyometra.
Bella, on the other hand, was a happy-go-lucky two-year-old female Golden Retriever who presented to my emergency clinic for a suspected urinary tract infection (i.e. UTI in dogs). Her parents reported she was drinking more, urinating more, and had some blood dripping from her vulva. Her appetite was slightly decreased, but the owners figured that was from the discomfort of her UTI.
As I used an ultrasound to get a sterile sample of urine from her bladder, I also saw fluid in her uterus. This raised some red flags in my mind that we might be dealing with more than a UTI. Sure enough, when I examined a swab of the dog's vaginal discharge under the microscope, I saw white blood cells and bacteria. Coupled with the images from the ultrasound, this meant Bella had a pyometra.
What is pyometra in dogs?
I explained to Princess and Bella's parents that their dogs had a uterine infection called a pyometra. But not all pyometras are created equal. In fact, there are three main types of pyometra. This explains why Bella and Princess acted so different despite having the same condition.
Closed pyometra
Princess had a closed pyometra, meaning her cervix was closed, trapping pus and bacteria inside her uterus. Dogs with closed cervix pyometra are very sick because the toxins produced by the bacteria build up in the blood stream and can't escape.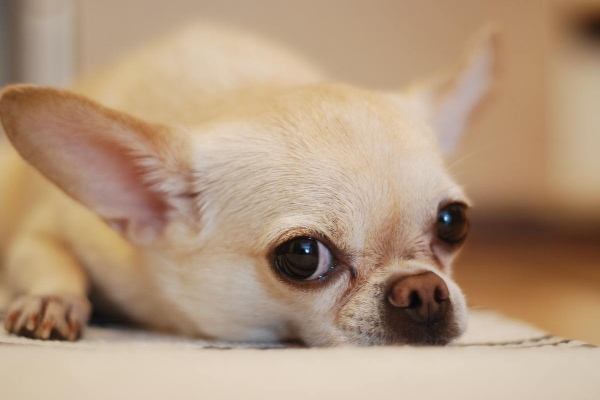 Open pyometra
Bella had an open pyometra, meaning her cervix was open, which allowed some pus to drain out. Dogs with open pyometra tend to have milder signs but still need immediate attention.
Stump pyometra
There is a third condition called stump pyometra, which occurs in spayed dogs. If some ovarian and uterine tissue is left behind during a spay, the hormones from the ovarian tissue can influence the residual uterine tissue. This may lead to a pyometra in the uterine stump (i.e. the leftover uterine tissue).
What causes pyometra in dogs?
As alluded to, the ovaries create hormones (namely estrogen and progesterone) that will influence a dog's estrous cycle (i.e. heat cycle). During the estrous cycle, the uterus prepares for a potential pregnancy. Meanwhile, eggs in the ovary develop to the point that they could be fertilized if the dog is bred. If no pregnancy develops, the body will go back into a resting phase until it is time for the next cycle to begin. The cervix (i.e. the "gateway" between the uterus and the vagina) may be open or closed depending on the phase of the cycle.
When a dog is in heat (i.e. estrus), the cervix is open to allow sperm in to fertilize the eggs. However, the open cervix not only allows sperm into the uterus, but can allow bacteria to enter the uterus as well. The bacteria can be normal flora that naturally live on the skin, bacteria from a urinary tract infection, or even bacteria from feces.
Additionally, blood flow to the uterus increases and the uterine lining changes in order to support a potential pregnancy. This can cause the lining of the uterus to become more thickened with each cycle. These changes provide the perfect environment for bacteria to set up an infection.
Which dogs tend to get pyometras?
Because of the additive effect of years of heat cycles, middle-aged or older intact female dogs are more prone to developing pyometra. However, it can also occur in young dogs. Typically, dogs will begin to show signs of a pyometra about one to two months after they were in heat.
What are the symptoms of pyometra in dogs?
As you noticed in the stories of Princess and Bella, the signs of a pyometra can vary significantly from dog to dog. Some of the more common symptoms include:
Decreased appetite
Fever
Increased urination
Brown, red, or white vaginal discharge which may have a foul odor
Distended abdomen (a pot bellied dog)
Vomiting
Diarrhea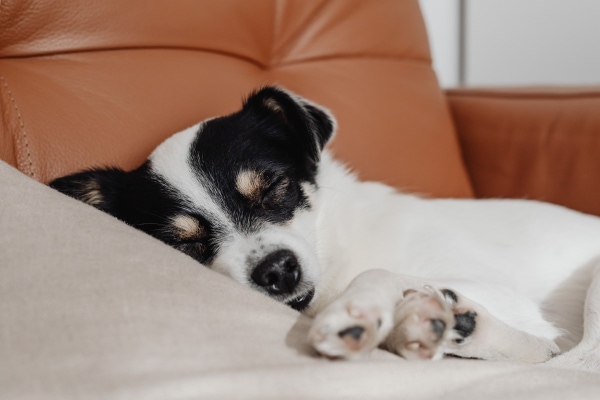 If a dog is showing these signs, immediately contact your vet or head to the emergency clinic for an emergency vet visit. Left untreated, pyometra can lead to sepsis, a ruptured uterus, and even death due to the toxic effects of the bacteria.
How is pyometra diagnosed?
At the emergency clinic or your vet's office, the vet will use a variety of diagnostics to determine if pyometra is present. These include:
Baseline bloodwork
The complete blood count (CBC) may show a high white blood cell count if the immune system has dumped more white blood cells into the bloodstream in response to the infection. Or, like Princess, the white blood cell count may be low if all of the white blood cells are being pulled out of the bloodstream and sent to the uterus. Your dog may also have a low red blood cell or platelet count from the infection.
In addition to using the CBC for diagnosing a pyometra, the results of the CBC and chemistry profile will also help determine how stable the dog is for surgery. Sometimes the bloodwork may indicate there are other treatments the vet can perform to help reduce risks during surgery.
X-rays
The vet may be able to visualize the distended uterus on X-rays. It will appear like a grey "snake" that runs between the region of the bladder and the region of the kidneys.
Ultrasound
This is an excellent tool to determine if pyometra is present. On ultrasound, the uterus will be full of fluid and the vet may see inflammation around the abdominal organs (i.e. peritonitis).
What is the treatment for pyometra?
Once the vet diagnoses your dog with a pyometra, the discussion will quickly turn to treatment. Surgery is the preferred method for treating pyometra. There is a medical treatment option as well but it is far from ideal.
Pyometra surgery in dogs
Prior to surgery, the veterinary team will give your dog IV fluids to help rehydrate her and stabilize her blood pressure before undergoing anesthesia. Then the veterinarian will surgically remove the uterus and ovaries, thus removing the source of the infection. The surgery is essentially a spay. However, it carries more risks than a routine spay because patients with pyometra tend to be extremely sick.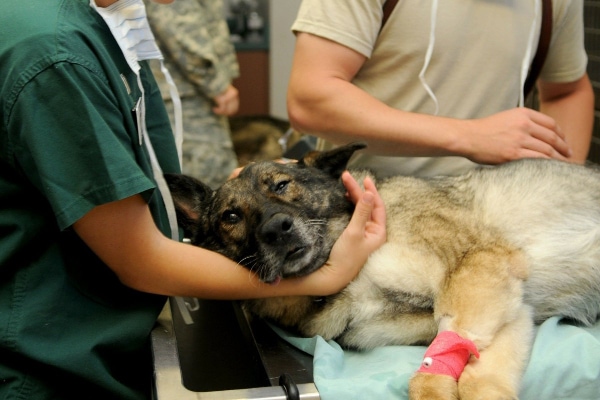 There is also the risk of the diseased uterus opening during surgery and releasing pus and bacteria into the abdomen. The veterinarian will take great care to prevent this from happening. Plus, he or she will flush the abdomen with sterile saline after removing the uterus to try to reduce any bacteria that might be present. As an additional layer of safety, the veterinary team will often administer antibiotics during and after surgery. This is a way to address any bacteria that might have entered the blood stream.
The video below shows images of a normal uterus and a pyometra (infected womb). A word of warning, if images of internal organs are unsettling, please skip this video.
Medical treatment for pyometra
In the cases of highly valuable breeding animals in the early stages of pyometra, medical management is sometimes an option. The vet can use prostaglandins, a type of hormone, to open the cervix and cause the uterus to contract in an attempt to eliminate the infection. However, this is risky and comes with unpleasant side effects.
The uterus could rupture and release infected material into the abdomen, which is sometimes fatal. Also, the side effects of prostaglandins can include abdominal pain, vomiting, panting, and a high heart rate.
Treatment usually involves multiple days of hospitalization. Plus, the dog needs to be bred on the next cycle to try to reduce the risk of reoccurrence. Even with this treatment, it is possible that pyometra may occur again in the future. So it is best to spay her when her owners are no longer using her for breeding.
How do you prevent pyometra in dogs?
While it is good that there are ways to treat pyometra, it is still a life-threatening condition. Sadly, not all dogs with pyometra will survive, which is unfortunate because pyometra is almost always preventable.
As we've discussed, hormones play a significant role in the thickening of the uterine lining and opening of the cervix that predisposes dogs to pyometra. So, the best method of prevention is getting rid of those hormones by spaying your dog when she is young and healthy. This approach has a much better chance of a good outcome than waiting on the surgery until your dog has a life threatening infection.
What is the ideal time to spay my dog?
In terms of the exact timing of the spay, that is something you should discuss with your dog's veterinarian. Previously, many vets recommended having a dog spayed by four to six months old. However, that is no longer necessarily the case, in part due to a 2020 study conducted by UC Davis.
This study looked at the rate of occurrence of pyometra, mammary cancer, other types of cancer, joint problems, and urinary incontinence in dogs as it related to age at the time of the spay or neuter in 35 dog breeds. In some cases, the recommendation is to wait until after 6 months old, 11 months old, 23 months old, or occasionally, not to spay or neuter that breed at all. It will be interesting to see if these recommendations impact the number of pyometras I see.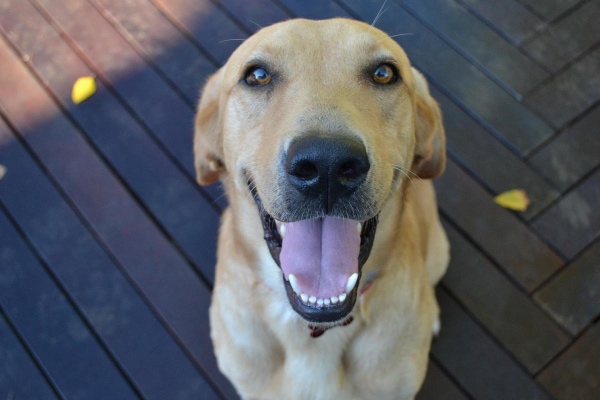 Should you still have an older dog spayed?
This data from the UC Davis study can be helpful if you have adopted a puppy or young dog. But what if you adopted a middle-aged or older intact female dog. Is it still worth getting her spayed? When considering a spay for senior dogs, it can be easy to wonder, "Is my dog too old for anesthesia?" or "Is my dog too old for surgery?" This is a discussion you should have with your veterinarian since he or she knows your dog's unique situation.
However, in general I think that it is still a good idea to have your older dog spayed. As an emergency veterinarian, it breaks my heart to see so many dogs just like Princess who are sick, or even dying, from pyometra—a condition that could have been prevented by a spay.
A happy ending for my pyometra patients
Now that I have made my case for why I am so "pro-spay," let's wrap back around to Princess and Bella. The veterinary team started both of them on intravenous fluids prior to surgery. Bella was more stable initially, while Princess, being much sicker, took a bit longer to stabilize. Thankfully, both did well under anesthesia and came through surgery without any complications.
Even though Princess was extremely sick when she came into the hospital, she recovered quickly once we removed her infected uterus. And although Bella was much less sick, she still felt better after surgery. Both dogs were happily reunited with their parents and went home with pain medication and antibiotics.
I am so glad that Princess and Bella both did so well after their pyometra surgery. Unfortunately though, not all dogs with pyometra are that lucky. So if I could leave you with one final word of advice, it would be this—please spay your dog! If you have concerns about anesthesia, timing of the surgery, etc. don't hesitate to talk it through with your veterinarian. He or she is there to help you make the best decisions possible for your dog.
What questions do you have about pyometra?
Please comment below.