Reverse sneezing in dogs can look quite alarming but thankfully is often harmless. Integrative veterinarian Dr. Julie Buzby explains how to recognize reverse sneezing, why it tends to occur, and what to do if you notice your dog having a reverse sneezing episode.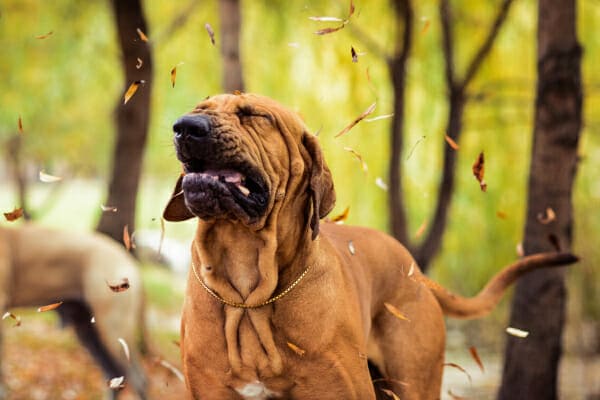 Last spring, my office received an alarming call about a dog who was gasping for air. We advised that the dog needed to be seen immediately. About ten minutes later, Mr. Nelson came rushing in with his 5-year-old Maltese, Muffin. Muffin, however, seemed oddly unconcerned after her near death episode. She trotted happily into the clinic and greeted us with her typical exuberance.
As I went over the history, Muffin's owner frantically asked me if his dog was going to be ok. His wife had left that morning for a family emergency so he was in charge of taking care of Muffin. He went on to say that Muffin had gone on her usual routine walk and was sniffing one of her favorite spots in the neighbor's flower bed when she stopped suddenly and started gasping with her head and neck outstretched. The episode had lasted about a minute, but it seemed like an eternity for her dad.
Muffin's physical exam showed that she was a healthy, happy dog. Her gums were pink and moist, which meant she was getting enough oxygen, and her other dog vital signs were normal too. Her lungs sounded healthy and I didn't hear a heart murmur in dogs on her exam. When I palpated her trachea (i.e. windpipe), Muffin didn't cough as would be expected if she had a collapsed trachea in dogs.
I told Mr. Nelson I was pretty confident this was a case of reverse sneezing but recommended X-rays to be on the safe side.
What is reverse sneezing in dogs?
Everyone is familiar with sneezing due to a cold, allergies, or just getting something as simple as dust or pollen up your nose. During a regular sneeze, your lungs force air out through the nose to dislodge whatever is causing the irritation.
A reverse sneeze is a similar concept but in reverse. In this situation, the irritation is commonly in the back of the nasal passages or the back of the dog's throat (i.e. the nasopharynx). During a reverse sneeze (i.e. paroxysmal respiration), the body forces air through the nose during the inhale. This means the body pulls air in towards the lungs, which creates the reverse sneezing sound.
Aimee Johnson, DVM, graciously shared this video which shows classic reverse sneezing….
A reverse sneeze has a characteristic appearance. The dog often stands still with his or her head outstretched and forcefully inhales through the nose. This often creates a loud snorting sound. The overall appearance of the episode can be quite dramatic. It is no wonder that dog parents may think their beloved pup is having trouble breathing or even seizuring.
Every dog's reverse sneeze is a little unique. This is video shows Mailey, a Cocker Spaniel mix, reverse sneezing. Video credit: Dr. Jennifer Barczak
Is reverse sneezing dangerous?
The good news is that a reverse sneezing episode usually only lasts a couple of seconds to a minute and is harmless. In most cases, treatment is not needed. However, if a dog's reverse sneezing becomes repetitive or disruptive, the veterinarian may recommend using medication to break the cycle.
It is important to note that even though reverse sneezing is generally harmless, other respiratory conditions can be life-threatening. Keep an eye out for:
Increased abdominal effort while breathing
Coughing (a dry, goose-honking cough or a more moist sounding cough)
A blue tint to the gums
Exercise intolerance
Sudden collapse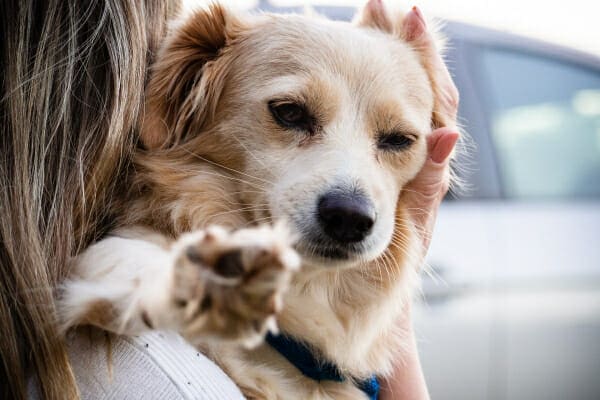 All of these signs can signal a more serious medical issue that requires immediate medical attention. When in doubt, it is always best to call your vet or bring your dog in for an emergency vet visit.
What causes reverse sneezing in dogs?
If the dog truly is reverse sneezing (rather than suffering from a more serious medical problem), an episode can be triggered by anything that causes irritation in the back of the throat. Some common offenders are:
Pollen or dust
Secretions or mucous secondary to allergies, cold weather, infection etc.
Nasal mites
Fungal infections
Foreign objects such as grass awns
Tumors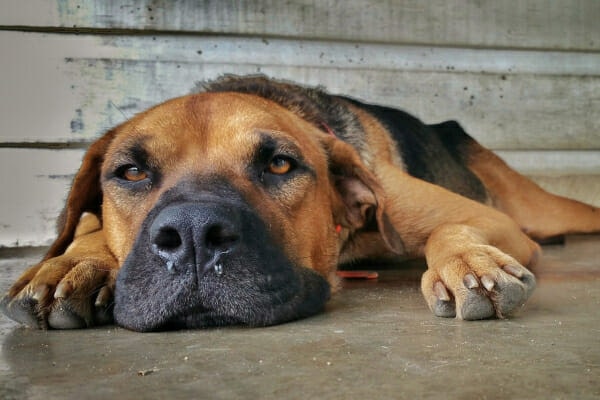 Which dogs are at a higher risk of reverse sneezing?
Any dog could potentially have reverse sneezes, but some dogs tend to be more at risk than others. Small breed dogs have small throats which make them more prone to reverse sneezing. Also Pugs, Bulldogs, Boxers and other brachycephalic dogs (i.e. those with short noses) tend to have an elongated soft palate. This can make them more likely to reverse sneeze.
How is reverse sneezing diagnosed?
Because of its characteristic appearance, reverse sneezing is often diagnosed based on the description and lack of other symptoms. If the dog parents happen to catch a video of the episode, that makes diagnosis even easier. However, in some cases the vet may recommend additional diagnostics such as:
X-rays
The veterinarian may use X-rays to evaluate the size and shape of the heart to look for evidence of heart disease in dogs. Additionally, X-rays can help the vet detect issues with the health of the lungs such as tumors, infections, or chronic bronchitis. Narrowing of the trachea, which would be consistent with collapsing trachea, can also be detected on X-rays. In some cases, X-rays of the head and nasal passages can help identify a tumor, but there are more sensitive tests such as CT and Rhinoscopy.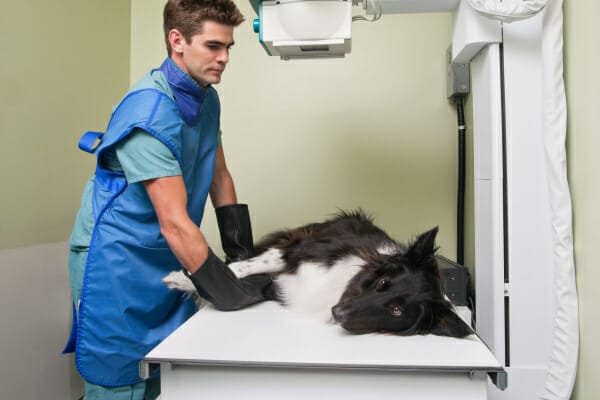 Computed tomography (CT)
If the veterinarian suspects an issue with the nasal passages or back of the throat, he or she may also recommend a CT. This type of imaging takes pictures that are thick "slices" through the tissue, which allows a more thorough 3D evaluation of a solid structure like the skull. CT would allow visualization of tumors, foreign bodies, or other issues that may not show up well on X-rays.
Rhinoscopy
This test involves sticking a small camera into the nostrils of the dog under anesthesia. The benefit of rhinoscopy is that it allows the doctor to see into the nasal passages. Small tools can also be inserted into the tube holding the camera, which allows for biopsies of tumors.
Rhinoscopy is also a good method for removal of foreign objects, as demonstrated by a 2020 article in The Journal of Small Animal Practice. In that study, researchers also observed that 90.5% of the nasal foreign bodies were grass awns.
What is the treatment for reverse sneezing in dogs?
In most cases, reverse sneezing resolves on its own and does not require medication. However, in some cases your veterinarian may prescribe medications to reduce irritation in your dog's nasal passages. These may include steroids, such as prednisone for dogs, or anti-histamines, such as Benadryl for dogs.
Any other treatment would vary depending on the cause of the reverse sneezing. In the event that the vet observes nasal mites around or in the nose on the exam or during rhinoscopy, he or she will typically prescribe an anti-parasitic agent. If the reverse sneezing is due to a foreign body, the veterinarian will remove it. Nasal tumors would generally require a consultation with a veterinary oncologist for treatment. And if your dog has allergies that are causing secretions in the back of the throat, the vet may recommend allergy medicine for dogs.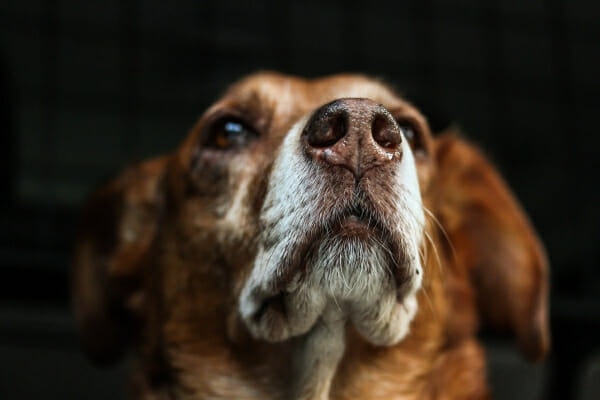 How can you stop reverse sneezing in dogs?
I understand that even though reverse sneezing is usually short-lived, it can be difficult to watch as a dog parent. So, it would only make sense that you would want to do anything you can in the moment to help your pup. First off, try to stay calm. Dogs are very sensitive to their parents' emotions, so if you get anxious about it, they are more likely to get anxious too.
Some dog parents have reported that rubbing their dog's throat seemed to help when reverse sneezing occurs, so that may be worth a try. Also, keep an eye on your dog's gum color and see how long the episode lasts. If you have any concerns with how your dog is breathing after the episode, if it seems to go on longer than a minute or two, or you aren't sure if this is reverse sneezing or not, don't hesitate to contact your vet.
A sign of relief for Muffin
After reviewing Muffin's X-rays, I happily reported to Mr. Nelson that Muffin's lungs and heart were normal. Even her trachea was a normal width and size, which was a relief given that smaller dogs can be prone to collapsing trachea. I told him that I suspected pollen or dirt had irritated Muffin's nose and triggered the reverse sneezing episode. Since she was otherwise healthy and had only had one episode of reverse sneezing, Muffin didn't need any medicine today.
Mr. Nelson breathed a sigh of relief with my assurance that Muffin was going to be just fine. He had been terrified of telling his wife that her beloved friend was dying while she was out of town. We discussed medication if the reverse sneezing persisted. While Mr. Nelson checked out at the front desk, Muffin happily accepted her customary treat from my tech before prancing out the door with her owner.
As Mr. Nelson and countless other dog parents can attest to, reverse sneezing can look dramatic and be scary if you have never seen it before. Although it is generally harmless, please contact your vet if you have any concerns about how your dog is doing or what you are seeing. Other respiratory conditions can be quite dangerous, so it is better to err on the side of caution and consult with a veterinary professional if you think something is amiss.
Has your dog done any reverse sneezing?
Please comment below.