Learn about collapsed trachea in dogs from Dr. Kathryn Williams, a friend and colleague of integrative veterinarian Dr. Julie Buzby. Dr. Williams shares a personal story about her own dear dog, Fiona, who suffered from collapsing trachea. Through Fiona's journey from diagnosis to recovery, you'll discover the causes, symptoms, diagnosis, and treatment for this common medical condition in small dogs.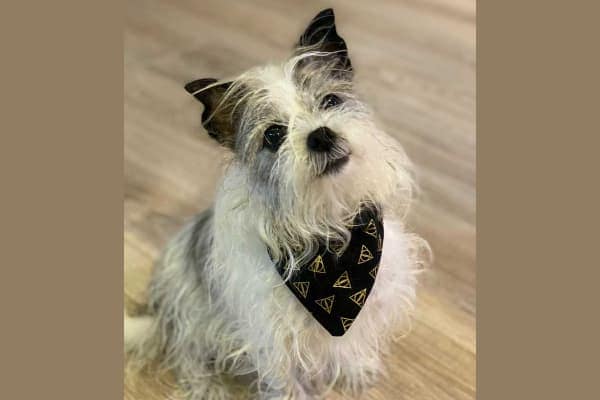 "Hey, Doc, Fi is coughing." a concerned vet tech informed me as she poked her head into the lunchroom during a doctor's meeting. I promised I would check on her when we were done.
Fiona, also known as Fi, is my trusted sidekick. She has accompanied me to work since I adopted her. A Good Samaritan found her and brought her into the vet hospital trying to find the owner. Unfortunately, no one claimed her. And so this spunky, scruffy Chihuahua mix has been by my side ever since.
Fiona's collapsed trachea diagnosis
When I checked on Fiona, she was sitting in her bed, coughing occasionally. It wasn't uncommon for her to get a cough at certain times of the year. Initially, this dry, honking cough didn't sound much different than normal so I gave her an antihistamine since this usually solved the problem.
That night her cough came back with a vengeance. It became constant, to the point where she was gagging and restless. I scooped her up, and headed toward the 24/7 emergency hospital where I work. I was a nervous wreck. Even though I'm an emergency veterinarian, I can't think straight with my own animals.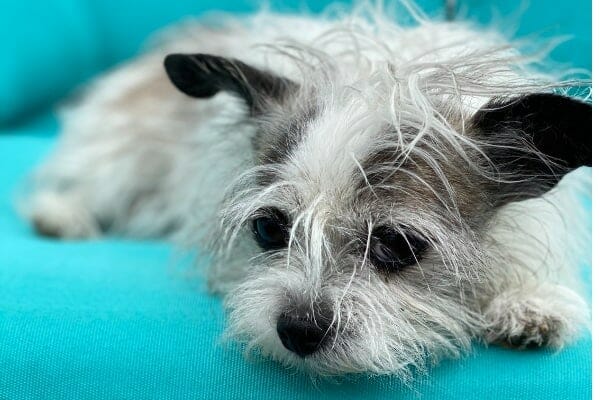 Thankfully, my friend, who was working that night, helped take great care of Fiona. As we reviewed Fiona's X-rays, we noticed a narrow windpipe, which indicated that she had a condition called collapsing trachea.
What is a collapsed trachea?
The windpipe, or trachea, is a tube that connects the mouth to the lungs. It is lined with C-shaped rings of cartilage that holds the airway open when a dog breathes in and out. Cartilage rings in the bronchi (airways of the lungs) serve a similar function.
In dogs with collapsing trachea, this cartilage is weaker than normal. Thus, the trachea collapses on itself during exhalation (breathing out) or coughing. In some cases, the weak cartilage can extend into the bronchi, making it difficult for air to pass through the lungs.
During tracheal collapse, the sides of the trachea rub together, causing irritation and worsened coughing. This vicious cycle of coughing and irritation causes further weakening of the cartilage.
Which dogs are most commonly affected?
Middle-aged to senior small breed dogs seem to be at an increased risk for collapsed trachea. This is in contrast to large breed dogs, who are at a higher risk for laryngeal paralysis in dogs.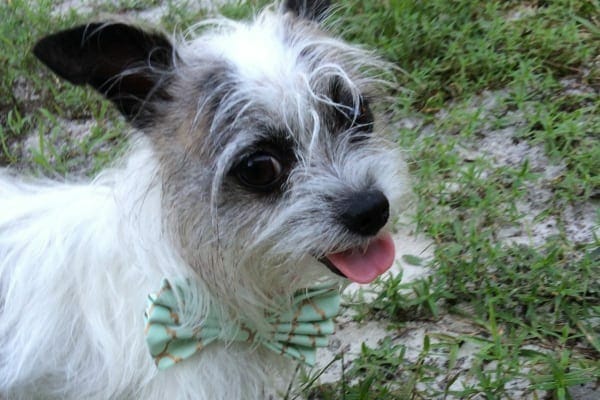 Common breeds affected by collapsing trachea include:
Yorkshire Terriers
Pomeranians
Shih Tzus
Toy Poodles
Lhasa Apsos
Chihuahuas
What factors may contribute to a collapsing trachea?
Concurrent diseases can make symptoms worse. These include:
Obesity: Excess fat deposition increases the weight on the rib cage and the work necessary for your dog to take a breath. (Wondering if your dog is overweight or obese? Try out Dr. Buzby's three easy steps for finding your dog's body condition score.)
Infections: Kennel cough or pneumonia can trigger coughing, which can make tracheal collapse worse.
Heart disease in dogs: An enlarged heart puts pressure on the trachea, leading to coughing.
Environmental allergens: Pollen, cigarette smoke, or other environmental allergens may irritate the airways, leading to increased coughing.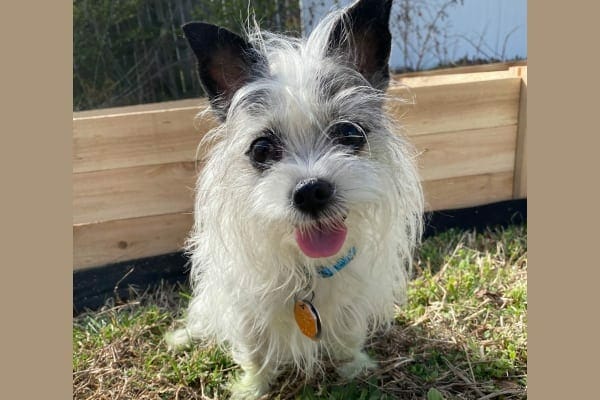 How is collapsed trachea diagnosed?
The most common symptom of collapsing trachea is a dry, honking cough. The cough may be worse in cases of excitement or exercise. However, there are other conditions that can lead to coughing in dogs, including heart disease, heartworm disease in dogs, kennel cough, or pneumonia.
During your dog's exam, your veterinarian will thoroughly listen to your dog's heart and lungs. He or she will also lightly palpate your dog's throat and trachea. A dog with collapsing trachea is more likely to cough when the vet places light pressure on the windpipe. However, this is not enough for diagnosis. Additional testing may be required, including:
1. X-rays
X-rays are the most common screening tool for collapsing trachea. They allow your veterinarian to evaluate the lungs, size and shape of the heart (in case heart disease is playing a role), and, most importantly, the width of the trachea. In a normal dog, the trachea should be a consistent width. With collapsing trachea, there is noticeable narrowing of the trachea.
However, an X-ray captures one snapshot in time. In mild cases of tracheal collapse, the trachea returns to normal at some points. This may make it difficult to catch the collapse on an X-ray.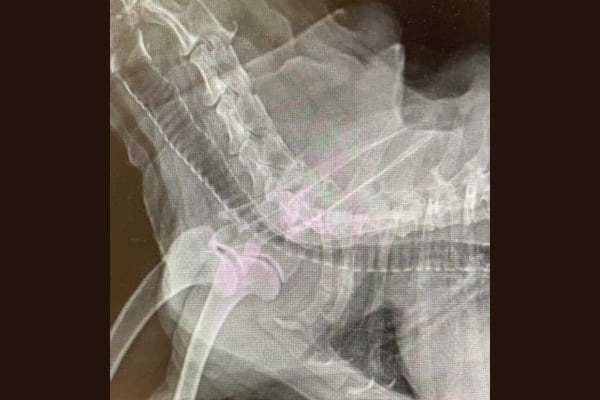 2. Fluoroscopy
This moving X-ray allows veterinarians to track the width of the trachea in real time as the dog breathes. Fluoroscopy is particularly useful in cases of mild tracheal collapse that traditional X-rays might miss.
3. Bronchoscopy
During this test, a veterinary specialist places a tiny camera into the airways of your dog while he or she is under anesthesia. This allows the specialist to see if the trachea collapses while breathing. Samples of the airways can also be obtained in case there is an infection present.
When is collapsed trachea an emergency?
Any condition involving unhealthy airways can become an emergency, including collapsing trachea. Get in the habit of observing your dog's vital signs including his gum color and normal respiratory rate. If you notice the gums turning from a healthy pink to a muddy or blue color or your dog seems to be using more effort to breathe, take your dog to an emergency veterinarian right away.
In severe cases of collapsing trachea, the windpipe can become so narrow that it is like breathing through a straw. The resulting respiratory distress may be life threatening. To help your dog relax, the veterinarian will give a mild sedative, as panic can make respiratory distress worse. He or she will typically also start your dog on oxygen.
What is the treatment for collapsed trachea in dogs?
While it is impossible to rebuild weak cartilage, there are medical and surgical methods to treat collapsing trachea. These may help your dog breathe better. Your vet may recommend lifelong changes such as:
Weight loss to decrease the pressure of excess weight on the lungs. For helpful doggie weight loss tips, check out Dr. Buzby's article: How to Help a Dog Lose Weight.
Walking with a harness instead of a collar to reduce pressure on the airways.
Reducing environmental irritants, such as cigarette smoke, in the house.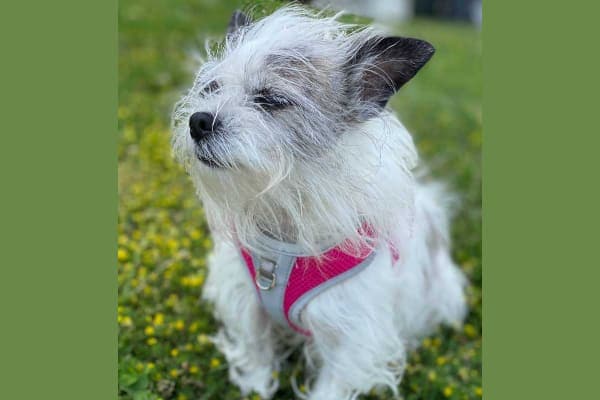 Medications used to treat collapsed trachea
A variety of medications can be used to manage collapsed trachea including:
Cough suppressants to reduce coughing. The more your dog coughs, the more the trachea collapses. This leads to increased weakening of the cartilage.
Steroids like prednisone for dogs as a temporary measure to reduce inflammation and swelling of the airways.
Sedatives to keep your dog relaxed and prevent excitement and stress that can make tracheal collapse worse. These may be prescribed after a respiratory distress crisis or in some other situations.
Bronchodilators, such as theophylline, to open lower airways. This may help reduce pressure in the chest to make breathing easier overall.
Surgical treatment for collapsed trachea
In severe cases, a board-certified veterinary surgeon can perform a surgical procedure to help open the airways. Sometimes the collapse is mostly confined to the portion of the trachea outside the chest. In that case, the surgeon will place rings outside the trachea to help hold the airways open.
In situations where the collapse occurs deeper in the chest, the surgeon will place a mesh stent in the trachea under anesthesia to hold it open from the inside. Unfortunately, there is no procedure that will help open the collapse in lower airways such as the bronchi or bronchioles. Even with surgery, post-operative management and prevention of coughing are highly important.
According to the American College of Veterinary Surgeons, 70% of dogs improve with medical management alone. Dogs who have had a stent placed show a 90-95% improvement. Talk to your veterinarian to find out what treatment options are best for your dog.
The rest of Fiona's story
So what happened with my little sidekick, Fiona, when she was diagnosed with collapsing trachea? To start off, we treated her with an injection of butorphanol, a mild opiate that works well in cases of respiratory distress. The injection worked quickly. It suppressed her coughing and also calmed her down so she didn't become stressed during her flare up.
Thankfully, she didn't need to be hospitalized or put on oxygen, and I was able to take her home that night. Now I walk her on a harness to prevent putting pressure on her neck, and she is on daily cough suppressants. Otherwise, she is living her best life between napping on the couch, walks in the park, and occasional trips to the beach.
Parting words of wisdom from a dog mom who understands
Finding out your dog has a collapsing trachea can be scary, especially when the diagnosis is made during a respiratory crisis. Even though I knew Fiona was at a high risk of collapsing trachea when I adopted her, the diagnosis was a kick to the gut.
Unfortunately, there is nothing we can do to reverse the damage to the tracheal cartilage. What's done is done. The good news though, is that there are lots of management options to help keep affected dogs breathing easier. Take heart—a dog can keep living the good life with a collapsed trachea, just like my sidekick Fiona.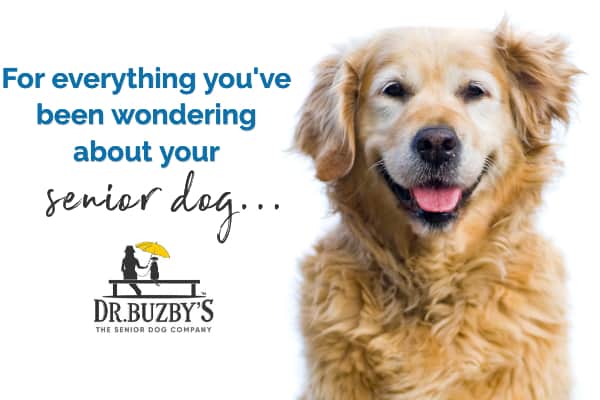 Does your dog have a collapsed trachea?
Please comment below with your dog's story or any words of advice for other dog parents in a similar situation.