Chronic bronchitis in dogs is a fairly common affliction in our beloved senior pups. Integrative veterinarian Dr. Julie Buzby discusses the causes, symptoms, diagnosis, and treatment of chronic bronchitis so you will know what to expect should it affect your furry friend.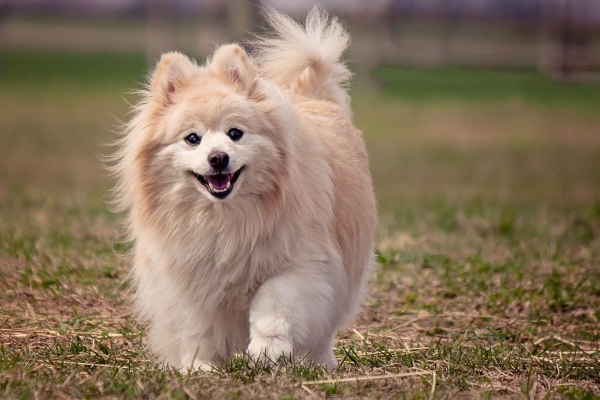 Most dogs are experts when it comes to hiding symptoms from their humans. However, coughing is one of the more easily identifiable signs that something could be wrong. Usually you can see and hear when your dog is having a coughing fit.
In some cases coughing is pretty easy to explain. Puppies may occasionally cough when they drink water too fast or pull on their leash. Dogs may cough due to an irritant in the air or underlying allergies. Or on a more serious note, medical conditions like heart disease, lung tumors, or respiratory infections may also cause a cough.
In other situations, it is much harder to pinpoint why exactly a dog is coughing. Such is the case in chronic bronchitis in dogs.
What is chronic bronchitis in dogs?
When a dog has been coughing for at least two consecutive months yet there is no discernible cause, he or she is said to have the medical condition chronic bronchitis. In this case, the chronic coughing usually results from persistent airway inflammation and from chronic irreversible changes to the airways. It is one of the most common types of respiratory diseases in dogs.
Before we dive into chronic bronchitis in more detail, I want to give you a quick tour of your dog's respiratory system. That way you will have a better understanding of the anatomy and functions of the lungs.
Respiratory system anatomy
Several different structures comprise your dog's respiratory system. When your dog breathes in, the air travels through the nose and into the trachea (i.e. windpipe). This large tubular structure runs down the neck and into the chest. The trachea eventually branches off into two smaller tubes called the bronchi. Each bronchus moves air to separate sides of the lungs, namely the left lung and the right lung.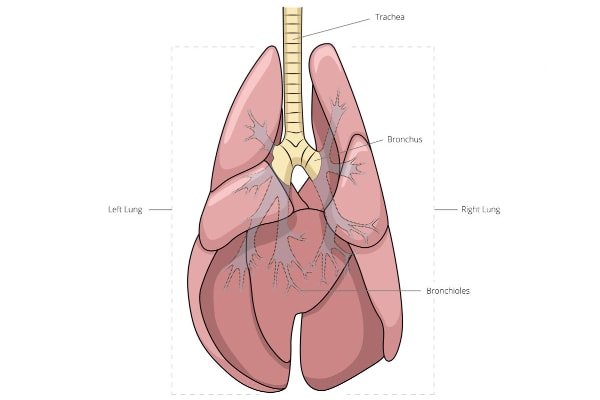 Once air passes through the bronchi, it enters bronchioles, which are tiny passages that branch out from the bronchi like tree roots. The bronchioles then deliver air to the alveoli. These tiny sacs in the lung lobes are responsible for transferring oxygen into the blood and removing carbon dioxide from the blood. Alveoli are located throughout the lung tissue.
At the cellular level, the respiratory system contains specialized cells called goblet cells. They are present in the tissues that line the insides of the airways from the trachea down through the bronchioles. Goblet cells secrete mucus. This viscous material helps keep tissues moisturized while also acting as a first line of defense against harmful invaders. Mucus helps protect the airways because it contains antibodies and enzymes that can kill dangerous bacteria.
Cilia, hair-like projections from airway cells, help to move mucus around to keep too much from accumulating in one area.
Anatomical changes
In dogs with chronic bronchitis, chronic inflammation eventually results in excessive mucus production. The motility of the cilia decreases which can cause mucus to accumulate in the airways. The combination of inflammation and mucus accumulation results in obstruction of the bronchioles. This is why chronic bronchitis is sometimes also called chronic obstructive pulmonary disease (COPD).
To compensate for COPD, the bronchioles can widen over time in a condition called bronchiectasis. This makes the lungs more susceptible to infection. Also, the connective tissue in the lungs can become scarred, rigid, and thickened. This is known as pulmonary fibrosis.
What causes chronic bronchitis in dogs?
As mentioned, chronic bronchitis typically occurs when prolonged inflammation is present. It can also occur if the airways become injured in some way. Physical trauma or an acute issue like infection or a severe allergic reaction can all lead to airway injury. Additionally, prolonged allergies, severe infections, and long-term exposure to inhaled irritants can lead to airway fibrosis (i.e. scarring in the walls of the airways).
Which dogs are most at risk for chronic bronchitis?
There are several risk factors that may make chronic bronchitis more likely to occur. These include:
Age and breed
Toy and small breed dogs are more likely to be affected by chronic bronchitis. It also happens more frequently in middle-aged to older dogs.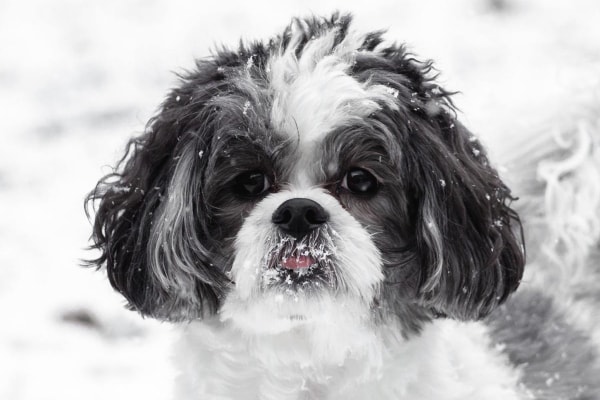 Previous respiratory infections
Dogs with severe respiratory infections, especially in puppyhood when their airways are still developing, are more likely to have the kind of airway scarring and fibrosis that leads to chronic bronchitis.
Collapsing trachea
The development of collapsed trachea in dogs can also be a risk factor. This condition, which also causes chronic coughing, occurs when the space inside of the trachea becomes narrower over time. The trachea is made up of multiple "C" shaped cartilaginous rings that are covered with a thin membrane, almost resembling the springy tunnels that are used in dog agility courses.
As dogs age, the rings can lose their rigid structure and become flattened. Also, the membrane that connects the rings can collapse. (Think about how the fabric of a tent billows downward without support). This decreases the space inside the trachea.
As the trachea narrows, it becomes more difficult for air to pass through. The resulting turbulent air flow makes it difficult to breathe. Plus, mild inflammation from common issues like allergies can further obstruct airways, leading to canine bronchitis.
Body weight
Dogs who are overweight or obese are also at an increased risk of chronic bronchitis because excess body weight can compress their airways. If you are wondering if your dog is overweight or obese, you can follow my three easy steps to determine your dog's body condition score.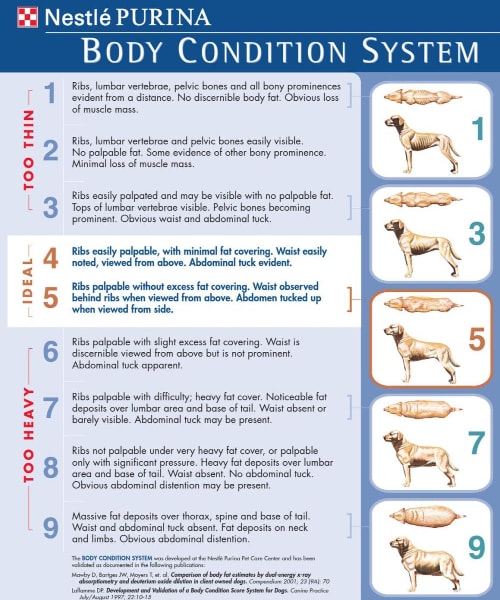 In the event that your dog needs to lose weight, your veterinarian can help you formulate a weight loss plan. You can also find some helpful weight management tips in my articles How to Help a Dog Lose Weight and Is My Dog Overweight?
Other medical conditions
Inherited conditions like ciliary dyskinesia, a disease that makes mucus difficult to move due to abnormal cilia, can also increase the risk of COPD. And if cancer is present in the lungs or has spread to a dog's respiratory tract from elsewhere in the body, that dog may experience a lot of coughing.
What are the symptoms of chronic bronchitis?
The most common clinical sign associated with chronic bronchitis is coughing. Dogs with COPD may have a productive or non-productive cough that is present for two to three months or longer. Applying gentle pressure on the neck can often induce a cough. To be clear, this is not the same as what happens when a dog pulls hard on the leash. Most dogs will cough and gag if they pull on their collar because the trachea is fairly superficial in the neck. But gentle tracheal pressure should not normally cause a cough.
Chronic bronchitis in dogs can have other signs associated with breathing problems. These can include:
Exercise intolerance (i.e. the dog becomes winded or tired very quickly)
A dog breathing fast
Increased respiratory effort
Abdominal component to breathing (i.e. the dog's belly expanding and contracting in time with the chest)
Abnormal sounds like honking or wheezing when breathing
Respiratory distress (which is a medical emergency)
If you think your dog is having trouble breathing, please contact your veterinarian immediately or head to the nearest emergency clinic for an emergency vet visit.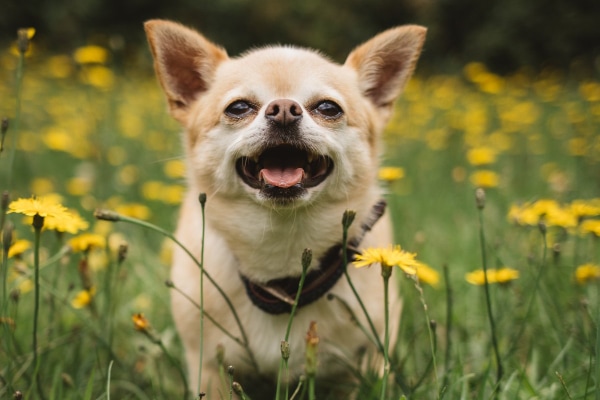 How is chronic bronchitis diagnosed?
Your veterinarian will get things started with a thorough physical examination. He or she will use a stethoscope to listen to your pup's lung sounds, which should be audible yet clear. Any crackles or wheezes may suggest underlying lung disease. And because coughing can be caused by heart issues, your vet will also record your dog's heart rate and rhythm during the physical exam in order to help rule out heart disease in dogs.
Laboratory testing
Next, your vet may move on to diagnostic testing, which is critical in order to rule out other disorders. Your veterinarian may run blood work such as a complete blood count (CBC) to look at your furry friend's white blood cell count. An elevated white cell count may suggest infection.
He or she may also run a heartworm test to rule out heartworm disease in dogs since that is another cause of coughing. In rare cases, there are some parasites like the lungworm which can cause chronic coughing. To help diagnose lungworms, your vet may suggest a special fecal test.
X-rays
Chest X-rays are one of the most accurate methods for assessing a dog's airways. A normal chest X-ray should have a black background (i.e. the lungs) around the white shadow of the heart and its surrounding vessels. An abnormal X-ray may show grey to white coloring in the area where the lungs are located. This can suggest inflammation, fluid build-up, or the presence of a tumor in the lung tissue.
Sometimes the edges of the bronchi may be thicker and more prominent or the bronchi are noticeably wider on chest X-rays of dogs with chronic bronchitis. This is called a bronchial pattern and can be helpful in the diagnostic process. However, in early chronic bronchitis, the X-rays may look completely normal.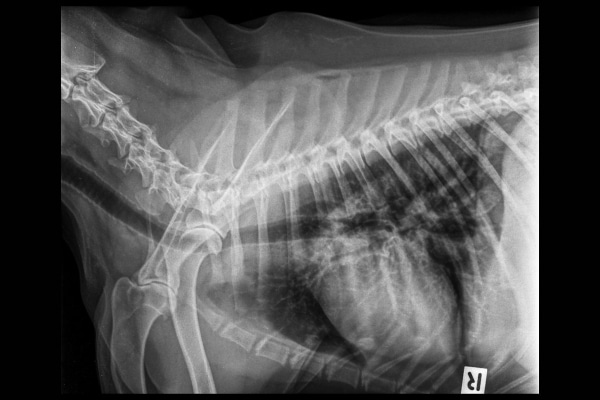 Echocardiogram
Occasionally, the chest radiographs (i.e. X-rays) don't clearly differentiate between lung disease and heart disease. In that case, or if your vet suspects heart disease based on the physical exam, he or she may recommend an ultrasound of the heart (i.e. echocardiogram). This test is non-invasive and can be performed while your dog is awake.
Bronchoscopy and bronchoalveolar lavage (BAL)
Your veterinarian may also recommend bronchoscopy, which involves the use of a camera on the end of a small tube. The tube is inserted into your dog's trachea while he or she is anesthetized. This allows the vet to fully visualize the insides of the airways.
In order to rule out different kinds of infection, your vet may recommend a bronchoalveolar lavage (BAL) during the bronchoscopy. To perform this test, the vet will insert a small amount of fluid into the bronchoscopy tube and then suction it back out of the airways. Any bacteria, viruses, or fungi that are present in the airways should show up in the fluid sample once it is analyzed. A diagnostic lab can also evaluate the different cell populations in the fluid which can help diagnose the problem.
Once your vet has ruled out the other potential conditions with some of the testing mentioned above and if the signs fit, he or she will diagnose your dog with chronic bronchitis.
What is the treatment for chronic bronchitis in dogs?
Unfortunately, there is ultimately no cure for chronic bronchitis because the physical changes that lead to COPD are irreversible. Most treatment options aim to minimize inflammation and make breathing easier for your canine companion.
Management of an acute respiratory crisis
If you suspect your dog is having trouble breathing, you need to get him or her to your vet or your local emergency room right away. Typically, oxygen therapy is needed in cases of acute respiratory distress. Without it, your dog may be too unstable to move forward with any diagnostic testing.
Because respiratory distress can be stressful, some dogs require mild sedation to calm them down. This helps improve their breathing capability. In cases where the vet suspects infection as the cause of the respiratory distress, he or she may start injectable antibiotics. The vet may also use steroids like prednisone for dogs to reduce airway inflammation and/or bronchodilator medications like theophylline to open the airways.
Long-term management of chronic bronchitis
Once your dog is beyond the acute phase of treatment, the focus of therapy will switch to what may help in the long run. Besides addressing other issues like heart disease and obesity, your vet may prescribe various medications. These include:
Cough suppressants
Medications such as hydrocodone or butorphanol can lessen the severity of a dog's cough because they act on cough receptors in the brain. However, if coughing is productive (i.e. lots of mucus comes up), suppressing the cough can lead to excess mucus accumulation.
Mucolytics
Medications like guaifenesin can help with excess mucous accumulation by thinning out mucus secretions.
Steroids
While systemic steroids like prednisone can be useful in the short term, long term use can increase risk of side effects such as increased thirst in dogs, increased urination, weight gain, or gastrointestinal upset. Plus, prolonged steroid use can increase the risk of a dog developing diabetes mellitus or iatrogenic Cushing's disease in dogs.
For these reasons, your vet might prescribe inhaled steroid like fluticasone instead. Through the use of a special mask called an AeroDawg, dogs can inhale aerosolized medications. This means the steroid can go right to the source of inflammation (i.e. the lungs) with lower risk of systemic side effects.
Bronchodilators
Dogs may also benefit from medications that increase the diameter of the airways. Theophylline (as discussed in the acute management section) works well for some dogs. Other dogs may benefit from inhaled albuterol delivered through the AeroDawg mask. However, bronchodilators are typically not effective as the only treatment measure.
Management may involve a combination of the medications listed above plus some steps that you can take at home.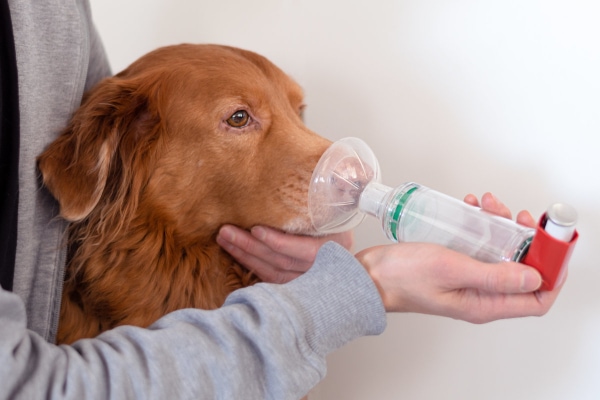 How can I help my dog at home?
There aren't any approved at-home therapies for helping a dog in an acute respiratory crisis. However, in cases of mild pneumonia and stable chronic bronchitis, your vet may advise the use of nebulization and coupage treatments at home.
Most veterinary hospitals are equipped with nebulizers. These medical devices are used to aerosolize saline, antibiotics, and steroids so that patients may inhale them. Sometimes nebulizer use in dogs can be a useful at-home therapy too. You may be able to get a nebulizer from your vet clinic. Or you can ask your vet if they can write a prescription for a nebulizer that you can purchase from your nearest pharmacy.
Alternatively, some vets may recommend that you run hot water in the shower while keeping the bathroom door closed to create a steam-filled room for your pup. When dogs breathe in the steam-filled air, it moisturizes their airways. This makes it easier for accumulated mucus to move out of the airways. Most vets recommend breathing in this air for 10 to 15 minutes at a time. Remember not to put your dog directly into the shower. Also, watch your dog carefully to ensure he or she doesn't overheat.
While your sweet doggie breathes the steam-filled air, you can perform coupage. This is where you place one cupped hand against one side of your pet's chest. Then, you bring your hand up and down, making contact with your dog's side as if you were lightly tapping a drum. This technique can help bring mucus up from deep in his or her airways. Coupage can be performed for three to five minutes on one side and then the other. However, avoid doing this right after your dog has eaten dinner.
Environmental and dietary modifications
Finally, it can be helpful to reduce your dog's exposure to airway irritants. Some of these include:
Cigarette smoke
Candles
Air fresheners
Perfume or strong scents
Other aerosol products
Weight management is also very important for dogs with chronic bronchitis. Ensure that you are paying attention to your dog's daily caloric intake and frequently monitoring his or her body condition score.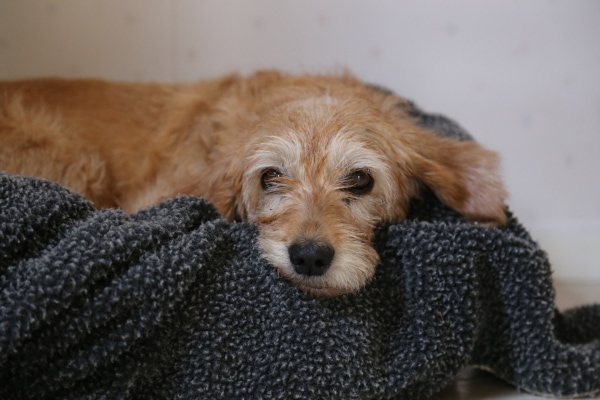 What is the outlook for dogs with chronic bronchitis?
In general, the prognosis for dogs with chronic bronchitis can vary from fair to poor. Dogs with mild changes and fewer other concurrent health conditions tend to have a better prognosis and a longer life expectancy. On the other hand, hospitalized dogs who cannot breathe well without oxygen support have a poor prognosis and a shorter life expectancy.
Patience and dedication are key
I understand that chronic bronchitis can be a frustrating condition at times for devoted dog parents. Unfortunately, it is a diagnosis of exclusion. This means your dog may end up needing a multitude of diagnostic tests to rule out other conditions. When looking at the test results, it is understandable to feel like your vet has run a lot of tests and still doesn't have an answer for you. However, keep in mind that knowing what is NOT causing the coughing does help get you and your dog one step closer to a final diagnosis.
Once you get to the point where chronic bronchitis is confirmed, you will also have to come to terms with the fact that there is no cure or quick and easy fix. Long term management may take a lot of trial and error when it comes to finding the right medications and techniques to help your dog.
Despite all this, with dedication and time, you can give your dog with bronchitis a good quality of life! So please don't lose hope when you are in the middle of the diagnostic process or trying to work on the kinks in the management plan. Be patient, be persistent in advocating for your dog, and partner with your veterinarian. And of course, keep on having fun and making memories with your dog.
Have you shared your heart and home with a dog with chronic bronchitis?
Please share any tips or words of encouragement below.