Unfortunately, nasal tumors in dogs can cause significant destruction to the nasal cavity and carry a poor prognosis. To empower and comfort dog parents who are walking through this diagnosis with their beloved senior dog, integrative veterinarian Dr. Julie Buzby explains the types, symptoms, diagnosis, and treatment for nasal tumors in dogs. Plus, she discusses how to know when it is time to euthanize your dog with a nasal tumor.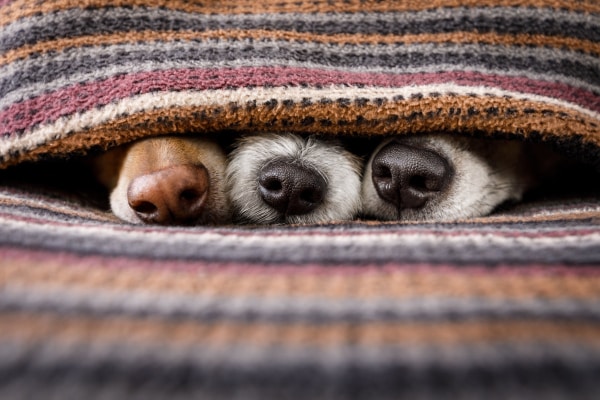 When a lump or bump pops up on your dog's skin, it's usually pretty obvious. However, if the tumor is hiding in your dog's nose, it's a whole different story.
Often, a nasal tumor can grow in secret for several months before being found. And the initial symptoms are similar to those of allergies or an upper respiratory infection, so you may have no idea there is something far more sinister lurking in your dog's nose.
Thankfully, nasal tumors aren't super common—they only account for roughly one percent of cancers in dogs. But if your dog happens to have nasal cancer, that number probably doesn't bring you much comfort.
What may help, though, is having a better understanding of what is going on with your dog. It can't necessarily change the outcome, but it can help you navigate a nasal tumor diagnosis and know how to help your dog.
What are nasal tumors in dogs?
The term "nasal tumor" refers to any sort of abnormal growth that occurs in the nasal cavity. While nasal tumors can occur in any dog breed, they tend to be more common in dolichocephalic (i.e. long-nosed) breeds like Dachshunds, Collies, and Greyhounds.
And dogs living in urban environments also seem to be at a higher risk of developing a nasal tumor. This may be due to the increased exposure to air pollution which tends to accompany living in a major city.
Like many types of cancer, nasal tumors are more common in middle-aged to senior dogs, with the average age of onset being 10 years.
What are the types of nasal tumors in dogs?
About 20% of nasal tumors are benign growths such as fibromas or polyps. These tumors tend to stay on the surface of the nasal cavity rather than invading the bony structures. And they don't cause nearly the damage that malignant tumors do.
The remaining 80% of nasal tumors are malignant. From most to least common, these tumors include:
These tumors tend to progress rapidly and are highly locally invasive. In other words, they can quickly enter and destroy the surrounding tissues. In some cases, malignant nasal tumors can even eat through the bone that separates the nasal cavity from the brain. Or they can damage the dog's eye, cause facial deformities, or obstruct the dog's airway.
Sometimes, in the later stages, the tumor can also metastasize (i.e. spread) to the lungs or lymph nodes. This is fairly rare, though. Most of the damage and the resulting symptoms are due to the initial tumor and its effects on the nasal cavity, eye, or brain.
What are the symptoms of dog nasal tumors?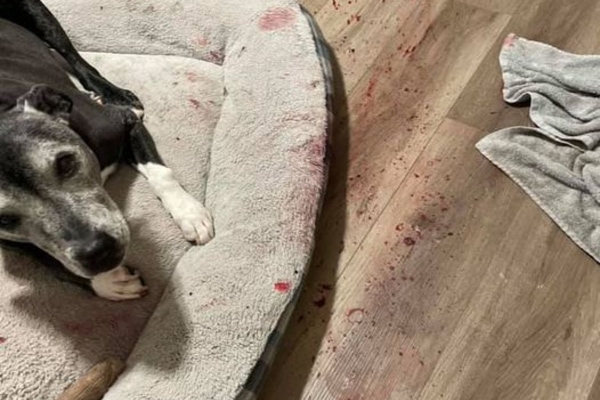 The tricky thing about nasal cancer in dogs is that the initial symptoms may be mild. For example, you might notice increased sneezing or reverse sneezing in dogs. At first, you (and your vet) might suspect that your furry friend has allergies or an upper respiratory infection.
However, these symptoms won't go away on their own or fully resolve with allergy medicine for dogs or other treatments. And the dog might start to show other signs such as:
Depending on how far the tumor invades, your dog may also have eye discharge, a bulging eye, or enlarged dog lymph nodes near the jawline. Or, if it spreads into the brain, the dog may experience blindness, abnormal gait, and dog seizure activity.
If your dog is showing any of these symptoms of nasal tumors, it is best to seek veterinary care. For dogs who are experiencing mild or non-urgent symptoms, you can make an appointment with your family veterinarian. But if your dog is having an uncontrolled nosebleed, difficulty breathing, or seizures, it may be best to make an emergency vet visit.
How is a nasal tumor diagnosed?
When you get to the vet, he or she will start by assessing your dog and gathering information from you about your dog's history and symptoms. Then your vet will discuss the next steps with you.
Much more often than not, dogs with occasional sneezing or mild nasal discharge really do just have allergies or an upper respiratory infection. This means that initially, your vet may recommend trying symptomatic treatment.
But if the dog doesn't improve as expected, or symptoms worsen, it may be time for additional diagnostics. Or, if the dog has more severe signs, the vet may recommend further diagnostics right away.
Unfortunately, the nasal cavity is harder to evaluate than many other areas of the dog's body. The majority of it is enclosed in the bones of the skull. And the nasal cavity is filled with many scrolls of bone (i.e. turbinates). This can make it difficult to know what is going on inside.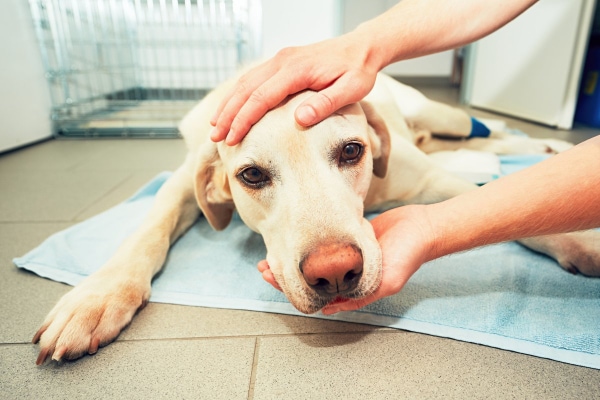 Imaging
Sometimes, X-rays of the skull and nasal cavity can help diagnose a nasal tumor. But in general, advanced imaging such as a CT scan or MRI is more likely to be diagnostic. CT and MRI are more detailed than X-rays. And they provide cross-section slices of the area of interest, which is especially helpful when looking at a complex bony structure like the nasal cavity. (The skull structures are superimposed on one another on an X-ray, which makes interpretation challenging in some cases.)
Rhinoscopy
While it may not be able to detect quite as many nasal tumors as CT or MRI, scoping the nose (i.e. rhinoscopy) is another good diagnostic option. It often allows the vet to visualize the tumor and collect biopsy samples. Plus, it may be able to rule out other nasal issues like fungal infections, foreign bodies (like foxtails in dogs), or sinusitis.
Biopsy
The best way to determine if a mass is cancer, and the type of cancer, is to perform a biopsy (i.e. collecting a sample of tissue) and histopathology (i.e. examining the tissue under the microscope).
A study of 117 dogs with nasal cancer indicated that blind biopsy (i.e. performed without being able to directly visualize the tumor), advanced imaging-guided biopsy, and rhinoscopy-guided biopsy were all equally effective at diagnosing nasal tumors. This means there are a variety of ways that the vet can collect the tissue for the biopsy, depending on your dog's particular situation.
Additional testing
The vet may also recommend a clotting panel. This can help decrease the chances that the biopsy site would bleed uncontrollably. And it also rules out a clotting disorder as the explanation for the dog's nose bleeds.
Additionally, your vet may suggest chest X-rays to look for metastasis (which is rare but worsens the prognosis). Or he or she may want to perform a chemistry panel, urinalysis, and complete blood count (CBC) to get an overall picture of your dog's health.
What is the treatment for nasal tumors in dogs?
After receiving the nasal tumor diagnosis, some dog parents decide to consult with a veterinary oncologist to pursue treatment. And others prefer palliative care options (i.e. ways to keep their dog happy and comfortable for as long as possible). This is a personal decision, and there isn't one right or wrong answer.
Radiation
Should you choose to treat your dog's nasal cancer, the veterinary oncologist will most likely recommend radiation therapy. This involves using focused high-energy particles or waves to destroy targeted cells (in this case, cancer cells). Although there is no definitive cure for nasal tumors in dogs, radiation therapy is the best way to achieve clinical remission (i.e. the cancer goes away for a certain period of time).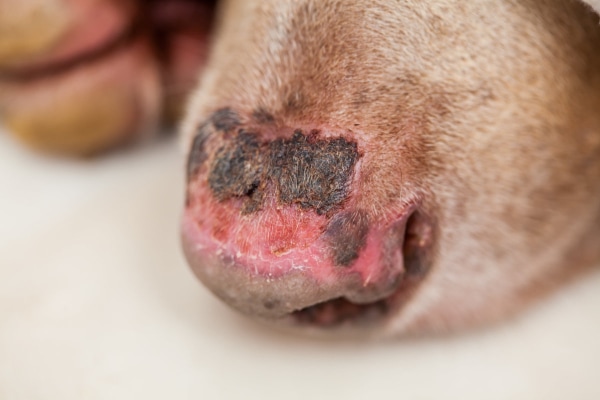 However, because of the high dose of radiation necessary for this kind of treatment, your dog may experience side effects such as:
Palliative radiation
Interestingly, lower doses of radiation are also an option for palliative care. Several studies have indicated that palliative radiation can help decrease tumor symptoms.
Chemotherapy or surgery
While there are a few studies looking at chemotherapy for nasal tumors, at this point it isn't typically the treatment of choice. Additionally, surgical debulking of the tumor may help improve some of the clinical signs, but it doesn't improve survival time for dogs with nasal tumors. And these dogs typically still need radiation too.
Pain control
Many dogs with nasal tumors can benefit from anti-inflammatory or pain medications as well. The vet may recommend a non-steroidal anti-inflammatory drug (NSAID) like carprofen. Or he or she may prescribe a steroid like prednisone for dogs if the tumor may be affecting the brain. While not anti-inflammatory drugs, gabapentin for dogs or tramadol for dogs can also be helpful for reducing any pain associated with the nasal tumor.
Holistic treatment for nasal tumors
The herbal supplement Yunnan Baiyao for dogs seems to have an almost magical ability to stop bleeding. This means it can provide a holistic way to help prevent or manage nose bleeds in dogs with nasal tumors. Your veterinarian, or a veterinarian who is familiar with Traditional Chinese Veterinary Medicine (TCVM), can help you figure out a Yunnan Baiyao dose and frequency that is right for your dog.
Phenylephrine
Nasal phenylephrine drops may help minimize the inflamed tissues within your dog's nose. Plus, since the medication constricts small blood vessels, it may also help with nosebleeds.
Keeping the house cool
Dogs rely on their airways to keep themselves cool, and nasal tumors reduce the efficacy of those cooling mechanisms. Therefore, leaving the temperature low in your home can reduce the risk of your dog overheating. Otherwise, without the ability to efficiently exhale warm breath, a dog can suffer heatstroke in dogs. This is a life-threatening emergency.
Also, anecdotally, many parents of dogs with nasal tumors feel that letting a fan blow cool air onto their dog's face can make a big difference in overall comfort.
What is the life expectancy for dogs with nasal tumors?
Unfortunately, the long-term prognosis for dogs with nasal tumors is poor. Radiation therapy gives dogs the best life expectancy, with the potential of going into remission for one to two years. Additionally, palliative radiation typically decreases clinical signs in 65-86% of patients for 120 to 300 days.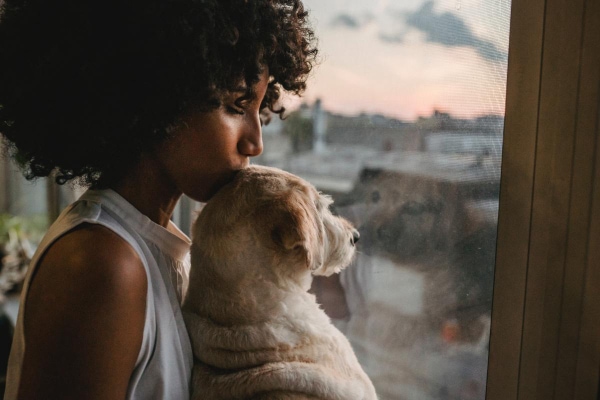 Otherwise, dogs who receive no treatment may have a life expectancy of two to three months before the clinical signs become an insurmountable problem. However, untreated dogs with nose bleeds typically have a shorter life expectancy than this.
How will I know when it is time to euthanize my dog?
Because of the locally invasive nature of this cancer, and its ability to progress rapidly, I always advise dog parents to keep a close eye on their dog's quality of life. It can be helpful to regularly fill out a quality-of-life scale for dogs. And you will want to watch closely for difficulty breathing, severe or frequent nose bleeds, blindness, seizures, or signs your dog is in pain. All of these can be indicators that it is time to prepare for your dog's euthanasia.
I know it is never easy to face the loss of your sweet dog. And having to make that decision can weigh heavily on your mind. While I can't tell you when it is time to let your pup go, I do want to offer several resources to help you with the journey:
Plus, your veterinarian or veterinary oncologist can help you through this trying time. Don't be afraid to reach out and discuss your concerns or ask questions. That's what they are there for.
Treasure the time you have
If I could leave you with a final parting bit of advice, it would be this—treasure the time you have. Unfortunately, nasal tumors don't have a happy ending most of the time, and that can be hard to face. But you can choose to do your best to push through the sadness and find joy in the days you do have with your dog.
Spend some extra time hanging out on the couch together. Go to all of your dog's favorite places. Make a bucket list for your dog and see how many things you can check off. Hire a photographer to capture beautiful pictures of the bond you have with your dog.
These are just some ideas to get you started. I don't know what treasuring time looks like for you. But I do know it is worth figuring out.
Did your dog have a nasal tumor?
Please share his or her story below.