Thanksgiving for dogs? What can dogs eat on Thanksgiving? Sharing our holiday feast of turkey and all the trimmings with our furry family members is tempting. But how do you know what Thanksgiving foods dogs can eat? And, equally important, what Thanksgiving foods are bad for dogs? Integrative veterinarian Dr. Julie Buzby shares 10 Thanksgiving foods you can give your dog (when properly prepared) and 10 Thanksgiving foods that are bad for dogs (and should be avoided at all costs).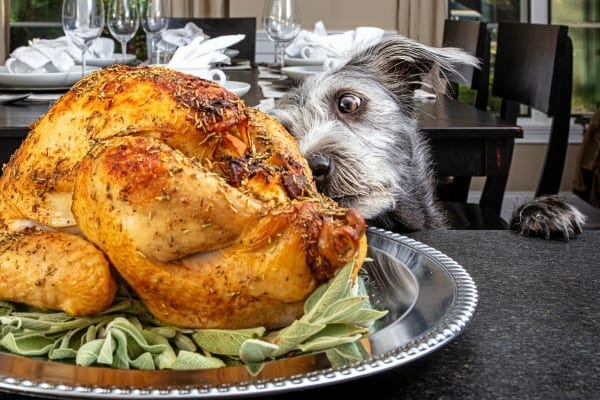 I'll never forget the year that my brother-in-law visited with his two dogs for Thanksgiving. One of the reasons it sticks in my mind is because he lovingly made both of his dogs a heaping plate from our Thanksgiving table. I cringed, but he was determined.
Why did I balk? Because many Thanksgiving foods are dangerous for dogs. Granted, while there are some foods on your Thanksgiving menu that are safe to give in small amounts, others are toxic and potentially even life-threatening.
Before you pass the buttery mashed potatoes to your dog this Thanksgiving, learn which ten foods (when properly prepared) are safe for our canine companions. And which potentially life-threatening hazards for dogs may be on your Thanksgiving menu.
10 Thanksgiving foods that are safe for dogs
First, let's discuss the fun part and whip up a plate of Thanksgiving foods dogs can eat. So, what's on the Thanksgiving menu for dogs?
1. Unseasoned, cooked turkey
When thinking about Thanksgiving dinner, the first thing that may come to mind is turkey. Can you give turkey to dogs? Yes, you can give unseasoned, cooked turkey to dogs. However, the operative words here are "cooked" and "unseasoned."
While turkey makes my list of Thanksgiving food that's safe for dogs, there are two very important caveats:
Turkey must be fully cooked—Dogs can develop parasite or bacterial infections (like Salmonella) from eating raw, uncooked meat just like people can. Therefore, it is important to fully and properly cook any turkey that you are going to give your dog.
Turkey must be unseasoned—While you and I may love seasoned turkey, the seasonings could be dangerous for your dog. Any turkey that you give your dog should be pulled off and set aside before you add the seasonings.
For these reasons, turkey makes both my lists: a food that is safe for dogs (when prepared properly) and a food that is hazardous for dogs (when cautions are not followed). You'll find more on the hazards later in this article.
2. Plain green beans (cooked or raw)
If you want to include your dog in your Thanksgiving celebrations, sharing some plain green beans is one of my favorite ways to do so! I love giving dogs green beans for many reasons:
Simple, easy to prepare
Great source of vitamins A, C, and K
Contain important minerals like iron and calcium
High in fiber
Low calories
Green beans are a healthy snack for your dog that you can give any day of the year. In fact, I often recommend them to my clients who ask how to help a dog lose weight, especially when their furry friend always seems hungry. Green beans are filling but low in calories—also making them a great snack for diabetic dogs.
When feeding green beans, they can be canned, frozen, fresh, cooked, or raw. The most important part to remember is that green beans cannot be seasoned. When shopping for canned green beans for your dog, it is important to select ones that are labeled "low sodium" or "salt free."
3. Pumpkin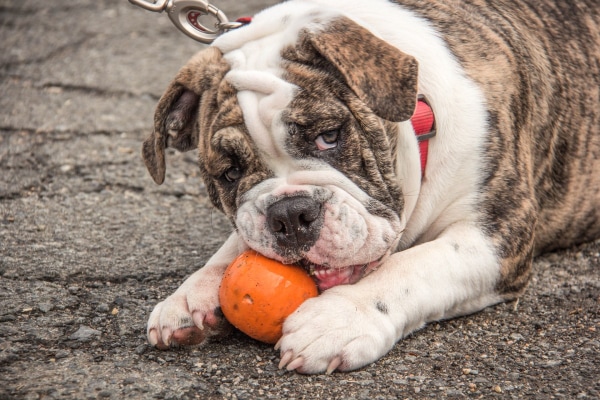 Along with green beans, canned pumpkin for dogs is another one of my go-to healthy treats. Canned pumpkin is flavorful, full of vitamins and minerals, and high in fiber and water. It has many benefits for dogs, and can even be used in a bland diet for dogs who are sick.
When feeding your dog pumpkin during Thanksgiving and the holiday season, there are a few important points to remember:
Pumpkin pie filling should never be given to dogs. This type of pumpkin contains added sugar, spices, and artificial sweeteners that are dangerous for dogs. Similarly, you should not feed your dog actual bites of pumpkin pie either. (The good news? This means more pie for you!)
Feed cooked or canned pumpkin in moderation. While pumpkin is one of my favorite 14 vegetables dogs can eat, too much can cause your dog to have diarrhea.
4. Sweet potatoes
When prepared properly and served in moderation, sweet potatoes are another dog-friendly Thanksgiving vegetable. However, many Thanksgiving sweet potato recipes are loaded with marshmallows and brown sugar. This amount of sugar would upset your dog's stomach. If you'd like to serve your dog sweet potatoes, follow these tips:
Chop sweet potatoes into small bites so they are easy for your dog to swallow.
To make sweet potatoes easier for your dog to chew, cook or bake them.
Do not add any extra "flavor" such as brown sugar, butter, or marshmallows. Even without the extra sugar on top, sweet potatoes are still very rich and should be fed in moderation.
5. Cooked, white potatoes
You (and your dog) can't have a Thanksgiving plate without potatoes. Often, potatoes are served with lots of butter and gravy. But for our dog friends, it is best to serve white potatoes cooked and in small bites. Raw potatoes are bad for dogs just like they are for people. When cooked, white potatoes are a wonderful source of vitamins and minerals (vitamin C, vitamin B6, iron, and magnesium) that are important for your dog's nervous and immune system.
6. Carrots
Carrots are one of the best Thanksgiving snacks. They are very healthy for dogs, but also very tasty! My own dogs love them so much. They come running into the kitchen when I open the fridge door, and they hear the bag of baby carrots crinkling.
Carrots are a great source of potassium, vitamin B6, and beta-carotene. Beta-carotene is a compound that produces Vitamin A, which is important for the immune system and your dog's vision. With all these good nutrients, you can safely serve carrots to your dog on Thanksgiving whether they are cooked, steamed, or raw.
7. Corn (but NOT corn on the cob)
If there is still room on your dog's plate this Thanksgiving, you can add some color by including corn. Corn may not have as many nutrients as some of the other options on this list, but it is full of easily digestible carbohydrates and rich in fiber.
When feeding corn, it is safe to offer your furry friend cooked kernels. However, you should never give dogs corn on the cob. The cob is not easily digestible. When it is eaten, it rolls around in the stomach for an unknown amount of time. Eventually, the cob could cause damage to the stomach wall or a blockage.
8. Peas
This small, green vegetable is a very nutritious food. Sugar and snow peas are a great option because they are low in calories. Also, peas can promote your dog's immune system and thyroid gland function through:
Vitamin A
Vitamin B
Potassium
Magnesium
Zinc
9. Cranberries
You can't have Thanksgiving without cranberries and cranberry sauce. While dogs may not enjoy the tart taste of cranberries, they are safe to offer. Cranberries can be fed raw, cooked, and dried. Avoid giving your dog large amounts of this red fruit, because it can upset his or her stomach.
When feeding cranberries, it is important to ensure that you are only allowing your dog to eat plain cranberries. In many Thanksgiving side dishes prepared for humans, cranberries are mixed with sugar, alcohol, raisins, and artificial flavorings that can be toxic and dangerous for your dog. This means that cranberry sauce is often a no-go for dogs. It can have ingredients, like xylitol, that should never be consumed by your dog.
10. Apple slices
Apples are another fall food that dogs can enjoy. Apples are very low in calories and fat — making them a great snack for dogs (especially seniors). They are full of vitamins and antioxidants. Plus, they are sweet and tasty!
Since apples are high in sugar, avoid feeding large amounts of apples or apples cooked into sugary desserts.
10 Thanksgiving foods that are dangerous for dogs
Now that we know what foods are safe to add to your "doggie menu," let's discuss what foods to avoid.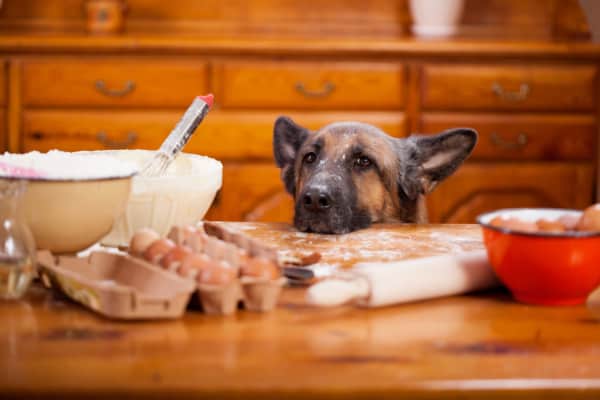 1. Unbaked bread dough
Biscuits, rolls, and other breads go well with so many holiday meals. Your dog will probably be fine if he or she steals a small piece of baked bread. However, raw bread dough can be dangerous due to the active yeast ingredient which causes bread dough to rise.
If your dog eats raw, unbaked bread dough, the dough will rise very quickly inside the gastrointestinal tract. This is because your dog's stomach is a warm, dark place and acts like an incubator for yeast growth.
Not only does the dough's expansion cause physical pressure, but the gas released by the fermentation process can cause your dog's stomach to become painfully distended, resulting in a medical emergency.
If you suspect your dog has ingested bread dough, contact your veterinarian right away and take your dog to the nearest emergency hospital.
2. Grapes and raisins
Salads can be healthy food options on Thanksgiving, but if grapes and raisins are part of your salad, then make sure to keep your dog far from the temptation.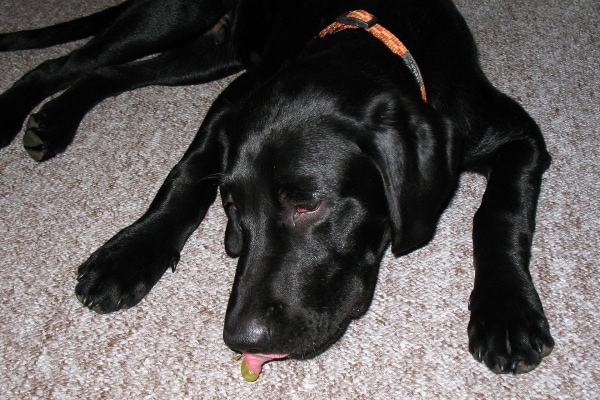 Although the reason why is unclear, dogs can develop kidney failure after eating raisins and grapes (even in very small quantities). Signs like vomiting and diarrhea may be apparent within six to twelve hours of ingestion. If you ever think that your dog might have ingested grapes or raisins, it's important to contact your veterinarian immediately to help prevent kidney injury.  
3. Turkey and ham
Turkey is an ingredient that you might find on the food label for your dog's regular diet. Indeed, it is safe for pets to eat turkey in small portions. As mentioned above, you can even give it to your dog as part of a special Pawsgiving meal if it is cooked and unseasoned.
However, if you are going to feed turkey to your dog, you must do so with caution. Fatty parts of the turkey should be avoided. White meat is better, because it is leaner than dark meat. Turkey skin is also salty and fatty. It can cause an upset stomach, diarrhea, and vomiting.
While talking about turkey, you might be asking, "Can dogs eat Thanksgiving ham?" Ham and other pork-based products are very fatty. These fatty foods can cause digestive problems, and even worse, a potentially life-threatening condition called pancreatitis in dogs.
4. Stuffing
You may be wondering, "Can dogs eat stuffing?" Many stuffing recipes call for ingredients like garlic, onions, and chives. Eaten in sufficient quantities, these are toxic vegetables that can cause anemia by making it easier for red blood cells to burst. This is why stuffing is on the list of Thanksgiving foods that are bad for dogs.
Signs of garlic, onion, and chive toxicity in dogs can take several days to become noticeable. Lethargy, pale gums, vomiting, and abdominal pain are just some of the possible clinical signs. You should relay these symptoms to your veterinarian promptly if they arise.
5. Mashed potatoes, gravy, and buttery sweet potato casserole
As mentioned above, plain potatoes and sweet potatoes are safe for dogs in small amounts. In fact, many of the commercially available diets for dogs contain these ingredients. Does this mean that dogs can have mashed potatoes and gravy?
The answer is "no." The "let's-make-these-creamy-and-rich" ingredients that go into our potato recipes can be problematic. Milk products and abundant butter used for mashed potatoes and sweet potato dishes have a high fat content, which can increase your dog's risk of developing pancreatitis.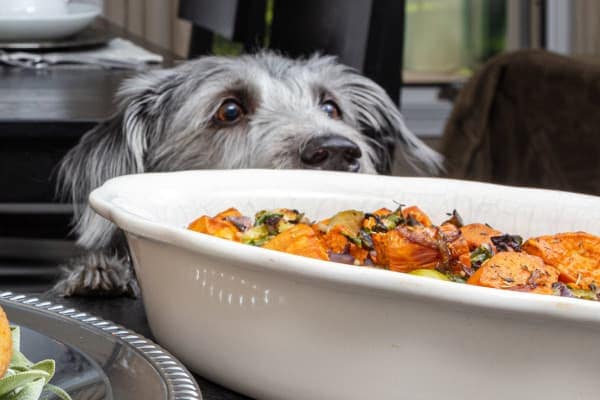 6. Green bean casserole and other creamy, onion-laden side dishes
Even though plain green beans receive a thumb's up on our list of Thanksgiving foods for dogs, green bean casserole should not be put on your dog's plate. Just like stuffing, green bean casserole sometimes contains garlic and onions that are toxic to dogs. And while delicious, all the cream used in preparing casseroles is dangerous for dogs. It is fatty and usually full of seasonings, which is a recipe for disaster. Your dog could experience stomach discomfort, anemia, and risk of pancreatitis — served up all in one creamy, onion-laden side dish.
7. Bones
Many pet owners think that bones are an ideal treat for dogs because they are "natural," flavored, and can keep a dog occupied for a long period of time. However, bones (especially ones from chicken and turkey) can splinter into sharp pieces that can injure your dog's mouth.
If these sharp pieces are swallowed, they can perforate your dog's stomach or small intestines, causing severe abdominal pain followed by life-threatening infection. Make sure to contact your veterinarian if your dog is showing any signs of abdominal pain and gastrointestinal upset. For a list of things your dog can safely chew, please read my article: Safe Chew Toys for Dogs.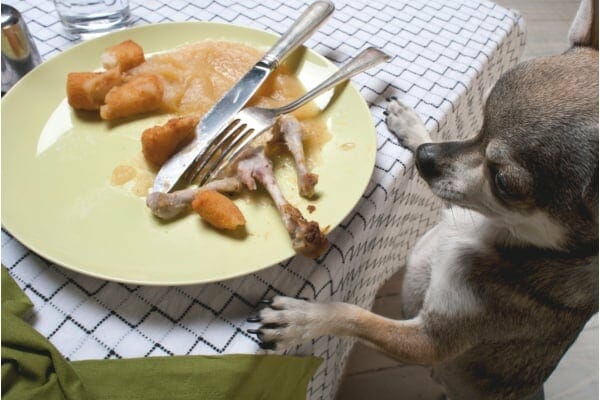 Is there room for dessert? Next, let's dive into the hidden dangers lurking behind Thanksgiving desserts.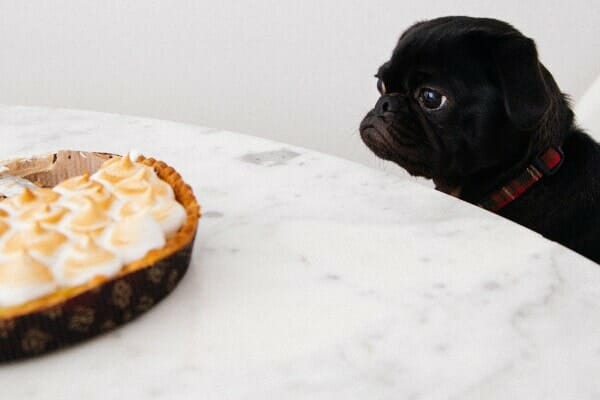 8. Chocolate
You might already know that chocolate is toxic for dogs. The toxic compound, called theobromine, is present in differing amounts depending on the type of chocolate. Darker, more bitter chocolates have higher amounts of theobromine while white chocolate has very little. Baking chocolate has the highest concentration of theobromine.
If your dog consumes white chocolate, then he or she could develop mild gastrointestinal upset. But severe toxicity from darker chocolates can result in tremors, seizures, and even heart failure. The severity of your dog's clinical signs will depend on body weight and the amount of theobromine that was consumed. For more about chocolate toxicity, please read my article: Can Dogs Eat Chocolate?.
9. Artificial sweeteners
The active ingredient in most artificial sweeteners is xylitol, or sugar alcohol. The xylitol (also called birch sugar) in our human foods does not cause our pancreas' to release insulin, so xylitol is relatively safe for human consumption. However, when dogs ingest xylitol, it causes the rapid release of insulin from the pancreas. When this happens, your dog's blood sugar may become so low that he or she may even have seizures. Xylitol toxicity can also cause liver failure and even death.
Artificial sweeteners like xylitol can be found in many products, including baking goods, sugar-free chewing gum, peanut butter, jams, jellies, and toothpaste. Xylitol and dogs don't mix. Know the poisons in your pantry and be proactive about protecting your dog.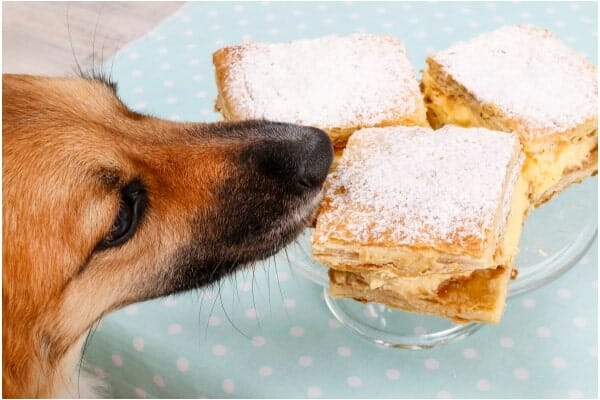 10. Nuts
Nuts can be found on many of our Thanksgiving tables, specifically in many of our Thanksgiving desserts. Please keep in mind that whole nuts may be a choking hazard, especially for small breed dogs.
One particular nut that is toxic to dogs is the macadamia nut. The mechanism of action is still unknown, but if your dog eats macadamia nuts, then he or she may experience lethargy, fever, vomiting, and may stumble when walking. Make sure to call your vet right away if your dog has some of these symptoms.
Keep veterinary phone numbers handy
Thanksgiving (and all holidays) are a time of year when pet parents need to be vigilant about what their dogs might get into. Unfortunately, every year, cases of food toxicity in dogs always increase during the holidays.
You can help your dear dogs by keeping these food items out of reach and asking your guests to do the same. However, if accidents happen—as they often do—then be sure to keep important phone numbers handy. If your regular veterinarian will be closed on Thanksgiving Day, then make sure to save the number for the nearest emergency veterinarian.
There are also poison control helplines available 24/7. They can talk you through the next steps if your pet eats something that he or she shouldn't. The ASPCA poison control hotline is run by brilliant, board-certified veterinarian toxicologists. (Be advised that there may be a fee for the service.) I think every pet owner should keep their phone number readily available.
Conclusion
By being prepared and knowing what foods are safe (and what ones are not), you and your beloved dog can enjoy a wonderful Thanksgiving meal together. And if you are with family and friends during the holidays, share this list of foods with them. It might save them a trip to the vet!
Enjoy planning your dog's Thanksgiving plate, and have a safe and happy holiday!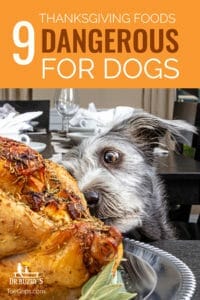 What safe foods do you give your dog at Thanksgiving? Which do you avoid?
Please comment below.